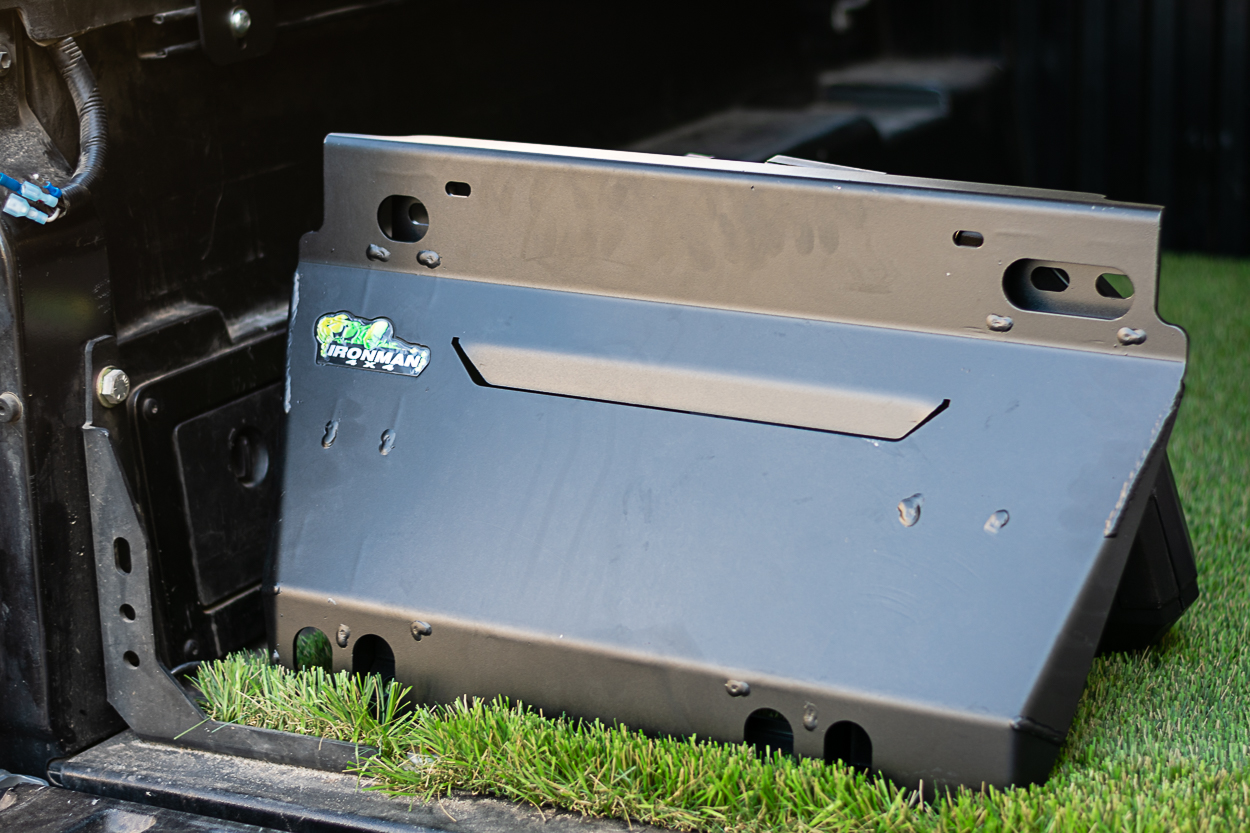 Aluminum VS. Steel Skid Plates: Which Is Best? – A Guide To Selecting The Best Underbody Protection Option For Off-Roading & Overlanding
If you have ever driven off-road or just watched some YouTube videos, you would probably know that one of the most vulnerable sections of your truck is the undercarriage. Whether you split the difference over a rock that you thought you would clear or just happen to miss an obstacle that runs straight under your rig, there are many different ways you can mangle your Tacoma's undercarriage on the trail.
Some owners will opt to go straight for aftermarket front or rear bumpers when building out their trucks because they are the most noticeable upgrades. But, it's important to consider the sections of your rig that are most at risk of getting wrecked. Many essential parts underneath our trucks need to be kept safe and free from damage. Skid plates might be one of the best first mods if you're planning to take your truck off the pavement.
There are really only two choices when it comes to skid plate materials: steel or aluminum. The real question is, which material is best for your truck? In this post, I will guide you through the major differences between aluminum and steel skid plates and which kit I choose to run.
Looking to see a solid compilation of skid plates that are available for the Tacoma?
Aluminum VS. Steel Skid Plates
Which Is Best for You?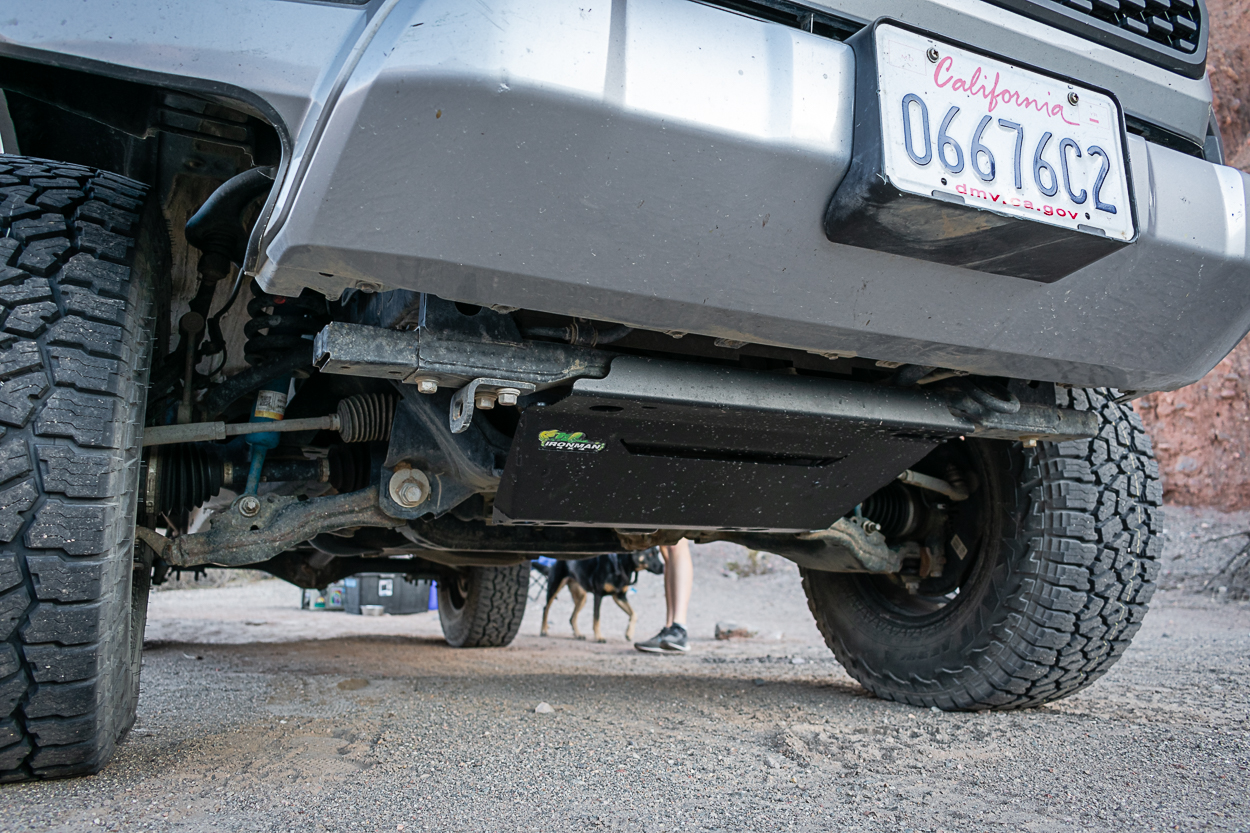 There are many factors to consider when deciding which skid plate kit and metal to pick to protect your Tacoma's underbody. But today, I will break it down into these three characteristics: weight, price, and durability. Obviously, each of your rigs will be built purposefully for the type of trails that you'll be hitting the majority of the time. So with that in mind, I'll lay out the details and what to expect with each material to help inform your decision – so you can buy once and cry once.
Weight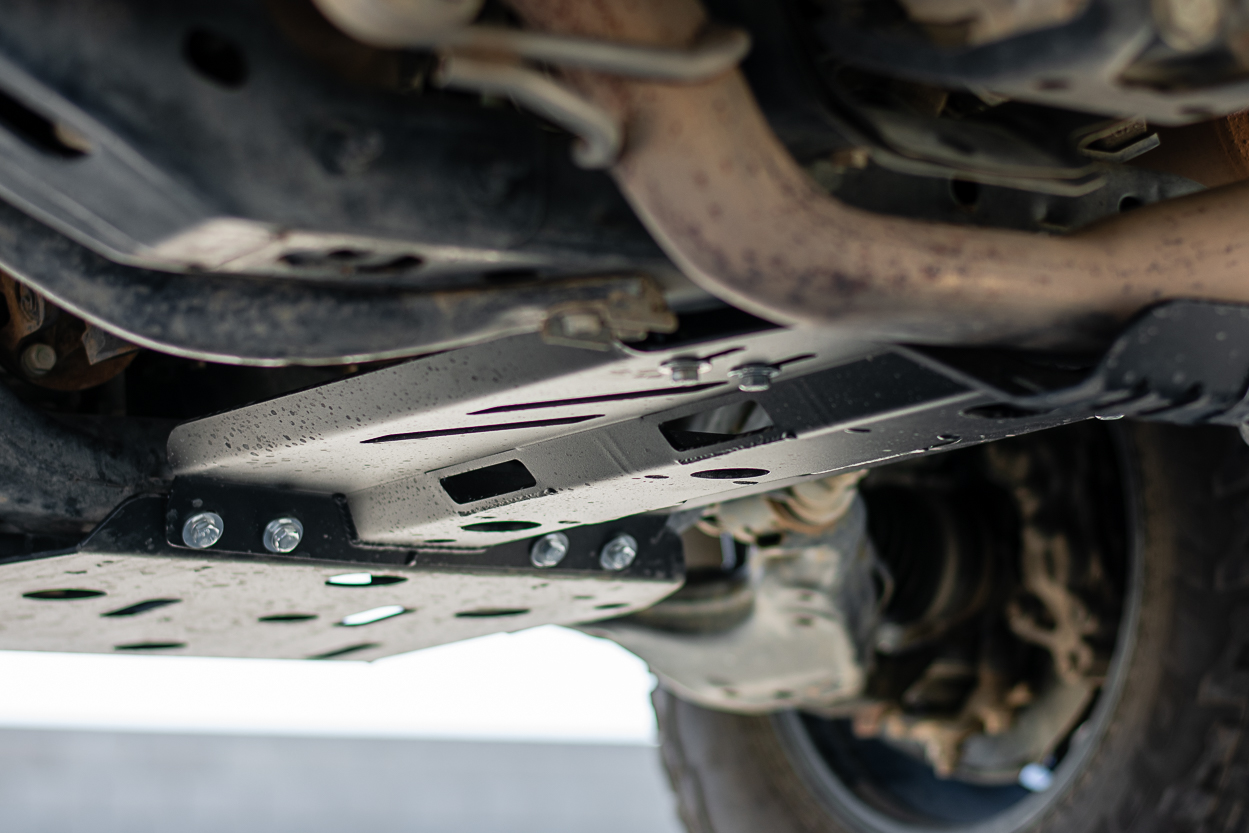 When you're strapping on bed racks, roof racks, tents, and everything else that off-road enthusiasts fiend for, the total weight you put on your truck impacts many factors like mileage and overall performance.
With aluminum skid plates, you'll be saving in this area. If you compare aluminum skid plate packages and steel kits for Tacomas, you will find that the aluminum kits are noticeably lighter. This can be a major plus, especially if you're strapping crap onto your truck in every way imaginable.
That being said, you also need to consider where you are putting that weight when installing your skid plates. Many off-roaders would argue that the added weight of steel skid plates wouldn't be so bad as it will keep the heaviness of your build down low to reduce a high center of gravity. So, if you could save some weight on the items you are mounting to your roof or bed, steel could pull ahead of aluminum, especially when considering the following two categories.
Price

As with everything, the price will vary from brand to brand and kit to kit. But as a general rule of thumb, aluminum skid plate packages will tend to be more expensive than their steel counterparts. The more cost-efficient aspect of steel is definitely appealing, especially if you were thinking about buying other parts that are a little nicer and hopefully even a little lighter.
I wouldn't say that price should be the end-all-be-all factor when deciding which skid plates to go for, mainly because you can often find sales or deals online. But that extra cash in your pocket becomes more and more attractive when you realize how much money you've put into your truck, and it could be a decent bargaining tool to help convince your significant other why you need to spend money on skid plates.
Durability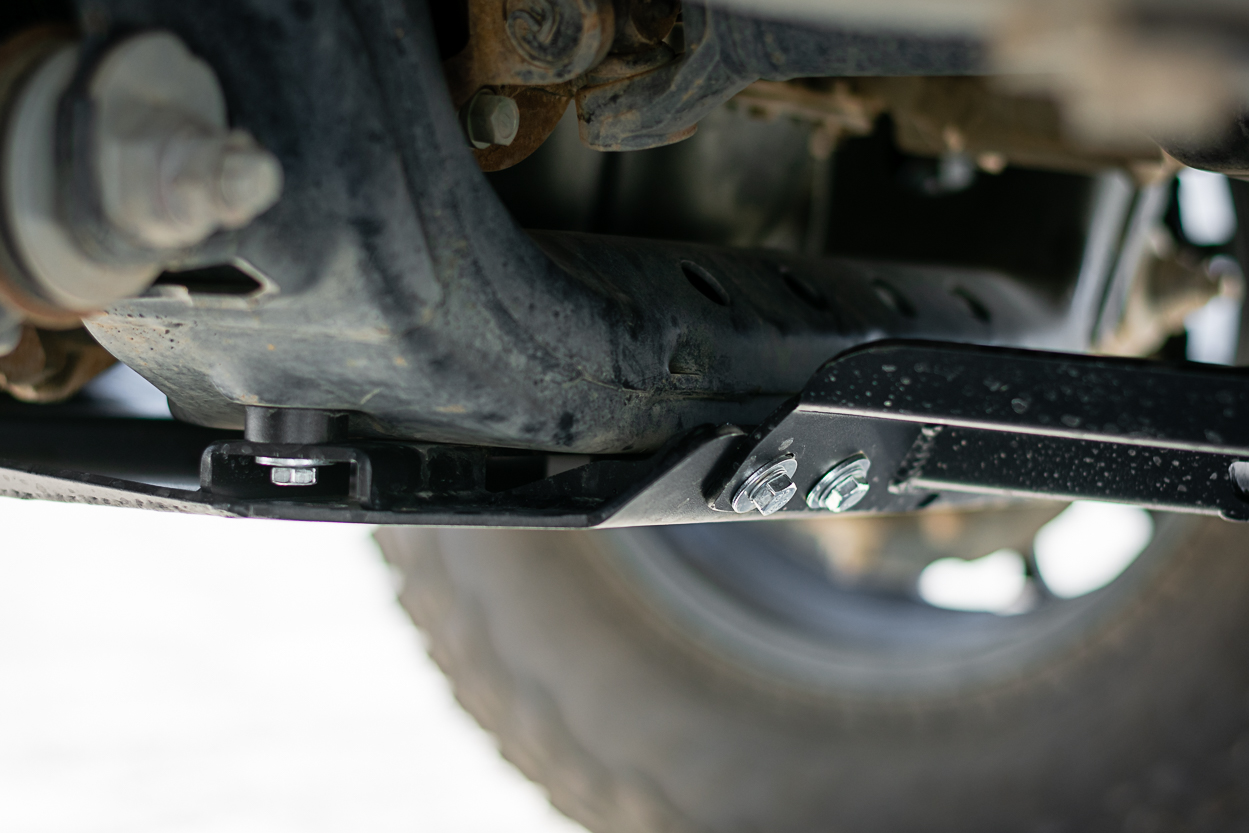 The final aspect you should consider when you are in the market for skid plates, and arguably the most important, is its durability. If you simply look up aluminum vs. steel durability, aluminum is a softer and less dense metal. This plays into aluminum's weight savings but means that it won't be able to handle as much bashing on the trails as a steel skid plate kit.
Since steel is notoriously much less malleable than aluminum, it will be able to handle more repeated abuse while wheeling. Another aspect of durability to consider is how aluminum and steel, as metals, would act when they contact rocks. We've all seen those videos of rigs getting hung up on rocks against their underbody. In this situation, where aluminum's malleability might give into the rocks and cause you to be more hung up, steel's strength and reduced friction could simply mean that you slide over or off the rock. Steel definitely creates less friction with rocks than aluminum does.
Ultimately, it's going to be up to you to decide how much abuse you'll put your skids through, but steel takes the cake in terms of relative strength. If you plan to beat on your truck, aluminum is not the best choice for you. Many, if not most seasoned off-roaders, will agree that aluminum is best for the casual overlander, while steel is superior for those of us who like to wheel more aggressively. It's also worth noting that on big impacts, steel tends to bend, while aluminum tends to crack.
My Personal Skid Plate Setup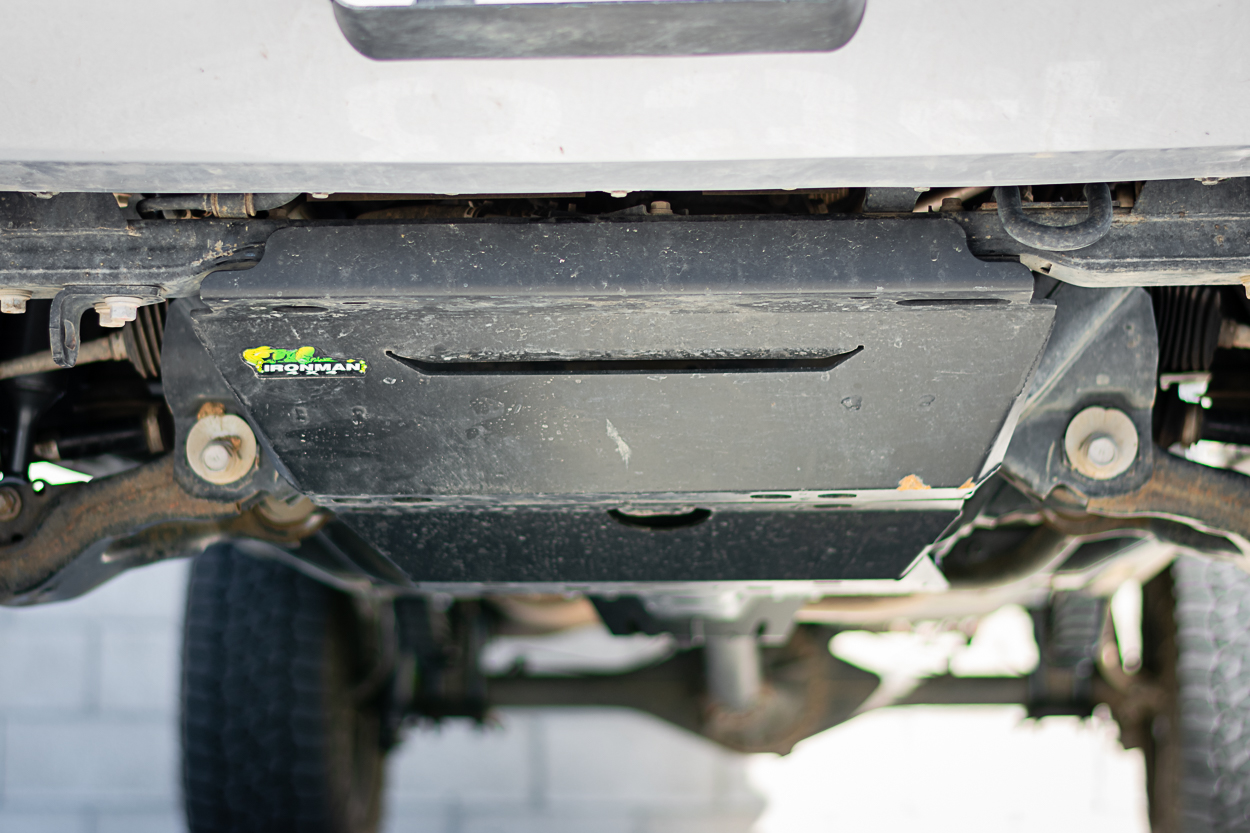 On my 2017 TRD Sport, I am currently outfitted with the Ironman 4X4 Heavy-Duty Steel Skid Plate Kit.
I've loved it for as long as I have had it on my Tacoma. In my opinion, it strikes a good balance between weight and protection. The kit has a 4mm thick steel construction – equivalent to a little over 1/8″ – and it has a ton of sleek features so that it can perform best when on the trail. This is technically thinner (not by much) than most steel skid plates, which are usually 3/16″ thick. This means you save on weight while still upgrading quite a bit from the factory skids.
One cool aspect that I love about this set is the recessed hardware locations. The bolt heads sit above the surface of the bottom of the skids, so when you have to penguin slide over a pile of rocks, those bolts won't get you hung up. This kit weighs 80lbs between the three individual plates, and the latest iteration protects the radiator, steering, engine, and transmission.
Another cool little feature that makes this kit all the better is the integrated service inspection holes that allow you to drain fluids from the bottom of your truck when you're completing a service without removing the entire skid assembly. The package is really sleek. There is enough coverage in all the right places. It comes powder coated from Ironman, but if you buy one of the many other steel options out there they may not come coated. You will either have to pay more money for finishing, or paint them yourself.
Ultimately, from my experience and understanding, the Ironman kit provides one of the best all-around skid plate packages. An almost perfect combination of weight, price, and durability. If you're looking for an excellent skid plate package, I highly recommend you look at this choice from Ironman. Similar enough in weight to an all aluminum set, and plenty of protection, but at a MUCH better price point. At roughly $800 (and Ironman often runs some sort of deal), this setup is one of the most reasonably priced skid plate packages on the market.
Looking for a more detailed install and review? Check out Adam's full review and install guide of the Ironman 4X4 skid plate kit here.
TLDR (Too Long Didn't Read) – Quick Summary
If you just skipped right to the end here, the following is going to be a simple bullet list of pros and cons for steel and aluminum skid plates.
Steel PROS
strongest
most durable
slides easier over obstacles
offers greatest amount of protection
less expensive option
easier to work with
good for hard wheeling
Aluminum PROS
lightweight (relatively)
corrosion resistant
can be left in raw finish
good for overlanding
Steel CONS
prone to rusting
cannot run raw finish (unless you don't mind rust)
heavier
Aluminum CONS
much more malleable
tends to get caught on obstacles more
more easily damaged
most expensive option
tougher to work with
Final Thoughts
All in all, I hope this write-up has given you a solid understanding of some of the aspects of skid plate options that you should consider when trying to pick a kit for your Tacoma. It's ultimately going to come down to what kind of trails you hit most often, your budget, and most importantly, what features you value the most.
As I said, I think the Ironman kit works best for me because it strikes that balance between durability, price, and weight. It falls perfectly between overly built, chunky steel plates that are super heavy and skimpy aluminum pieces that will crush like a soda can.
Good luck on your search, and have fun charging some obstacles out on the trails!