Aftermarket Tail Lights For The 3rd Gen Toyota Tacoma – 5 Tail Light Setups to Inspire Your Truck Build in 2022
This Week's Topic: Aftermarket Tail Lights
Hey guys! Welcome back to another Taco Tuesday. If you missed last week's TT, we took a look at some rare TRD Pro Tacomas. We were even able to gather and showcase every color offered on the 3rd Gen!
This week, we are taking a look at the Tacoma's rear end and showcasing some aftermarket tail lights that are currently being offered for the 3rd Gen. Marty Motoring is currently working on an in-depth buyer's guide on this topic as well. You won't want to miss that, right here on Trail Tacoma! This Taco Tuesday feature is only a brief snapshot of what his article will encompass and we will also focus on what the owners like about their tail light picks.
You may be thinking that the factory lights work perfectly fine, so why would I want to upgrade to aftermarket ones? To be completely honest with you, it's all personal preference. Those who like to customize their trucks and go the extra mile will swap out their basic factory tail lights that every other Tacoma has in order to achieve a more unique look.
Some added benefits of aftermarket lights are the inclusion of LED turn signals and reverse lights. This can help increase visibility at night while in reverse or allow other cars to better see you for safer lane changes.
Below you'll find some of the reasons why 5 owners enjoy their aftermarket tail lights. If you have more questions for them, make sure to check out their Instagrams as well!
Tail Lights for 3rd Gen Tacoma
1. Chris Fabricante (@1h5.gray.wulf) – AlphaRex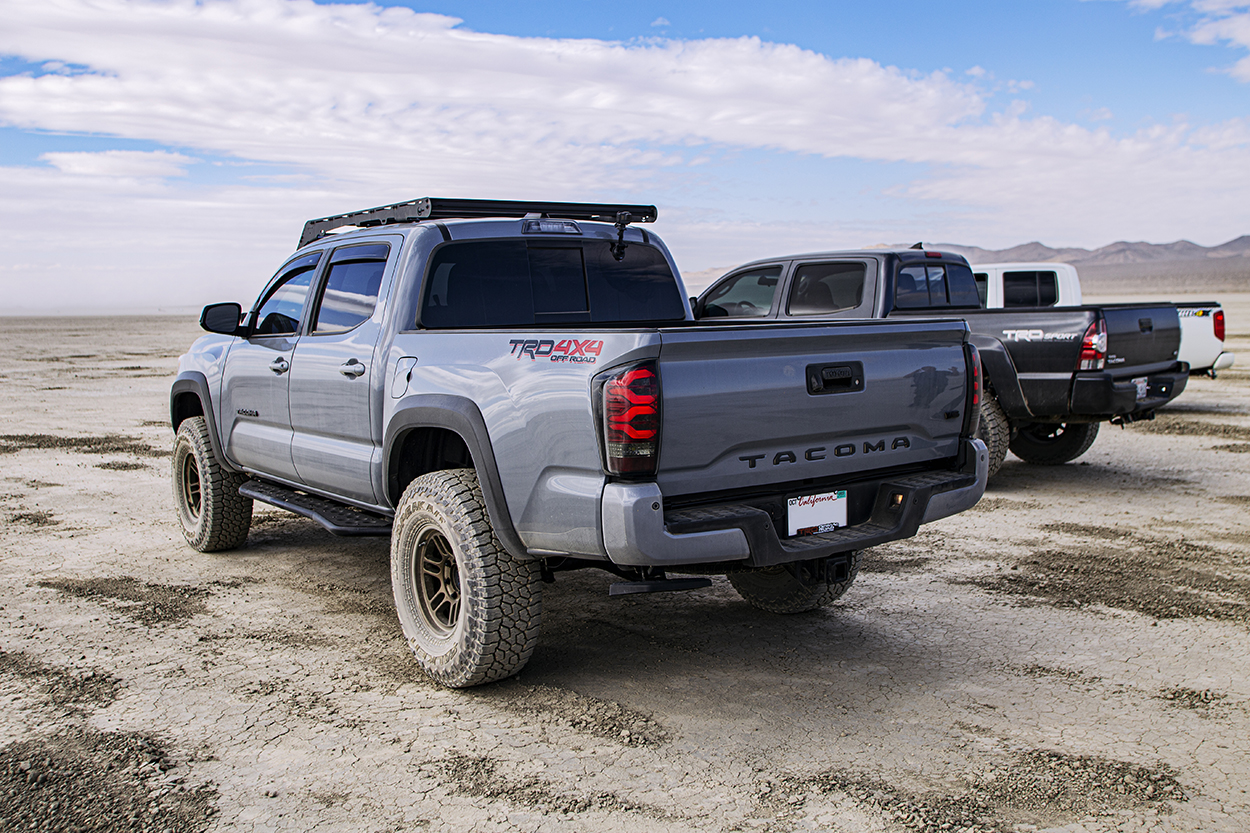 Tail Light Specs
What Do You Like About Your Setup?
I went with the AlphaRex Pro-Series tail lights in smoke red over the competition because it gives the truck a distinctive look over OEM with their signature light tube design. I did swap out the reverse bulbs to LEDs to make them full LED.
The tail lights are very bright, so anyone driving behind me is fully aware that I'm braking or signaling to turn. Some of the other aftermarket tail lights are dim and hard to tell if the brake/signal lights are on. The red smoke lens adds great color contrast to my cement gray truck.
2. Marvin De Los Reyes (@sloyota.4bangr) – Cali Raised LED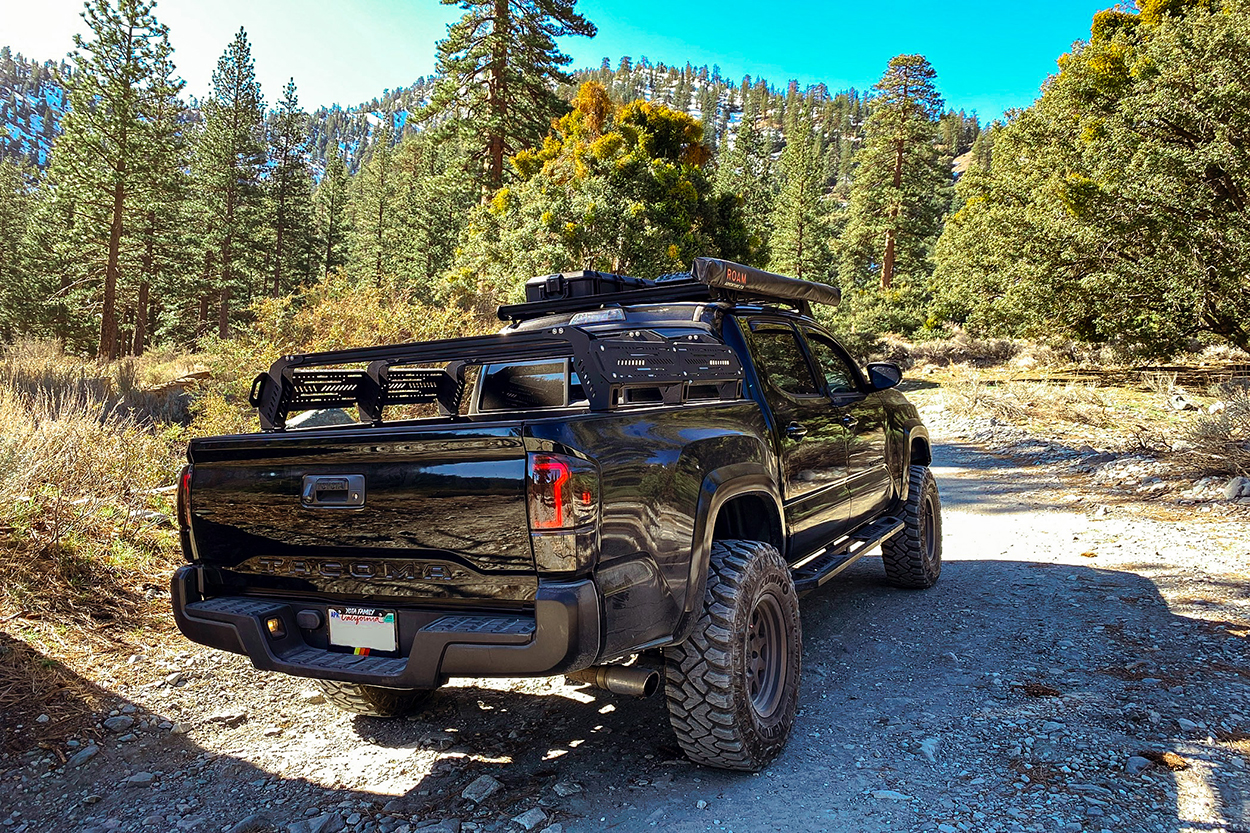 Tail Light Specs
What Do You Like About Your Setup?
First things first, these have to be the best budget tail light for a style upgrade. I like how they add a menacing look to my truck. The smoke lenses give the rear of my truck that "murdered out" look which is exactly what I was going for. Also, being full LED is a bonus because they're brighter and last longer than regular halogen bulbs.
3. Matthew Sexton (@toowidetacoma) – TacomaBeast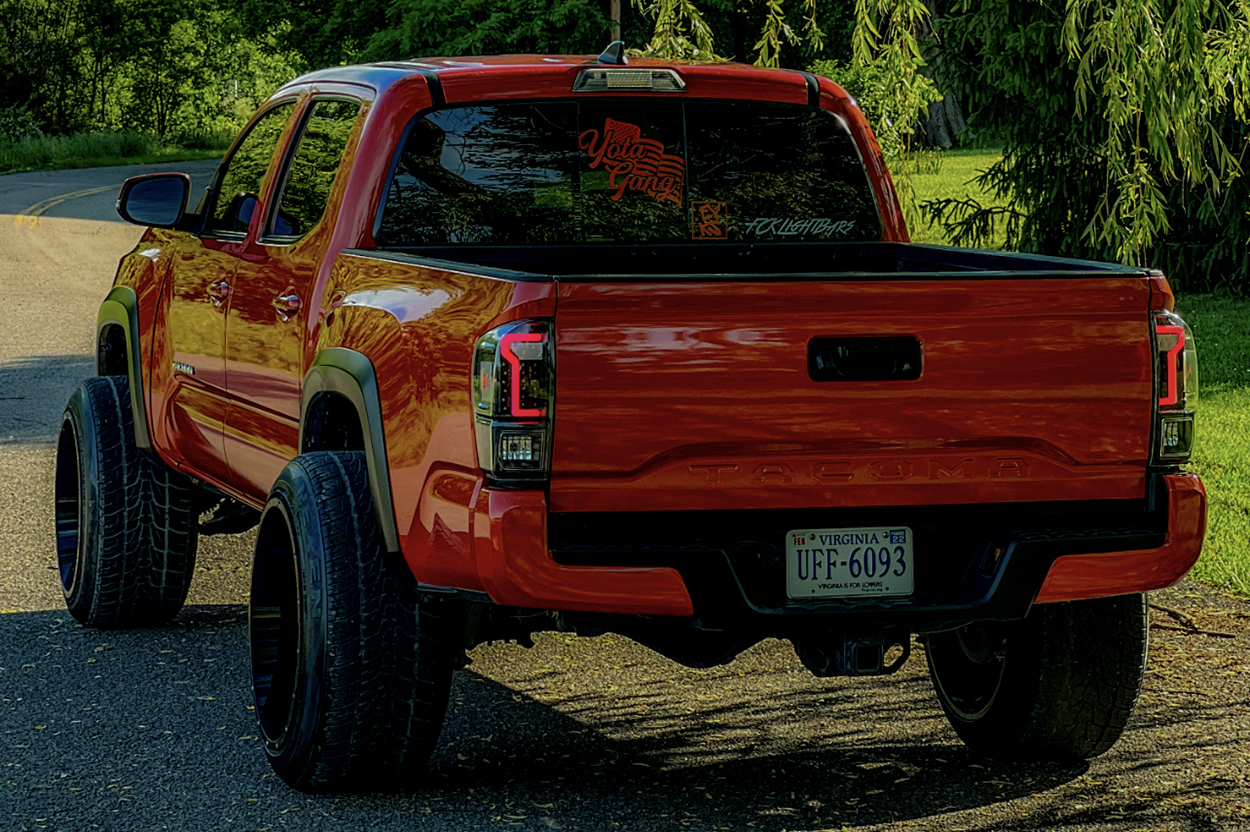 Tail Light Specs
What Do You Like About Your Setup?
These tail lights changed the rear end of the truck a lot. They flow well with the stock headlights and the DRL light looks very good as well. They are very bright and are of pretty good quality. I would recommend getting a set of these if you are in the market.
4. Randy Apigo (@_gh0stpro) – AlphaRex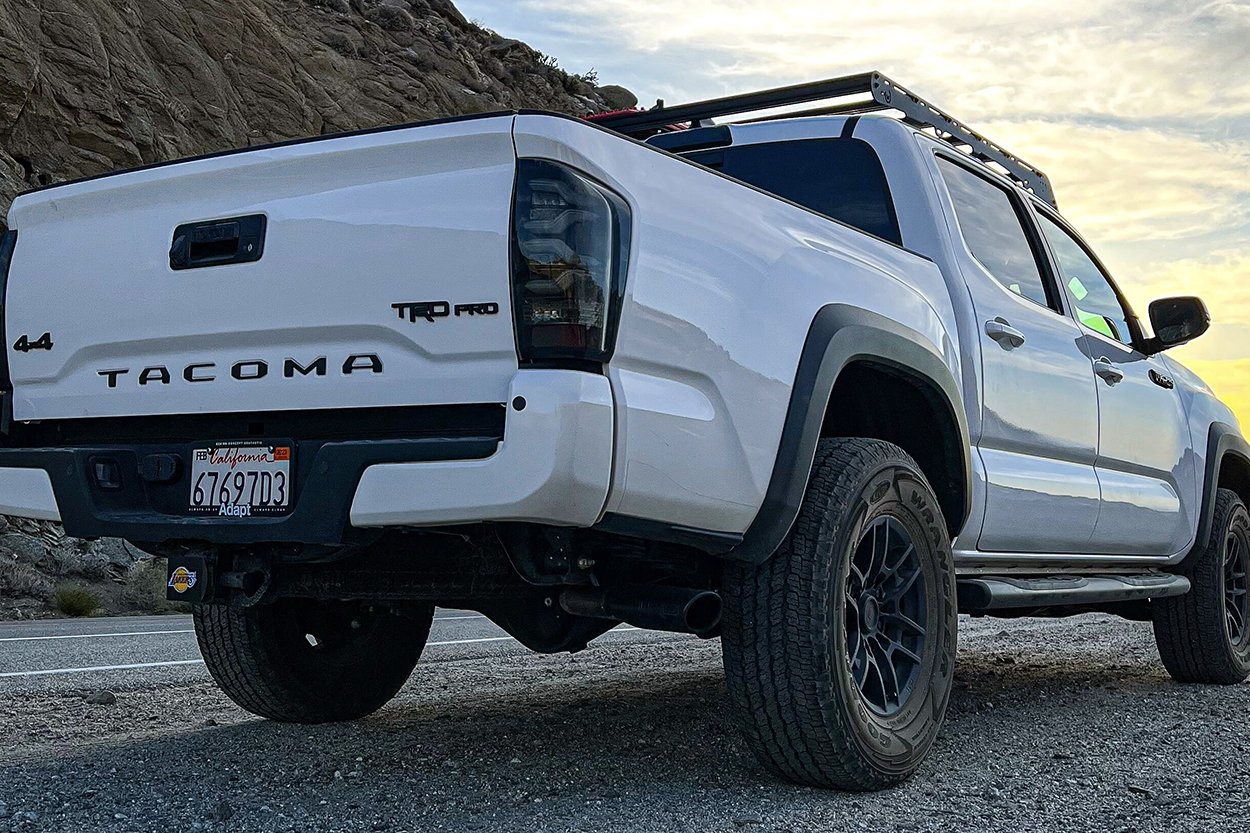 Tail Light Specs
What Do You Like About Your Setup?
These AlphaRex tail lights are a game-changer. These lights completely redefine and spice up the rear end of my truck. The smoked look goes perfectly with the black and white aesthetic I'm going for with my Tacoma. I love the fact that everything is plug-and-play. The process took me no more than 10 minutes to install both tail lights.
5. Josh Oats (@the_dark_yota) – Morimoto / Meso Customs
Tail Light Specs
What Do You Like About Your Setup?
The quality of these lights is top-notch. They're bright all around from the DRLs to the reverse lights. The turn signals can be set up as either solid-state or can be sequential (which is how I have mine set up). These are the best-looking tail lights currently on the market, in my opinion.
Final Thoughts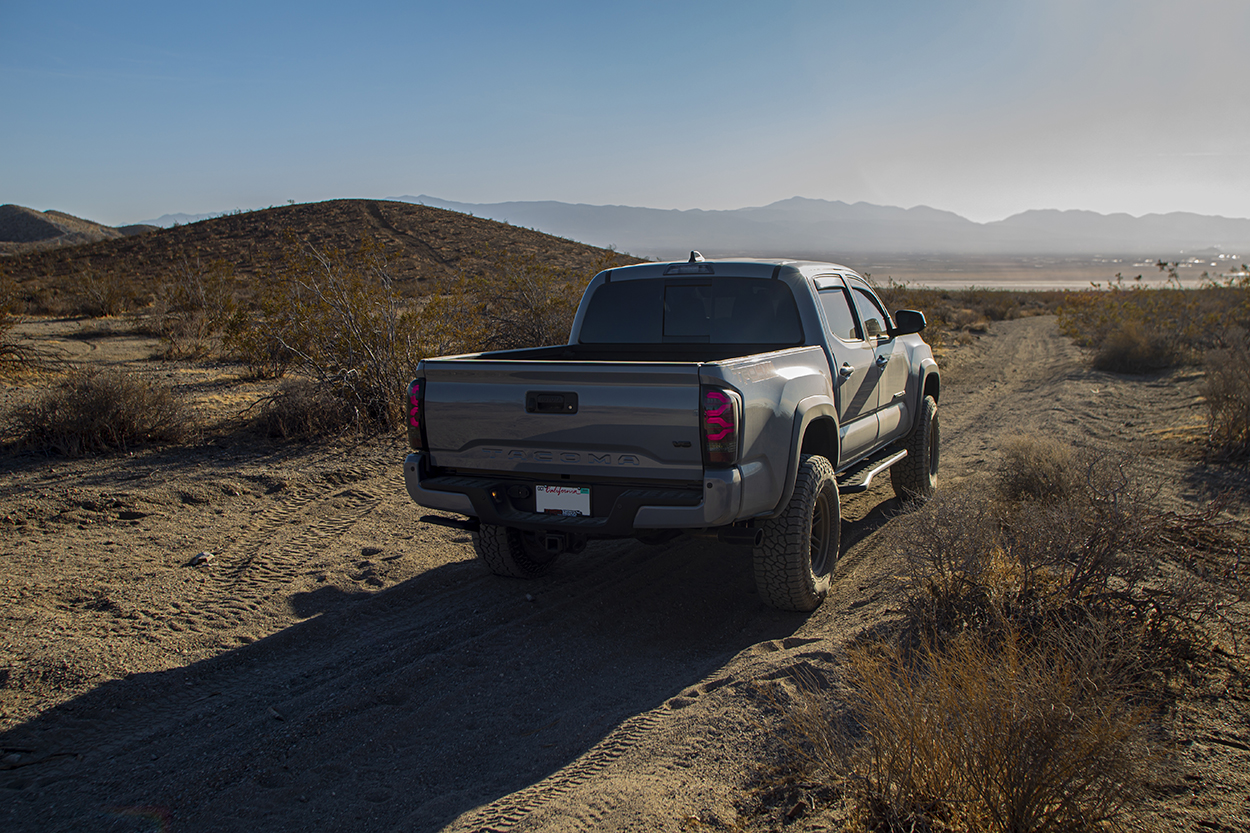 I hope you all enjoyed this week's Taco Tuesday, I know I did! As I mentioned, we will have a full guide out soon covering the top tail lights currently offered for the 3rd Gen Tacoma, so definitely make sure you subscribe to our newsletter to know when that article drops!
If you want to be featured for Taco Tuesday, submit your build through TrailTacoma.com/Feature. Next week's Taco Tuesday will be featuring Top Overland Essentials and asking owners what items they chose. We're looking for sweet rides to showcase! If this is you and you love your setup, send in your details because we want to see it.
Thanks for reading guys. I'll see you next week!