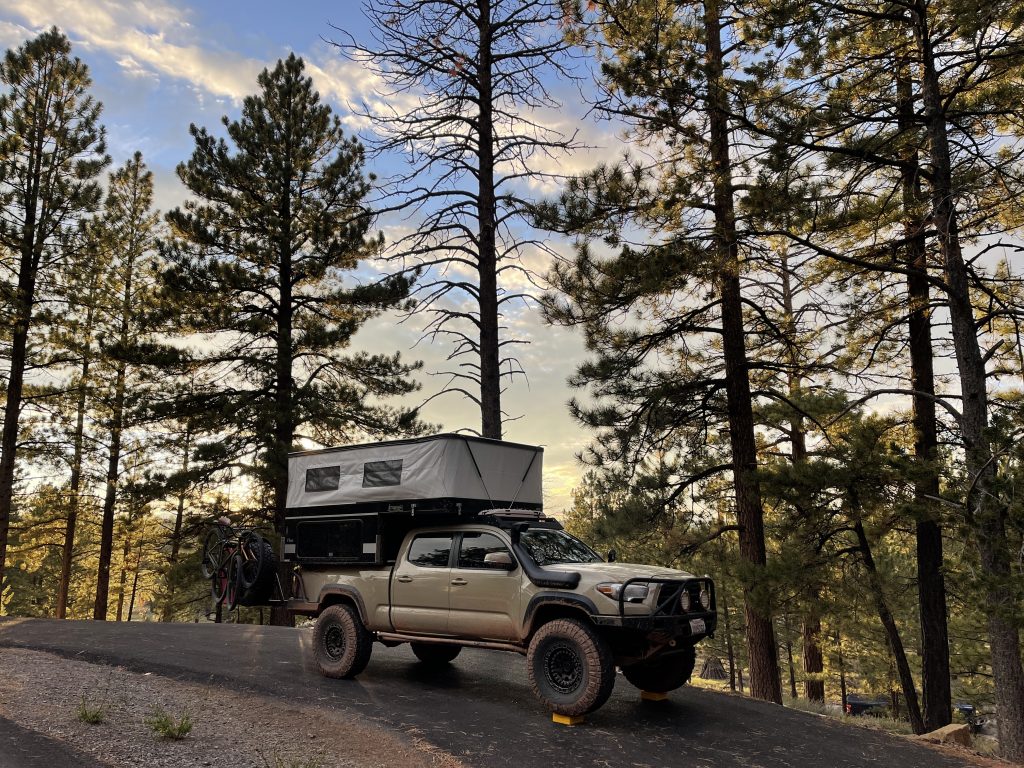 2020 Four Wheel Pop Up Campers Fleet Shell Model On 3rd Gen Toyota Tacoma – Complete Review & Overview For This Custom Tiny Home On Wheels
When we decided we wanted to travel full time, we explored all the options. We had already owned and loved our Tacoma and wanted to keep that as the platform for our travels. When we discovered the Four Wheel Campers Fleet, we knew immediately that would be our choice.
After doing our research, we came to learn that Four Wheel Campers offers the ability to customize your camper's interior with as much or as little as you want. Combined with giving several exterior color and siding options, we quickly got excited to begin building ours. The Fleet model is offered in either a basic Shell model or a fully-featured Camper model. Knowing we were looking to DIY our interior, we placed an order for a nearly bare-bones Shell model.
Find It Online
Looking to check out other Tacoma campers? Check out Konrad's post covering 12 truck campers for the Tacoma.
Four Wheel Campers Review
Who Is Four Wheel Campers?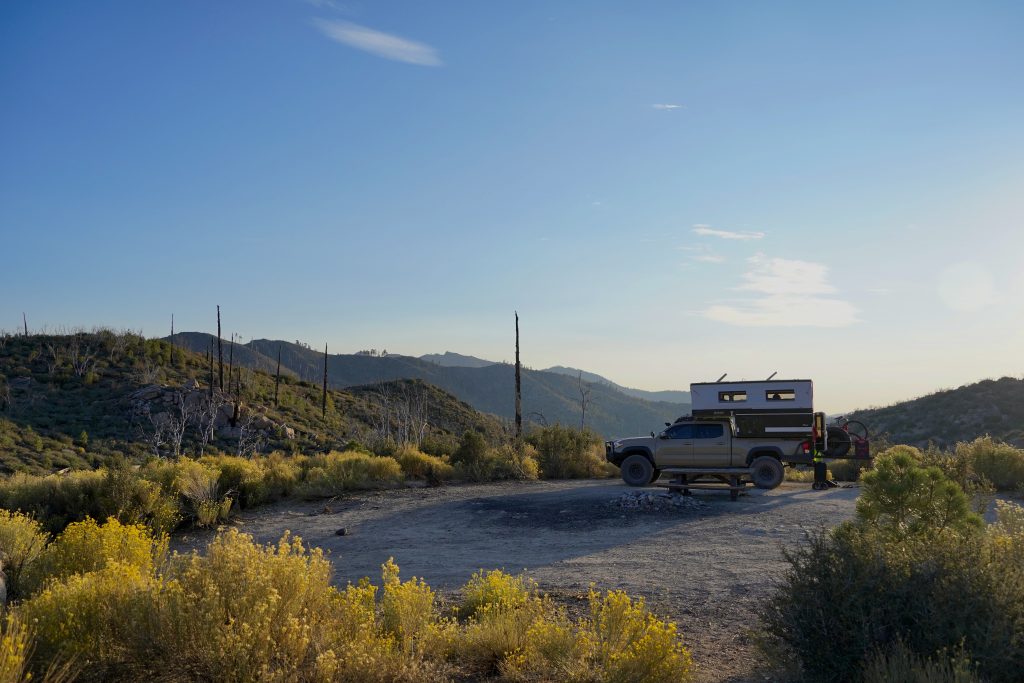 Four Wheel Campers (FWC) just celebrated 50 years of adventure. They have always had the reputation of being reliable, durable, and lightweight campers. We have seen from experience that their products cater to everyone. From retired folks and weekend warriors to full-timers and beyond. All campers are made to order in Northern California and are available through vendors worldwide.
The product line at FWC is impressive. Slide-in campers are the most common. However, flatbed models are becoming increasingly popular, and a new "Project M" truck bed topper has been made available recently. There are campers specifically sized for most trucks and bed sizes available on today's market. That brings us to the Fleet.
Four Wheel Campers Fleet Model Overview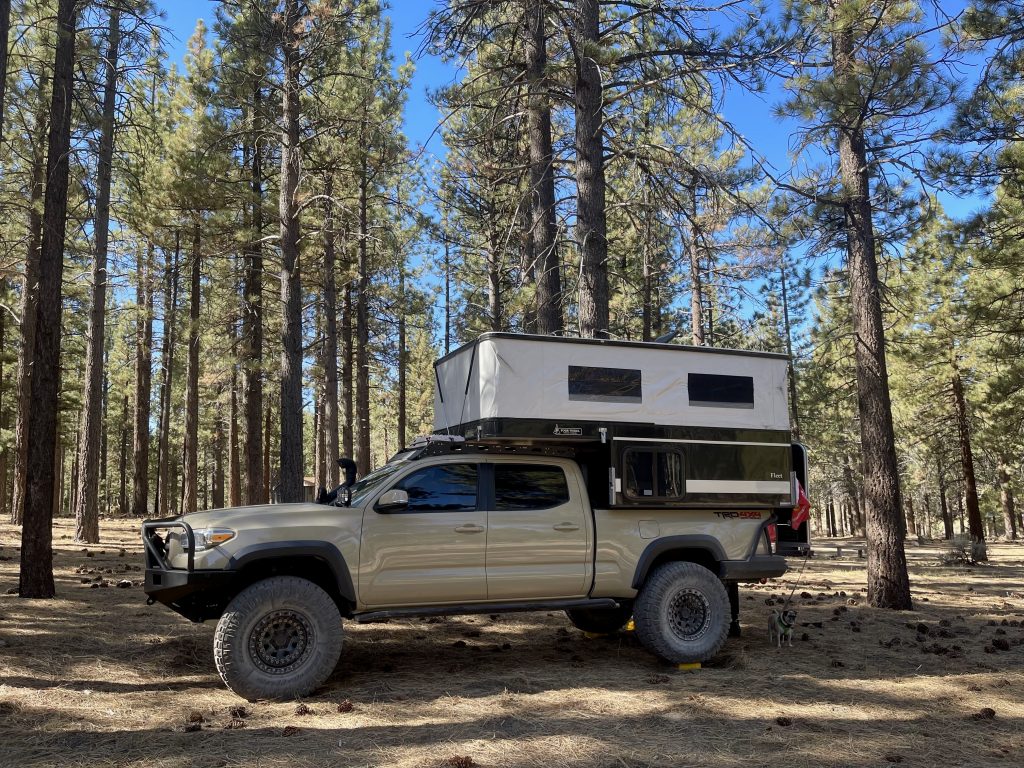 The Fleet model is a slide-in for mid-sized trucks with a 6-foot bed. There are several different stock layouts to choose from. We decided on a shell because we got all the best parts of the camper with the ability to fully customize our living space.
Our Fleet arrived weighing approximately 800lbs. We decided on a few customizations for quality of life purposes, such as two powered roof fans, solar pre-wiring, a removable thermal pack for additional year-round insulation, and roof tracks for future use of roof rack systems. These have proven to be incredibly useful upgrades and are always what we recommend when asked.
Standard Features (Included With Base Model Pricing):
Standard "Mesa" exterior siding in white
Aluminum jack brackets
One powered roof vent/fan in the rear
Roof vent over bed
One 12V camper battery and battery cabinet
Traditional woodgrain interior
Screen door
Aluminum frame construction
Queen cabover bed with 3″ mattress
LED internal lights
Exterior porch light
12V outlets and USB port
Privacy curtains
Large passenger window
Small storage compartments above wheel wells
Fire extinguisher
Smoke alarm
Living In The Four Wheel Campers Fleet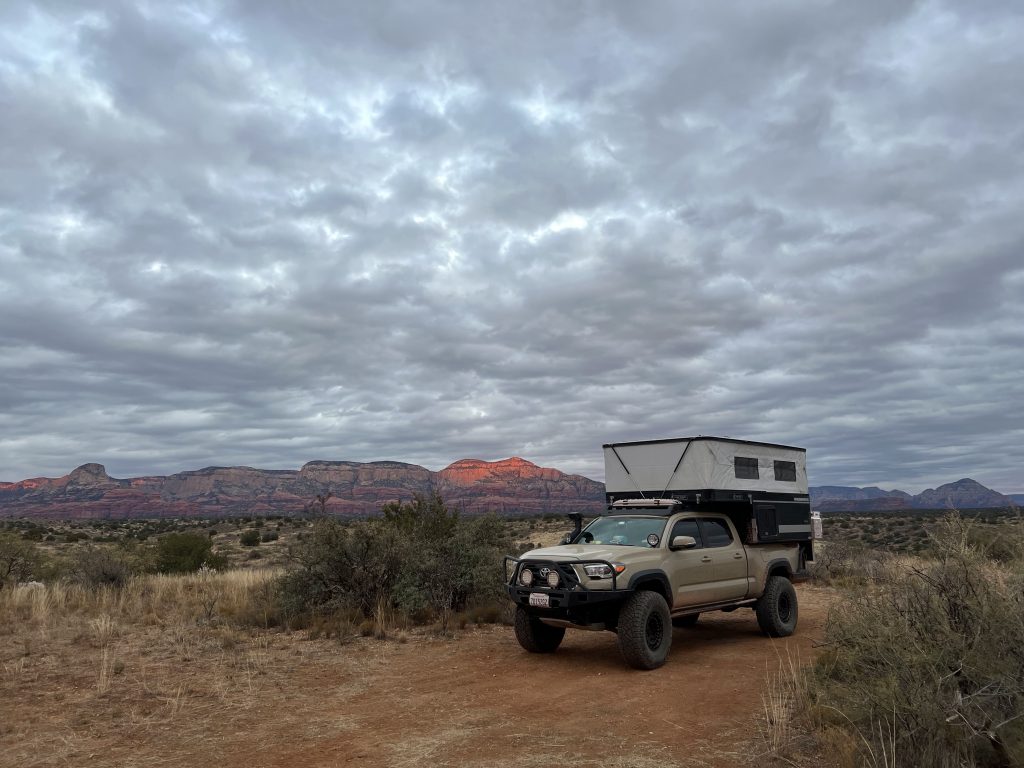 To open the shell, undo the six clips located around the roof's exterior, step in and push the rear of the roof up and lock it into place. Next, move to the front and do the same. The struts on both ends of the camper make this easy for people of all ages.
Within about 60 seconds, you're inside a fully enclosed camper and ready to make lunch or get cozy and hang out. There is more than enough headroom for most people. We are 5'10" and 6'2″, and there is plenty of height for us while standing.
The pop-up portion of the Fleet includes four windows with three layers each; a screen layer, a transparent layer, and a blackout layer. Our thermal pack addition provides another layer for the windows. There are 3 LED light strips that are touch-operated, making them silent. They are also independent of each other and dimmable, giving you fully customizable lighting inside the camper.
The bed area slides out, giving an incredibly comfortable amount of sleeping room for us and our two dogs (approximately a queen-size). We have replaced the stock 3″ mattress in order to increase our comfort since going full time. I will talk more about that along with other modifications further down.
Curious about seeing a camper video tour?
Stick around until the end for the awkwardly funny YouTube video.  We show what a Fleet model looks like as a shell and how the pop-up functions.
DIY Storage Ideas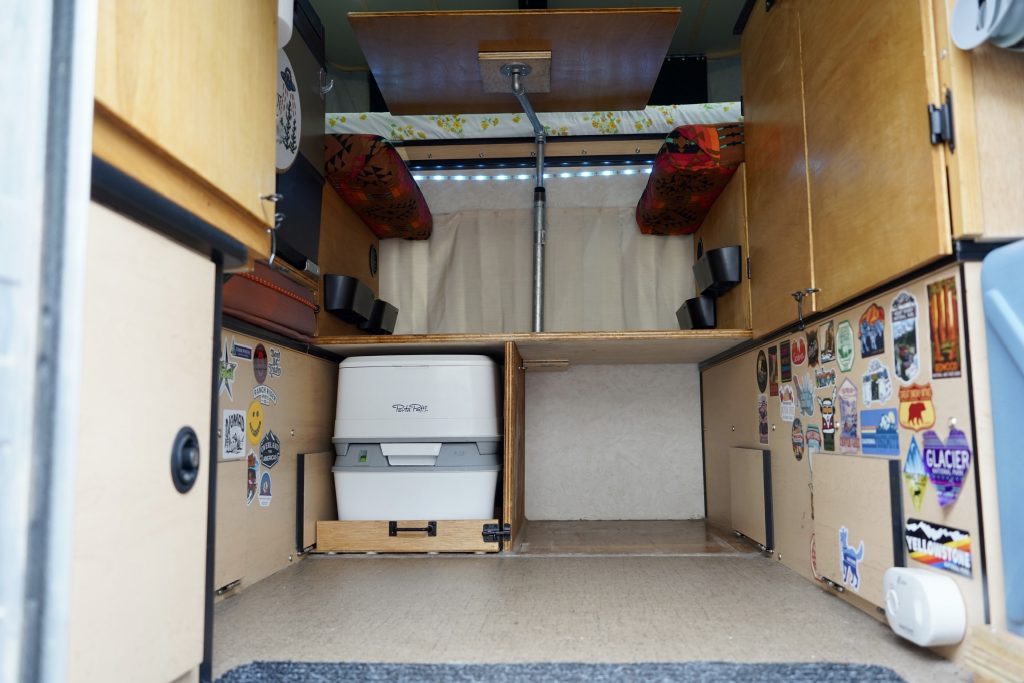 We found inspiration from overlanders, van-lifers, campers, and other nomadic lifestyles. After noting the things we used on a daily basis and learning how to minimize our clothing and luxury items, we were able to start making decisions on the dimensions of our build and its complexity.
We had seen a video of another camper tour, and the owner said, "headspace is wasted space in a pop-up." That changed everything for us. We were able to visualize a much larger scale build once we realized we could fill the entire height of the hard-sided structure.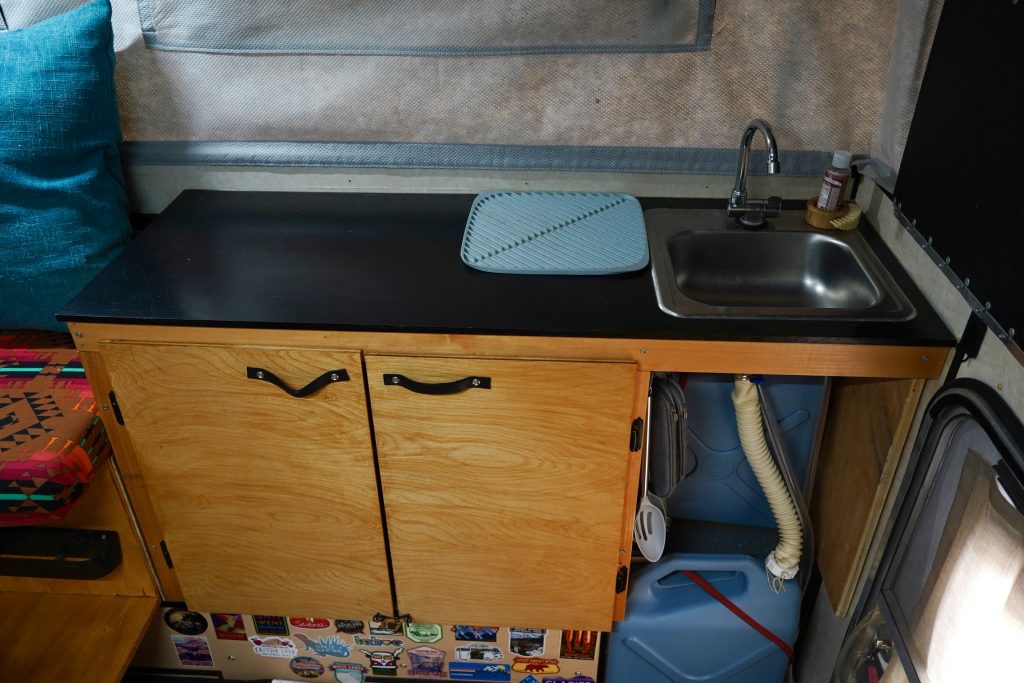 This concept gave us four more storage spaces! A central focus point became a raised dinette with storage below the benches and a swivel table. Once we figured out the maximum height of the seats, we were able to create the space at the front-most part of the camper. This was followed by the fridge, the sink, and finally, the cabinets.
One of the biggest reasons we did a DIY interior is that we could maximize the amount of storage. Everything has a place and is easily accessible through the large cabinet doors. Another reason was that we knew going forward, we could easily make changes to fit our needs or change out parts that needed to be replaced.
Camper Upgrades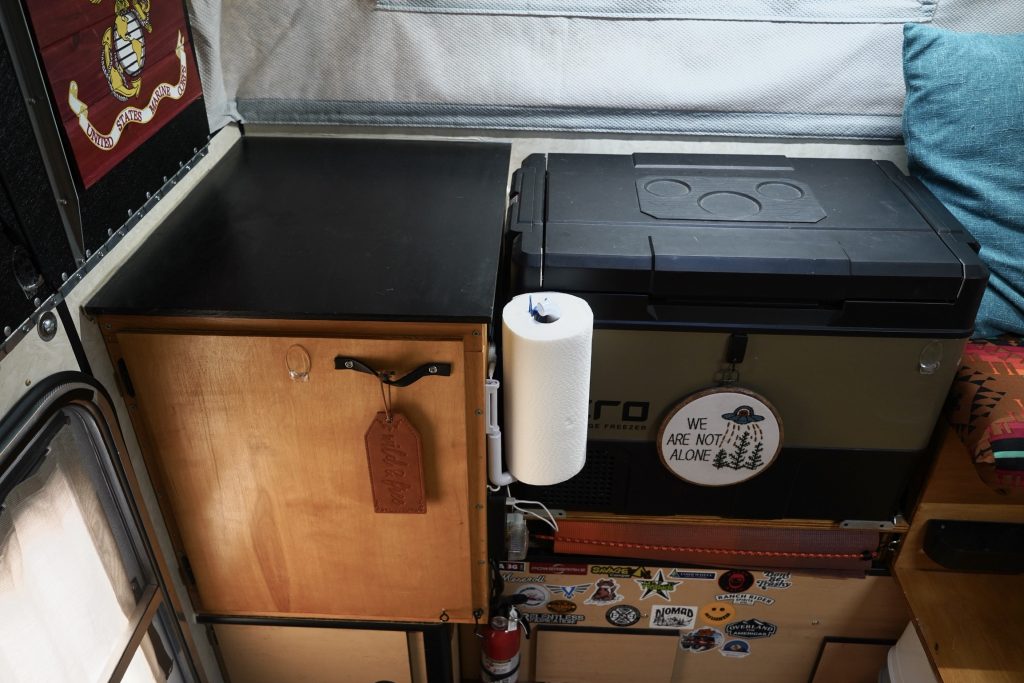 We did make modifications to some of the factory items simply because we would be using the camper on a daily basis. The mattress that comes from the factory is comfortable for short-term use, but after a few weeks of sleeping on it every night, we decided to upgrade to an aftermarket mattress. It has made a significant difference.
We also upgraded from the standard battery and charging system. Now, we have two 100Ah Battle Born lithium batteries and a complete charging and monitoring system by Victron. These are some of the most expensive upgrades we have made, but they are used daily and keep us going for more extended periods.
For a more in-depth look into our build thread on Tacoma3G.
Our Favorite Features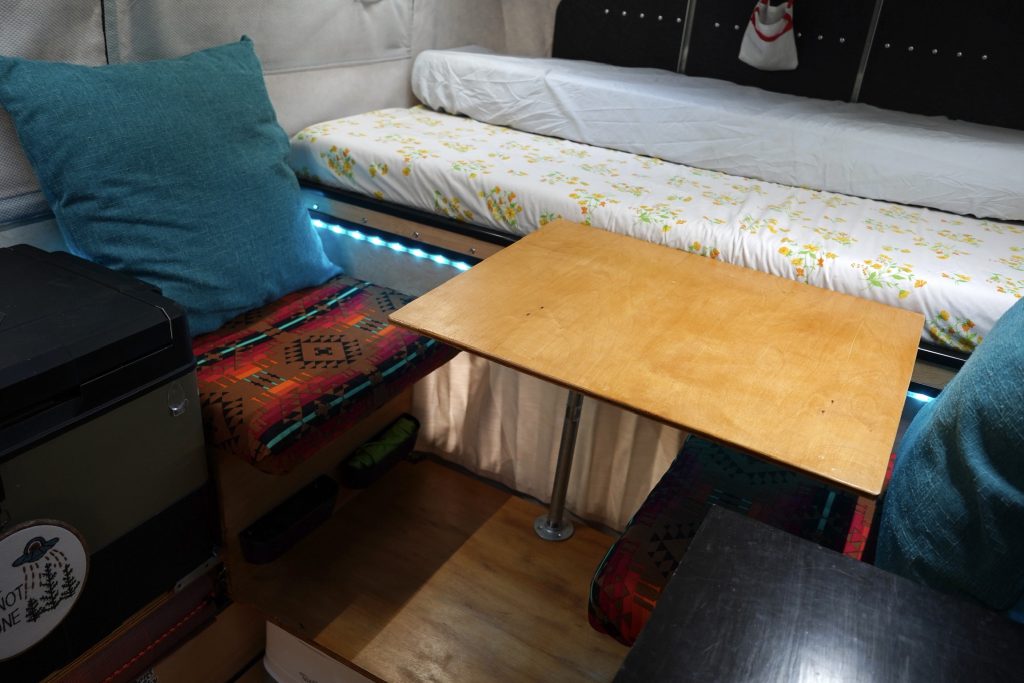 Low profile: We can still drive on low clearance roadways and can use drive-thru windows. Even with suspension upgrades, we are still shorter than a high roof sprinter van.
Mounting system: The camper is held on using a turnbuckle system that is easily accessible through doors inside the camper. With the use of the camper jacks, the camper is easily raised and lowered onto the truck.
Alternator charging: We have solar power as well, but being able to simply run or drive the truck to charge the batteries is a huge plus, especially in colder months when the sun is lower in the sky.
Usable space: Even after adding all the cabinetry and seating, we still have a fair amount of room to move around. We have even been able to haul a thing or two in the camper and have been pleasantly surprised at what we can still fit.
Simplicity: Being able to show up to camp in the middle of the night and be safely inside and behind a locked door within 60 seconds is great. Stepping up into the camper without needing a ladder or doing any external setup besides undoing the latches has helped us forget the days of using a rooftop tent.
Final Thoughts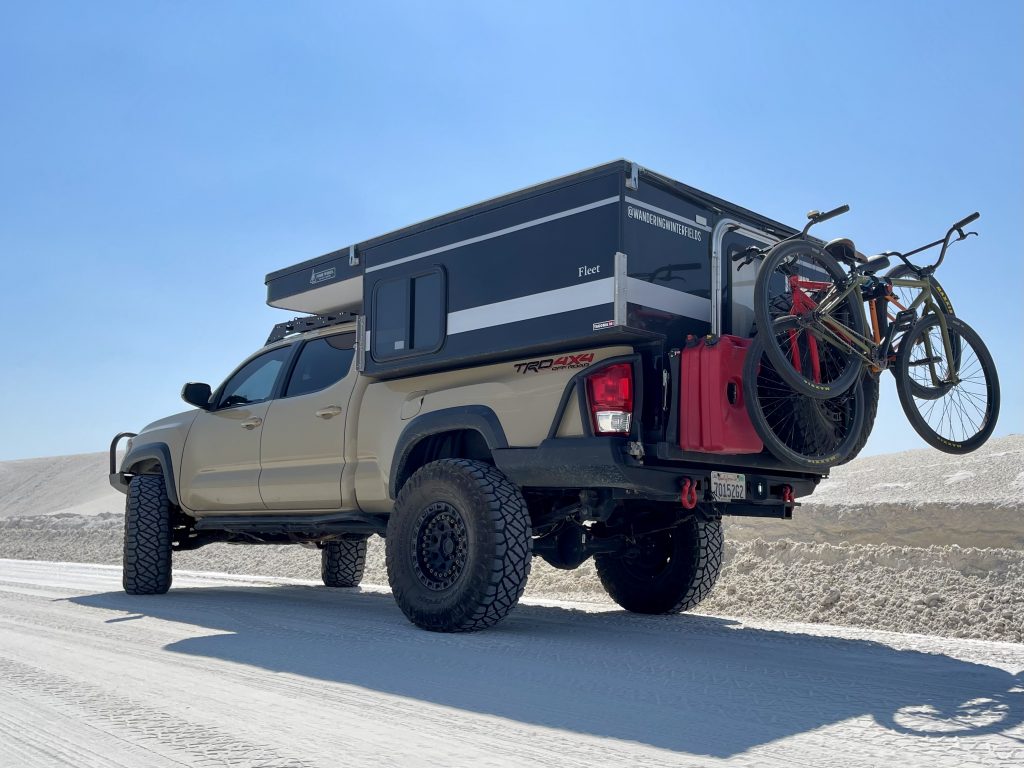 After two years of ownership, we have used this camper in every season and probably every way you could imagine. Thanks to the onboard power system it's been a weekend warrior setup, a full-time home, and has even been used as a temporary home in the driveway during power outages.
We are so happy with our decision to buy a Four Wheel Campers Fleet. The amount of comfortable space we can enjoy while still having everything we need for life on the road is unmatched for quality and price. This camper allows us to get out there and stay out there, and that's precisely what we need.
YouTube Video