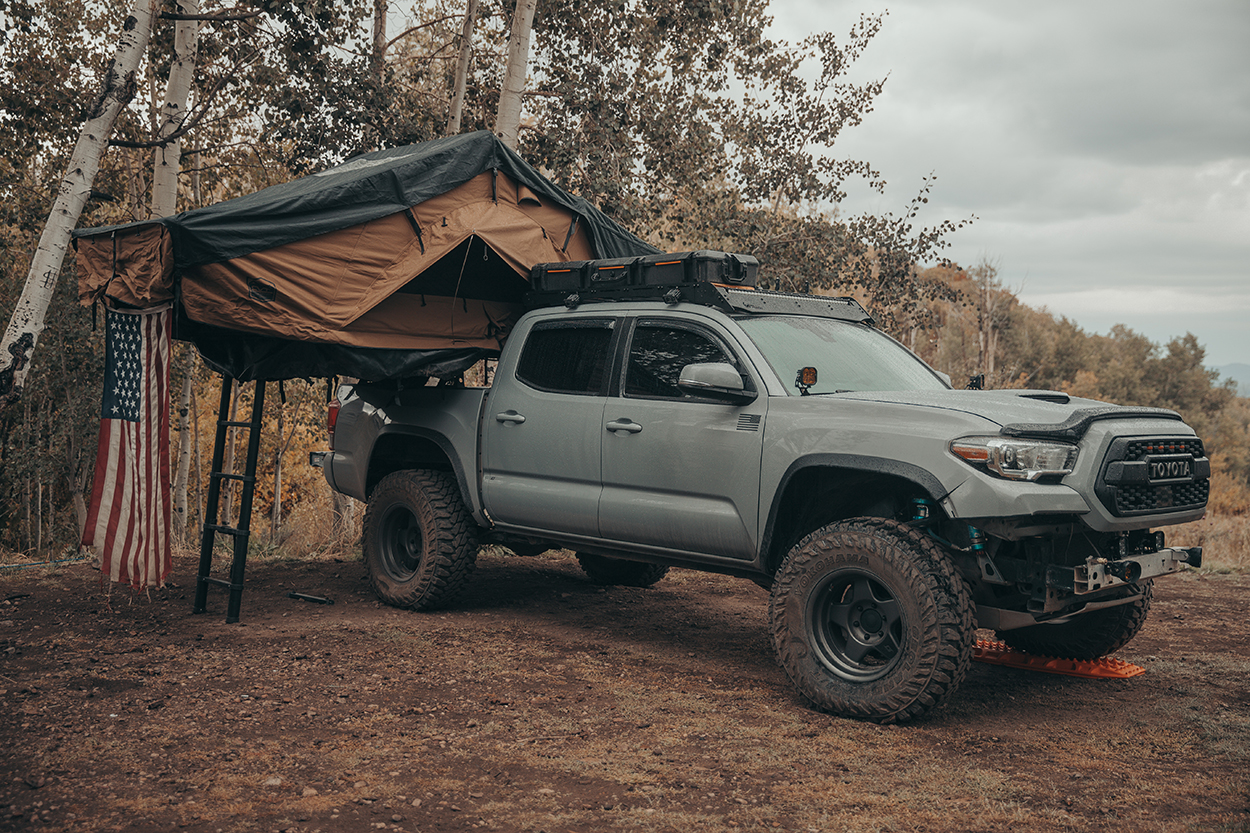 Elevate Your 3rd Gen Toyota Tacoma Overlanding & Camping Setup With A Roof Top Tent – 5 RTTs To Consider In 2022
This Week's Topic: Roof Top Tents (RTTs) 
Hey guys! Welcome back to another Taco Tuesday. If you missed last week's TT, we took a look at the Top 5 Essential Overland Mods for the Tacoma. This week we are following up to that post and swinging for the fences with one of the more pricey overland accessories that you can buy, a Roof Top Tent (RTT).
The Tacoma is a unique vehicle for overlanding because it offers several options for sleeping configurations. If you are willing to scrunch up, you can even sleep in the cab of your Tacoma; just be ready for some minor back aches the next morning.
Where the Tacoma really shines for camping is its bed versatility. You can sleep in the bed of your Tacoma in a variety of different ways ranging from a homemade sleeping platform and air mattress, all the way up to an insane camper setup by GFC. With that being said, there are fewer individuals that run RTTs on their Tacomas for camping due to cost and available budget-friendly options. Check out our post, RTTs vs. Ground Tents comparison here.
Roof top tents, however, provide you with plenty of space and comfort for hanging out and a good night's sleep. It's basically like having a dedicated sleeping area versus sharing the limited space of your cab or bed with all of your gear. This is the last thing you want to deal with after having a few too many bonfire beers and trying to get ready for bed in a sea of clutter.
Below we have 5 different RTT options to consider if you are in the market to elevate your overland experience. We have a few users who really enjoy their RTT from iKamper, so if you have been eyeing them, you're in luck!
Enjoy guys!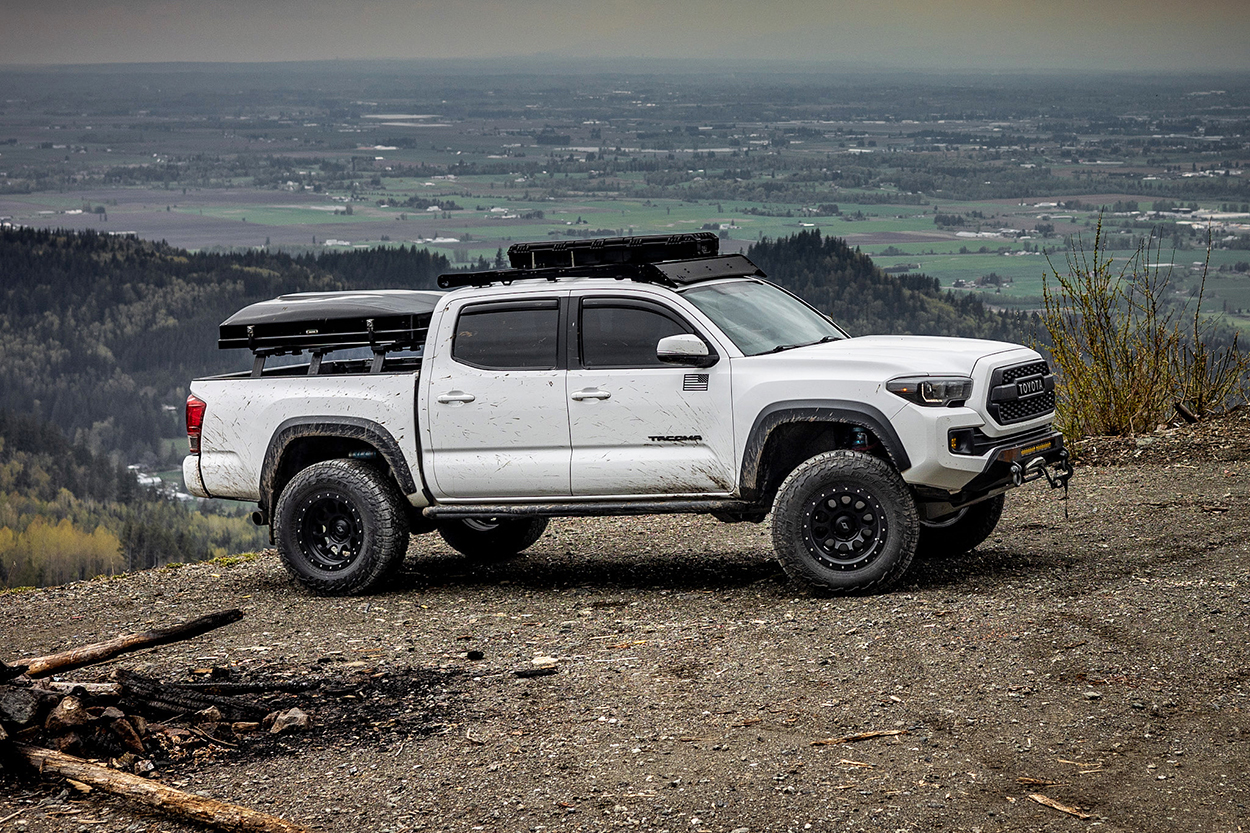 RTT Details 
Model: iKamper Skycamp Mini 2.0
Price: ~$3,200
What Do You Like About Your Setup?
The primary benefit to the iKamper Skycamp Mini is its easy setup and breakdown process. I came from a soft-top RTT and this iKamper hard shell was a night and day difference, especially in a cold-weather scenario.
The low profile is the other big benefit to this hardshell. I'll be updating my bed rack because the tent won't sit as high as my last RTT did which gives me more space in the bed for cargo.
My only gripe is the mattress. Being a side sleeper, I will need to upgrade the stock mattress soon as it's not the most comfortable.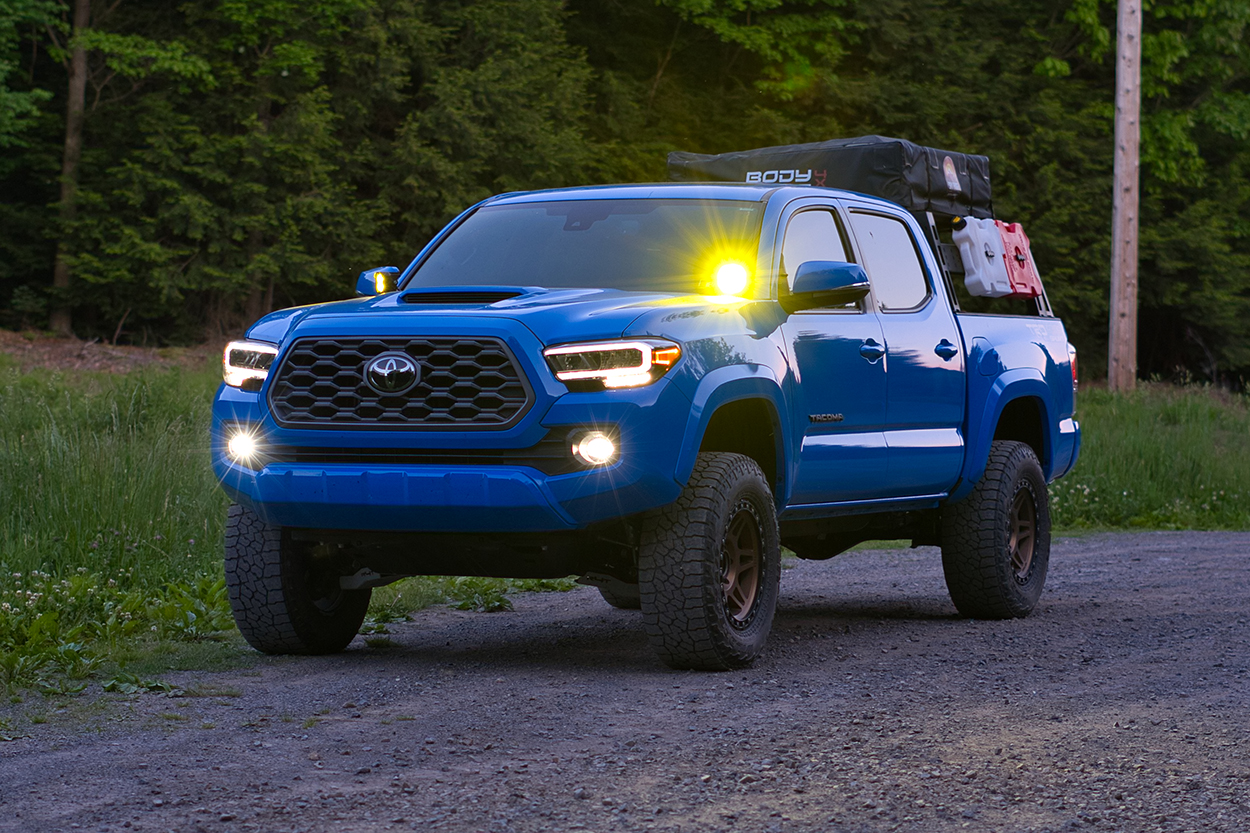 RTT Details 
Model: Sky Ridge Pike
Price: ~$1,050
What Do You Like About Your Setup?
My favorite thing about this RTT has to be the number of windows built-in and the moon roof. There are five windows that can be opened with the rain fly on. This allows for some amazing cross-breeze to come through.
The rain fly design is another one of my favorite things about this tent. It's designed with a see-through section, allowing you to see the night sky even while it rains. You can also have the windows open while it rains!
3. Josh Albrecht (@dixietacoma) – iKamper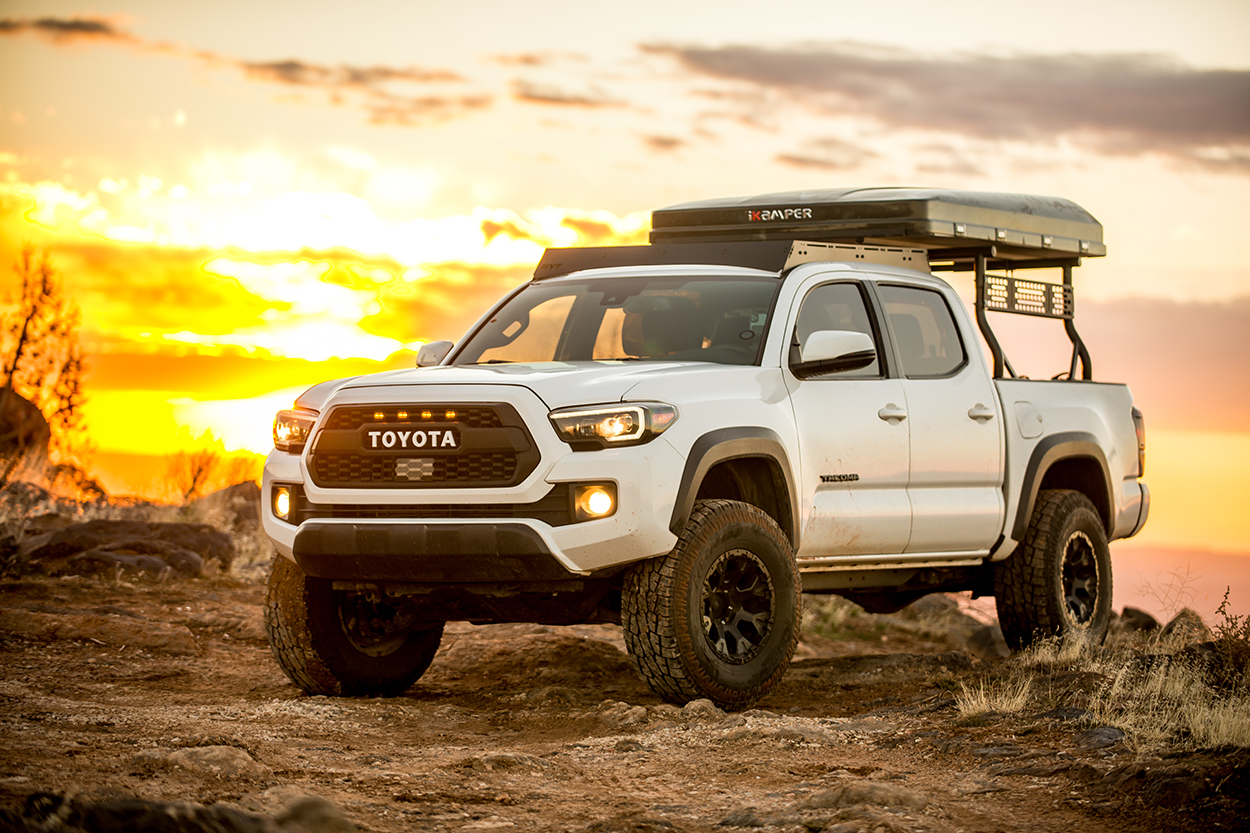 RTT Details 
Model: Skycamp 1.0
Price: ~$3,700 (There are currently 2.0 and 3.0 revisions)
What Do You Like About Your Setup?
I have been using the iKamper Skycamp for the last several years. It's been a great setup for my family and I've never had the need to switch it up. The current price of the Skycamp is around $3,699 and it features a king-size bed, 1-minute setup, and hard shell cover.
My favorite thing about the iKamper is the 1-minute setup and simple take-down. I also love the hard shell that holds up to anything I throw at it (and let me tell you, I have not been easy on it). Despite the sleek and slim design of the iKamper, I'm still able to leave bedding in the tent and collapse it. Its excellent durability, design, and functionality have kept me a happy iKamper for years!
4. Chris Johnson (@skuxx.taco) – CVT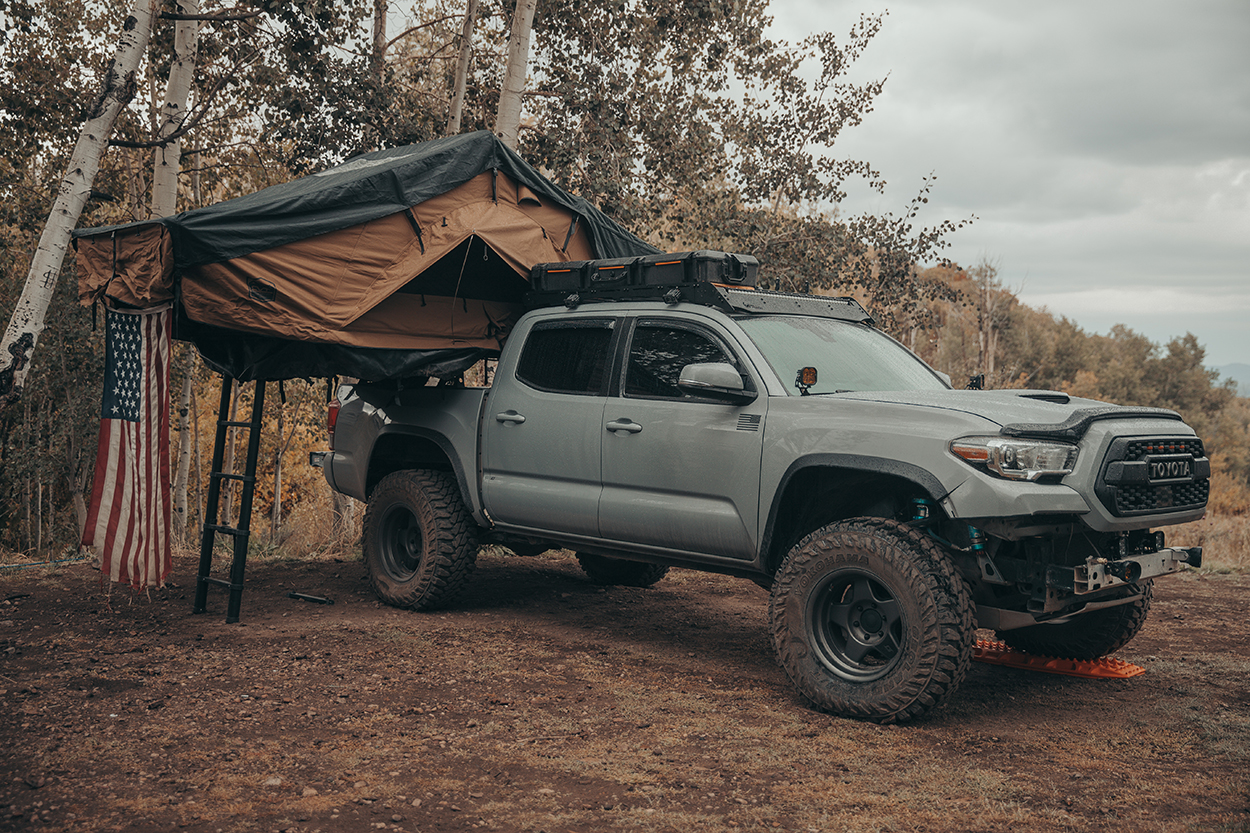 RTT Details 
Model: Mt. Shasta Hybrid
Price: ~$2,700
What Do You Like About Your Setup?
I have the CVT Mt. Shasta Hybrid with extended fly and annex room and paid $2700 at their grand opening in Las Vegas. It does seem like they're having some inventory issues because I don't see this model listed on their site at the moment.
The Mt. Shasta Hybrid is a cross between a soft shell and a hard shell tent. This tent gives you the full-size bed of standard soft shells and the easier setup and takedown usually only found with hard shells. There are no pesky zip-on covers either, making it a great middle-ground.
For the Tacoma, there are limited tent styles available that don't exceed the length of the bed.
When I bought the tent I really didn't want to get anything that extended over the cab when installed. This tent checked all the boxes for me! Even though it folds up like a soft shell, it features a honeycomb aluminum flooring that allows you to still mount things on top when folded. Alternatively, you can just put a camp chair up there and hang out on top of the truck.
A plus of using mid-height bed bars is that the tent is flush with the top of my roof rack. I've found it extremely convenient to bring home 2×4 lumber and a rug where I could strap everything down evenly across the entire length of my truck.
The mattress pad is upgraded in the Hybrid series, and I find it quite comfortable. This has one of the thickest materials on the market used today in a RTT. I've been able to camp deep into winter without losing too much heat and it has stood up to rain on many occasions with no problems.
A few things I've learned that I could do without:
Built-In LED Lighting – Way too bright for me to want to ever use, dumb feature.
Annex Room – Never have I had so many extra people with me that I would need it. Even if I did, I'd rather set up a ground tent. It's way too bulky and for that reason, it stays in a box in the basement.
Extended Fly – It's great in theory as a built-in awning that can cover the entrance in inclement weather. In practice, however, it makes setup and takedown noticeably more annoying and blocks one of your two views out of the tent. For me, I'd rather not have it.
5. Kenny Christensen (@viking.overland) – iKamper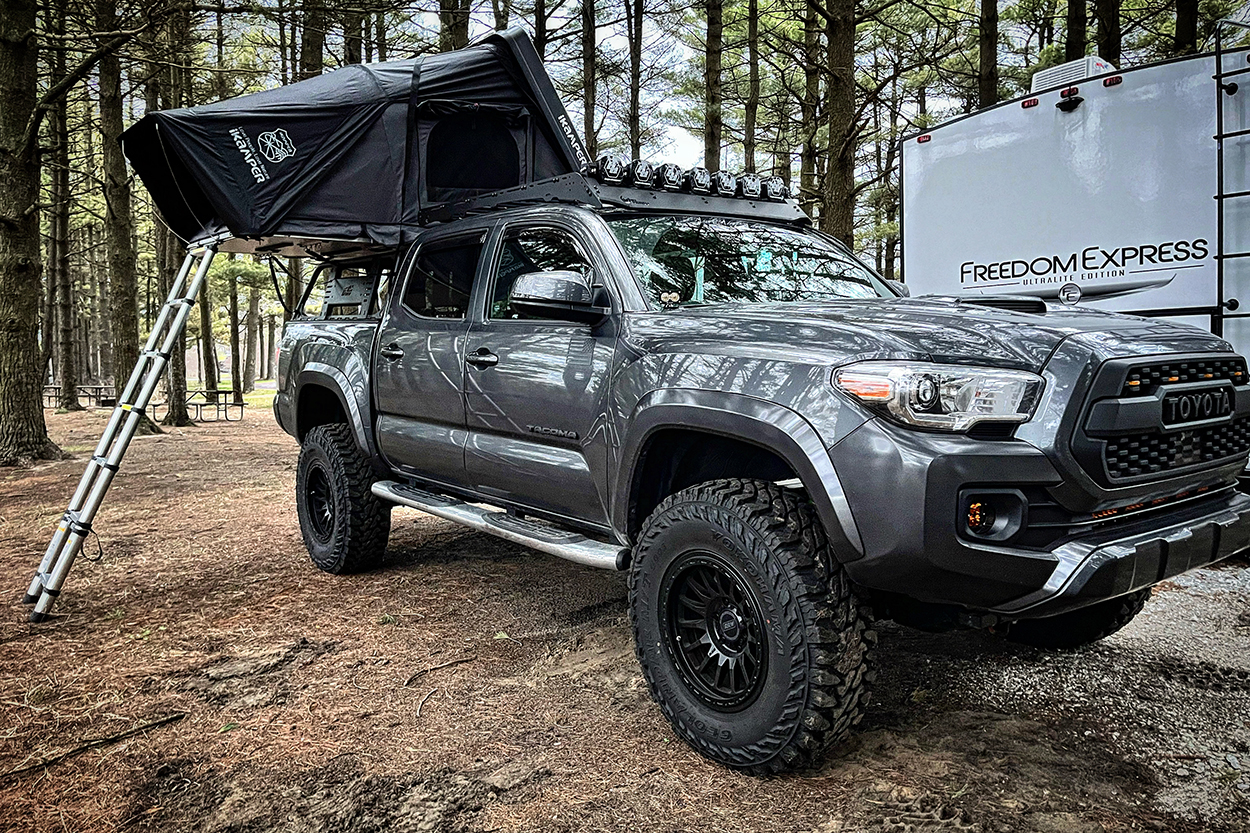 RTT Details 
Model: Skycamp Mini 3.0
Price: ~$3,600
What Do You Like About Your Setup?
I really like the updated design of this RTT. This iKamper RTT is spacious and has such a clean look on the bed of my truck. It is quick and easy to deploy and iKamper even supplies extra poles to attach a window rain fly on rainy days.
The interior is comfortable and has a quilted mattress and a closable skylight for added ambiance. This RTT is extremely versatile and has tons of compatible accessories. From liners to awnings and vestibules there are tons of possible configurations to fit your adventure.
Final Thoughts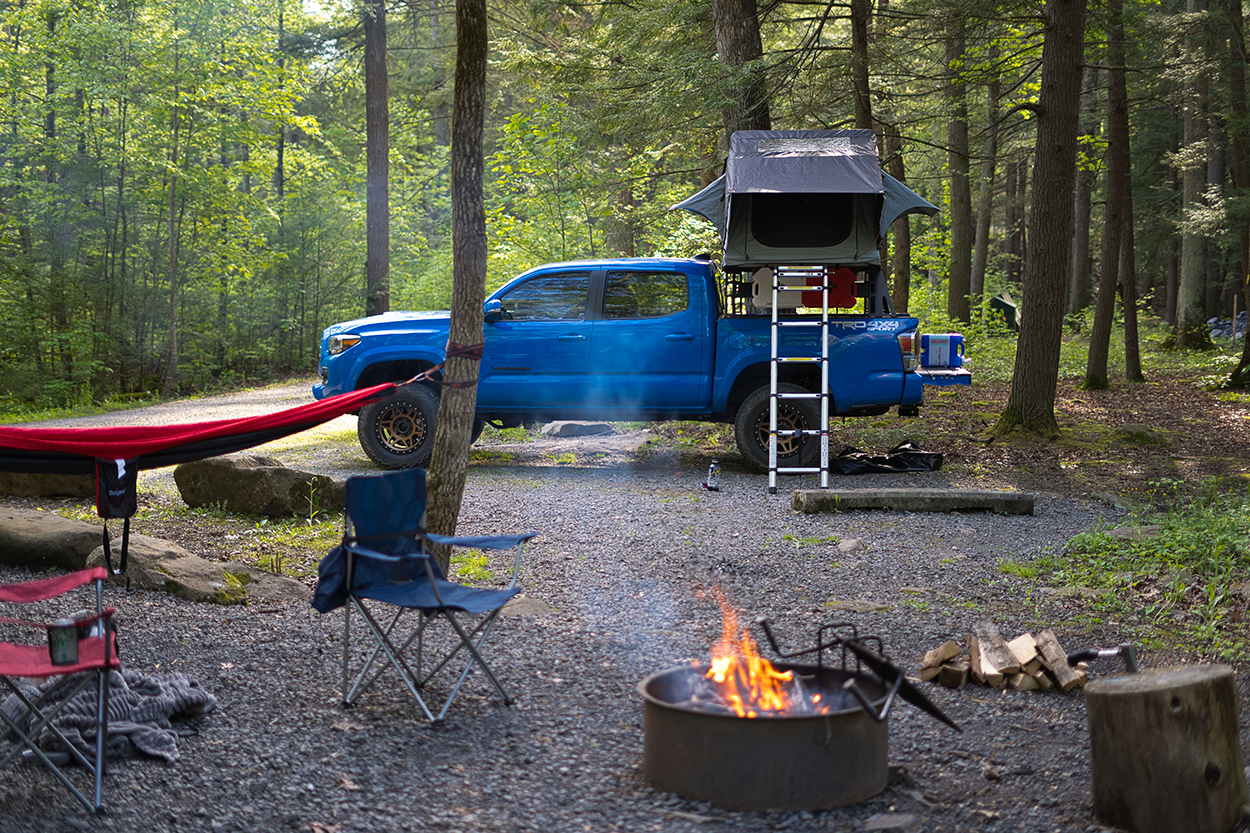 What a great little round-up of rigs showcasing some popular RTTs! Hopefully, we helped inspire your purchase of one for your Tacoma. Now, this list did have a few iKamper setups, but the whole point of these community feature articles is to see what you are all running on your rigs and why. This greatly helps our readers who may be looking for specific products better understand real-world experiences!
If you want to be featured for Taco Tuesday, submit your build through TrailTacoma.com/Feature. Next week's Taco Tuesday will be featuring All-Terrain Tire Options and asking owners what they like about their tires. We're looking for sweet rides to showcase! If this is you and you love your setup, send in your details because we want to see it.
Thanks for reading guys. I'll see you next week!