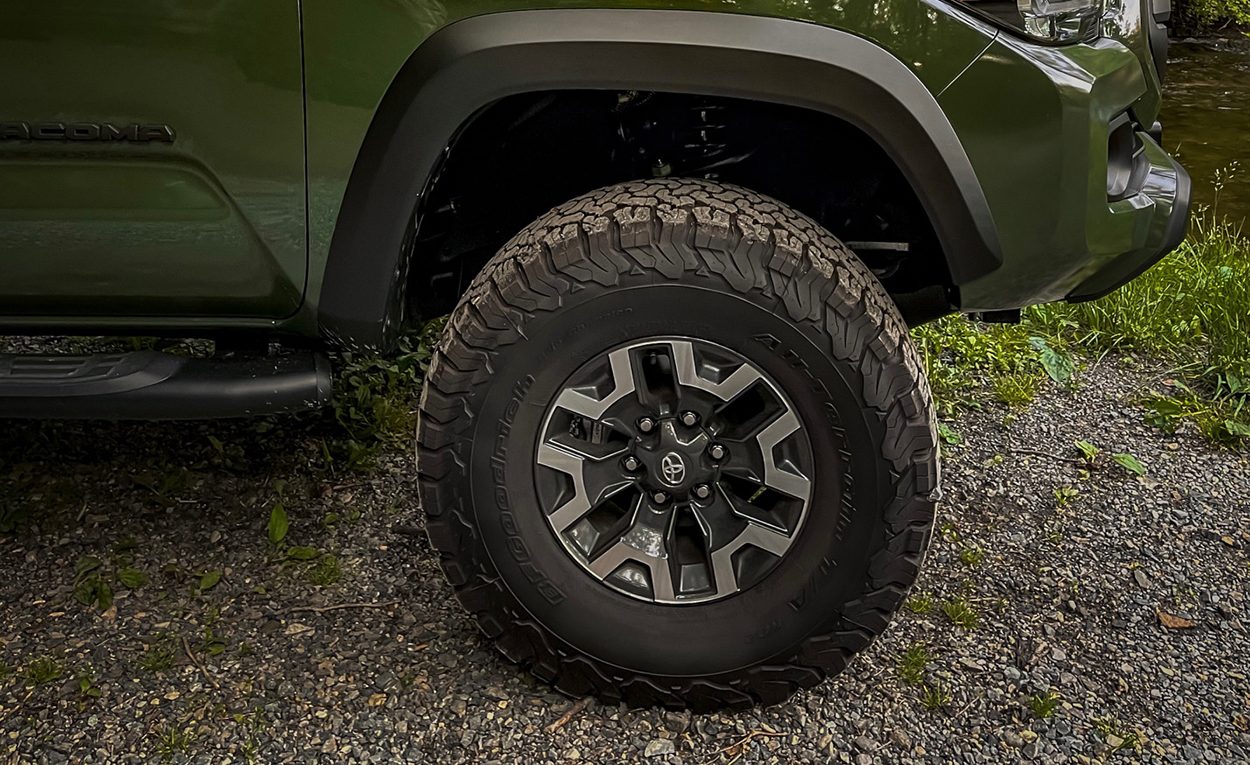 Which All-Terrain Tires Are The Best Upgrade For Your Truck? We Asked 7 Tacoma Owners What A/T Tires They Use & What They Liked About Them!
This Week's Topic: All-Terrain Tires
Hey guys! Welcome back to another Taco Tuesday. If you missed last week's TT, we took a look at 5 Roof Top Tent Setups for the Tacoma. This week we are looking at all-terrain (A/T) tire options that are super popular in both the Tacoma and overland/off-road communities. If you have been looking at upgrading your Tacoma's stock tires to a more capable off-road-worthy tire, this week's Taco Tuesday is for you!
All-terrain tires are a super simple upgrade for your Tacoma, but the performance improvements off-road are a true game-changer.
How about all-terrain vs mud-terrain tires? Not every Tacoma owner has the desire to take their truck to the nearest mud hole. Nor do they want to traverse through a rock garden when they know they need to drive their truck to work on Monday. All-terrain tires are designed for the casual off-roader who wants good traction on most terrain types while maintaining a decent daily driver.
Compared to mud-terrain tires, all-terrain tires have much less road noise and depending on tire size and load rating, they also will have a less negative effect on daily driving characteristics such as MPG and ride quality. The tread wear and life tends to be better with an AT as well. The various side walls and spaced-out lugs typically found on these tires make them a fantastic option for off-road traction. All-terrains are typically cheaper as well (depending on the brand and size), making them the best value option for the majority of off-road enthusiasts.
Below we have 5 A/T tire options (and one R/T) to aid in your tire search. Each owner also informed us of what they like about their tire selection and how it has benefited both their off-road and on-road experiences.
If after reading this week's Taco Tuesday you still need additional tire guidance on buying tires for your Tacoma, then check out our guide for choosing tires here!
7 All-Terrain Tires For Tacoma
1. Jesus B Dela Cruz Jr. (@tacodobowrx) – Falken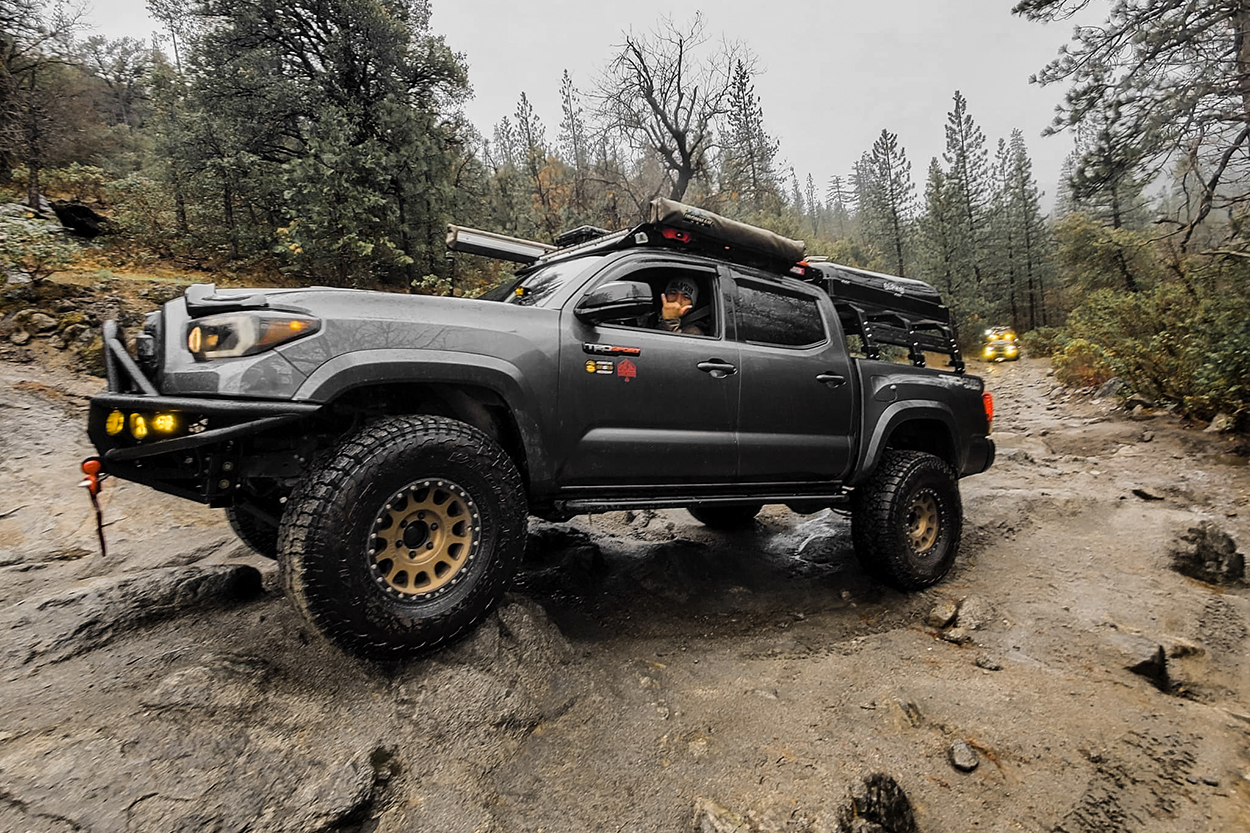 Tire Details
Model: Wildpeak A/T3W
Size: 315/75R16
Price: ~$400/tire
What Do You Like About Your Setup?
I love my the Falken Wildpeaks. These tires have an aggressive design and offer superior performance. Thankfully, they aren't too noisy on the highway either for being an A/T tread and compound.
These Falkens really perform great off-road, and can pretty much go through anything that I throw at them. They're very good in snow as well, which is especially helpful where I live. I highly recommend the Falken A/T3Ws to anyone looking at them!
2. Garrett Jenks (@snd.taco) – Cooper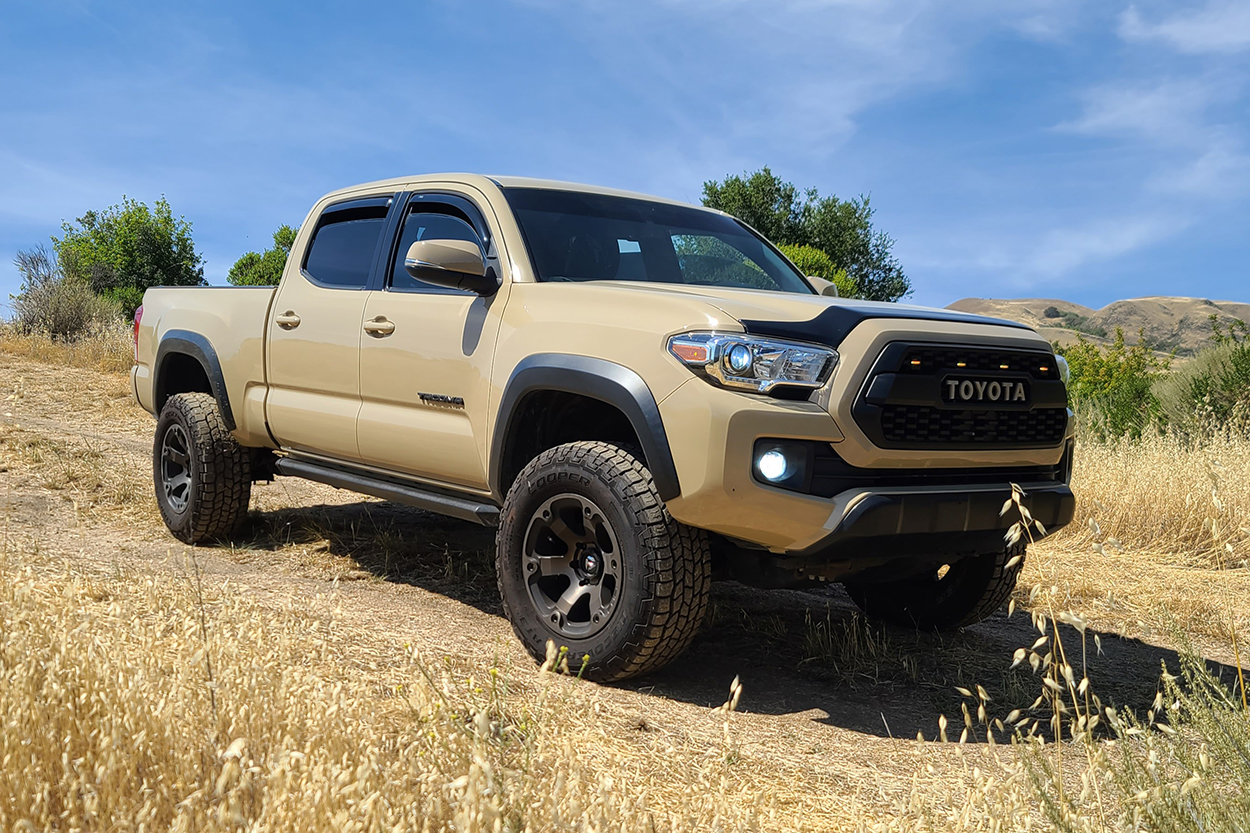 Tire Details
Model: Discoverer AT3
Size: 285/65R17
Price: ~$200/tire
What Do You Like About Your Setup?
This is my first time running these tires and I have no complaints, they are great all-terrain tires! I drive about 40 miles a day and am averaging 18 mpg. Best of all, I'm still able to air down and hit the trails on the weekends. They have great traction both on and off the trails.
3. Kyle Monthony (@roamthetaco) – BFGoodrich
Tire Details
Model: All-Terrain T/A K02
Size: 285/75R16
Price: ~$300/tire
What Do You Like About Your Setup?
I have used the BFG K02s on several of my vehicles and I always come back to them. They have always proven themselves in many of the situations I've found myself in.
As good as the performance is on road, these tires are beasts when you take them off-road. They sport increased sidewall strength, puncture resistance, durability, and traction over the factory tires.
With their increased traction in all terrains including mud and snow and excellent tread life, the KO2 is branded as being "the toughest all-terrain tire ever". After driving with them, you may find it hard to disagree with that statement.
If you're looking for a tire that can do it all and handle any situation, this is it!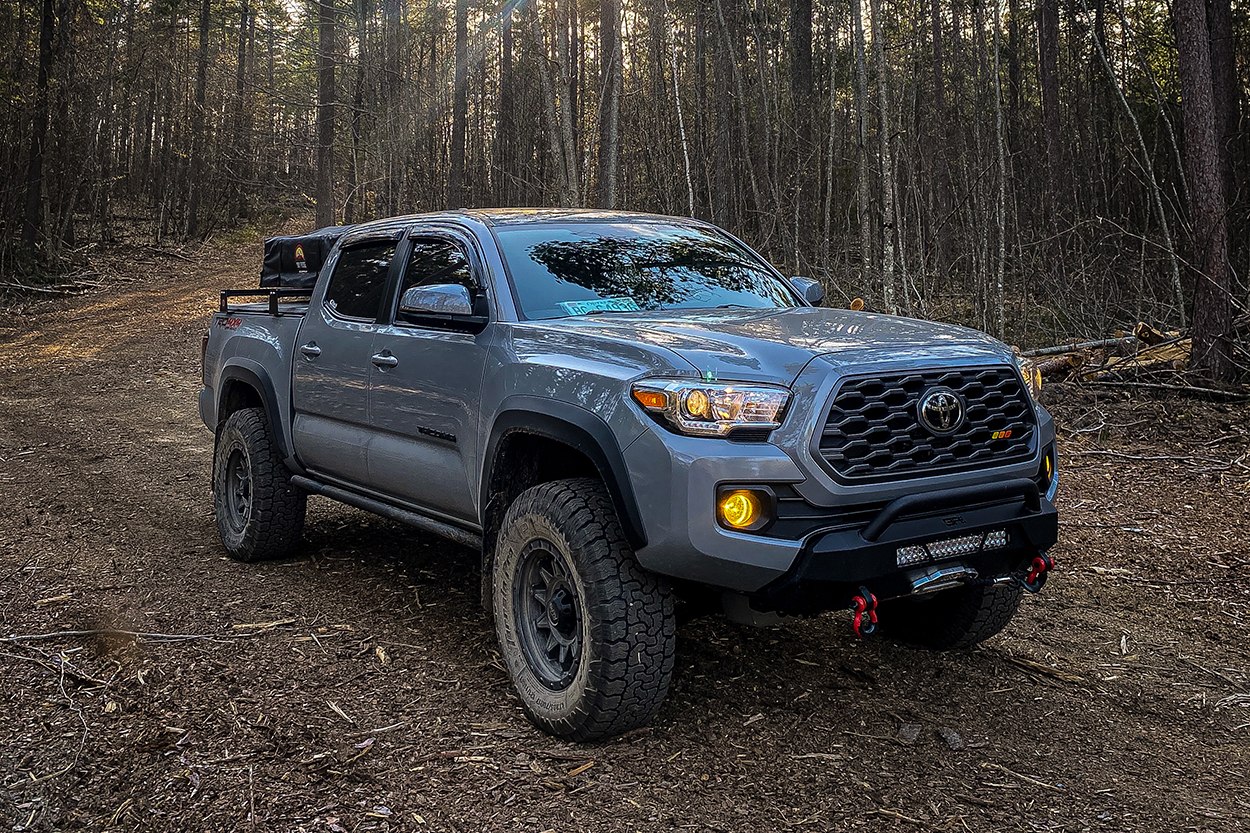 Tire Details
Model: Pro Terrain A/T
Size: 285/70R17
Price: ~$230/tire
What Do You Like About Your Setup?
I love the thread pattern of this tire, they are very similar to BFG K02s. So far they are in great shape after 20k miles, with the tread looking like it will last for quite a while longer. Their wet handling on-road leaves some to be desired but they did the job fine last winter. I live in Ontario Canada so it's really useful to be able to run these tires all year long.
There is a 60,000-mile warranty and they seem to be pretty good for the price thus far.
5. Daniel Alexander (@dasmurftaco) – Kenda
Tire Details
Model: Klever R/T
Size: 35×10.50R17
Price: ~$275/tire
What Do You Like About Your Setup?
I really like the aggressive look of these tires. They have done absolutely amazing in the snow and mud so far. These tires are by far the best I've run, beating the Toyo M/Ts and BFG K02s from the past. The hybrid technology of both A/T and M/T treads and compounds makes these some of the best tires on the market!
Editor's Note: R/T compounds are relatively new-ish to the off-road tire scene. They are a blend of both an A/T and M/T tire but are a little closer to an all-terrain. R/Ts are a perfect option for those that want a little more bite than an A/T tire offers but don't want to fully commit to the super aggressive tread pattern of an M/T tire.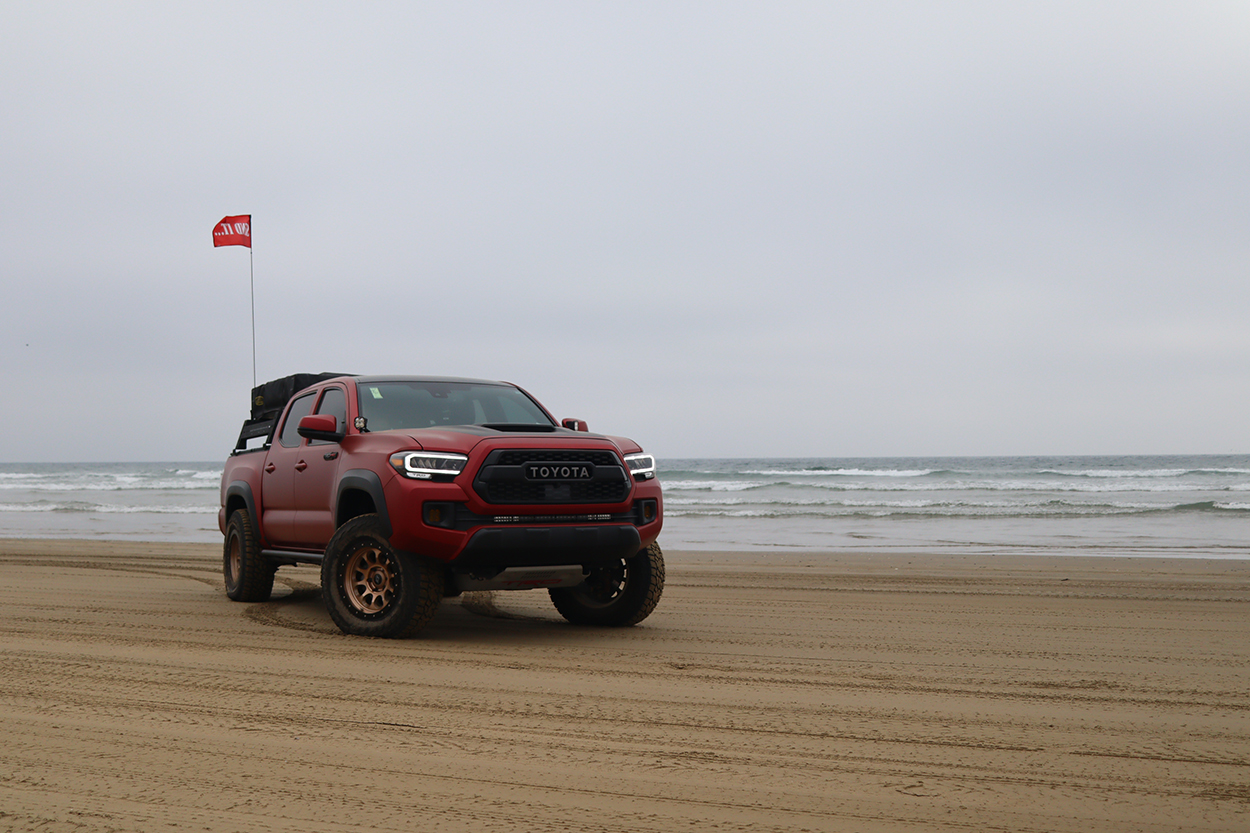 Tire Details
Model: Wildpeak A/T3W
Size: 265/70R17
Price: ~$225/tire
What Do You Like About Your Setup?
When I was looking to upgrade my tires, the Falken Wildpeaks came up a lot in threads and searches for best-performing tires. What I like about these tires is that they check off several boxes for what you look for in all-terrain tires. They're both quiet on the road and can still perform great off-road.
They're also 3PMSF snow rated, can handle mud, perform well in the rain, and best of all, budget-friendly. I have had them for over a year and driven a little over 10,000 miles over various terrains and they've never let me down. Air them down to 15 PSI and they're ready to conquer any terrain you throw at them.
7. Garrett Kinser (@trd18_kinser) – Mickey Thompson
Tire Specs:
Model: Baja Boss
Size: 33×12.5R17
Price: ~$350 each
What Do You Like Most About Your Setup?
I chose these tires because they were the best aggressive A/T tire that I could find. They are 3PMSF snow and ice rated which is nice for Colorado weather. They've gotten me through anything I could throw at them and to where I need to go with no issues. Mickey Thompson is also a very well-known, reputable brand, so I knew my money was well spent and that these tires would last. These tires also don't produce much road noise, which is nice for those long road trips.
Final Thoughts
What a great group of trucks for this week's Taco Tuesday feature. As I mentioned earlier, A/T tires are a very popular tire option for those looking to upgrade from the factory tires. If you liked a certain tire or rig in this week's features, be sure to DM or follow the owner on Instagram. We'd also love to feature your truck as well, so check out what we are doing next week!
If you want to be featured for Taco Tuesday, submit your build through TrailTacoma.com/Feature. Next week's Taco Tuesday will be featuring Aftermarket Fog Light Options and asking owners what they like about their setup. We're looking for sweet rides to showcase! If this is you and you love your setup, send in your details because we want to see it.
Thanks for reading guys. I'll see you next week!