8 Tacoma Owners & Their Choice Of Aftermarket LED Fog Light Upgrade – Replacement Options for 3rd Gen Toyota Tacoma in 2022
This Week's Topic: Aftermarket Fog Light Replacements
Hey guys! Welcome back to another Taco Tuesday. If you missed last week's TT, we took a look at All-Terrain Tire Setups for the Tacoma. This week we take a look at some popular aftermarket fog light options that fit the OEM front bumper of the 3rd Gen Toyota Tacoma.
A common lighting upgrade for Tacoma owners is from the OEM fog lights. The standard halogen fog lights that come from the factory are honestly HORRIBLE. For this reason, many companies have produced aftermarket replacements that maintain an OEM+ aesthetic while massively upgrading light output. This is especially useful in off-road applications where the only source of light is your rig.
If you are looking to get the most out of your fog lights, this post is for you!
Popular fog light upgrades for the Tacoma are sometimes referred to as Pocket Kits. These kits essentially remove your entire OEM fog light assembly and replace it with higher-performing LED units. They are usually plug-and-play, and most of the time even reuse the OEM mounting hardware. By upgrading the entire OEM fog light housing, you can run a pocket kit of your choice that will outperform the original halogen bulbs in basically every scenario.
Keep in mind, that SAE/DOT compliance will vary by brand/model, so be sure to factor this into your decision.
If you're not looking to swap out the entire fog light assembly, there are also upgraded bulbs available. This is an easier approach to upgrading the fog light output of the factory H11 bulb with a higher wattage LED/HID. Although still a substantial improvement in light output over OEM, a bulb swap won't typically be as powerful as a full upgrade.
As per usual, if you have any more questions about the rigs or products shown, follow the Instagram link for each feature and DM the owner for whatever additional questions you may have.
Enjoy!
1. Matthew Hemenway (@dasilvertaco) – Cali Raised LED
Fog Light Details
Model: LED Fog Light Pod Bracket Replacement Kit
Price: ~$175/pair
Wattage: 18 watts
What Do You Like About Your Setup?
The Cali Raised LED fog lights are extremely bright at night and cut through thick patches of fog with ease. The pods are extremely easy to install (being plug and play). They are available in either amber or clear and allow for on-road and off-road Tacoma owners alike to choose based on their needs.
The pods are positioned in a sleek aluminum housing that replaces the old plastic housing, creating more of a modern/off-road look to the truck.
2. Jonathan Branshaw (@sdtacomabeast) – Baja Designs
Fog Light Details
Model: Squadron SAE Fog Light Kit
Price: ~$300/pair
Wattage: 22 watts
What Do You Like About Your Setup?
After tinting my front windshield, I finally decided that my factory fog lights needed an upgrade. Just unboxing these, you can tell the quality by their weight and design. The installation is pretty quick and came with simple plug-and-play wiring. I definitely light up the night with these and they look sweet even during the day.
3. Monica Nunez (@nunezm03) – LASFIT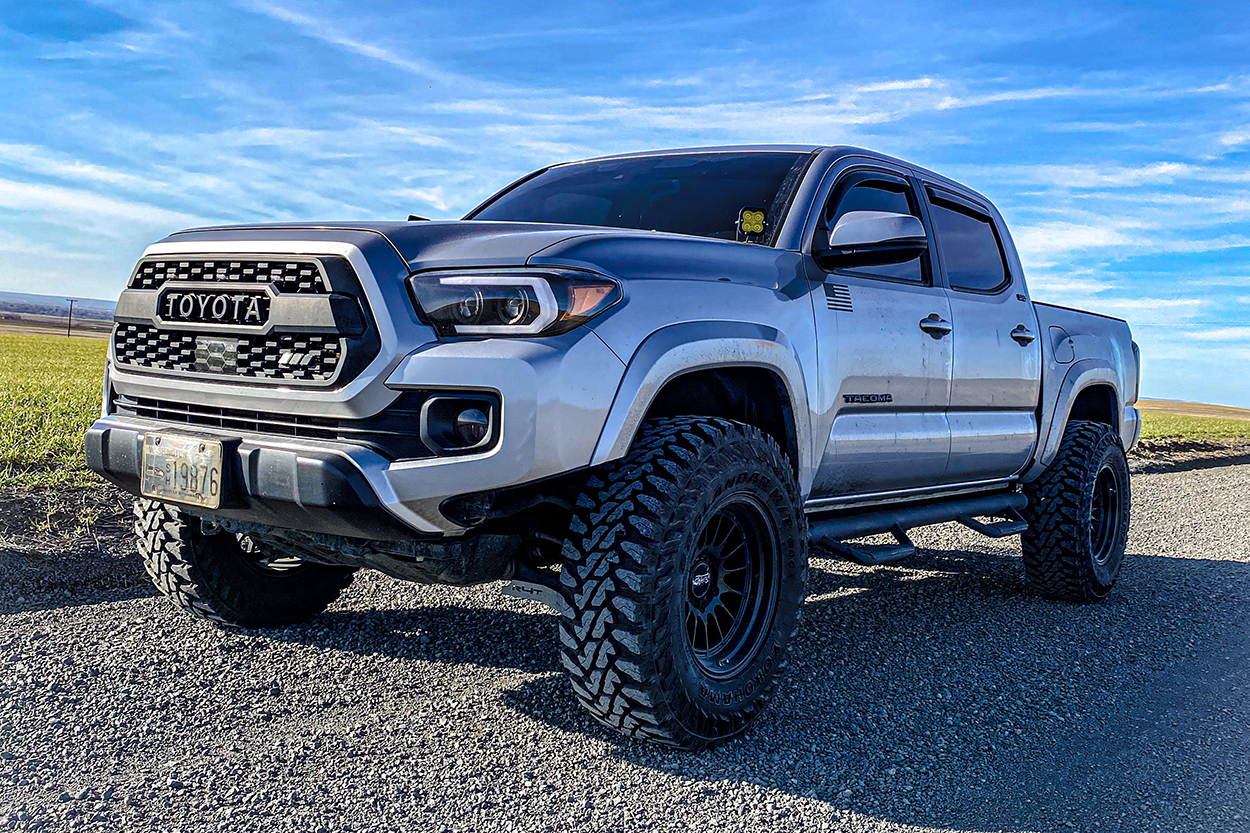 Fog Light Details
Model: LD Plus Switchback H11 LED
Price: ~$100/pair
Wattage: 30 watts
What Do You Like About Your Setup?
What I love most about this fog light setup is that if you are undecided between getting white or yellow fog lights, you get the best of both worlds with these bulbs. These fog lights are plug-and-play with a super quick, 15-minute install. They are affordable, feature two lighting modes, and are extremely bright.
Switching between modes is super easy, just turn your fogs on for white, or quickly toggle on/off for yellow. I love this product!
4. Hee Joon (@toyo.da714) – Baja Designs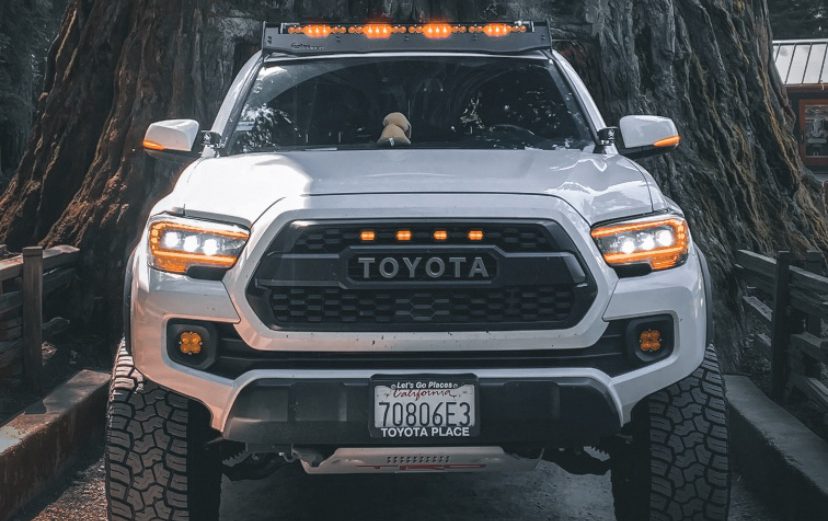 Fog Light Details
Model: Squadron R-Sport Fog Pocket Kit
Price: ~$400/pair
Wattage: 26 watts
What Do You Like About Your Setup?
The quality of these fog lights is amazing, very easy to install, and have an incredible light output for such a small package.
They look very nice on the truck and Baja Designs customer service is amazing. If anything is wrong with the product they will always take care of you and are very fast at responding. I've personally never had an issue and have had these installed for about a year now.
5. Christian Bunch (@impact_trd) – Diode Dynamics
Fog Light Details
Model: SS3 Max SAE Yellow
Price: ~$580/pair
Wattage: 38.5 watts
What Do You Like About Your Setup?
These fog lights are insanely bright! They have a much wider beam than the factory lights or other name-brand fog light pod kits. They also have a further throw than other fog light kits that I've run, as well as ones that my friends have when we directly compared. Some come close, but still not as good, I'd say.
6. Will Kates (@taco.verde.21) – Baja Designs
Fog Light Details
Model: Squadron SAE Fog Light Kit
Price: ~$300/pair
Wattage: 22 watts
What Do You Like About Your Setup?
I wanted something with an amber lens to cut through the Arizona dust and occasional snow in addition to increased output over the factory fog lights. I also wanted something I could safely and legally run on the road as well.
The "plug and play" Baja Designs SAE fog light kit checked all of those boxes. Installation was also very simple because they utilize the factory plugs and factory light switch.
7. Kyle Monthony (@roamthetaco) – Diode Dynamics
Fog Light Details
Model: SS3 Pro SAE Yellow
Price: ~$380/pair
Wattage: 36 watts
What Do You Like About Your Setup?
If you are looking to upgrade the lights on your Tacoma, you will come across several fog light options.
The SS3 lineup from Diode Dynamics is meant to compete with all of the other four-LED light pods on the market, most notably the Baja Designs Squadron Sport and Squadron Pro.
These lights appear to be constructed very well, with a large rear heat sink, powder-coated aluminum construction, and a high-quality lens. From an initial perspective, these lights from Diode Dynamics are awesome!
The SS3 Pro pods provide an excellent pattern and put out a tremendous amount of light!
The yellow light is quite functional when you are driving through fog, and I think they add a very unique aesthetic appeal too. I've noticed that the light from the SS3s blends very well with the headlight's low beam pattern, which allows for a smooth transition in lighting.
There is no comparison to the factory halogen bulbs, as the SS3s are leaps and bounds better.
I have been very pleased with all of Diode Dynamics' products, so I thought I'd give their new SS3 fog lights a shot due to their very competitive price!
8. Kevin Shanahan (@kevshananagins) – Desert Armor
Fog Light Details
Model: ULTRA4X 3″ Pods
Price: ~$165/pair
Wattage: 45 watts
What Do You Like About Your Setup?
First of all, Desert Armor is a small company owned and operated by an amazing couple who just had their first baby. I always support small local American businesses when possible and this is one of my favorites.
Their entire range of products is fantastic, especially the LED lighting options. They rival the quality of Baja Designs at a fraction of the price. If you want a quality alternative to Baja Designs I highly recommend you check out Desert Armor.
They have a ULTRA4 base model for $79.99/pair which is a step-down from the ULTRA4X and also the ULTRA4X Pro for $250, which is a step up. I mounted them with Desert Armor Ultra LED Fog Light Toyota Retrofit Bracket Kit for $60.
Final Thoughts

What a great selection of aftermarket fog light options for the Tacoma! As you can see above, the price range of fog lights can vary widely depending on the level of light output that you're looking for.
Personally, I like the looks of the Baja Designs Squadrons, they are just so classic on the Tacoma. However, if I had to pick the best bang for your buck on this list, I'd gravitate toward the Lasfit LED switchbacks. Regardless, it was awesome to see what these owners decided to go with and why.
If you want to be featured for Taco Tuesday, submit your build through TrailTacoma.com/Feature. Next week's Taco Tuesday will be featuring Aftermarket Front Bumper Accessories and asking owners what they like about their setup. We're looking for sweet rides to showcase! If this is you and you love your setup, send in your details because we want to see it.
Thanks for reading guys. I'll see you next week!