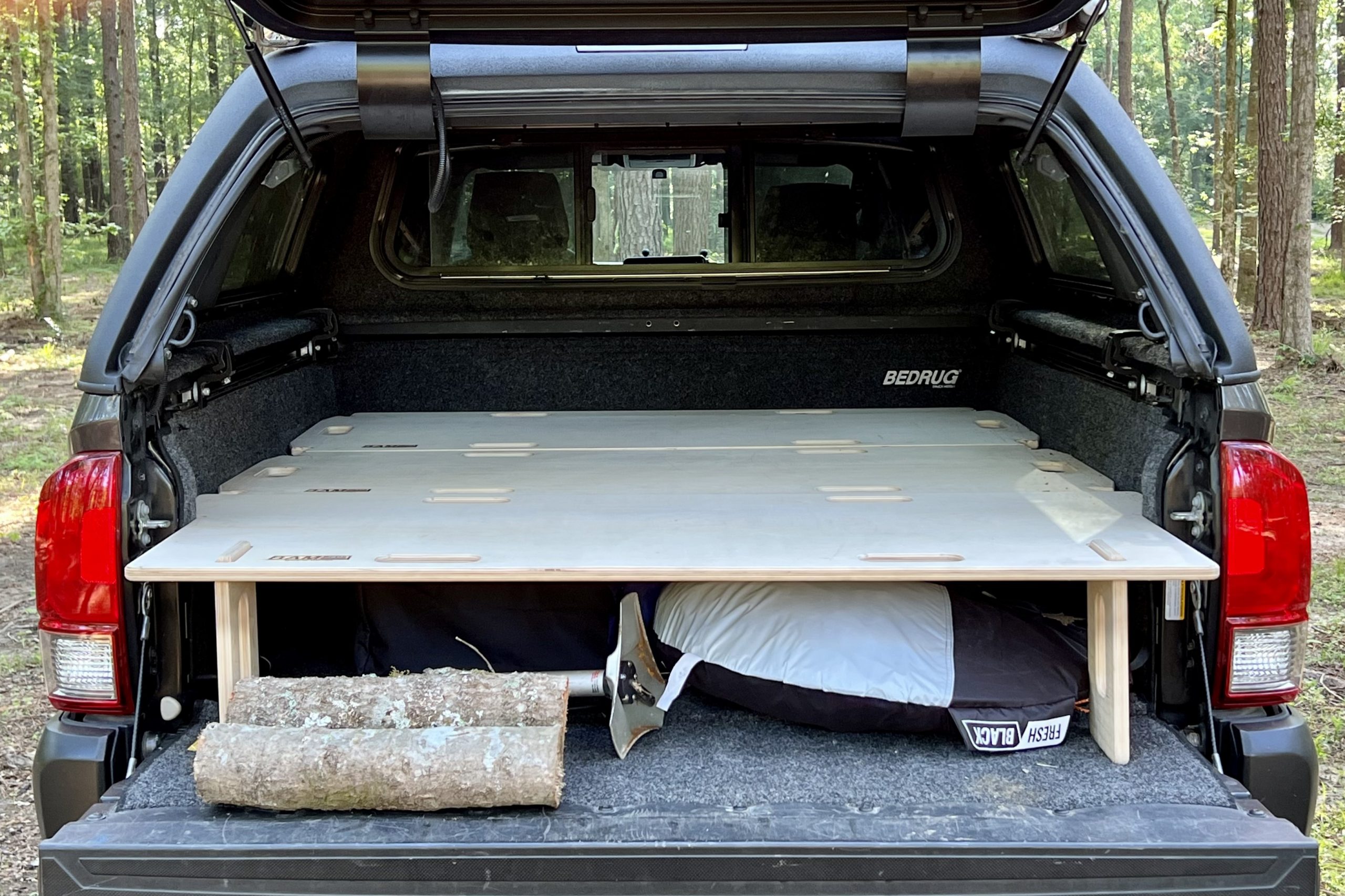 A Simple, Modular & Quick To Deploy Bed Sleeping Platform For The 2nd & 3rd Gen Toyota Tacoma – Install, Setup & Review
My most favorite thing to do in my Tacoma is to go exploring in the wild. And my second is to camp inside my truck. I grew up truck camping with my dad, on hunting excursions, or just adventuring in the wilderness. I absolutely enjoy the ability to drive to some remote location and to have a simple sleeping system onboard ready to go.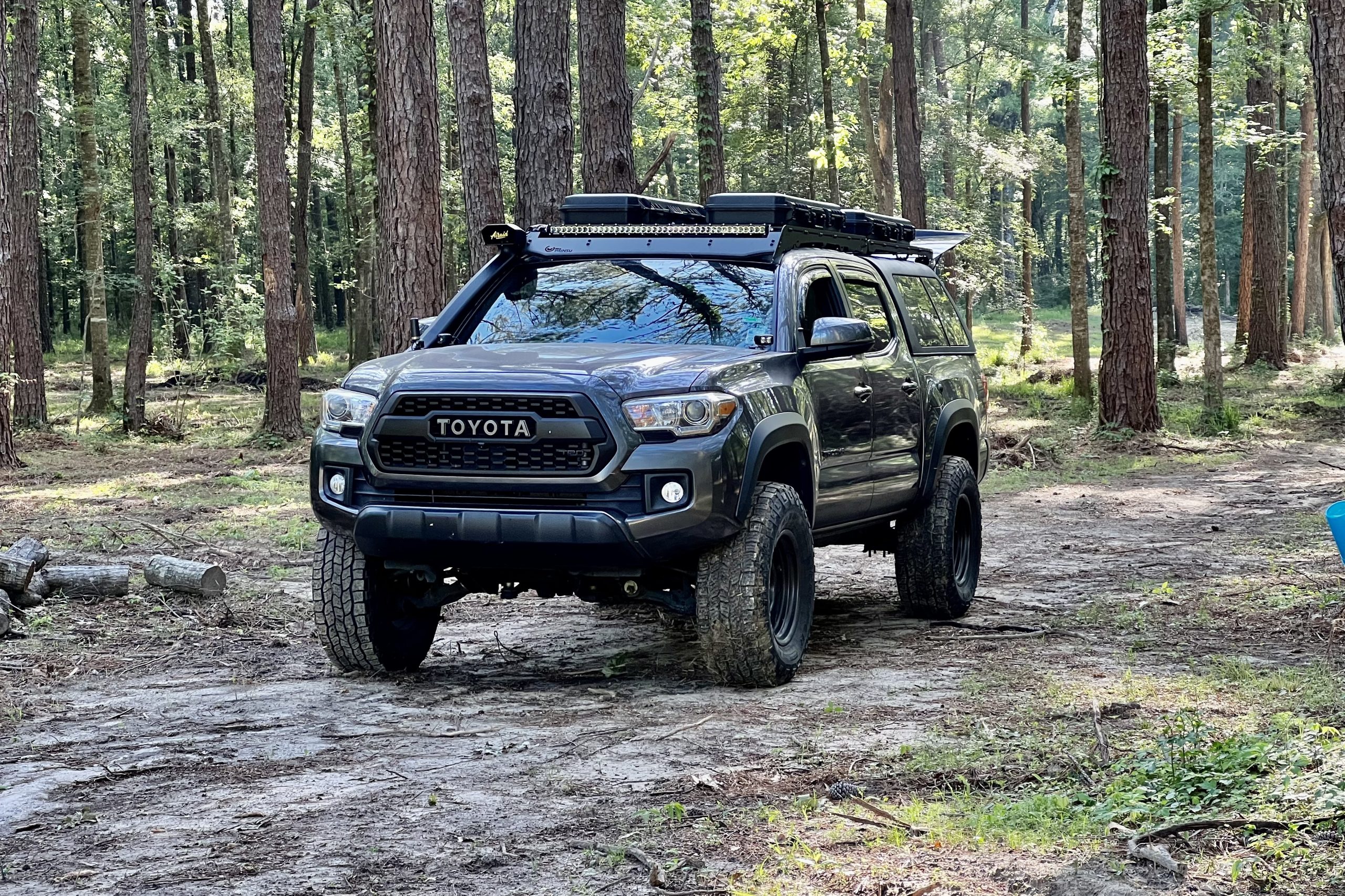 In my early days, we'd just sleep in the cab or on the bed floor. But over the years, tons of elevated sleeping systems have emerged, giving truck-camping enjoyers many options to choose from. These systems take advantage of the extra width over the wheel wells, providing more sleeping room and making storage much neater.
So, if there are already so many systems to choose from, why is BamBeds necessary?
What advantages does BamBeds bring to our camping needs?
First of all, BamBeds is one of the only fully modular truck bed sleeping systems for the Tacoma (perhaps the only – I looked around and didn't see anything else…). It consists of three or four (depending on setup) 3/4″ boards precisely milled and sanded to fit perfectly in your Tacoma bed area. They can be taken down or set up in a few seconds. This maximizes storage space and adaptability unseen with other systems.
Secondly, because of its modularity, your truck bed is not semi-permanently stuck in camping mode. I mean, it looks cool to drive around all the time with your overlanding setup for everyone to see. But let's face it, most of us also use our trucks nine days out of ten for general stuff like work, home life, etc.
With BamBeds, your bed area is quickly freed up for general daily usage. The boards also store in your shed or attic very unobtrusively. BamBeds is super simple in design. Simple designs reduce the possibility of something going wrong and increase the components' ease of use and durability. It's literally just a few boards. Albeit, they're finely designed and crafted; precisely cut, milled, and sanded boards. But there are no bearings or wheels, no screws or latches, and almost no assembly. Super reliable and easy to use.
Lastly, I have a short bed Tacoma (5-foot bed). This review will cover the short bed, but you don't need to worry if you have a long bed. BamBeds offers a long bed (6-foot bed) option as well. I'll be covering the raw birch option in this post, which is identical in size and shape to the bamboo one – with the only difference being the base material and overall cost. The latter is pricier but is constructed from architectural-grade bamboo plywood and finished with mineral oil. More on that later.
One final thing. BamBeds is working on making all of these platforms compatible with bed stiffeners. Changes should be made very soon, and the boards should universally be compatible with most, if not all bed stiffeners on the market. As of the latest update, there is a version for those of us with bed stiffeners. See links below.
Find It Online
Tacoma Bed Sleeping Platform
Birch or Bamboo?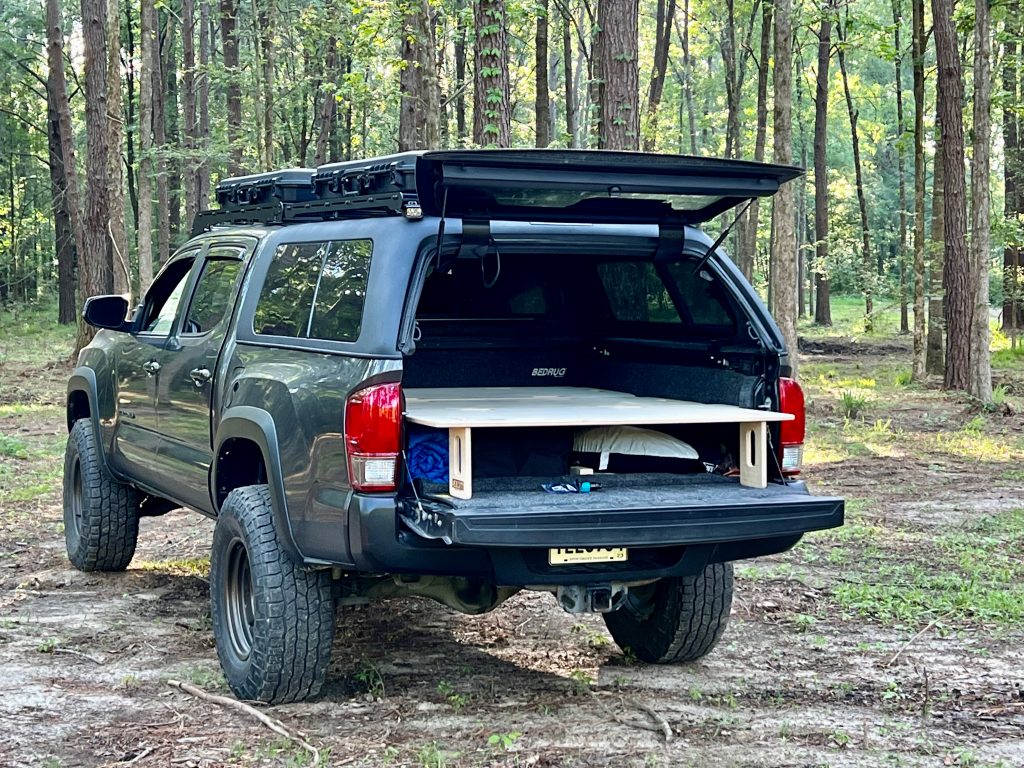 I already touched on this a little bit, but you'll have to decide which of these two options is best for you.
Although there are several differences between the two, the most significant factor for most buyers will probably be cost. While the standard birch platform comes in around $500 (without an extension), the upgraded bamboo version is about $750 (no extension). While both are nice and offer some different features, the birch option will do just fine if you're on a tighter budget.
Birch
Continuous grain sheet construction
Even ply thickness throughout
Extremely stable
Resists warping
Can be stained or carpeted
Bamboo
Aesthetic natural look
Architectural-grade
Environmentally conscious
Coated in mineral oil for moisture resistance
Will It Work With A Bed Rug?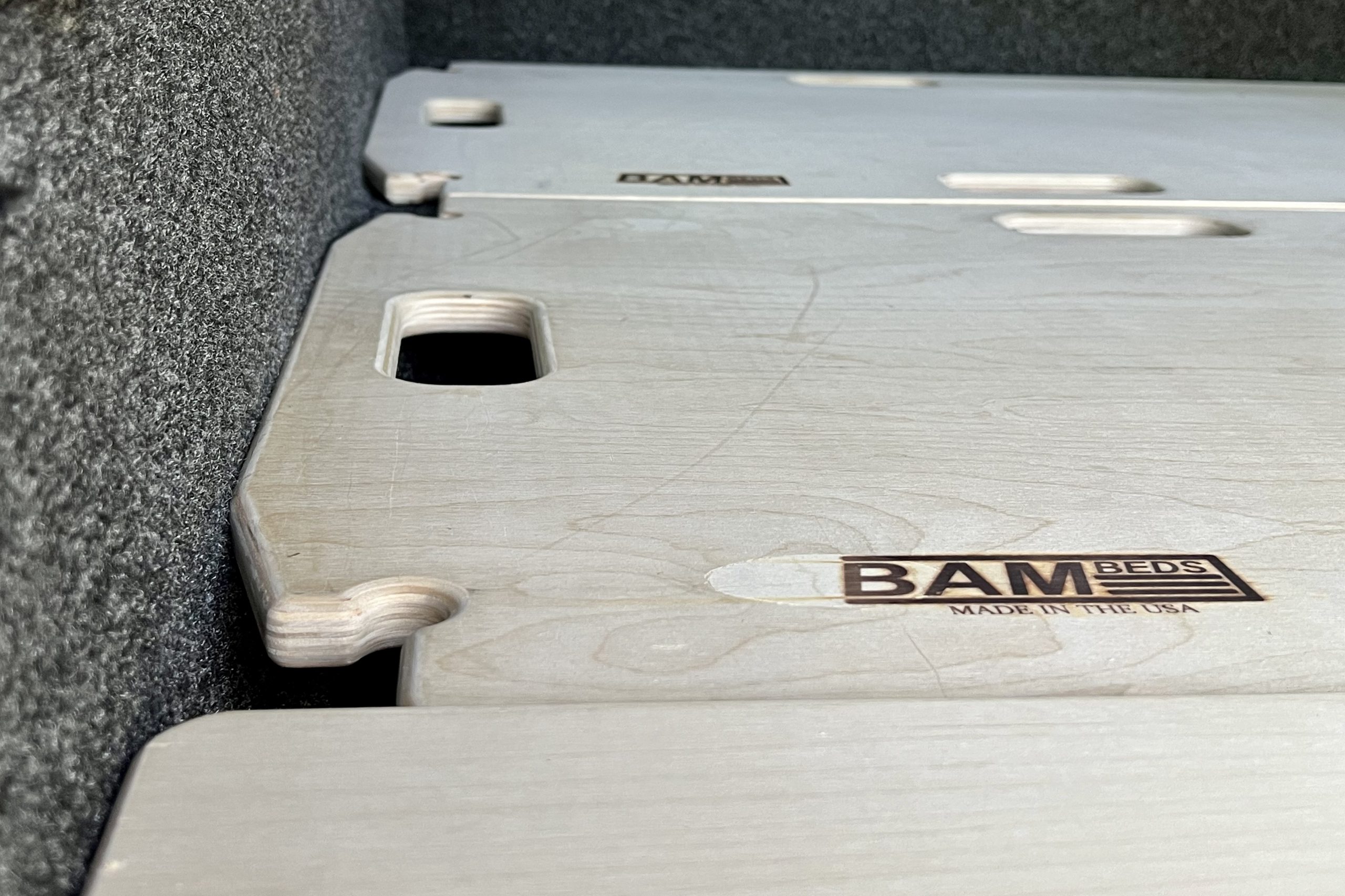 I have a BedRug inside my bed, and I wondered if the boards would fit with it or if the rug would need to be removed. The panels are expertly crafted to fit precisely inside the bed, but they will also fit with the BedRug installed. The rug is thin enough and possibly smushable (is that a word?) enough that the boards will squeeze in with no modifications.
Installation & Setup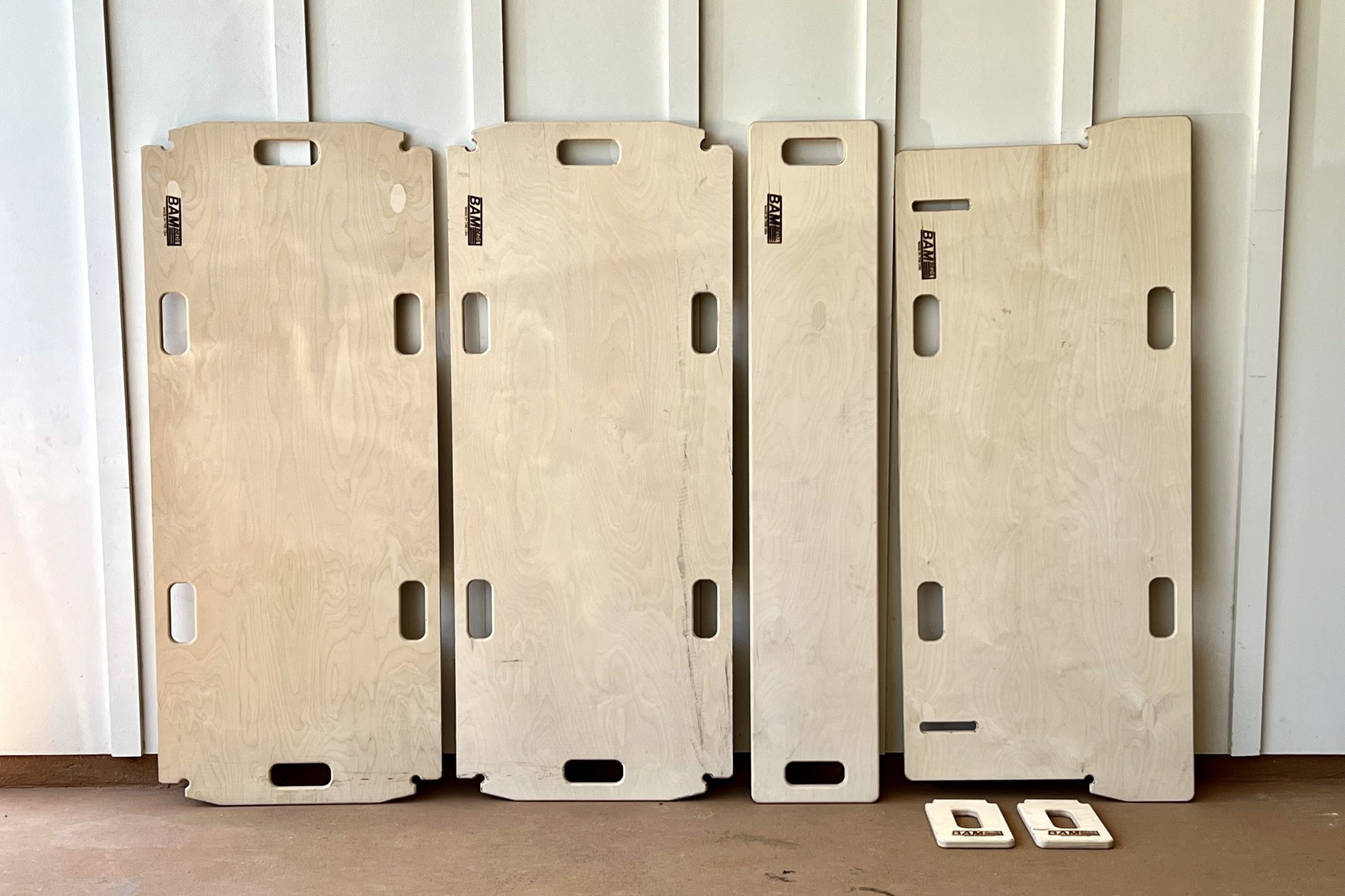 The installation is pretty straightforward. Just slide the boards in at an angle until they sit level over your wheel well area. I ordered the short bed system with the tailgate extension option. This included 2 universal boards (left of image), 1 tailgate extension board (right of image), 1 headboard (short board in the middle), and 2 feet (bottom of image). See following sections for each of the different setups.
Short Bed – 5 Foot Long Setup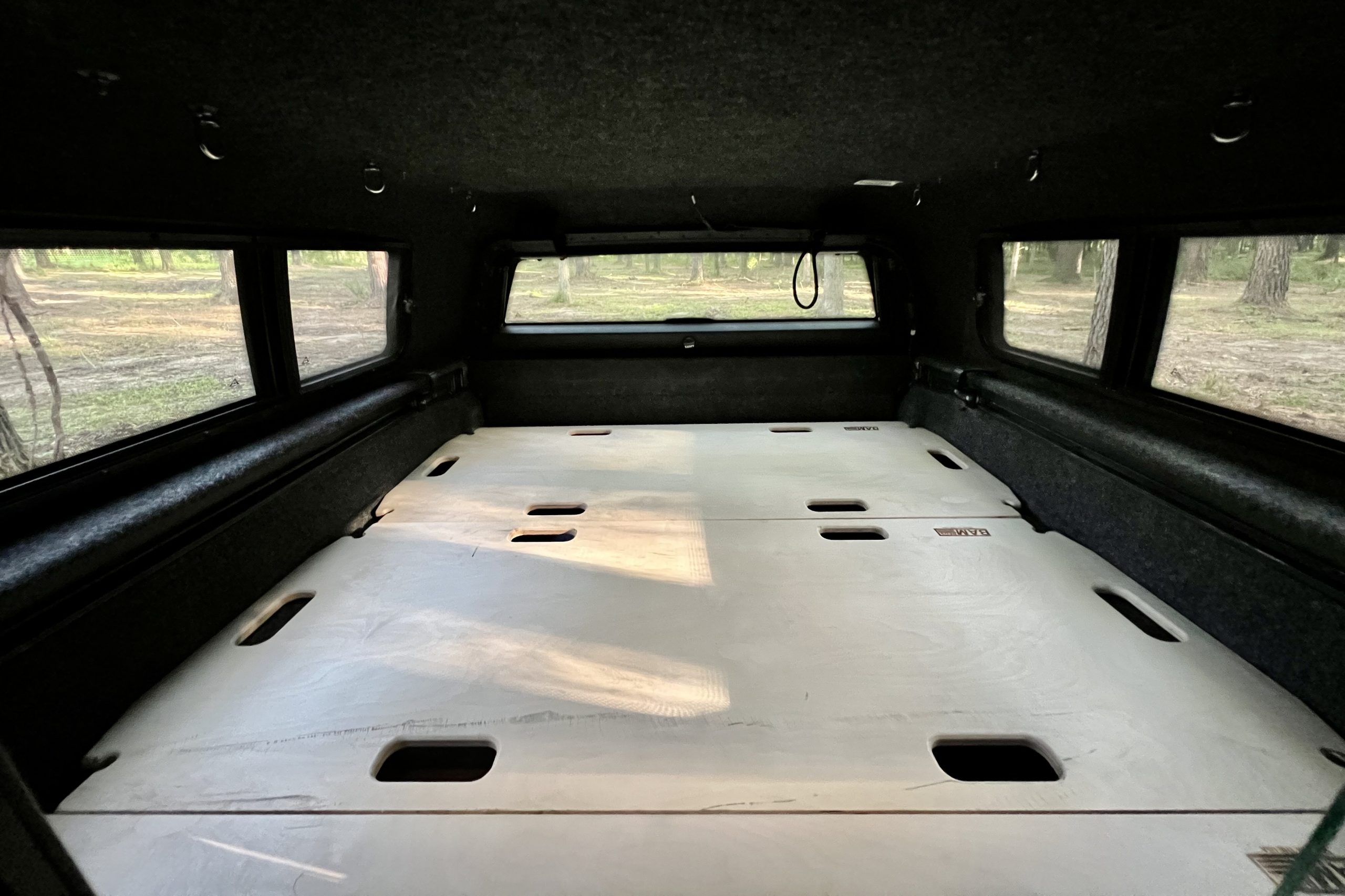 This setup includes the two universal boards and the headboard. It is designed to fit perfectly inside your bed area, and you can shut the tailgate to sleep all safe and sound. As mentioned above, you can also leave this setup in your truck as you drive around. The boards fit very tightly inside your bed so that they won't bounce about.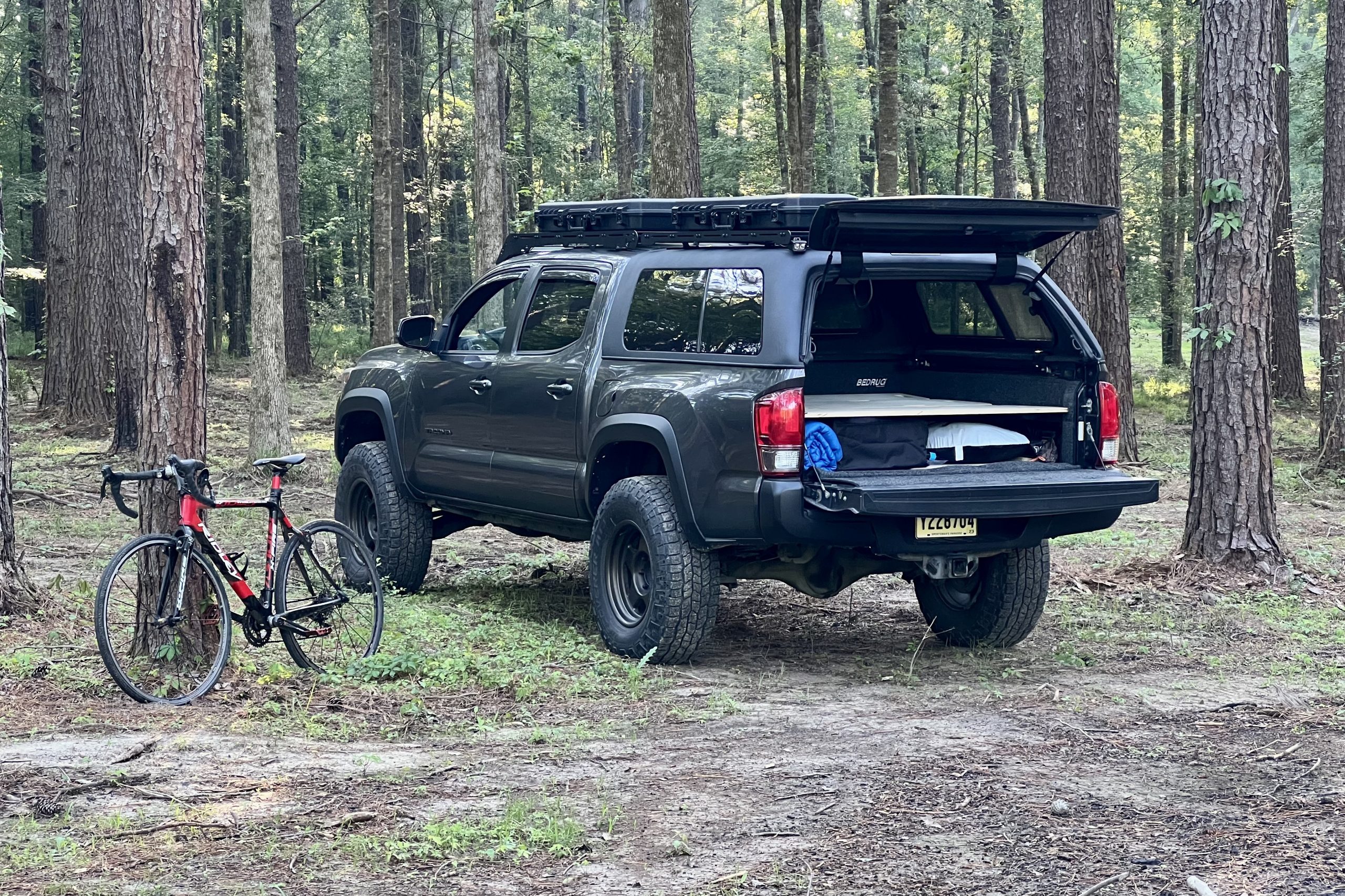 I prefer sleeping like this, whether in the mountains or the plains, because of animals and critters. In this configuration, you could travel around with the BamBeds already deployed and ready for action (heh). Granted, it only works if you're shorter, sleep sideways, or cross-legged. But with this arrangement, I can pack up and head out without having to change my bed situation.
Short Bed – 6 Foot Long Setup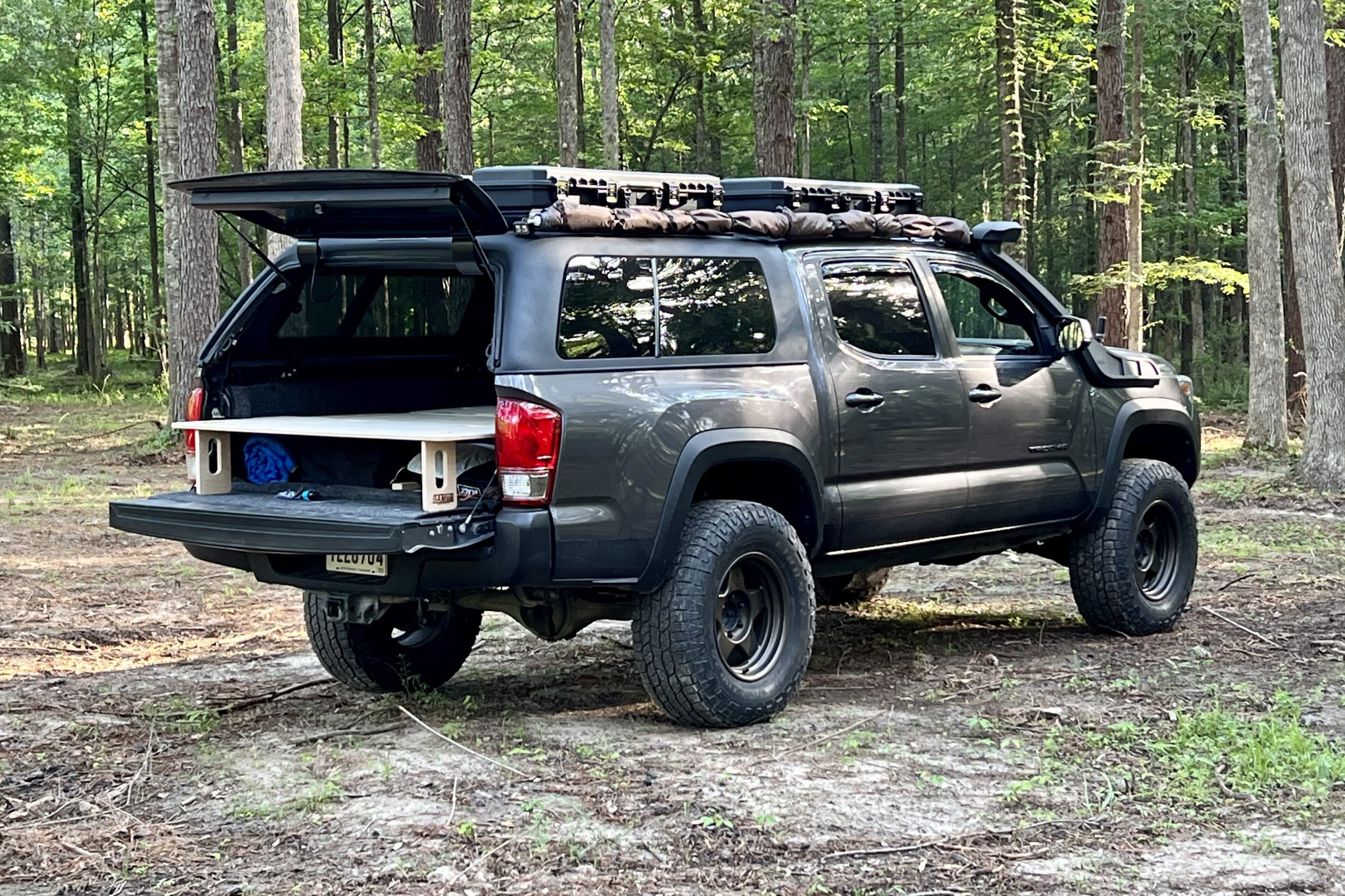 If you're a tall guy or gal (with a short bed), you'll be pleased to know that BamBeds has got you covered. Just install the two universal boards and the tailgate extension board, along with the feet, which go toward the tailgate end.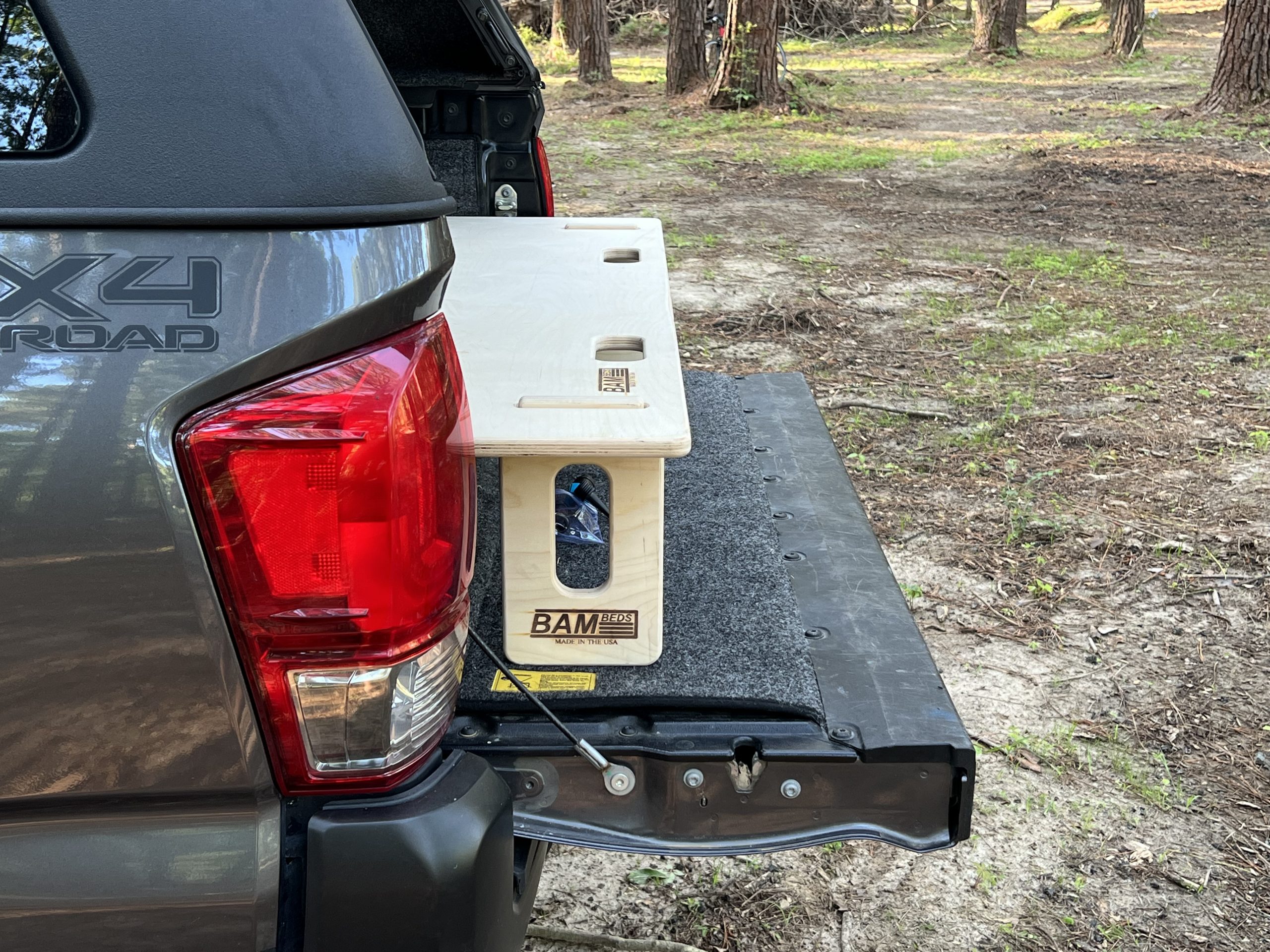 This gives you over six feet of bed space. Be sure to use the feet on the section extending over the tailgate.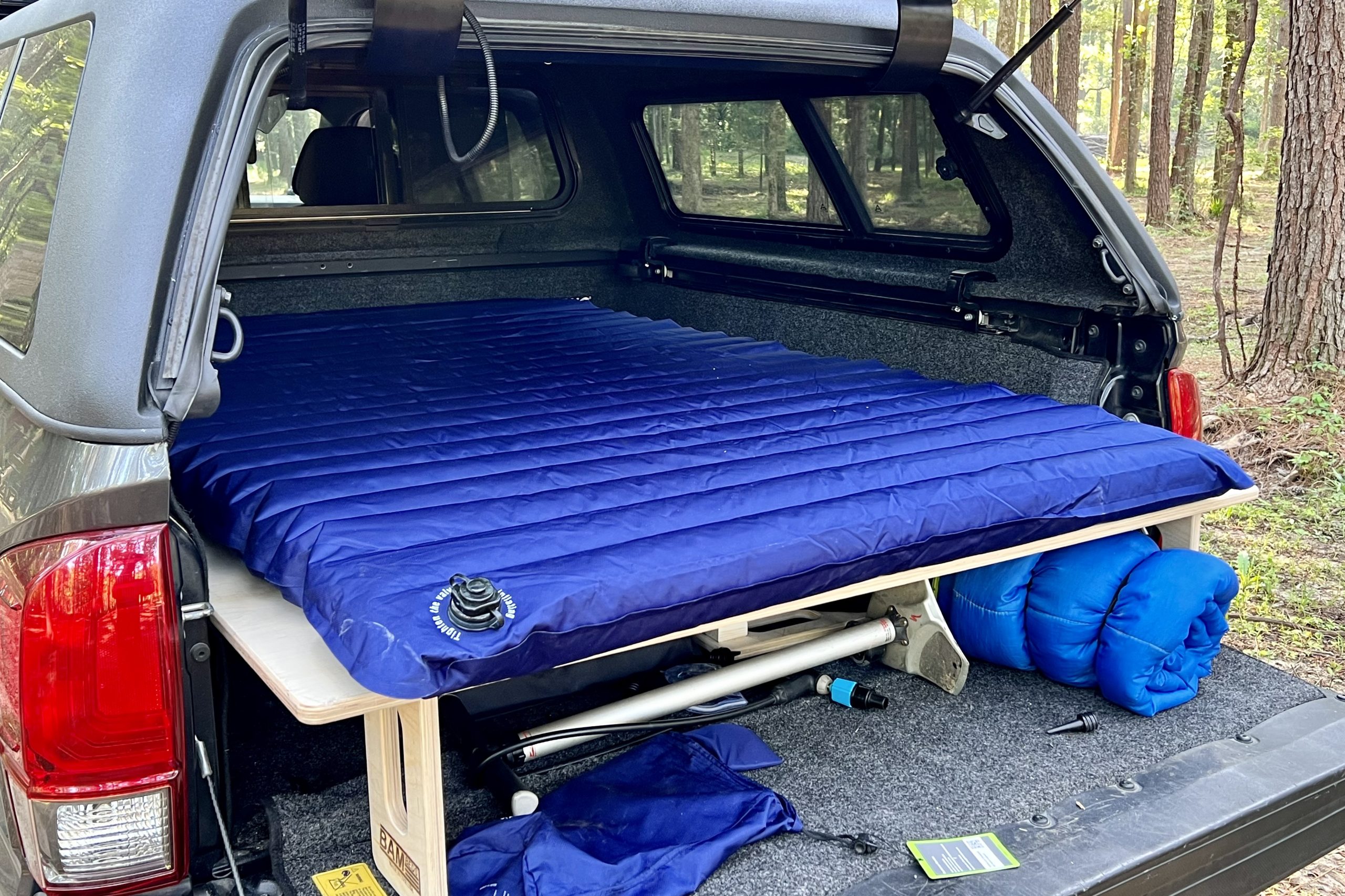 With the tailgate extension board, the BamBeds can fit a full-size mattress. I used this double sleeping pad. It's really a great setup.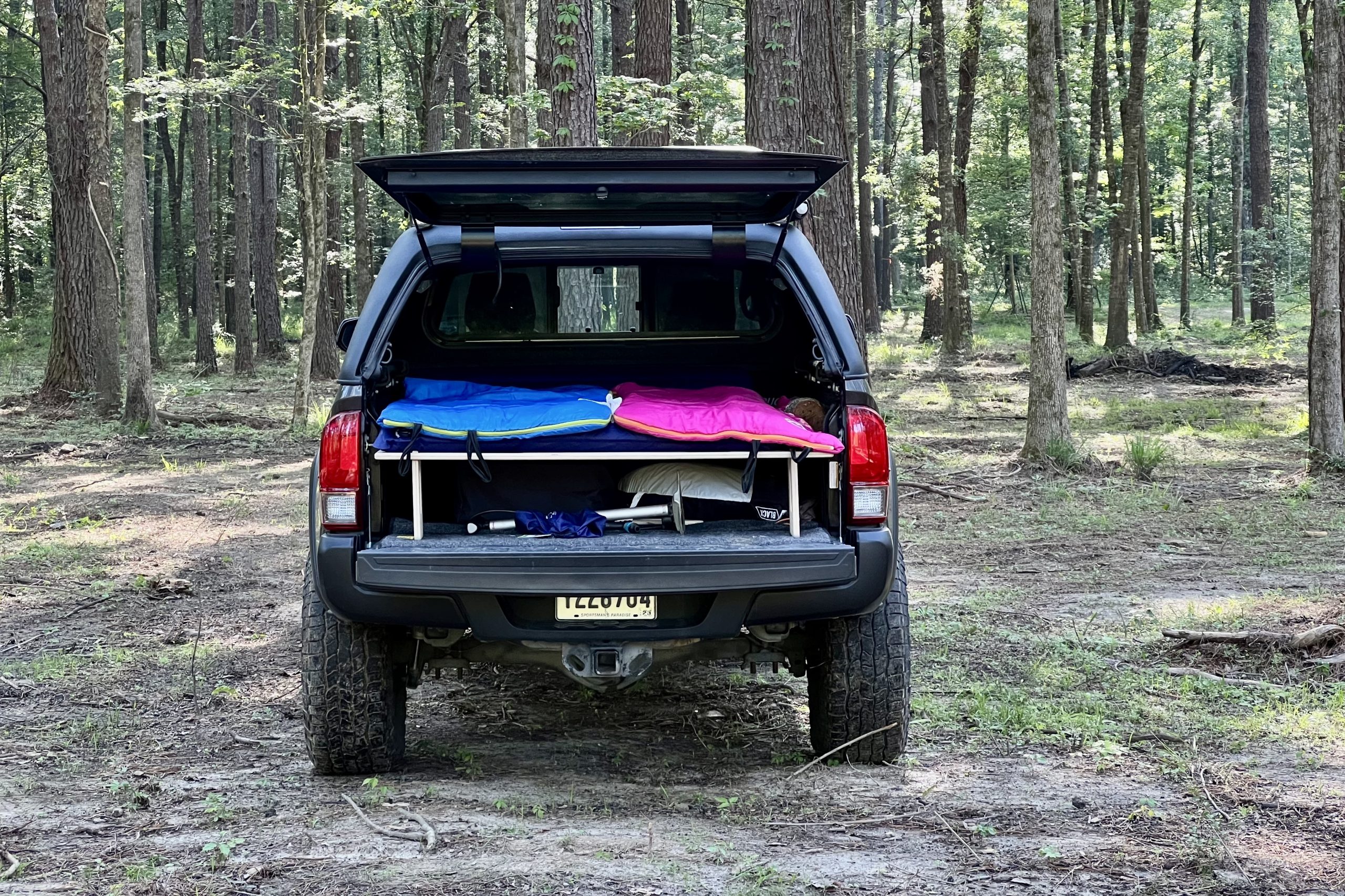 I only brought two sleeping bags with me, but I feel like this platform could fit three people snuggly. There's plenty of space for two people or one person with a dog.
Sleeping this way will come down to your comfort level. If you're someone accustomed to sleeping outside in a hammock without a cover, or you frequently camp without a tent, no big deal; this setup offers plenty of cover for you. I know some people are more willing to be out in the elements than others. However, a good middle ground might be buying some sort of bug net that drapes over the end of your bed to prevent as many bugs from flying in as possible.
It's worth noting that with a long bed, even though the bed is 6 feet, you still have the option to add a tailgate extension board to give yourself a 7'3″ platform.
Board Storage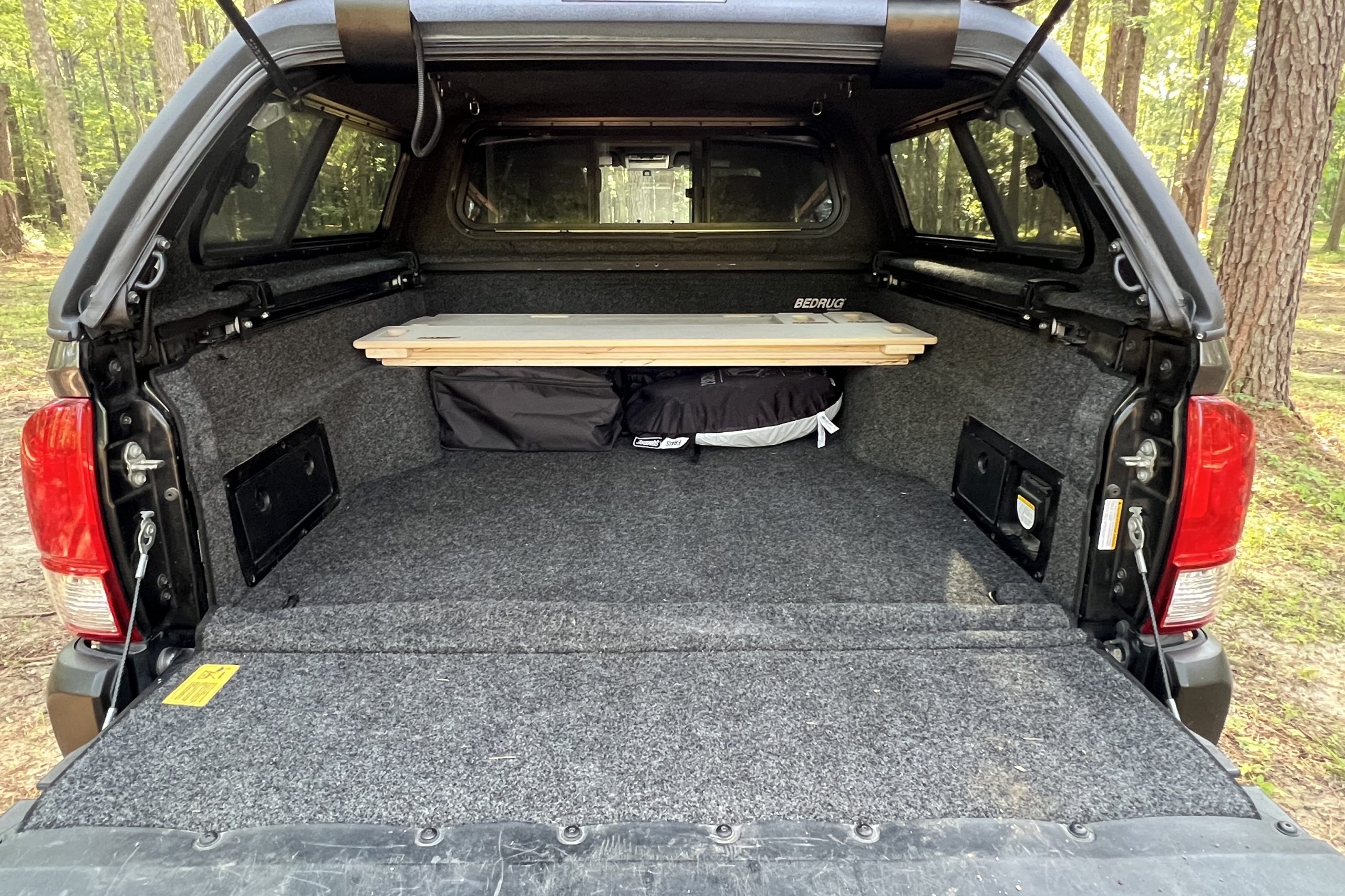 Don't make this complicated. BamBeds packs down in about five seconds if you simply lift and slide the rear boards forward on top of the board nearest your cab. I shoved my gear forward and basically had the entire bed available to me again.
In the above image, I have a Quechua tent (as backup) and Blackstone 22″ camping griddle. They fit no problem. I could have just as easily left the boards all laid out and just stored gear on top of them. They easily held two adults. They can also hold all your stuff. BamBeds rates its platform at 1000lbs of evenly distributed load capacity.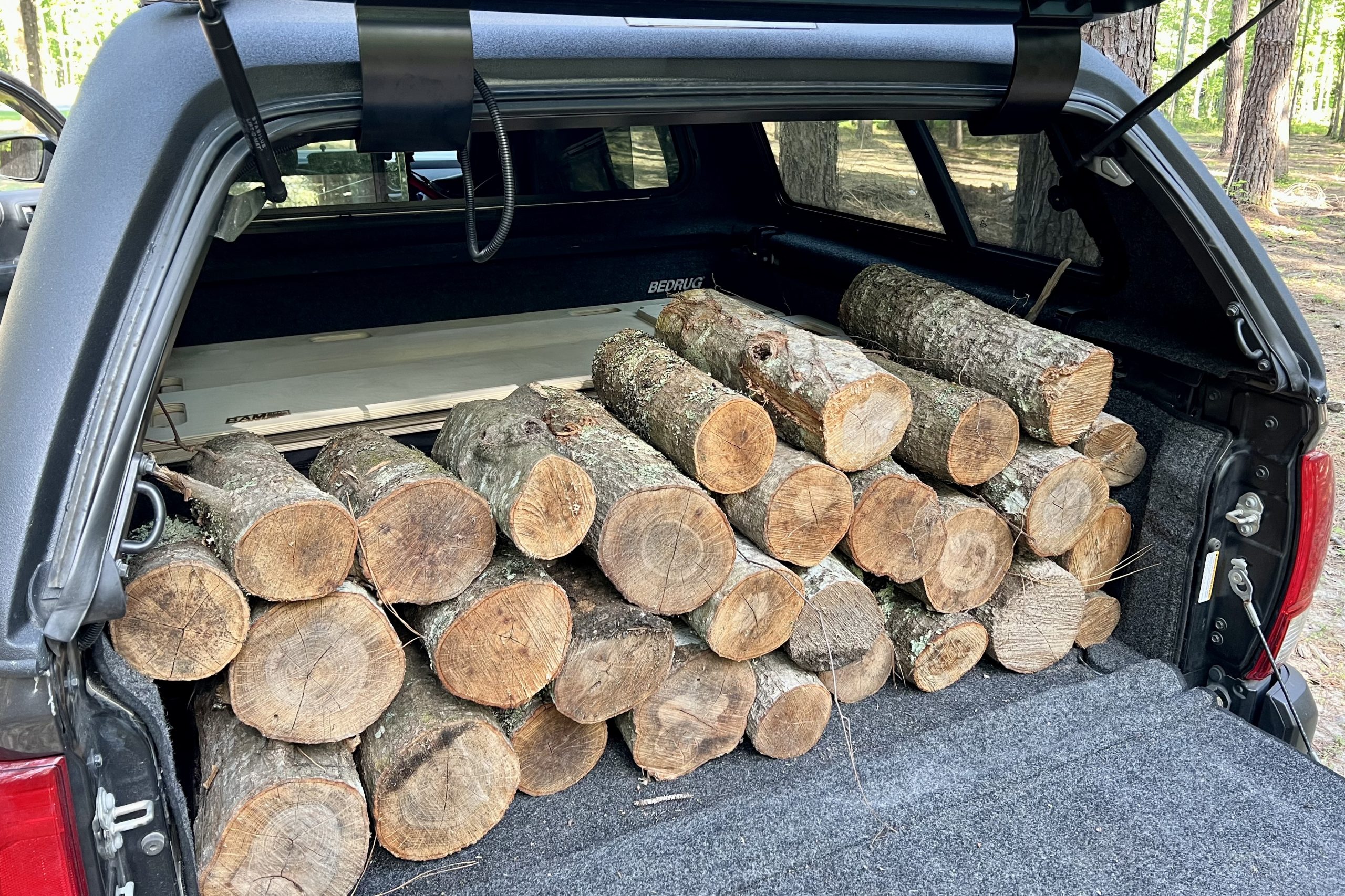 By the way, I know of no other bed platform system for the Tacoma that would allow me to carry a serious load of firewood in my bed simultaneously. I can haul my cyclocross bike, sleeping bags, griddle, spare gear, firewood, and more with the bed system nearly ready to go upon arrival at the campsite. BamBeds also have a handy guide to storage bins and mattresses that perfectly fit their bed system. Check those out here.
Final Thoughts
I've already hinted at why I like this setup: it's solid, modular, sets up and tears down quickly, and stores almost anywhere in your home. I received my BamBeds system just before taking a trip through the Ozarks. My wife and I slept on this for about a week while hauling gear over rough terrain. It held up well, and we were comfortable the entire time. The plywood is 13 ply, 3/4″ thick, which is thicker than roofing plywood. If you're worried about staining or water, you can easily seal the boards with wood sealer.
One note about utility use: If you're going to use this platform for carrying gear, I would recommend adding a rubber mat over it to keep items from sliding around. The birch wood is sanded very smoothly, and gear will slide about over it. Another option is to loop straps through the hand-hold cutouts and use that to secure your items. A friend of mine suggested lining one side of the boards with some bed liner. I haven't done this (yet), but it would definitely keep the utility side of the boards from being scratched up. And it'd leave you the other side for handling, sleeping, etc.
Sometimes the most straightforward solutions are the best ones. And BamBeds proves this rule. I'll definitely be using this on more overlanding trips from now on.