9 Tacoma Owners & What They Mounted To Their Aftermarket Front Bumpers – Accessories For 3rd Gen Tacoma In 2022
This Week's Topic: Aftermarket Front Bumper Accessories 
Welcome back to another Taco Tuesday! If you missed last week's TT, we checked out some aftermarket fog lights for the 3rd Gen Tacoma. For this week, we take a look at what accessories 3rd Gen Tacoma owners are adding to their aftermarket front bumpers.
Adding a Tacoma front bumper not only adds protection and clearance to the front end of your truck, but also gives you a new template to start easily adding additional accessories to your rig as well.
With the obvious protection and ground clearance benefits aside, individuals find themselves in the market for front bumpers to easily mount recovery equipment and 3rd party accessories. Toyota designed the Tacoma to be very capable off the showroom floor, but it isn't perfect. Enthusiasts who want to take their off-road adventures to the next level want to easily mount a winch, 30″ light bar or LED light pods to the front end of the vehicle. In addition to easily housing these accessories, aftermarket bumpers provide strong, easy-to-access front recovery points.
Now yes, you can technically most of this equipment to your OEM bumper, but you won't have the added protection or clearance that aftermarket bumpers provide.
Having an aftermarket front bumper makes adding recovery equipment and auxiliary lighting a breeze with pre-fabricated mounting locations.
Below you will find a variety of Low Profile, Pre-Runner, and full-front bumper equipped rigs to help you decide what combination is the right fit for your Tacoma.
Enjoy!
1. Jon Rivera (@roamwithjon) – 2021 TRD OR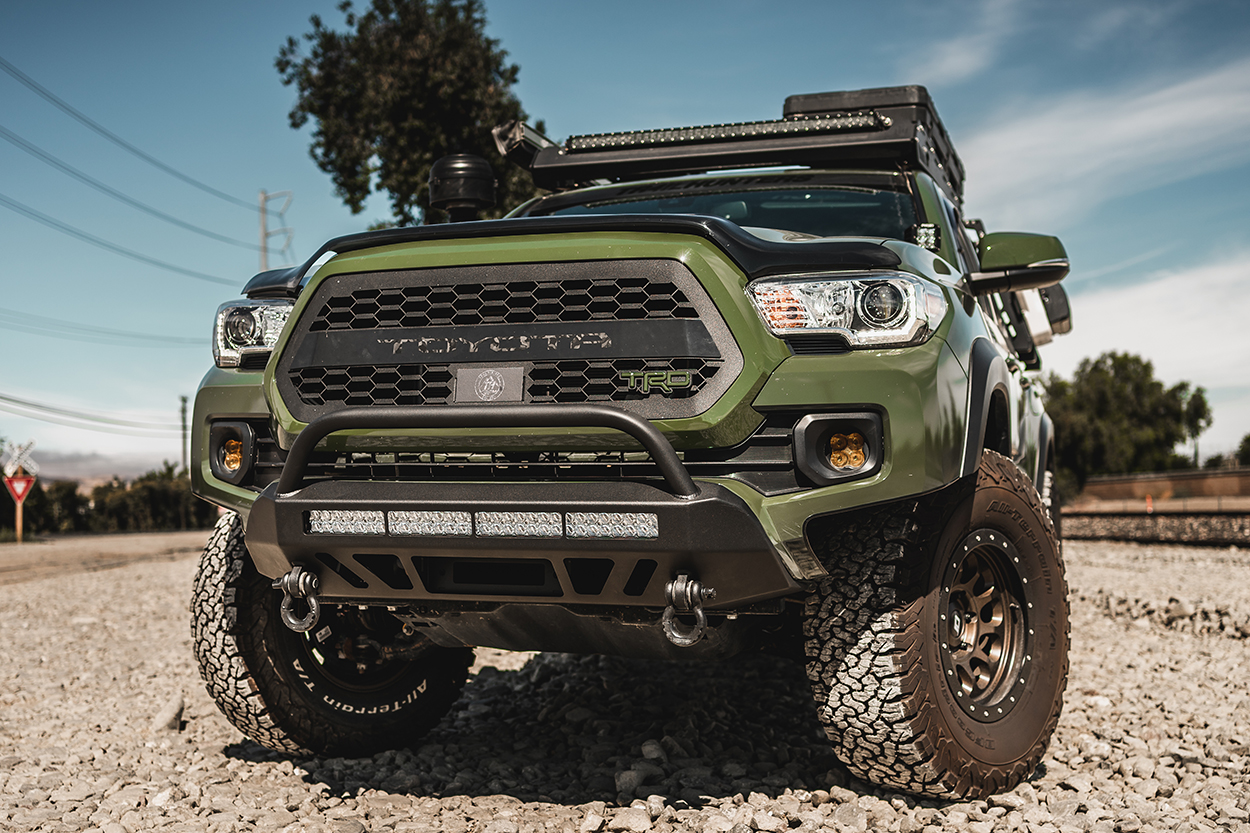 Front Bumper
Cali Raised LED Stealth Bumper
Accessories 
Cali Raised LED Dual Row LED Bar
D-Ring Shackles
What Do You Like About Your Setup?
There are plenty of reasons why I like this bumper. The bull bar is as high up as possible to protect a more significant portion of the front, while not interfering with the TSS sensor. There are a bunch of lighting options with either a single row or dual-row light bar, plus you can run the behind-the-grill hidden light bar in tandem. It's also fairly light and enforced in the right areas to maximize protection while minimizing weight.
2. Gary Torres (@supremefish4x4) – 2018 TRD ORP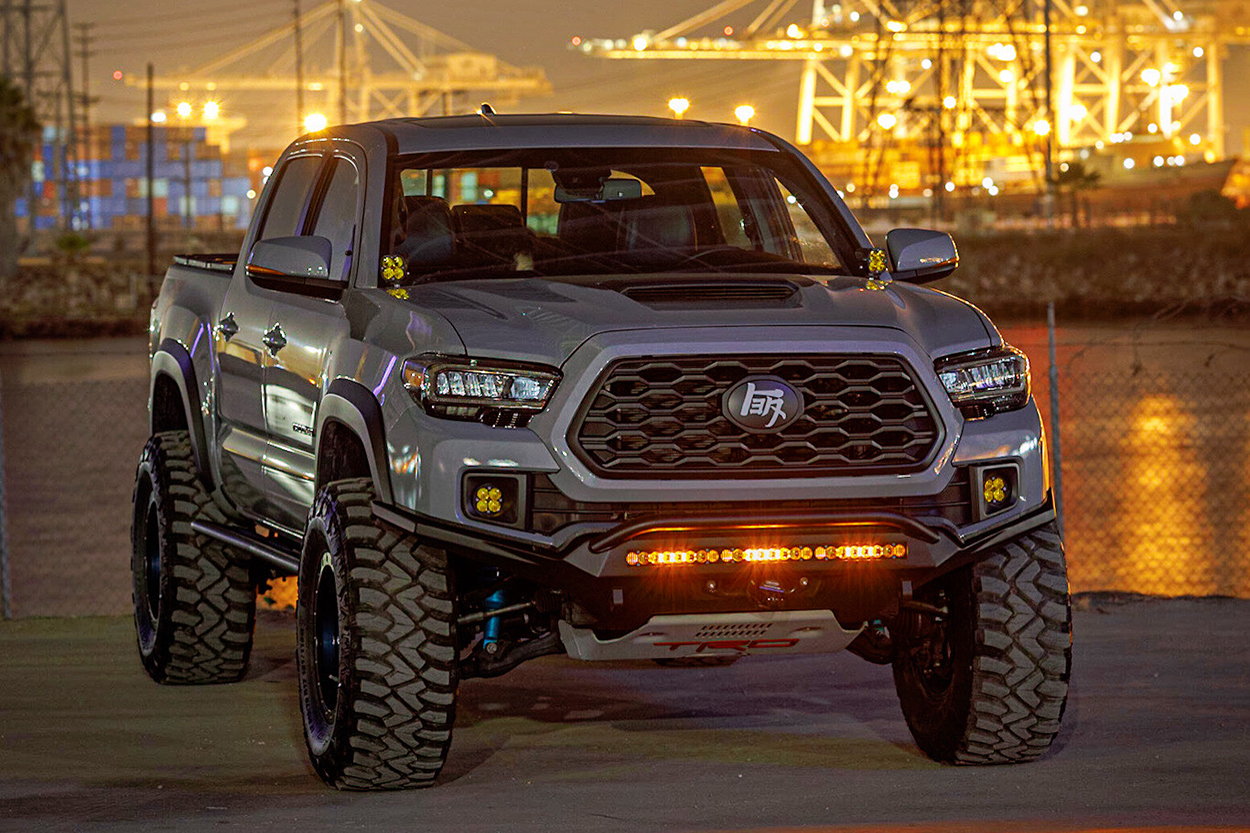 Front Bumper
Accessories 
Baja Designs Amber 30″ S8
Baja Designs Squadron Pro Fog Lights
Smittybilt X20 Winch w/ 10K Synthetic Rope
What Do You Like About Your Setup?
What I like most about my setup is that it is simple, yet aggressive. You don't need all the accessories hanging off your rig driving around town. This setup allows me to run everything I need without having any extra unnecessary gear on my truck.
3. Paul H. (@lt.wana.be) – 2016 TRD OR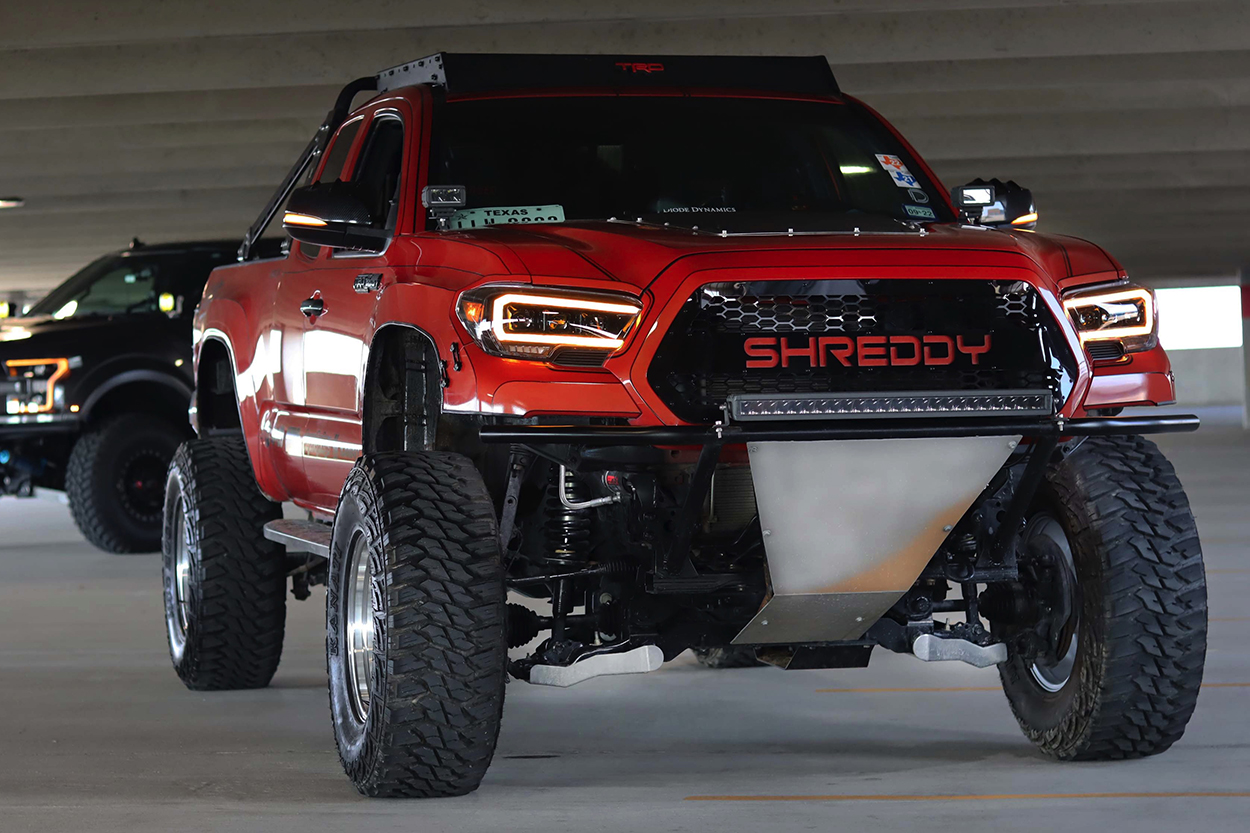 Front Bumper
Accessories 
30″ Traveller X Light Bar w/ Back Light
What Do You Like About Your Setup?
Despite what anyone may tell you: quality cosmetics are an absolute necessity if you want your rig to truly stand out. I went with this bumper design in order to give the Tacoma more of a pre-runner-worthy look. I decided to go with something that you can't simply buy off of a shelf or inside a warehouse and wanted to achieve a different look to my build while also giving it the protection it needs.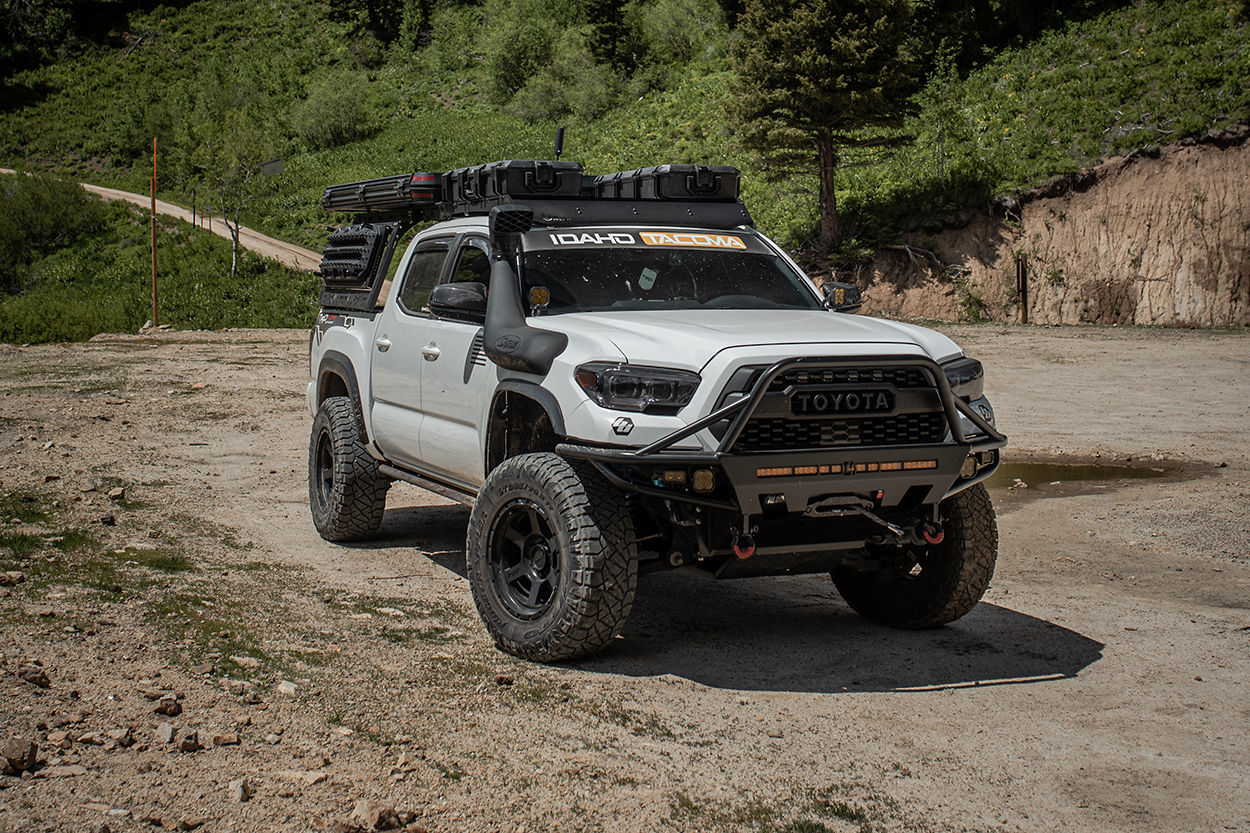 Front Bumper
C4 Fabrication Hybrid Front Bumper
Accessories 
Baja Designs S8 Light Bar
Diode Dynamic SS3 Pros
Diode Dynamic SS2 Pros
Warn VR Evo 10-S Winch
What Do You Like About Your Setup?
I like how versatile the hybrid bumper from C4 Fabrication is. It has high clearance and great visibility paired with the Diode Dynamic setup and Baja light bar. I do a decent amount of wheeling alone so having the Warn 10k winch is definitely a life saver in a sticky situation. I highly recommend the hybrid bumper from C4 Fabrication.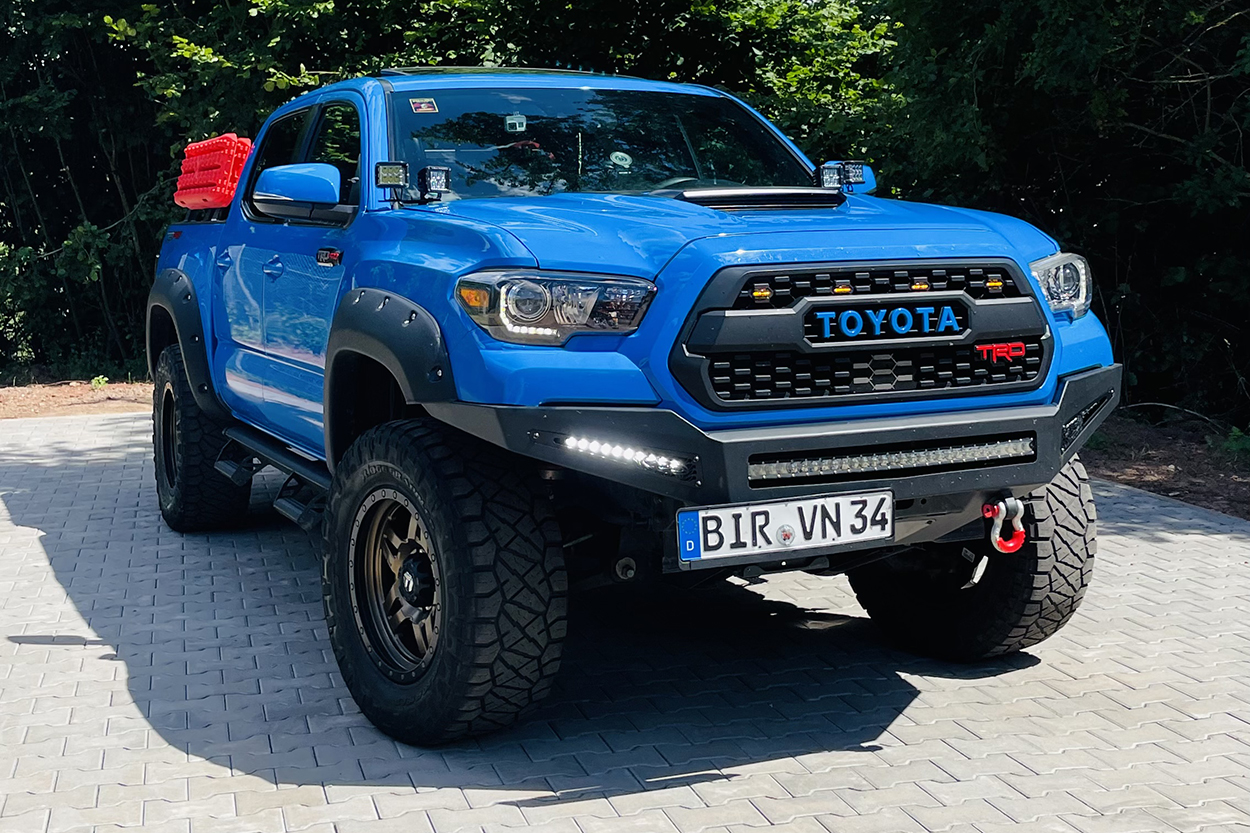 Front Bumper
Addictive Desert Designs Honey Badger Bumper
Accessories 
10″ Side-Mounted Light Bars x2
30″ Slim Radius Light Bar
What Do You Like About Your Setup?
The ADD off-road bumper offers the front protection you need with the clearance you want. The bumper is also by far one of the best-looking ones that I have seen on the market and fits the Tacoma perfectly! I love that I'm not limited to just the light bar, I can also add up to 6 LED pods and a winch!
6. Ivan Morales (@cavalry_trd) – 2019 TRD OR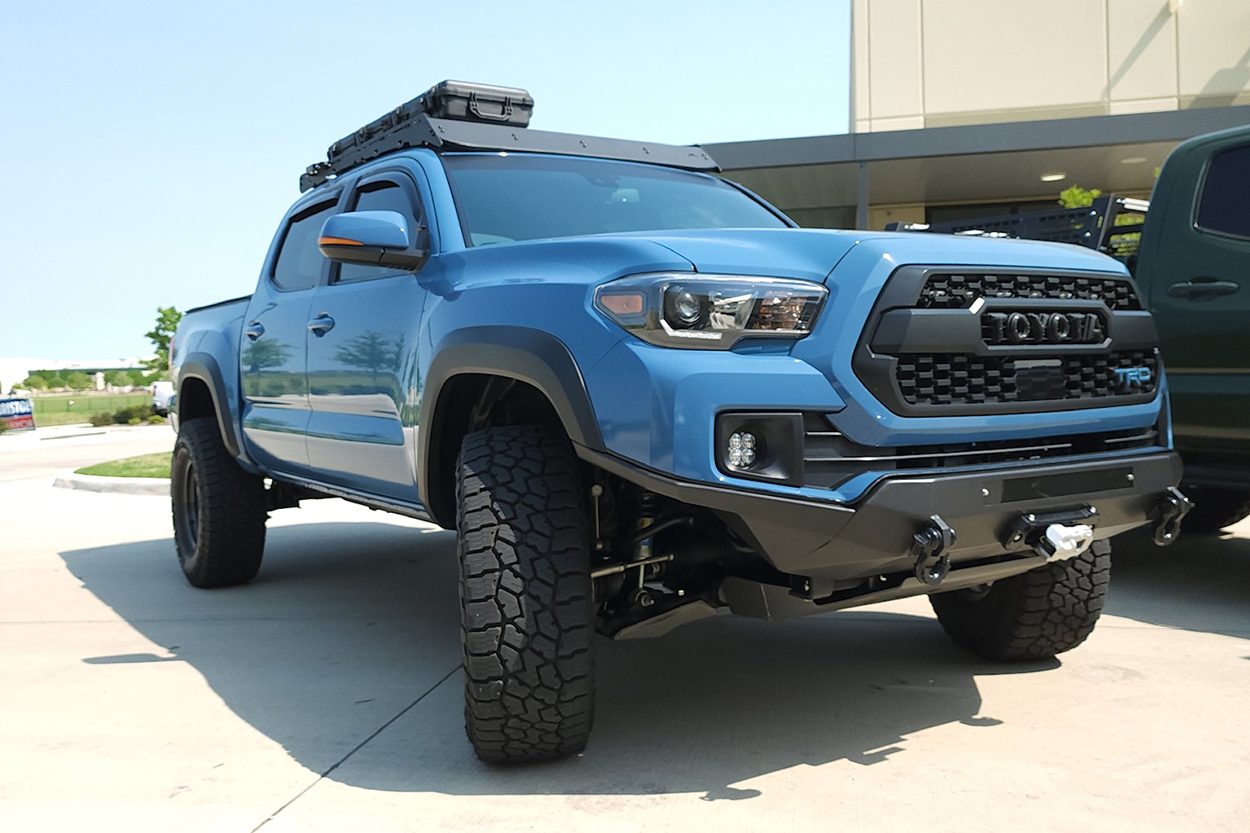 Front Bumper
Southern Style Off-Road Slimline w/ Stage 2 High Clearance Wings
Accessories 
Agency 6 Winch Fairlead + Shackle
Smittybilt XRC Gen2 Winch
What Do You Like About Your Setup?
What I like most about my setup is being able to keep that OEM look while having all the benefits an aftermarket bumper offers. This bumper gives me additional clearance and the ability to mount a winch, all while looking pretty OEM.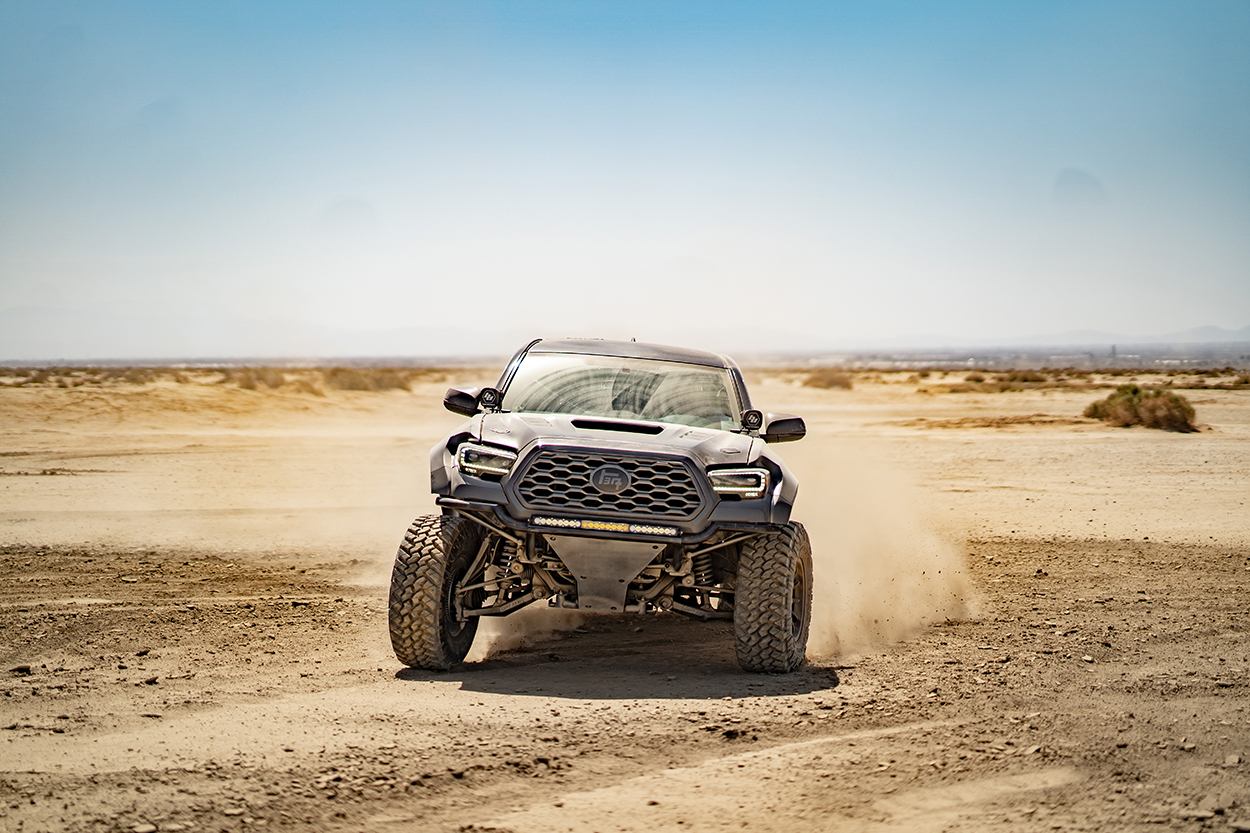 Front Bumper
Accessories 
What Do You Like About Your Setup?
There are a few things that I love about this front bumper setup. First of all, it sits flush with the body of the Tacoma and provides the most clearance up front. The bumper only weighs 56 lbs., so it's very lightweight. If you're looking for simplicity, this is the perfect bumper.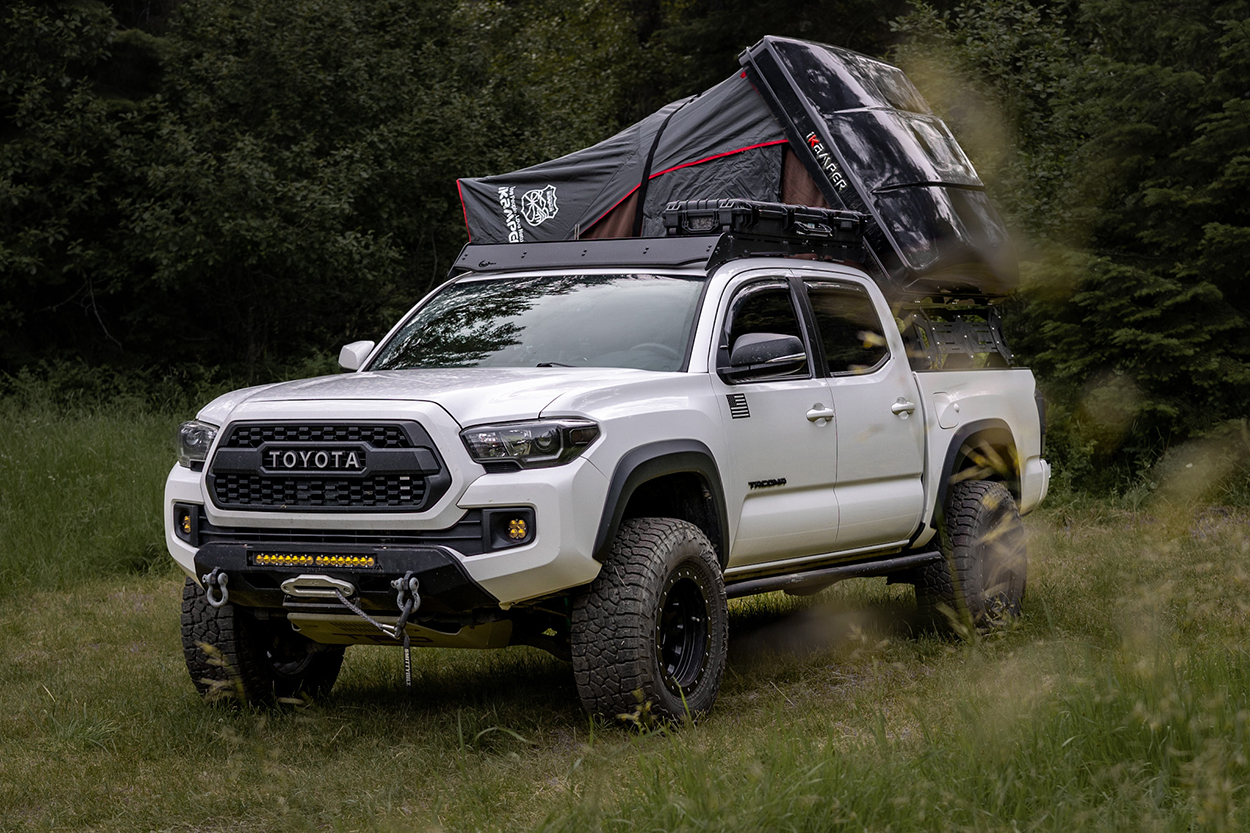 Front Bumper
Southern Style OffRoad Slimline Hybrid Bumper
Accessories 
Smittybilt X2O Winch w/ 10K Synthetic Rope
Baja Designs S8 20″ Amber Driving/Combo
ARB D Shackles
What Do You Like About Your Setup?
Clean, Simple, Effective. The three words that come to mind with my current bumper setup. The slimline blends in well with the body lines of the OEM front bumper for a sleek look. It may not stand out but it packs in all the features a good bumper should.
The winch is to save you or a buddy when you're in a tight spot and lights were added to illuminate the trail or Lowe's parking lot (no judgment). The welded-in recovery points won't let you down when your ego gets you stuck in the mud. If you're into the OEM-style look that packs all the features you need on the trail, or parking lot, you should check out the SSO Slimline.
Pro Tip: Get the optional powder coating, the rattle will easily peel eventually.
9. Grant Willbanks (@grizzy.gram) – 2017 TRD OR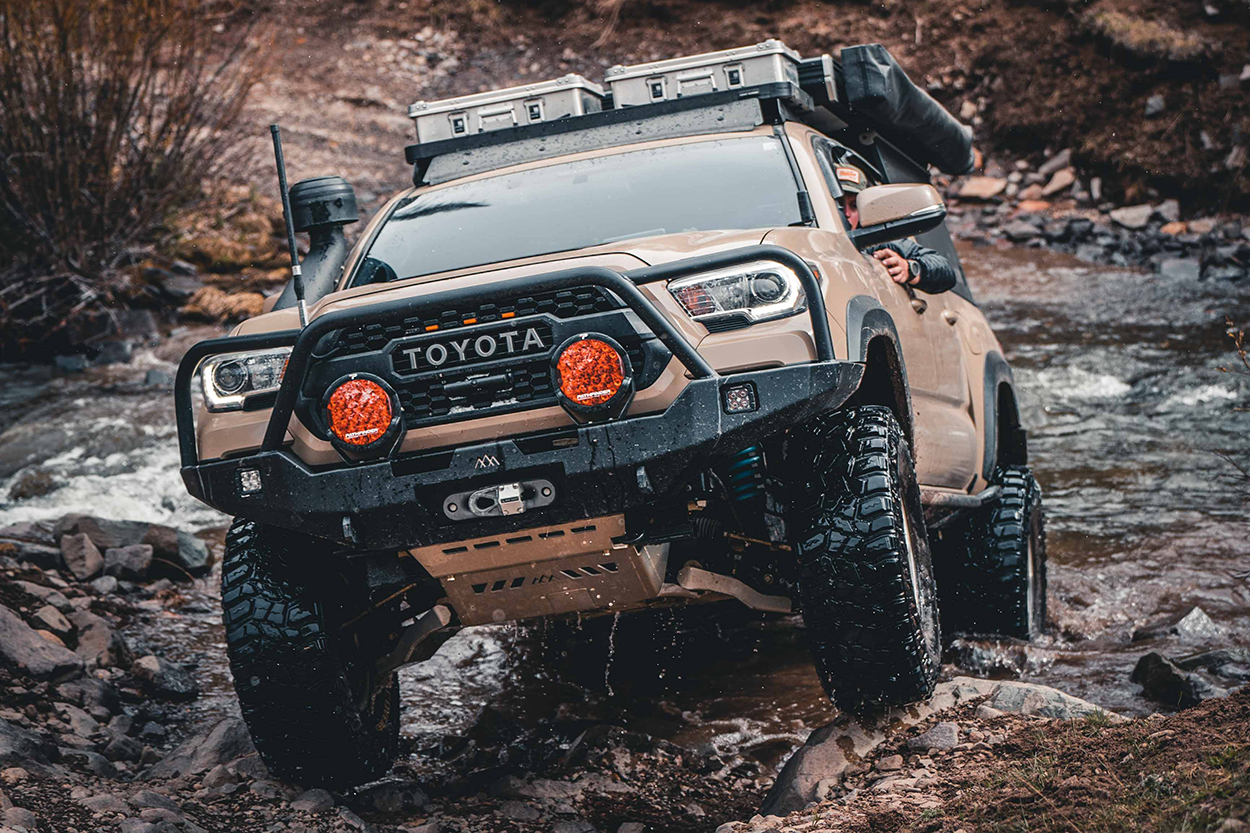 Front Bumper
Backwoods Adventure Mods 85lb Hi-Lite Overland Front Bumper (Bull Bar)
Accessories 
Aluminum Outer Shell w/ Steel Winch Cradle
Pathfinder PROWLR 9″ Driving Lights
Warn EVO 12s Winch
Hi-Boost Cell Booster Antenna
Pathfinder Amber Fog Lights
What Do You Like About Your Setup?
This is a full-protection bumper that only weighs 85lbs. It's got a 31lb outer aluminum shell with a 54lb steel winch cradle. The steel winch cradle supports the winch and has incorporated recovery points that tie directly to the frame. The aluminum shell slips over the winch cradle, providing complete protection in an extremely light package. With the outer being aluminum, there's no rusting and it's easy to drill and add lighting options. Plus there are optional steel frame braces that help distribute the load more into the frame for heavy winch pulls, and an optional connector skid plate that integrates into the front bumper.
Final Thoughts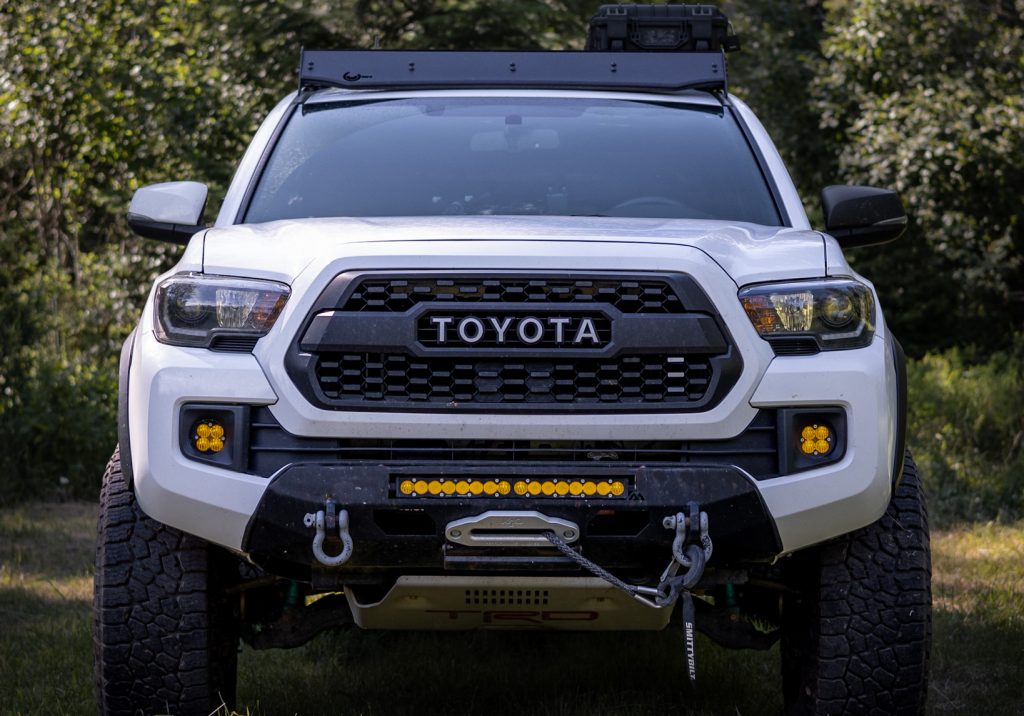 There are tons of various options for front bumpers and accessories for the 3rd Gen Toyota Tacoma. I hope that this week's Taco Tuesday helped with your decision on both what kind of front bumper you may need, along with what accessories you may want to add. Additional lighting and recovery are huge when it comes to off-roading, and a front bumper is the easiest way to house all of that!
If you want to be featured for Taco Tuesday, submit your build through TrailTacoma.com/Feature. Next week's Taco Tuesday will be featuring Barcelona Red Tacomas and asking owners what they like about their top 5 mods. We're looking for sweet rides to showcase! If this is you and you love your setup, send in your details because we want to see it.
Thanks for reading guys. I'll see you next week!