8 Barcelona Red Metallic Toyota Tacoma Overland & Off-Road Setups to Inspire Your Truck Build in 2022 – Modifications List & More!
This Week's Topic: Barcelona Red Tacomas
Welcome back to another Taco Tuesday! If you missed last week's TT, we checked out 3rd Gen Tacoma aftermarket front bumper accessories. This week we are taking a look at a color for the Tacoma that is a little more rare – and that color is Barcelona Red.
Barcelona Red Metallic (Paint Code 3R3) was first introduced on the Tacoma for the 2nd Gen back in 2006. This color replaced Red Mica Metallic, which was a stunning color on the 1st Gen Tacoma. Toyota, to this day, still offers this color 16 years later for the Tacoma. However, you rarely see it and we can't help but wonder why.
Barcelona Red is seemingly rarer than other colors that were offered on the Tacoma TRD Pro models, even the ones that Toyota later allowed on all models like Lunar Rock. Well, maybe not Lunar Rock, but you get the point.
If you are in the market for a Barcelona Red Toyota Tacoma and are curious as to what they look like with some mods, then you are in the right place. Below we have 8 rigs ranging from semi-stock to full overland ready. We even have a show truck in between, for you to gain some build inspiration from.
If you have any more questions about these trucks, make sure you DM and follow the owners! Catch you all next Tuesday!
1. Skylar G (@brick.taco) – 2009 TRD Sport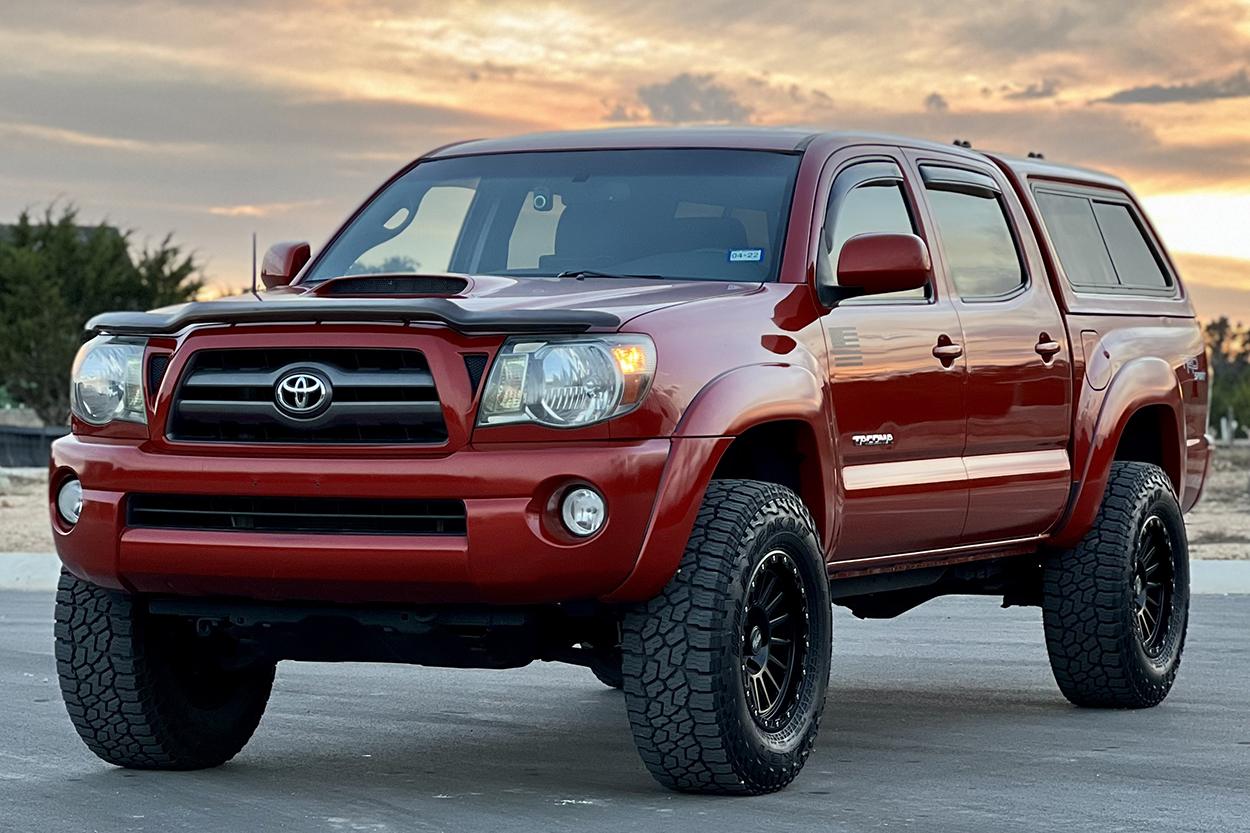 What Are Your Top 5 Mods?
Leer 100XR Camper Shell
DECKED Truck Bed Storage
Total Chaos Upper Control Arms
Bilstein 5100 Set At 2" Of Lift
Rocktrix Wheels w/ -12mm Offset
What Do You Like About Your Setup?
This Tuesday is all about Barcelona Red, which is a very appealing color that you don't see on very many builds, so I definitely wanted to share my truck this week. I'm loving my setup very much so far. It has a nice stock look that we all love but it is also a bit beefy too with some of the mods that I have put onto my truck.
The Leer camper shell makes my truck look like a brick, hence the name. However, it allows me to utilize more truck bed space while having the DECKED system installed. It gives my build enough room to pack what I need and easily access my important tools.
2. Kaylee Berryhill (@kays_taco) – 2017 SR5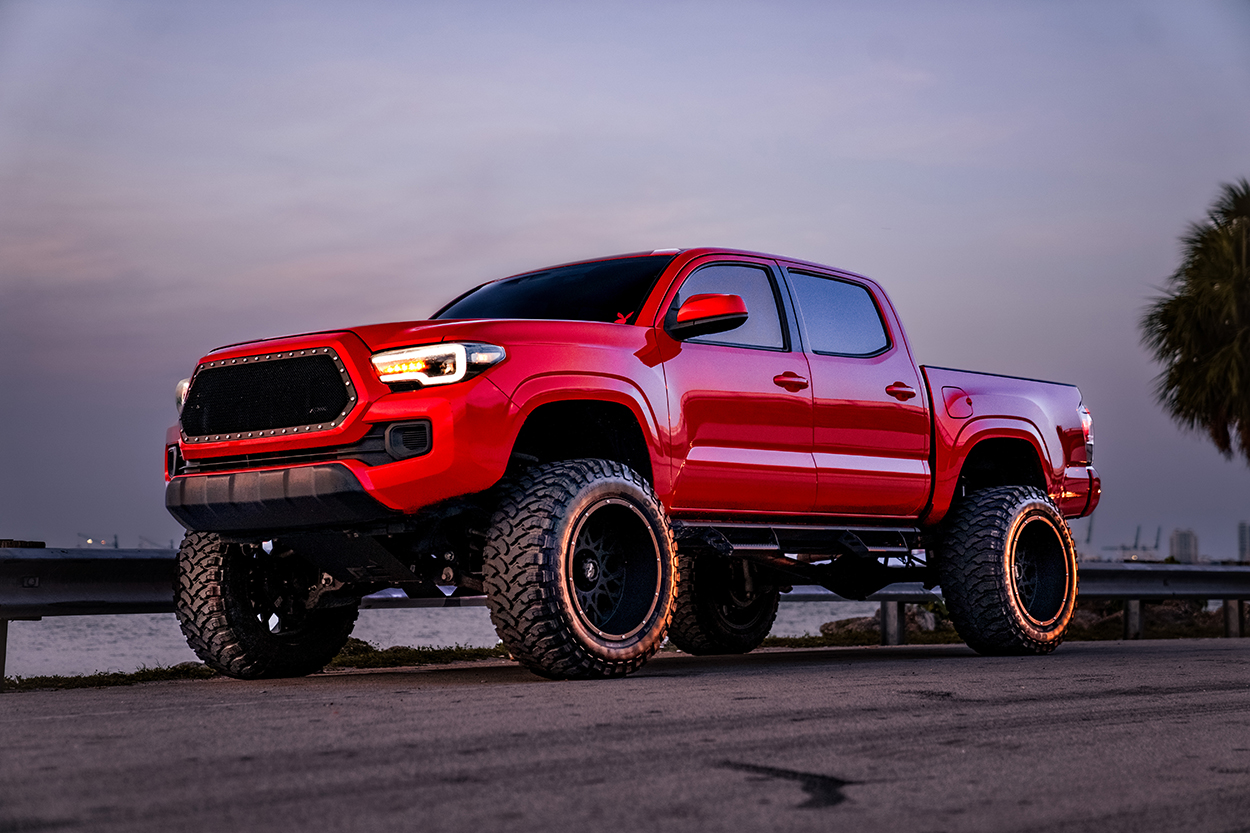 What Are Your Top 5 Mods?
6″ Rough Country Lift
35×13.5 Tires
Cali Raised LED Aluminum Shift Knob
Black/Clear Taillights
Black/Clear Headlights
What Do You Like About Your Setup?
It's hard to say what I like most about the build. I think what I've liked most is the build process and see just how far the truck has come from when I bought it. I've worked hard to build it and it's not quite done yet, so I'm excited to see what's next. I love the truck and where it's at now but I think it's ready for some upgrades.
3. Art Loza (@redsalsataco) – 2017 TRD Off-Road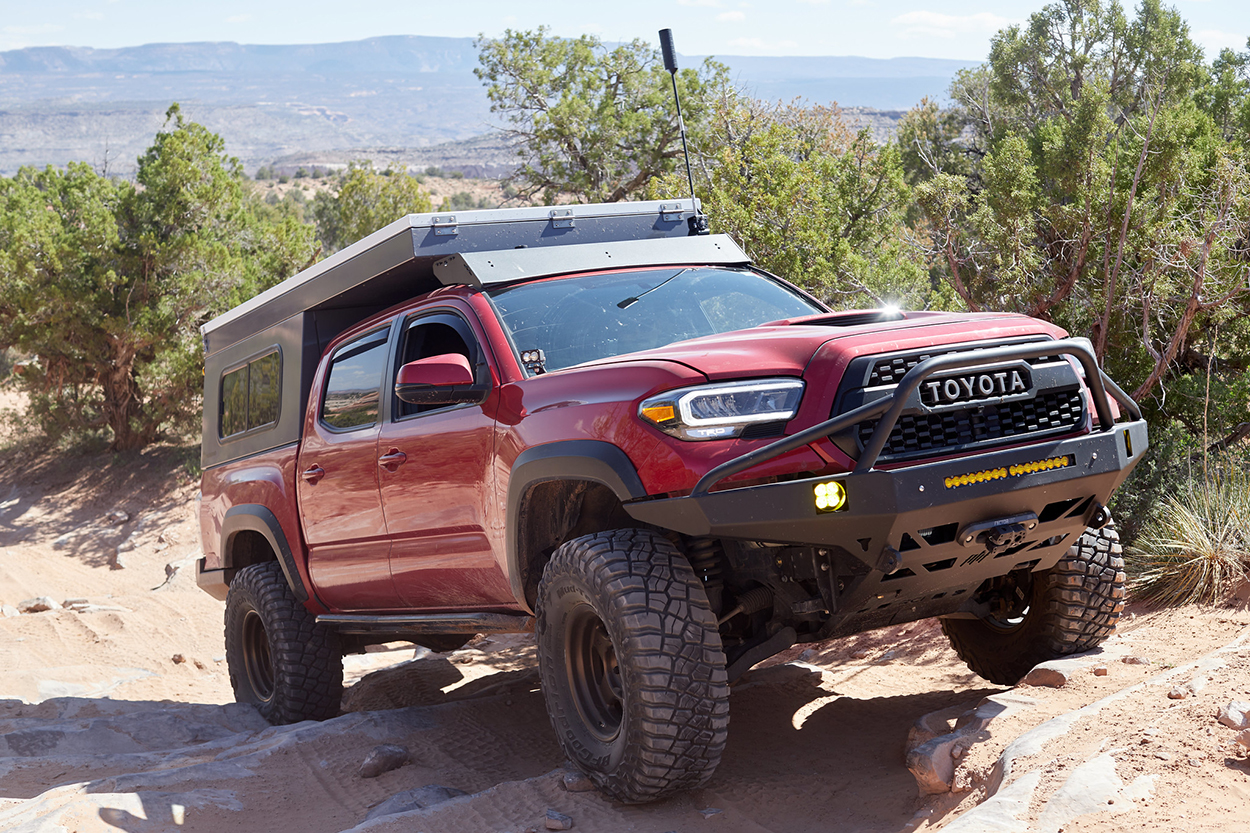 What Are Your Top 5 Mods?
Bilstein 8112/8110 Shocks
OME Hilux Rear Leaf Springs
At The Helm Front & Rear Bumpers
Off-Grid Engineering Dual Battery Setup + Switch Pros
Vagabond Drifter
What Do You Like About Your Setup?
It's ready for anything, our home away from home! The Vagabond Drifter has been dialed in to go camping in all four seasons if we choose to do so. The suspension and dual battery setup guarantee that we can get to and keep us going where ever we decide to go. To top it off, the front and rear bumpers add a unique look and provide the added protection needed for the trails!
4. Ben Bernards (@rocky_mtn_tacoma) – 2010 TRD Sport
What Are Your Top 5 Mods?
AlphaRex Headlights & Taillights
Eibach 3" Lift
33" Toyo Open Country AT3 Tires
17" Rocktrix Wheels
Toyota Factory Honeycomb Grille
What Do You Like About Your Setup?
I really like how the truck rides and sits. My goal was an OEM+ build and I think this is perfect. It has just the right modifications without inhibiting daily drivability. The Toyo tires ride super nice and are quiet as well.
5. Chris Fortunato (@fortunetacoaz) – 2021 TRD Off-Road
What Are Your Top 5 Mods?
Custom Headlights | By @tc_customlighting Featuring Diode Dynamics Amber LED DRLs
LED Ditch & Fog Lights | Diode Dynamics SS3 Pro
Aluminum Shift Knob | Teton Workshop
Steel Front Skid | RCI Offroad
Topo Grille Emblem Overlay | Created by @c_mento_taco_808
What Do You Like About Your Setup?
When I first went to my local Arizona Toyota dealer to buy my Tacoma, there was only one color that I was leaving that place in. I told the salesman I wanted a Barcelona Red TRD Off-Road and wasn't going to settle for any other color. The salesman was able to track down the last available Barcelona Red Tacoma in the state of Arizona at the time just before the "chip shortage" became a thing.
Ladies and gentlemen, this is my Barcelona Red Tacoma and she is known as the "Fortune Taco". Red is and always has been my favorite color. Each time I see my truck in the sunlight, it reminds me why. This color just pops whether it's parked at your local mall parking lot or out on the trails, it's hard to not take a second look.
As of now, there haven't been any major mods done, but it's going through some big changes very soon. If you would like to see more of my Barcelona Red Tacoma and follow my build journey, then check out my Instagram.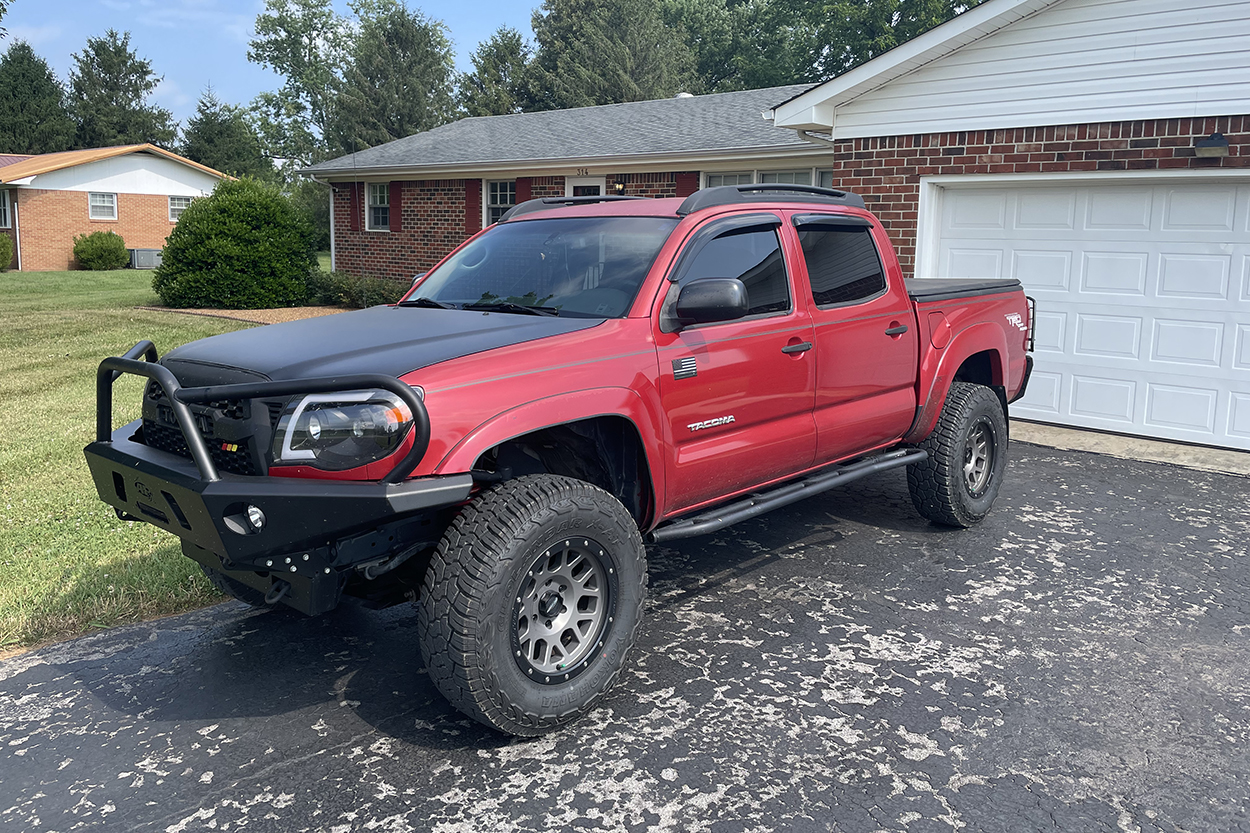 What Are Your Top 5 Mods?
Toytec 2.0 Aluma Series Coilovers
Deaver Leaf Springs
All-Pro Off-Road Apex Armor
Trimmed Front Fenders
Body Mount Chop
What Do You Like About Your Setup?
The number one item that makes me turn around to see if my truck is still looking at me, is the All-Pro Apex hoop front bumper. By cutting the fenders and doing the cab mount chop, I am able to run the right size wheel and tire combo to get the stance that I was looking for.
The Toytec lift is just the right height to fit the bigger tires and not enough to continuously snap CV boots. The truck also fits in tight parking spots and has a great turning radius for smaller parking lots and garages.
What Are Your Top 5 Mods?
Mid-Atlantic Off-Roading Send It! Suspension
WarFab Sheridan Rock Sliders
Mid-Atlantic Off-Roading Giddy Up! Throttle Controller
*Upcoming* Falcon Off-roading T1 Wheels w/ Yokohama Geolandar 285/70R17 Tires
*Upcoming* SSO Slimline Front Bumper w/ Stage 2 kit
What Do You Like About Your Setup?
I have run this setup on my 2017 Tacoma and love it! The 2018 SR5 is a great platform to build on and even running basically stock, it has been crushing the trails. I cannot wait to keep building this rig and getting the upcoming parts installed.
8. Jacob Dean (@lava_taco) – 2020 TRD Sport Manual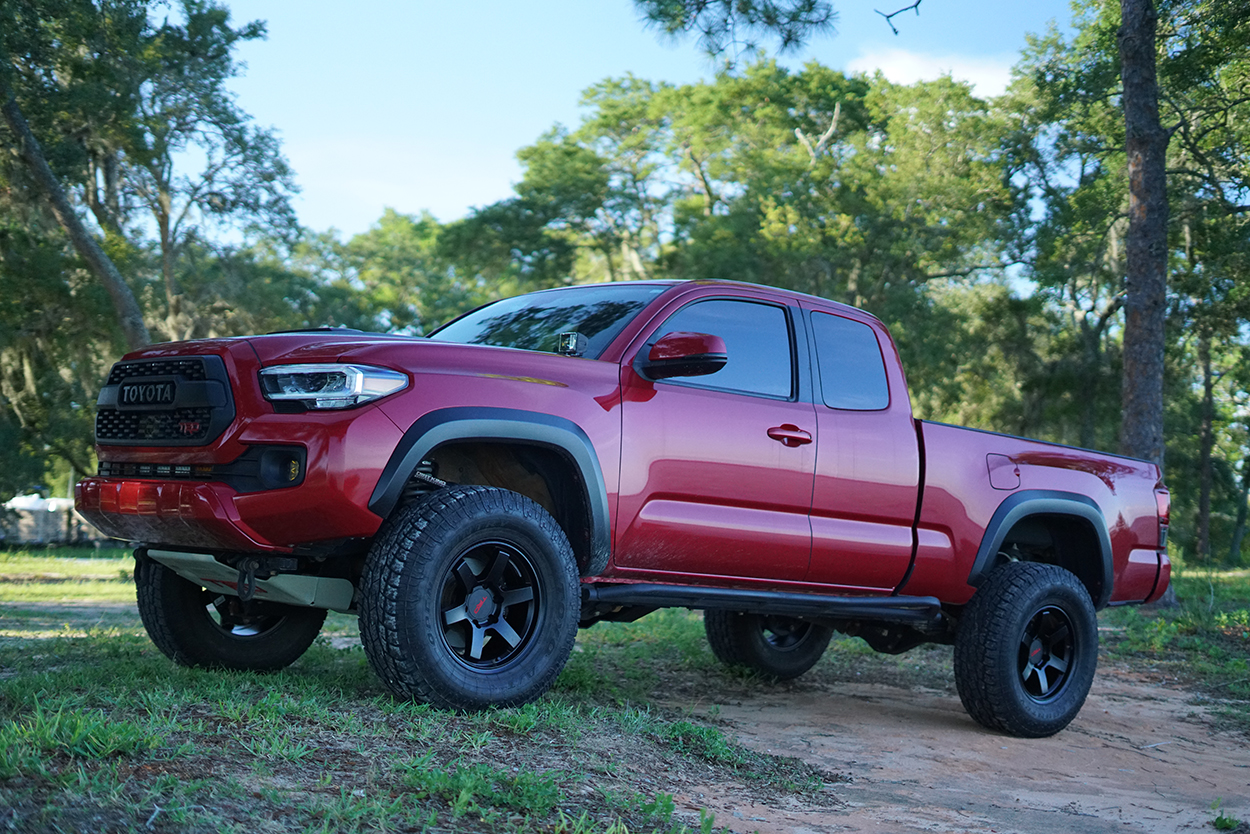 What Are Your Top 5 Mods?
Suspension: Front Eibach 2.0 & Dirt King UCAs Rear Fox 2.0 w/ Adjustors, Hammer Hangers, 1.5" AAL
McLean MetalWorks Bare Bone XL Hammock Hitch-Mount
Tint: Xpel Ceramic 70% Windshield 20% Front 5% Rear
Lighting: Diode Dynamics SS3 Pro Fog Lights & Hidden 30" Bumper Light Bar, Spartan X Custom Amber Scoop Light & Ditch Lights, 12 KC Cyclone V2 Amber Rock Lights
Wheels: Level 8 MK6 17×8 ET -10 w/ 285/70R17 Toyo Open Country AT2 Tires
What Do You Like About Your Setup?
What I like most about my setup is its OEM+ look. It subtly changes the look while adding the capability for off-roading and maintaining everyday use.
When it comes to my favorite mods, each adds to making this Tacoma that much more perfect for me. The OEM suspension was just too firm in all the wrong ways. The Eibach 2.0 and Fox 2.0 combo I have is soft on quick suspension movements and firm on slow ones. When hitting bumps at speed, I don't feel like I'm going to rattle apart or need back surgery but can still take turns without feeling like you're going to roll over.
The McLean Metalworks hammock mount is my favorite just for the simple fact I can now quickly and easily deploy a hammock anywhere in under 2 mins.
Window tint is just one of those things that are needed where I live in Florida. It's 100% a game-changer with the ceramic for heat rejection and just staying comfortable.
I'm super OCD about lighting because I just hate not being able to see at night. I've gone a bit overkill but at night, being able to see just about everything, is worth it to me.
Lastly, for wheels, I went with the MK6 because it's a subtle wheel that doesn't break the bank. It gave me the exact size that I wanted and the amount of poke I was looking for. The Open Country AT2 is a great tire for what I do, being mostly a daily driver with some weekend off-roading. With the 33″ size, I gained the much-needed ground clearance over stock.
Final Thoughts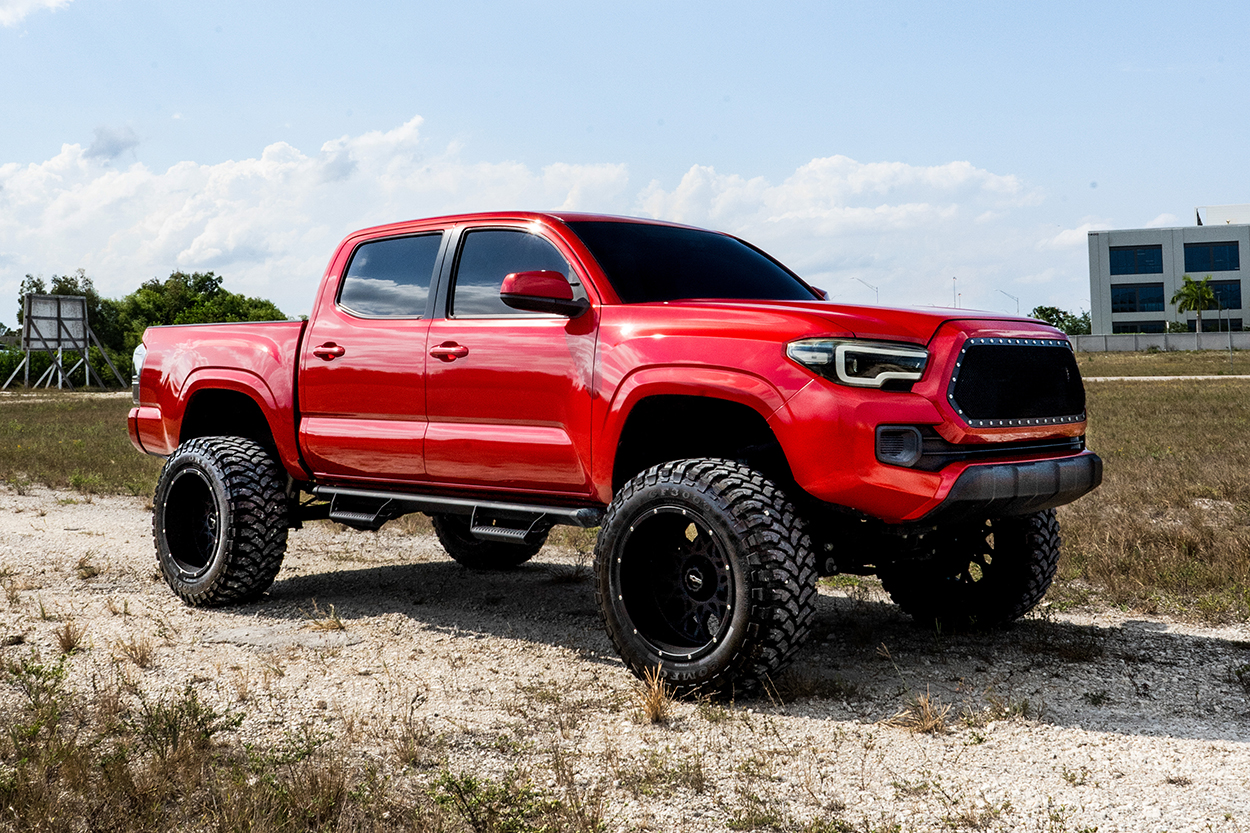 Man, Barcelona Red is such a stunning color! I enjoyed that we had both 2nd Gen and 3rd Gen trucks showcased through a variety of builds for this week's Taco Tuesday. We definitely had the perfect turnout for this awesome color!
If you want to be featured for Taco Tuesday, submit your build through TrailTacoma.com/Feature. Next week's Taco Tuesday will be featuring 2nd Gen Tacoma Armor Options and asking owners what they like about their setup. We're looking for sweet rides to showcase! If this is you and you love your setup, send in your details because we want to see it.
Thanks for reading guys. I'll see you next week!