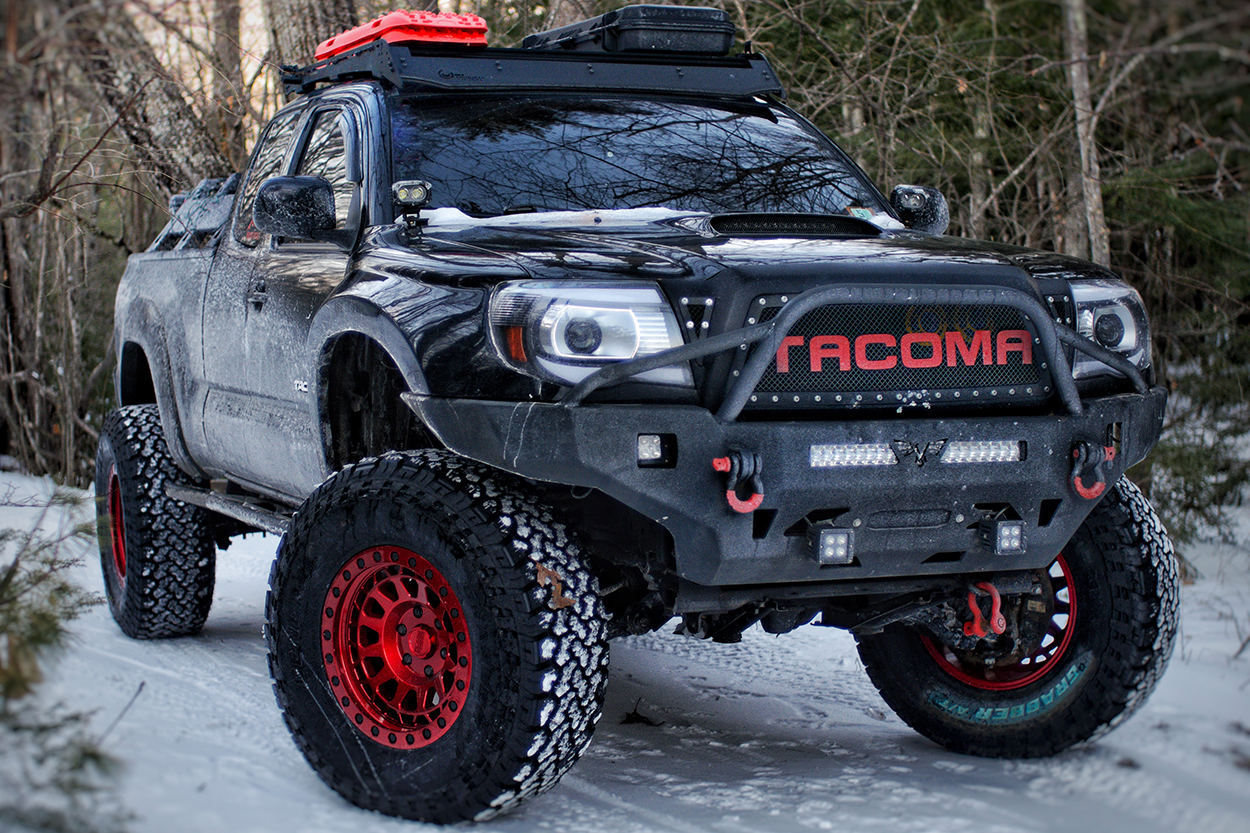 We Asked 13 Tacoma Owners What Armor & Protection Mods They Chose For Their 2nd Gen Toyota Tacoma – Here Is What They Said!
This Week's Topic: Tacoma Armor
Welcome back to another Taco Tuesday! If you missed last week's TT, we checked out 8 super awesome Barcelona Red Tacoma Builds. This week we are taking a look at top armor and vehicle protection mods specifically for the 2nd Gen Tacoma ('05-'15).
Below we have 13 awesome 2nd Gens with their list of sliders, bumpers, and skid plate choices along with pricing.
13 Tacoma Build Set-Ups: Protection & Armor Mods
Why Do You Need Protection For Your 2nd Gen Tacoma?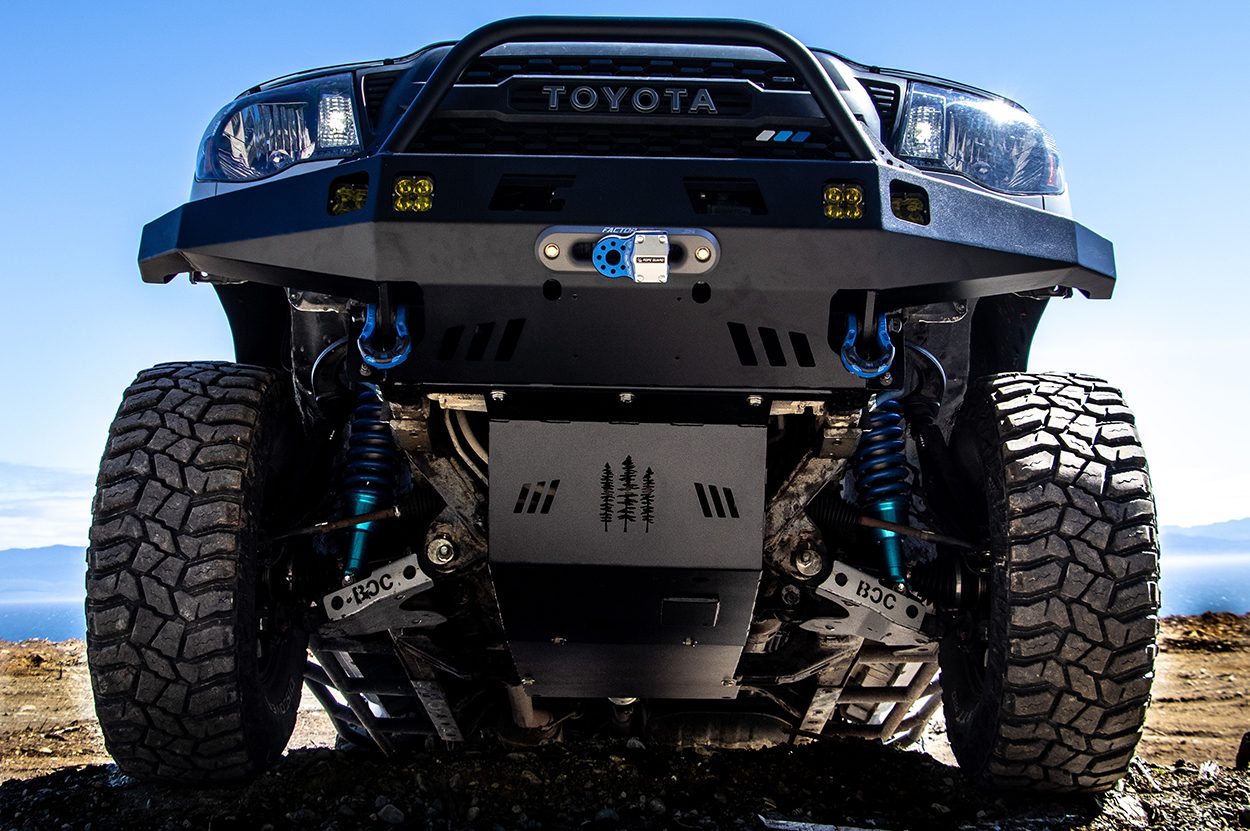 First and foremost, you've got to keep these future classics running! With skyrocketing used market prices, the 2nd Gen Tacoma's resale value is higher than ever.
Skid Plates
The stock "skid plates" offered by Toyota under your engine, gas tank, and other bits of crucial driving components pretty skimpy. Sure, they get the job done for the pavement – but that's about it. If you get into wheeling, they will get destroyed by any major obstacle, especially under the weight of your truck. Although better than nothing, they definitely won't work as well as aftermarket ones.
Rock Sliders
Rock Sliders provide two major functions on your Tacoma. The first function is as a step to get in and out of your vehicle. This is super awesome for lifted trucks or easier roof access. The second function is to protect your truck's rocker panels from damage on the trail.
If you elect for a kick-out feature on your sliders, then you are also giving the cab and bed panels some protection against trees, rock walls, or anything else that may come close to your truck on a very narrow trail.
Bumpers
If you want to take your Tacoma's protection to the next level, you should ditch your plastic front and rear bumpers and replace them with some solid steel or aluminum aftermarket ones. Similar to rock sliders, front bumpers also serve more than one purpose.
Adding a full hybrid front bumper to your Tacoma yields the best value in my opinion. You gain the ability to run larger tires, added approach angle, better ground clearance, and mounts for a winch and aftermarket lighting. This is all in addition to stout front-end protection. An aftermarket rear bumper also provides you with improved ground clearance and departure angles.
Additional Armor Resources
If you need more inspiration… check out the following posts.
Enjoy guys!
1. Kyle Kunstmann (@the_yeti_yota) – 2012 TRD Off-Road
Armor Details
Front Bumper: BAMF Hybrid Front Bumper w/ Powder Coat | $1325
Skids: RCI Full Underside Protection (Steel) | $945

RCI Rear Diff Skid (Steel) | $316
BAMF LCA Skids | $150
WarFab Receiver Skid | $190

Sliders: Westcott Designs TIG Welded Sliders | $1600
What Do You Like Most About Your Setup?
I was originally going to go with aluminum skids for the weight savings but the steel has held up incredibly well to rocks and other damage. Not only does this setup protect my truck very well but it also looks amazing. I have full confidence on any trail now due to how much protection is under my truck.
2. Ray Valenzuela (@socaltrailray) – 2015 Base 4×4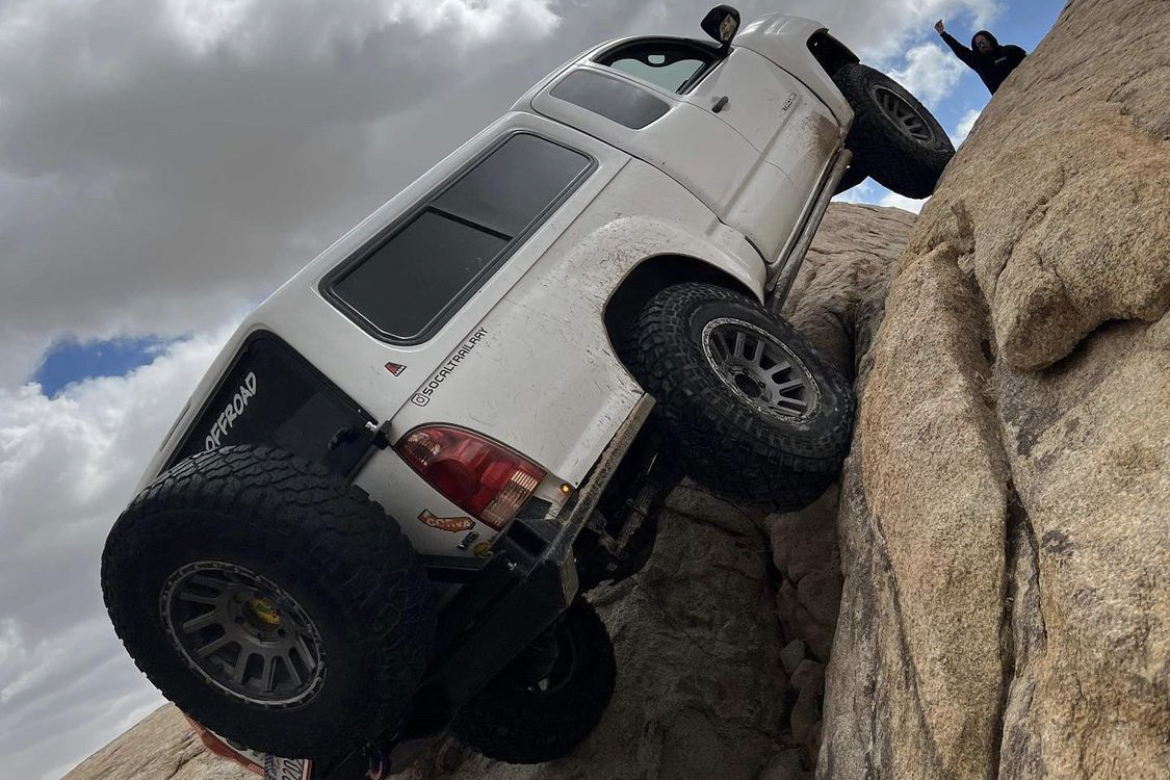 Armor Details
Front Bumper: U.S. Off-Road Winch Bumper | $550
Rear Bumper: DIY .120 Thickness | $350 In Materials
Skids: RCI Engine, Transmission & Transfer Case Skids | $800
Sliders: Cali Raised LED 25-Degree w/ Kick Out DOM Tubing | $600
What Do You Like Most About Your Setup?
Cali Raised LED rock sliders fit close to the body to squeeze into tight spaces. The kick-out works great for pivoting off of rocks and boulders. The RCI skids do their job as well with protecting the underbelly of my truck along with the BAMF diff skid. The BAMF skid hugs the differential tight which helps prevent losing ground clearance. The rear bumper is high enough to clear big drop-offs.
3. Cory (@xguntherc) – 2011 TRD Off-Road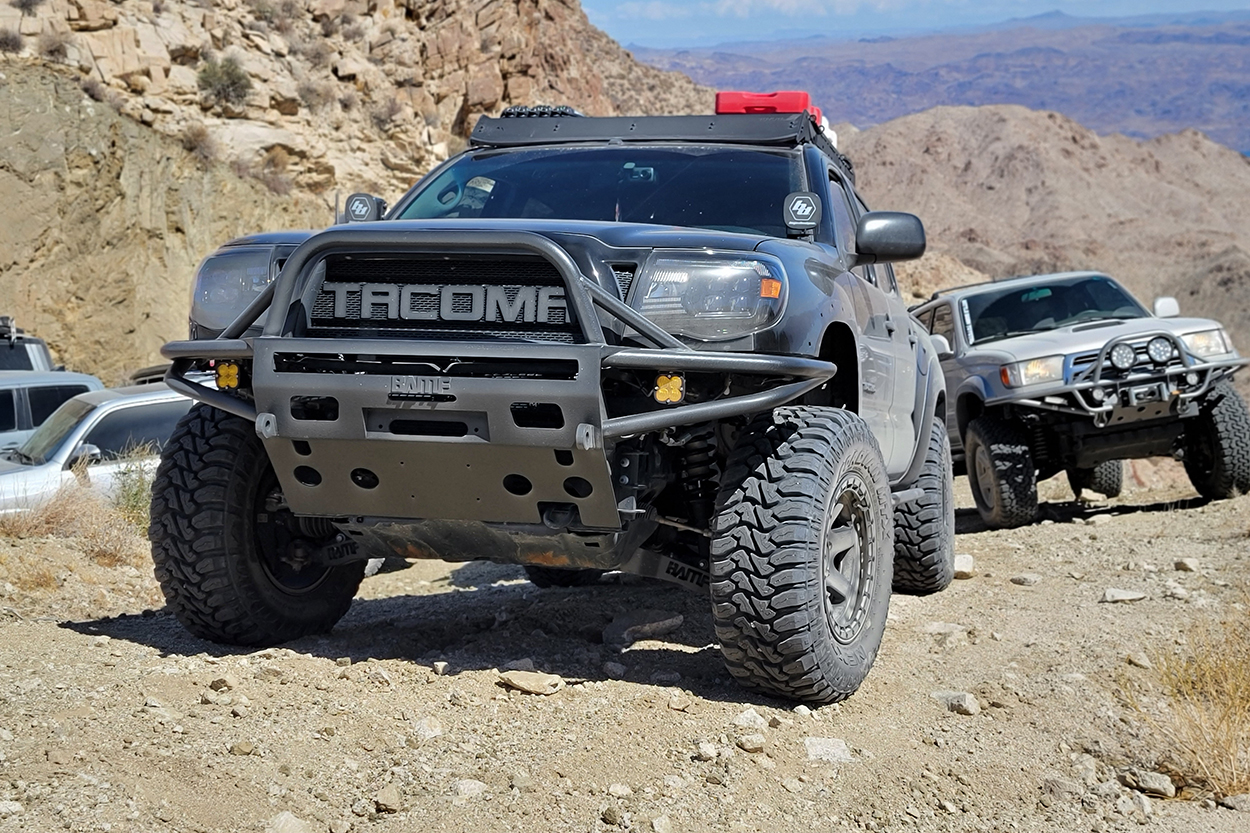 Armor Details
Front Bumper: BAMF Hybrid Front Bumper w/ Tall Center Hoop Powder-Coated Black | $1355
Skids:

BAMF IFS Front Skids | $420
BAMF LCA Skids (painted dark gunmetal gray) | $150
WarFab Receiver Skid | $190

Sliders: BAMF Bolt-On Sliders w/o Kick-Out | $1025
What Do You Like Most About Your Setup?
For armor, I chose to outfit my Tacoma with BAMF (Bay Area Metal Fab) armor. They offer quality protection at a decent price. Eventually, I plan to get the BAMF rear diff skid, as my differential pumpkin has a few dings and scratches in it.
What's there not to like? This truck armor is built tough, handles all the abuse that I throw at it, and comes at a fairly affordable price. Plus, the brand name is awesome.
The sliders and skids were a no-brainer, but I took a long time deciding on a front bumper. In the end, I stuck to BAMF for the awesome hybrid design, plus it has a clean and rugged look. I like how the piping is angled on the ends and blends in perfectly with my trimmed front fender flares. The price after powder coating and shipping was still more affordable than some of the well-known competition.
4. Kevin Bradley (@kbradley143) – 2010 Access Cab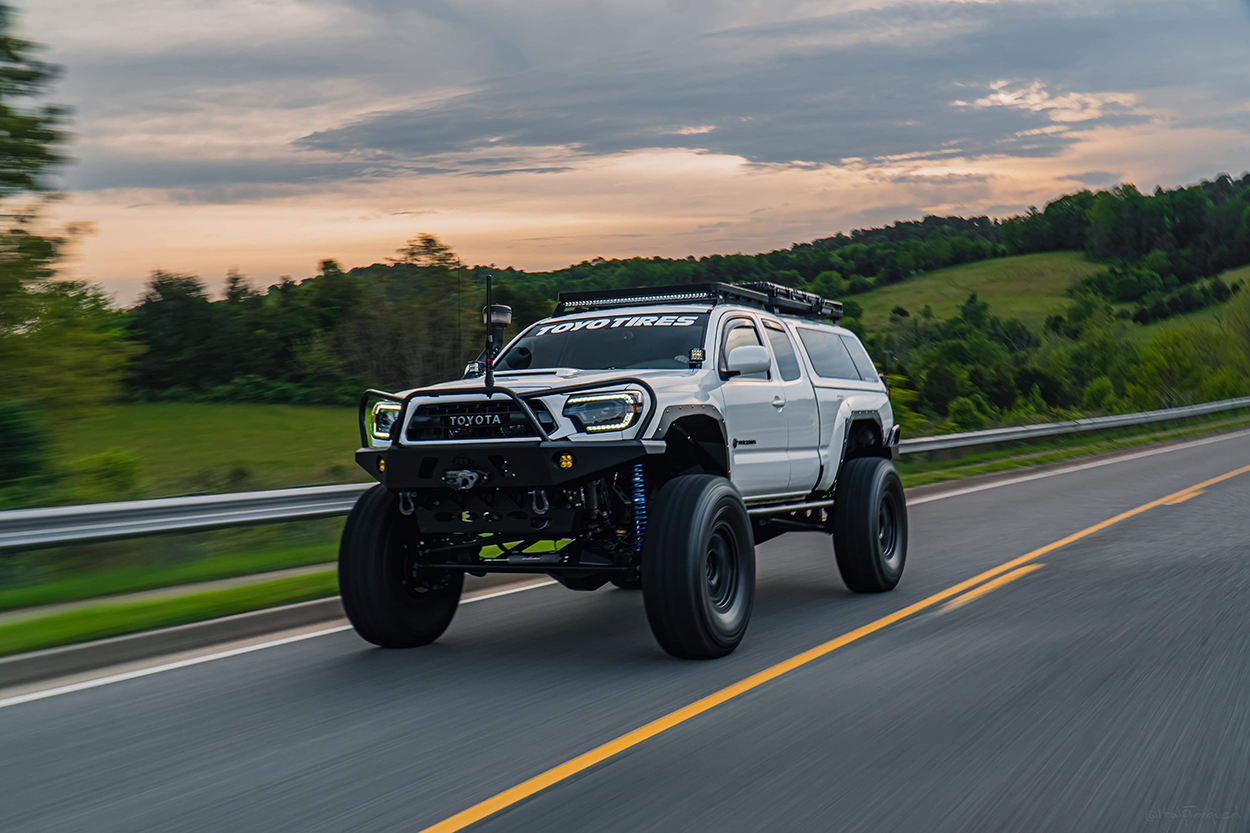 Armor Details
Front Bumper: All-Pro Off-Road APEX Steel Front Bumper w/ Full Hoop | $1568
Rear Bumper: Brute Force Fab High Clearance Steel Rear Bumper w/ Dual Swingout, Fold-Down Table, Dual Gas Tank Holder, Propane Tank Mount, & Camera Relocation Bracket | $1800
Skids: Custom Steel Transmission & Transfer Case Belly Pan | $1000
Sliders: Trail Gear '05-'15 Bolt-on/Weld-On Steel Sliders | $490
What Do You Like Most About Your Setup?
I really enjoy knowing that all of my armor is steel and that it can take any abuse that I throw at it including rocks, trees, or even a vehicle collision. Even though steel armor is very heavy, I know I can rely on it no matter what. It won't buckle like aluminum and I'm willing to sacrifice weight for protection.
I like having full hoop guards on the front bumper for maximum protection. I also like how the sliders can either be bolted on or welded on depending on your preference.
The best part of the Brute Force Fab rear bumper is that you can tailor the bumper to your specific truck and needs. You can choose from high clearance, dual, single, or no swing out with all sorts of attachments for it. You can also have it cut to length if your fenders are modified.
5. Victoria Foote (@elegant.tacoma) – 2008 TRD Sport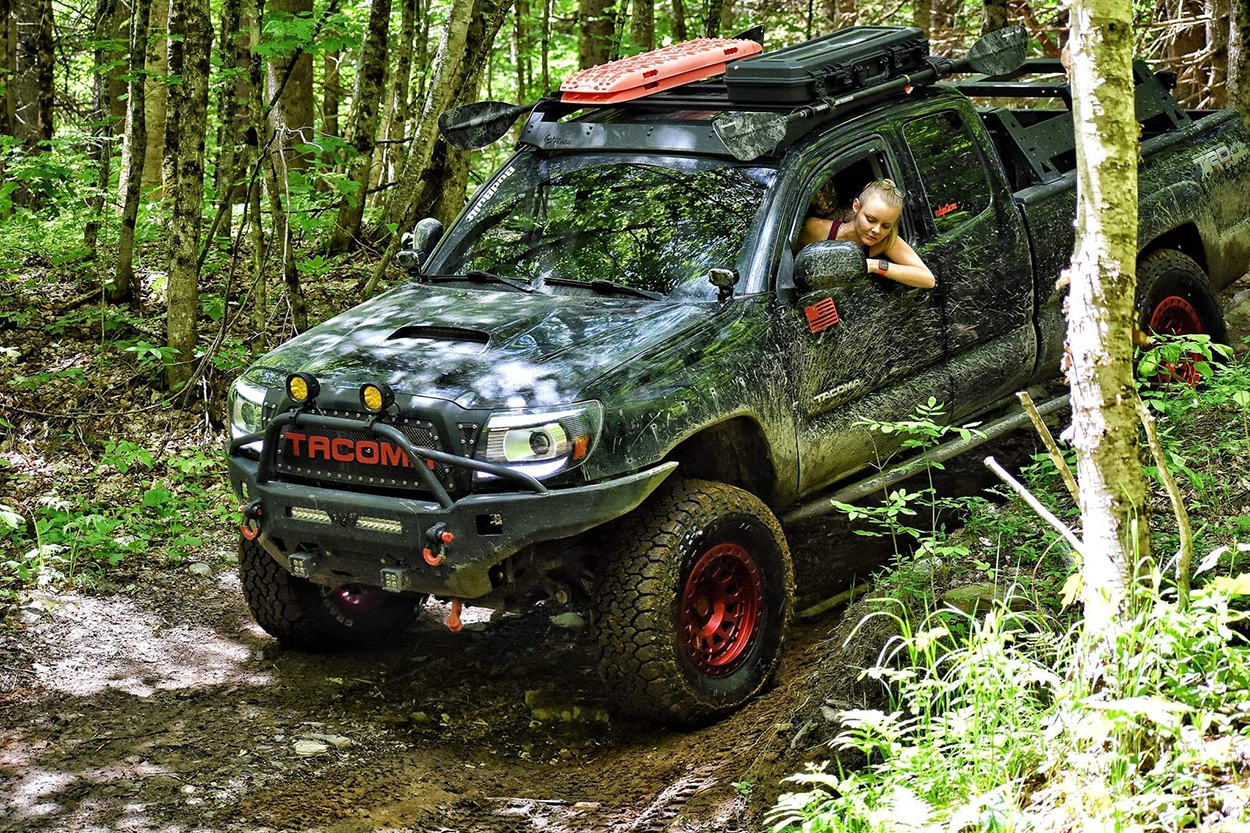 Armor Details
Front Bumper: Victory 4X4 Aluminum Front Bumper | $2000
Skids: BudBuilt Full Underbody Skid Plates | $1450+
Sliders: Explore Overland Bolt-On Rock Sliders | Now Out Of Business
What Do You Like Most About Your Setup?
I really like how my front bumper is made out of aluminum. It doesn't rust and it isn't heavy enough to affect my front-end suspension. The BudBuilt skids were a great deal since I got them used and have saved me numerous times crawling over large rocks.
6. Tyler Johnston (@coastal.tacoma) – 2006 TRD Off-Road
Armor Details
Front Bumper: Coastal Off-Road Extreme High Clearance | $780
Rear Bumper: Coastal Off-Road High Clearance | $675
Skids: Coastal Off-Road Extreme High Clearance | $650
Sliders: Big Country Customs Rock Sliders w/ Kick-Outs | $1035 (CAD)
What Do You Like Most About Your Setup?
With any armor protection for your vehicle, you want something that's strong, durable, and provides you with additional clearance. All of my armor from Coastal Off-Road and Big Country Customs does just that.
The newer version of Coastal Off-Road's front bumper that I am running provides the best clearance and approach angle I have seen available on the market today. Plus, you can't beat the price of DIY weld-together kits. I've put all my armor through abuse on the trails and none of it has let me down. I'm very impressed with everything from Coastal Off-Road & Big Country Customs!
7. Heather & Alex Darley (@darley_offroad) – 2011 SR5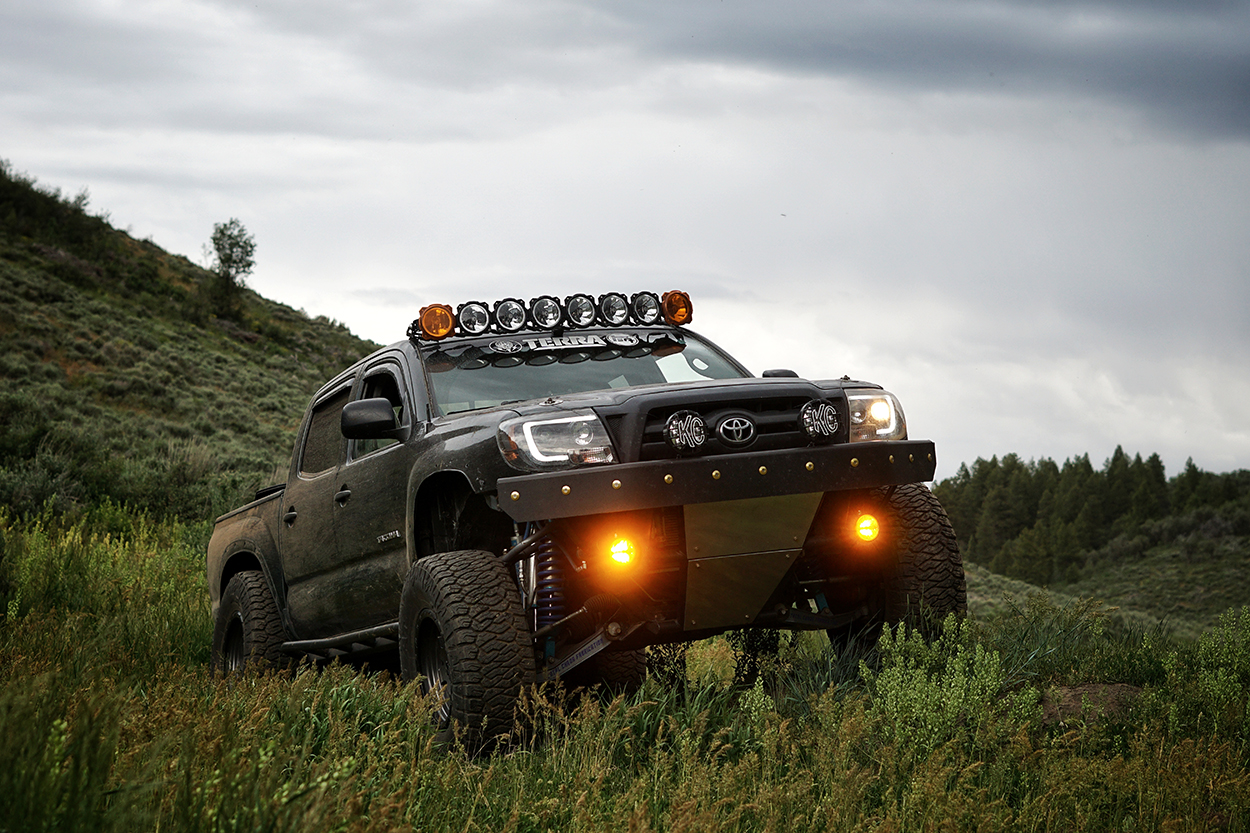 Armor Details
Front Bumper: Dezert Toy Fabrication Type V (Stock Width) | $2,250
Rear Bumper: Mazzulla Off-Road Rear Plate Bumper / MZB-T2-2A | $699
Sliders: RCI Offroad 20° Rock Sliders | $945
What Do You Like Most About Your Setup?
It took a long time to find the right armor for our needs. Ultimately, we needed to just use the truck to find out what that was. Our front and rear bumpers are very high clearance, which means we can't run a front winch and also had to remove our tow package. In doing this, our truck is lighter, more maneuverable, and doesn't drag when we jump it.
Our most-used armor is definitely the rock sliders. We have smashed down on these with the full weight of our truck more times than we can remember and also to pivot through tight areas. They are, hands down, the most important armor mod and the first thing every off-roader should get.
8. Scott Schaefer (@tacomamountain_ut) – 2010 TRD Off-Road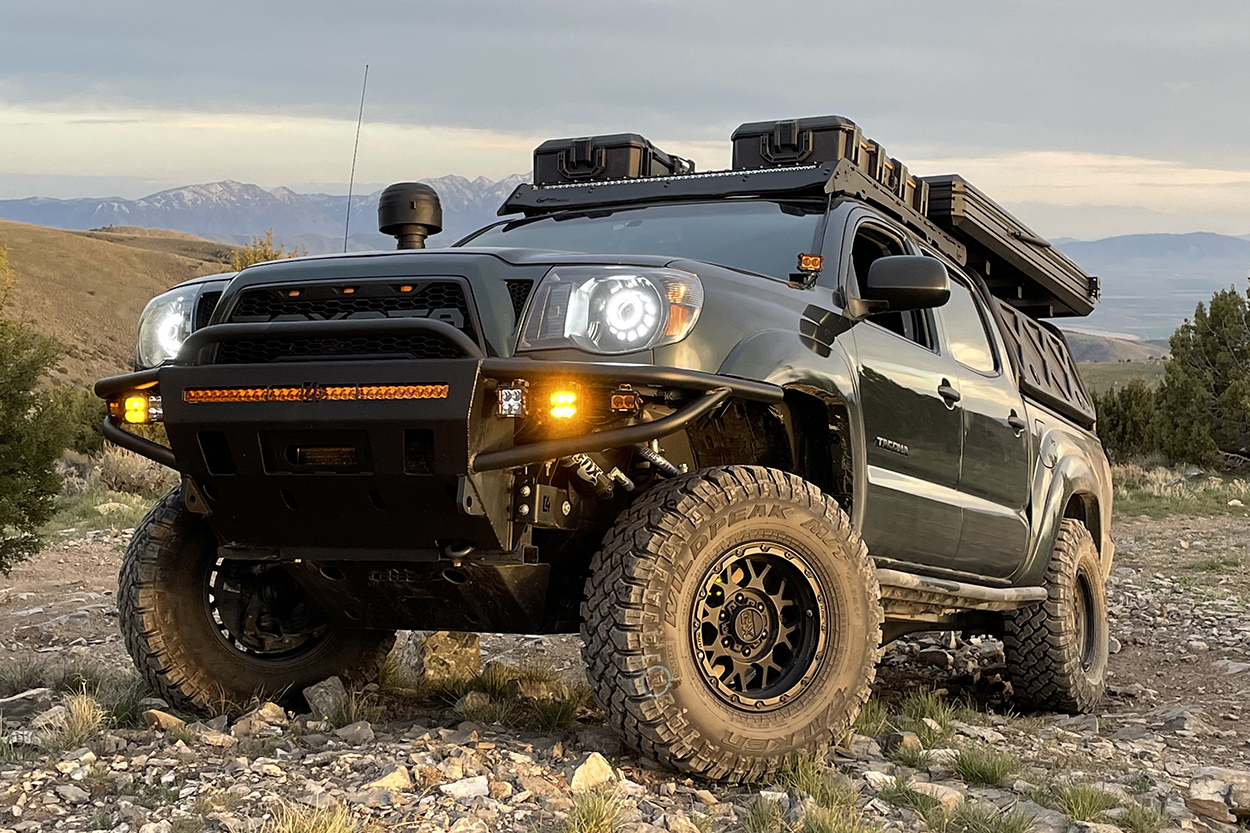 Armor Details
Front Bumper: C4 Fabrication Hybrid Front Bumper | $1,400
Skids:

RCI Rear Differential Skid | $250
CBI Skid Plates | $700

Sliders: All Proof Off-Road | $800
What Do You Like Most About Your Setup?
Having armor on my Tacoma is a huge comfort while off-road knowing that I'm protected from any objects I may encounter! They have definitely taken a few hits and proven their worth many times over. Having the proper armor is definitely essential for every build!
9. Cade Ferreira (@roosterstacoma) – 2006 TRD Off-Road
Armor Details
Front Bumper: Custom-Made Tube Bumper by @outlaw_overland_llc | $800
Rear Bumper: WarFabInc High Clearance Phantom Rear Bumper w/ Single Swing Out | $1070
Sliders: Apex Fabworks 25° Trail Edition | $800
What Do You Like Most About Your Setup?
What I like most about this setup is that my front and rear are both tube bumpers, thus very lightweight. Full plate bumpers are usually super heavy.
With the front bumper being custom-made, there are only a few other Tacomas with similar bumpers. I really like the uniqueness as well as the ability to have a winch mounted to the front and less material to get hung up on off-roading.
The high clearance rear bumper is from WarFab. They do a really awesome job with all of their products and were able to build me a bumper that gives better clearance and protection. I have a full-length swing out that carries my spare 35″ tire with extra space in case I decide to add a hitch receiver for a bike rack.
My sliders are the 25° Trail Editions made by Apex Fabworks but sold by Cali Raised LED. I like that they provide a lot of protection while being probably the lowest-profile rock sliders on the market.
Probably my favorite thing on my truck is my front slide plate. It's cool to have someone ask who made it and I can say that I did. I cut out the front cross bumper from my truck and welded in a 3/6″ thick, 2″x3″ piece of steel square tubing for more ground clearance and better approach angle. I then got a sheet of 3/16″ steel and bent it to where I needed it and welded in gusset ribs and mounting locations.
10. Jake Sleeth (@09taco) – 2009 TRD Sport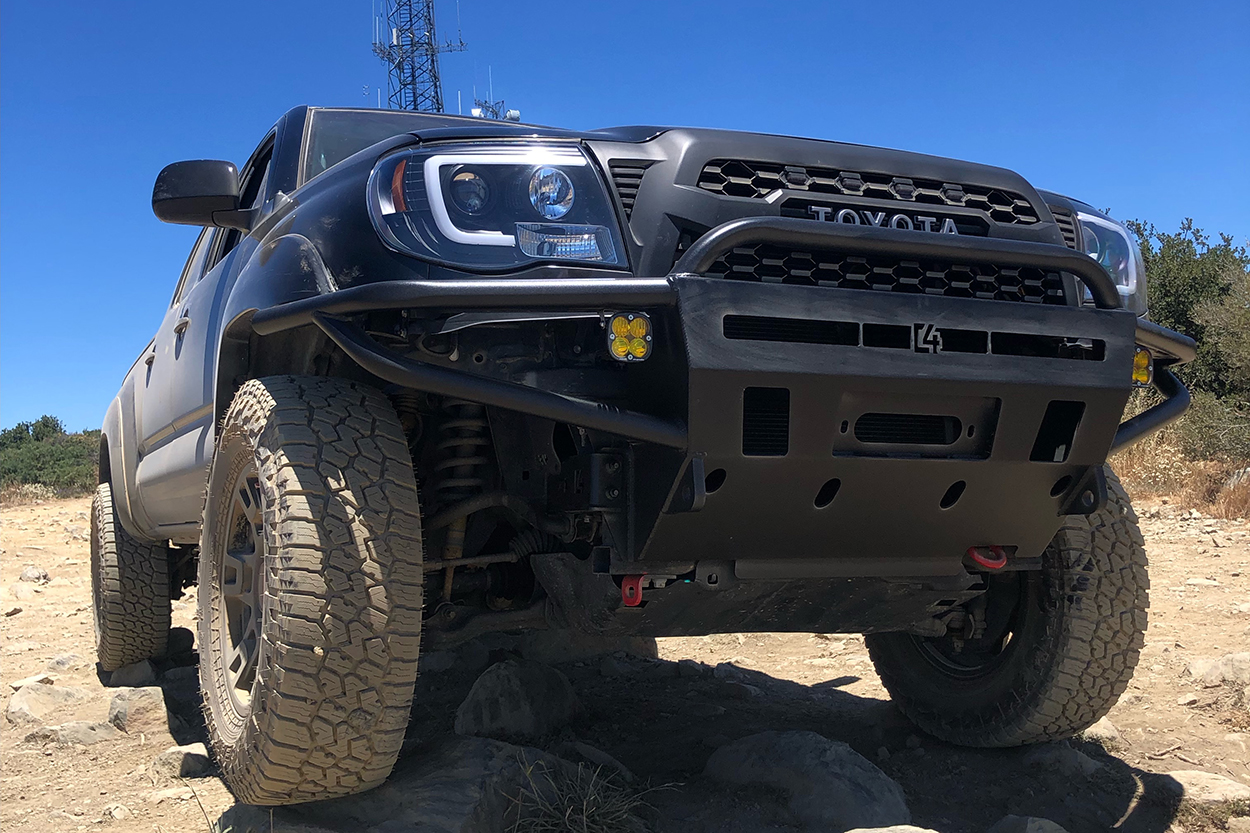 Armor Details
Front Bumper: C4 Fabrication Hybrid Front Bumper w/ Mid-Height Bull Bar | $1600
What Do You Like Most About Your Setup?
As of now, I'm on a budget and not running upgraded suspension yet so this bumper greatly helped with my clearance and approach angle compared to the stock bumper. Another amazing aspect of this setup is all the space for aftermarket light lighting or a winch.
One of my favorite things about the bumper is how easy it was to install and how well it has held up, even with numerous scrapes. Also, despite all the added weight, I never noticed a drop in MPG, which is always a plus. C4 really blew me away with their quality and customer service.
I 100% recommend them and I will definitely be purchasing their skid plates sometime soon.
11. John Ricci (@rolla_taco) – 2011 TRD Off-Road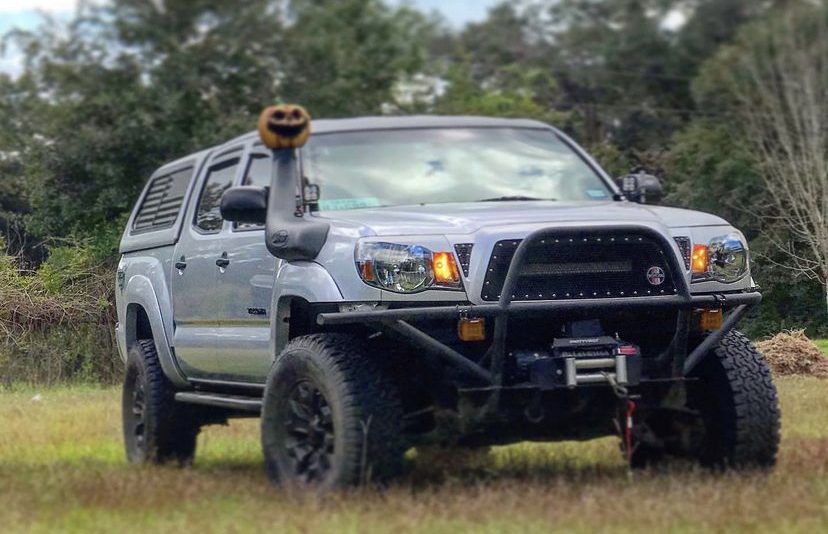 Armor Details
Front Bumper: DIY
Sliders: Trail Gear Weld On | $400
What Do You Like Most About Your Setup?
The thing that I like most is that I can go to most places and not have to worry about damage to my truck. It makes off-road trips a little less nerve-racking and enjoyable. This truck is amazing to begin with, so adding this little bit of extra protection just makes it that much better.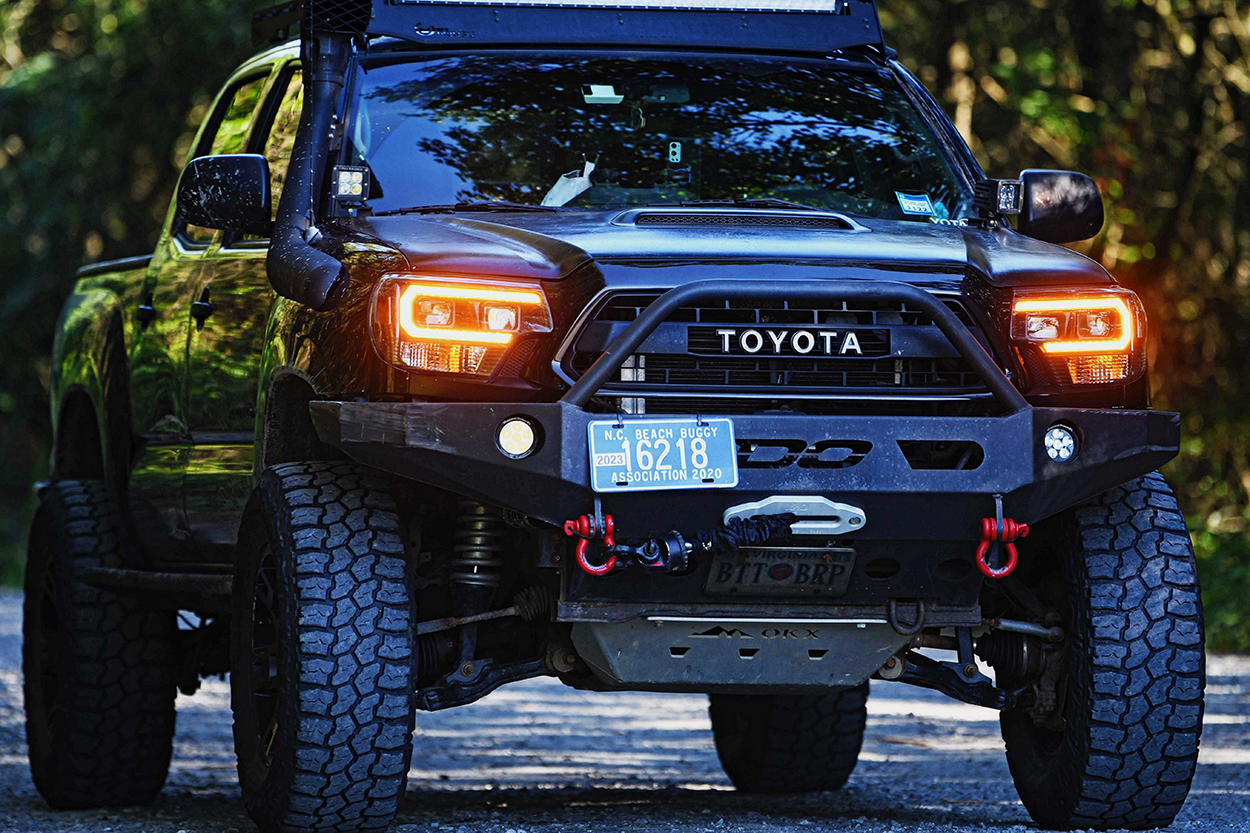 Armor Details
Front Bumper: Demello Off-Road Single Hoop Steel Bumper | $1650
Rear Bumper: Outgear Solutions High Clearance Tube Bumper | $985
Sliders: All-Pro HD Rock Sliders w/ Kick-Out | $783
What Do You Like Most About Your Setup?
My favorite piece of armor would have to be the Outgear Solutions Rear HC Tube Bumper. Not only is it the best-looking piece of armor on my truck, but it's also the most functional. In the past, even on the mildest trails, I would constantly drag my rear end over obstacles.
After installing the HC bumper I have yet to make contact with an obstacle even on some pretty gnarly trails. I would highly recommend it to anyone looking to gain a little clearance in the rear.
13. Michelle Chase (@sexybeast.sd) – 2011 TRD Sport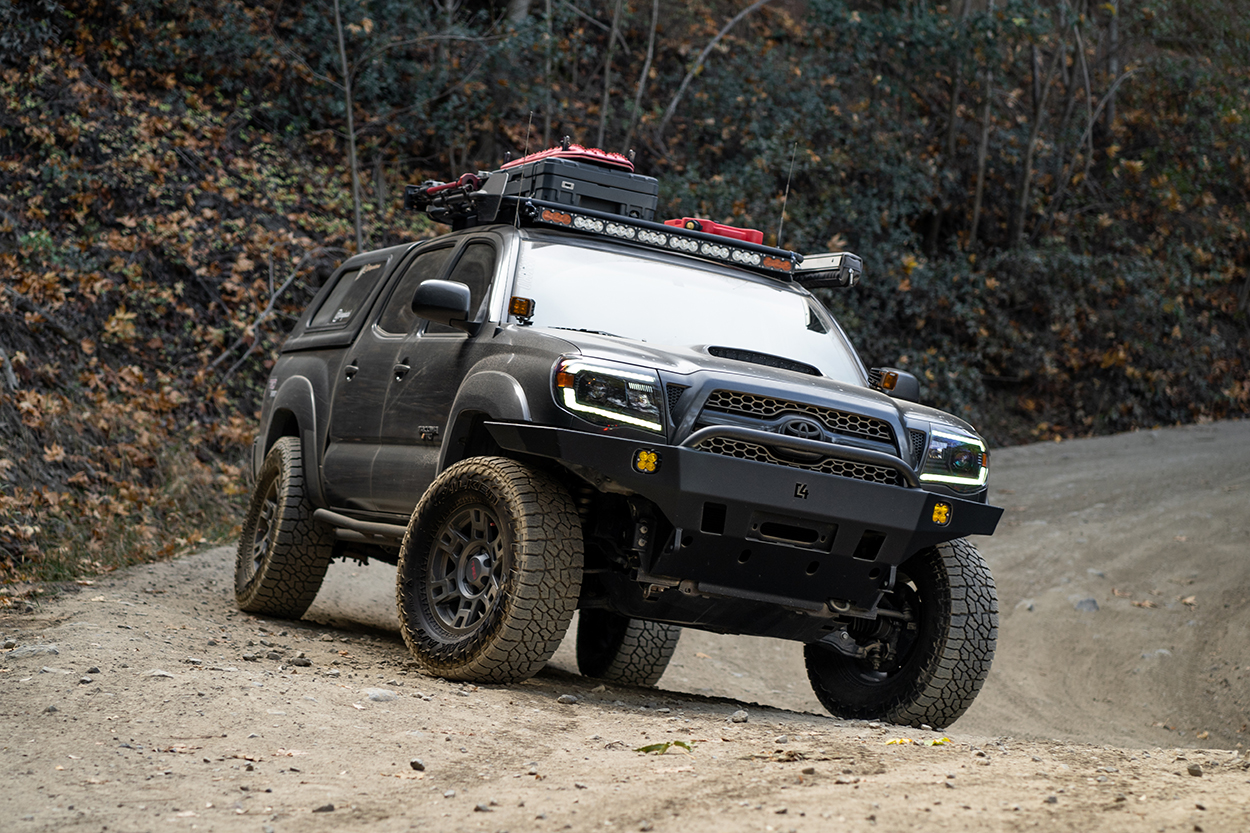 Armor Details
Front Bumper: C4 Front Bumper Overland Series | $1580
Sliders: Cali Raised LED Off-Road
What Do You Like Most About Your Setup?
What I love the most about my setup is that I have options with what kind of trail riding I want to do.
If I'm staying at the campsite and not hitting trails, I will use the ARB awning with the annex room attached. This camping setup gives me plenty of space with my dog. I love having a truck with everything I need for all my adventures.
I went with the Rhino Coat on the sliders for a durable finish. This gives them a little more grip when using them to get recovery gear from up top as well. I chose the C4 Overland Series front bumper because I love the look and high clearance. I can't wait to add a winch to it.
Final Thoughts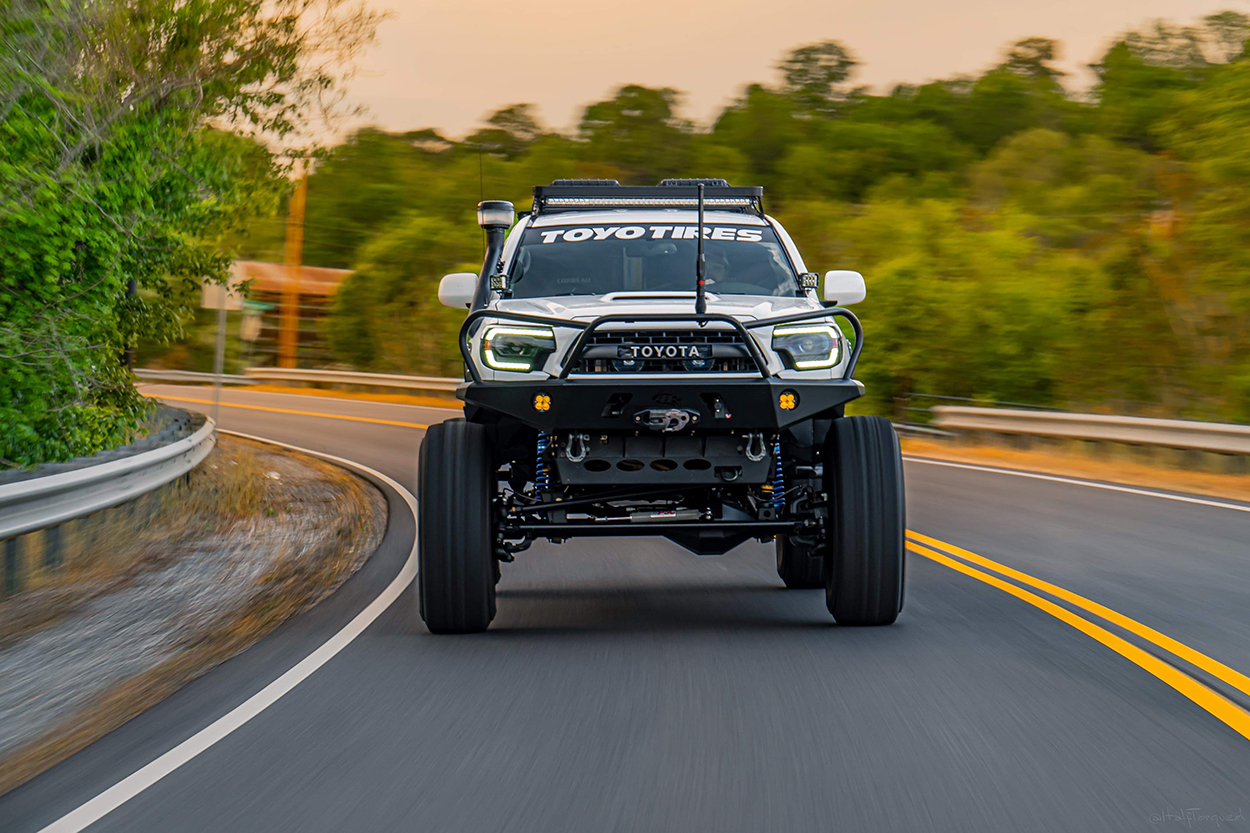 What an insane lineup of 2nd Gen Tacomas this week! These are all well-equipped with great armor and protection for the trails ahead! If you are looking to build up your 2nd gen, I hope this week's Taco Tuesday gave you some inspiration on how to protect your off-road investment while out on the trail.
If you want to be featured for Taco Tuesday, submit your build through TrailTacoma.com/Feature. Next week's Taco Tuesday will be featuring Mud Terrain Tire Options and asking owners what they like about the tires they are running. We're looking for sweet rides to showcase! If this is you and you love your setup, send in your details because we want to see it.
Thanks for reading guys. I'll see you next week!