The Platform Camper V2 is Lighter, Stronger, and Faster: Here Are The Top 6 Changes & Upgrades GFC Made on The Version 2 Camper
Go Fast Campers or more commonly referred to by most as "GFC" is a pioneer in the camper industry. They revolutionized the way a camper was not only built but how it sat on the actual bed of a Tacoma. The term "game-changer" gets thrown around a lot but GFC really is a game-changer when it comes to the design, manufacturing, and engineering of efficient, well-thought-out camp products for the overland space.
From their sometimes unthinkable future-forward designs to their genuinely "cool" branded vibe, GFC just continues to dominate the space in terms of innovation and products that people love; something of a cult following, really.
I ran my first GFC product back in 2018, about 4 years ago. That was their first RTT; the 5th Gen 4Runner specific rooftop tent. I wrote a massive blog post on that rooftop tent highlighting all the details and all the crazy innovations they brought to the market back then.
That RTT lived on my 4Runner for a few years until I sold that rig. It was a killer product; no rattling, super low profile, high-quality fabric, YKK zippers, and GFC manufactured accessories to support additional mods – the product just worked.
GFC Platform Camper V2 Overview
Platform Camper V1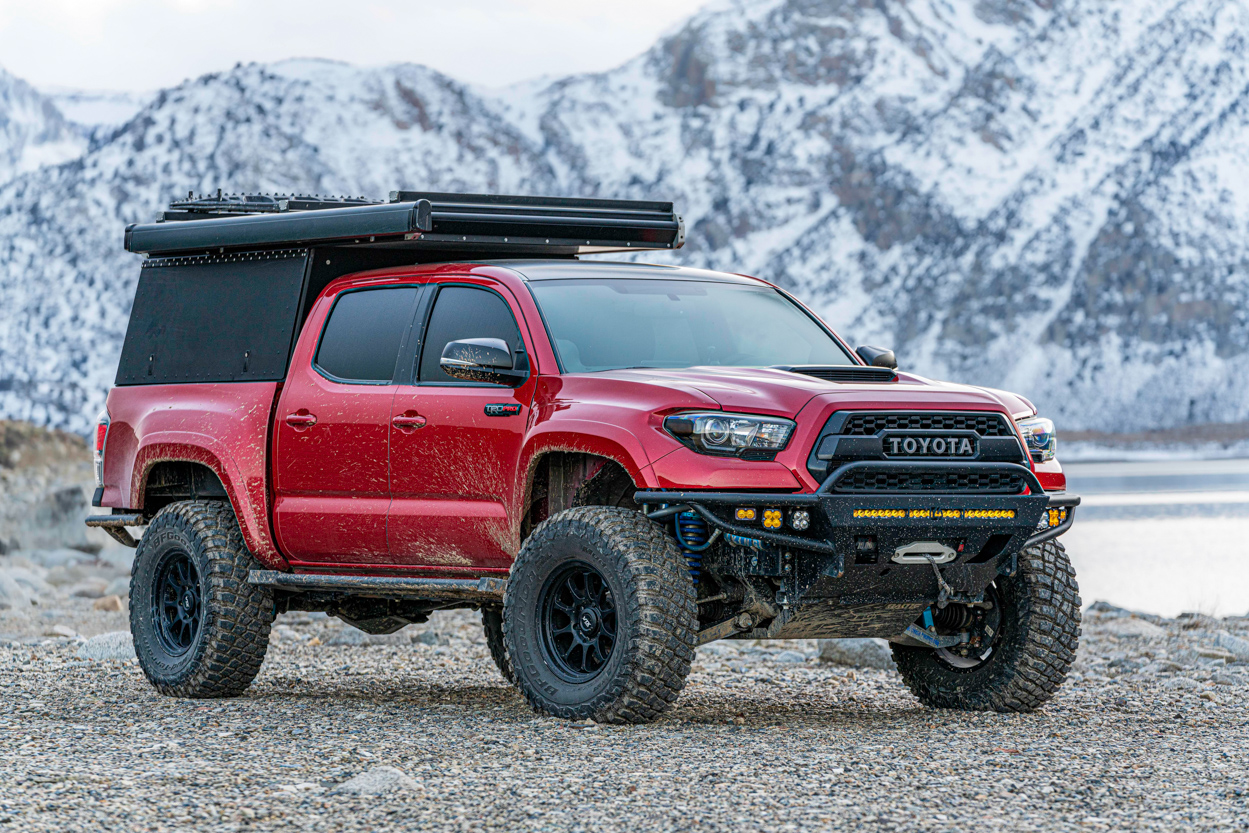 GFC was also producing the Platform Camper V1 at the time – an even bigger "game-changer" for the Tacoma community. So much so – that enthusiasts started building their own DIY versions, and shortly thereafter companies from all over the globe started making GFC copycat campers with slight variations here and there. GFC singlehandedly revolutionized and innovated the pinnacle of what is now the most sought-after lightweight, minimalistic camper design for the mid to full-size truck. All that said, GFC laid the foundation and created an entire market for many of the companies manufacturing truck bed campers for today's ever-growing off-road and overland market.
What came next further surprised us all. 
Introducing the Platform Camper V2
The new version camper, notably coined "the Platform Camper V2" has undergone a series of design changes, and manufacturing improvements.
Manufacturing has gone from around 12-month lead times to under 8 weeks.
GFC changed one of their only real company issues and customer complaints; lead times. It's been hard for customers to purchase an $8,000 product and then wait a year to receive it. What was arguably the only problem with the GFC camper has all but been eliminated due to more efficient manufacturing processes.
12-Month to 8-Week Lead Times… How?
Going from 12-month to 8-week lead times is an incredible task to undergo – especially during a global supply chain nightmare that perplexed even some of the world's top supply chain analysts at the billion-dollar import/export level. So how did they do it?
How did GFC go from making a single camper per day to a camper every hour? Manufacturing, that's how.
GFC is much more than a leading outdoor truck camper and RTT brand, they're a manufacturing company at the core. The founders (Graeme and Wiley) are both engineers and come from manufacturing backgrounds so by nature, they're both constantly looking to improve their process; the general making of things. The GFC facilities feature an impressive manufacturing line of hundred-thousand-dollar CNC robotic arms working in tandem to grab, cut, and precisely discard hundreds of parts per day.
With the V2 camper, they redesigned just about every part in order to improve the manufacturing process which led to incredible assembly improvements and ultimately their final delivery as well.
After the platform camper v2 part re-engineering, they launched white glove delivery in the top 48.
White Glove Delivery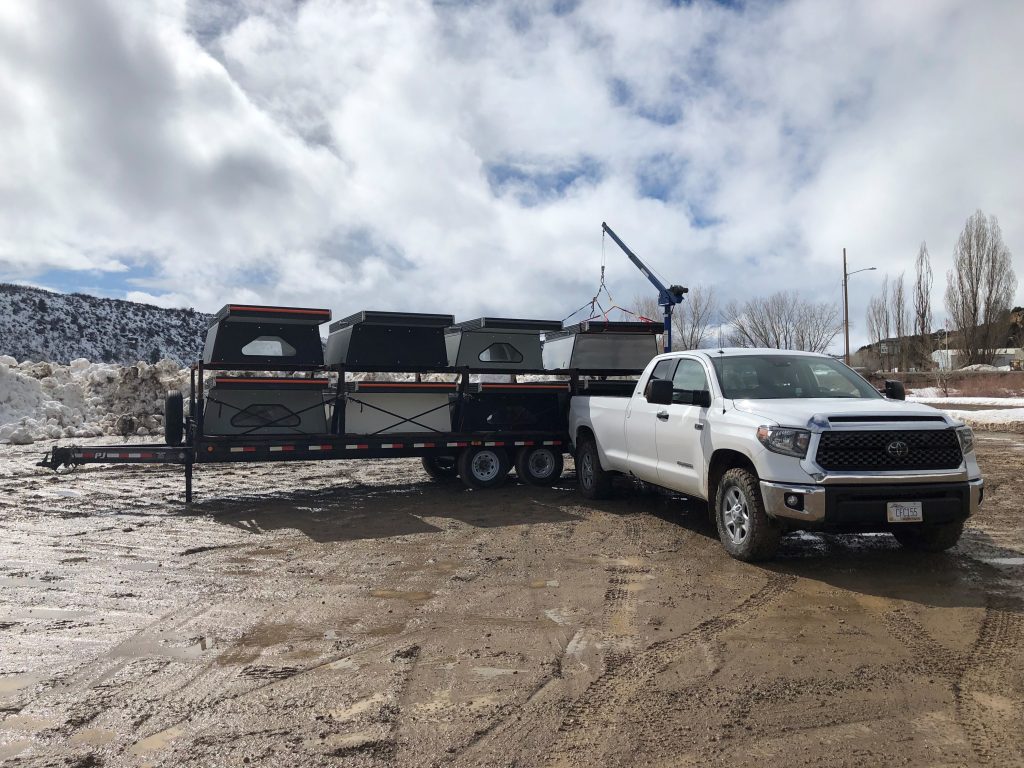 In addition to the unthinkable manufacturing and efficiency of assembly improvements, they also extended even further effort to their ever-growing customer base. Sure, a trip out to Bozeman Montana is freaking awesome (I know because I did it), but not everyone is afforded that coveted luxury we call time. That in addition to the outrageous spike in our nationwide gas prices led GFC to extend an offering that has yet again, never been offered before.
GFC recently introduced its new "trucking company" – the Go Fast Trucking Co. An in-house division that offers white glove delivery for campers and RTTs to your door with certified installation on the spot. This is something no other camper/RTT company has done before and is a blessing for many of us Americans with little to no time to spare, let alone a weekend trip out to Bozeman.
Enough about how GFC continues to change the game, let's look at how they changed the Camper V2. 
Space Frame Version 1
The first space frame was welded steel and heavy. It took long manhours to weld every corner of the space frame together. They had multiple teams on all aspects of the manufacturing; sourcing, inventory, ordering, measuring, cutting, organizing, and finally welding it all together. Then the space frame had to be powder coated. The space frames take up a lot of space and required lots of manpower to move around. The space frame was big, relatively heavy compared to its counterpart, and took lots of time to build. But, it was a great place to start for a non-existing market, at the time.
1. Space Frame Version 2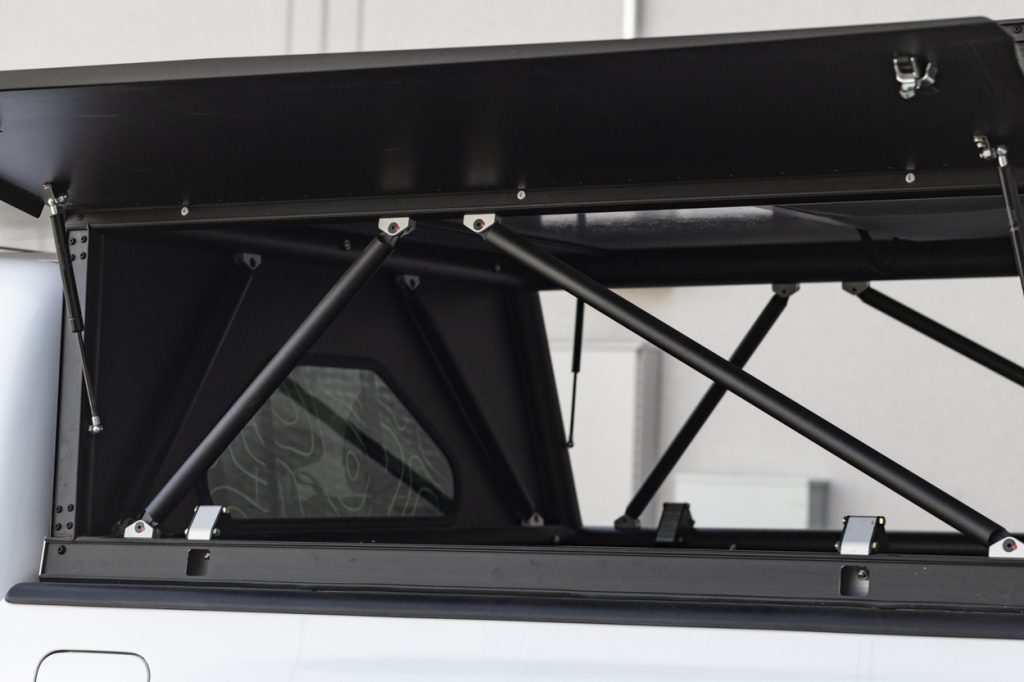 Back to manufacturing. They started with the largest, more time-consuming manufactured part, the space frame.
The second version of the space frame requires zero welding. The design is made from rigid lightweight interlocking anodized aluminum components; bars, brackets, and hardware all yielding a mind-blowing 15% reduction in weight. That brings the total weight of the GFC Platform camper down to only 268lbs. That's impressive!
All parts are anodized, not powder coated and every part on the build is now aluminum. The only steel component on the build is the fasteners which are specifically coated to prevent galvanic corrosion. Each bar and aluminum bracket are all cut to size, and are prepared for an installer to assemble in a quick and simple "install cart". GFC prepares each install cart with all the pieces needed to assemble a space frame. Just about any able-body that can torque nuts can assemble a space frame. No seasoned 10-year tig welders are needed.
The new space frame is not only lighter, and stronger, but the improved manufacturing process and assembly have drastically reduced lead times which makes it much faster.
The space frame is now lighter, stronger, and faster than ever before. 
2. Hinge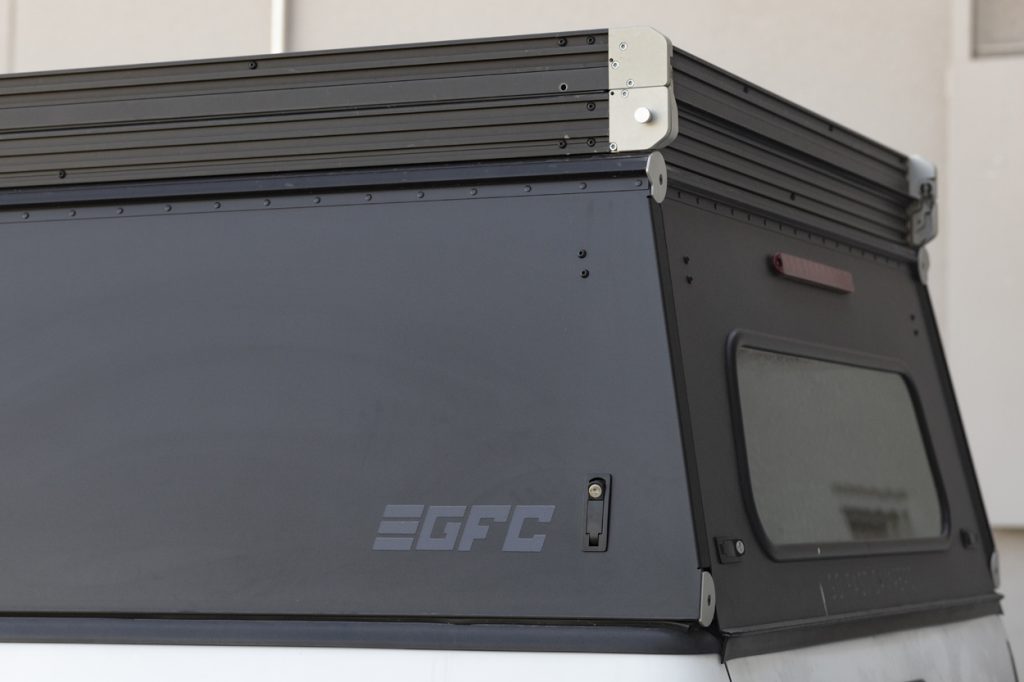 The version 2 camper has an all-new updated hinge. After years of testing their previous version and seeing what challenges came with V1, they launched a new design that has been bulletproof so far.
3. Internal Gas Struts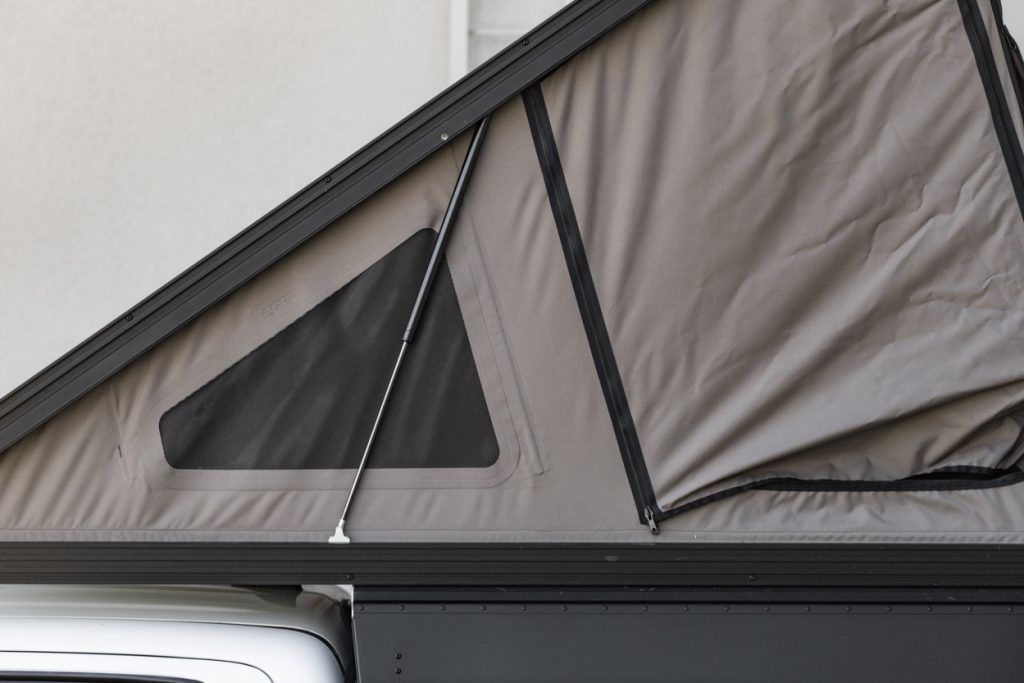 Previously, GFC had external gas struts that held up the top portion of the aluminum/honeycomb panel clamshell and they replaced those with internal gas struts. The internal gas struts aren't going to get in the way of any tree branches or any other foreign objects attacking your camper. Placing the gas struts inside of the clamshell also prevents dust and particulate build-up. The gas struts are designed to lift 75 lb of weight when open. That means you can open your tent with about 75 lbs of weight on top. With the tent closed and in a static state, you can hold up to 500 pounds.
4. Pop Top Latch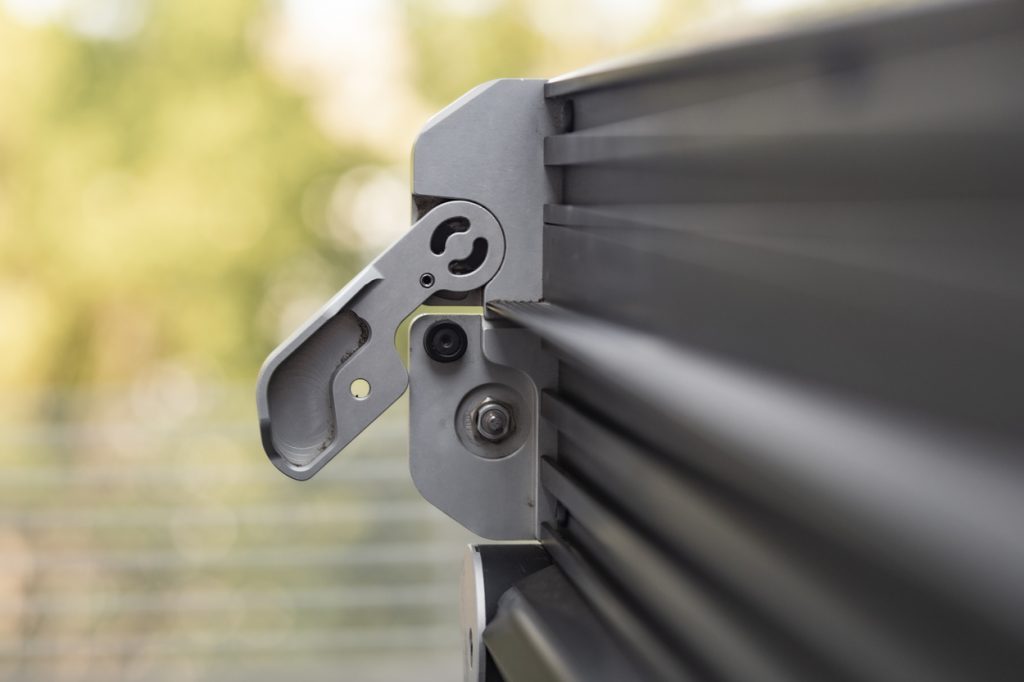 After running the GFC RTT V1 on my 4Runner for a few years, one of my biggest complaints with the tent was closing it. Because the tent is such a low-profile product, there wasn't a lot of room for the actual tent material to collapse down. This made closing the latches pretty challenging. The new latches are completely different. This might be my favorite revision on the V2 design. The new latches are incredibly easy to not only open but close as well. I know GFC put a lot of time into this one because the new latch is not only very simple, but it locks as well.
5. Fabric Connection Points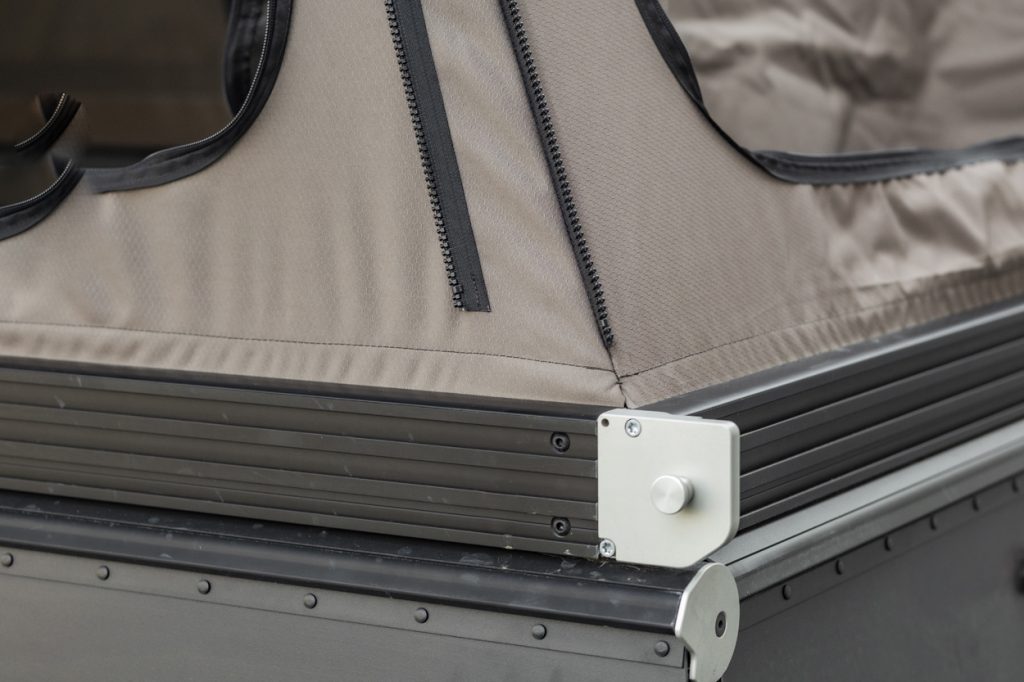 The V1 tent used metal button snaps that connected the tent material to the extrusion base. These clasps had a tendency to rattle on really windy nights in the tent. We would often camp at the summit of some trails out here in Northern California and it would get gusty quick. Those loose rattling buttons were annoying but the fix was easy. I just unsnapped that noisy button and put a shirt next to it to prevent metal-on-metal contact. The new V2 camper uses a plastic coated cable rod that holds the fabric in place sandwiched between two aluminum extrusions. The new design offers a very tight fabric pull all while being incredibly strong. This design feature was a must-have in V2 and appears to be a feature that will last through windy nights and countless pop-top fabric pulls.
6. Integrated Wind Skid
The V1 had the "wind skid" which was an aftermarket accessory that you had to buy to prevent wind noise and boy let me tell you, it was a necessity. The old tent definitely made wind noise if you didn't have that wind skid. The V2 has the wind skid built-in – which is awesome. It's not really a massive notable update, it's about the little things here guys.
7. Bonus: Bed Mount Brackets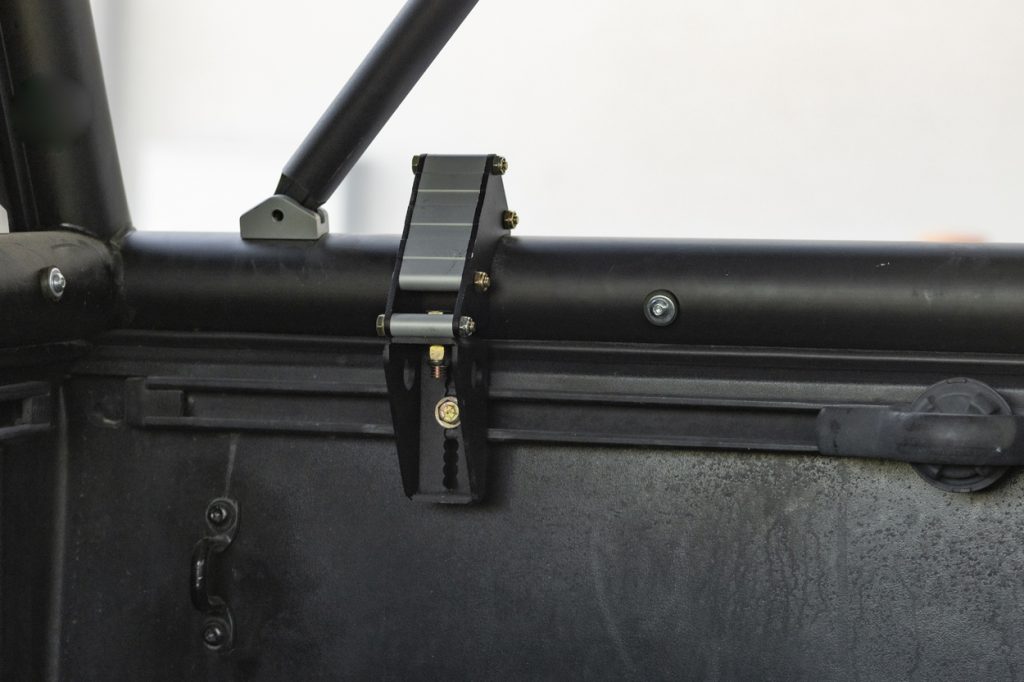 The old bed mount brackets were good but the new brackets are incredibly stout. The old bed mounting system was made up of a single slotted fabricated bracket, along with a t-nut and bolt. There were 6 total mounting points on the old camper system. The new mounts are incredibly beefy and have been reduced to only 4 brackets. Made up of machined billet aluminum, the mounts' are lighter by nature, and secured from the Tacoma bed rail system to the space frame with a larger footprint. Finally, four points of contact make the camper faster to mount compared to the V1 bracket. Again, the system keeps getting lighter, stronger, and faster.
Final Thoughts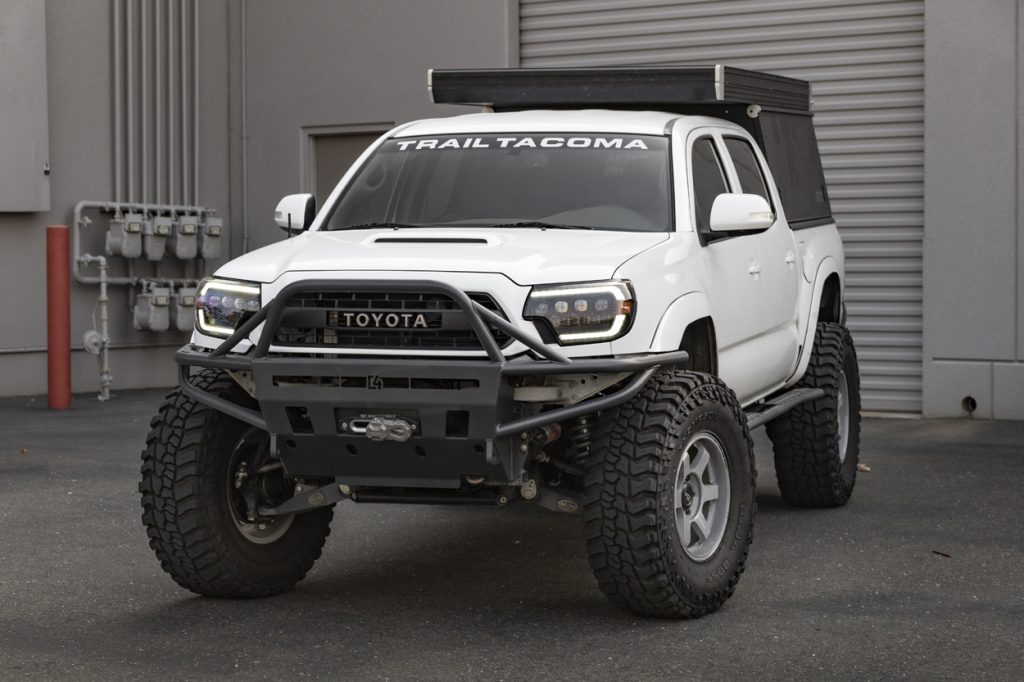 I think it's safe to say that GFC is still leading the race in the lightweight camper department. They continue to innovate and after 3 years of running the GFC V1 RTT on my 4Runner, I am blown away by their V2 camper. It's easily one of my favorite mods on the truck next to the JD Fabrication 2.25″ long travel kit.
Recent Shots Enjoying The Camper