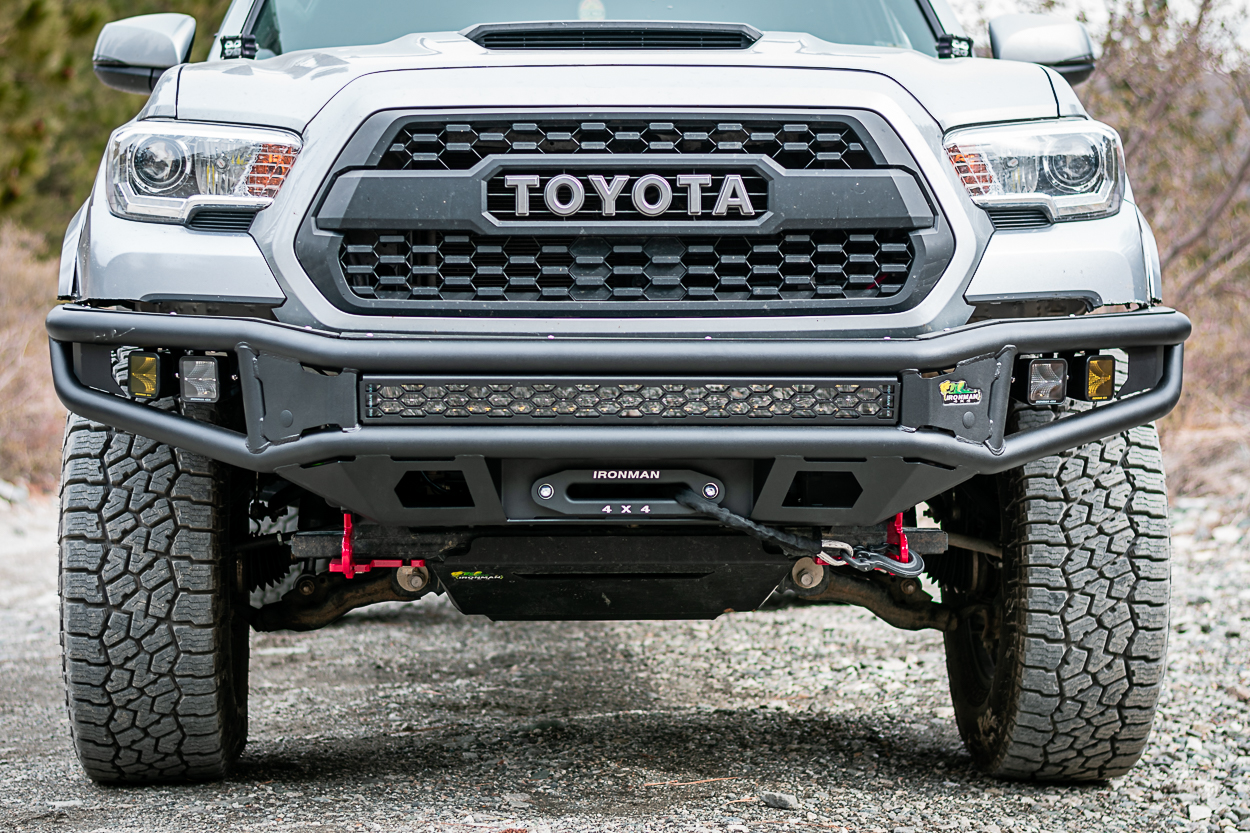 Ironman 4X4 America 9500 Lb. Monster Winch with Synthetic Rope Mounted On Raid Series Front Bumper On 3rd Gen Tacoma – Review & Product Overview
Sometimes you can't get your 5 closest wheeling buddies out together for a day on the trail. Of course, you aren't going to spend your free day lounging around the house. Just because you don't have a group to off-road with, does not mean you can't hit the trails. In fact, a lot of people I know prefer a bunch of friends piling into one rig to head out into the wilderness to explore. Whatever the reason, off-roading does not have to be a team sport. You can, and should, be stoked to head out solo.
The issue, however, that comes with this type of adventure is when you get stuck. Without another rig there to help tow you out, the responsibility falls on yourself to make it home. The ability to be completely self-reliant if you find yourself in a bad situation is priceless. In this post, I will go over the features of the Ironman 4X4 Monster Winch and give you my thoughts on how it performed on the trail.
Find It Online
Do I Need A Winch?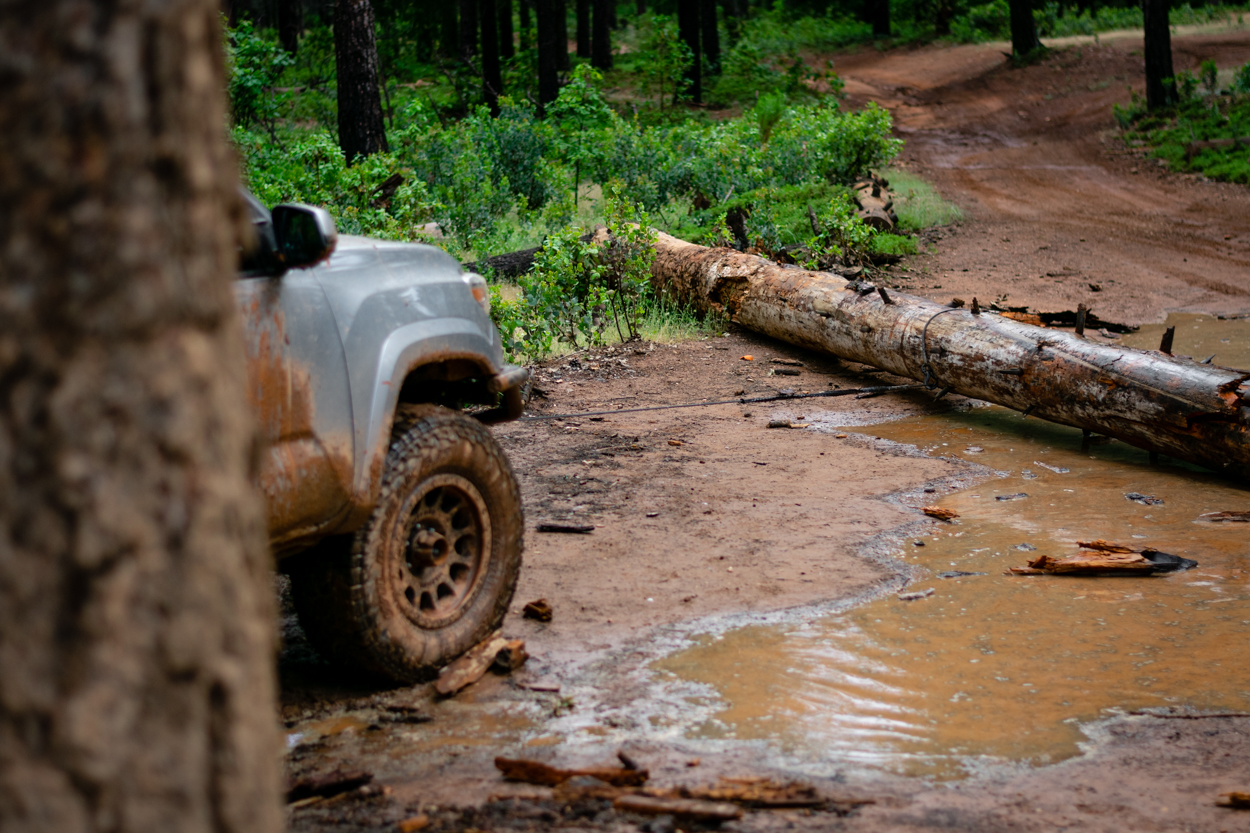 Whether or not you need a winch comes down to this = do you find yourself wondering how to get yourself out if you got stuck. If you mainly camp in established campgrounds, and use your Tacoma more for road trips and commuting to work, then odds are you don't need one. However, if you like to test the limits of what your truck can handle or enjoy dispersed camping in very remote areas, then a winch maybe a valuable addition to your build.
Traction boards and airing your tires down can only get you so far. If there is anytime that you may find yourself in a sticky situation and far from immediate help, you should have a winch. Even if you don't find yourself in a really bad spot, a winch can make it that much easier to recover yourself and any of your buddies when they can't make it through a trail feature.
Of course, this is not the only use for a winch. As you can see in this post, you can use it for a variety of other applications such as clearing a fallen tree off a trail. Although it may not be a necessity for everyone, having a winch on hand can definitely save you when it comes time.
Steel VS. Synthetic Rope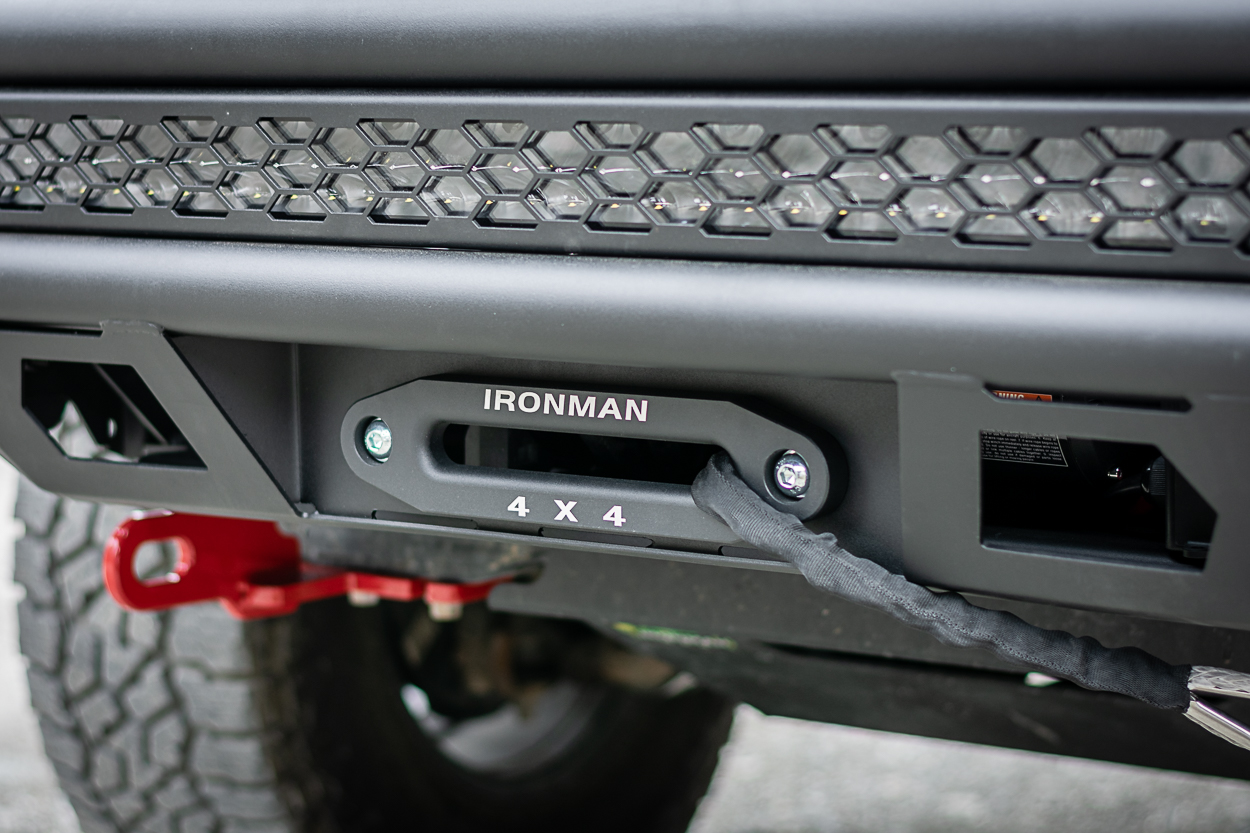 Now that you have decided to get a winch, you may be wondering whether to get a steel winch line or a synthetic rope. Each have their benefits and picking one comes down to what you value most.
The benefits of a synthetic rope are fairly straight forward. Firstly, they are far more lightweight than steel ropes, making it much more popular for the average overlander. They also store much less energy when under stress and they don't become sharp with burrs or rust out after repeated use and exposure to the outdoors. That being said, synthetic is more vulnerable to abrasion damage.
Steel ropes, however, tend to be a lot more durable after repeated use. They are also not effected by UV damage compared to synthetic ropes. Although, they store more potential energy than synthetic ropes, they are less susceptible to the common wear and tear that you may experience with synthetic lines.
Before pulling the trigger on a winch, I would highly recommend researching more on what kind of line is best for you. Ultimately, with safe winching practices, either will be able to work for your applications.
Monster Winch Features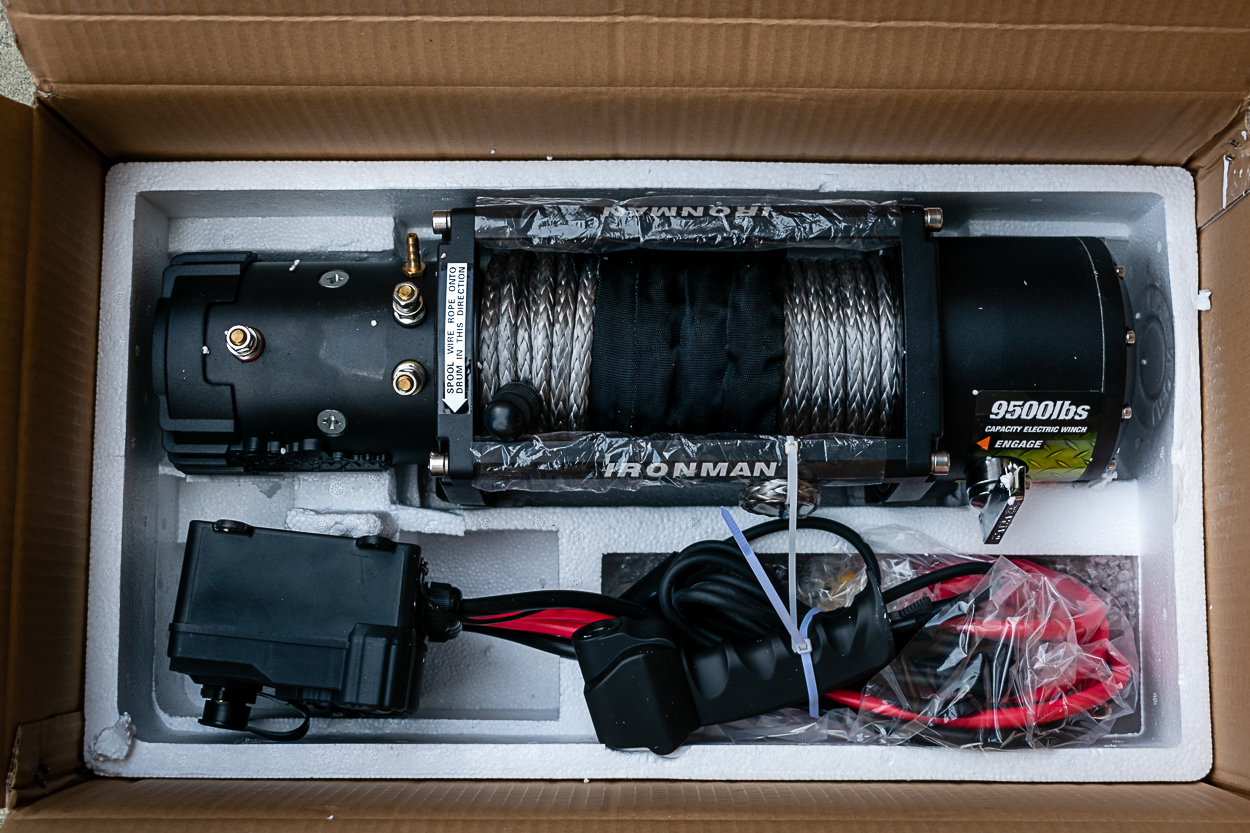 92′ Dyneema synthetic rope rated for 9500lbs.
Bluetooth wireless remote w/ cable charger and flashlight
Integrated breather line to prevent damage when submerged
IP69 weatherproof and waterproof
Durable aluminum construction
Aluminum Hawse fairlead
Installation
I covered the installation process for this winch more in-depth in my article on the Ironman 4X4 Raid Series Front Bumper, but I will explain it briefly here. Installing it alongside the Ironman 4X4 bumper is straightforward. You first install your winch tray, then mount your control box and bolt down the winch body itself.
With all of this completed, all that is left to do is to wire the winch. The red cable goes to the positive terminal in your battery and the black cable needs to go to a ground. Then you wire your control box to the winch body with the leftover wires and run your breather up to the highest point in your engine bay. This breather will keep your winch safe during features like water crossings, and avoid any potential water-related damage.
User Guide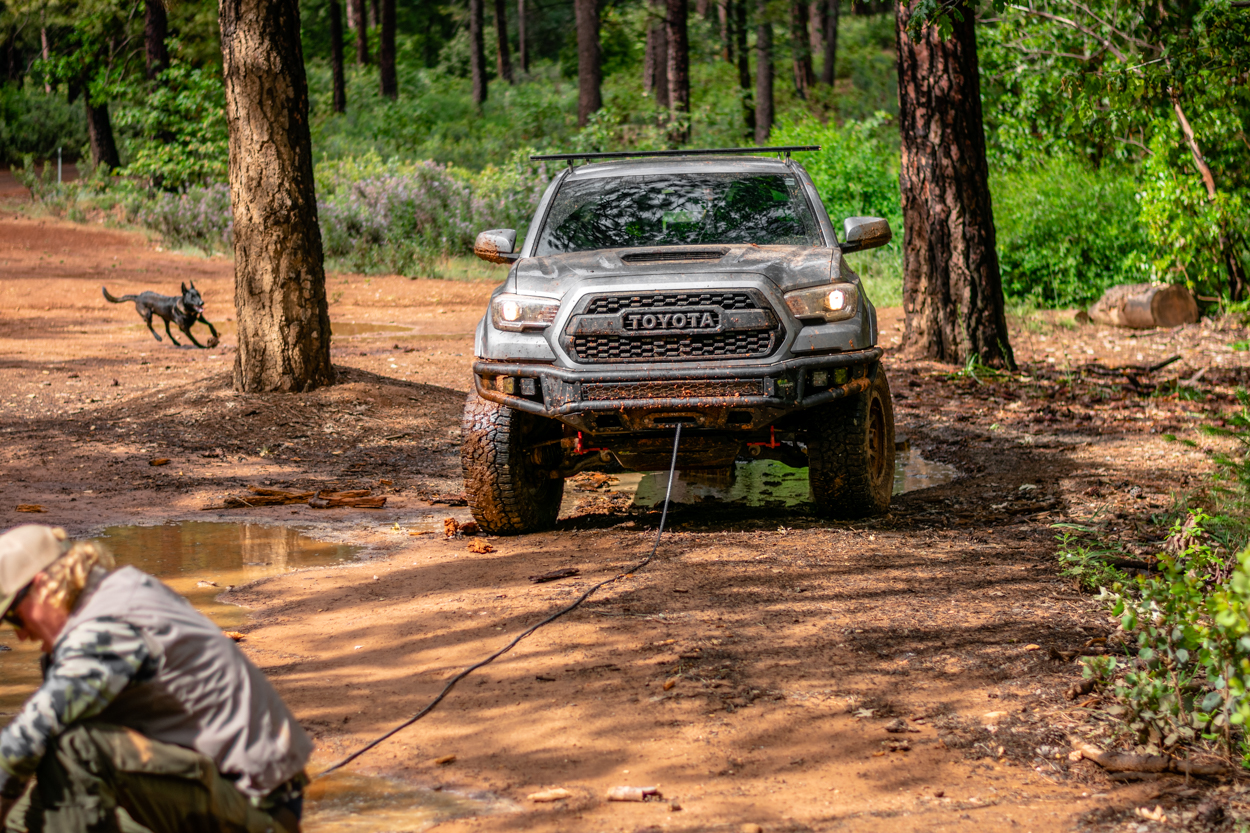 Now that your Monster Winch is installed and ready to go, let's go over how to use it. Disengage the motor with the lever on the winch body to disengage the rope and pull it out. This is when you hook your winch to whatever you are pulling, whether that be a tree, another rig, or an anchor point you are using to pull yourself out.
Keeping tension on the rope, flip the lever on the body to reengage the motor and press the "in" side of the button on your remote to put tension on your line. Provided in the kit is a bib that Ironman 4X4 recommends placing on the winch line before placing tension on it that will absorb a lot of the energy should your line snap for whatever reason. Proper operation suggests putting your Tacoma in neutral and holding the brake while you pull, assuming you are winching something else.
Once you are done, relieve the tension from the winch line, unhook it, and winch in what's left of your rope. I was able to use my remote without being next to the winch because I placed the remote plug in the proper spot on the control box during the installation. You can also plug the winch remote directly into the control box.
I have linked a video from Ironman 4X4 that demonstrates how to properly operate your winch at the bottom of this post.
Final Thoughts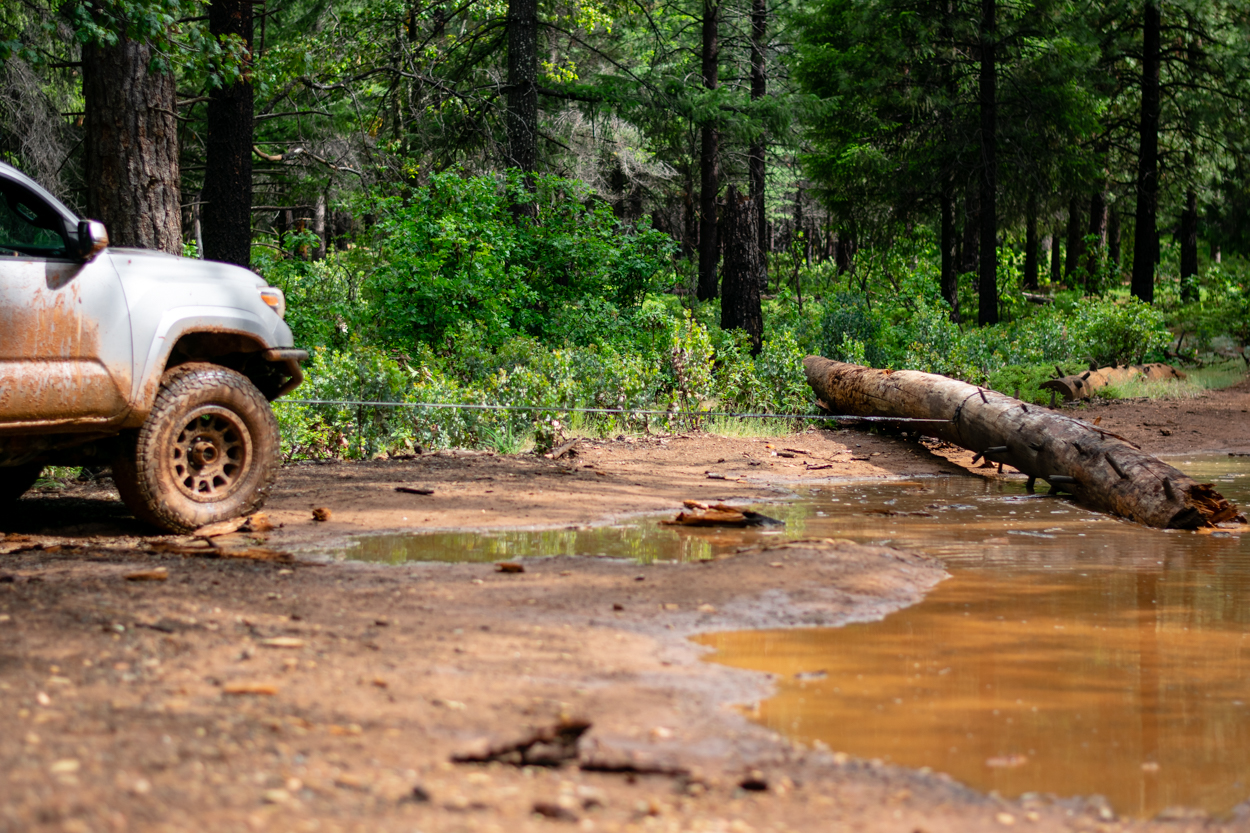 After having this winch on my truck for a few months now, I can say the added confidence I have found from it is a huge advantage. Before, I would worry every time I went off-roading about what to do if I got stuck. Installing the Ironman 4X4 Monster Winch on my Tacoma has allowed me to charge more challenging trails, knowing that I will be completely self-reliant should I find myself stuck.
The Ironman 4X4 winch setup inside my front bumper has been a luxury feature of my build. The installation was straightforward and using it was even easier. Having no previous experience with any type of winch beforehand definitely had me nervous to use this one. But, with a little bit of YouTube and some driveway testing, I am more than confident that it will get me home safely when I find myself needing it.
Ironman 4X4 Winch Recovery Video