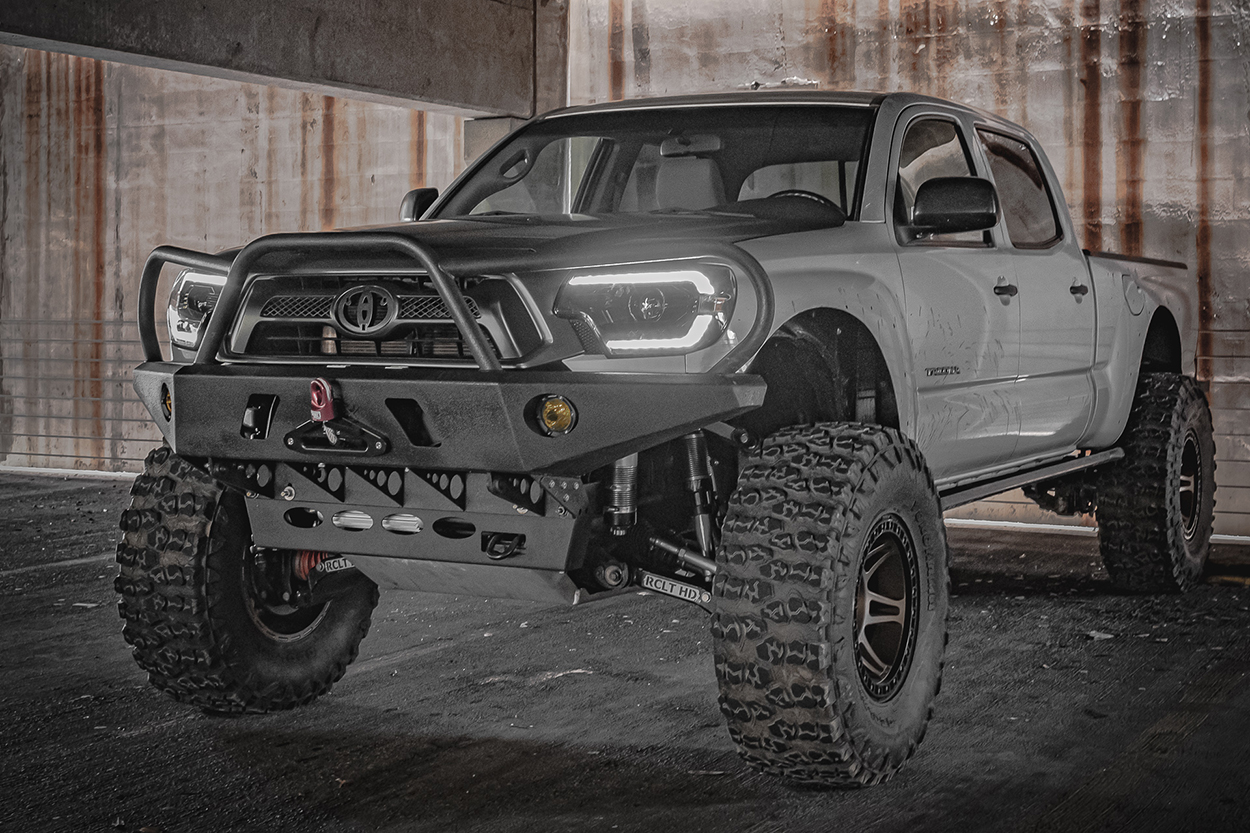 Unique Headlight Setups For The 2nd Gen Toyota Tacoma – Aftermarket Upgrades & Retrofit Options To Inspire Your Tacoma Build In 2022
Hey guys! Welcome back to another Taco Tuesday! This week, we are looking at some of the cleanest aftermarket headlight housings and retrofit options available for the 2nd Gen Toyota Tacoma. Although this platform is still incredibly popular for offroad builds today, it's definitely starting to show its age. One of the simplest ways to modernize your 2nd Gen Tacoma's front end is with some new aftermarket headlights.
So what options are there? Two of the largest aftermarket brands currently in the market are AlphaRex and Morimoto. Common features include awesome appearance upgrades such as include blacked-out housings, LED projectors, and sequential turn signals.
I won't lie, this post is a bit AlphaRex content-heavy, but that must mean that they make some pretty stellar lights for the 2nd Gen Tacoma, right? Part of what makes AlphaRex popular is its three price tiers for different budgets – the Pro, Luxx, and Nova series. If you're swayed towards AlphaRex after reading this week's Taco Tuesday, we don't blame you!
There are, however, other brands as you'll see from our submissions below.
2nd Gen Tacoma Headlights
Do You Need New Headlights?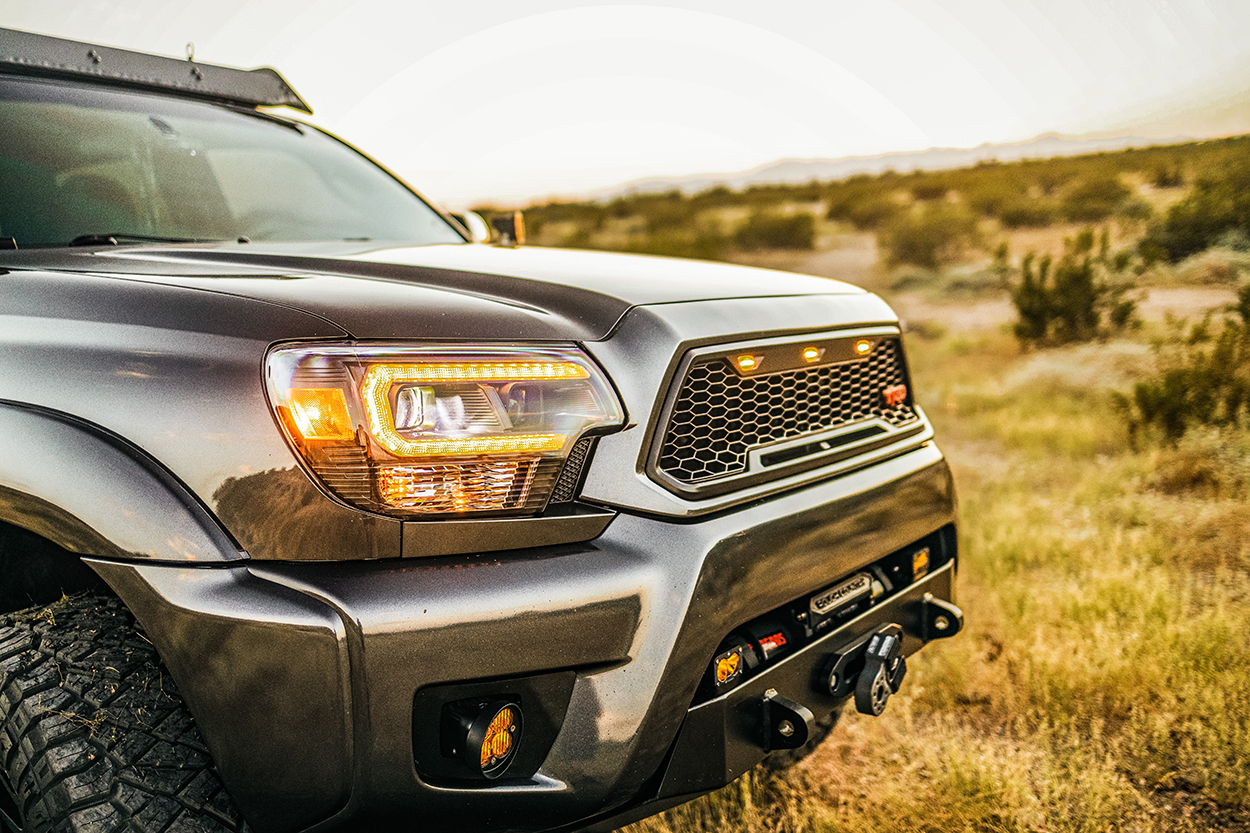 There is no right or wrong answer to this question. Every Tacoma owner has different needs and budgets when it comes to spending their hard-earned money on mods for their truck. For most, the OEM headlights get the job done. Others, however, may want more than what OEM offers. Aftermarket and retrofit headlights can help modernize your 2nd Gen's lighting in both aesthetics and performance.
Increasing your light output is a huge benefit when upgrading your OEM headlight housings to an aftermarket set. The OEM reflector housings with halogen bulbs are okay, but not great. Also, depending on how old your Tacoma is, your OEM housings may be hazed over from UV exposure over the years.
The most economical upgrade is to just replace the stock bulb with a brighter LED drop-in replacement. However, this is just a band-aid for a hazed lens issue. It also makes your headlights very dangerous for oncoming traffic. Reflector-style housings were not designed for the increased light output of LEDs or HIDs. They become very distorted and end up throwing light in every direction, completely blinding anyone in your path.
The safest and most effective way to upgrade your lighting performance is to replace the entire housing or do a proper retrofit.
You get superior performance over the OEM halogens with DOT-approved headlights from Morimoto, AlphaRex, and others listed below.
Now, let's see what these 9 owners have to say about their aftermarket headlight housings!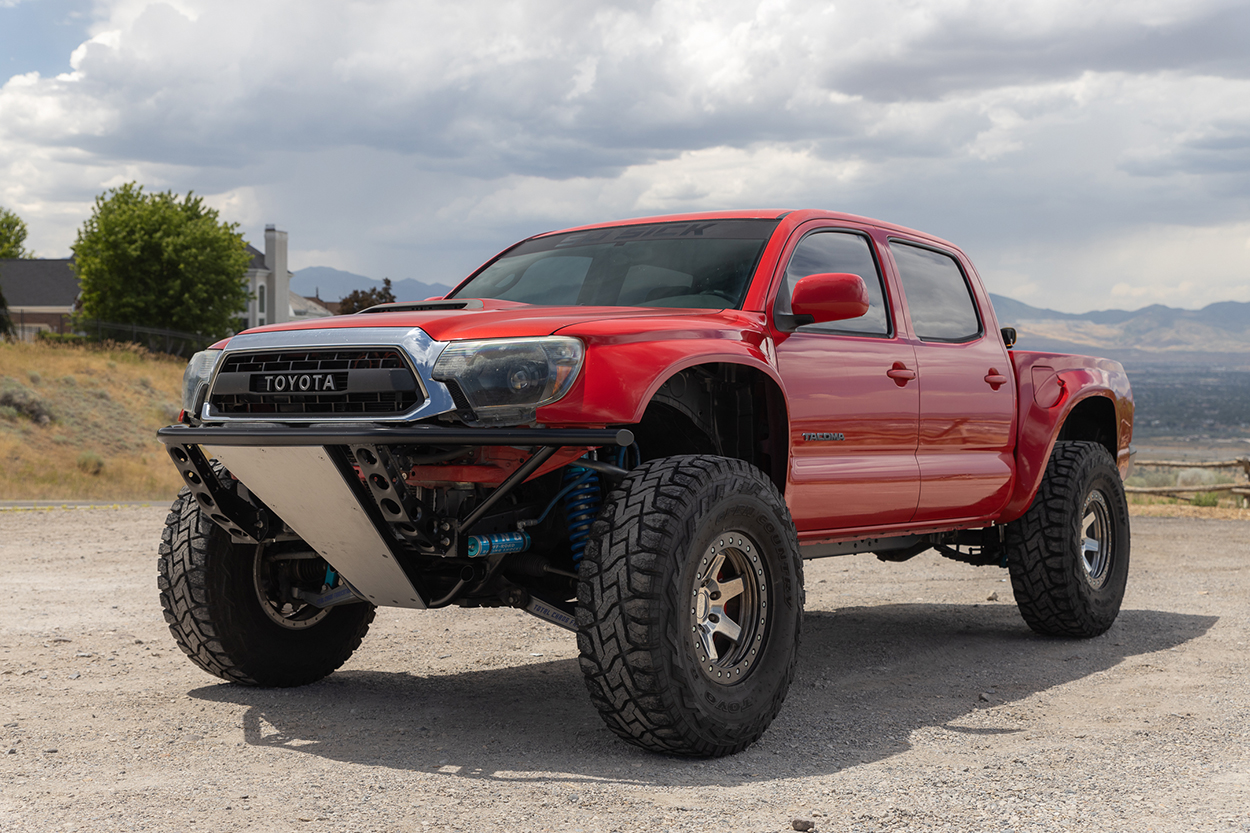 Headlight Details
Model: Pro-Series Projector Headlights | Alpha-Black
Price: $415/pair
What Do You Like Most About Your Setup?
These lights have a super sharp light cutoff which is great for oncoming traffic. I installed HID bulbs into them and that was a huge upgrade over the halogens. The dark Alpha Black lenses along with the quality of these lights are excellent. You also can't beat the price either at under $500 for the set.
2. Angelo Lazzara (@alazzarajr) – Morimoto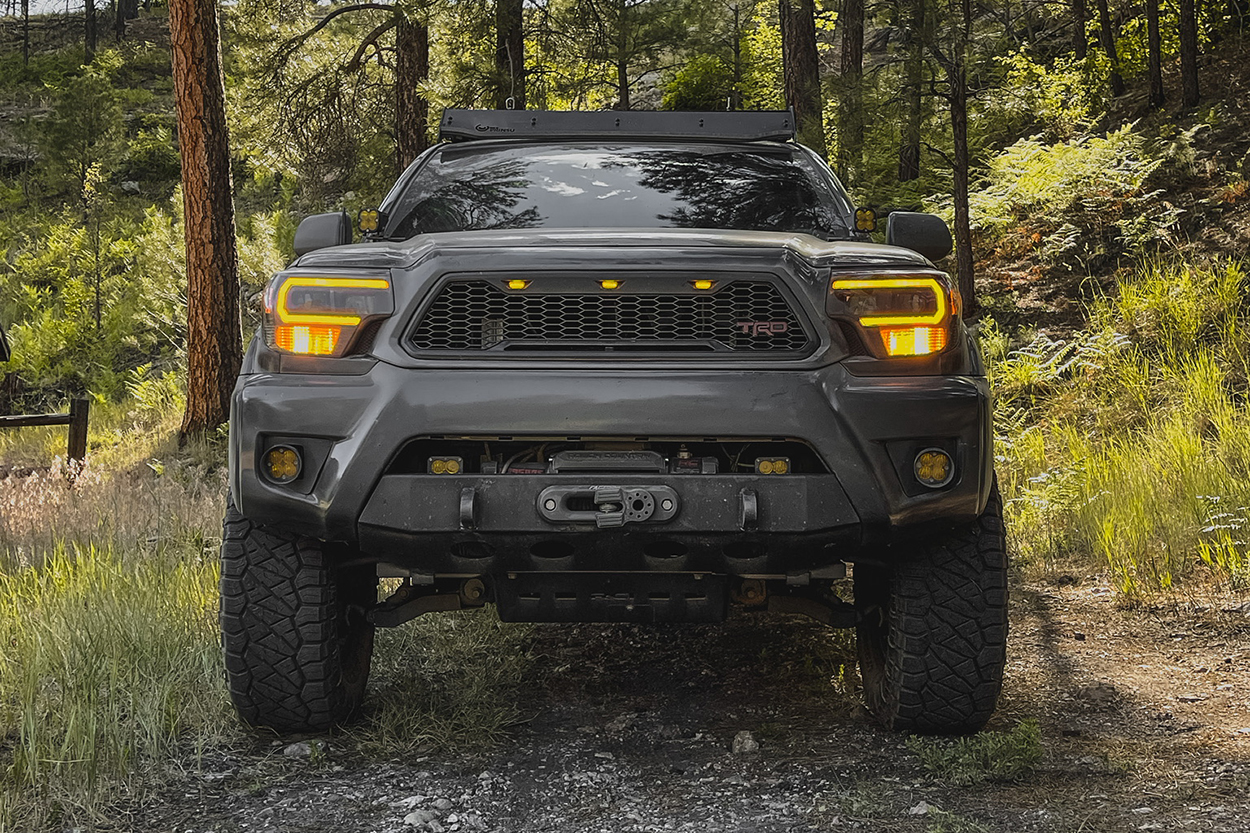 Headlight Details
Model: XB Hybrid LED | Amber DRL
Price: $900/pair
What Do You Like Most About Your Setup?
The output of these headlights is much higher than OEM. The brightness of these lights is just as bright as OEM 2022 TRD Tacoma headlights, if not brighter. I love the Amber DRLs on these, they are great for an off-road setup.
My favorite thing about these lights is that they really modernize my 2nd Gen Tacoma's front-end appearance. I've had these on my truck for over a year and have had no issues The only downside is the price tag, but you get what you pay for, and in my opinion, they are worth it.
3. Sterling Ross (@tac05) – AlphaRex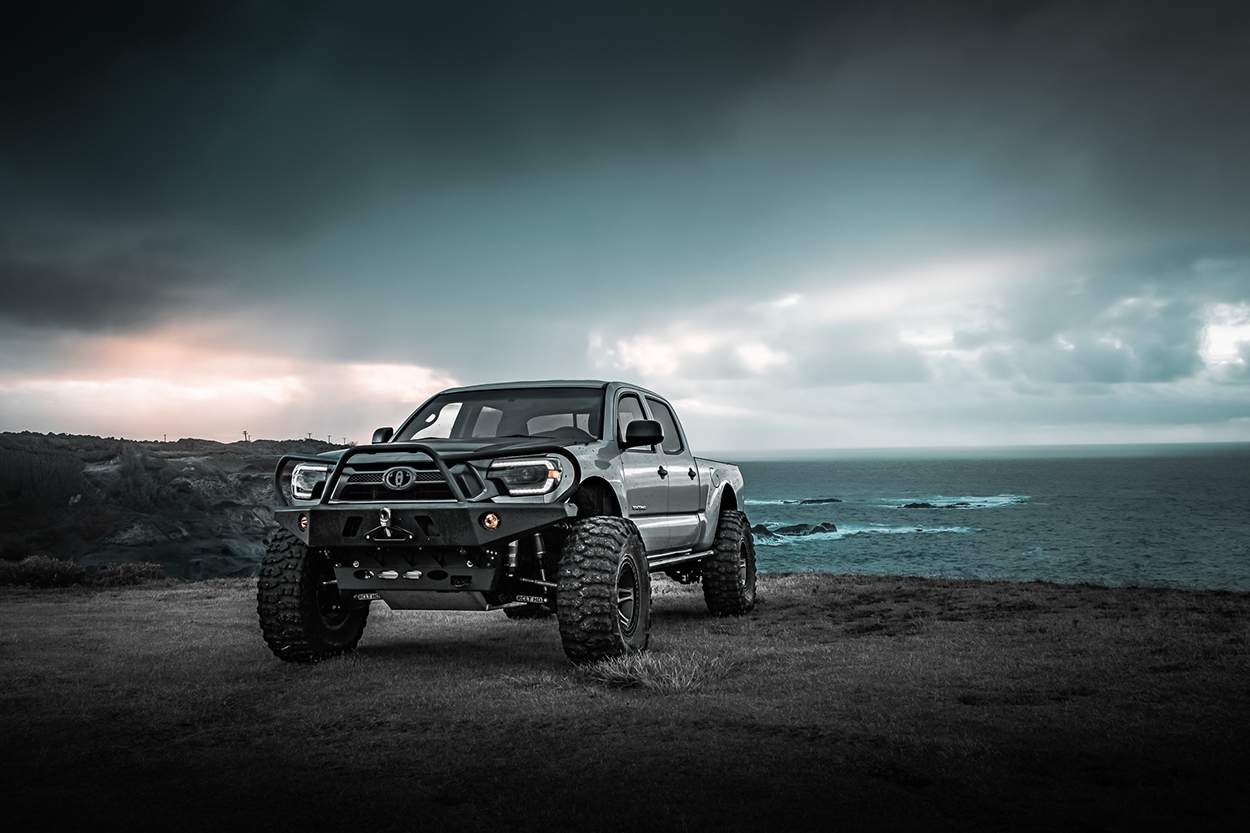 Headlight Details
Model: Pro-Series Projector Headlights | Alpha-Black
Price: $415/pair
What Do You Like Most About Your Setup?
I love how these headlights give the truck a very modern look compared to the OEM headlights. The daytime running lights are slick and the animated blinker sequence gives these headlights a nice touch.
4. Eta Saelee (@eta_saelee) – AlphaRex
Headlight Details
Model: Nova-Series | Alpha Black
Price: $1,145/pair
What Do You Like Most About Your Setup?
The reason I picked these headlights was that they give my truck a newer look. Also, I can switch my DRL between white or amber to change things up when I feel like it. I just love the overall look and the aesthetics of these Nova headlights.
5. George Madaryan (@unleashed4x4) – Custom Retrofit
Headlight Details
Model: Custom-built headlights (Unleashed4x4) | Morimoto Mini Bulbs
Paint Matched Housing
Price: Varies
What Do You Like Most About Your Setup?
I love projector-style headlights! I built these myself in-house and went through The Retrofit Source for parts. They are a custom build with a clear lens pattern.
6. Aidan Ortiz (@trd.aidan) – AlphaRex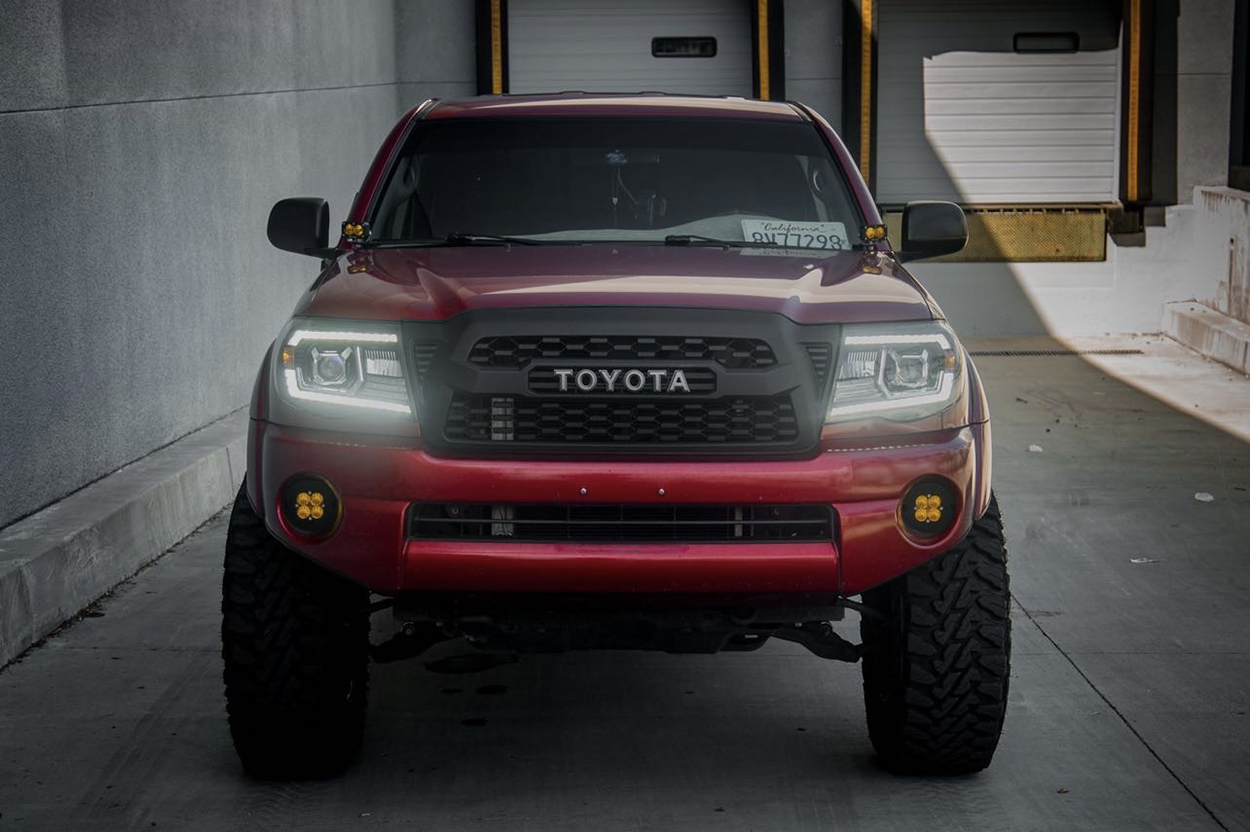 Headlight Details
Model: Luxx-Series | Black
Price: $780/pair (with DRL Harness)
What Do You Like Most About Your Setup?
There are so many things that I love about these headlights, but the most important ones would have to be quality, performance, and overall looks.
You can immediately tell from the headlights that both the hardware and the housing are made to perform and that they live up to that expectation. The overall performance is everything I could've asked for in a pair of headlights. The LED chips that AlphaRex uses in their projectors light up both highways & trails beautifully.
In my opinion, these are the perfect middle ground for on and off-road applications.
The projector LEDs in these headlights have a super clean cut off unlike a lot of headlights on the market right now. I love this because I can tell exactly where my light is going and it makes adjusting them so much easier. We all love durability and performance but who doesn't like to look good on top of all that?
The black housing with chrome accents on these Luxx series headlights from AlphaRex looks super sharp and aggressive which just takes the truck to the next level. You can be confident that you'll be turning heads both on and off the road with these headlights from AlphaRex.
7. Victor Rodriguez (@14toyota_tacoma) – Spec-D Tuning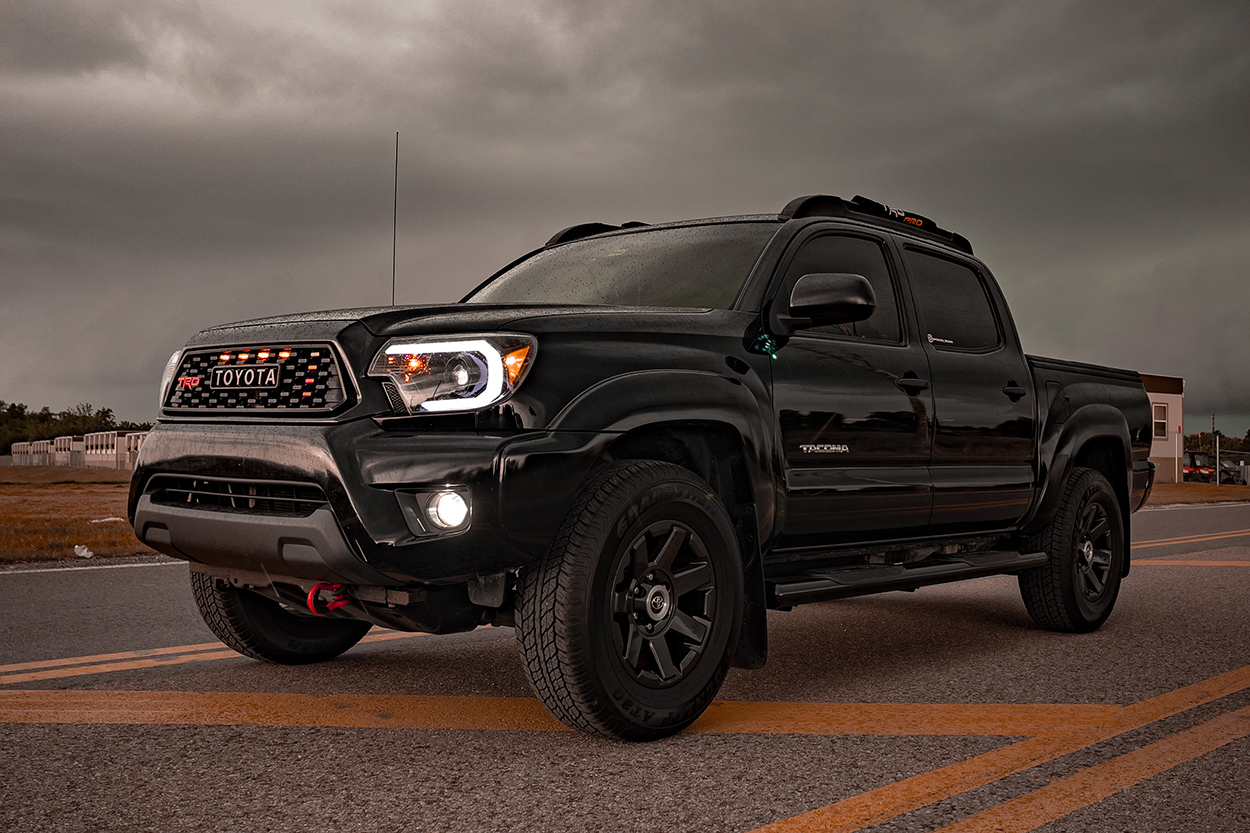 Headlight Details
Model: Polished Black
Price: $300/pair
What Do You Like Most About Your Setup?
I like the all-black detail and the white LED DRL around the headlight housing. The projector housing intensely increases overall light output performance. These lights were super easy to install and I love the way they look on my truck.
8. Jayce Jensen (@jensen_928) – Spyder Auto
Headlight Details
Model: Projector Headlights w/ LED DRL
Price: $450/pair
What Do You Like Most About Your Setup?
Right off the bat, I love the ability to customize a product. Spyder Auto allows you to build your headlight by offering different colored backgrounds, lens types, and low beam selections.
This model was completely plug-and-play, which made installation a breeze. After running these headlights for three years, I've had no dust or condensation problems and they still look brand new! These headlights updated the look and performance of my truck at what I would consider a fair price.
9. Kirk Cruz (@__cruzzin) – AlphaRex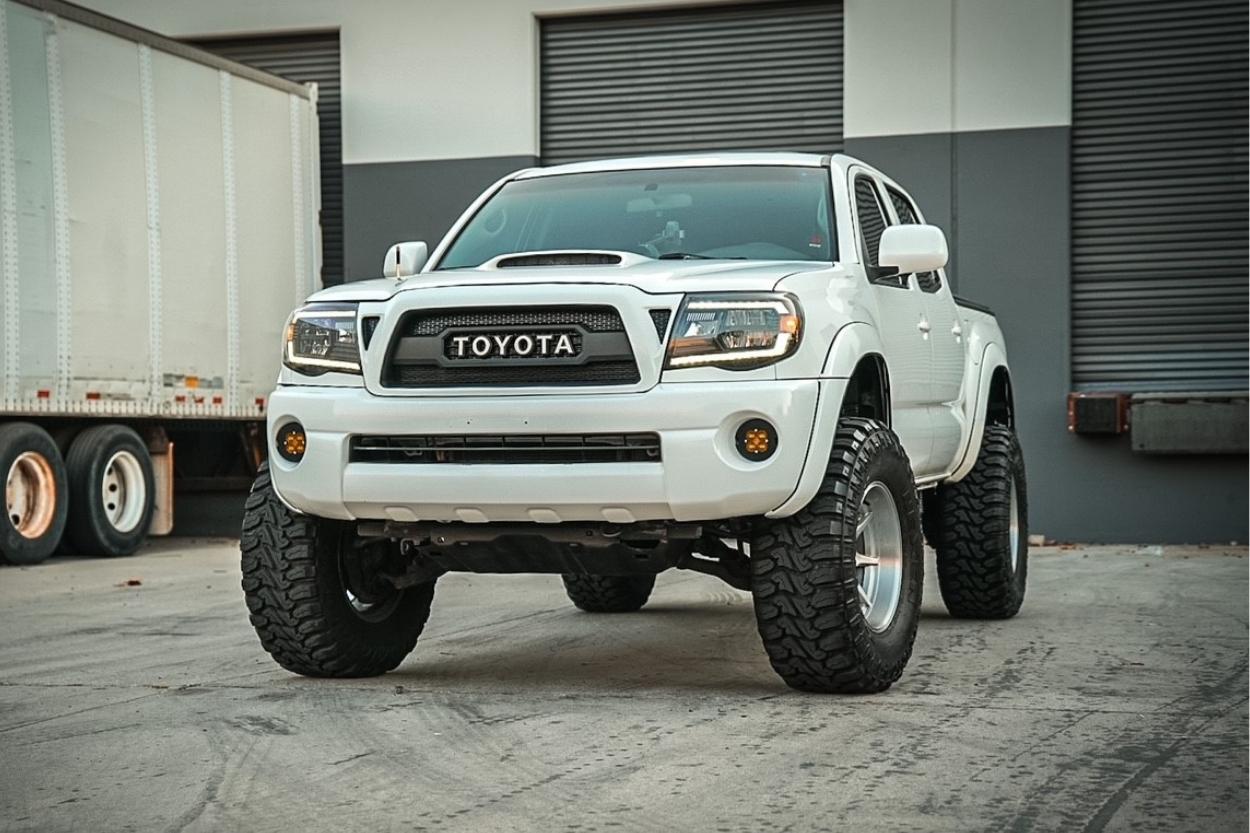 Headlight Details
Model: Luxx-Series | Alpha-Black
Price: $750/pair
What Do You Like Most About Your Setup?
AlphaRex killed it with this headlight for the 2nd Gen Tacoma. This product enhances your vehicle's appearance and makes your 2nd Gen look brand spanking new. This is especially true with the functional features these headlights have. These AlphaRex headlights give your rig an updated look and I'm truly happy with them. They have been one of my favorite mods on this Tacoma so far.
Luxx-series crystal headlights come with AlphaRex's signature activation light feature, which is a sequential light show that uses the DRLs when you start your car.
Final Thoughts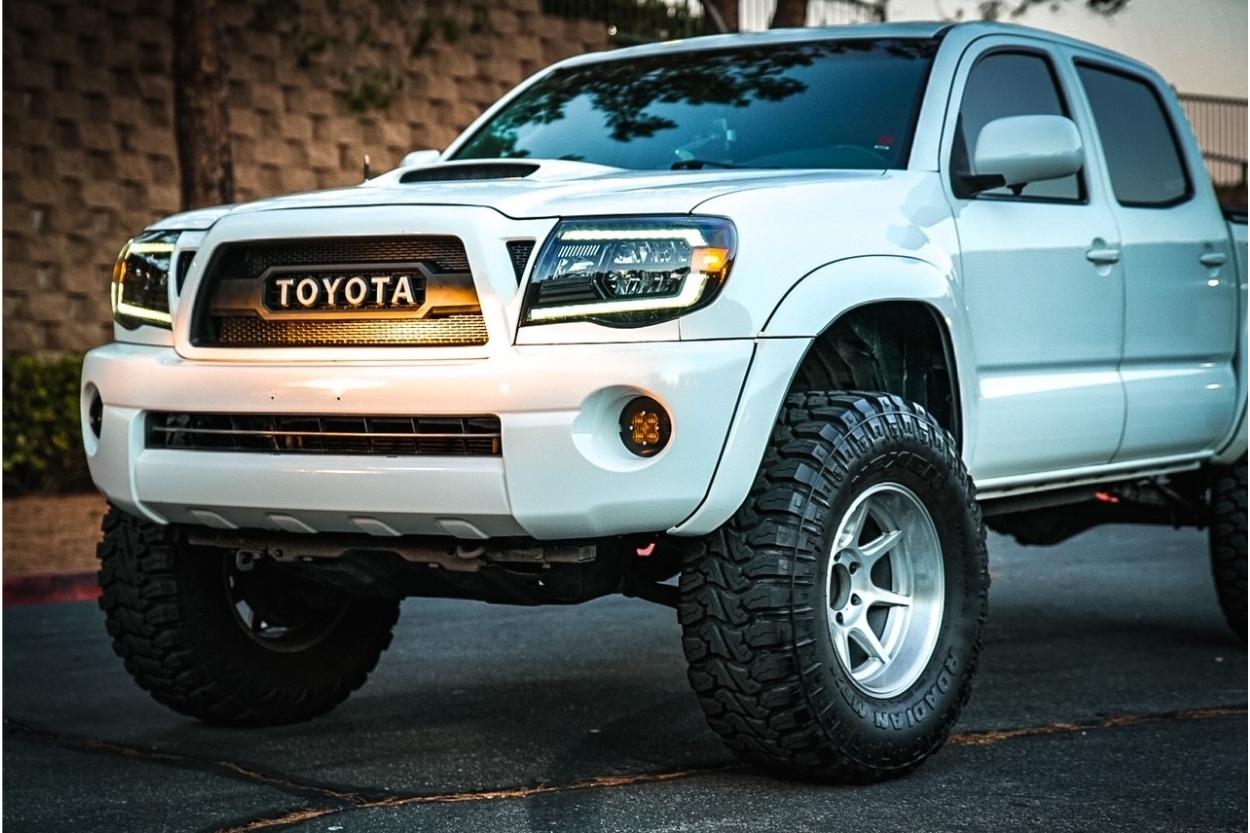 Man, do aftermarket headlights really change the look of a Tacoma or what!? Upgraded headlights really do breathe new life into these 2nd Gen Tacomas for sure! If you've been thinking about upgrading yours, I hope that you found some inspiration for your truck after reading through this list.
If you want to be featured for Taco Tuesday, submit your build through TrailTacoma.com/Feature. Next week's Taco Tuesday will be featuring Camper Shell Setups. We're looking for sweet rides to showcase! If this is you and you love your setup, send in your details because we want to see it.
Thanks for reading guys. I'll see you next week!