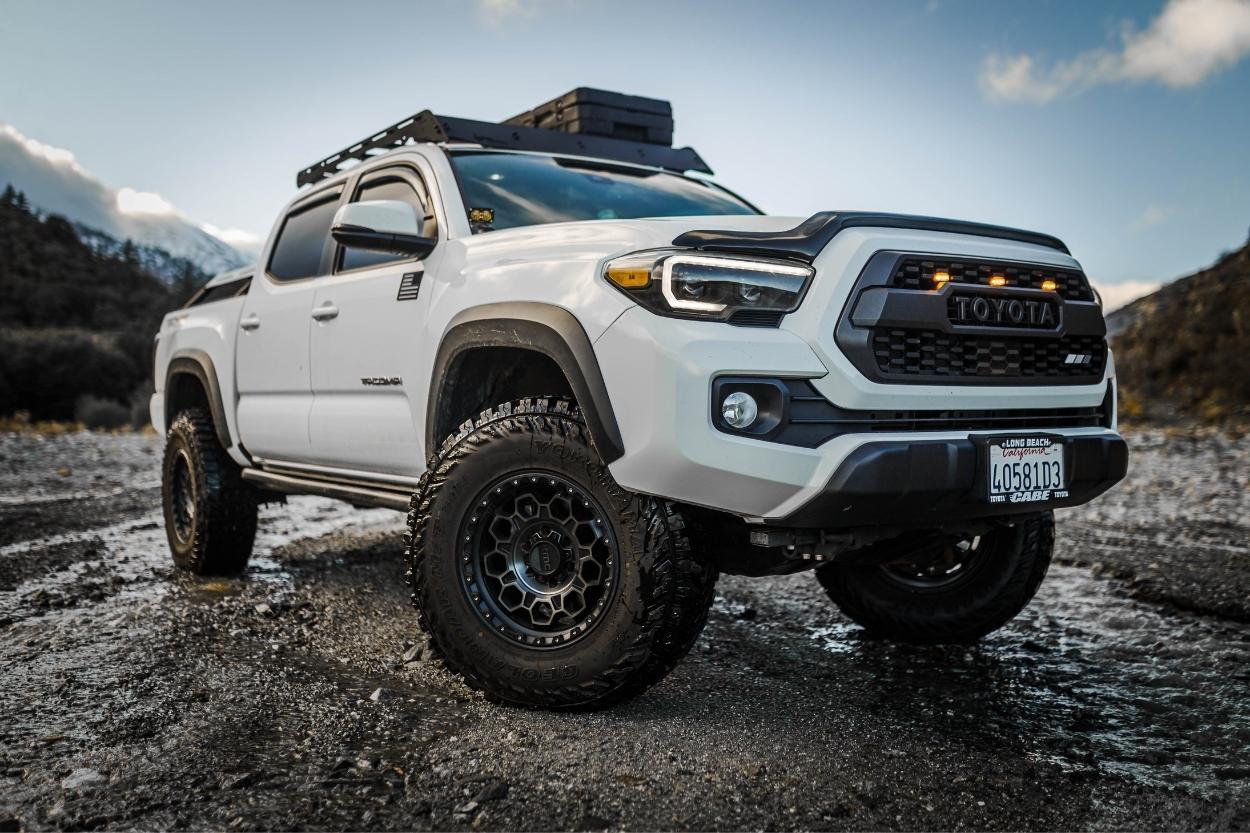 Top 4 Hood Deflectors Options For 2nd Gen (2005-2015) & 3rd Gen (2016+) Toyota Tacoma – Overview + In-Depth Buyer's Guide
Let's be honest, as much as many of us enjoy getting our rigs dirty, at the end of the day, walking out to see a showroom-clean Tacoma is something we strive for. At the least, keeping your truck in good condition shows that you like to take care of your stuff to ensure its longevity.
Even if you don't hit the trails but like to take road trips, or spend any amount of time on the road – the dust, grime, and worst of all, bugs, ruin that look.
Nothing ruins a truck's paint job like unsightly scratches, dents, and hard-to-remove stains. While you can't expect your truck to go completely blemish-free throughout its service life, there are preventive measures you can take to protect your vehicle's aesthetic and mitigate damage to the truck's body. One measure you should consider is installing a bug or hood deflector also referred to as a bug shield, and/or hood protector.
What Is A Hood Deflector?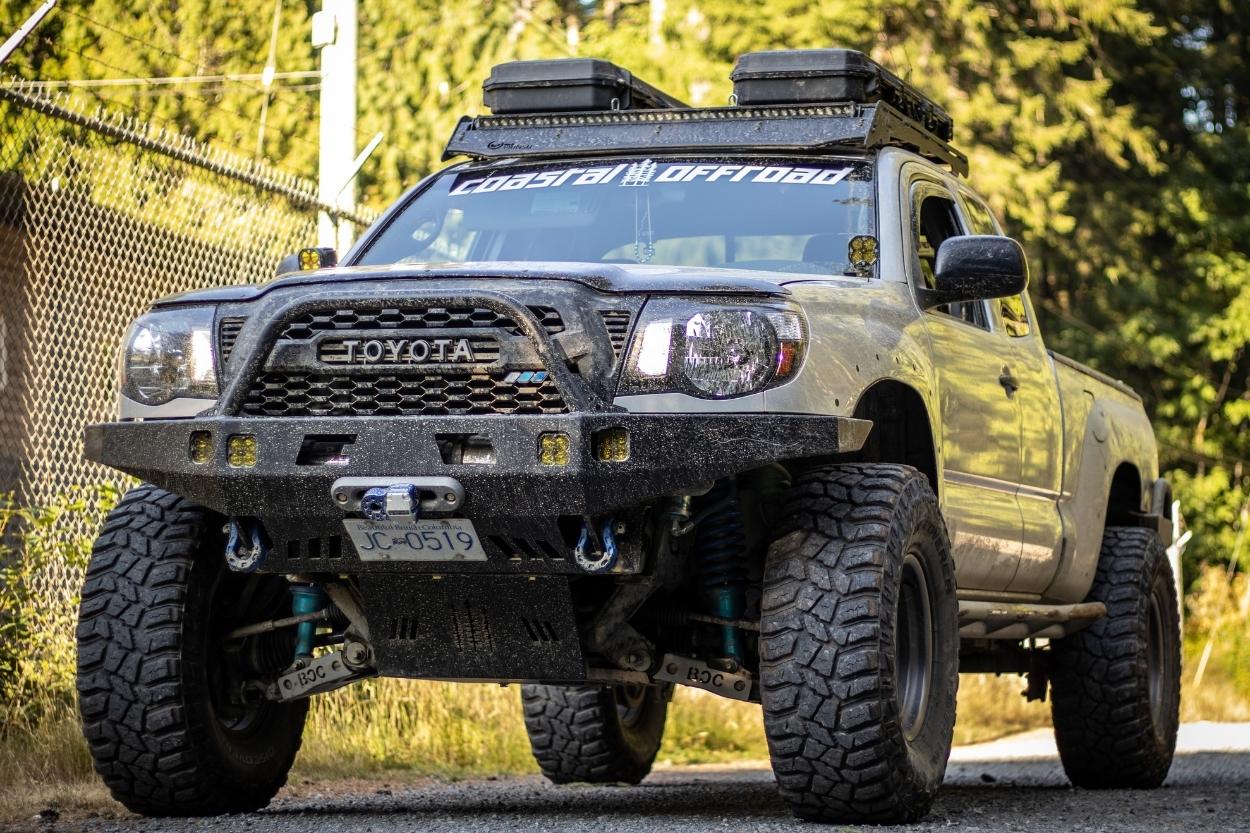 A bug or hood deflector is a strip, typically made of durable acrylic, mounted onto the front hood of your vehicle to divert sand, small rocks, bugs, and other debris away from the truck's body. This protects the body and windshield from scratches, bug stains, and dents. It also prevents corrosion, as once your paint is chipped, the body of your Tacoma will be a lot more exposed to the environment.
Bug deflectors come in a range of tints and finishes, so you get to pick the type that complements your truck's color and accents – from light to dark smoke, opaque black to translucent grey, it's a great way to boost your truck's appearance.
Each manufacturer has different bug deflector offerings, so shop around and do some research before making a final decision. Hopefully, this post will act as a good starting ground for your search.
How Do Bug Deflectors Work?
Bug deflectors transform airflow while you are driving to divert small elements like stones and bugs away from the body of your truck. They change the aerodynamics of your truck by directing the air upwards and over the windshield so that lightweight pebbles and insects are directed away from your rig.
They differ in profile/ridge height. A ridge that is too flat/shallow may not be efficient as it may have little effect on the airflow. On the other hand, a ridge that is too steep can also prove ineffective. Most bug deflectors are precision designed and constructed for a particular body style, so you don't have to figure out the best ridge height yourself. This is why we recommend selecting a vehicle-specific deflector, not one with a universal fit.
Why Should You Buy One?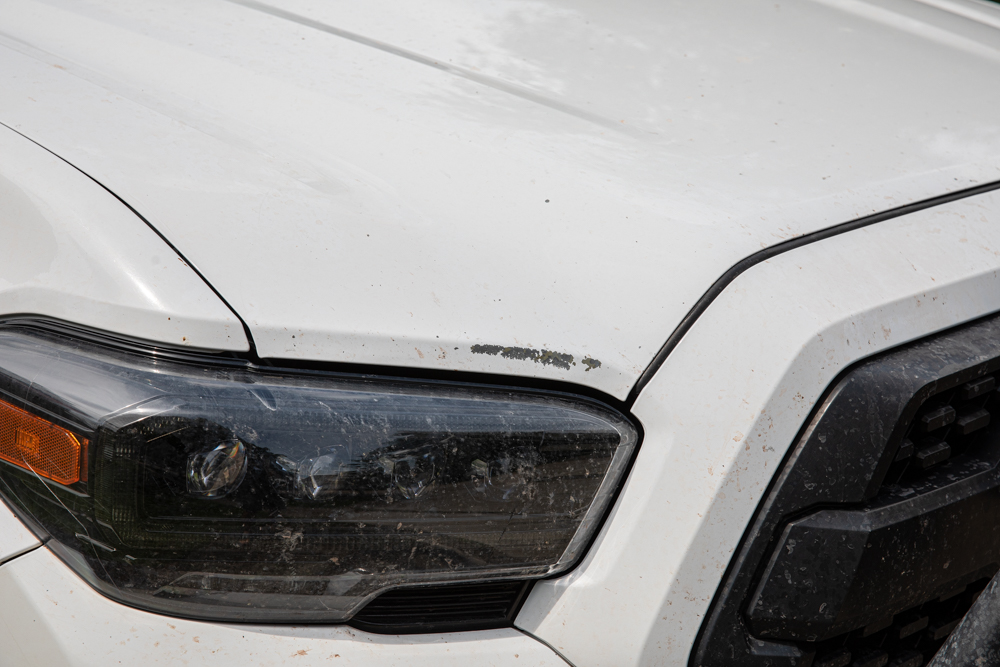 We've already touched on how these deflectors work, but the above image just makes it more tangible.
As you can see, the hood has several rock chips on the front of it. Especially noticeable, you can see the missing paint right above the headlight. This area was not always this bad – it started out as just a few small paint chips. As time went on, they got worse and worse. Exacerbated by power washing, this kind of damage is definitely preventable. Toyota single stage paints, such as Super White, are more susceptible to this kind of wear and tear.
A real world scenario always helps to justify a purchase. The only real option for this hood is to repaint a section, and touch up the rest, or at worst, repainting the entire hood. That one time purchase for a deflector is looking better and better, huh?
Different Types of Deflectors
Bug deflectors vary in their design, profile, and functionality. Each manufacturer typically offers more than one design to match customer preferences. A higher profile design, while adding more surface area for protection, also will have a bigger impact on the aerodynamics of your Tacoma. Alternatively, a low-profile design will be more aerodynamic but may lack the level of protection you seek.
Ultimately, it will be up to you to decide what characteristics you are looking for in your hood deflector. In many cases, you will not be able to find a middle ground, so deciding what you value most between aerodynamics, level of protection, and overall aesthetic will be important.
Finally, it is worth noting that many of the companies mentioned below offer multiple different styles, so be sure to look around if you do not like any of the deflectors shown.
Hood Deflector Alternatives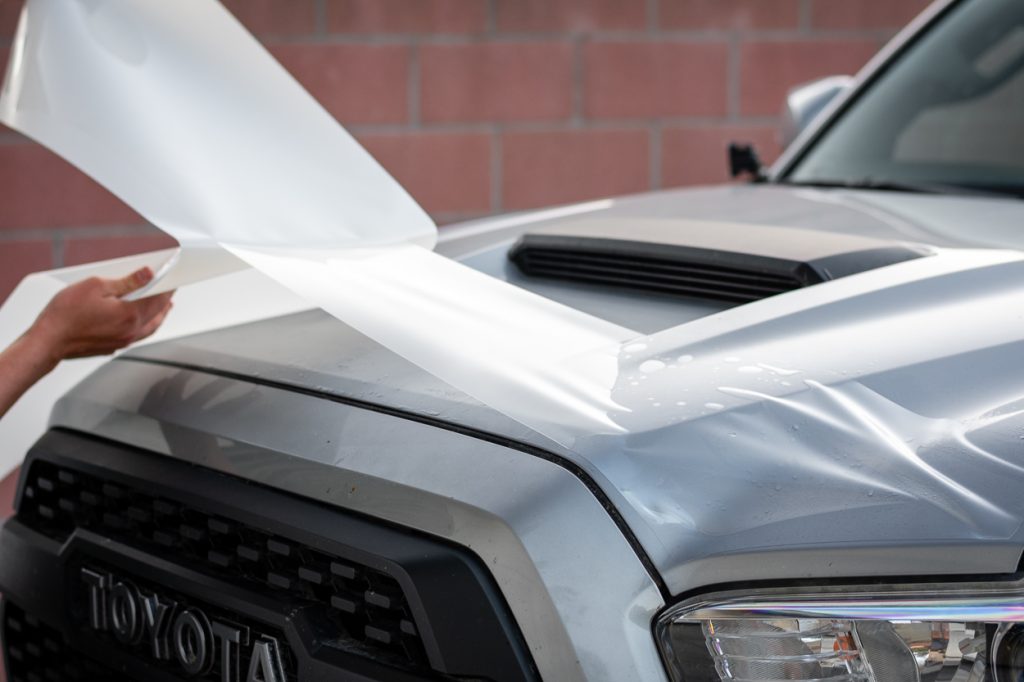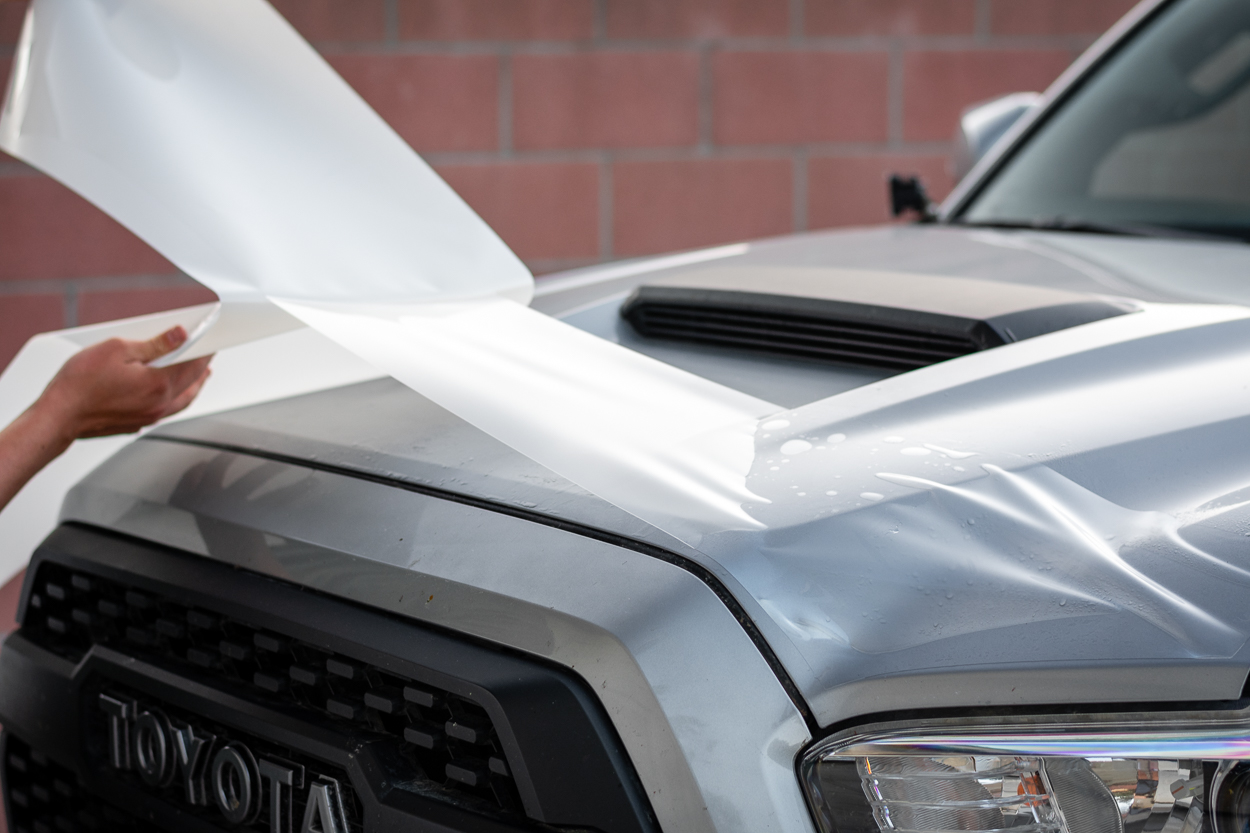 So maybe you absolutely do not like the look of a deflector. What are your other options?
A protective paint film is probably the single best alternative. These films can come in a DIY package, like the Lamin-X one seen above, or there are shops that can custom fit a set to any vehicle. The DIY versions are roughly the same cost as a deflector, but they can be tedious to install. You do need some basic experience and to be good with your hands to install one correctly. Check out my Lamin-X clear film protection kit post here.
A pre made kit will often not cover the entire front of the hood, like the kit above. You can see where it ends, just above where the damage was shown in the section above. Consider all your options before you make a final decision.
1. WeatherTech Stone & Bug Deflector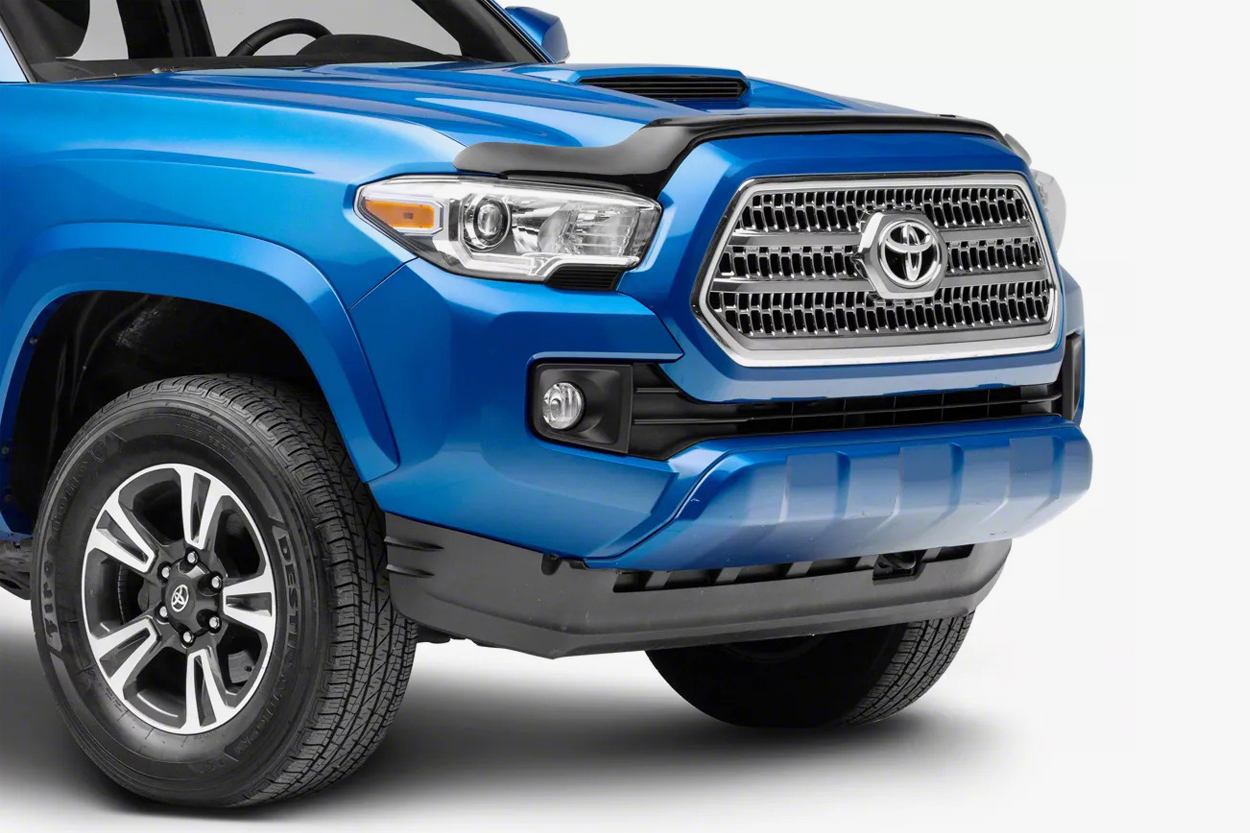 Find It Online
Thanks to its aerospace-grade acrylic construction, which makes it "virtually indestructible", this top-rated, heavy-duty bug guard is aerodynamically designed to protect your truck from bug stains and rock chips. It can be installed on most trucks, including both 2nd and 3rd Gen Toyota Tacoma models, as well as on minivans, SUVs, and cars.
Installation is simple and requires applying a 3M brand automotive adhesive tape to keep the deflector in place. Alternatively, you can use fasteners to attach the bug guard to existing holes on the Tacoma's hood, with no drilling required.
One will set you back about $60, shipping not included.
2. Auto Ventshade Hoodflector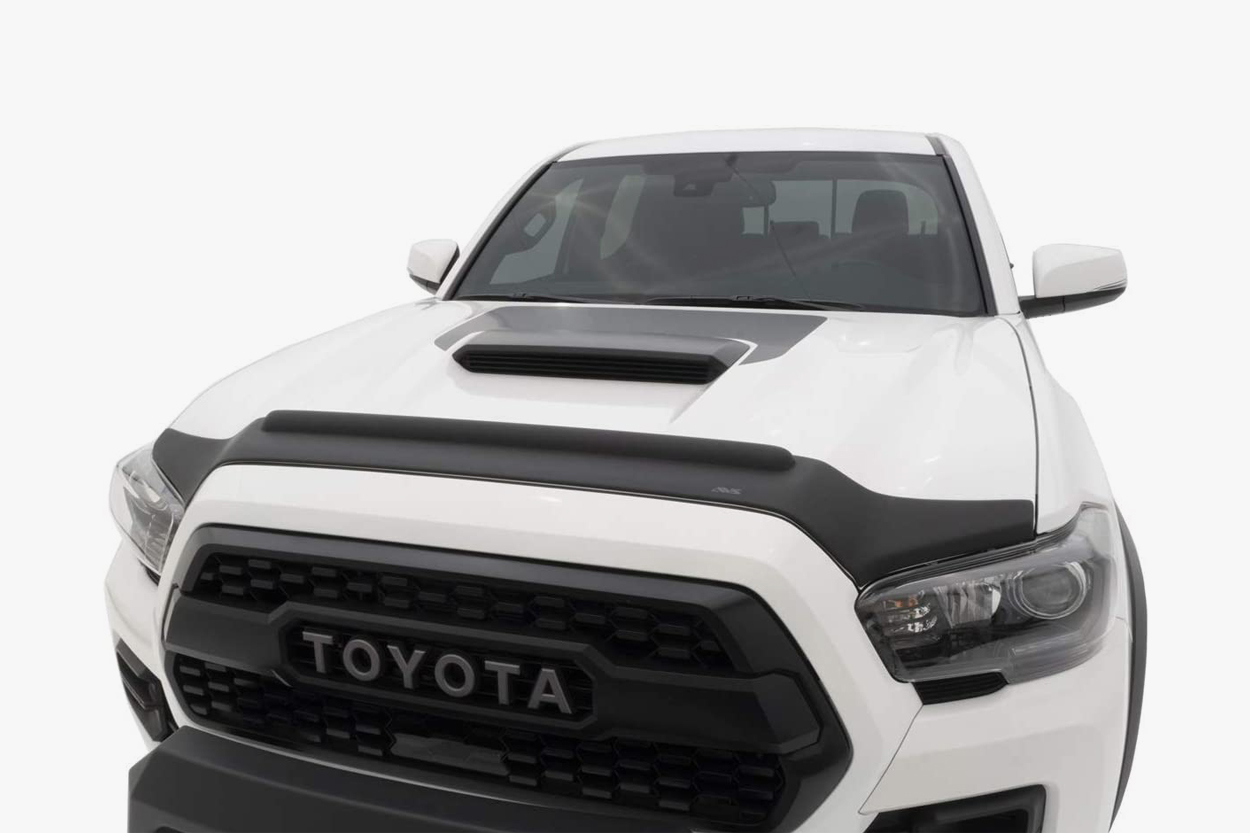 Find It Online
100% made in the U.S.A from impact-modified acrylic material, this low profile deflector is highly durable, car wash safe, and resistant to wear and tear. Its aerodynamically efficient design prevents road debris from hitting your truck's hood, fenders, and windshield.
Installation takes roughly 10 minutes. Wash and dry your truck first to remove any debris in the installation area that would get in the way of the installation process. You will need a Phillips Head Screwdriver (not included) to install the fasteners. Multiple clear rubber bumpers are included, which are applied to the hood during the installation process. These spacers prevent the deflector from rubbing against and wearing out the hood's paint when hit by debris.
It is available in a smoke finish and is comparable in price with the WeatherTech bug guard, $59.99. AVS offers various hood deflectors for 2nd and 3rd Gen Tacoma models.
3. Wade Auto Bug Shield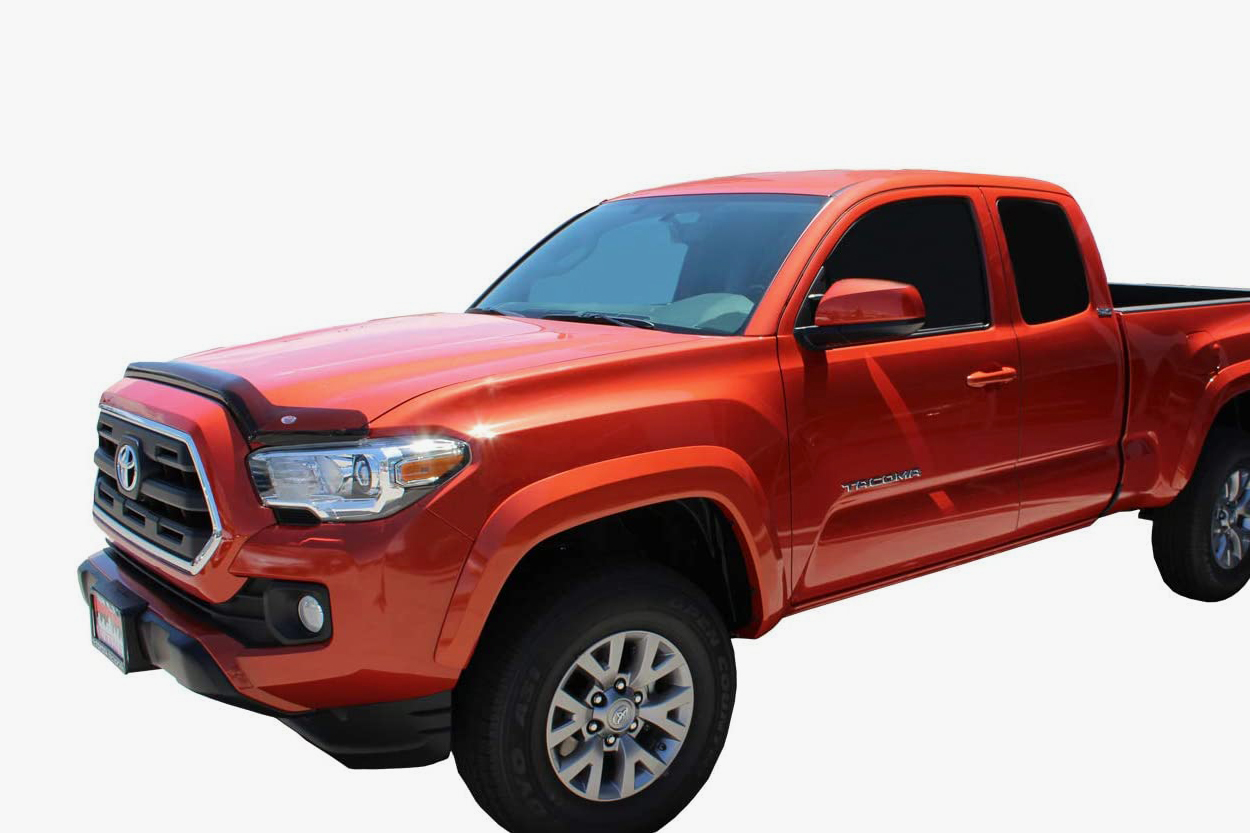 Find It Online
The Wade Bug Deflector is 100% designed and handcrafted in the United States. It features a sleek, high gloss smoke finish and is made from high-impact acrylic, reinforced with an added rubber compound. This solid, durable construction eliminates vibration and flex of the installed deflector when your vehicle is moving at high speeds.
To install, no drilling is required – simply use push pins or screws to attach the deflector to pre-existing holes on your Tacoma.
It is a bit pricier than comparable bug guards on the market, costing you $79.95.
4. Focus Auto Design Tough Guard Hood Deflector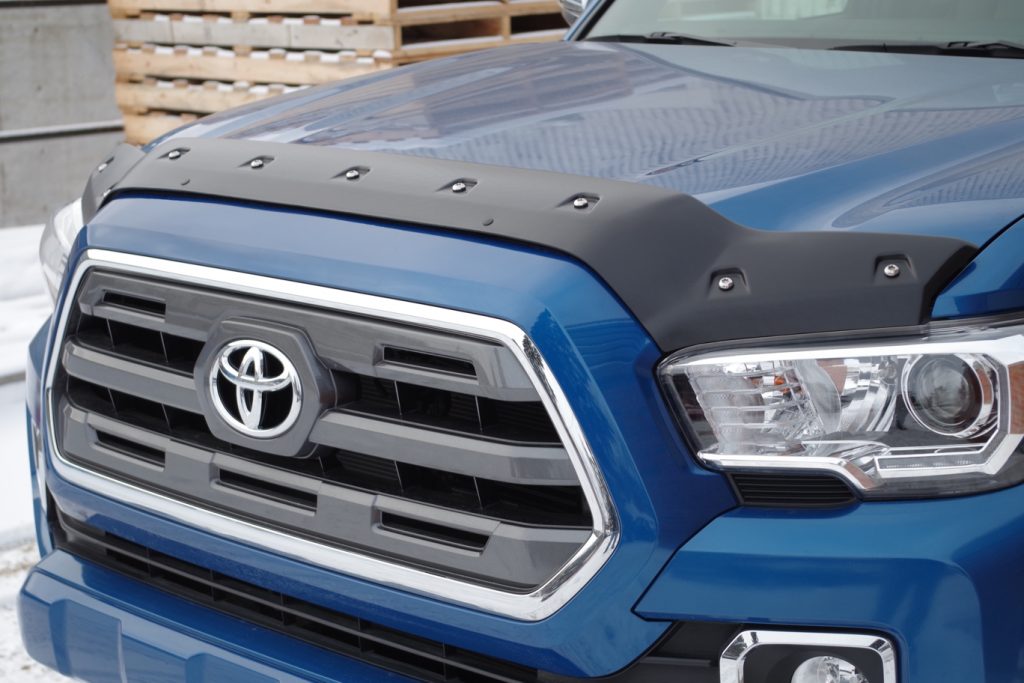 Find It Online
The Focus Auto Design Guard Hood Deflector is built tough and resilient to withstand adverse conditions while mounted on your truck, designed to protect your truck from unsightly marks, scratches, and dents caused by bugs and small stones. This deflector has an aggressive look that adds extra ruggedness to your truck.
It is made from high-quality ABS material with an acrylic top layer and is UV-resistant. Available in satin black, you have the option of either a textured or smooth finish. With the smooth option, you can paint the deflector any color you want.
To protect your truck's paint job, bump-ons are included that prevent the deflector from rubbing against your hood and wearing off the paint. Installation is straightforward but requires you to follow instructions meticulously and precisely for an accurate fit. It does not require any drilling or cutting. Necessary hardware is included in the pack, although you need to have a Phillips Head Screwdriver, T45 Torx bit or 7/32" Allen Key, and measuring tape handy.
It is the most expensive Tacoma hood deflector on the list, with prices varying from $140 – $175, depending on whether you get the smooth or textured finish.
Final Thoughts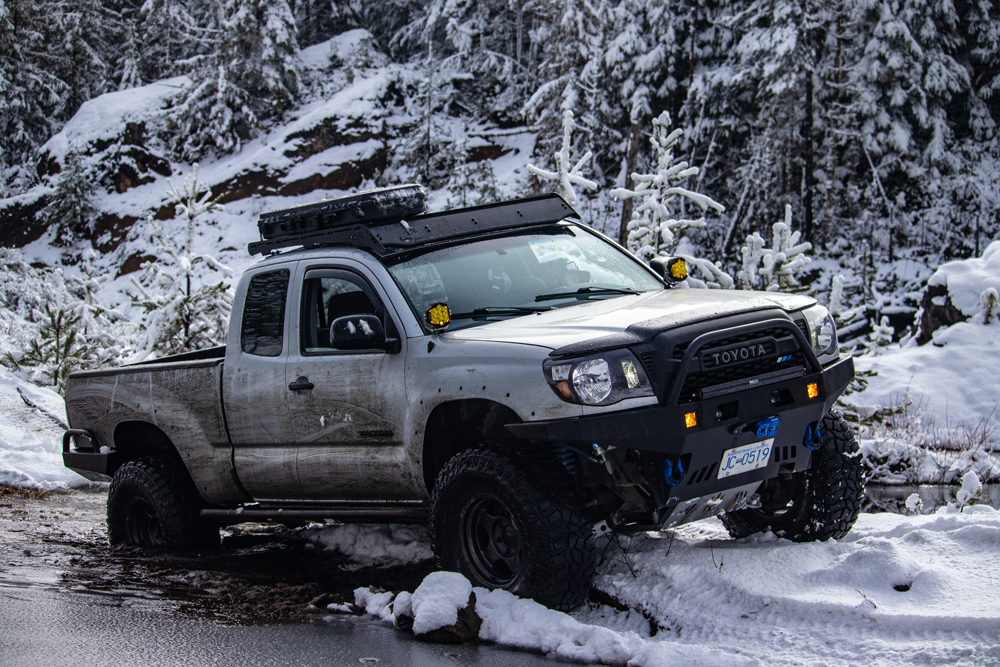 So, the question is –  should you get a bug deflector for your truck?
Buying a truck is an investment and spending just a little more on an accessory that protects its paint and finish is worth the few extra bucks you spend. A premium quality deflector will set you back between $70 – $100. That's not too bad when you realize it will save you the time and trouble fixing dents or scratches that might occur otherwise without a bug deflector.
Also, consider where and how frequently you drive your truck. When taking your truck on a trail run, you are more likely to encounter bugs and debris that end up on your hood, fenders, or windshield. Even if you don't take your truck off-road, you will still have to deal with road debris. Definitely consider getting a bug deflector for your peace of mind so you can enjoy driving without worrying about your truck being riddled with scratches, dings, and dents caused by small debris.
One downside to deflectors is wind drag, which might slightly increase your fuel usage and reduce your fuel economy. This extra fuel usage might be negligible to you or worth the protection you get. If this isn't an issue for you, then you should invest in a bug deflector. Another issue you should keep in mind is that deflectors might not prevent damage from heavier objects like larger rocks. In such instances, you are better off getting a clear paint protector for your truck.
Overall, bug deflectors are a great way to minimize damage to the body of your truck. Always make sure you get one that is specific to your truck's make and model and is made from high-quality material that is flex, scratch, and crack resistant.