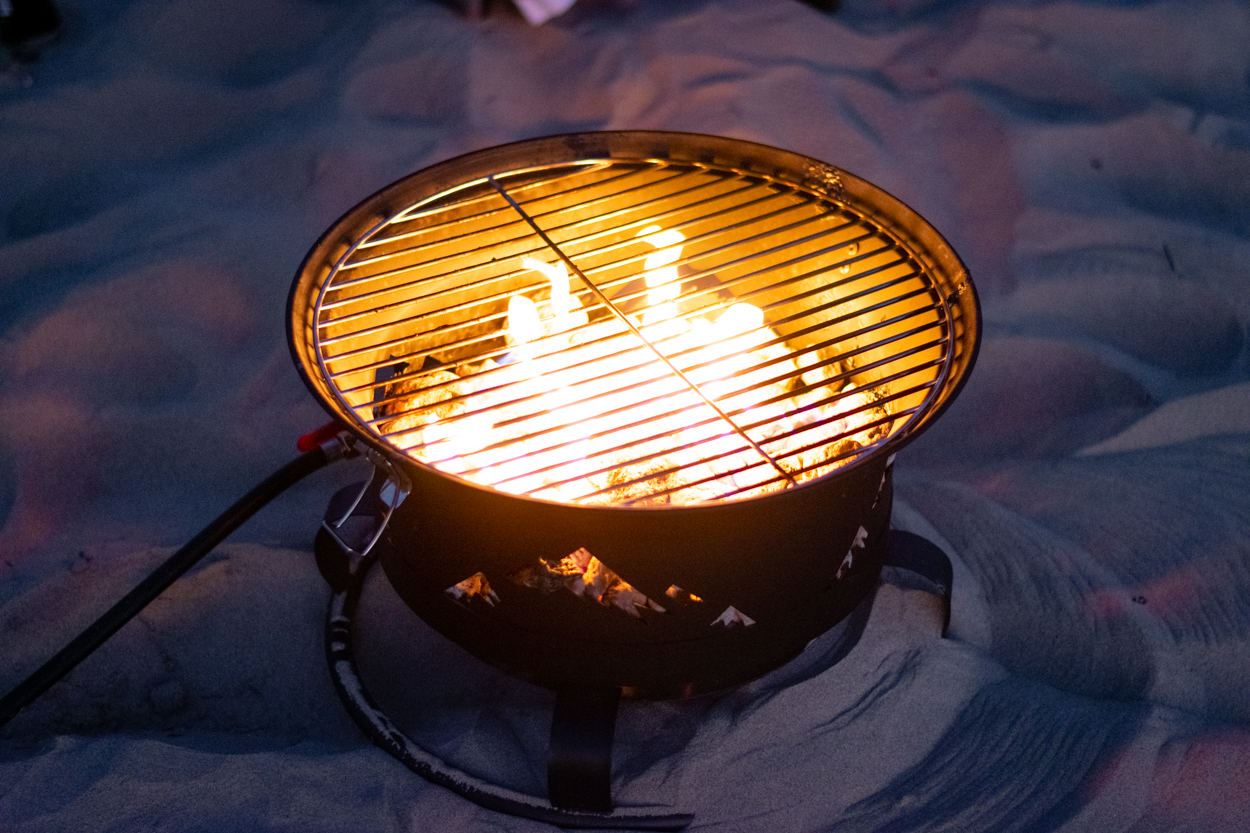 Set Up Guide & Long Term Review of Trail Fire's Portable, Propane-Fueled Fire Pit – Everything You Need To Know About This 4-In-1 Grill
When it comes to cooking your dinners on the road, there are many methods that people choose. Some are wood fire purists, saying that meals should be cooked over an open flame. Meanwhile others choose to keep their cooking methods simple with a propane camping stove and some small pans.
Trail Fire strikes the perfect middle ground with their new 4-in-1 portable propane grill. This system has many features perfectly suited for campers, overlanders, and tailgaters alike. In this post, we'll dive into the features of the Trail Fire grill and what separates it from the other options out there on the market.
Find It Online
Why Propane?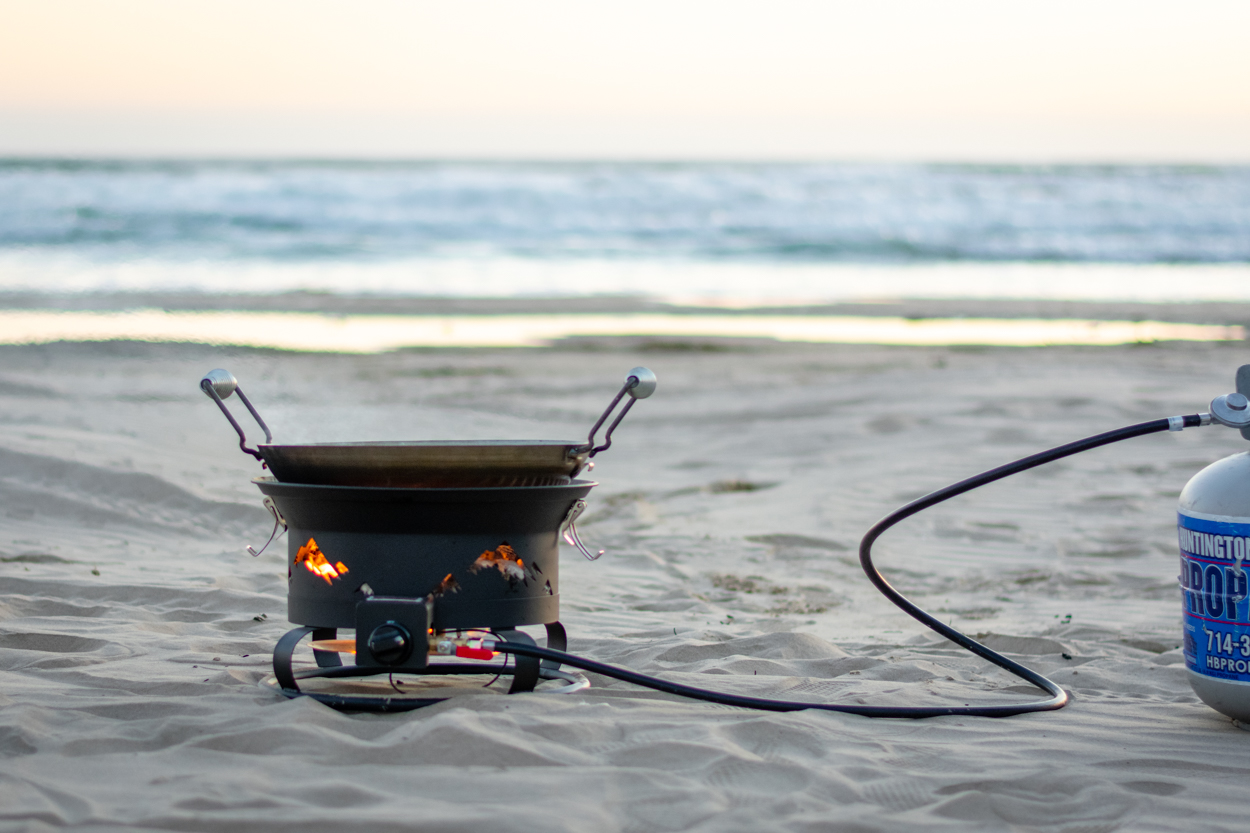 While some don't consider it a true camping trip if there isn't an actual campfire, there are benefits to propane that you should consider. First and foremost, if you live in a state where wood burning fires are seasonally banned due to wildfire risks, then this might be a better option for you. Running a propane setup means you can cook, stay warm, and vibe by the fire year round.
Another key benefit to propane is the setup. There is no building a fire, collecting materials, or keeping the flame alive with propane. You simply plug it in, light it, and it will run until there is no more left. This level of convenience is unmatched in my opinion, though I cannot deny the smell of a good campfire.
If you are worried about running out of fuel, I ran this setup on high for about 6 hours with my 20lb propane tank while camping and it never died. Even after cooking multiple meals since, my tank has yet to run out of fuel.
Trail Fire Grill vs. Traditional Stove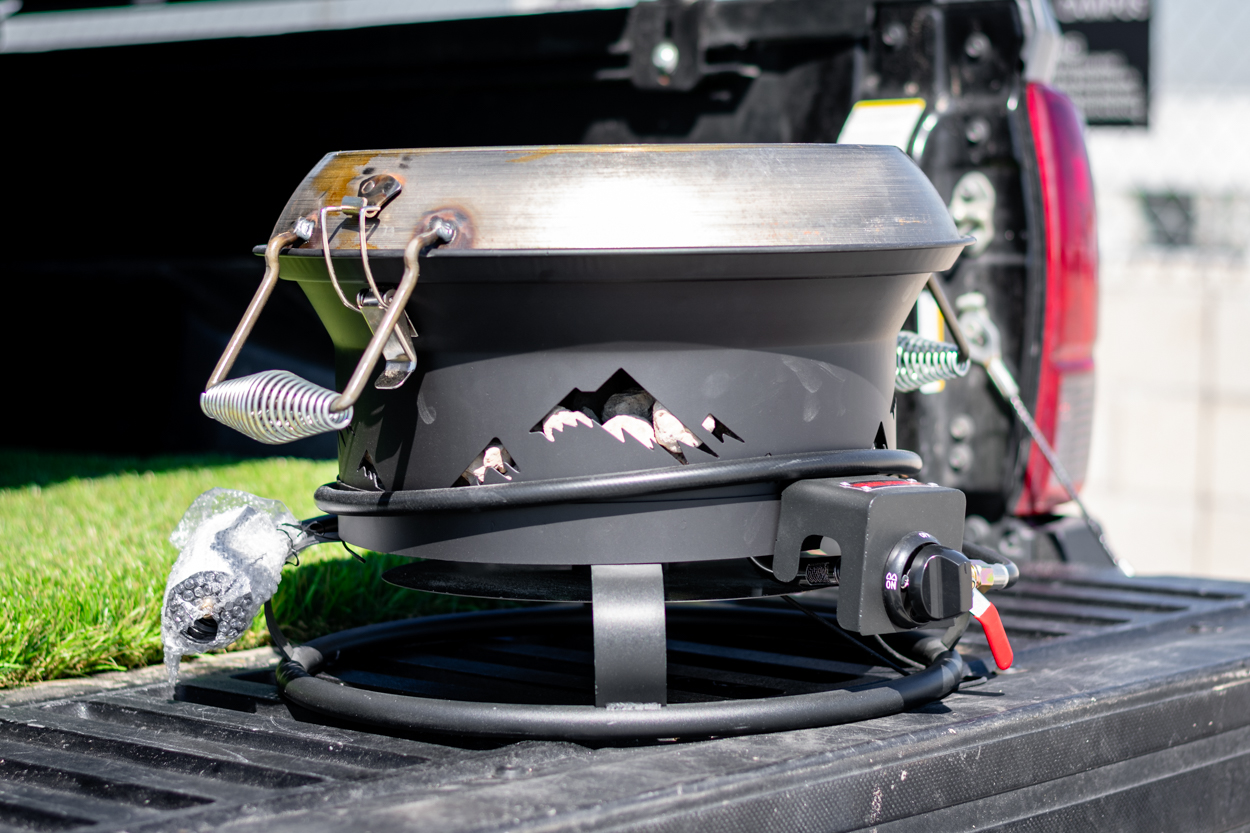 You may be asking yourself, why would I pick this grill over a basic Coleman camping stove that I can get from my local REI? The answer to that mostly comes down to capacity and functionality. If you are cooking for a big group, trying to cook multiple batches of meals for everyone on a small stove can get very troublesome. With the Trail Fire, you have a lot more cooking space to make sure everyone is promptly well fed.
Additionally, the Trail Fire's 4-in-1 feature allows you to expand your horizons as to what you can cook out on the trail or at the campground. Being able to cook pizza, stir fry, steaks, wings and just about anything else on one setup is a very attractive characteristic. This does come at a cost however, as the this grill will take up noticeably more space than a slim, compact camping stove.
Features
Carbon steel wok/lid
Provided lava rock
Weight: 20lbs.
Height: 13″
Ember-free flame approved for use by USFS
6-foot propane hose
Adjustable flame dial
Setting Up
Trail Fire provides us with a great set up and user guide video which I will link at the end of this post. Out of the box, you get the fire pit frame, the lava rocks, the carbon steel lid/wok, and the grill grate. They recommend that you dump out the lava rocks onto the ground first to get rid of the dust before putting it in your pit.
Next, it is important to wash your carbon steel lid with soap and water to get rid of the gunk that comes from shipping and packing. That being said, this is the only time you should wash your lid with soap. To use the grill, thread your propane hose into the propane tank that you choose, and open the fuel valve on the tank. Then open the valve on the grill (red handle pointing downwards). Now that the fuel is moving freely, you can twist the knob to start the gas and it will spark for you automatically.
Two things worth noting when using the grill: Trail Fire suggests what when you are cooking, you use the red handle to modulate a lower flame, but you can keep it open when in fire pit mode. Also, when in fire pit mode, take the grill grate off to avoid any warping.
Trail Fire vs. Skottle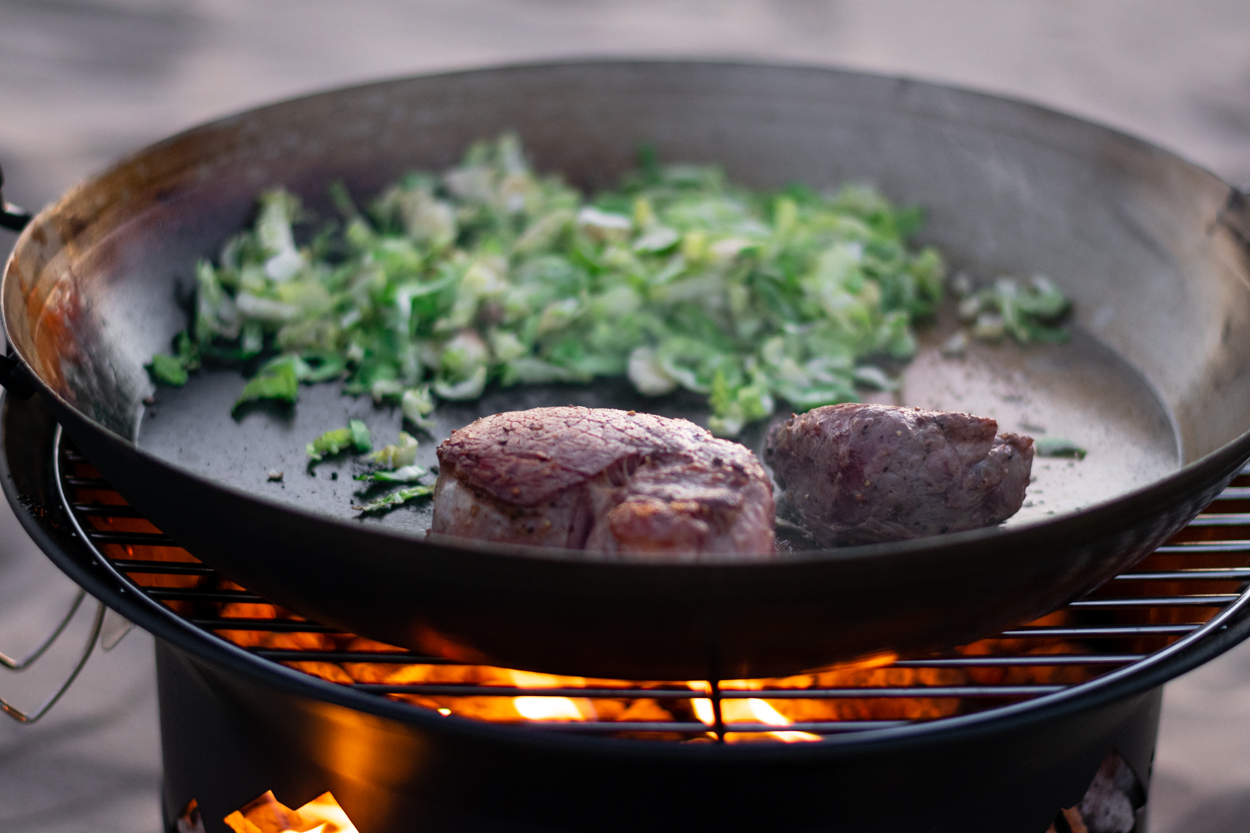 After seeing some shots and the feature overview, you may find yourself comparing the Trail Fire to the popular Tembo Tusk Skottle Grill. Both have wok-style cooking surfaces and are propane fueled, but which is better for you? Let's start with the Skottle.
The Skottle Grill is essentially an elevated wok with a propane flame underneath. What is nice about this system is the long reaching legs that allow you to cook while standing or sitting. Additionally, it is collapsible and it packs down into two storage bags, a feature that Trail Fire does not have. It uses a small propane container that is common with most camping stoves which is more compact for packing purposes.
But don't write off Trail Fire just yet. The 4-in-1 aspect of this setup means not only do you get a grill and wok to cook on, you also get a portable fire pit to keep yourself toasty on those colder nights. This is what personally intrigued me most about the Trail Fire. The fact that I could use the same system to grill steaks and chill by a campfire even during a fire ban was a very unique – especially as a Californian who is always impacted by wildfire risks.
Final Thoughts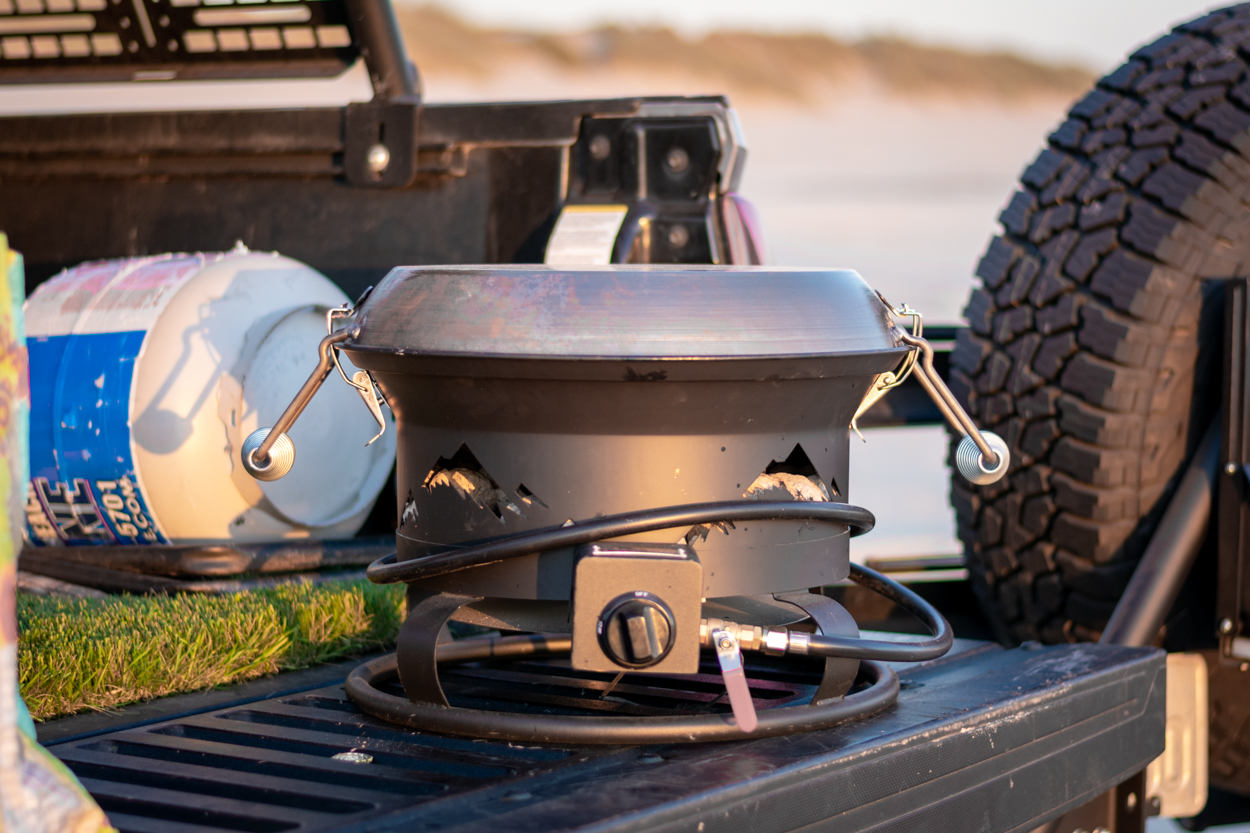 All in all, I can say that I am absolutely satisfied with my Trail Fire. I cooked steaks on the beach for the first time with this setup. Of course I know that you can cook steaks over the flame or on a camping stove, something about the size and build of this grill gave me more confidence to cook legitimate meals in the outdoors. Even better was that after dinner, when the coastal breeze rolled in, my girlfriend and I were able to stay warm alongside the fire without having to stack wood and deal with the wind blowing out our flame.
The only gripe I have with the Trail Fire is the fact that when you are cooking on it, you need to be seated or crouched down. This isn't the end of the world but it did sometimes feel like a hassle. That being said, aside from that one issue I cannot complain. This setup has given me everything I need to take my outdoor cooking game to the next level and I am able to do it year-round. I would highly suggest this to anyone looking for a propane fueled system that can shapeshift to suit their needs for any situation.
Trail Fire YouTube Video