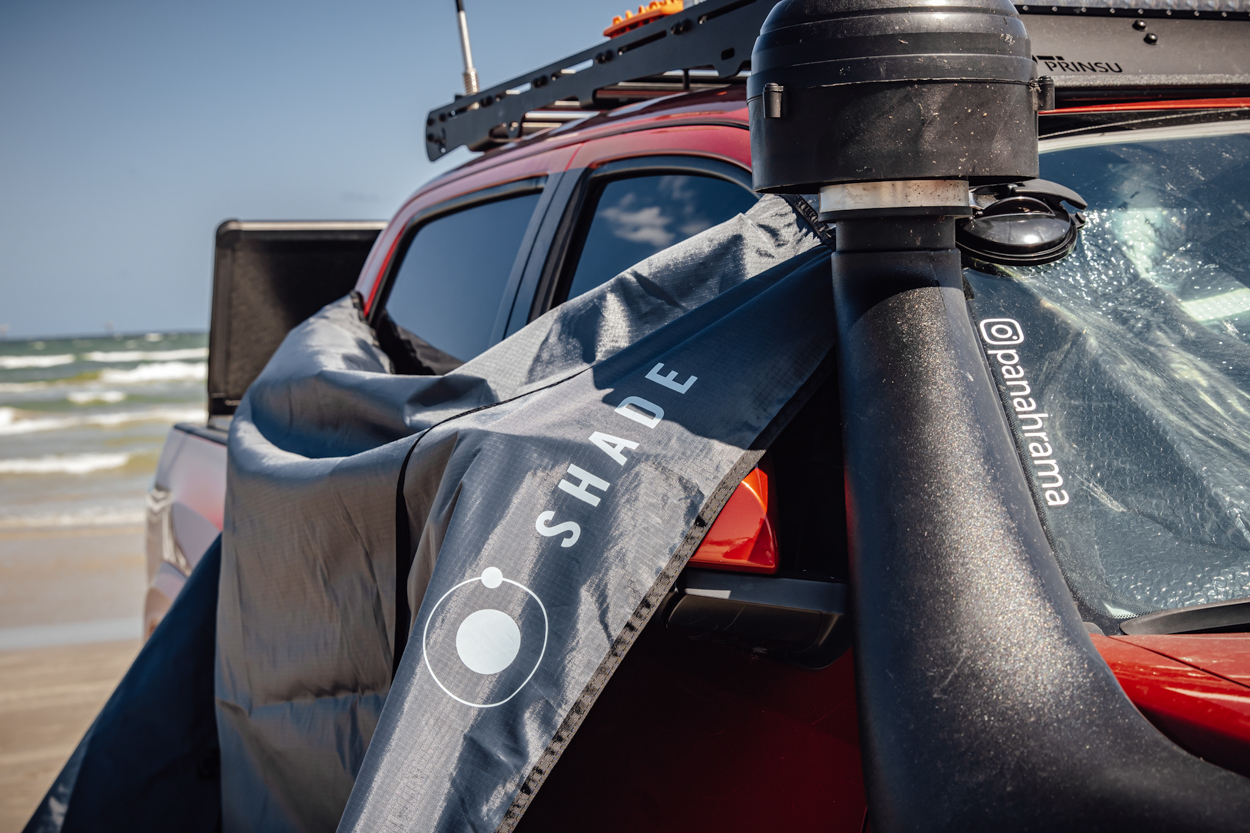 The Moon Fabrications MoonShade: A Portable, Compact & Universal Awning – Step-By-Step Set Up, Review & Overview
One thing that is an absolute must when off-grid camping is cover from the elements. I haven't seen many rigs out there that aren't utilizing some type of awning or tarp to provide coverage for the campsite. The sun gets brutal when there's no air-conditioning to rely on, and sitting in the rain is no fun either. Covers make a huge difference when you're trying to stay cool or dry.
There is no shortage of brands on the market with all kinds of awnings. The biggest problem is that most awnings are relatively large and cumbersome. They're not ideal for toting with you on a long journey when space is limited. Another important factor is the ease of setup. Can it be deployed quickly and by yourself? Most can, but it's always a give or take between ease of set up and the size of the awning. For the perfect balance of the two, MoonShade is an excellent solution.
Find It Online
MoonFab MoonShade Universal Portable Awning: Check Price
Why MoonShade?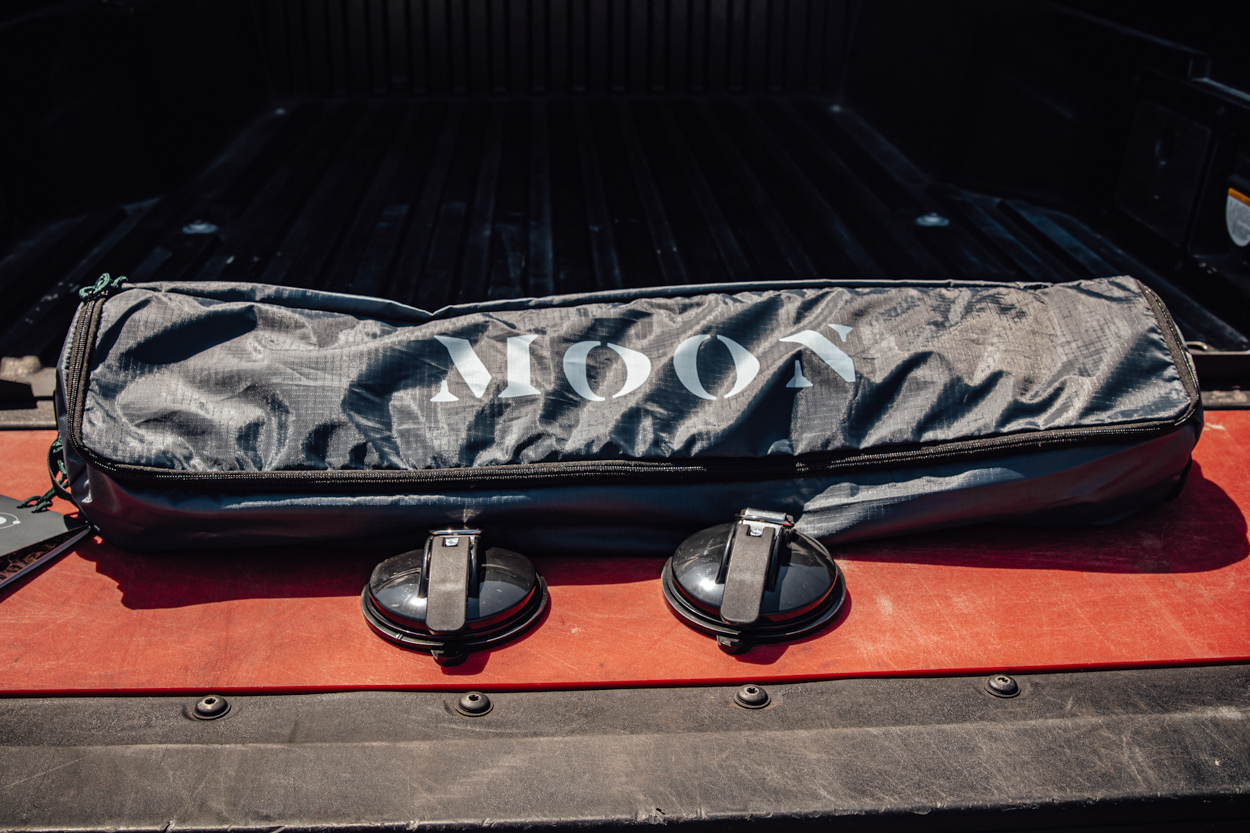 What's unique about MoonShade awning is how quickly it can be deployed and its compact size when packed down. Everything collapses down and can be packed into a 28-inch x 6-inch bag that is easy to carry and only weighs 8 pounds.
Once deployed, though, it provides a 9ft by 7ft blanket of shade. This, coupled with the various anchoring systems, sets it apart from all other awnings on the market. It is an on-the-go awning that can be anchored to any sturdy structure or surface.
I'll talk about my personal experience with testing it out under extremely windy conditions, as well as some of its specifications below. This setup is pretty beefy. All the components feel high quality.
Specifications
Size Deployed: 9ft x 7ft
Size Stowed: 28in x 6in (diameter)
Weight: 8lbs
Shade Top Materials:

420D ripstop polyester with UV protective treatment

Shade Bottom Materials:

Reflective coating; heavy-duty polyester webbing trim

Poles:

13mm aluminum tension poles
19mm telescoping aluminum support poles
Adjusts from 78in – 96in
19mm strut pole
7ft for narrow-base mounting
Set Up
Setting up the MoonShade is super quick & simple, and there are no tools required!
What's In The Bag?
MoonShade (9' x 7')
Shade tension poles (2)
Upright support poles (2)
Strut pole (1)
Stakes (4)
Guy lines/tensioners (4)
Suction cup anchors (2)
Suction cup anchors with Velcro strap for attaching to strut pole (2)
Tall-connect cords for easy overhead anchoring (4)
Carrying bag with shoulder strap
Step 1. Attach Anchors (Large Suction Cups)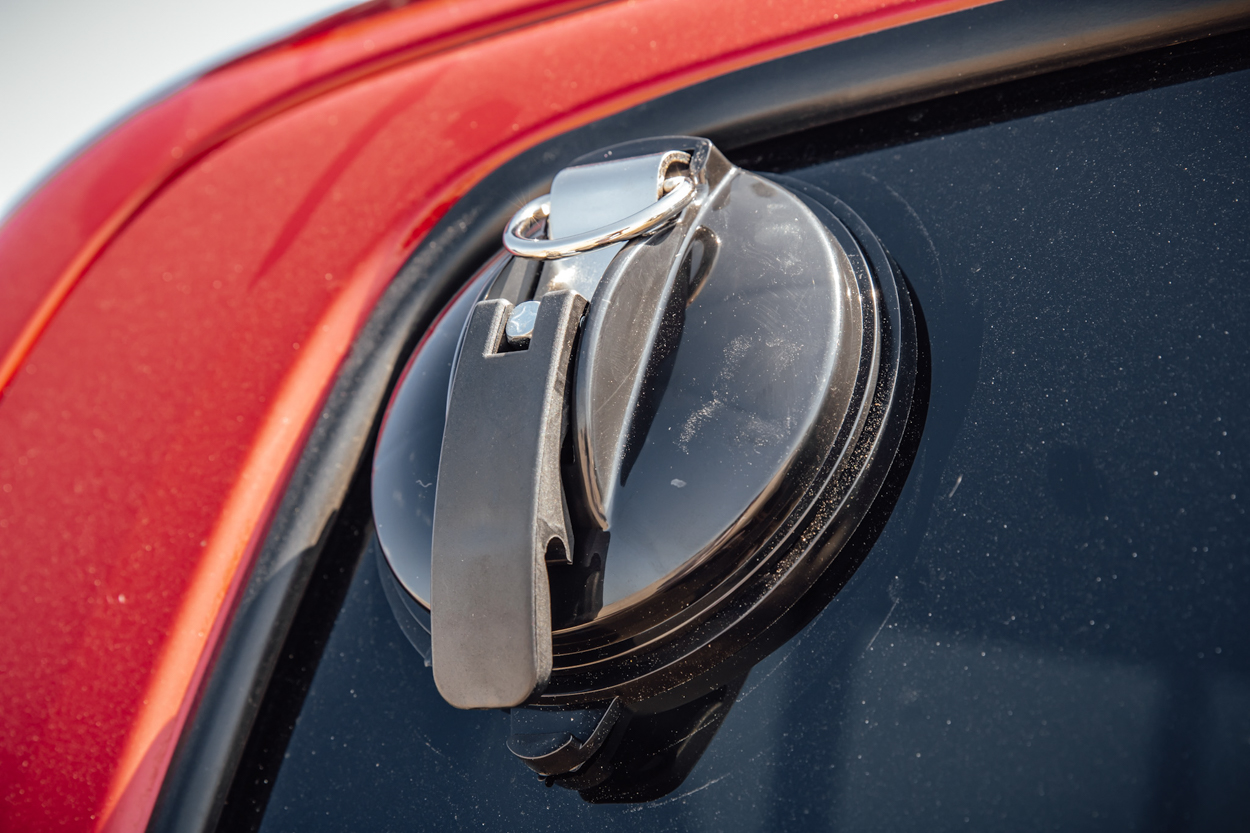 I opted to mount mine using the large suction cups. One on the back window and the other on the windshield.
Mount the suction cup onto your rig in a spot where you know the anchors will be most secure. If using the suction cups, be sure to wipe down the surface clean and make sure the suction cups are securely attached before proceeding to the next step.
Assemble Strut Pole (Optional):
This step is only necessary if mounting the MoonShade to anchor points less than 7 feet apart. The strut pole may not be needed either. I opted to skip this step, and the awning functioned perfectly fine with the heavy winds.
Step 2. Connect Assembled MoonShade To Anchors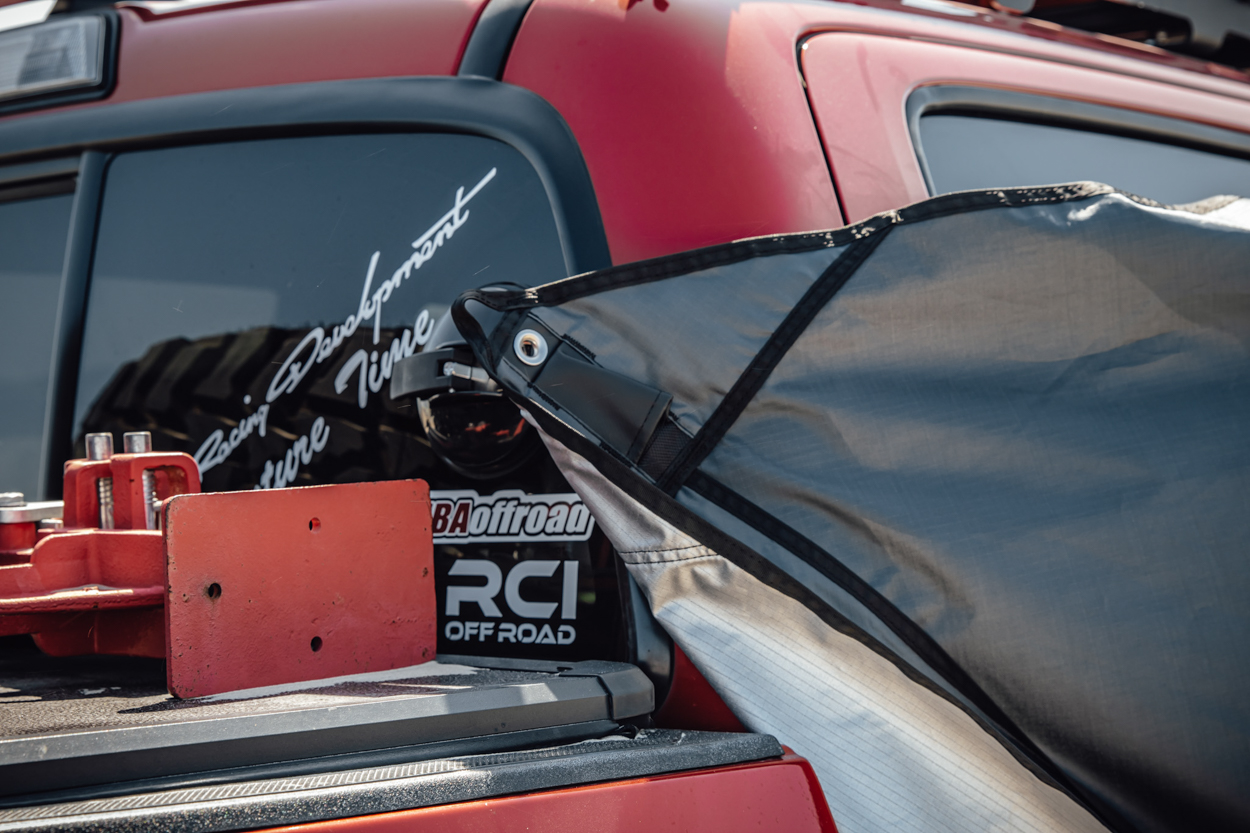 Connect the shade's corner carabiners directly to the anchors. If you choose to use the strut pole, securely attach it to the anchors instead and the shade to the pole. Suction cups with hook and loop straps can be used with the strut pole to attach to smaller vehicles.
Step 3. Assemble & Attach Poles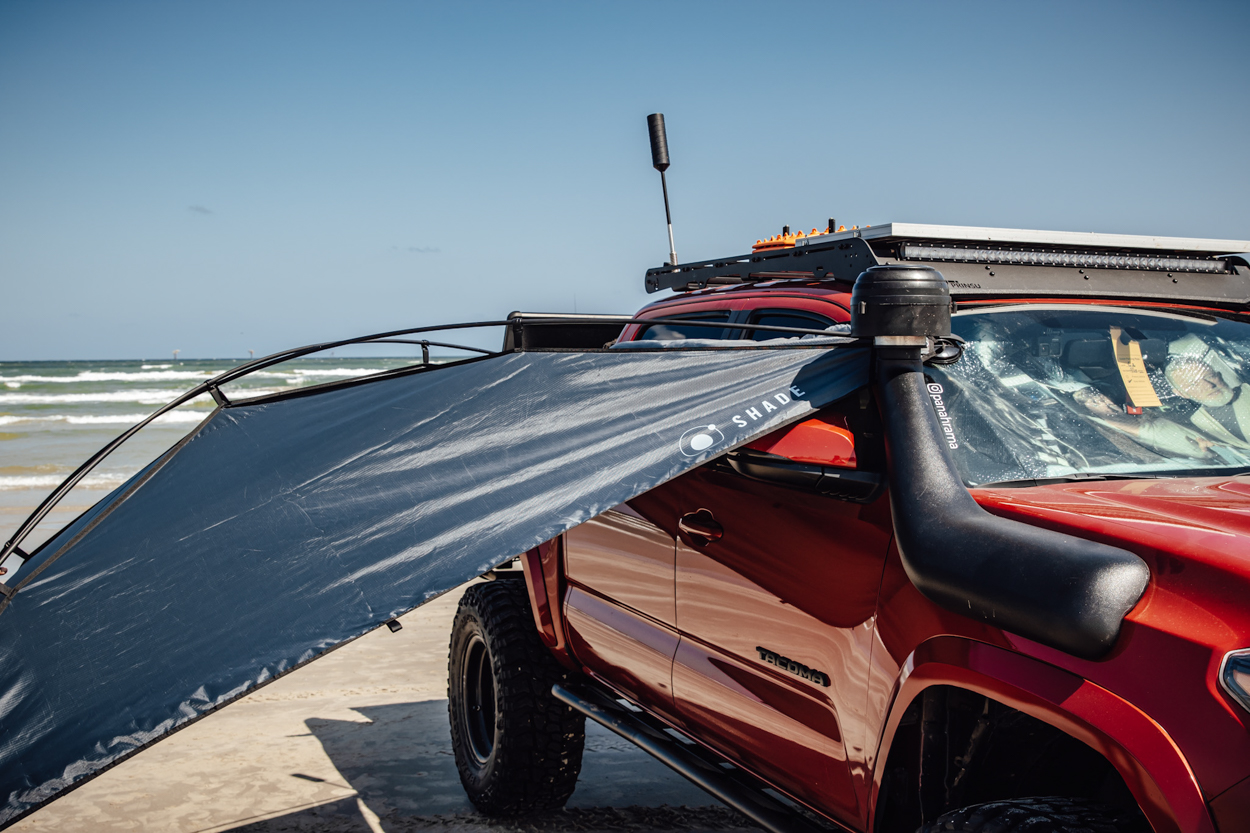 Assemble the tension and support poles. Place the tension poles into the corner pockets diagonally across the MoonShade and attach the clips.
Step 4. Set Up Support Poles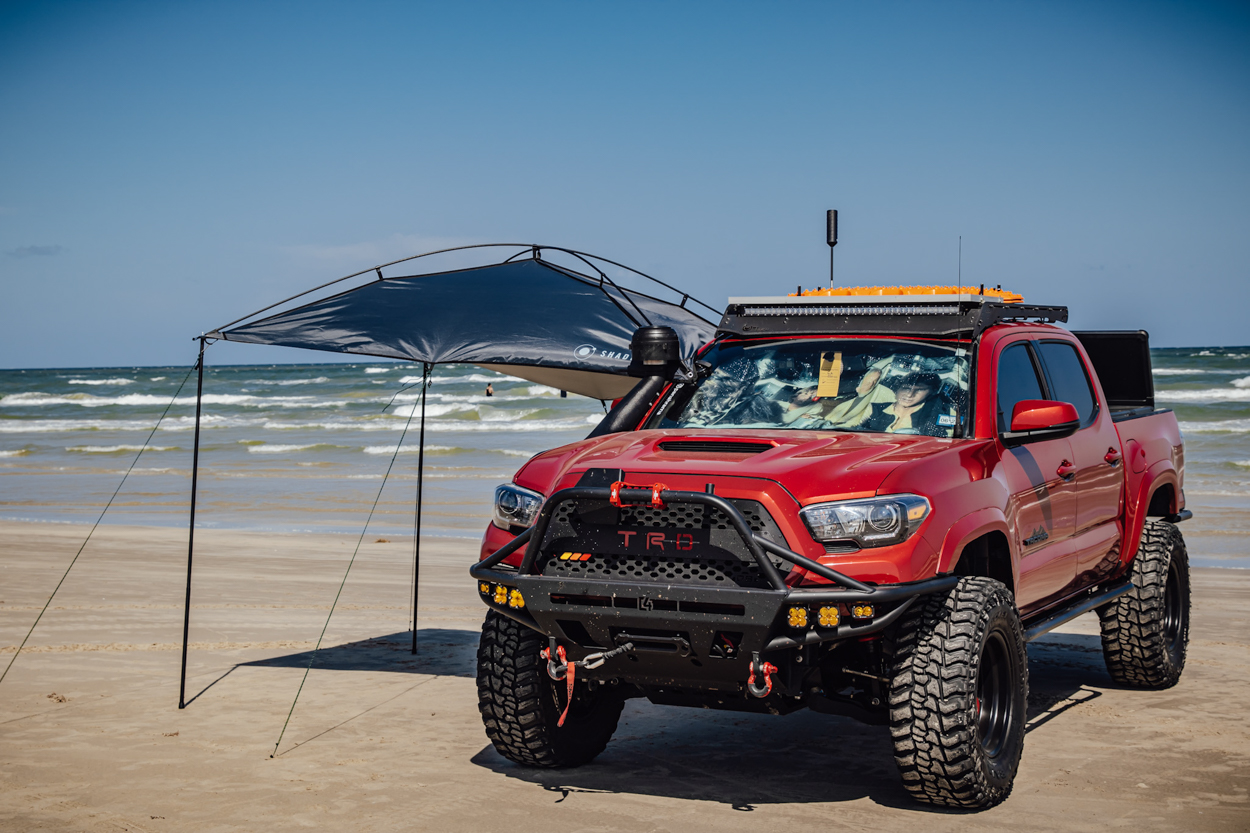 Place the support poles into the front corner grommets and clip the carabiners to the metal loop on the ends of the support poles. Next, hoist the shade into an upright position for final placement.
Attach & Secure Guy Lines (Optional):
If there is any wind preset, you'll likely want to do this final step. Attach the provided guy lines to the MoonShade's front corner loops. Then, use the provided stakes to attach the guy lines and line tensioners to secure the MoonShade in place.
Final Thoughts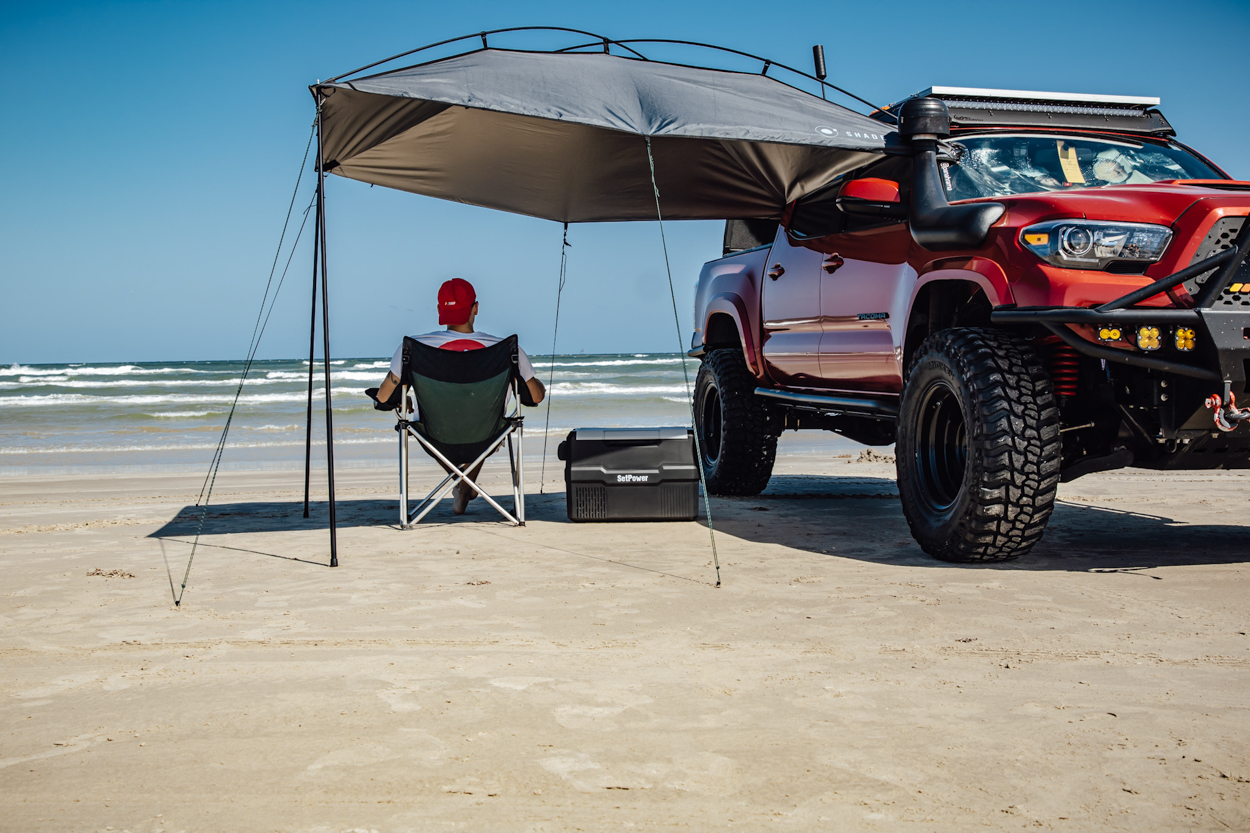 Overall, I was extremely impressed with the MoonShade. It's a quality product for a reasonable price.
It is made of extremely lightweight material but very durable and structurally sound. I was able to set this up alone on the beach with heavy winds. For those who know the struggle of setting up an awning with the slightest breeze can attest to how challenging it truly is! Once I got this thing set up, though, it did not budge! It's super solid.
The folks at Moon Fabrications did something here! I was genuinely impressed with how compact it was when packed down. This is an absolute space saver when you have limited storage space. The setup is super simple and fast with all the quick attach clips.
Another awesome feature of MoonShade is its ability to be set up quite literally anywhere. One downfall to hard-mounted awnings on rigs is that it only provides shade on one side. Once the sun shifts, you either move your vehicle to adjust or lose the protection of the awning. The MoonShade can easily be detached and set up in another spot so that you always stay protected from the elements.
If you spend a decent amount of time outdoors, then the MoonShade is a worthwhile investment for your excursions!