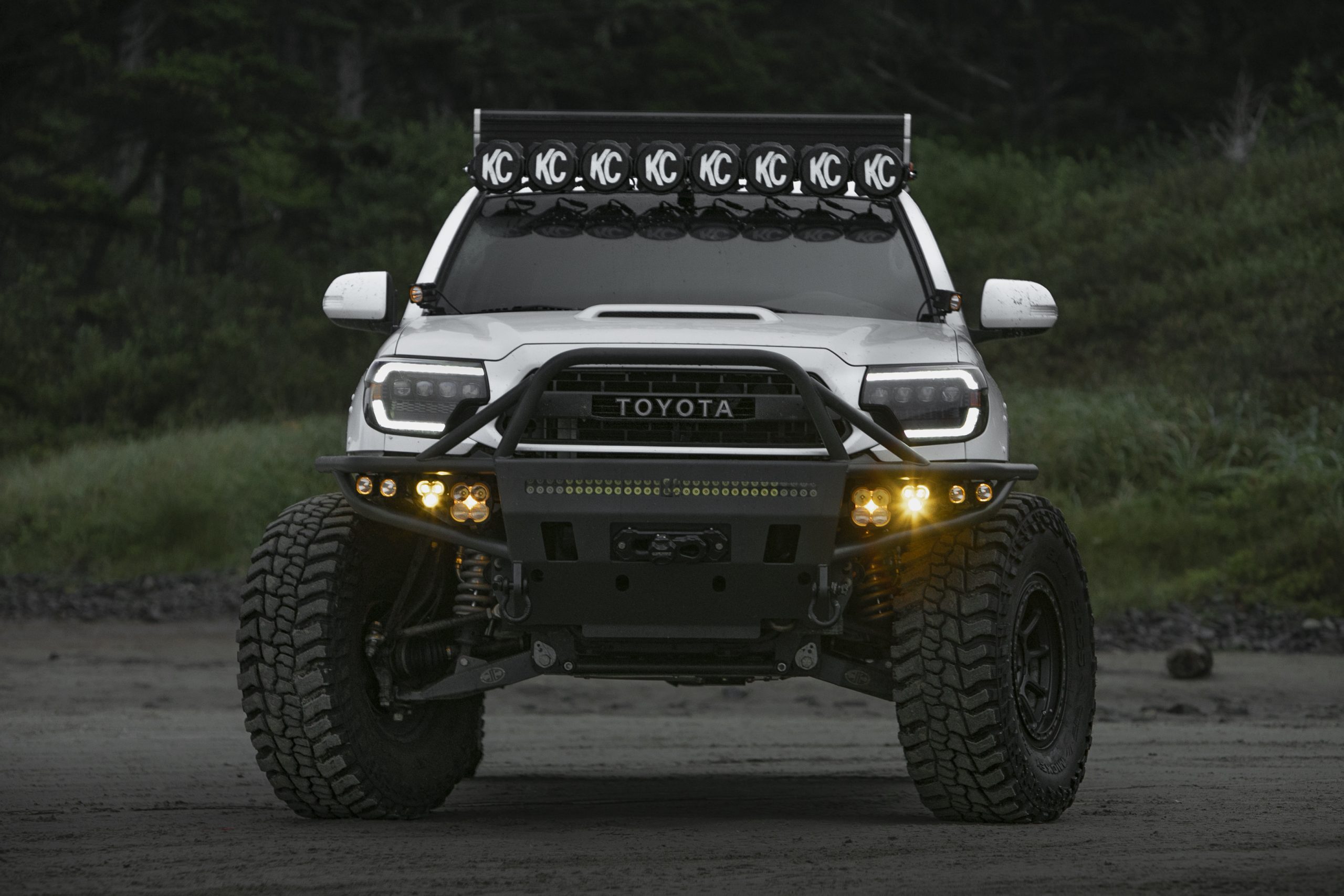 Introducing A New Era of Light – A Fog Pocket Kit + Stand Alone Fog Light Option for the 2nd Gen and 3rd Gen Toyota Tacoma
I recently had the privilege of testing out the new KC FLEX ERA® 3 Dual Mode SAE Light + Off-Road Light in the PNW with the whole KC Lights team. It was awesome. I installed 54 lights on Tiffany, our long-travel Tacoma build. I am pretty sure that's the most KC Lights that have been installed on any vehicle – but don't quote me on that. One of those lights was their new FE3 SAE fog light and it's one seriously impressive light that just changed the game.
Here's an overview of the new light and a deeper look at our trip.
Find it online
KC Lights FE3 SAE Master Kit: Check Price
KC Lights FE3 SAE 2nd Gen & 3rd Gen Tacoma Fog Pocket Kit: Check Price
What is the product?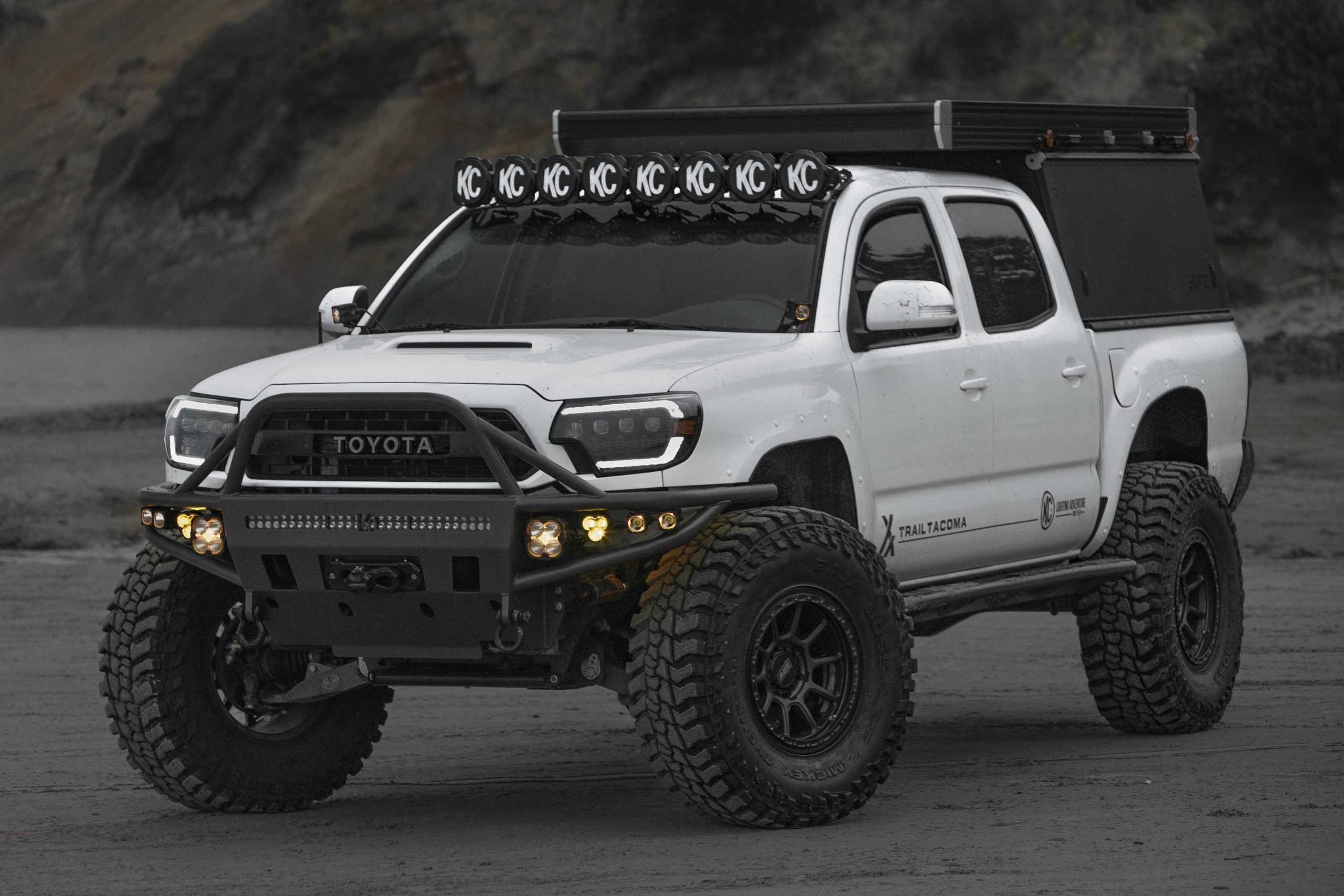 Introducing the KC FLEX ERA® 3 Dual Mode SAE
It's an SAE (street legal) light + Off-Road light in one housing. This light comes with everything you'd want from a fog light. Not only is it a street-legal DOT-approved light, but it also offers the performance of an off-road fog light – all in one housing with the flip of a switch.
They offer a shroud kit otherwise known as a "fog pocket kit" for the 2nd Gen and 3rd Gen Tacoma that retains the OE Toyota look, however, I ran the light as a stand-alone light on my C4 Fabrication hybrid bumper.
The new SAE Light + Off-Road Light features a very similar housing to the original FE3, however, the lens cover and the optics are completely different. On the surface level, a few things have changed. Instead of offering a clear (white) lens by default with an option to buy the amber lens separately, they now offer a clear lens plus a selective yellow lens within the "Master Kit". The selective yellow lens is more of a "street legal" color as opposed to true amber. You will find that more SAE and DOT-approved lights come in a selective yellow rather than a true amber.
For the optics and on the inside of the housing, everything has changed!! Maybe we'll get into more detail there in another post.
Master Kit Features 
KC FLEX ERA® 3

Dual Mode SAE LED Lights (2)

SAE Clear Lenses (2) (pre-installed)

SAE Selective Yellow Lenses (2)

Premium Wiring Harness

2-Position Switch (1)
Benefits 
Built-in Dual Mode Light (dual switch)
SAE fog wide cornering pattern with precise cutoff line
Off-road spot pattern
Changeable colored accent bezels to match your build (Sold Separately)
Available in a variety of vehicle-specific bolt-on kits
Specs 
RAW Lumens: 3,682 lm Fog / 5,949 lm Dual Mode @5000K
Beam Pattern: SAE Driving / Fog and Off-road
Wattage: 35W / 55 W -Amp Draw: 2.9 a / 4.5 a @ 12V
Voltage: 9V-36V
IP Rating: IP65
Product Dimensions: W – 3.6″ x H – 3.5″ x D – 2.6″
Dual Mode + Dual Purpose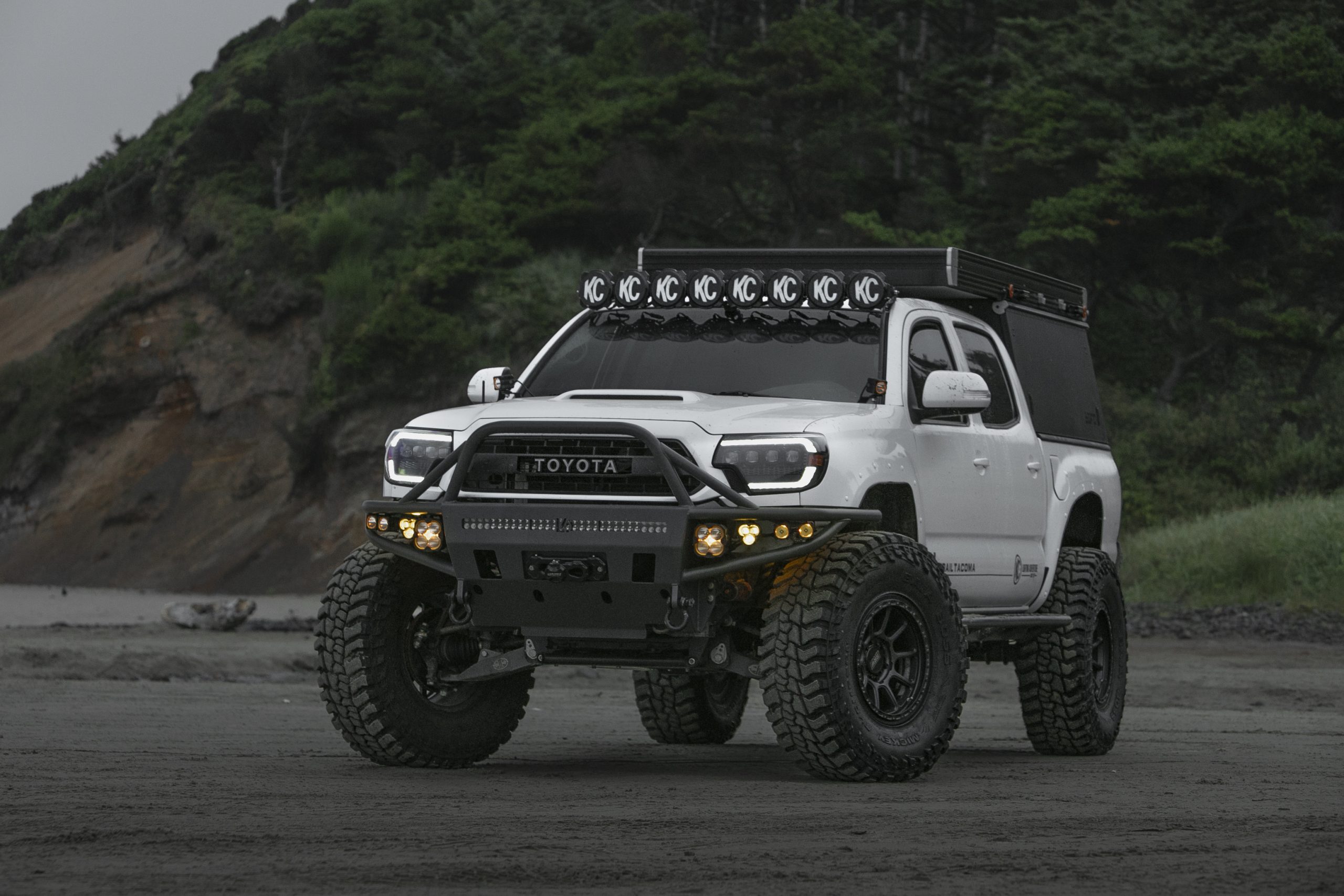 The coolest part about the dual-mode feature is that builds like our 2nd Gen Tacoma (Tiffany) pictured above can benefit from it, just as much as a stock truck with a factory bumper – and maybe even more.
For guys running a factory Tacoma bumper, KC provides the FE3 SAE + Off-Road fog pocket kit. This allows you to increase your on-road lighting performance while also increasing your off-road performance – all within a simple plug-and-play dual-switch kit.
For guys running an aftermarket front bumper, you typically lose your fog lights out of the gates. The cool part about the FE3 SAE + Off-Road light for guys with an aftermarket bumper is that you get those on-road fog lights back all without sacrificing off-road light output – all in one housing!
Beam Patterns and Wattage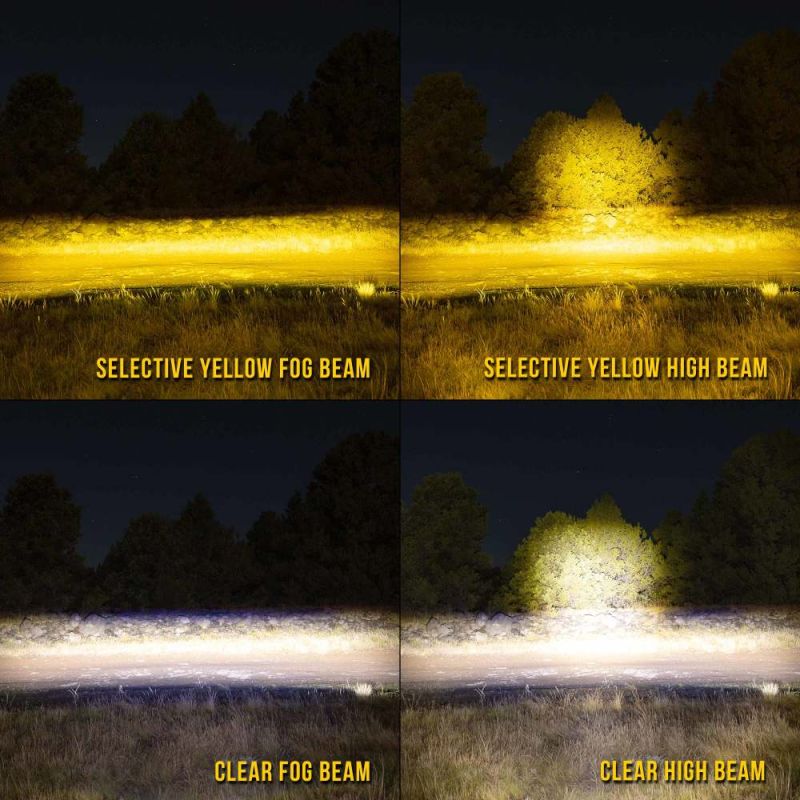 KC breaks it down into two different beam patterns.
The "fog beam" is your on-road light with a strong cutoff line. The fog beam utilizes the top two optics on the FE3 housing pulling 35 watts and 2.9 amps.
The "high beam" is your off-road light with a strong cutoff line plus a high-power spot beam. The high power or full power beam utilizes all optics on the board; the two fog beam optics and the high output lower high beam optics which altogether pull a total of 55 watts and 4.5 amps.
If you're looking to replace your factory fog lights with something that works on-road and off-road whether you have a stock truck or a fully built long travel animal, these FE3 SAE + Off-Road lights are the perfect answer.
The actual lights feature a J583 Fog Beam, and an off-road use-only mode combining the fog beam with a high-output spot beam. The FLEX FE3 SAE + Off-Road lights are the best of both worlds and can be used wherever your path takes you.
Selective Yellow Lens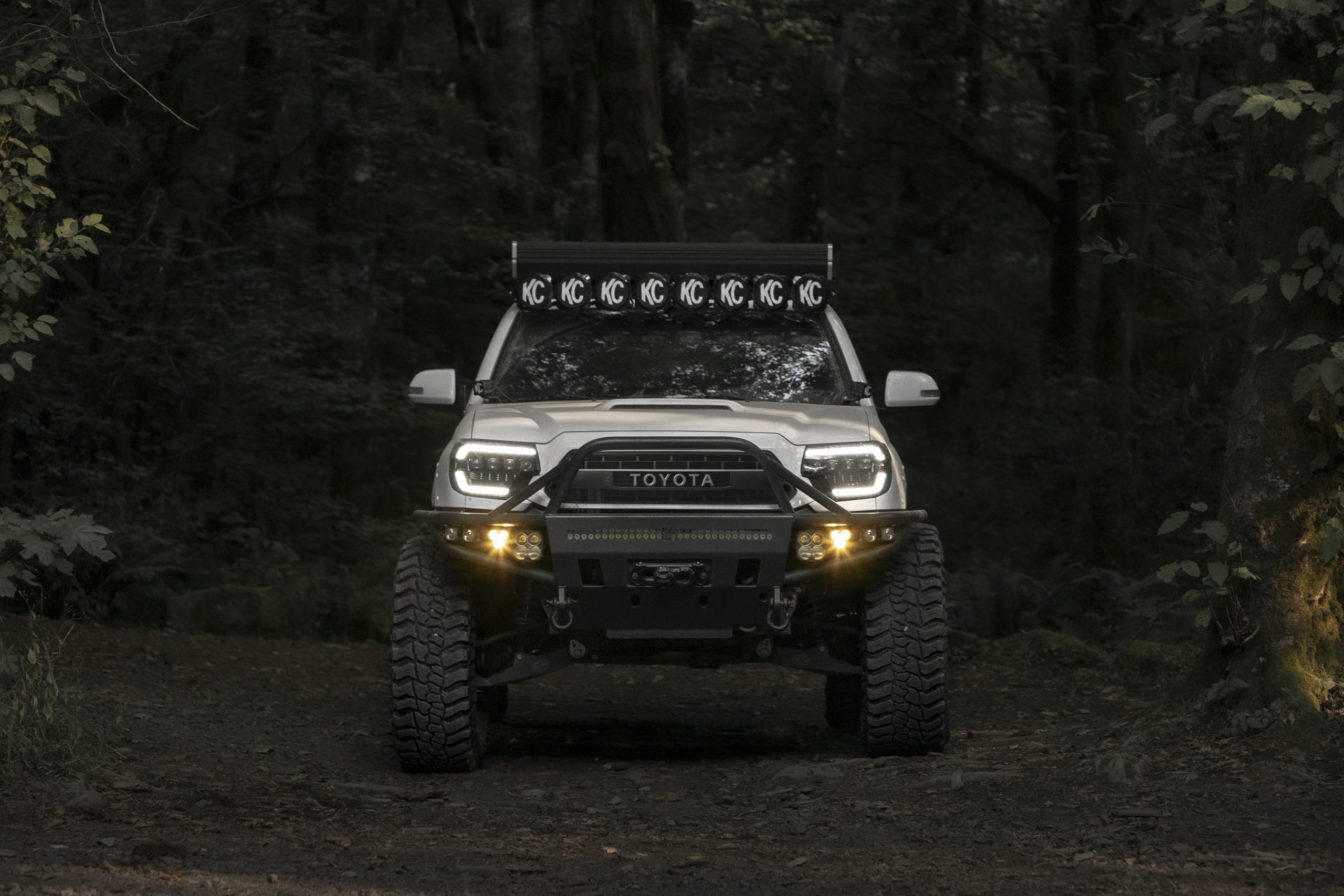 The yellow color that emits from the housing is pretty impressive.
Coming from a predominantly amber background of lighting on my 5th Gen 4Runner, I was hesitant to run the selective yellow.
What I found is that selective yellow is actually very soft on the eyes and provides much-needed clarity through the fog and dust.
We spent a little over a week testing these lights on the Pacific North West; more specifically Pacific City and the Tillamook area. In this area, you will find dense pockets of fog on the road that come and go. With the selective yellow lights on full-time on the road, it makes coming into those dense pockets much more visible.
Overall, the selective yellow lens provides greater visibility in heavy rain, fog, snow, and dust.
Fog & Dust Performance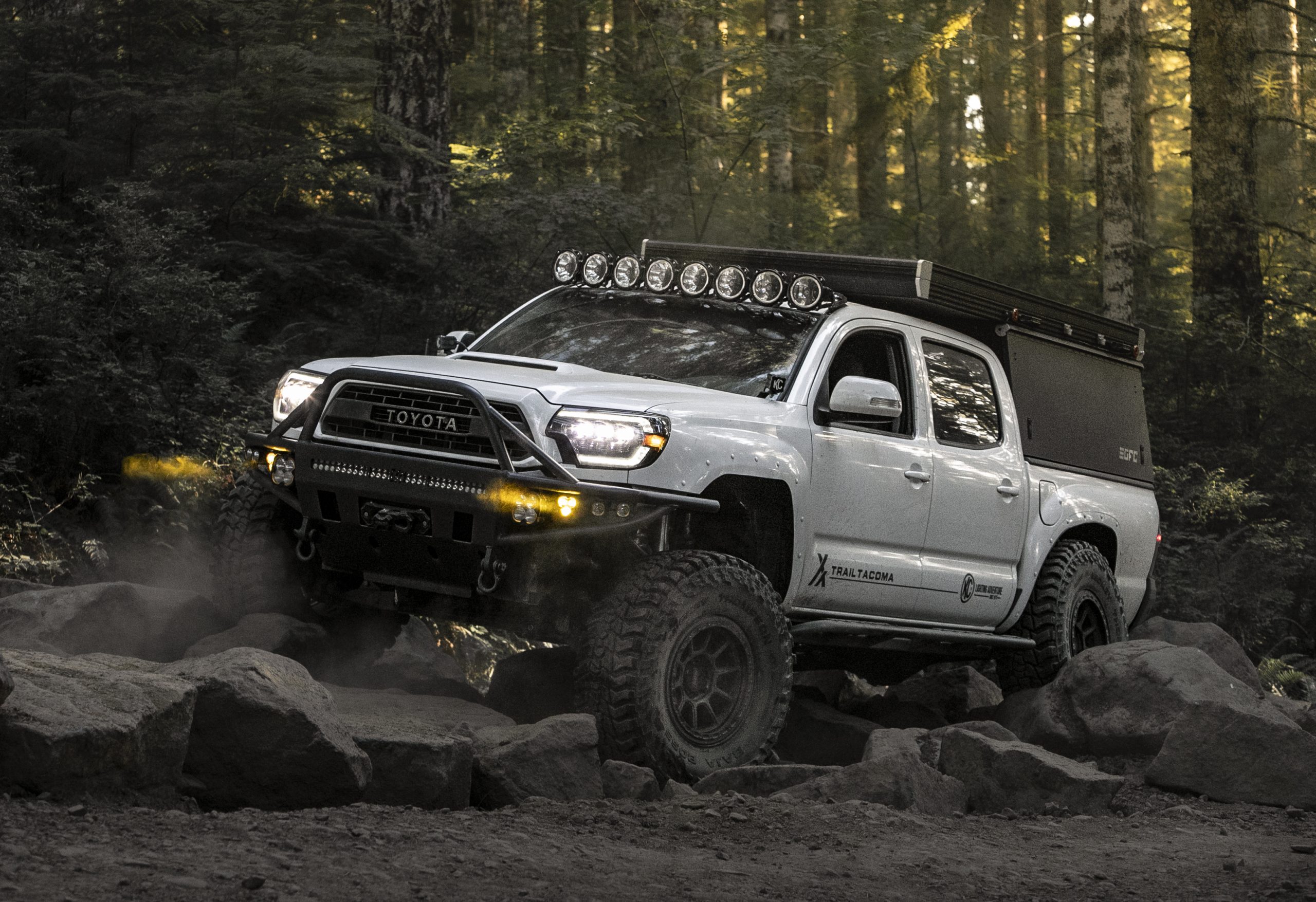 From foggy mornings on the beach to dusty nights in the dirt, they have you covered by including both Clear Lenses and Selective Yellow Lenses. Use the clear for the maximum amount of brightness and for the purest version of the FE3 DM SAEs.
Switch it up and run the yellows for peak penetration through heavy rain, fog, snow, and dust.
Triangular Design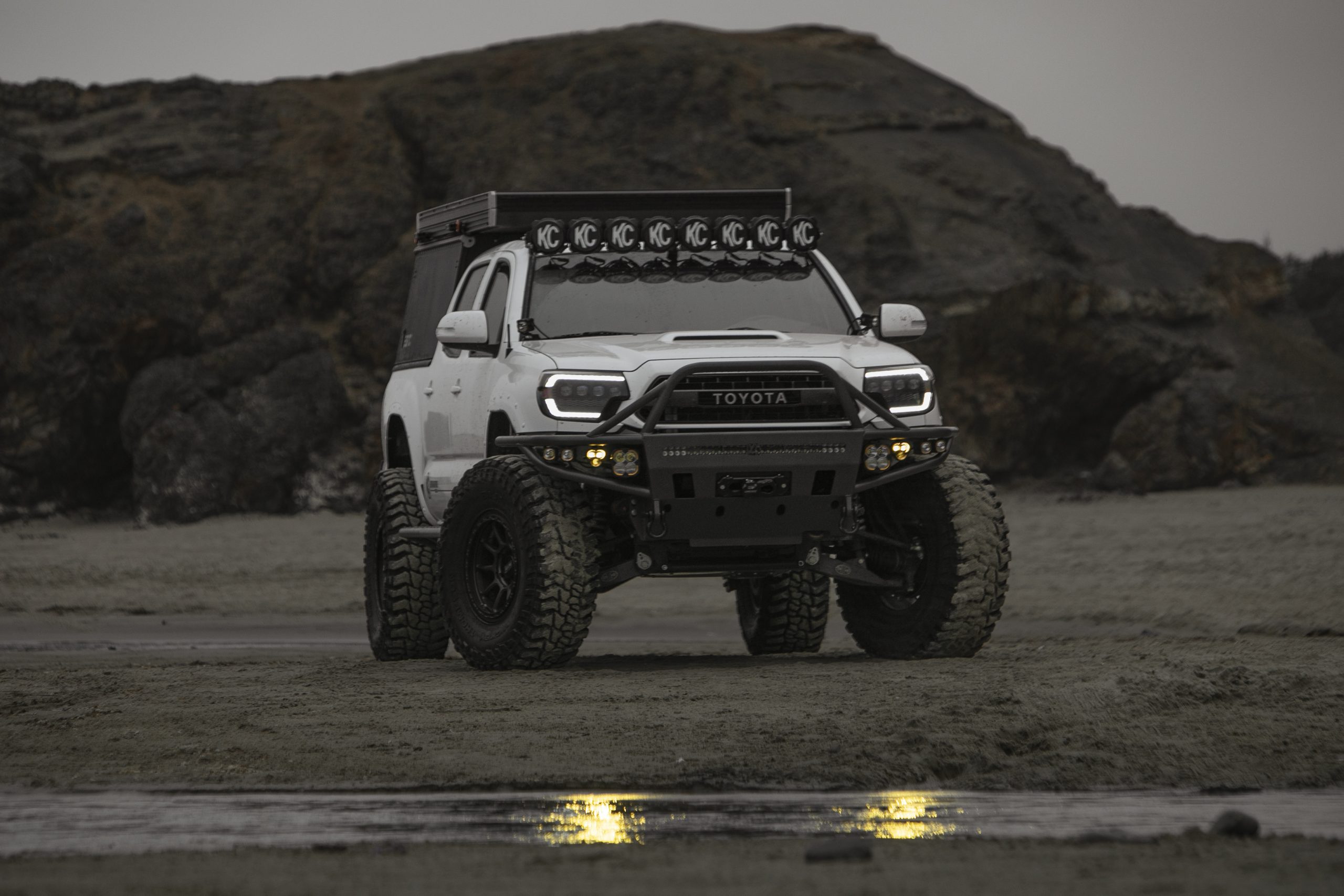 The KC FLEX ERA 3 Dual Mode SAE features a specialized triangular design unlike any other on the market and has very specific heatsink fins for shedding heat quickly and efficiently. KC designed this new SAE light in a way that works right side up… only. If you're thinking about flipping the light upside down, the light output would not be consistent with how it's been approved for on-road use. So technically, you can mount the light right side up or upside down, just note that the beam pattern may be different.
Our Experience
Direct From KC Lights:
Flexibility radiates from the core of the FLEX ERA® Family, and the KC FLEX ERA® 3 Dual Mode SAE Light clocks in for multiple jobs at once. This kit comes with everything you'd want out of a street-legal fog light. Rock the pre-installed clear lenses for pure performance on those foggy mornings before the caffeine hits, or use the included Selective Yellow lenses for greater visibility in heavy rain, fog, snow, and dust. Light up the roadways with the SAE J583 fog beam as your "low beam", then flip the switch for an off-road, high-output "high beam" when you cross into the dirt. The FE3 DM SAE is built to be everything you need, all-in-one.
Blurring the lines of what a fog light is and isn't, the FLEX ERA® 3 Dual Mode SAE Fog Lights will defy everything you know a fog light to be. You no longer have to pick between Team Clear (white output) and Team Yellow when it comes to the color options – our Master Kit includes both sets of lenses to allow you to try out both options in all kinds of scenarios to pick which one is best for you.