Ironman 4X4 America Off-Road, Auxiliary Lighting Options Mounted On Raid Series Armor For 3rd Gen (2016+) Tacoma – Product Lineup, Feature Overview & In-Depth Review
Suppose you are like me; at one point or another, you randomly felt like a late-night trail run when there was nothing going on. Or maybe your group of wheeling buddies decided to go off-road after work, and the sun goes down. Either way, you probably felt that your headlights didn't exactly cut it.
Everyone loves lights. Let's be honest; not much elevates a Tacoma's aesthetic and functionality like a solid LED lighting setup. Especially for those of us who love camping or off-roading at night, a high-performance lighting system is an absolute necessity. But with so many options on the market, it can be hard to choose just one.
In this post, I will dive into Ironman 4×4's off-road lighting lineup, explain some of their features, and then how they perform. I have been running their lights for a solid couple of months now, so I have developed a good idea of their performance out on the trail.
If you are interested, check out the Ironman Raid Series Front Bumper Install & Review and Rear Bumper Install & Review.
Find It Online
Why Do I Need Auxiliary Lights?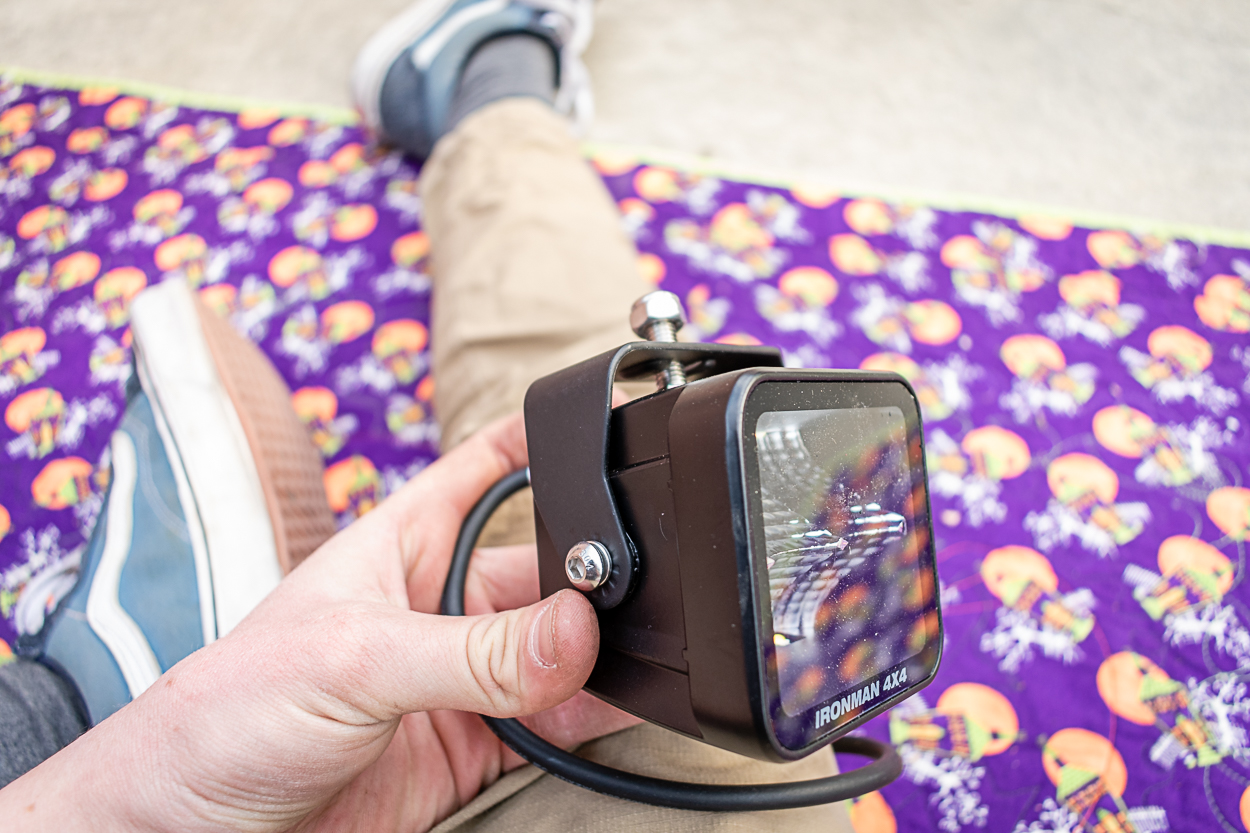 As I mentioned, aftermarket auxiliary lighting can significantly impact your off-roading experiences at night. Sometimes a truck fully outfitted with 100 lights can look tacky. But with the right kit, your truck can look super clean while adding a ton of functionality out on the trail.
Expanding your field of view with high-performance lights means you see everything. This translates to a lower risk of damaging your truck on obstacles you cannot see while off-roading and no more sideswiping overgrown tree branches or coming into a sketchy section of trail too fast.
High-quality auxiliary lighting can also benefit you on the road. If you drive a lot of unlit windy backroads, a setup such as this can help you see every corner and dip ahead. In many cases, these roads also have a lot of wildlife crossing after sundown so you would have a better chance of seeing them, thus avoiding any potential damage to your rig. However, don't run these lights with other vehicles around because they can blind the other driver and create an unsafe situation.
Lighting Options + Installation
With my front and rear bumper package, I got the 40W flood lights in amber and white for the front and 20W flood lights in amber and white for the rear. The front bumper also has a 32″ Bright Saber LED Dual Row Lightbar. The installation for all of these was super easy with the Ironman bumper kit. All I had to do was use the provided hardware to mount them into the corresponding locations on the bumpers.
Wiring these lights was even easier, as I got some cheap harnesses on Amazon. After mounting the lights, I just ran some extra wiring from my local hardware store to extend the wiring harnesses and hooked them up to the battery. That being said, with this many lights, I would suggest getting a switch panel if it is within your budget.
Splicing in the extra wiring to reach the lights is a fairly simple process. If you are competent in soldering wires, you can just strip back the ends of the wire housing, solder the internal wires together and wrap the section in waterproof heat shrink. An alternative to this method, which I chose to do, is essentially the same, but instead of soldering, I twisted the internal wires together. Overland Under Budget has a really helpful video – check it out here.
Flood vs. Spot Beam Pattern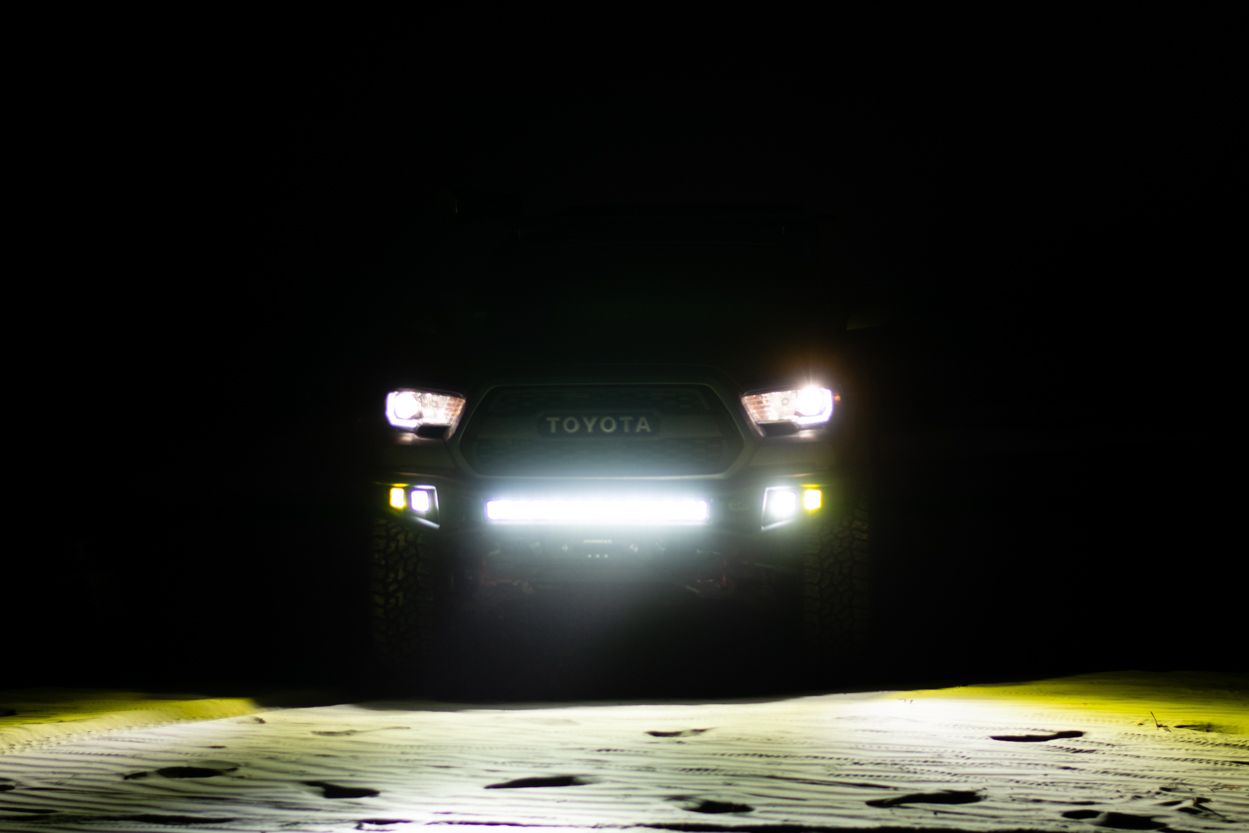 When it comes to choosing which lights to install on your Tacoma, one main question will arise: should you order flood or spot beam patterns?
Spot beams will produce a narrow but longer-reaching array of light. This means if you are moving at a high rate of speed or need to see further ahead of you, the spot beams will provide you with sufficient illumination. However, due to their long range, they will not illuminate the area immediately around your truck quite as well.
On the other hand, flood beams offer you a wide range of light without focusing it on one immediate area. Of course, this means the light output will not be as focused or intense as a spot beam.
If you find yourself needing to see far ahead, go for spots. But, if you are instead looking for more light in the area closely surrounding your truck, shoot for flood beams. The last option would be to install multiple lights with varying light beam patterns to get the best of both worlds.
Features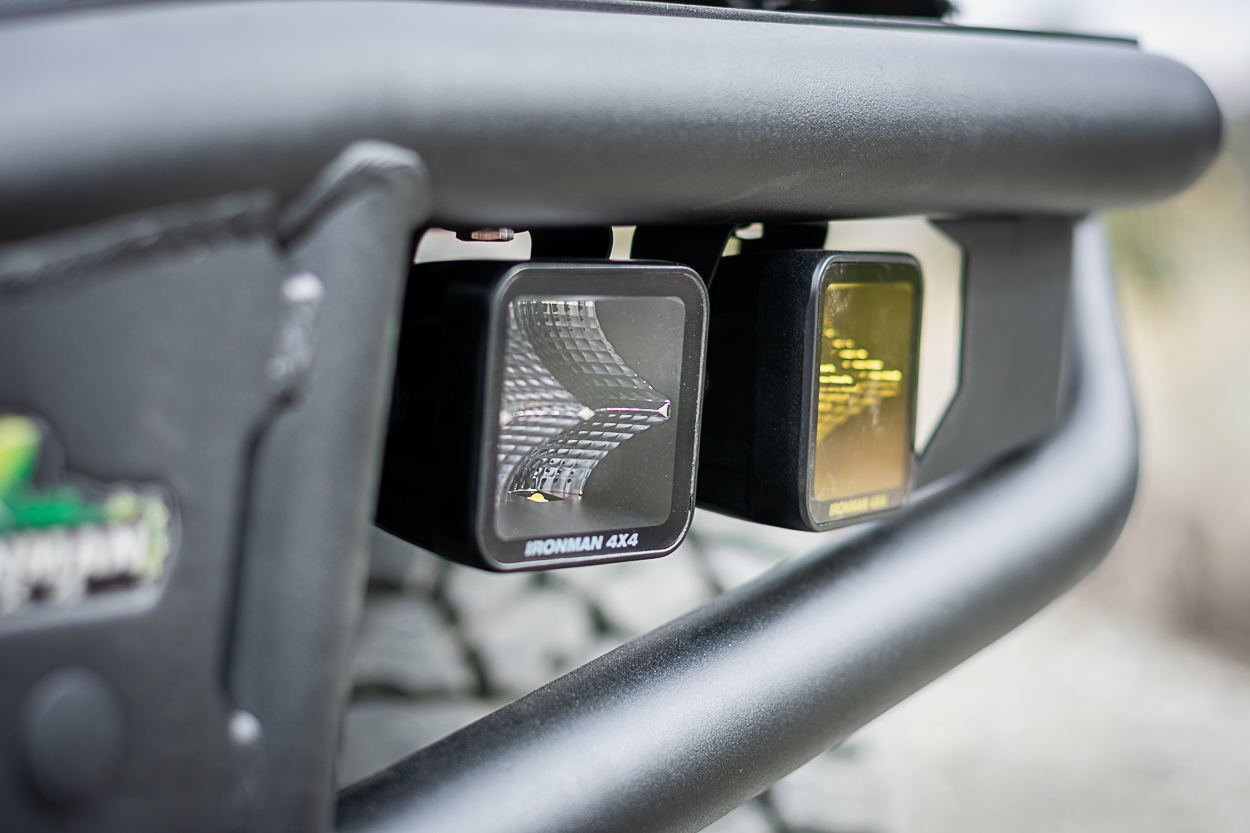 32″ Bright Saber LED Dual Row Lightbar
Dual Row LEDs
OSRAM LED chip for reliability and performance
Hooded reflector to reduce glare
Self temperature regulating to avoid overheating
IP67 weatherproof rating
20W & 40W LED Light Pods
OSRAM LED chip for reliability and performance
Bezel-free polycarbonate design to protect against rain, snow, and ice build-up
Hooded reflector to reduce glare
Self temperature regulating to avoid overheating
IP67 weatherproof rating
12-24 volt operating range
Initial Impressions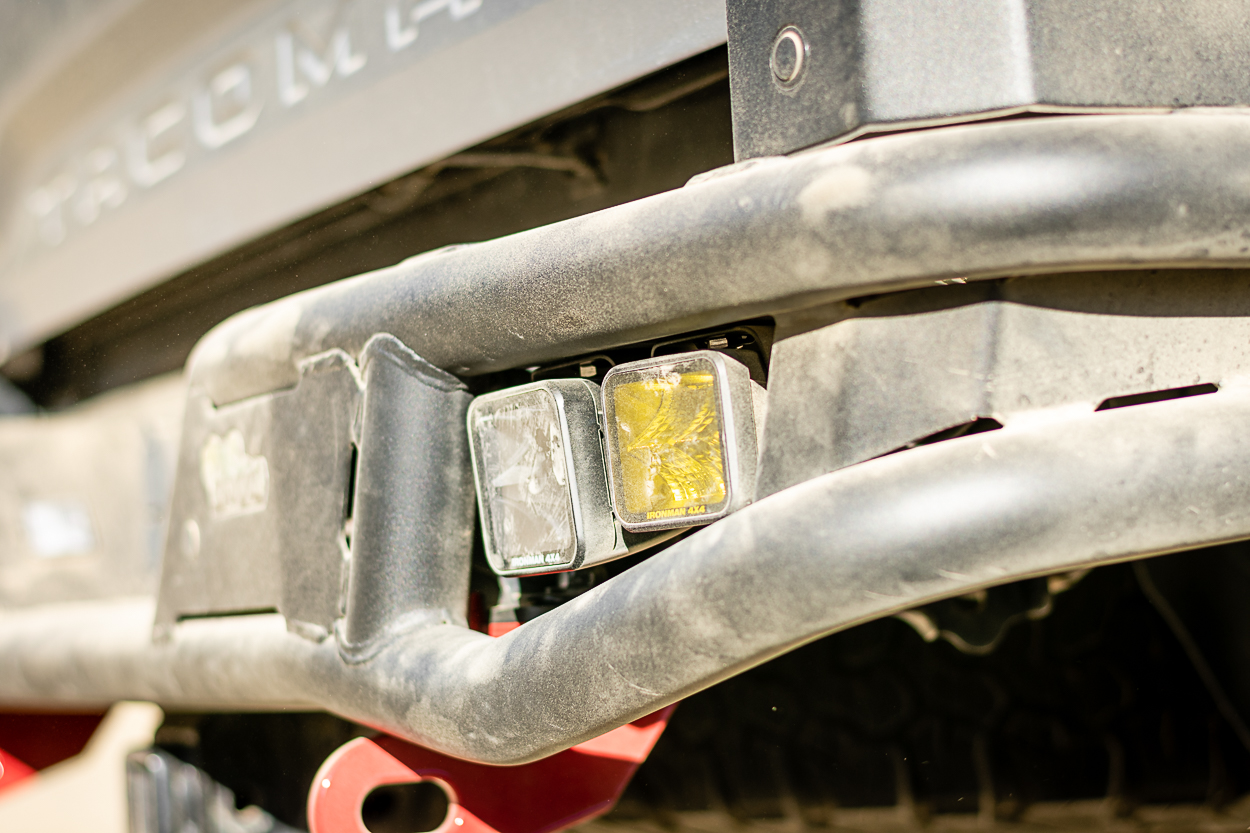 My initial impressions of this lighting setup were mainly about how much these lights expanded my field of view. Whereas my headlights only covered what was directly in front of me, these lights lit up everything ahead of me.
The 32″ Saber Lightbar also improved my view of obstacles directly ahead of me immensely. Being able to see even further past my headlights while off-roading at night gave me extra confidence to keep charging down the trail, and not worrying about missing a trail feature and coming in too fast probably saved my truck several times from undue abuse.
Another benefit to this system that I noticed immediately was other trucks seeing my lights from a distance. After installing this setup, during the first trail run I went on to test them, I experienced many more fellow off-roaders pulling off in advance or slowing down on blind corners.
Comparison Photos
In the sections below, we'll compare the light output.
Headlights Only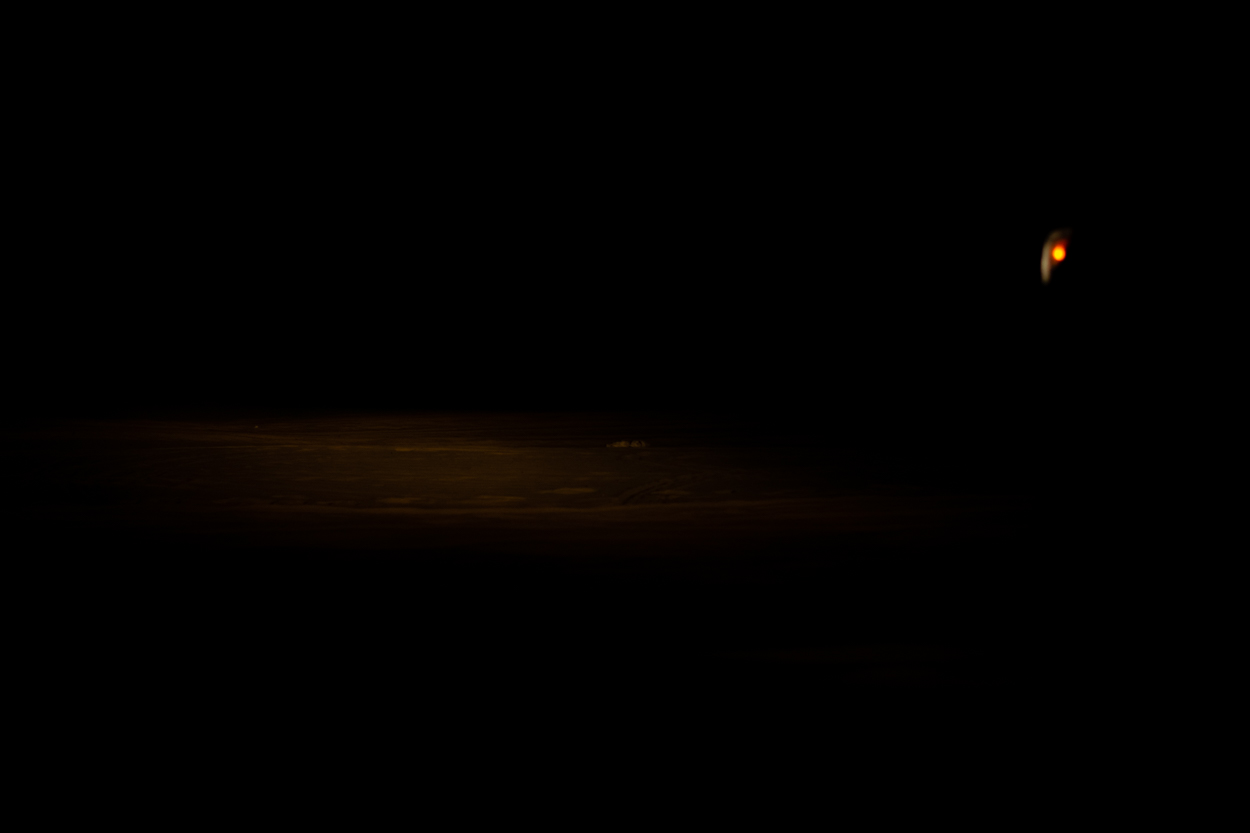 Headlights + Lightbar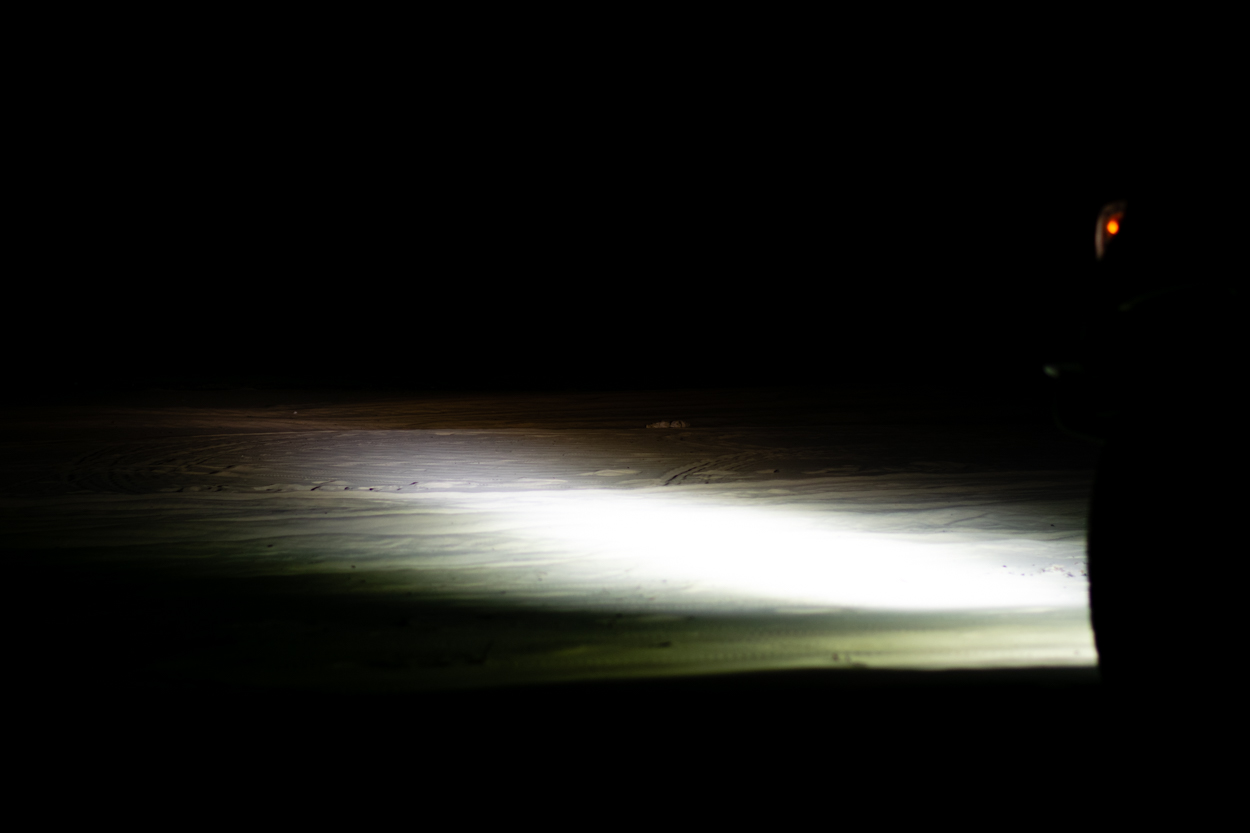 Headlights + Lightbar + White Pods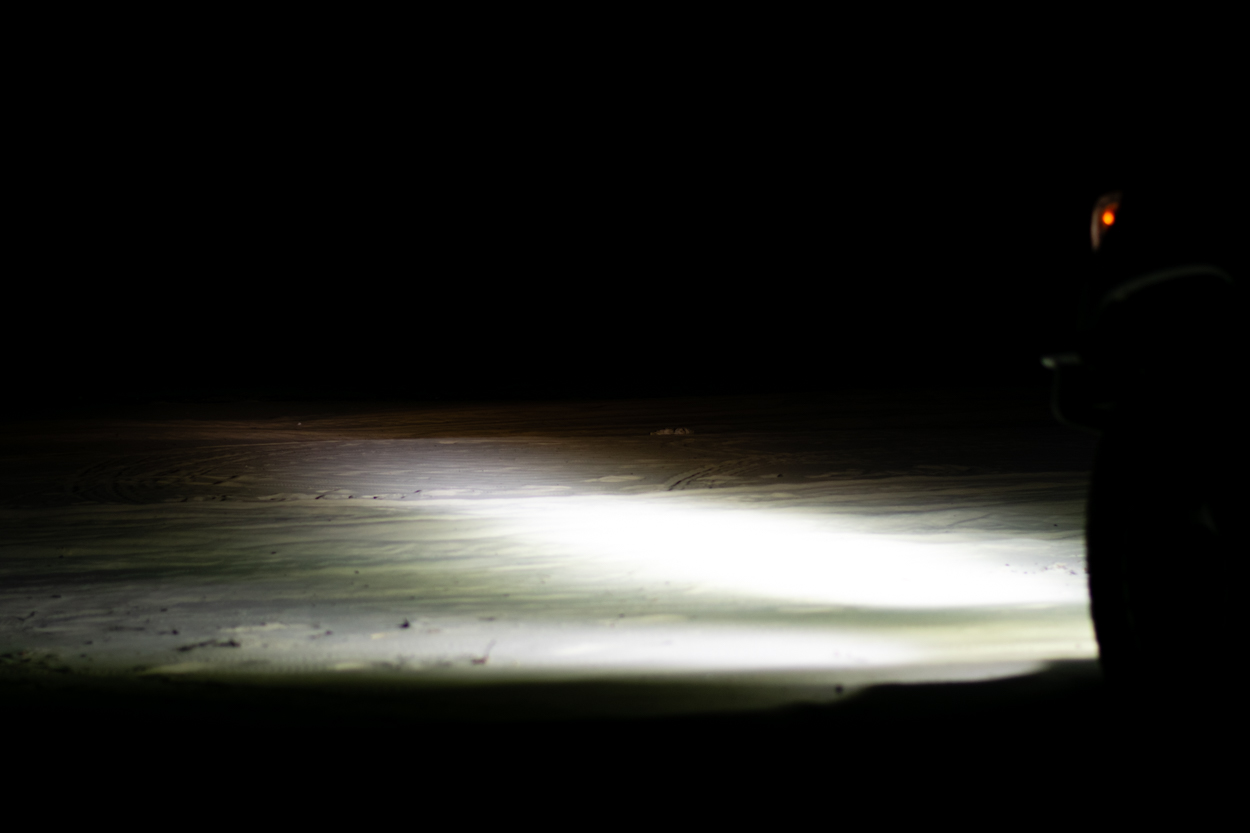 Headlights + Lightbar + White Pods + Amber Pods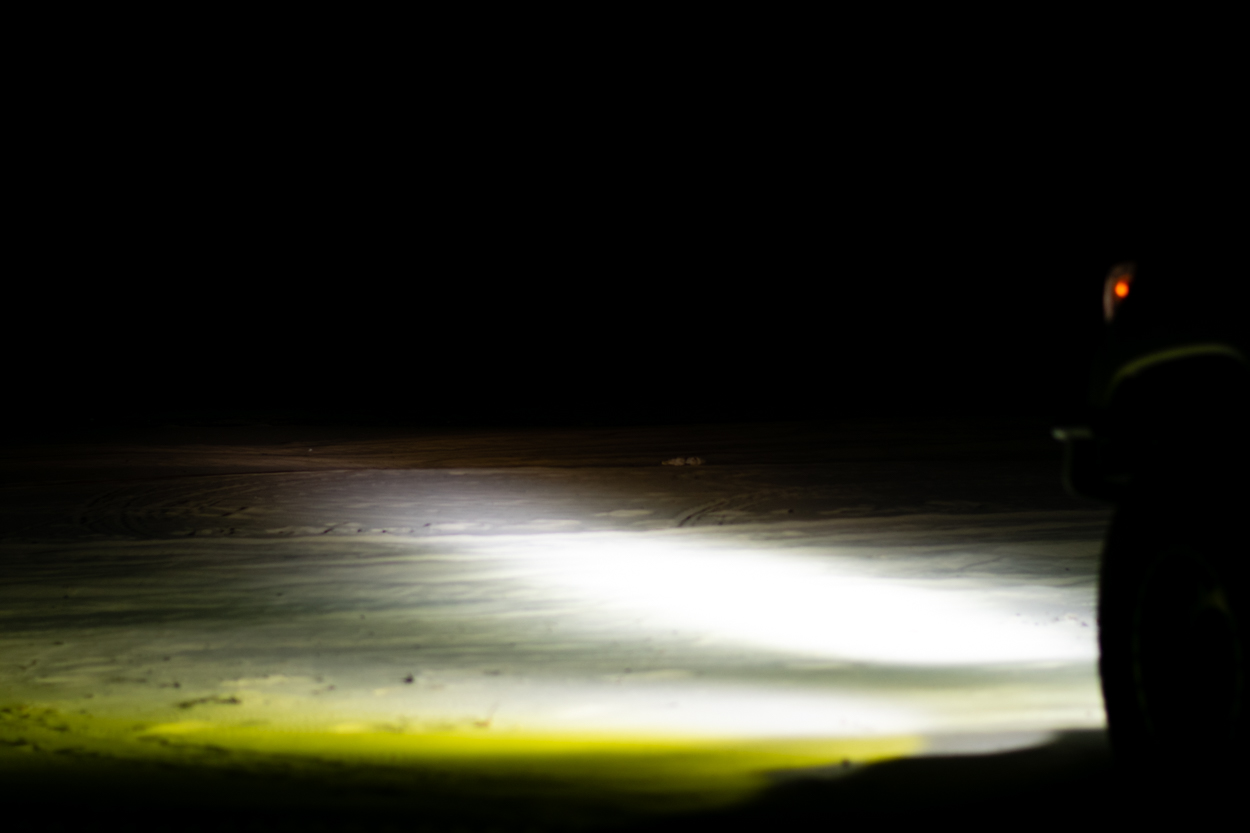 Reverse Lights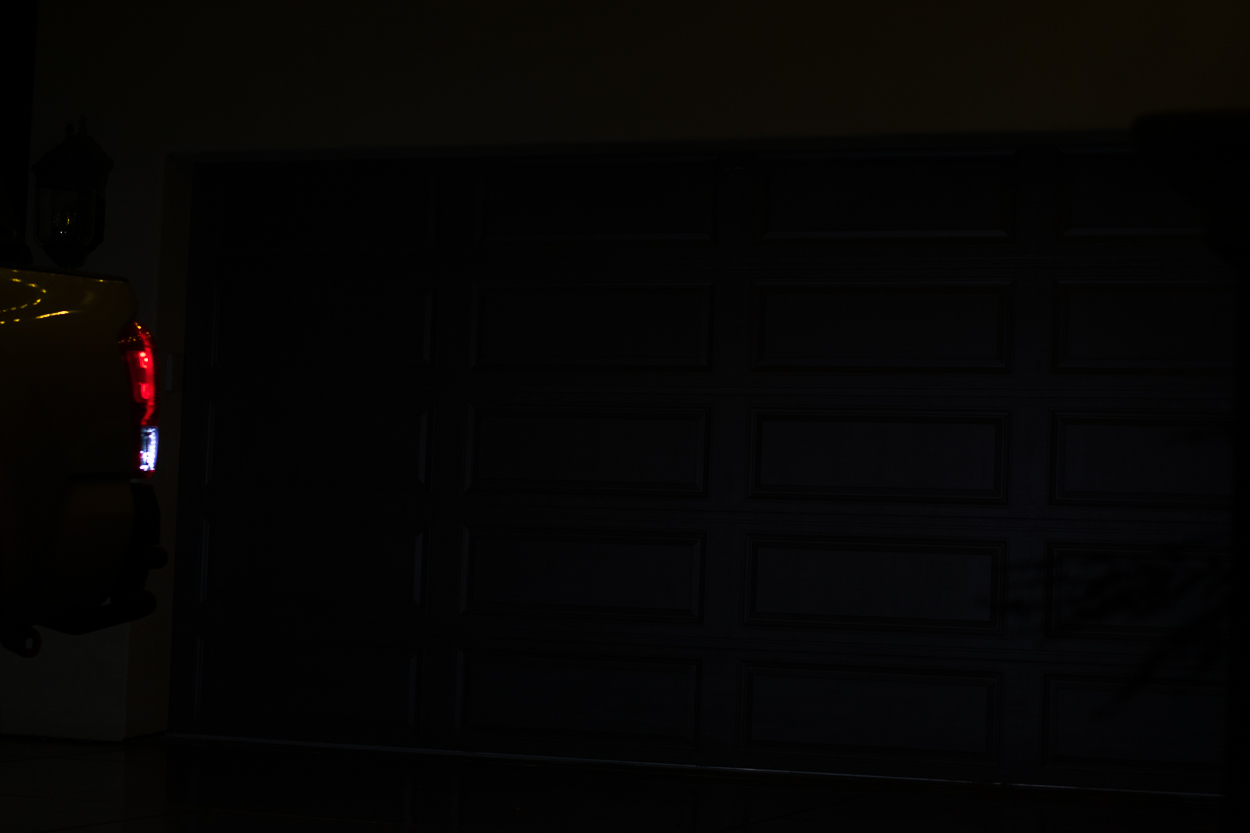 Reverse Lights + Amber Pods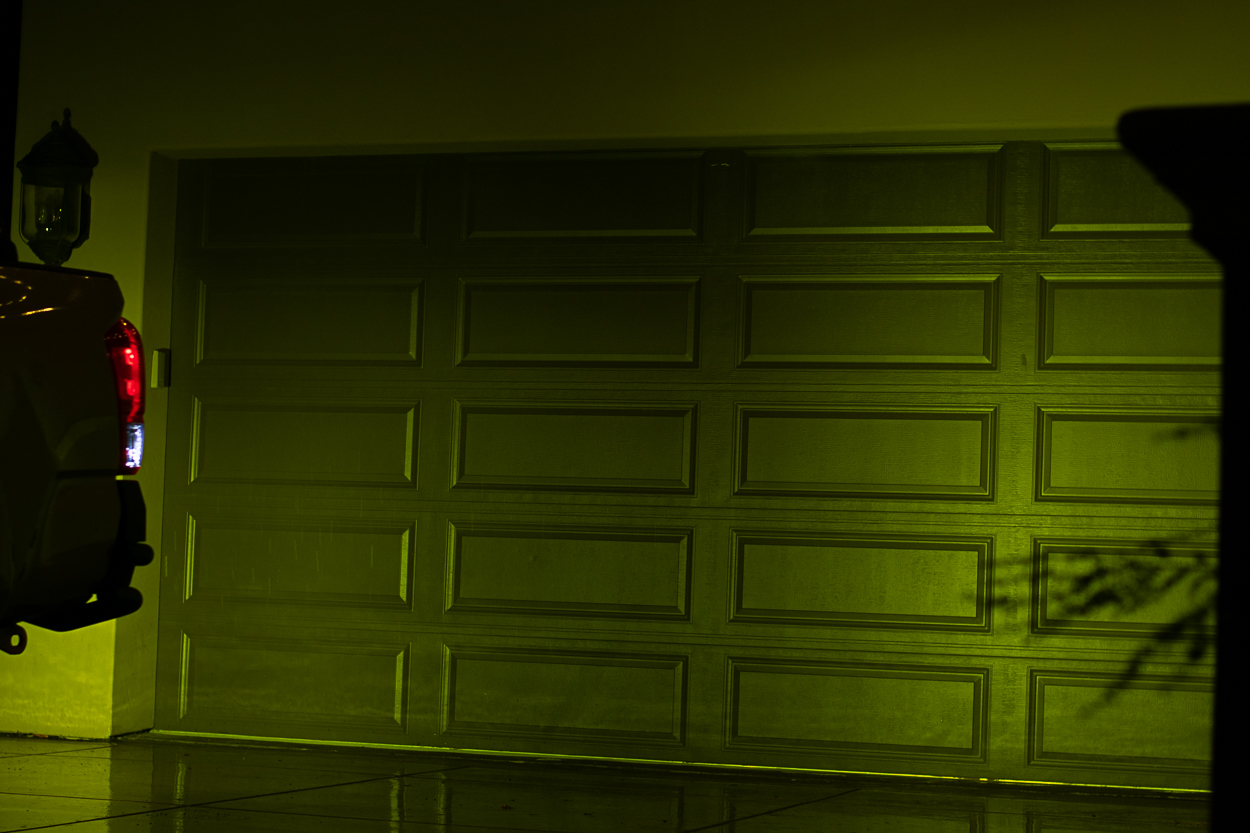 Reverse Lights + Amber Pods + White Pods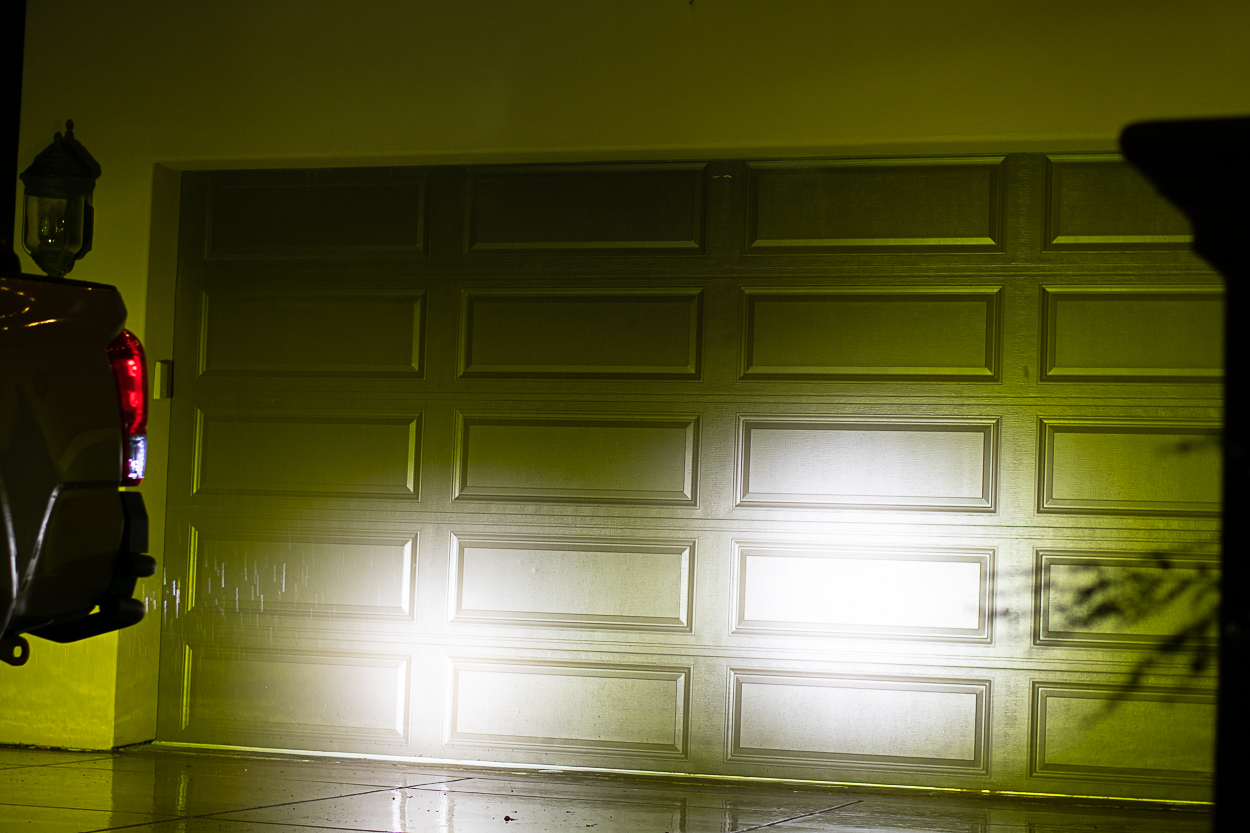 Final Thoughts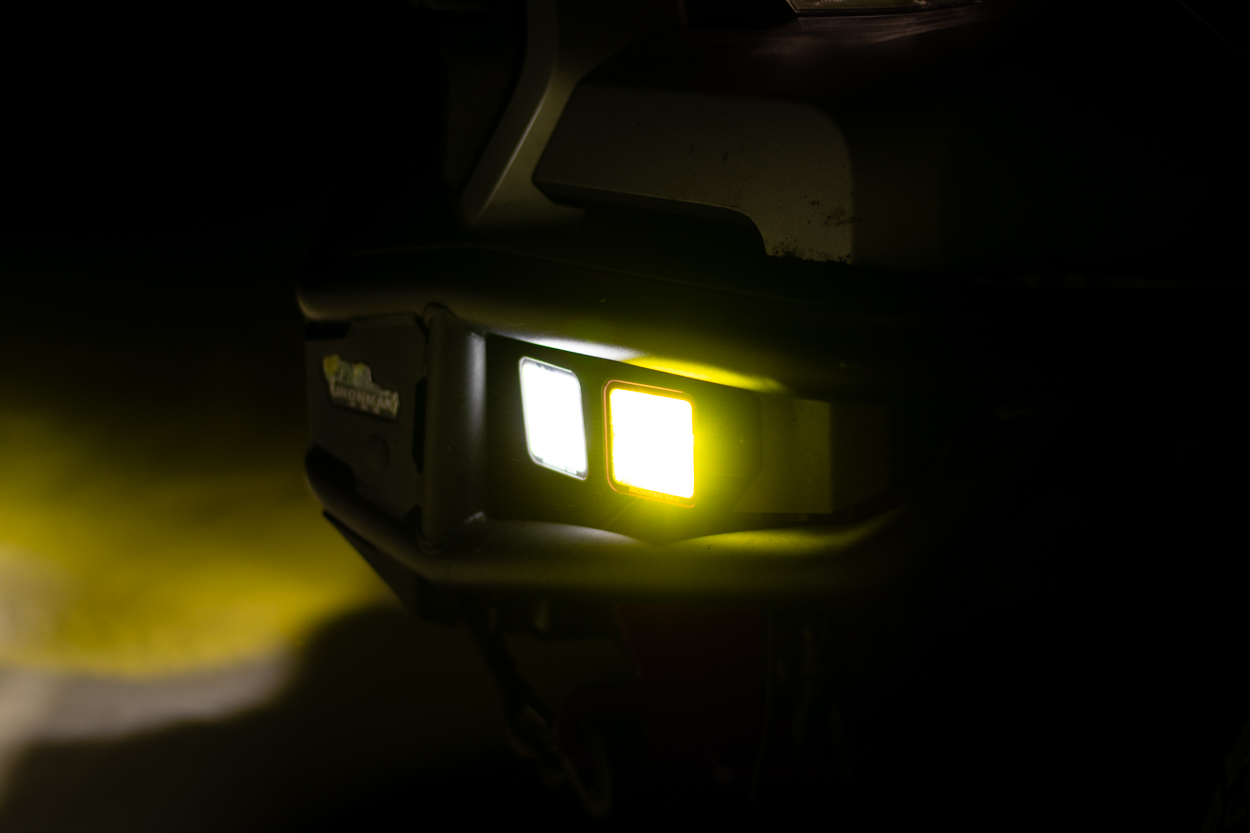 All in all, I am absolutely stoked about the Ironman 4×4 lighting system. Whereas many other companies designed their lights with "interesting" looks and gimmicks, Ironman was very straight to the point with these. The look is simple and clean, and they clearly do their job in terms of lighting.
One time that I noticed the benefits of this lighting setup most was on a night run at one of my local trails. This trail is very tight, with shrubs and tree branches overgrown on either side. It also has a lot of twists and turns that can catch you off guard if you do not see them ahead. Before having the Ironman system on my rig, driving this trail at night felt very sketchy.
However, with every shrub and branch illuminated by the outward-facing LED light pods and the upcoming trail features lit up by the 32″ dual-row light bar, I felt more than confident enough to continue adventuring through the night. As for the rear-facing light pods, when I am backing myself out of a troublesome section of trail or turning around at the peak, they light up everything far more than the LED reverse lights I installed in my OEM tail lights.
I would highly suggest the Ironman lighting system to anyone who likes to off-road in the dark. Especially for those who already have the Ironman front and rear bumper kits, installing these lights with the entire package makes the whole setup that much easier.