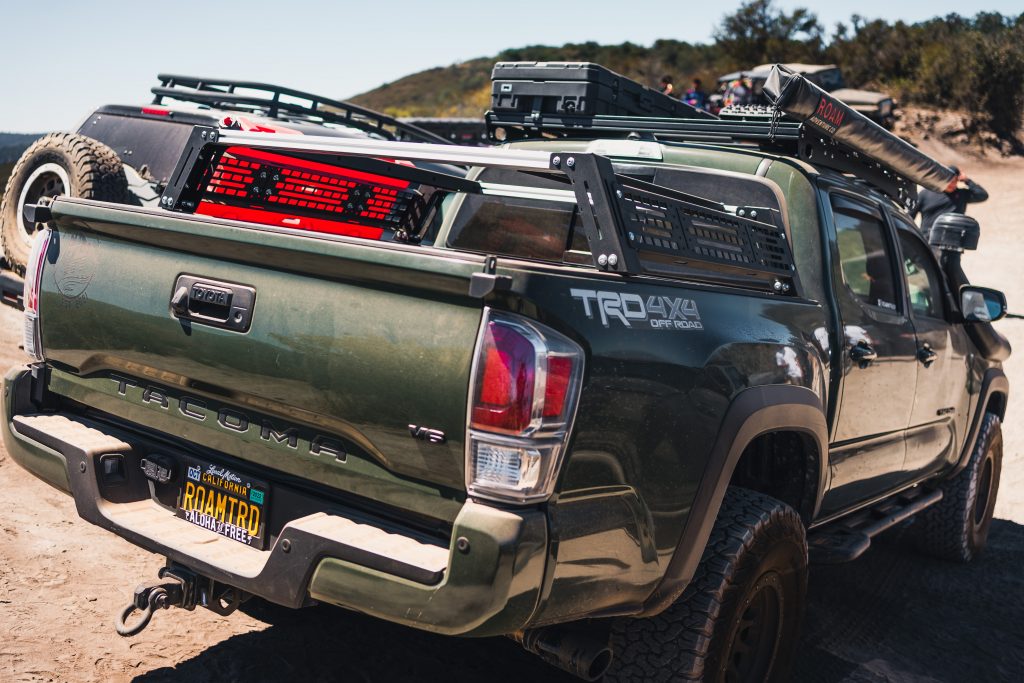 Cali Raised LED Overland Bed Rack For 2nd & 3rd Gen (2005+) Toyota Tacoma – Full Installation Guide, Review & Feature Overview
There are a healthy amount of mods in the overland world that expand the storage capabilities of your rig. As a Tacoma owner, one of the first things I looked into was a bed rack. They make organization easier and add multiple mounting points for accessories. As we all know, overlanders love their accessories!
I've gone through multiple bed racks to find the right height and feature combination that worked best for my style of overlanding. The rig has had both a full-height rack and a low-level bar system. Now, I think I've found the sweet spot with the Cali Raised LED Overland Bed Rack. This mid-height rack has tons of features and is easy to install on your own.
This post should provide you with a great reference point to learn more about how this system works. I've also linked my install video at the end of the post.
Find It Online
Cali Raised LED Overland Bed Rack For 2nd & 3rd Gen Tacoma: Check Price
Cali Raised LED Overland Bed Rack Side Molle Panel: Check Price
Overland Bed Rack Overview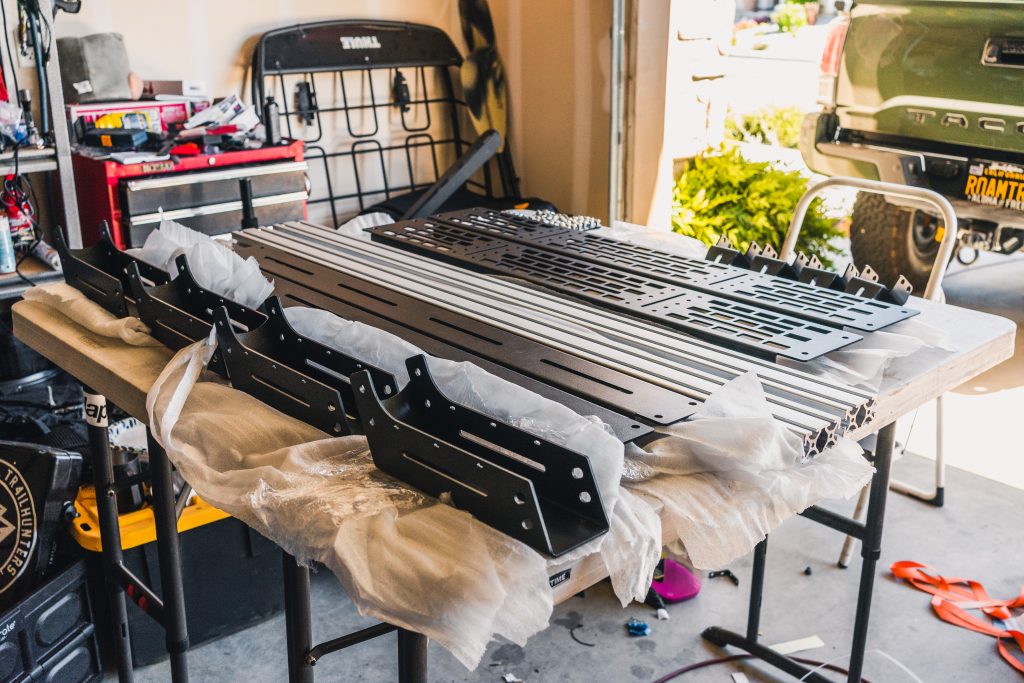 The Cali Raised LED Overland bed rack features two side MOLLE panels with predrilled holes for commonly mounted accessories like RotopaX and two vertical middle load bars.
The two middle load bars (oriented front to back) are unique. In most cases, the primary load bars are oriented side to side. With this rack, however, both sets of bars can be used to mount accessories. Every bit of space on this rack has a channel or optional panel where you can mount something.
This roof rack has a massive weight capacity, coming in at around 1,100 lbs! It comes with all the hardware needed to install, and like all Cali Raised branded products, an excellent 2-year warranty is included.
While I'm running the mid-height bed rack (10″ tall), Cali Raised offers two other heights as well – 7″ and 17.5″. Being able to choose from three different sizes is a significant benefit. And as a final point, they make them for short and long beds.
Required Tools
Standard toolbox
Basic hex key set
Basic Torx key set
Step 1. Attach Feet To Support Beams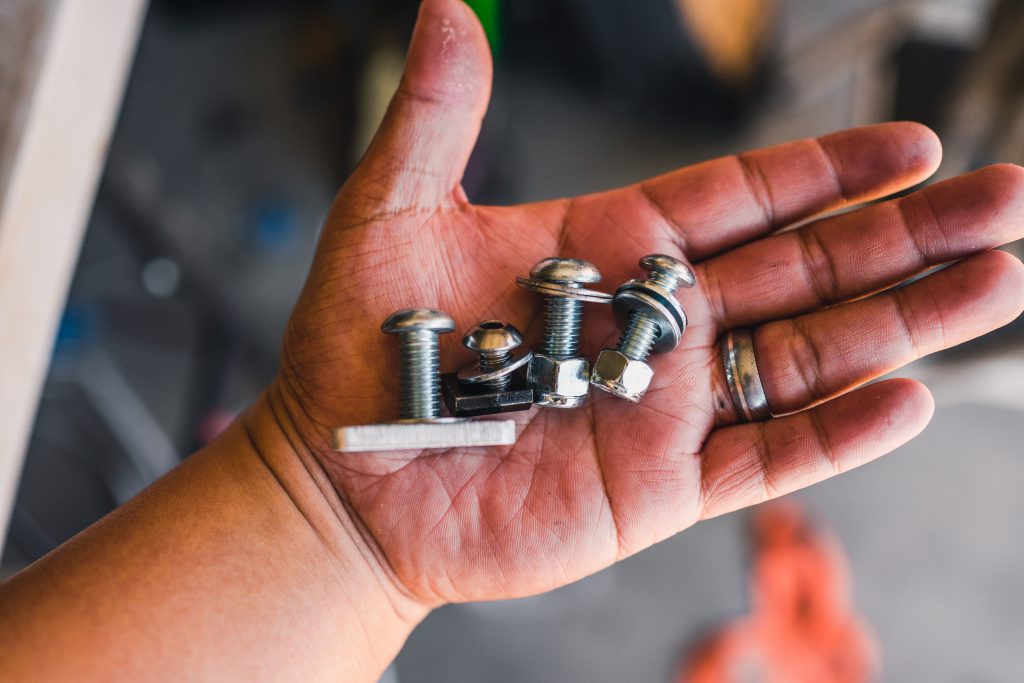 There are four different combos of nuts, washers, and bolts.
From left to right: bed track nut and bolt, extrusion bar track nut and bolt, bigger nut and bolt combo, and smaller nut and bolt combo.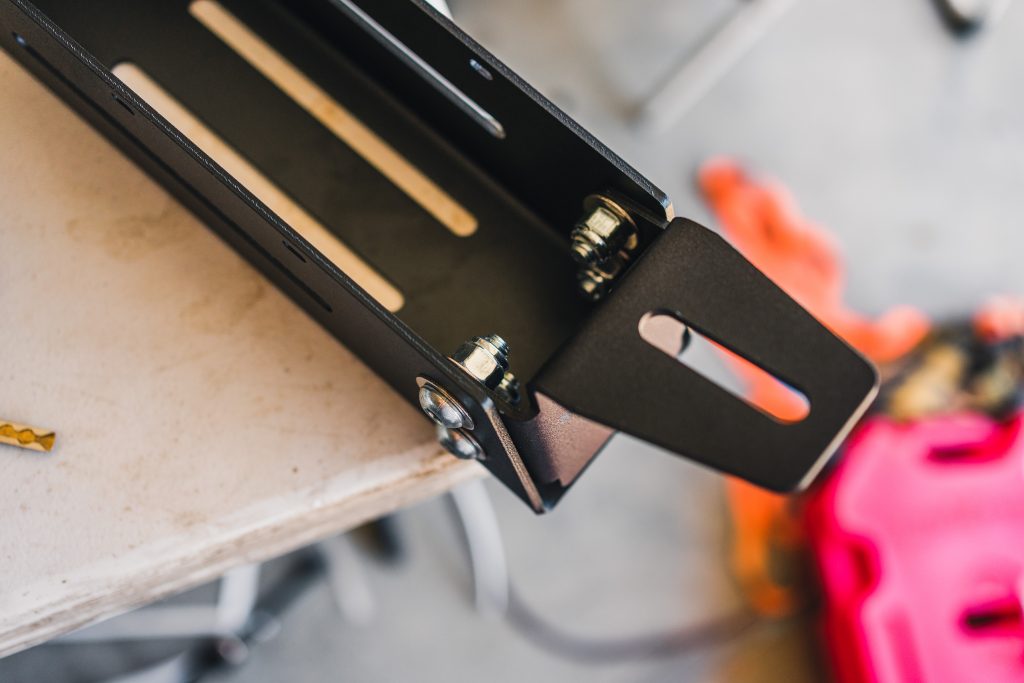 Using four of the larger nut bolt combos, attach a foot to the bottom of a support beam.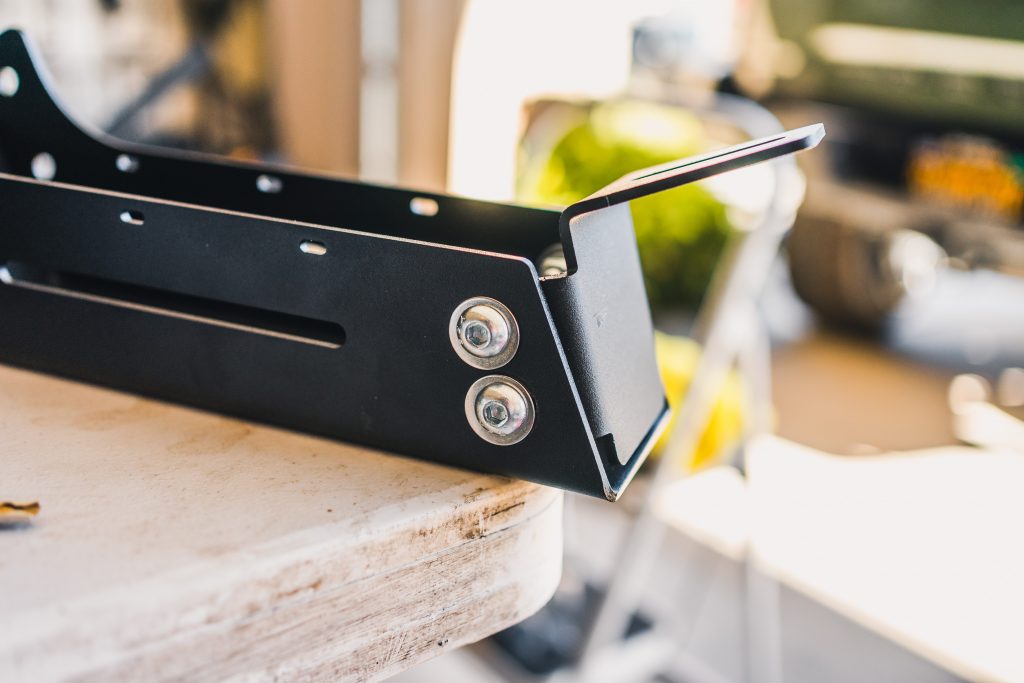 The foot should be positioned like in the photo above. Leave the nuts and bolts loose enough to move the feet until you have the rack built out. You'll want to adjust this later so that the feet sit flat on your bed.
At this point, you have the option of setting the rack up using a table like I did or attaching the support beams to the bed track and building the rest of the rack above it. It was 100+ degrees outside, so I decided to build the rack in the garage and drop it onto the bed later.
Step 2. Connect Load Bars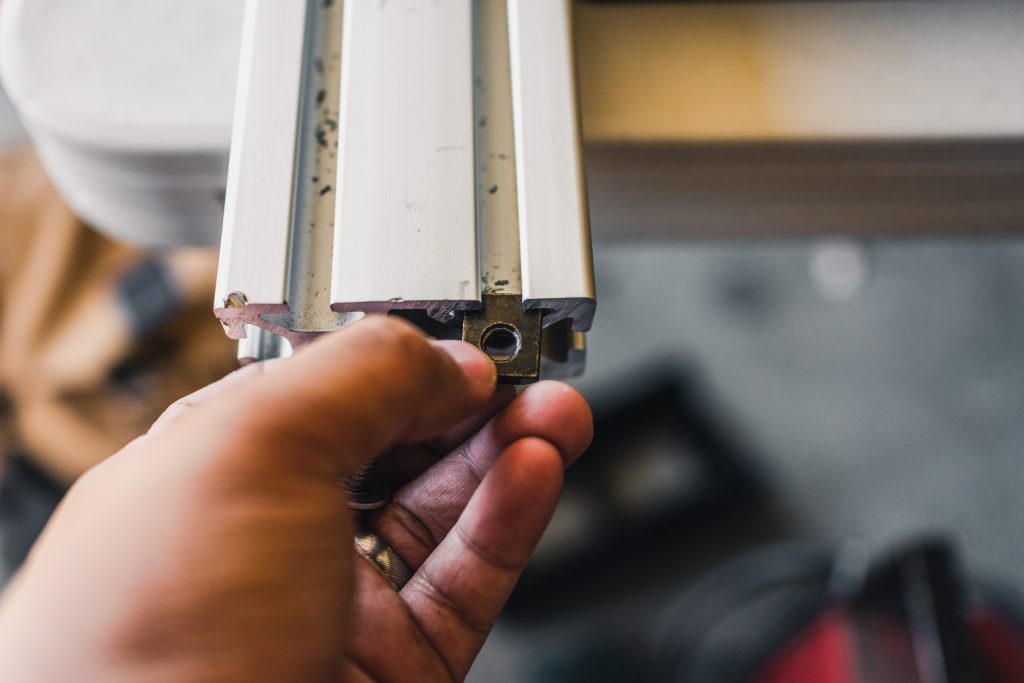 Slide the black track nuts into the top of the horizontal load bars. Eight in total will be used.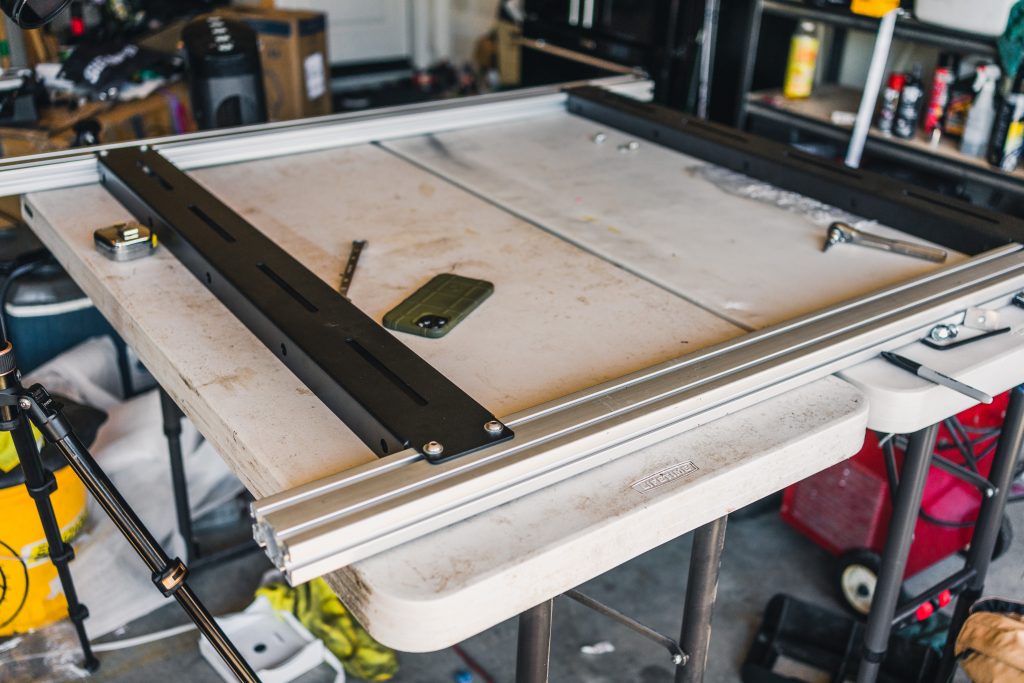 I measured out the distance to the edge the vertical bars could be not to interfere when mounting the support beams. This can be easily adjusted later. Tighten down the corresponding bolts as shown above.
Also, the top of the vertical load bars is flat, and the bottom is a U shape. Keep that in mind when attaching the support beams if you're doing this on a table.
Step 3. Mounting Support Beams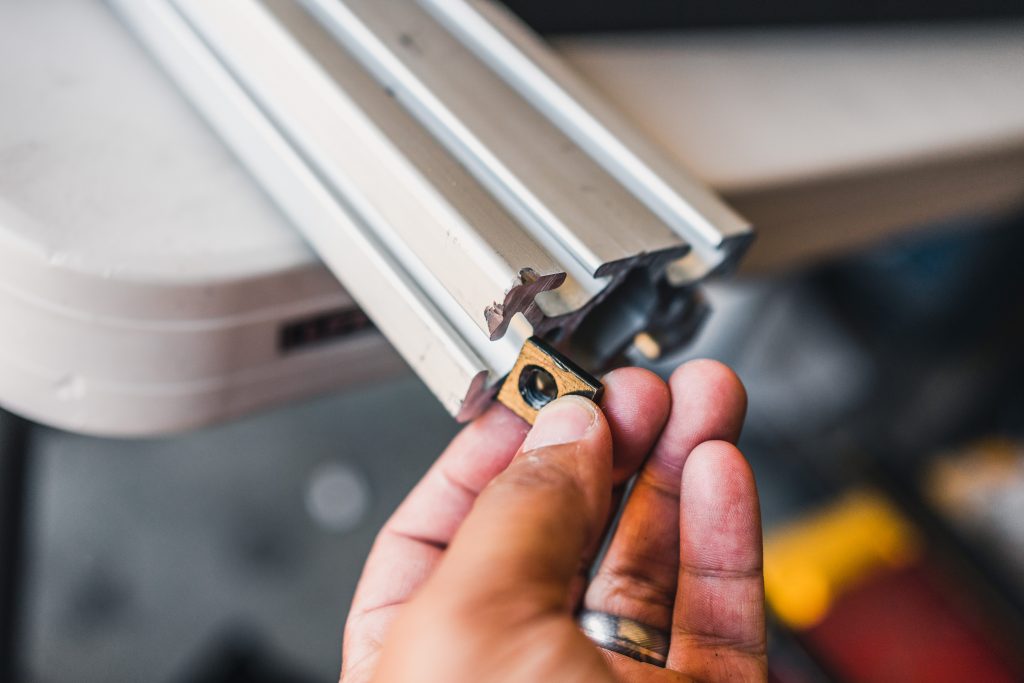 Slide track nuts into the side of the horizontal load bar. 16 total will be used, 4 per leg.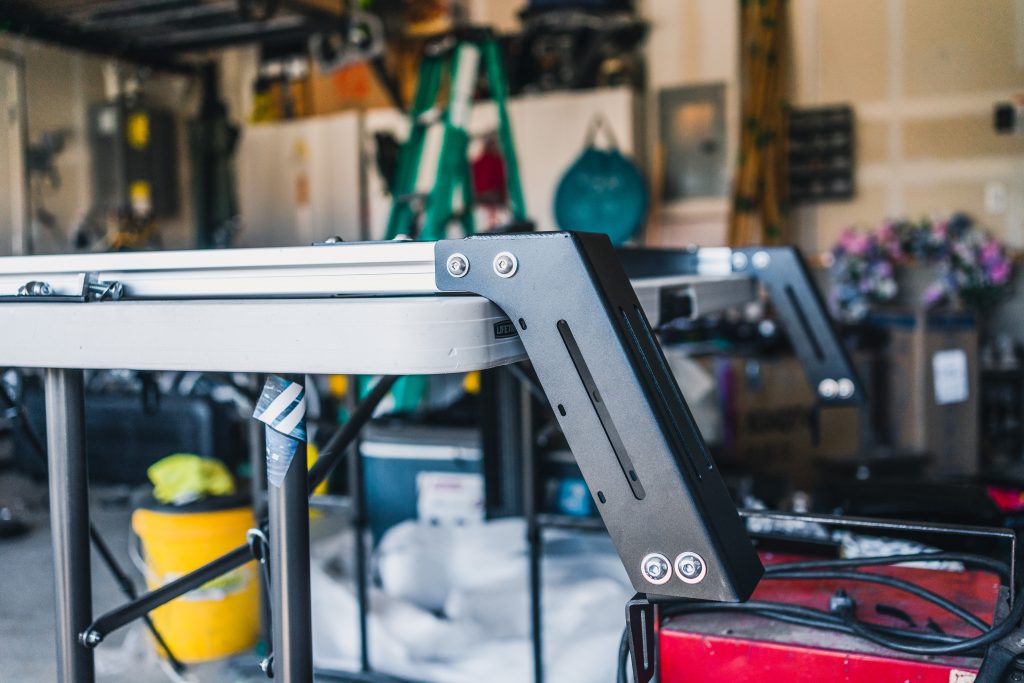 Attach the support beams to the load bars. If you're doing this with the beams already installed on the truck, you can tighten these bolts down.
If you're doing this on a table. Leave the nuts slightly loose so that when you transfer the rack to the bed, you can adjust and tighten it.
Step 4. Mount Rack To Bed Rails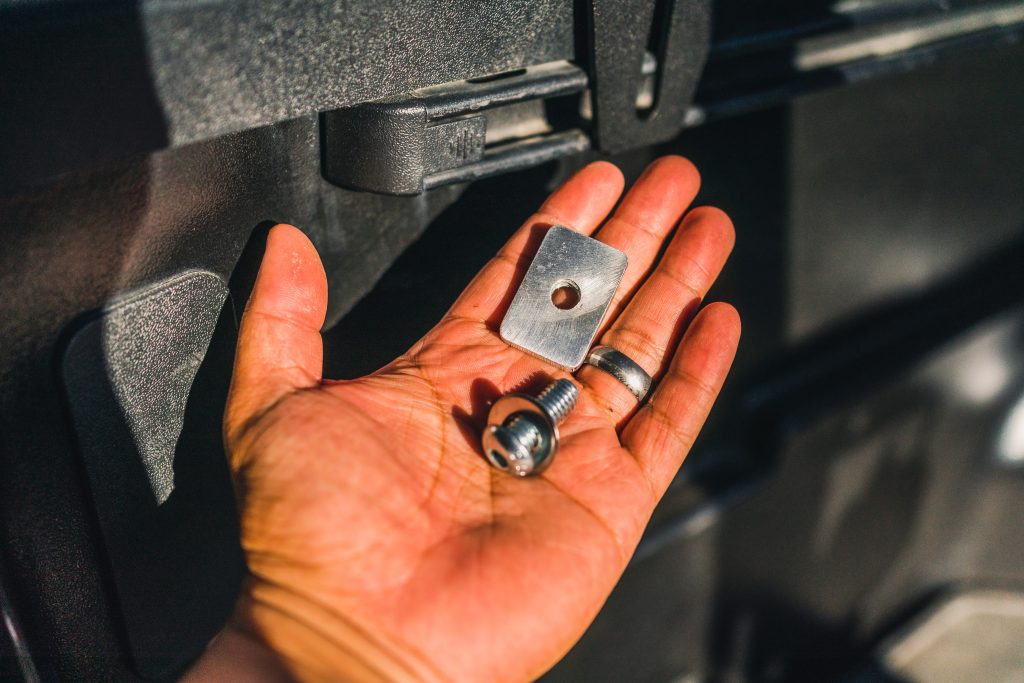 Move the rack to the bed and position it to about where you want it to sit after installation.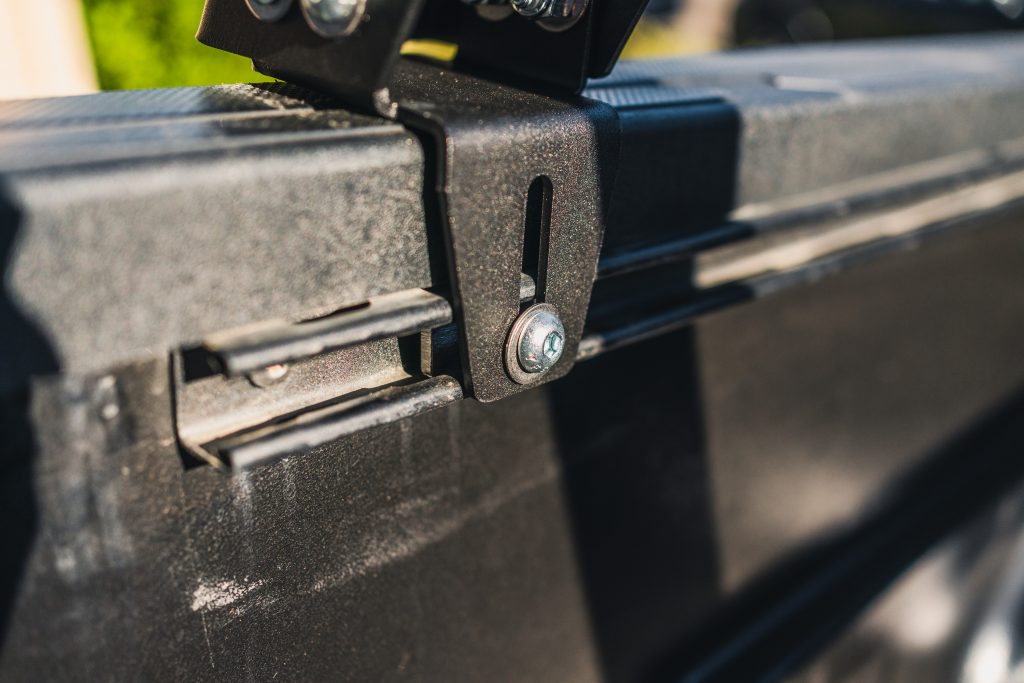 For this part, you'll use the bed track nuts to mount the rack.
Remove the corner plastic pieces of the bed track. Slide in a bed nut per side and connect the corresponding bed bolt. Leave lose until all four are attached. Adjust the final position of your rack and tighten it down.
Step 6. Mount Side Panels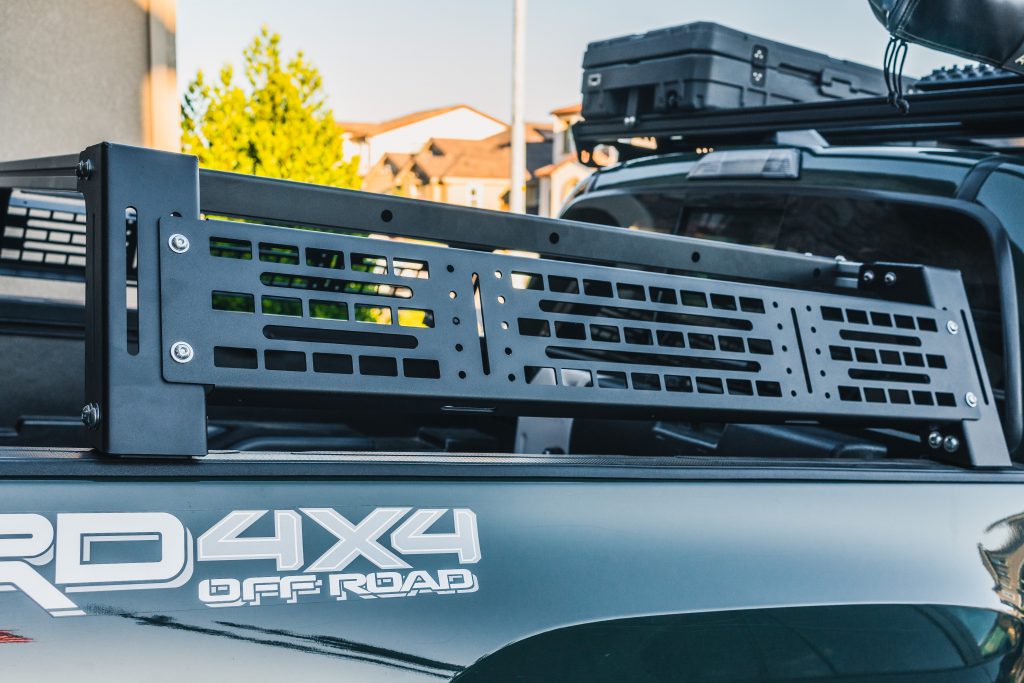 The side panels attach using the smaller set of nuts and bolts. There are four total nut and bolt combos that attach these to the support beams, as shown above. The panels are adjustable by about an inch up or down.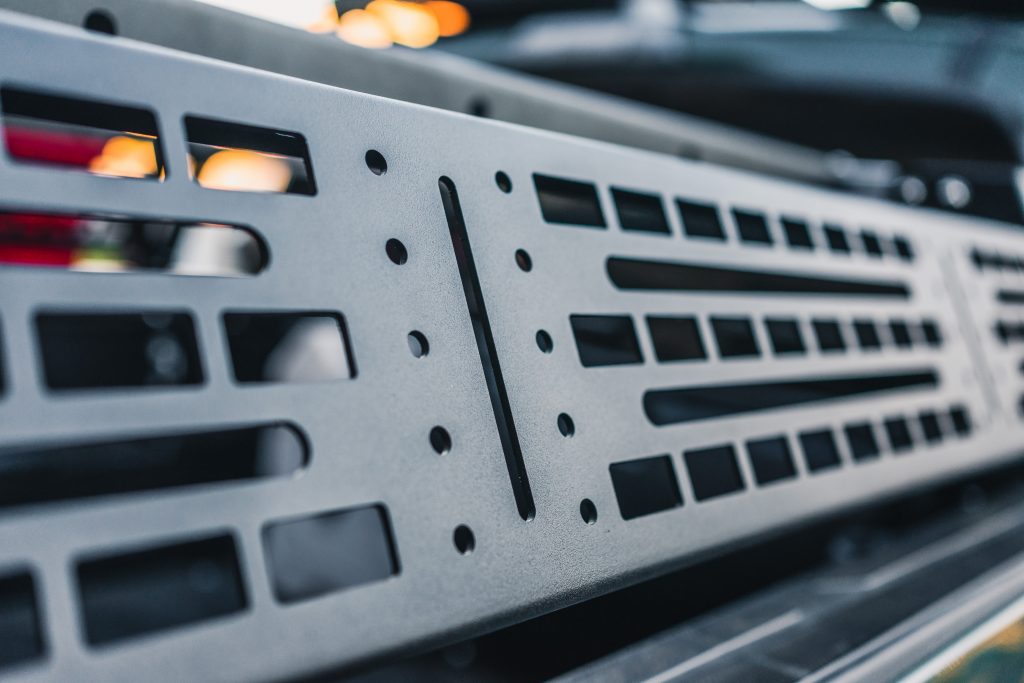 The side panels of the Cali Raised LED overland bed rack have predrilled holes for mounting common accessories.
Step 7. Attach Your Accessories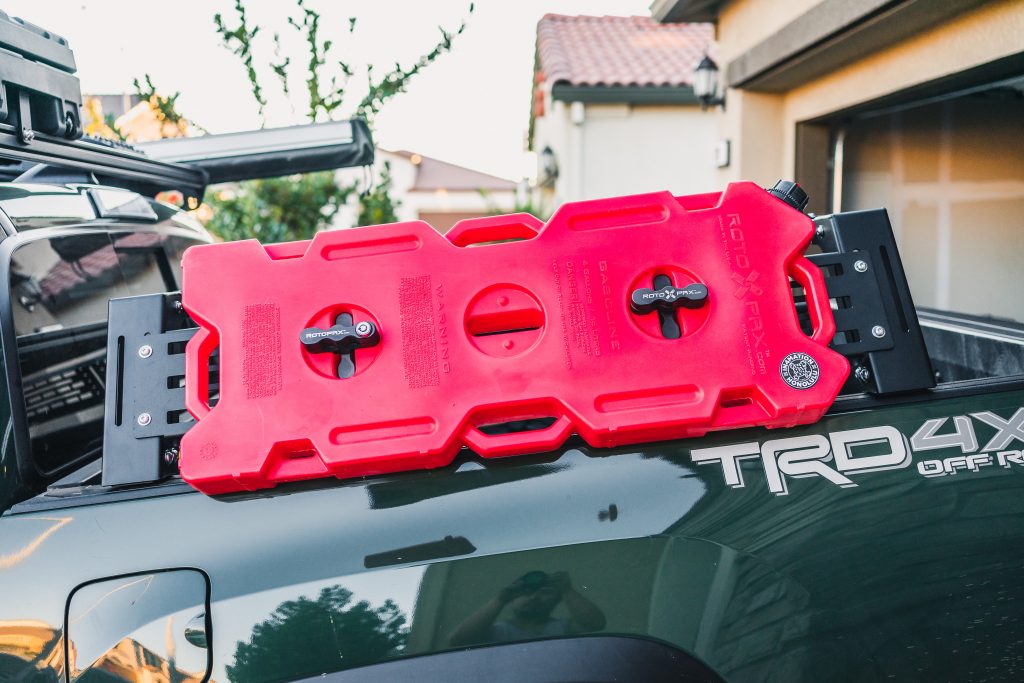 With the predrilled holes, it was pretty straightforward mounting my RotopaX. All that's needed is to insert the mounts where you want the Rotopax positioned and tighten them down.
Final Thoughts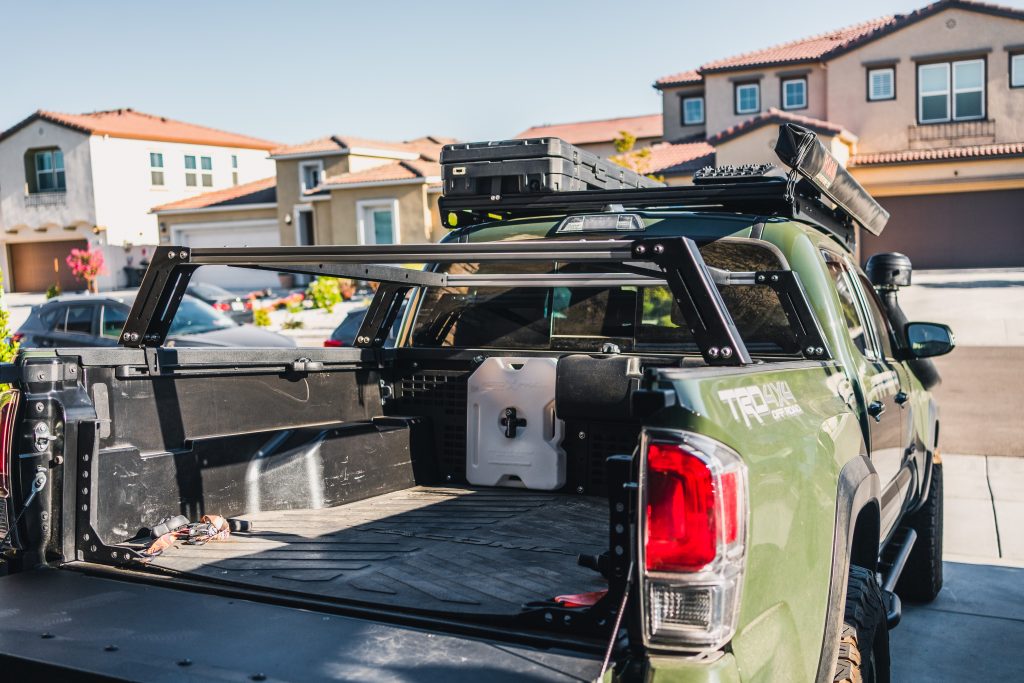 The Cali Raised LED Overland Bed Rack has been a great addition to the rig; it's much more sturdy compared to the other options I've run on the rig. I've also taken it on a few trails so far, and it's held up nicely! I haven't noticed any squeaking noises, and it doesn't sway back and forth as I've noticed on some of my older racks.
Attaching my RotopaX was a breeze, and with the full-side MOLLE panel. Mounting any other accessories will also be just as easy. I look forward to testing out what I can load these side panels up with.
What makes Cali Raised LED unique is how many products they fabricate in-house. That means that everything from your bed rack to your roof rack can have a similar fit and finish. That's a big deal if you're going for a clean look for your build. More to come!
YouTube Installation Video