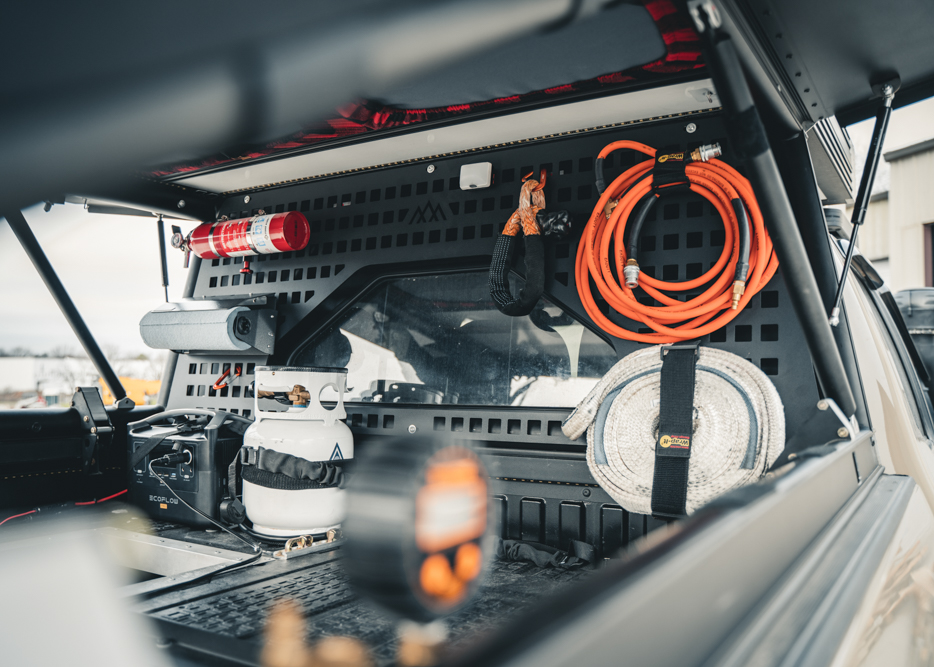 Backwoods Adventure Mods V2 GFC Camper Wall MOLLE Panel For 2nd & 3rd Gen (2005-2023) Tacoma: Add Modular Storage To Your Camper Build – Install & Review
Do you run a GFC V2 camper on your 2nd or 3rd Gen Tacoma? This limited-release product collaboration between Backwoods Adventure Mods & Trail Tacoma is THE answer to make the most of your setup.
The idea is super simple. The V2 GFC camper already comes with six threaded holes in the front of the space frame. This aluminum panel fits the entire "wall" of the inside of the front of the camper. It attaches to the space frame closest to the truck cab. Backwoods originally created a one-off custom panel for Grant – @grizzy.gram. Grant is a part of Backwoods Adventure Mods and has some rad things going on with his brand – ARK Offroad. His YouTube page is chock full of 4×4 content.
I'll embed Grant's latest video at the end of the post, which contains details about his GFC setup and the panel we've been working on.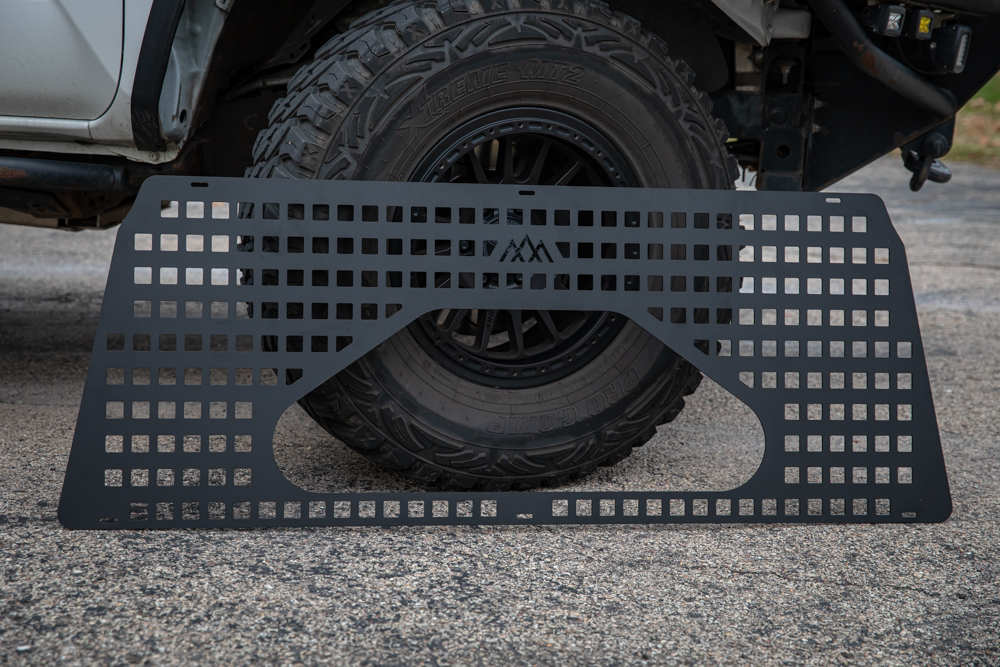 In any case, we saw an excellent opportunity to do a limited release of this panel to the GFC market. So, over the last couple of months, the design has been perfected, and we are ready to launch a heavily discounted group buy for anyone looking to optimize their camper build.
We are launching a giveaway with Backwoods this Friday (12/16/22) for one of these panels to kick things off. There are also two other prizes: a pair of amber or clear 9″ PROWLR LED lights ($500 value) and a $250 gift card to the Backwoods site. We will have a main feed post on our official Trail Tacoma Instagram dropping on Friday for those who would like to participate. More information below.
Order Your Panel Below
Instagram Giveaway – Opens 12/16/22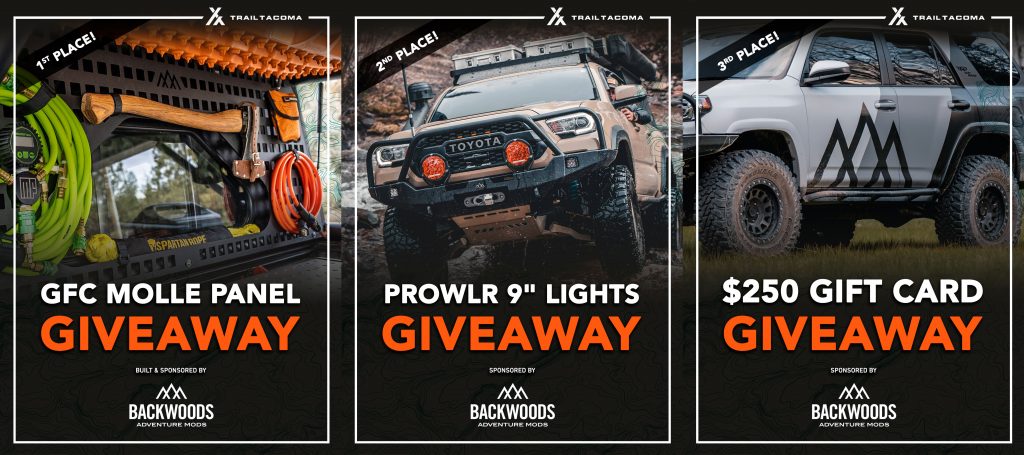 To kick things off, we are opening this joint giveaway with Backwoods this coming Friday.
This giveaway is launching on Instagram via a collaborative post on 12/16/22 at 8 AM PST.
Affiliate IG accounts linked below. Do not respond to any fake pages.
Discounted Group Buy Details – One-Time Production Run!
As mentioned, this is a ONE-TIME production run. The details are very simple.
Launch 12/27/22 direct links (to be added to this post on launch day)
Open for ~2 weeks
$269 final price
FREE shipping
$25 non-refundable deposit is required to hold a spot
Goal is to deliver all orders by (latest) early February
Features & Specifications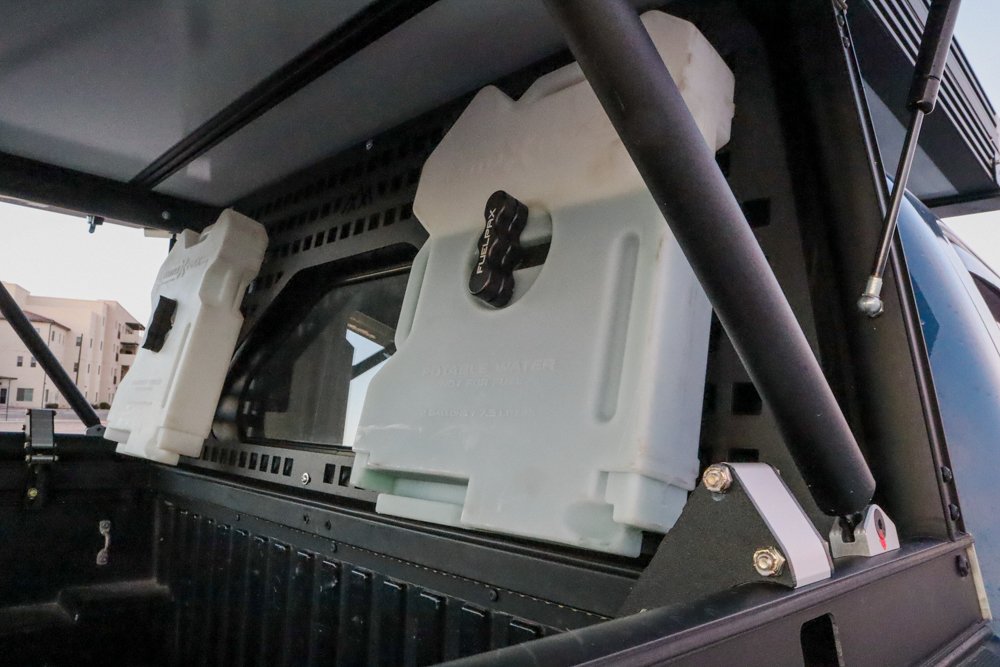 5-gauge aluminum
Textured black powder coat
Super lightweight
Quick/easy installation
***window cutout and no window cutout options available***
Installation
This may be one of the most straightforward installs I've had to perform. Remove 6 Allen bolts. Place panel on space frame. Replace bolts. That's it!
I've provided a quick outline below.
Step 1. Find The 6 Allen Bolts On Your GFC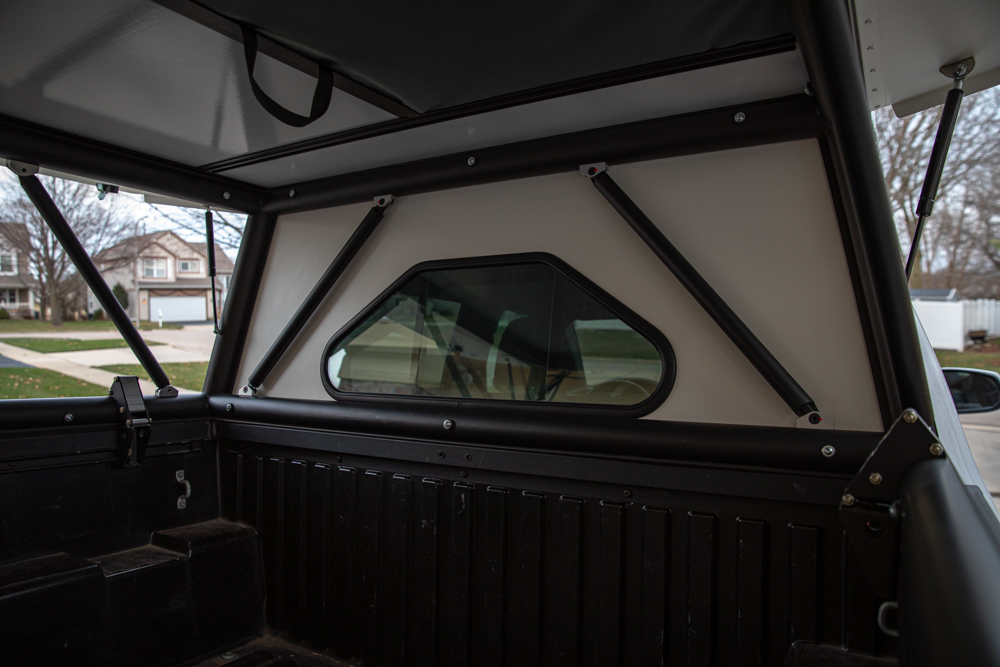 You can easily see the silver heads of all six Allen bolts around the top and bottom perimeter of the space frame.
Step 2. Remove All Of The Allen Bolts
The first step is to remove the bolts. The washer will come out with the bolt but do not remove the rubber piece. Its purpose here is to prevent the panel from directly touching the space frame and rubbing away the paint over time.
Step 3. Place MOLLE Panel On Space Frame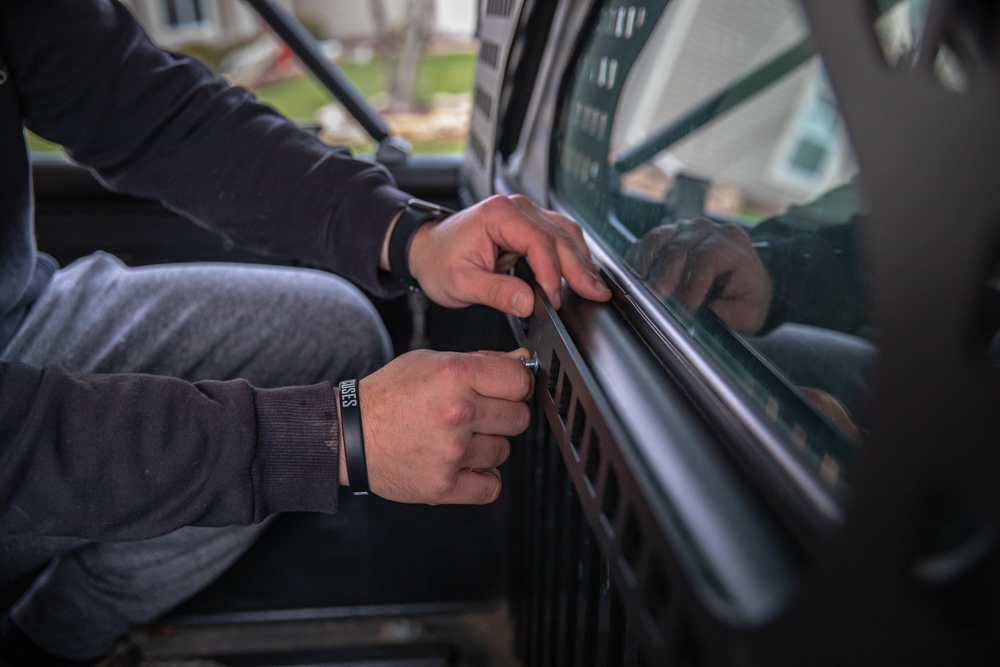 Again, super simple. The slots on the Backwoods panel have a good amount of room to adjust from left to right. Center your panel as best as possible, and securely tighten down all six Allen bolts.
Panel Mounted On V2 GFC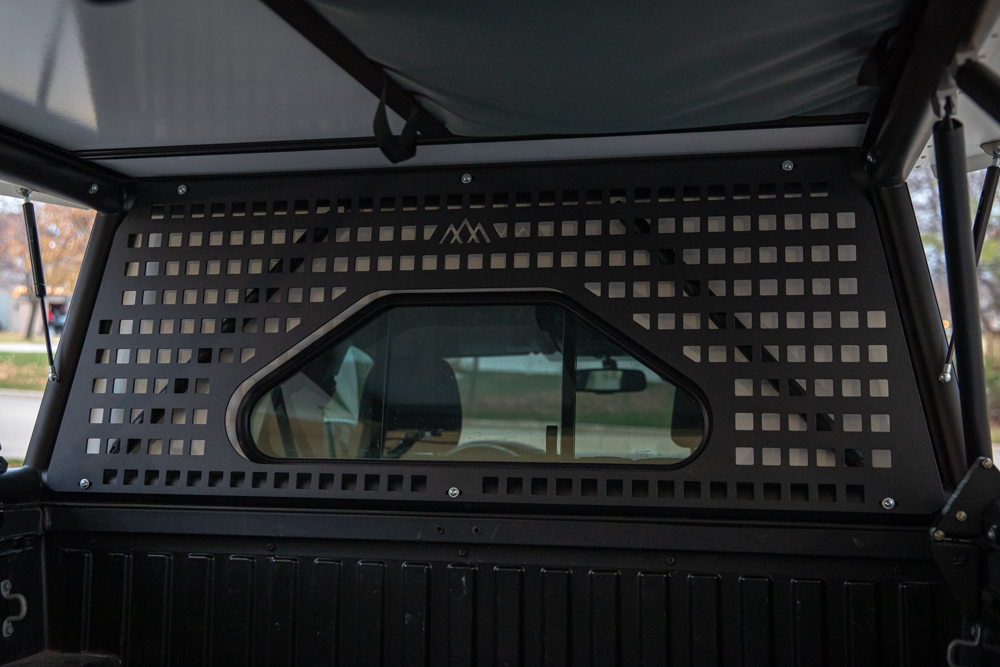 The aesthetics of this panel are great. One of the reasons we chose to team up with Backwoods Adventure Mods is because their team has a knack for solid designs and quality products. After installing one of the final prototypes on my truck, especially in person, I can actually vouch for a really well-put-together panel.
The window cutout and the MOLLE slots' placement are perfect. It's easy to get carried away or compromise the panel's integrity with a poor design, but Backwoods stuck to the basics – and we got a great product out of it. Their branding looks cool on the panel too. Of course, since we all love to hit the mountains, it's super appropriate.
I really enjoy my GFC straight off the production line. But I knew it had a lot of potential for a solid build-out. With this panel, I'm well on my way. This was one of those mods where I had a massive smile on my face the entire time when first discussing the project, down to the moment it was finally bolted on. I'll likely start by adding a fire extinguisher, an ax/hatchet, recovery/kinetic straps, some soft shackles, and perhaps some storage bags. Time will tell as we play around to find the best setup.
In this shot, you can see Grant's complete setup. It's ridiculously dialed.
He's running the first raw prototype here. You can also easily see a Dometic fridge, and a Decked platform where he cut out the area surrounding the drawer on the left side and finished it super cleanly. An epic setup in any book!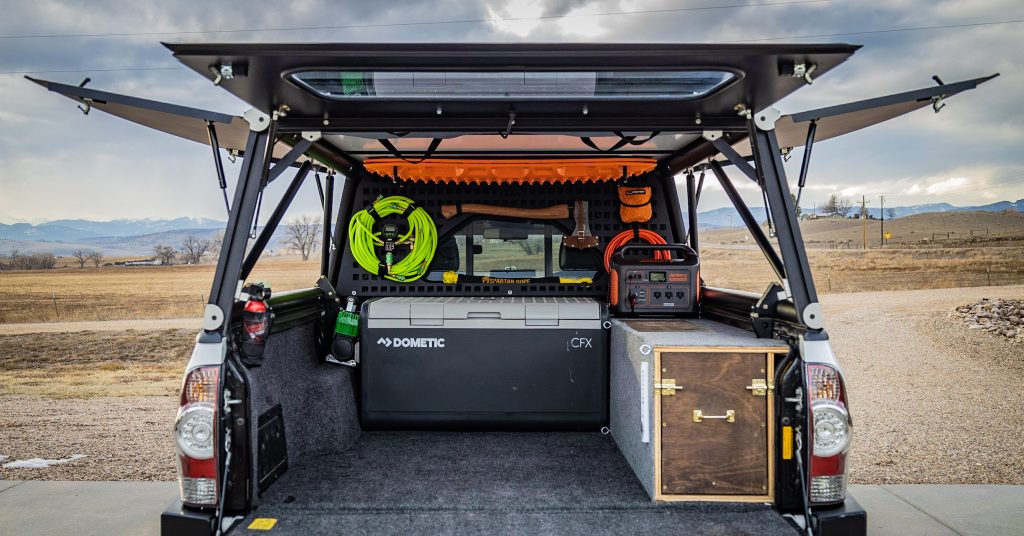 Ryan's 2nd Gen has a great load out too – and a custom storage setup on the right side. With a Dometic fridge and a power station, he's well on his way to being self sufficient.
On the panel, he's running a MORRFlate, ax and some recovery gear. There's also what I believe is a tire repair kit.
Final Thoughts
Figure I'd drop this photo for the finale. Yes, that's the same 2nd Gen Tacoma as seen above – on 40s – with long travel. Unreal! But back to the panel…
Simple, solid, and releasing with a super solid price point. I think we've covered all the bases with this one.
Let me know if I missed anything!
GFC Camper + MOLLE Panel Sale Video