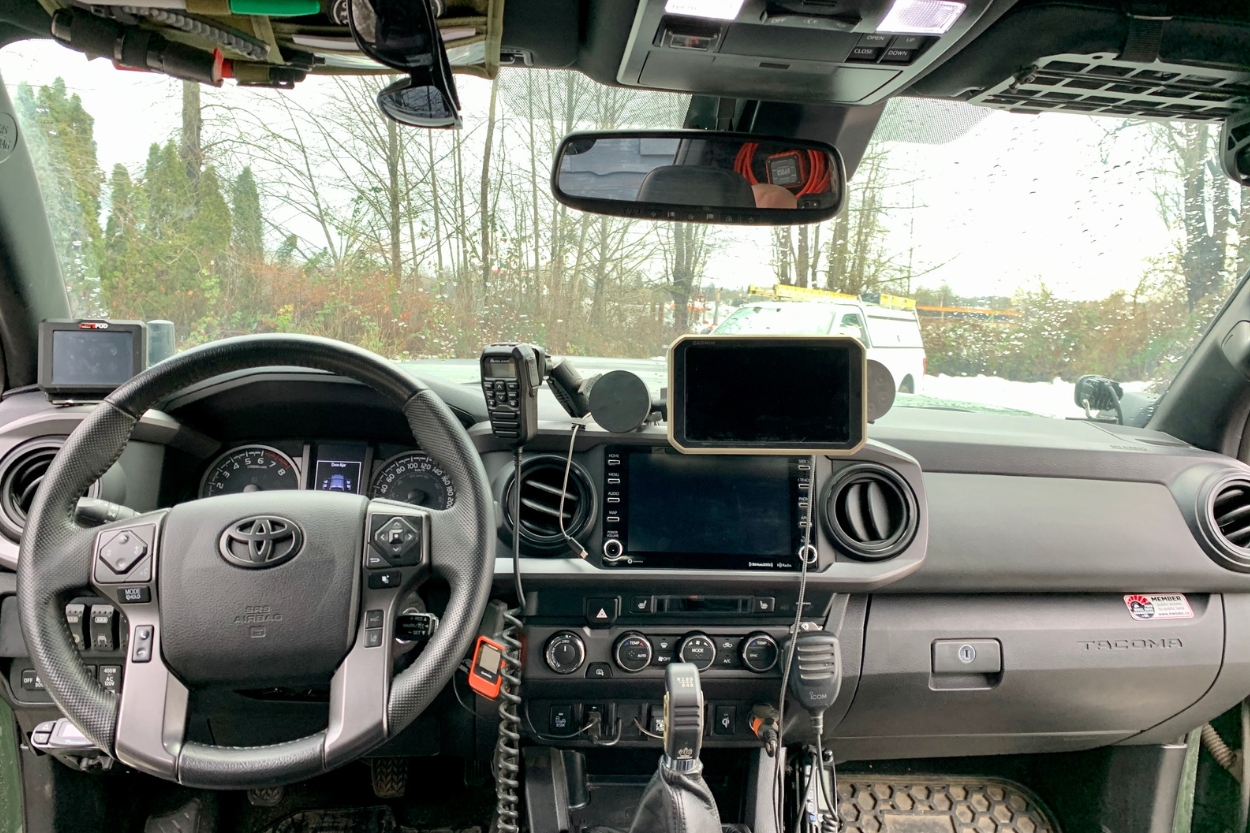 We Asked Three Toyota Owners What Their Top 5 Tacoma Interior Mods Are – Here's What They Said!
This Week's Topic: Tacoma Interior Mods
Welcome back to another Taco Tuesday! If you missed last week's TT, we looked at Tacomas with raptor lights.
This week, we are looking at several Tacomas and their top 5 interior modifications that you may want to consider. Keep in mind, that these mods work for their builds and may not be ideal for yours. To each their own, and that's why we love the mods community! Check out our Top 15 Interior Mod post too.
Everyone's Tacoma build is different when it comes to essential mods. For example, some look to remove their whole rear seat area, while others are perfectly fine with a simple chrome delete. Additionally, everyone has their own definition of essential. Whether it's modifications to the exterior, performance, or interior, every owner has their preference.
With this week's submissions, we see interior mods that range from fridges on sliders to simple LED interior lighting swaps. As you can imagine, there are tons of interior modifications available for Tacoma owners to really customize their trucks.
Now, let's see what these three owners chose for their top 5 interior modifications!
Enjoy guys!
1. Andrew Letts (@letts_adventure) – 2021 TRD Sport Manual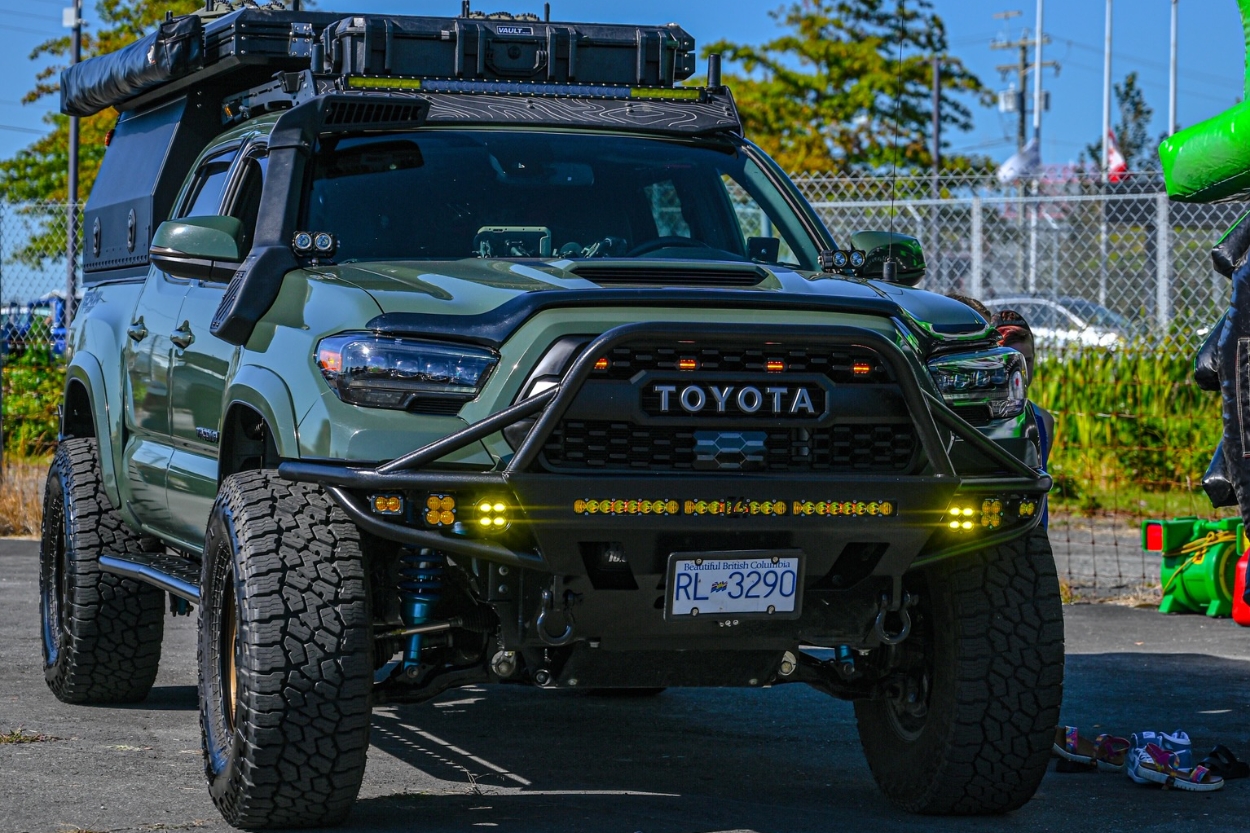 Top 5 Interior Mods
Goose Gear 60% Rear Seat Delete
DMM Dash RAM Mount Kit
Rago Fabrication Center Console MOLLE & Rear Window MOLLE Panels
Bantam X Pro S-Pod Circuit Controller
Teton Workshop Design 3 Shift Knob
What Do You Like About Your Interior Mods?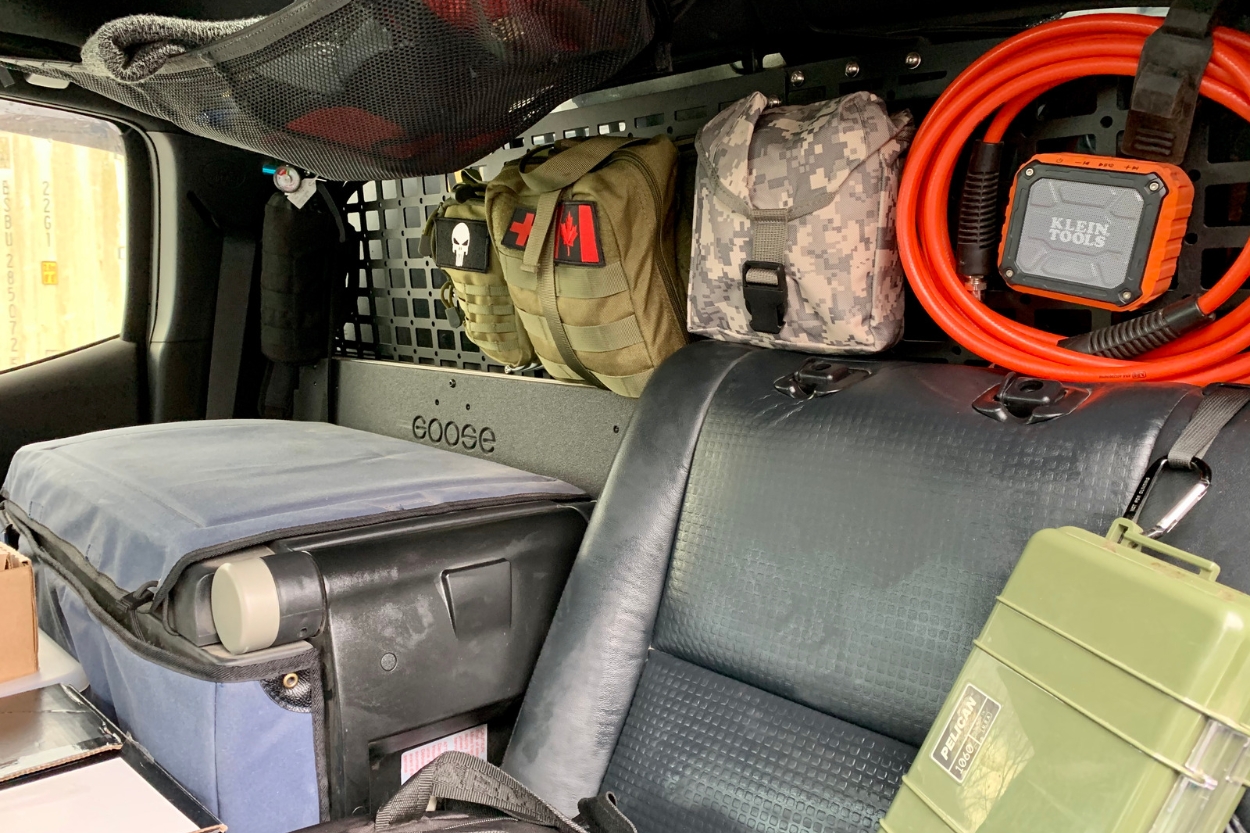 The Goose Gear 60% delete kit works great to free up way more room in the back and allows us to fit our ARB 47L Classic 2 fridge perfectly. The rear-seat delete platform has storage underneath and can still be accessed without adjusting or moving the fridge. Goose Gear also includes tons of built-in tie-down points, which is perfect for our needs.
As for the DMM mount from Taco Garage, it seems to be the lowest profile dash mount kit available. It allows me to run 2 phones, our backup Garmin navigation, and a mount for our GMRS radio. It's super secure and very modular. I ran a charge block behind the dash and relocated the auxiliary cable to run Apple CarPlay, which keeps the wires as clean as possible.
The Rago Fabrication MOLLE for the center console and rear window work great for quick access to store important gear. On the rear window, I keep a trauma kit, first aid kit, air-up hose, tire repair kits, fire extinguisher, and binoculars. On the center console mount, I mounted our VHF radio, knife, flashlights, and an emergency seat belt cutter/ window smasher.
The Batam X Pro S-Pod controller is one of our favorites because it allows up to 16 circuits of power control. It can all be controlled through Bluetooth as well. Our favorite feature is the ability to dim our Baja Designs lights when we're at camp or strobe them on dusty trails. We can also customize the settings to link outputs together. It monitors our battery and has cut-off times/ settings so if we're running our diesel heater and lights all night, I can see if the battery is dropping too low.
Lastly, the Teton Workshop Design 3 shift knobs. It's a game changer compared to the factory one. It's way heavier which allows for a better engagement feel shifting between gears, plus it looks way cool!
2. Dakota Bassham (@smalltowntacoma) – 2016 TRD Sport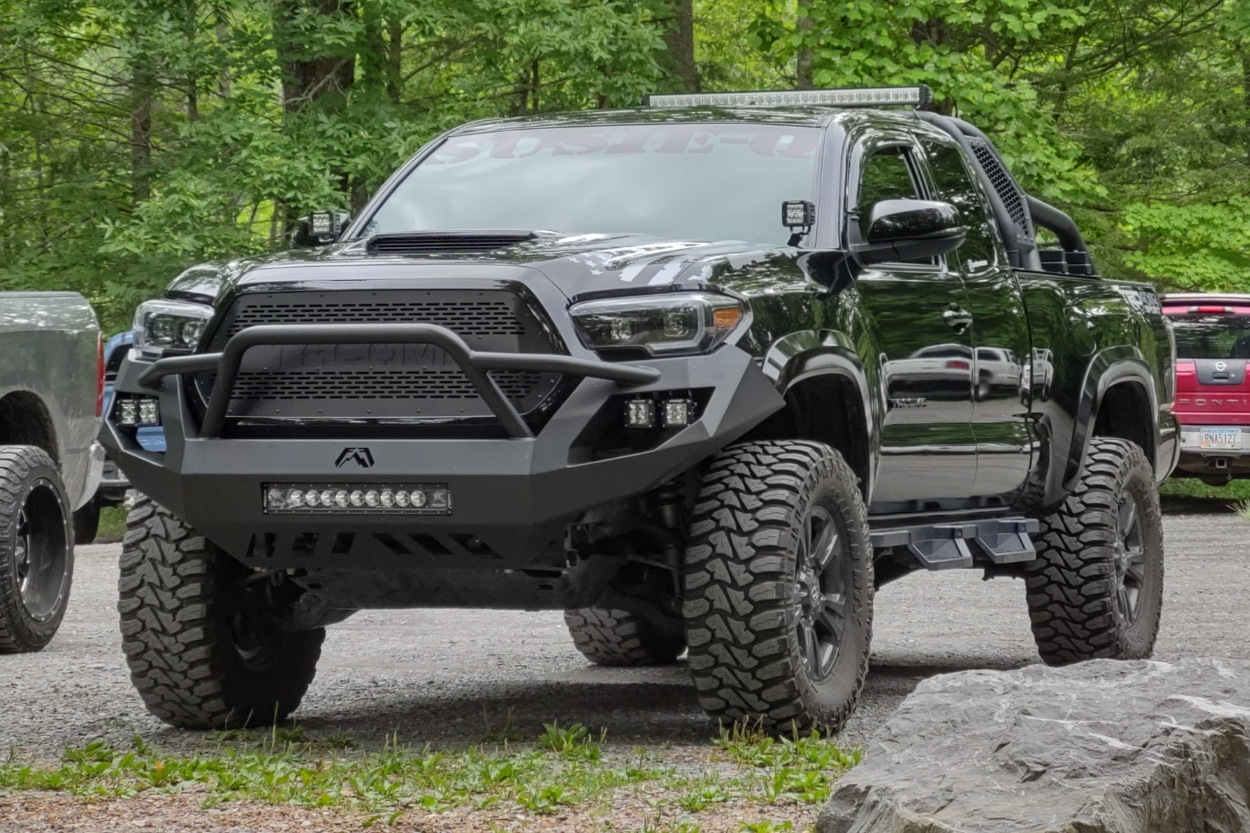 Top 5 Interior Mods
Kryptek Seat Cover
Coin Separator
Sun Visor MOLLE Panels
Kings Magnet
ScreenProtech
What Do You Like About Your Interior Mods?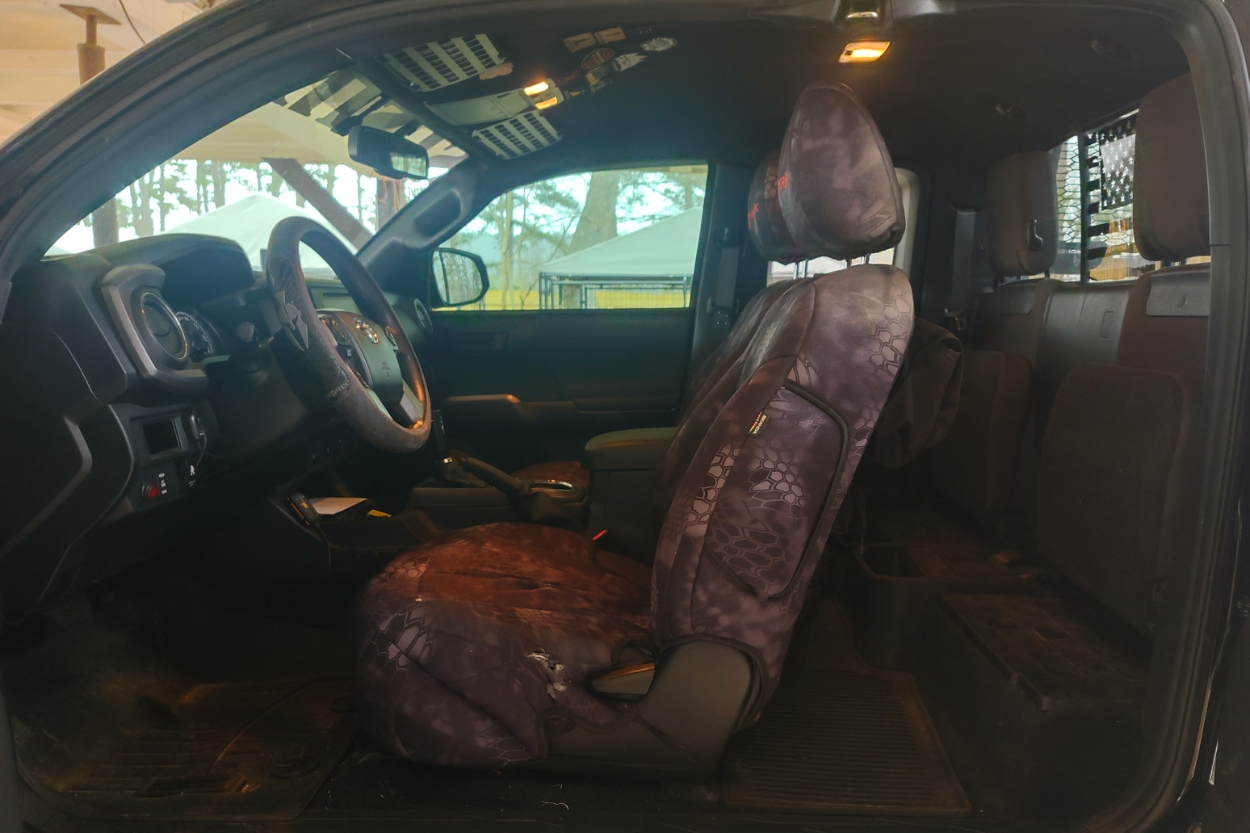 The Kryptek seat covers include places to hang bags and other accessories for extra storage. I hated dealing with loose change, so the coin separator helps keep all the change in one place. The sun visor MOLLE panels are great for holding my walkie-talkie and spare Leatherman tool.
The Kings Magnet is great for holding and securing my CCW. Lastly, the ScreenProtech kit helps keep my radio and dial gauge cluster protected from fingerprints, pet hair, and dust.
3. Brandon Salvia (@trdsalvia) – 2018 TRD Off-Road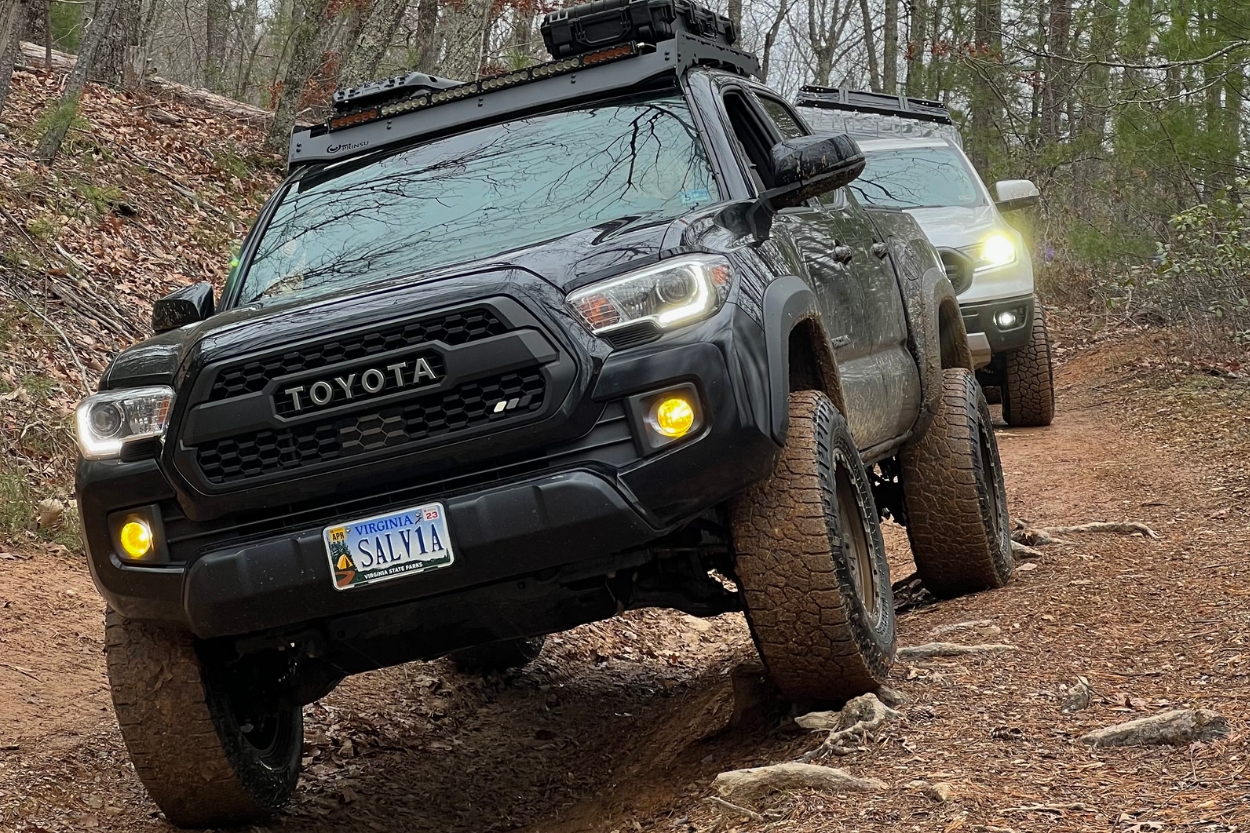 Top 5 Interior Mods
MESO Customs Chrome Delete Kit
Window Visor MOLLE Panels
Desert Does It Seat Jackers
Tacoma Lifestyle Paracord Headrest Grab Handles
LED Map & Dome Lights
What Do You Like About Your Interior Mods?
The chrome delete kit offers the "tacticool" look that I desired for the interior of my truck. The visor MOLLE panels offer me quick access to sunglasses, a knife, a pen and pencil, walkie-talkies, and other items I may need quick access to.
The seat jackers really do add a bit of comfort for me because I've got long legs. They raise the front edge of the seat up just enough for my legs to be supported during drives. The grab handles allow easier access for my two toddlers to climb up in the back of the truck, which is a must!
Lastly, the LED lights are a must if you'd like to actually be able to see anything in your cab at night time.
Final Thoughts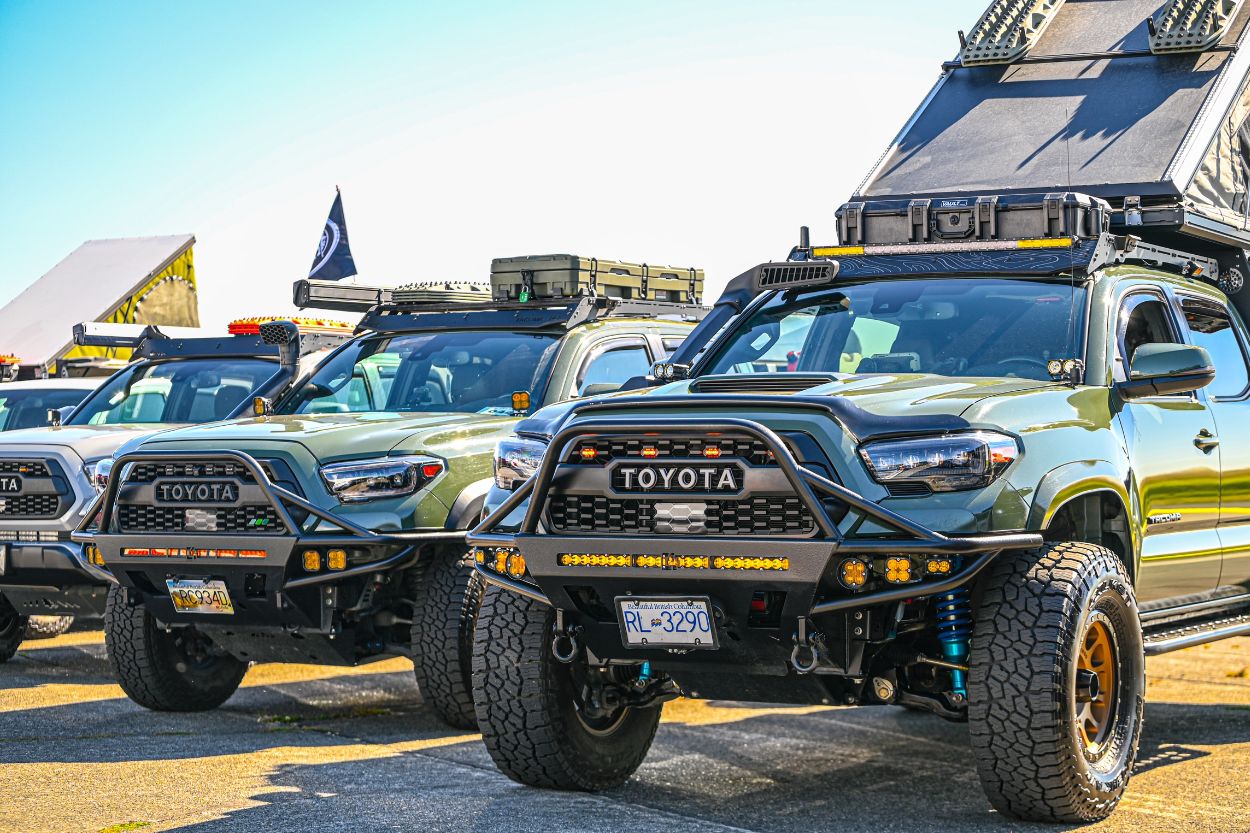 What a great group of Tacomas this week to wrap up the 2022 Taco Tuesday features. The Tacoma interior isn't a place that seems to receive many mods. We are also so busy making our trucks look awesome from the outside, that we rarely think about mods on the inside.
It's pretty funny to think about actually; we make our trucks good to look at for others to see, yet we're the ones looking at the interior 100% of the time! Tacoma Interior mods are definitely some of my favorite to do, especially the chrome delete kids and LED lighting.
I hope you all had a wonderful 2022 and I look forward to seeing you next year! Ah, that joke never gets old.
If you want to be featured for Taco Tuesday, submit your build through TrailTacoma.com/Feature. Next week's Taco Tuesday will be featuring Bed MOLLE Panels. We're looking for sweet rides to showcase! If this is you and you love your setup, send in your details because we want to see it.
Thanks for reading guys. I'll see you next week!