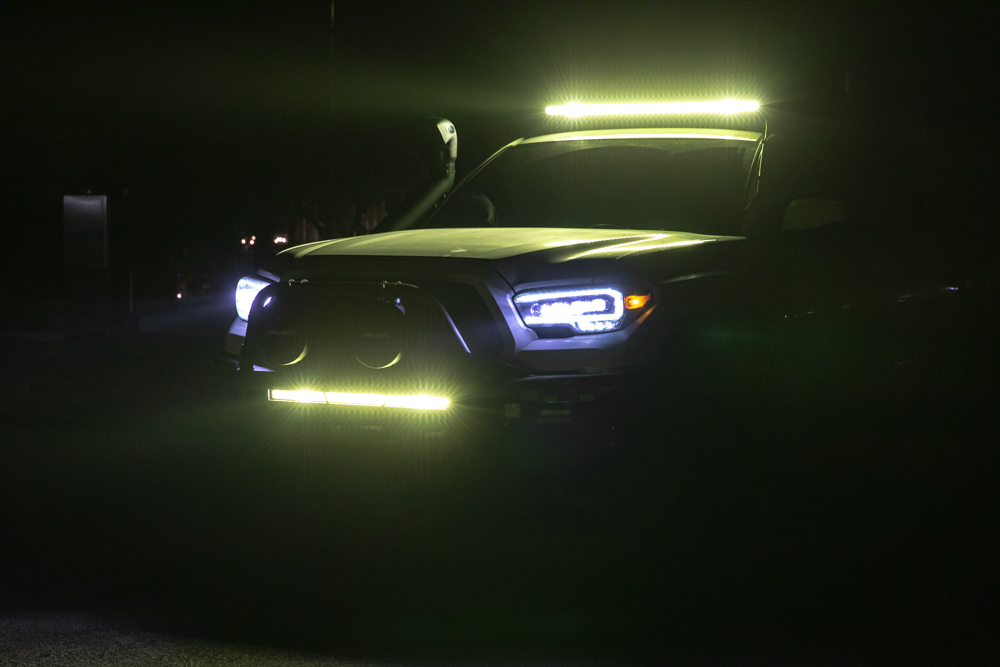 Lightforce Nightfall Series 30″ & 40″ LED Bars Mounted On 3rd Gen Tacoma – Features, Specifications + Long Term Review & Overview
There are a lot of options on the market for LED bars – there's no question there. But most of us are looking to strike a good balance between function, quality and price. I think Lightforce products fit the bill perfectly, especially the Nightfall LED bars.
In a previous post, I covered the flagship Lightforce lights. The HTX2s – the large circular lights you can see in the image above (they have a combination of LEDs and HIDs). These lights are pretty mind blowing. Check out my Lightforce HTX2 install and review article here.
In this post, I'll cover my experience with the Nightfall bars. Let's jump right in.
Find It Online
Lightforce Nightfall LED Bars
Lightforce Nightfall Review
Features & Specifications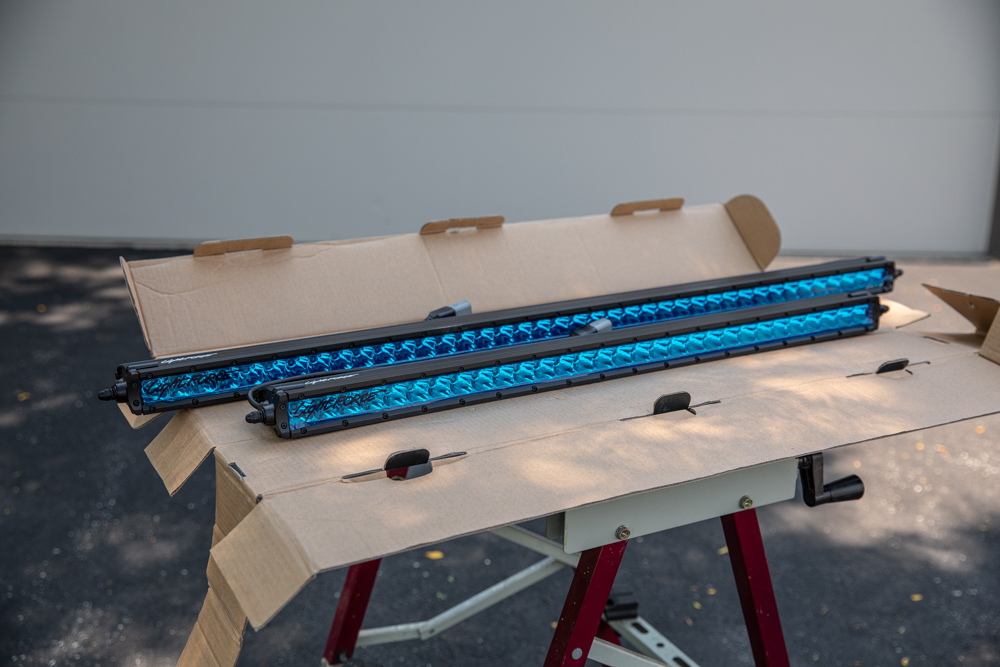 To start, no these lights are not blue, these are just protective covers so the lenses don't get scratched. They do now have a handful of Nightfall sizes available in an orange amber. I decided to add yellow Lamin-X; more on that later. Let's cover all the relevant specs and features first.
To start, every light bar comes with everything you need, down to the stainless steel brackets and hardware, as well as a total harness with relay and switch.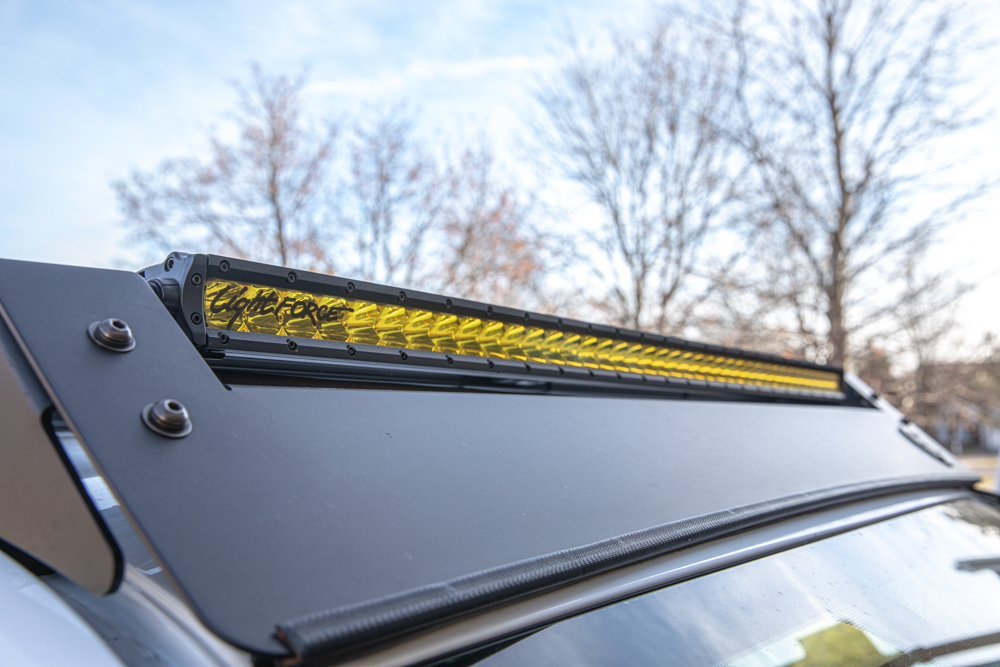 Let's run through all the relevant details.
aluminum extrusion body
black anodized finish
durable polycarbonate lens
cree LEDs
heavy duty wiring
Gore waterproof membrane
can be submersed to almost 10 feet
voltage protected
quality circuitry
stainless brackets/hardware
complete wiring harness
waterproof connectors
RoHS certified
IP68 + IP69K
lifetime satisfaction guarantee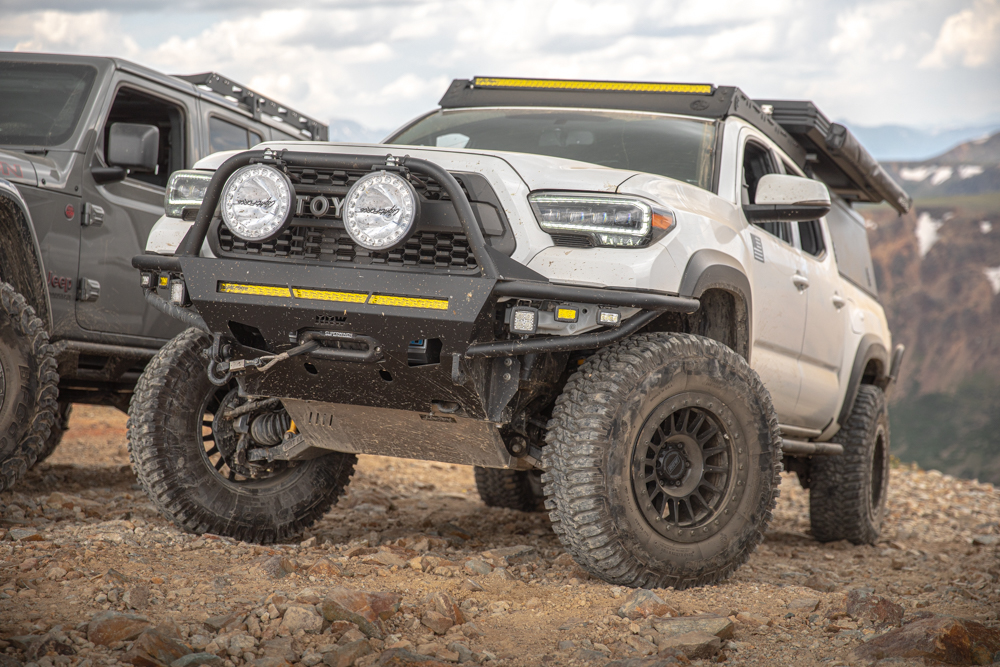 Since I'm only running the 30″ and 40″, I'll only include the relevant outputs below.
Nightfall 30″
1 lux at 656 yards
raw lumens – 10,688
effective lumens – 5342
color temp – 5000k
current draw – 9.7 amps
Nightfall 40″
specs are not provided/accessible
potentially found data that states 1 lux at 689 yards
lumen numbers are potentially ~30% more due to size increases (compared to 30″)
color temp – 5000k
current draw is just over 11 amps
In case you're curious, I've got my 30″ in my RRW hybrid front bumper (no longer available) and my 40″ in my AL Offroad HD roof rack.
Adding Yellow Lamin-X Film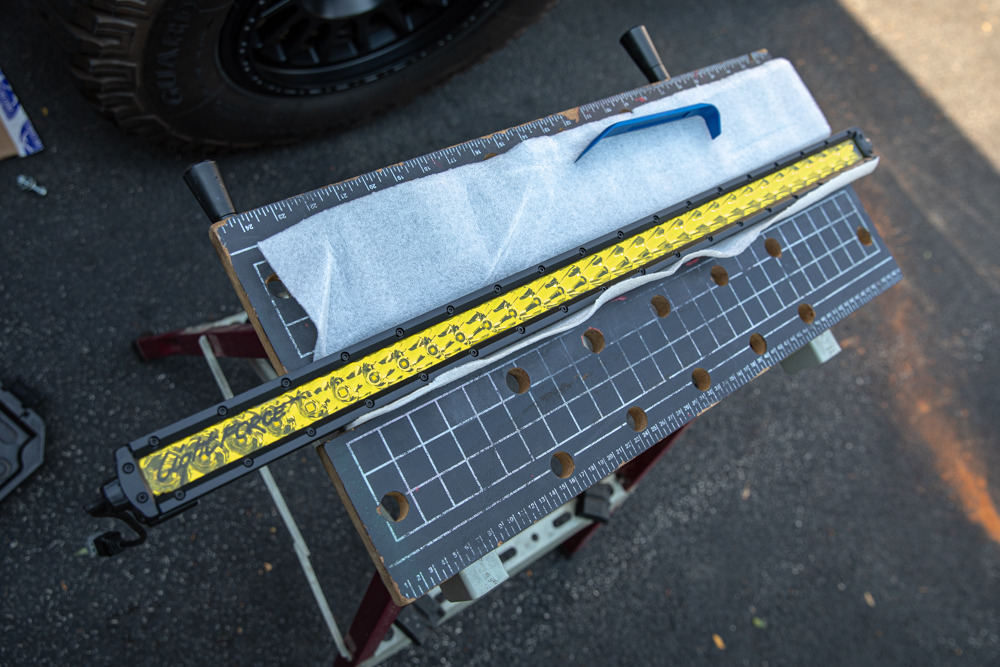 While I do like white light, I prefer a yellow amber color. This is both for improved visibility (orange/yellow amber is best) and for overall looks – a bit of function and form. To achieve this, I decided to take some custom cuts of Lamin-X to spruce things up.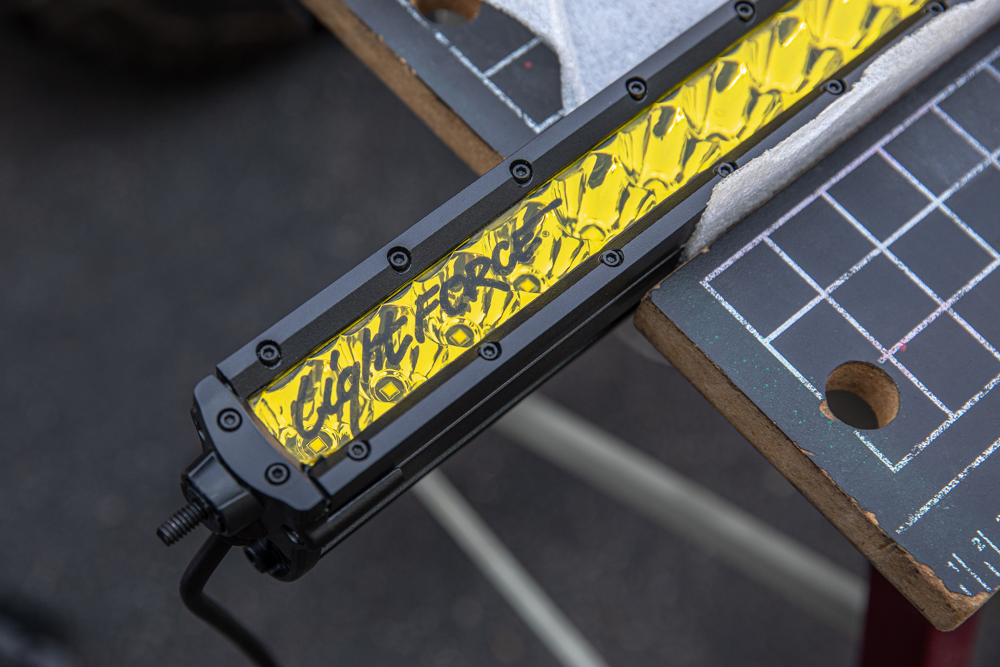 We got a few different sizes (cut to perfect measured internal dimensions) and applied them to both light bars. I also did this with my Lightforce ROK lights. The application is pretty straightforward, you just need to peel the backing off of the adhesive and carefully press it evenly across the lens.
I did not take the light bars apart to do this. We got a 1″ x 30″ and 1″ x 40″ set of strips and applied them directly to the lenses. I used a plastic trim removal tool to get into all the edges.
While I had previously heard good things about Lamin-X products, I was definitely skeptical about how they would hold up in this kind of custom application. I can happily report that even months and months of exposure to daily driving, trail riding, and countless power washes, there isn't a single corner that has peeled. Pretty impressive! Lamin-X certainly has done their due diligence in creating an adhesive backing that works really well.
Find It Online
Output Comparison Shots
Let's quickly run through how these lights perform, from a few different angles. Headlight output provided for reference. I'm parked roughly 3 car lengths from the garage in the first three shots.
AlphaRex Headlights Output Only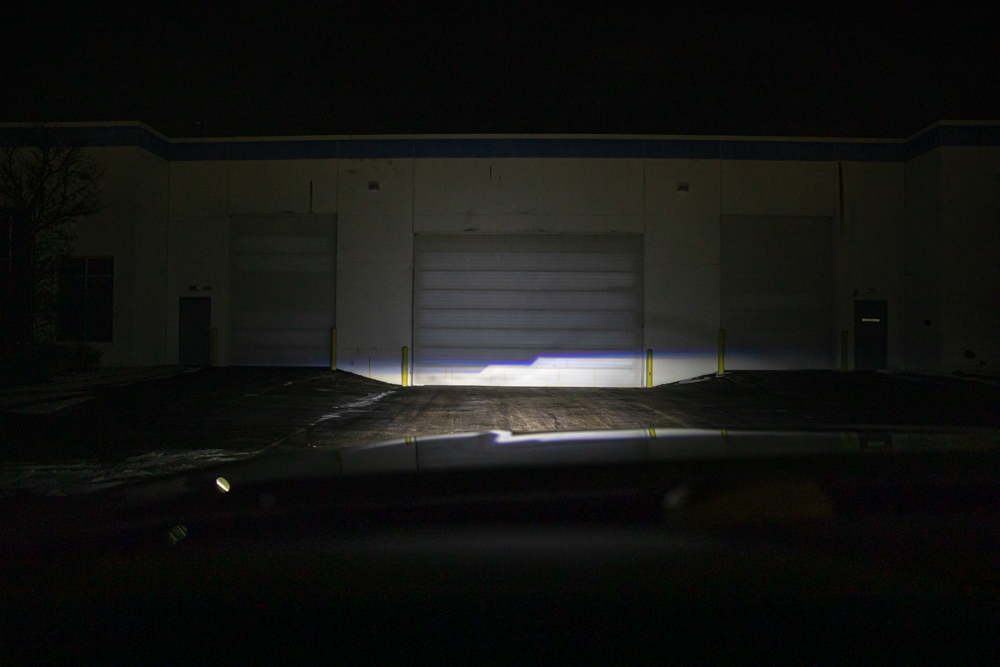 Better than the stock headlights by a mile, but still relatively dim compared to the light bars.
Nightfall 30″ Output Only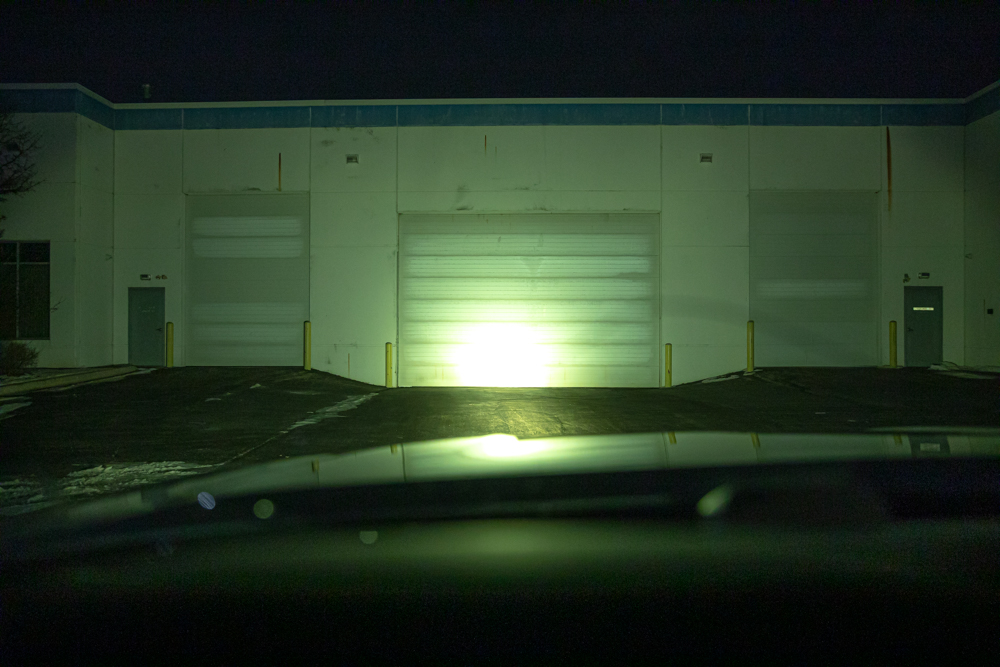 The 30″ provides more than enough light for the average user.
Nightfall 40″ Output Only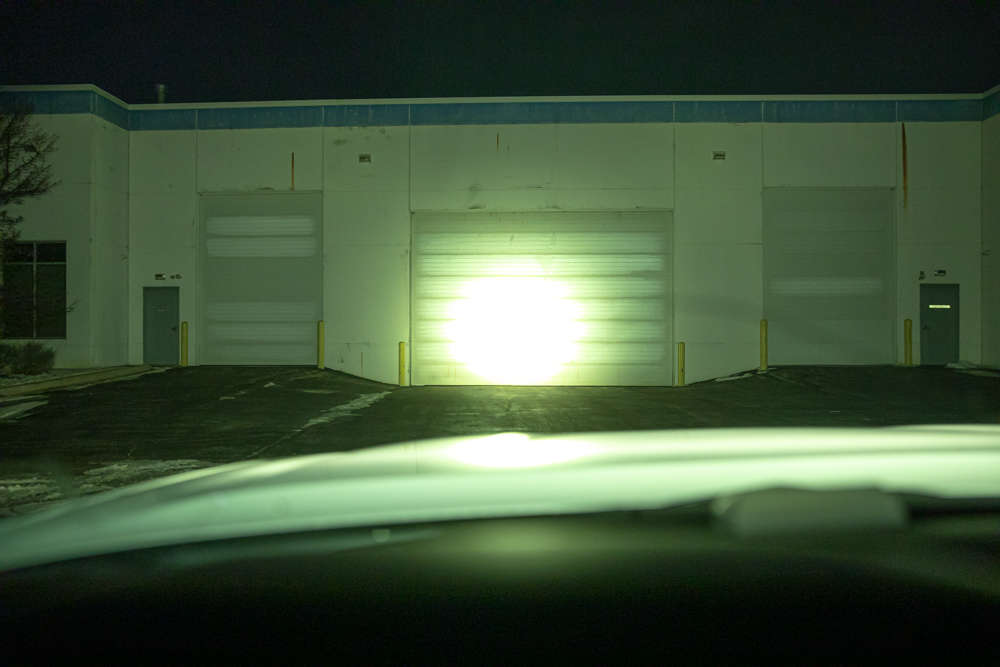 The 40″ has a bit of glare on the hood (could use a hood stamp/wrap), but packs quite a punch.
AlphaRex Headlights Output Only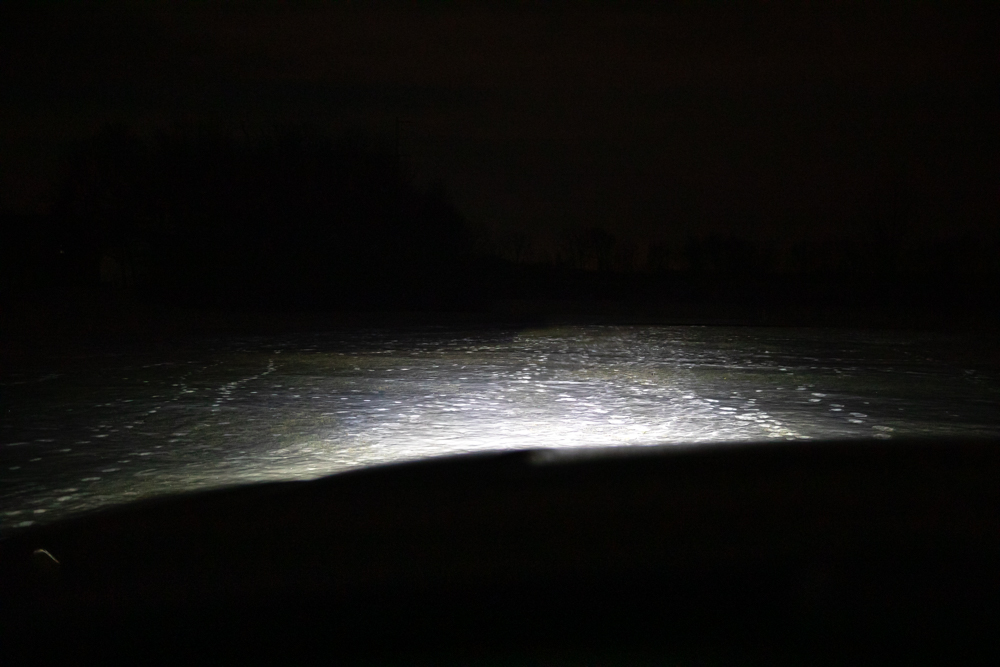 There was some snow on the ground when I took these shots in an open field. This first photo is for reference again.
Nightfall 30″ Output Only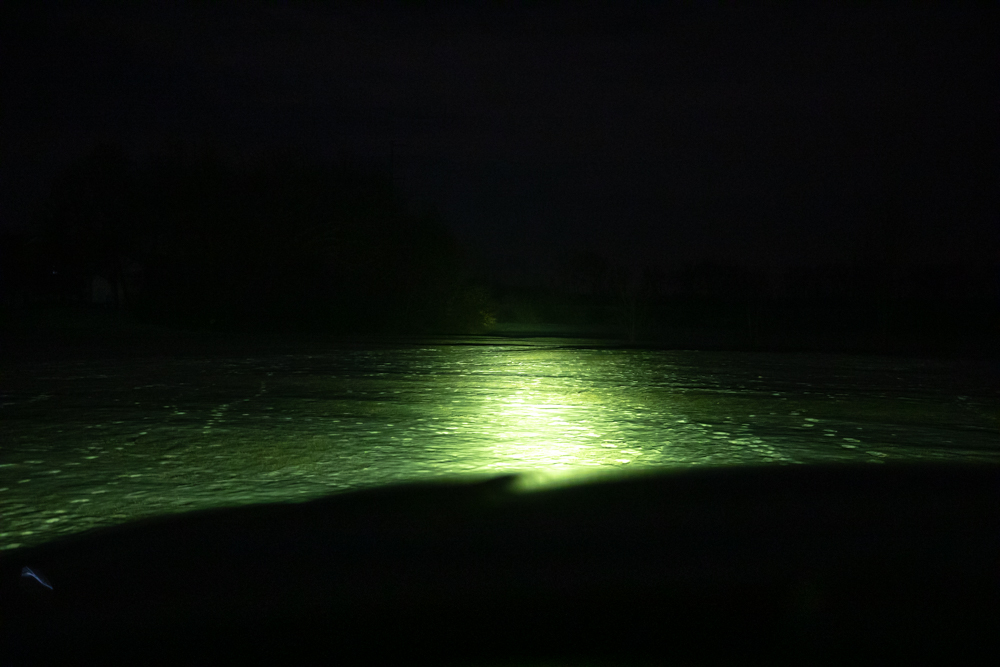 As mentioned, the 30″ bar is in my front bumper. I could have it pointed a bit farther away in the distance, but my HTX2s take care of the super far visibility, so I like to point this bar a bit forward of the headlights.
Nightfall 40″ Output Only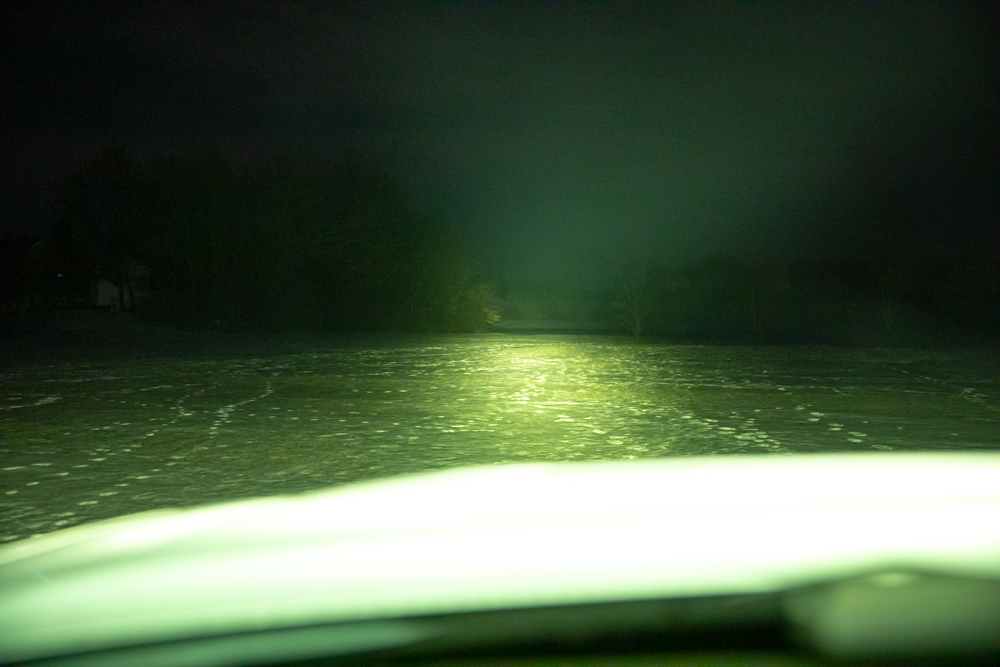 Once again, quite a bit of glare, and this bar is pointed just ahead of the 30″ one. The trees seen center and to the left are roughly 100 yards away. The trees directly in the middle, farther back, are about 200 yards away.
Review
I've run a few different light companies, and I'm familiar with the general offerings out there. I even ran Lightforce lights years ago on my 3rd Gen 4Runner. I can confidently say that their light bars, and even their product lines in general, are a really good value.
I've taken the truck through several states, and very climate and condition you could think of. The lights have always performed well, and in direct comparison with other lighting setups, I saw that the Lightforce Nightfall lights really provide a lot of bang for their buck.
These lights have plenty of usable light, and with the yellow Lamin-X sheets, I'm even happier. In the darkest and worst conditions, both on and off-road, my overall experience with this setup has been super satisfied. At roughly $600 and $800 (30″ and 40″), the prices are very reasonable.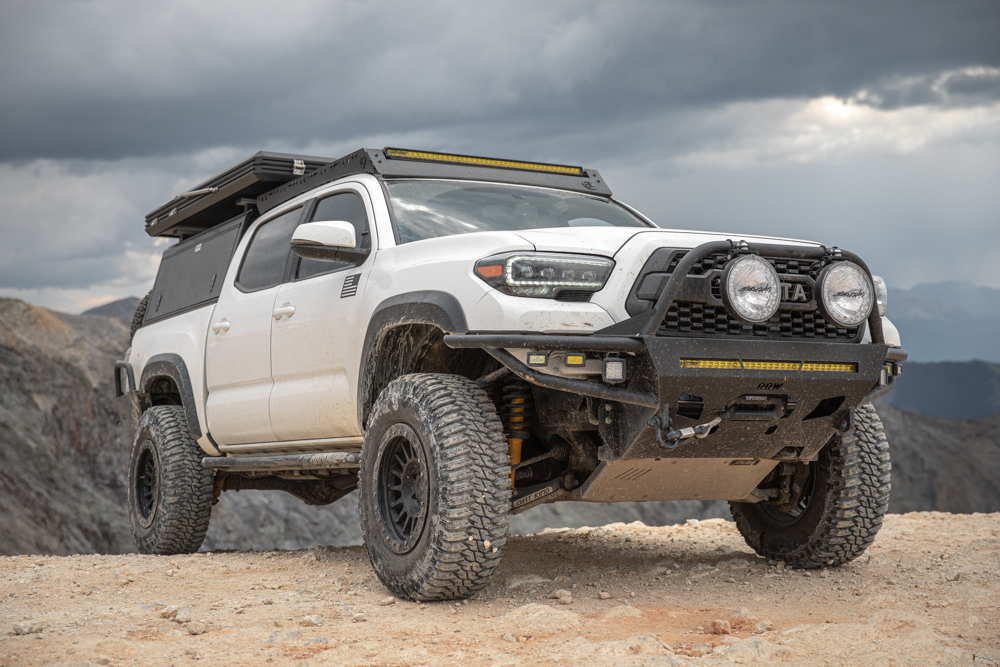 Sure, there are cheaper LED bars out there. And there are also way more expensive ones, sometimes double the price. But the real question is, what are you looking to get out of your lighting setup? Lightforce has been around for a while, and as for all my experiences, they've been nothing but good.
These lights are well manufactured, built with quality parts that perform. Any cheaper will most often mean you are skimping somewhere and it will not be worth the short term savings. Any more expensive, and you might ask yourself if the cost is worth it. I'm not saying that no one should buy something more expensive, but I'm trying to speak to the general end user.
These lights perform really well, and wired with my Trigger Controller 6-Shooter, I get all the function I could ever need. These lights haven't done so much as flicker once, and the coating (often a point where other companies struggle) has held up really well over the long term. The output is more than sufficient, and I've been stoked to run these lights.
Final Thoughts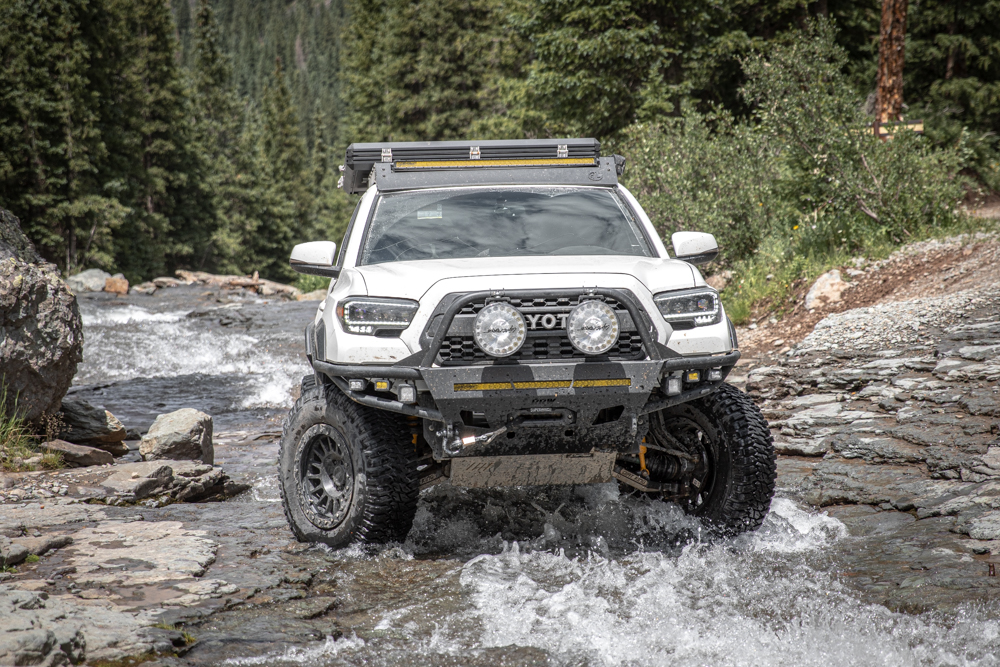 I'm usually pretty thorough with these posts, so I won't bore anyone by repeating too much here.
A reputable brand, quality internals, a great warranty, and performance to boot – you can't go wrong with Lightforce lights. Let me know if I missed anything!