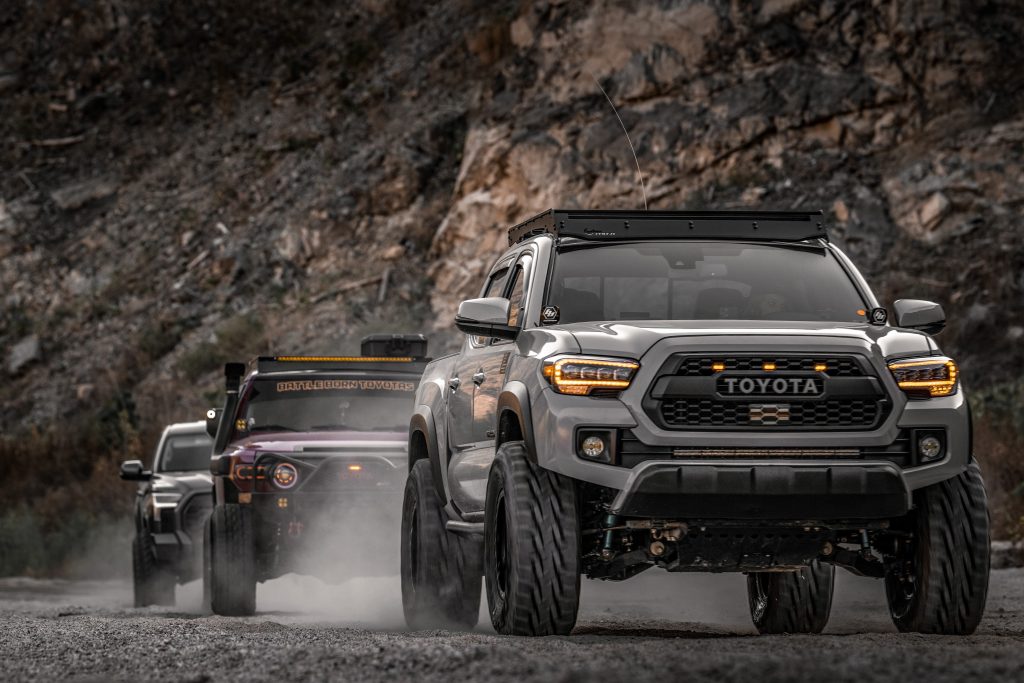 Pedal Commander Vs. Fukin Tuned: Comparing Two Different Throttle Response Controllers For The Tacoma – Featured Loaded Vs. Budget Friendly
I am sure you have seen and heard of these units called "throttle controllers". And it's likely that you've come across the Pedal Commander before.
I experience awful lag in the throttle response in my 2019 Tacoma, but it is a common issue in most Tacomas. Tacomas, and 3rd Gens in particular, have sort of a mushy feel to the gas pedal. People look to buy these units for better gas mileage, getting a potentially "faster" truck, or to have a more sensitive and more appropriately controlled gas pedal.
Regardless of make or model, there are typically different modes and settings on these units, make them customizable to your needs. To get rid of the lag in my Tacoma, I recently installed two different throttle controller units. One of them being the more expensive option, that many people are familiar with, and the other being the more affordable one, which is newer to the market. Both are very similar, but which one should you go with?
Throttle Controller Comparison & Review
Common Tacoma Throttle Complaints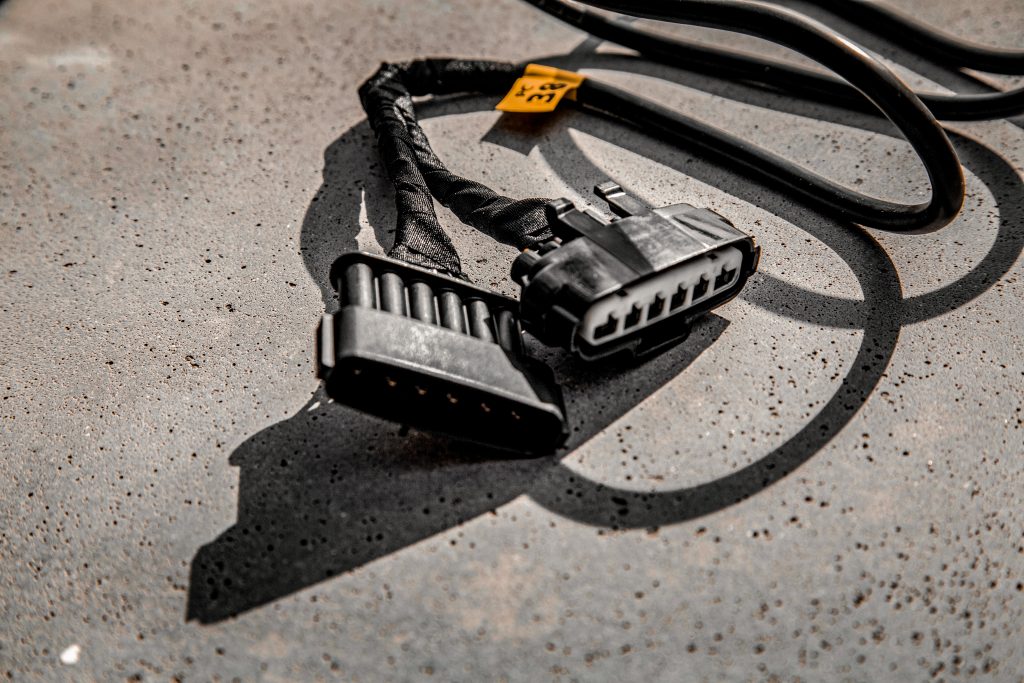 Have you ever felt the awful lag in your gas pedal when you are trying to get up to speed on the freeway? The dead spot right in the middle of every acceleration and the truck's sluggish response off the line? Everyone with a Tacoma, and even other vehicles, relate to this. Who likes a car that feels like it doesn't want to move?
This issue lies primarily in the way the truck's computer reads the input from your gas pedal.
There are a few different ways to help with acceleration. More expensive solutions such as a supercharger or a regear, which could cost you hundreds to a few thousand dollars – depending on what you go with. Or you could choose a simpler and more affordable option which are the throttle controller units, that range from about $100-300. You shouldn't have to spend a crazy amount of money when something as simple as a plug-n-play unit has the potential to address the issue.
What Is A Throttle Controller?
A throttle response controller is a unit that modulates the input effect that your pedal has on truck's electronic throttle positioning sensor. The way this is programmed from the factory leaves a lot to be desired and is responsible for the common issue of gas pedal lag in your vehicle. These controllers are plug-n-play install and do not void the warranty on your vehicle. Of course, this claim is only referencing qualified companies. That Amazon special throttle controller for $50-75? You should definitely avoid those.
If you want to potentially save gas, alter the responsiveness of your gas pedal, or have effects on your truck's overall quickness, then a throttle response controller might just be exactly what you need. They are compatible with cars, trucks, SUVs, etc. These units are practical and have a simple installation process.
Side-By-Side Comparison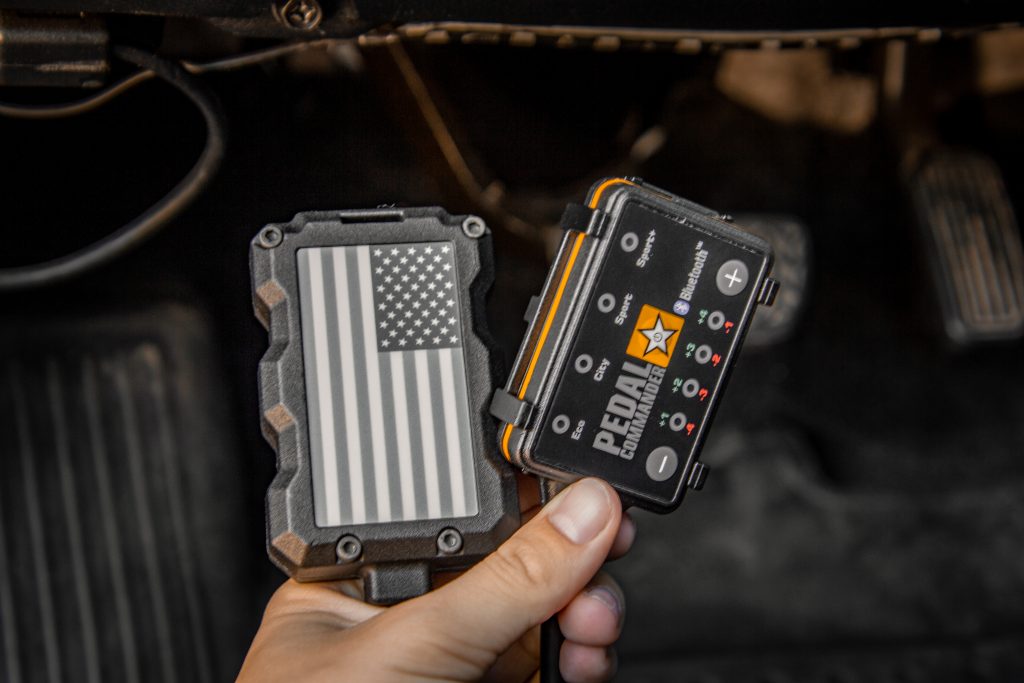 Let's take a close look at these two units. What makes them the same, and what makes them different. This should help you to visualize what you are getting when deciding between these two options.
Fukin Tuned
36 sensitivity settings, so you can select the best fitting throttle response yourself.
With Bluetooth, you can connect your Fukin Tuned and enjoy the Fukin Tuned App with your smartphones.
Warranty friendly, it is 100% reversible.
2-year product warranty.
The retail price is around $250, but it is frequently on sale for almost $180.
Find It Online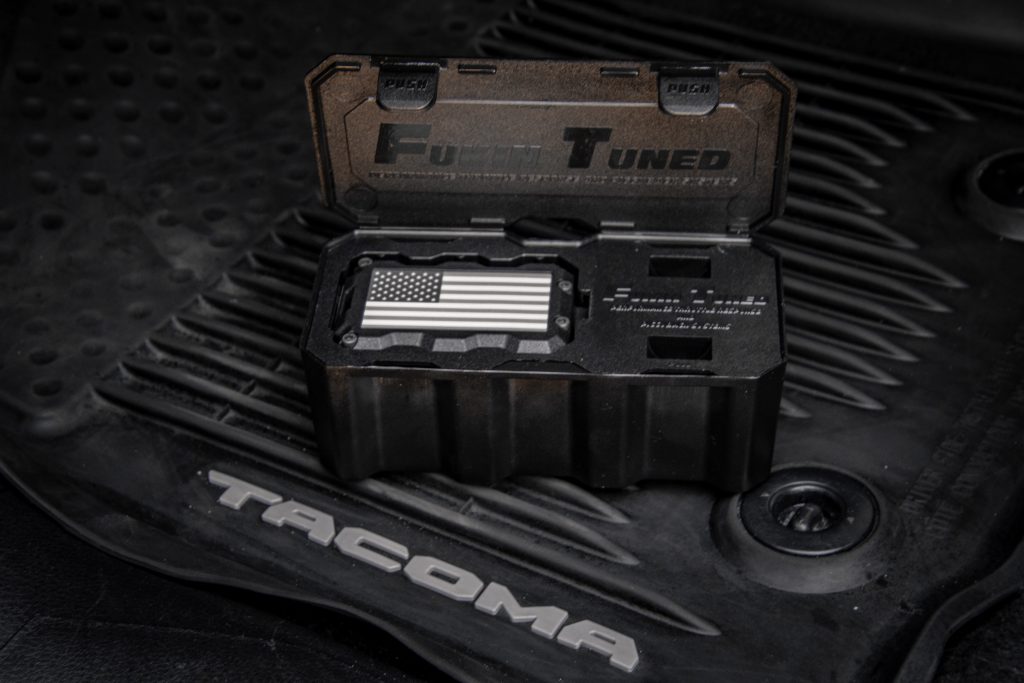 Pedal Commander
The Pedal Commander system eliminates the delay from your electronic gas pedal, allowing your 3rd Gen and newer Toyota Tacoma to accelerate faster, giving your vehicle a night/day difference in performance.
Pedal Commander is equipped with four modes, Eco, City, Sport, and Sport +. Each mode has an additional nine drive modes to fine-tune to your liking. 36 settings total!
With Eco mode's significantly slow response, Pedal Commander can increase your Toyota Tacoma MPG and save you up to 20% in fuel economy. You can use the Pedal Commander throttle response controller as a fuel-saver device.
Pedal Commander is a simple plug-and-play device that takes only about 5 minutes to install. Pedal Commander is also Bluetooth-compatible, so you can control the unit using our free Pedal Commander app.
Pedal Commander will not void the warranty on your Toyota Tacoma or leave any traces behind on your ECU.
The retail price is around $330. You can usually find the unit for $300.
Find It Online
From just looking at the specs from the website, we see that these two units are very similar. A big difference is price. Both of these units offer an app to download for both IOS and Android. Pedal Commander is a higher end version of throttle controllers: they have been put to the test in trophy trucks, prerunners, side-by-sides, and more.
What's The Difference?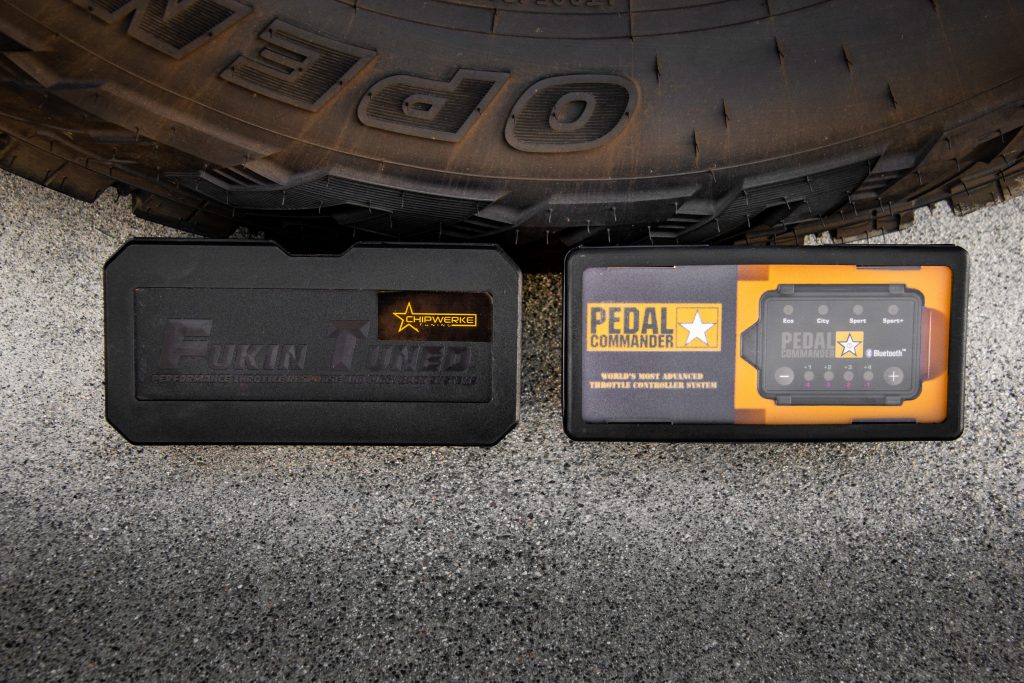 By comparing these two units side by side they are practically identical. Pedal Commander is a popular company that most people in the off-road industry know of.
A difference between the Pedal Commander unit and the Fukin Tuned unit is the fact that you can change the settings from the unit itself. With the Fukin Tuned unit, you have to do it from the Smartphone controlled app; unlike Pedal Commander where you can change the sensitivity settings from the physical unit. Both units have the same amount of settings and are fully customizable to your needs.
The Fukin Tuned unit is just a tad bit bigger then the Pedal Commander unit and doesn't quite fit on the left hand side of the steering wheel where the Pedal Commander is usually placed in Tacomas. The last difference is the price. The Fuckin Tuned unit is almost half the price of the Pedal Commander. Even though they are very similar, the price can change your opinion on these two units.
My Experience With Both – Review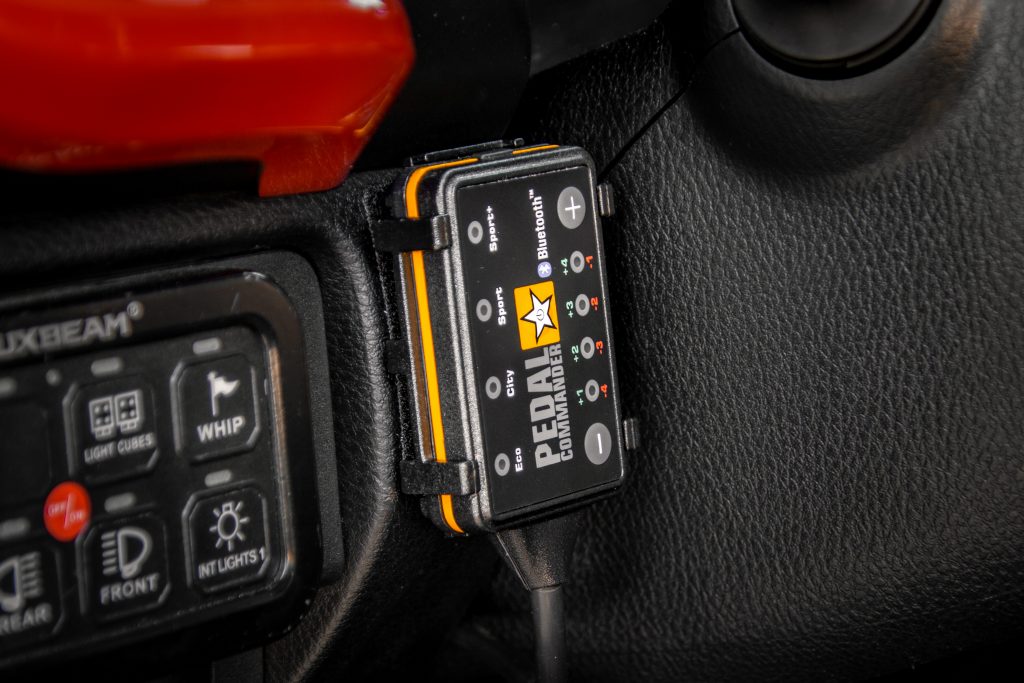 At first I was very skeptical about installing a throttle controller in my truck. There are many controversies surrounding if these units are useful or not.
Right off the bat, when I installed the Pedal Commander in my truck, I noticed an insane difference of the response time compared to stock. I prefer keeping it in the Sport mode, even though it is not great for your gas mileage. This mode helps the most with acceleration and throttle response time – which is arguably more important. Eco mode is the less useful mode of the four (for me). Yes, it does help with gas mileage, a little bit, but to me made the truck almost undriveable and I felt this with both controllers.
With the Fukin Tuned unit, I noticed a little less response time when I had it set to the same "sport" setting as the Pedal Commander. I prefer the Pedal Commander unit over the Fukin tuned unit due to a faster response time, an easier and safer way to change to different settings and modes, and the overall installation and performance of the controller. Even though its on the higher end with price, I do believe it is worth the extra hundred or so dollars. Also, it is kind of neat just to mess with something like your pedal responsiveness. Even the most intense setting are fun for a little while and can definitely get your tires squealing, haha.
Final Thoughts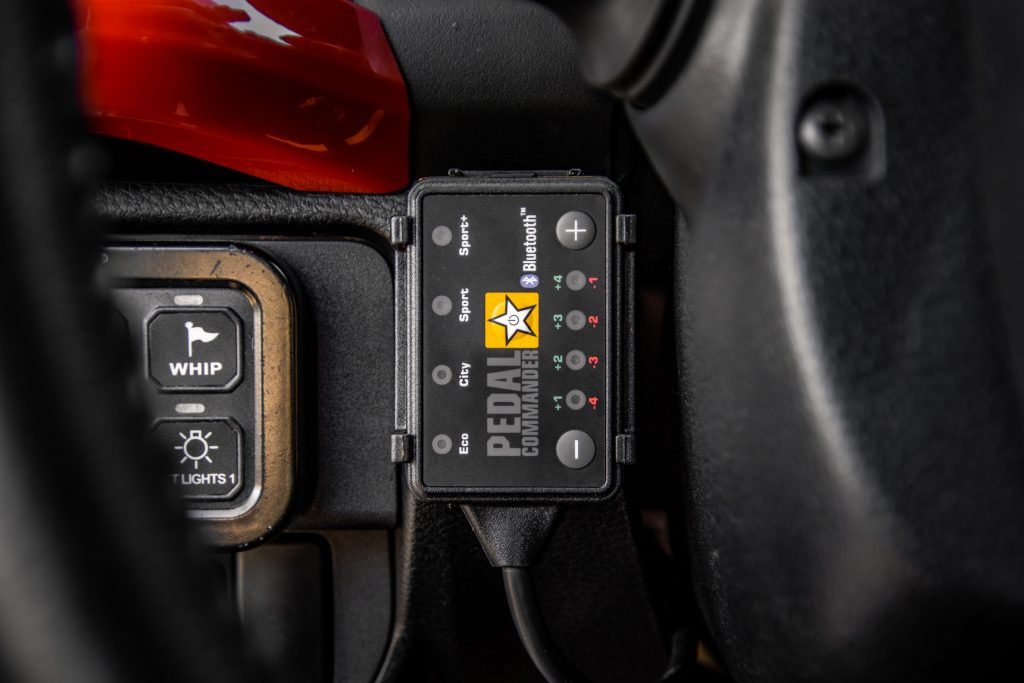 Overall, a throttle controller is a great mod to have in your truck if you're tired of dealing with your unresponsive gas pedal. They are relatively cheap and affordable and make it super easy for you to fix a common issue. You get to install the unit yourself, in under 15 minutes, and can get right back to driving, just without the throttle lag, and with greater control of your vehicle. Each unit is fully customizable to your driving needs so you can choose if you prefer an more eco mode to save gas or if you're looking to drive fast. Hope that helps!