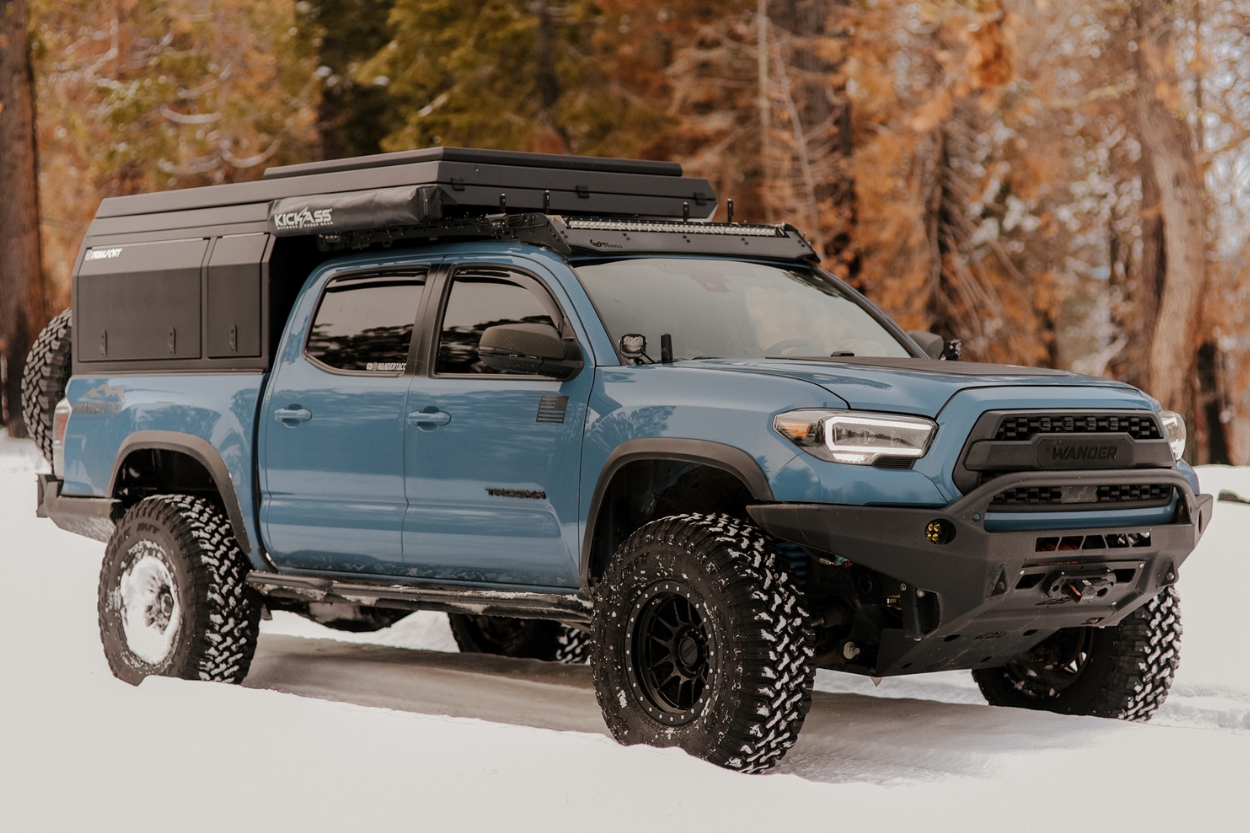 6 Cavalry Blue 3rd Gen Toyota Tacoma Off-Road + Overland Builds & Their Owner's Top 5 Favorite Mods – Truck Build Inspiration For 2023
This Week's Topic: Cavalry Blue Tacomas
Welcome back to another Taco Tuesday! If you missed the previous TT, we looked at softshell rooftop tents for your truck.
This week, we are looking at Cavalry Blue Toyota Tacomas, which is arguably the best blue color Toyota has ever offered.
Cavalry Blue (NOT CALVARY) debuted on the 3rd Gen Tacoma for the 2018 model year as the "exclusive" TRD Pro color. The 2018 TRD Pros were some of the rarest since this color was only shared between the 4Runner and the Tacoma. If you missed the 2018 TRD Pro Tacoma but still wanted a Cavalry Blue truck, Toyota offered the color again in 2019 but only for TRD Sport or TRD Off-Road trim levels.
2018 and 2019 are the only two years Cavalry Blue was offered on the Tacoma, making it one of the rarest colors ever offered.
As you will see below, Cavalry Blue is a super unique color and changes in various lights. To me, the color is greyish/light blue. It's gloss-based paint, so you won't see any metallic flakes in it. When exposed to a bright and sunny cloudless sky, Cavalry Blue pops as a very bright light blue color. However, on an overcast day, it appears to be a super dark greyish blue that just looks so dang good.
How To Get Featured
Do you want to be featured in a future Taco Tuesday Post? We want readers to get inspired by a variety of rigs/products.
Submit your build for Taco Tuesday here to get featured!
We have specific topics for each Taco Tuesday post and we would love to feature your rig.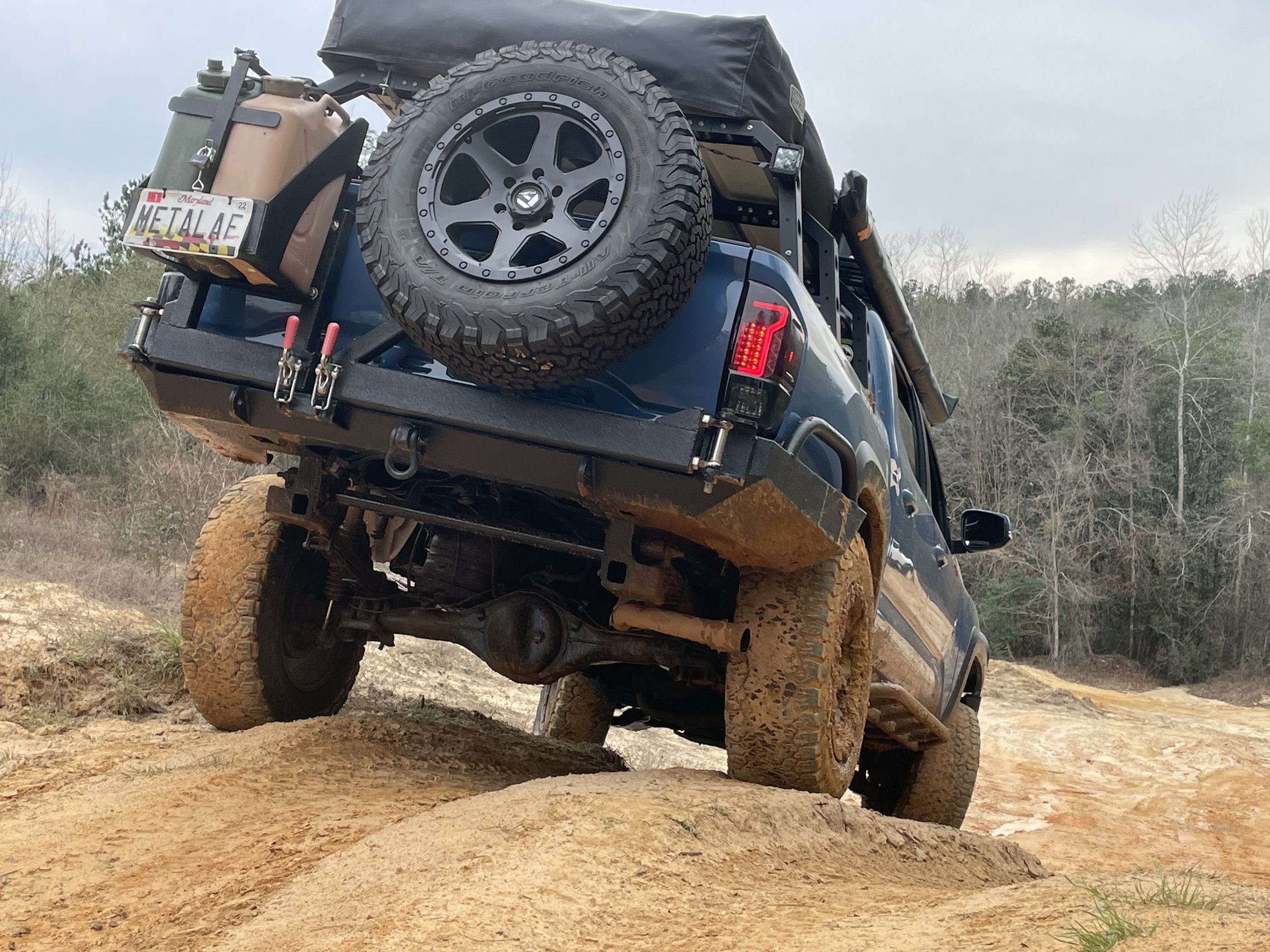 Top 5 Mods
BAMF HD Hangers, Shackles & Cross Member

Paint Correction & Ceramic Coating

URD Supercharger

RAVE Off-Road Modular Roof Rack

Custom Rear Seat Delete
What Do You Like Most About Your Setup?
The BAMF HD Hangers, shackles, and cross members are some of the most favorable mods to do on a Taco. The OEM hangers are flimsy and will eventually bend. Yes, this happened to me, so I upgraded to the BAMF HD and it made a night and day difference. The rear end feels so much more planted when on the trails, as well as on the highway.
One of the first mods I did on my truck was paint correction and ceramic coating on the paint and wheels. This is singlehandedly the most important mod on my truck. Mud and clay rinse right off and it also protects the paint from deep pin striping and scuffs that come from wheeling. I had it done 3 years ago and it's still holding up. So, it's definitely worth the $600+ investment.
The URD Supercharger has drastically increased the drivability and enjoyment of my truck. The low-end torque gain is immense and is especially useful when in 4-Hi or 4-Lo going over technical obstacles. The truck is 6,200 lbs. dry on stock diff gearing and 33s and can go 80 mph+ on the highway easily (and that's with me feathering the gas). If you were to give it more gas, the truck could easily go much faster. Honestly, I feel as if the truck should come from the factory like this!
I was fortunate to get one of the first RAVE Off-Road modular roof racks to leave their factory. This rack is great and is super modular. I currently have a Hi-Lift, Smittybilt traction boards, ROAM case filled with recovery gear, 8-foot awning, and a 43-inch light bar mounted on the rack using 1/4×20 carriage bolts and flanged wing nuts. Previously, I had Kayak J-hooks to haul my kayak mounted up there and it held up nicely.
I also removed the rear seats in order to make room for storage. I can't take full credit for this since a fellow Toyota enthusiast built it, but it is one of my favorite mods on my truck. Storage in the rear cabin is so much more efficient now with the platform installed.
2. Cole Gilliland (@wvytaco) – 2018 TRD Pro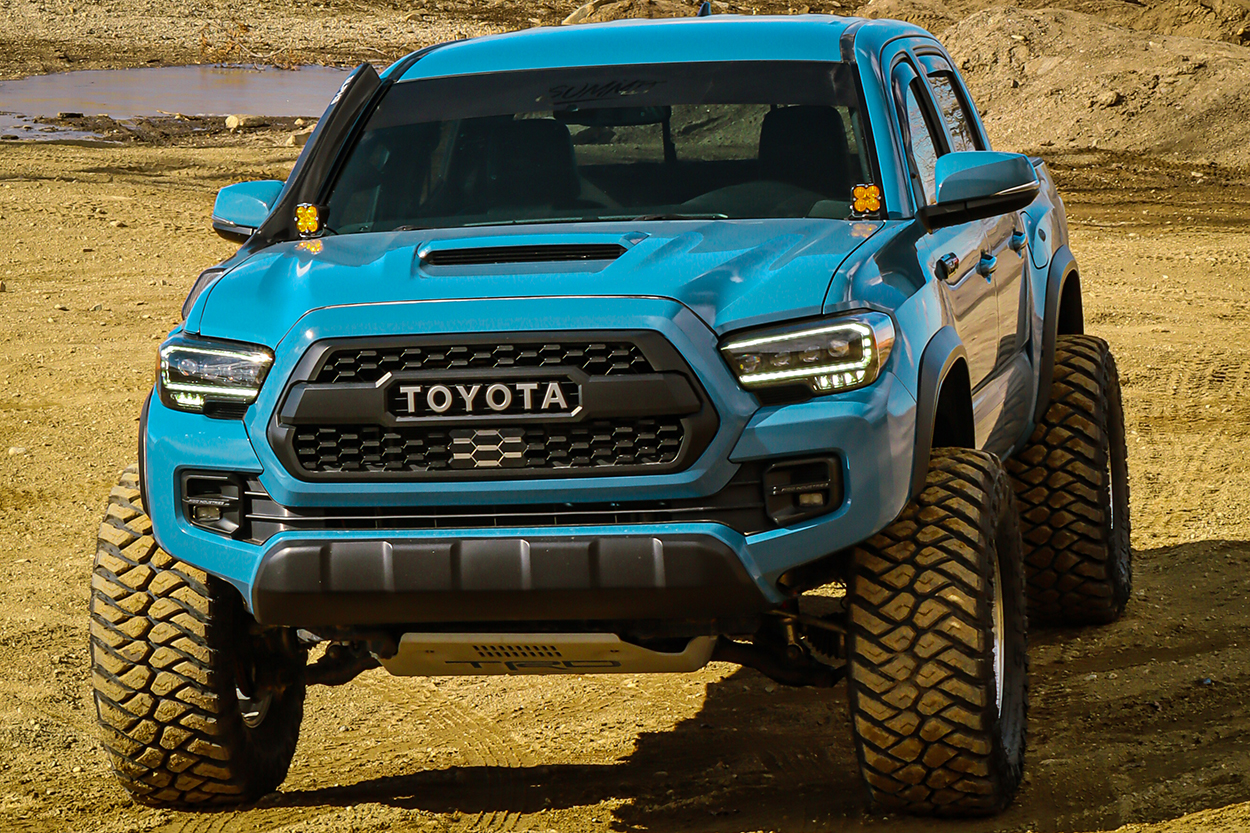 Top 5 Mods
Go Fast Camper
AlphaRex Nova Headlights
Maxxis RAZR Tires (35×13.5/17)
Summit Off-Road Sierra Wheels
Deaver HD Stage 3 Leaf Springs
What Do You Like Most About Your Setup?
This Cavalry Blue Tacoma has been a fantastic vehicle for me! I love the leather interior as it is a piece of cake to clean up after my dirty dogs have been inside!
The 2.5-inch Fox suspension that comes standard on the TRD Pros rides AMAZING. The Go Fast Camper (not pictured) has made the camping experience both simple and enjoyable as it's the quickest setup and tear-down you can get! Last but not least, the 35-inch tires are almost a necessity for off-road clearance and comfort when aired down.
3. 

Jake Ingolia

 

(@w

andertaco

) –

2019 TRD OR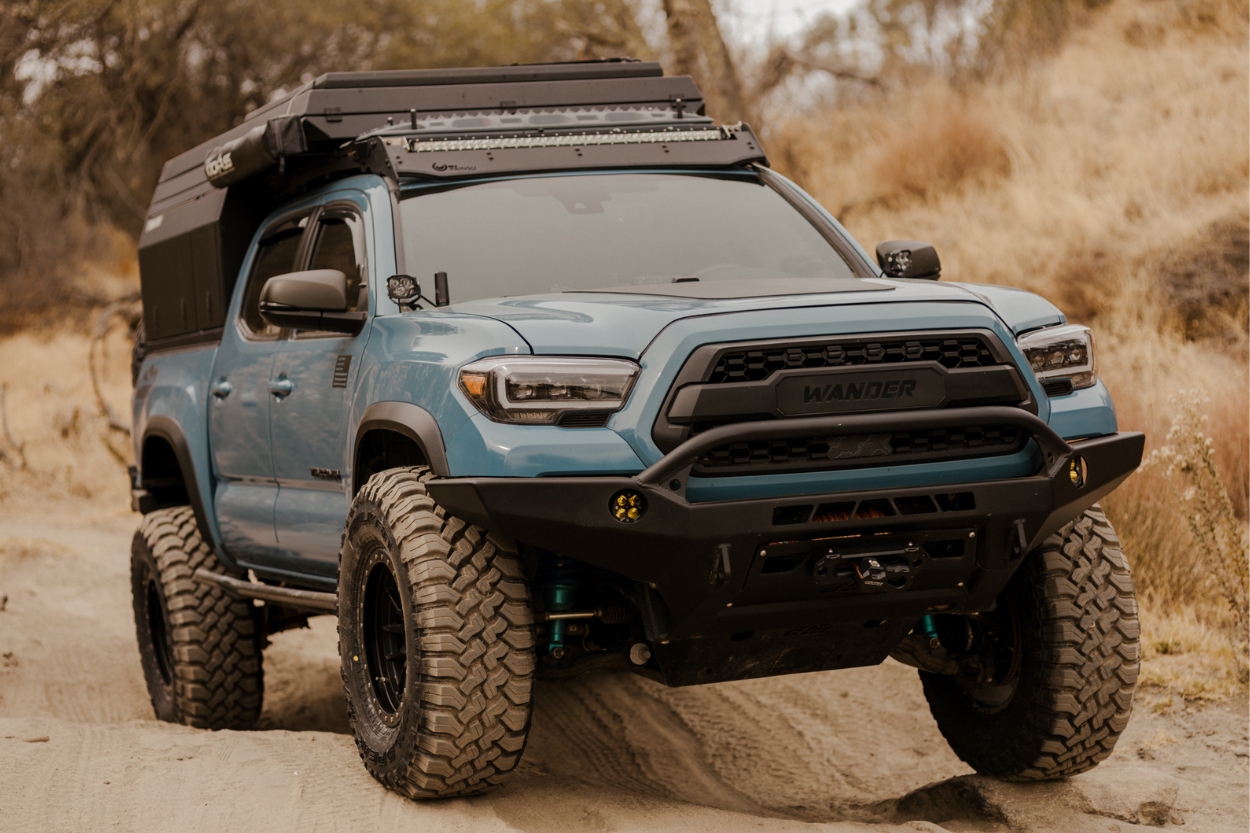 Top 5 Mods
Trailfort Overland Camper

King Shocks (front/rear)

Falken M/T 35" Tires

Anzo Headlights
What Do You Like Most About Your Setup?
I love that my Tacoma is different from the rest of the crowd. The color, design, and different parts that are represented make my build unique and I get compliments on it daily!
4. Chris del Rosario

 

(@x

tian_pro

) –

2018 TRD Pro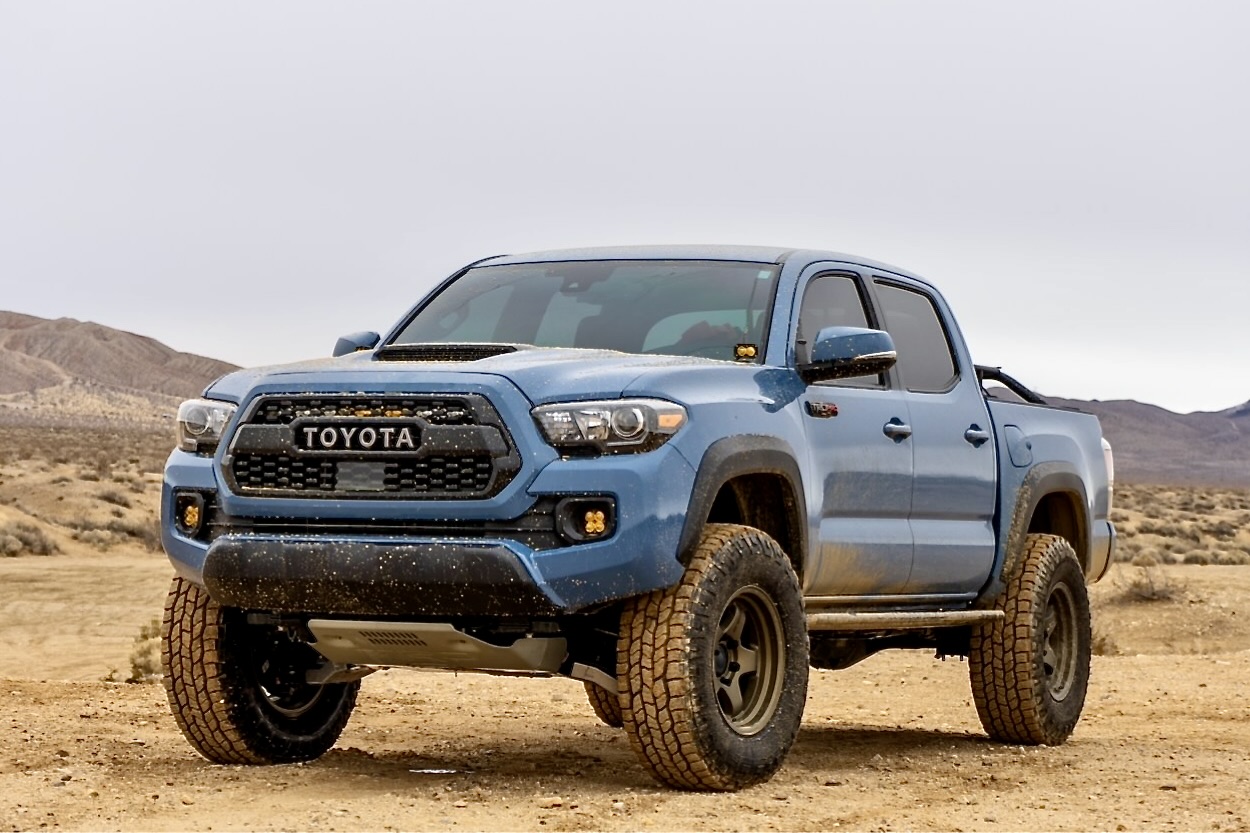 Top 5 Mods
Cooper Discovery Tires

Spindle Gussets

SDHQ Skid Plates / Rock Sliders

Re-Gear

King Suspension
What Do You Like Most About Your Setup?
I enjoy how even little upgrades can make a Tacoma look and perform better. Tires alone changed the appearance of the whole truck, making it look and perform better off-road. The gusseted spindles give me peace of mind with bigger and heavier tires. Additionally, having under armor and rock sliders allows for minimal damage to your truck while rock climbing. Overall, I enjoy how suitable my build is for both on and off the road.
5. Evan Beisner

 

(@

epb.adv

) –

2019 TRD OR
Top 5 Mods
RCI Off-Road Armor

CVT Mt. Hood

King 2.5 Suspension

Falken Wildpeak AT3 Tires

Softopper
What Do You Like Most About Your Setup?
Versatile, functional, and simple are the three things I constantly keep in mind for my build. I use my truck year-round to camp, fish, ski, etc. So, having a build that "just works" is awesome.
Armor, suspension, and tires allow me to get to the places I want to go and take away the fear of getting stuck or damaging the truck. The protection allows me to really enjoy my time off-road. The CVT tent has been my favorite addition to the build as it sets up and tears down in seconds. It's been great in the wind, snow, and rain, and allows me to camp every month of the year!
6. Mike Abacano

 

(@a

bawockee

) –

2018 TRD Pro
Top 5 Mods
ProCharger Super Charger

RAYS A-LAP07x

C4 Rock Sliders

Saints Off-Road Front Bumper

Magnaflow Overland Exhaust
What Do You Like Most About Your Setup?
I like that it's my own personal canvas that has gone through many different edits to bring it to where it currently sits. It's ultra-reliable, has never left me stranded, and has tackled what little off-road opportunities we have in Florida with no issues.
Final Thoughts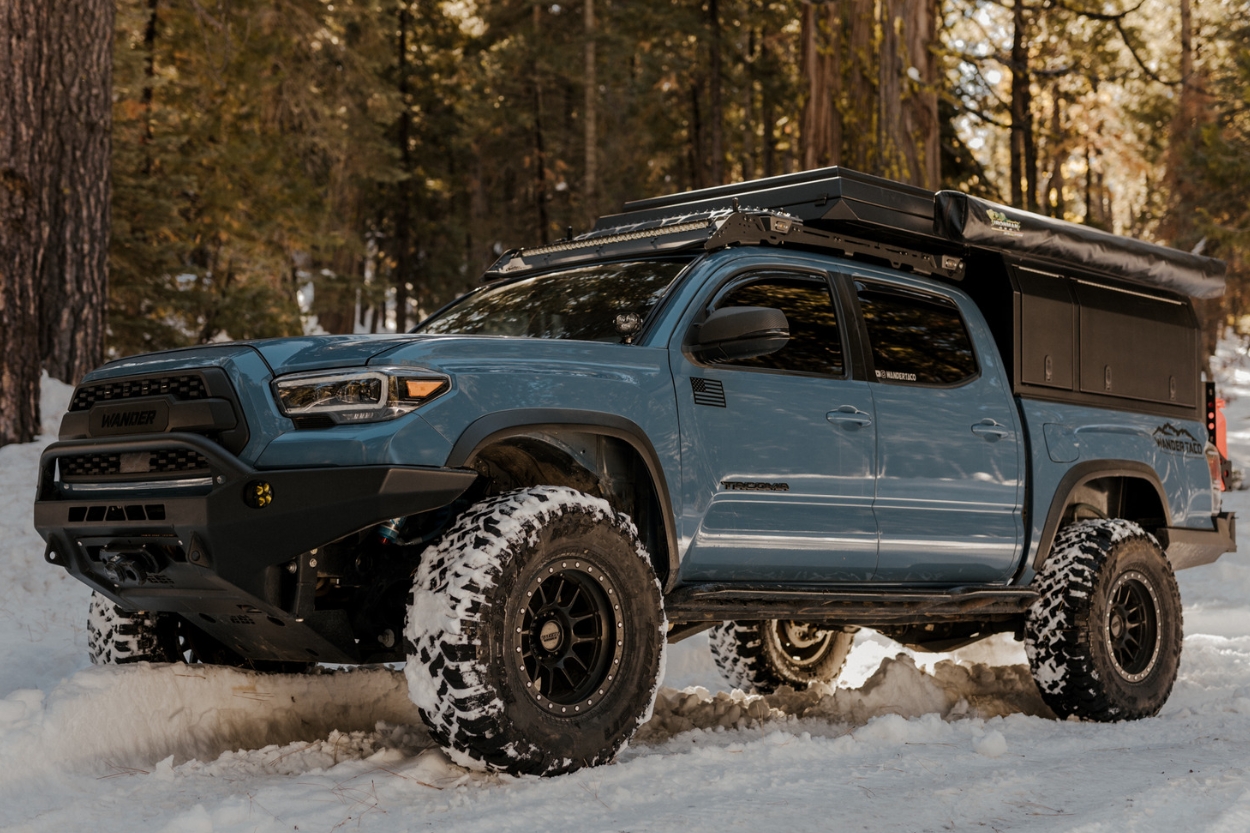 Cavalry Blue Toyota Tacomas are one of my favorites. If I had to pick any other color for the Taco, I'd have to go with Lunar Rock, but Cavalry Blue holds a special place in my heart. I may be biased since I do have a 2018 4Runner TRD Pro in the same color, but it undoubtedly looks great on the Tacoma!
Let me know what you think in the comments. I'll see you all at our next Taco Tuesday!