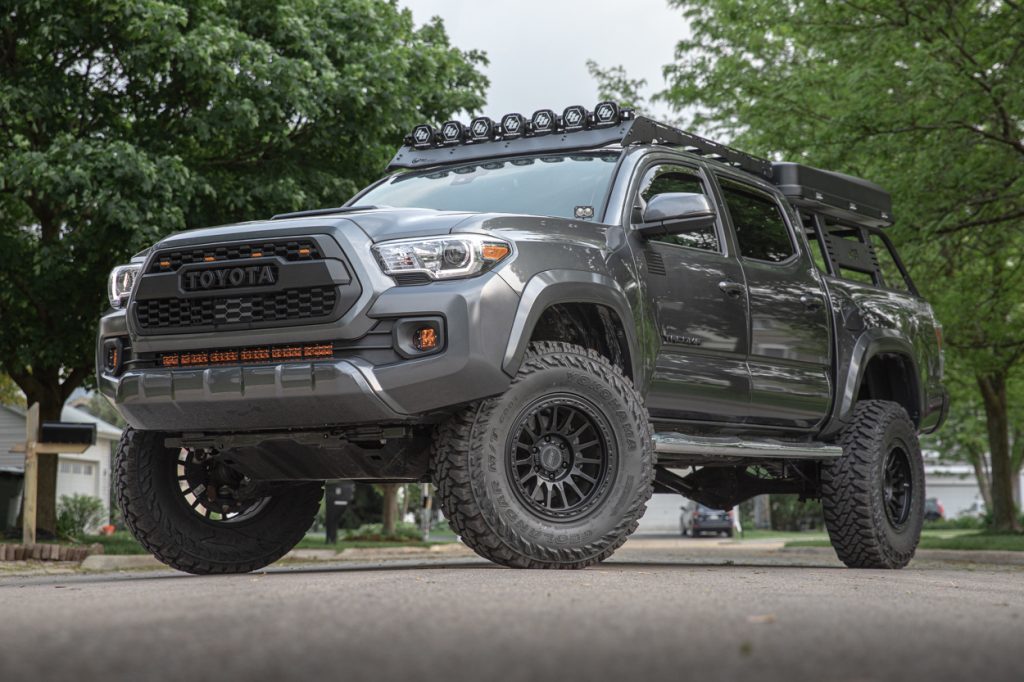 A Complete Guide To Ironman 4X4 Lift Kits for 2005+ Tacoma – Foam Cell Pro Vs. Nitro Gas, Stage 1 Vs. Stage 2 & More!
I installed the Ironman 4X4 America Foam Cell Pro Stage 2 suspension system on my Tacoma and, man, am I impressed. The more I learn about this technology the more excited I am to REALLY test its capabilities.
Designed for the Australian military – who operate in some of the harshest environments – this system performs like a tank.
Holding the shocks in my hands I was extremely impressed with the thickness of the sidewalls and the overall weight, which makes sense considering Ironman offers a double walled design and one of the largest pistons in the game making for more surface area to better dampen your stroke, which we'll get to in a bit.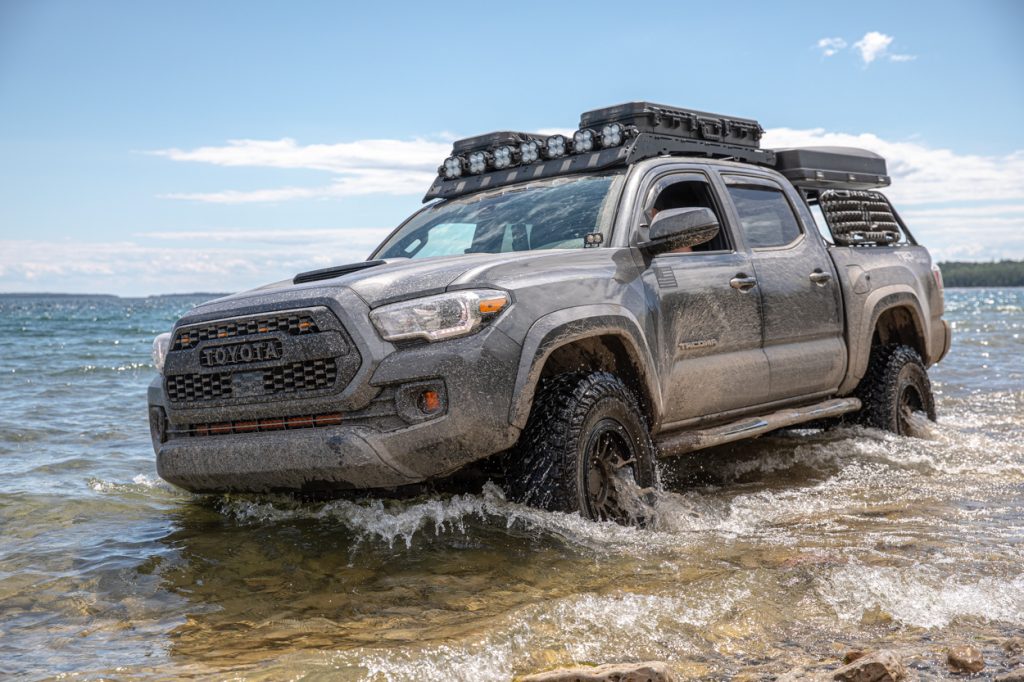 Now, I have to admit, when I was first looking for a suspension system/lift kit for my rig I hadn't even heard of Ironman.
Like many out there I was drawn to Eibach, Fox, OME, etc. I even considered going all out on an Icon or King set with all the glam of remote reservoirs and on-the-fly shock tuning. Those are all undoubtedly effective popular solutions to kit out your rig with.
Though remote reservoirs and adjustable shocks are cool, I fell back to the old adage "more parts, more problems" and stumbled upon Ironman's innovative Foam Cell technology.
Find It Online
Ironman 4X4 Lift Kits Review
What Is Foam Cell?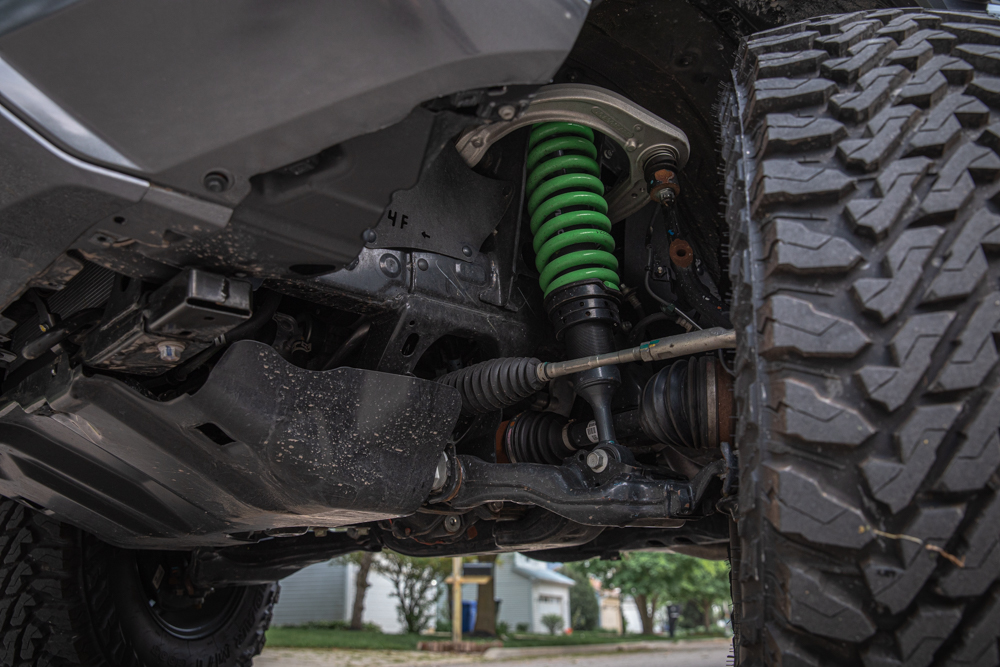 Now for the good stuff. Like many, I had no idea what this Foam Cell technology was. But after some research and a few calls to Ironman I was blown away by the engineering and science behind the technology. As mentioned in the beginning of this post these shocks were initially designed for the Australian military, who operate in some seriously harsh conditions where heat and aeration have a huge effect on shock fade.
Traveling at even moderate speeds over uneven terrain in warmer climates shocks can fade within a half hour (or less). In a standard shock you have a mixture of oil and a compressible gas, like Nitrogen, which is dampened through a series of shims and valved pistons. Under heat from both ambient temperature and transfer of energy from compression and rebounding this can create aeration between the gas an oil resulting in the shock failing to rebound which can seriously dampen your off-road trip (no pun intended).
This is where the Foam Cell technology comes in. Ironman takes the gas out of the equation (sort of). The Foam Cell Pro series shocks come filled with oil from top to bottom, virtually eliminating any room for aeration to take place. Using a massive chrome hardened 1-3/4" piston, increasing surface area, this makes for a really smooth stroke.
For compression they've utilized a nitrogen impregnated closed cell foam which is placed in the second wall of their uniquely designed double wall shock. This results in a larger shock profile measuring 2-5/8" which (initially) doesn't look like it would fit using the stock mounting points. To accommodate for this Ironman offsets the lower mounting points on the front end for a nice, easy fitment.
Foam Cell Vs. Nitro Gas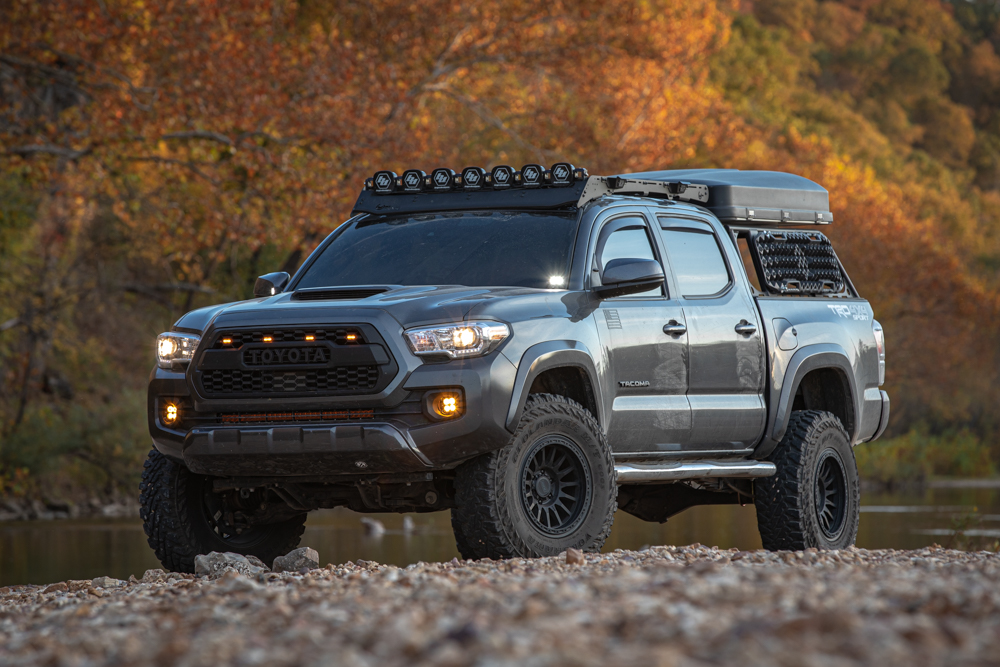 Foam Cell or Nitro Gas? Which one is right for you depends entirely on how you intend on using your rig.
Ironman's Nitro Gas system is built with the average off-roader and overlander in mind. Their Nitro kit features a 35mm piston, twin-tube shock absorbers and stiffer valving to counteract the harsh terrains we put our trucks through.
Next up is Ironman's Foam Cell system, which has some rugged upgrades for the more serious off-roaders in mind. The main focus here is the 'Foam Cell' which replaces the Gas charge in the strut with a nitrogen impregnated closed foam cell making more room for oil and upgrading the cooling capacity of the system, which we'll get into more detail down below.
Aside from this, the system also features a larger piston at 41mm, increasing the surface area and making for a more robust system to accommodate for the most extreme environments.
Stage 1 Vs. Stage 2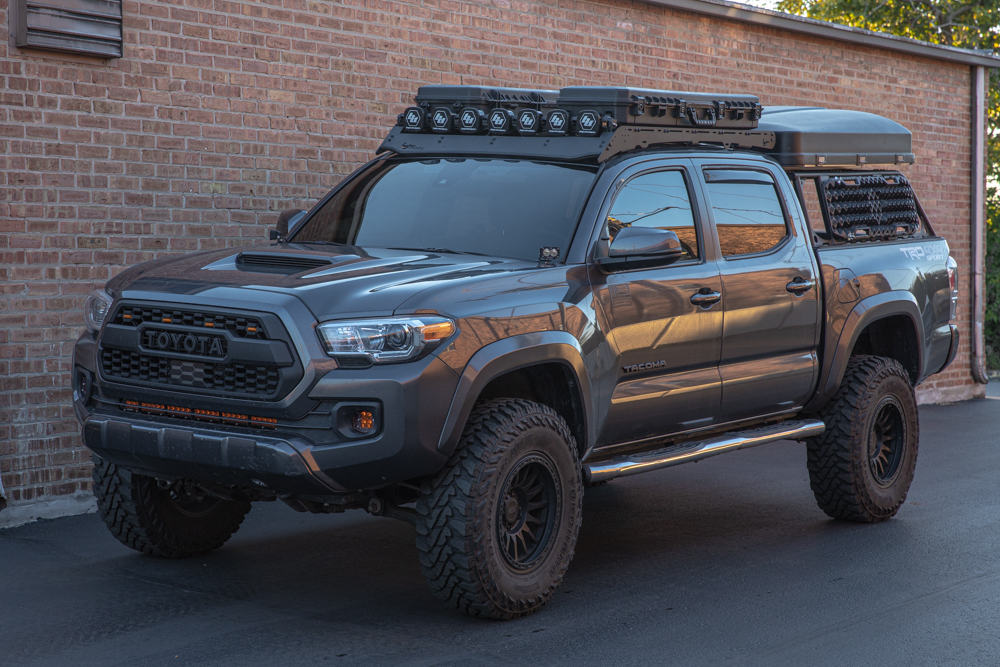 Ironman offers two different stages for each of their kits.
Both stages are customizable to your desired ride height and payload and include their Nitrogen charged gas or Foam Cell struts which come valved specifically to the Tacoma, coils (with an option for them to be pre-built before shipping) and a full leaf pack kit with options from 0-440 and 440-GVM payloads.
Their Stage 2 kit adds Ironman's Pro Forged Aluminum upper control arms (which provide a huge upgrade over stock) and makes their Stage 2 system a truly complete lift kit for the Tacoma.
Upper Control Arms (UCAs)
Let's talk UCAs. Ironman's Stage 2 kits come with their Pro Forged upper control arms. Which begs the question "Do I need them?" The answer "Maybe." For a basic 2" lift you probably don't need to go all out with an upper control arm replacement, but anything over 2″ – for sure. Ironman's 2.5-3" lift comes in at enough lift to justify upgrading. If you're serious about off-roading and trying to maximize your travel their UCA is a serious option to consider.
Ironman's UCA is forged using an aluminum alloy and features an outer hardened zinc coating to minimize any kind of rust or corrosion, which is big for those of us who operate out of snowy areas prone to salt.
An added benefit of the forging process is consistency. Because these UCAs are made from a mold, the forging process results in identical arms coming out every time versus a welded tubular design where a series of heating and cooling can cause slight alterations in the geometry of the arm. The end product is robust, corrosion resistant and adds a nice finish to the kit.
Ironman's UCA's take the product a bit further than most by adding up to 4 degrees of caster built-in to the ball joint mount. Other aftermarket UCA manufacturers tend to place the ball-joint flat or "in-line" which makes sense from a manufacturing standpoint, but when installed the ball joint is already sitting at an angle which creates wear and results in a slight loss of travel and caster.
With their angled design the ball joint sits flat with the spindle when attached adding another 1.3" of total travel onto the kit. To take this even further Ironman uses Toyota OE ball joints and bushings. Aside from being a Toyota part, which are of course high quality, you can source replacements from your local dealer or at a local shop when on the trail.
Front Coilovers (Struts)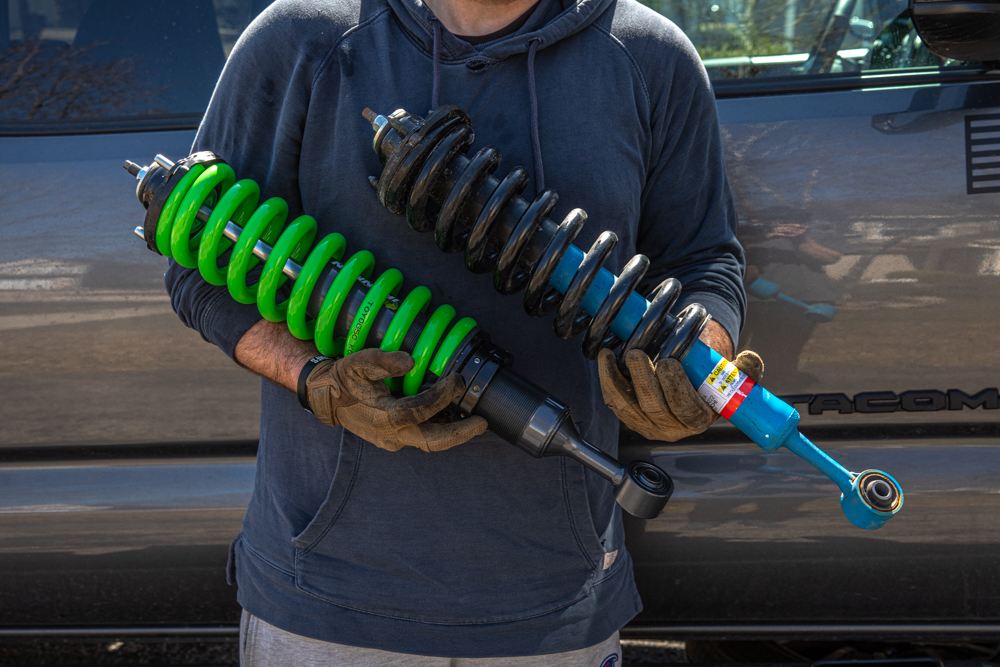 Ironman's coil-overs are hard to miss, with their bright green electro-static powder coat they certainly stand out among the competition. These coils are CNC cold wound and bar peeled, a process which improves performance under pressure, giving you the added insurance and reliability desired when looking for an off-road suspension system.
Ironman offer's a couple different options here, mainly, for load capacity. Ironman has 2.5″ to 3″ coils with options for medium and heavy loads. Again, this all comes down to your build preference – if you have an aftermarket bumper, a winch, engine mods, etc – the weight starts to add up. With Ironman's optional pre-built kit it makes it easy to decide what you need and order it right to your door.
Rear Shocks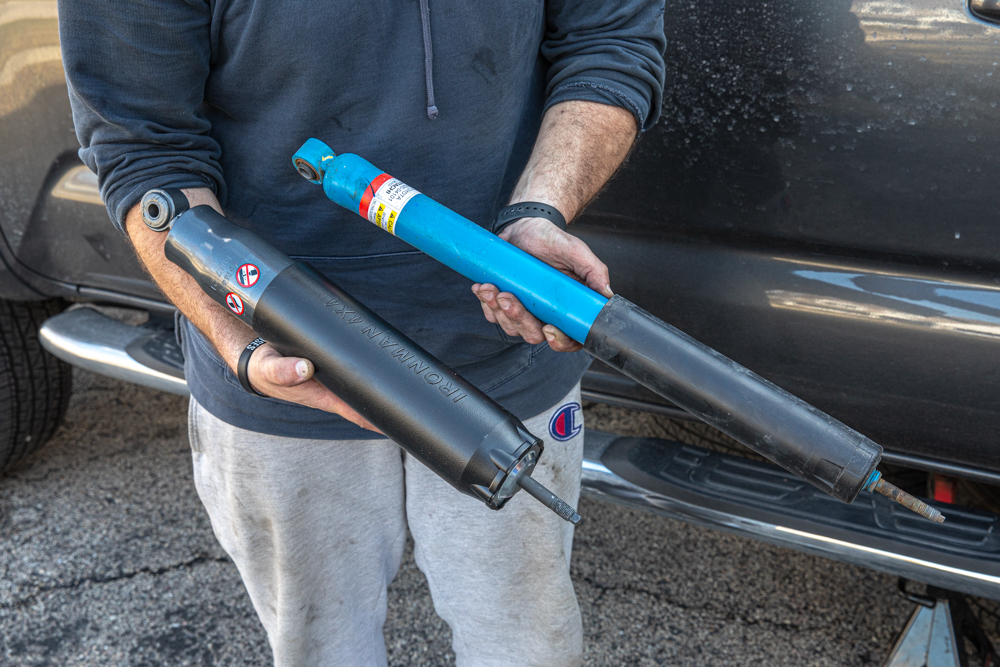 We already went in depth into the tech, so the above photo is just for comparison. The FCP rear shock is WAY bigger than OEM. And, an added install bonus, since this is a foam cell shock, they do not automatically expand, they can be adjusted up and down by hand, which makes getting the threaded top into the frame much easier.
Leaf Springs
Knowing my future build/gear intentions, I went with the heaviest duty leaf pack Ironman offered. Just look at the difference compared to stock!
Before Lift Kit – 2022 Tacoma Sport
This is a before shot, the truck is 100% stock as far as wheels, tires, and suspension go.
Post Install – Unsettled Suspension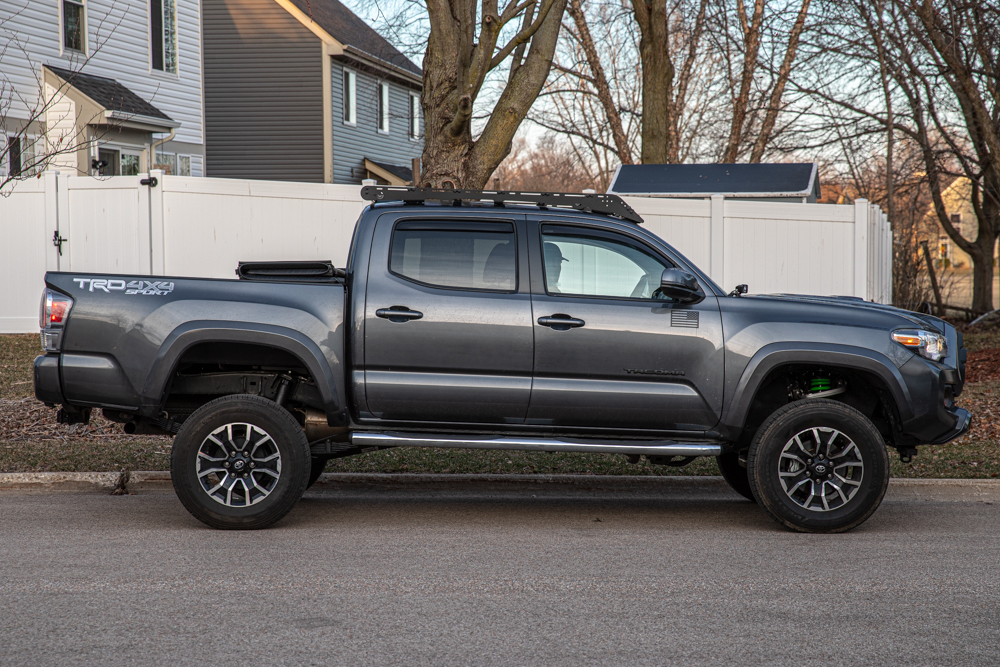 Photo above taken right after we finished the install. Quite a bit of rake in the back, with the heavy load leaf springs and no weight.
Settled Suspension + RRW Wheels & 34″ M/Ts
A few weeks later, I had my RRW RR7s installed, wrapped in a 285/75/17 Yokohama MT. I also threw on a CBI bed rack and an iKamper RTT with roughly 300 lbs. of sand for unloaded daily driving. There is still a good amount of rake, but I love the look and potential for really loading up for an extended trip.
Review & Impressions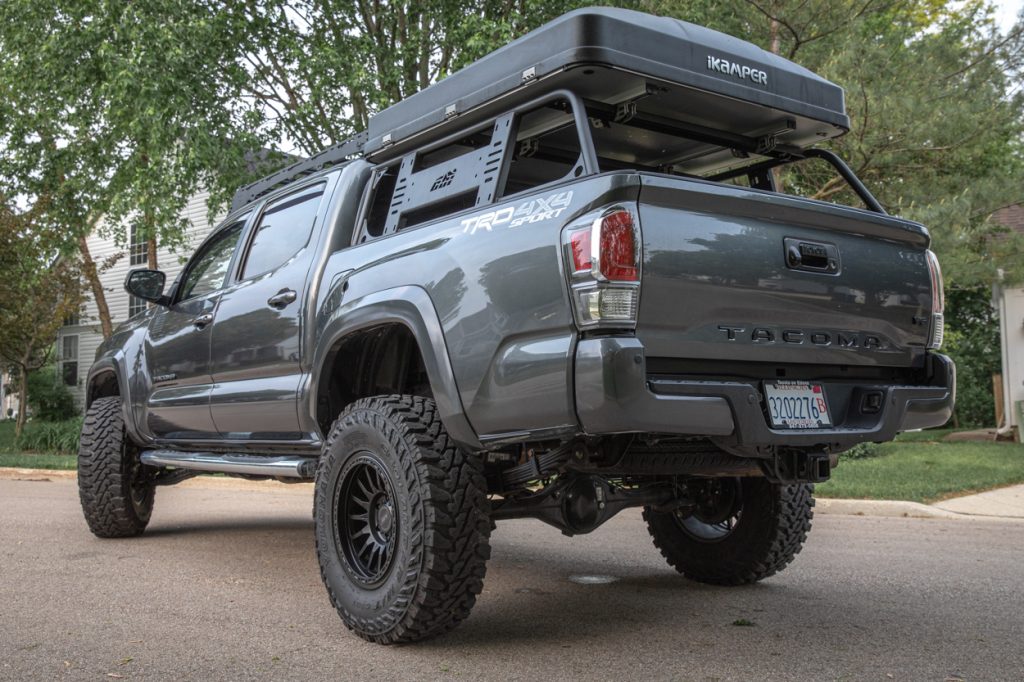 After everything was installed, it looked a little wonky on the stock tire set-up, which was to be expected. After driving for around 500 miles to break it in and having no weight in the bed with the HD kit I was still sitting at a considerable rake. I got my alignment, added 480 lbs. of sand and threw an old stock tire in the back for a little extra weight. Initially it looked like it was STILL sitting at a massive rake. I drove around for upwards of two weeks or about 1,000 miles and it finally settled. With my added 285/75/R17 tires the ride feels great with minimal vibration at low speeds though I may need to swap my needle bearing at some point in the future.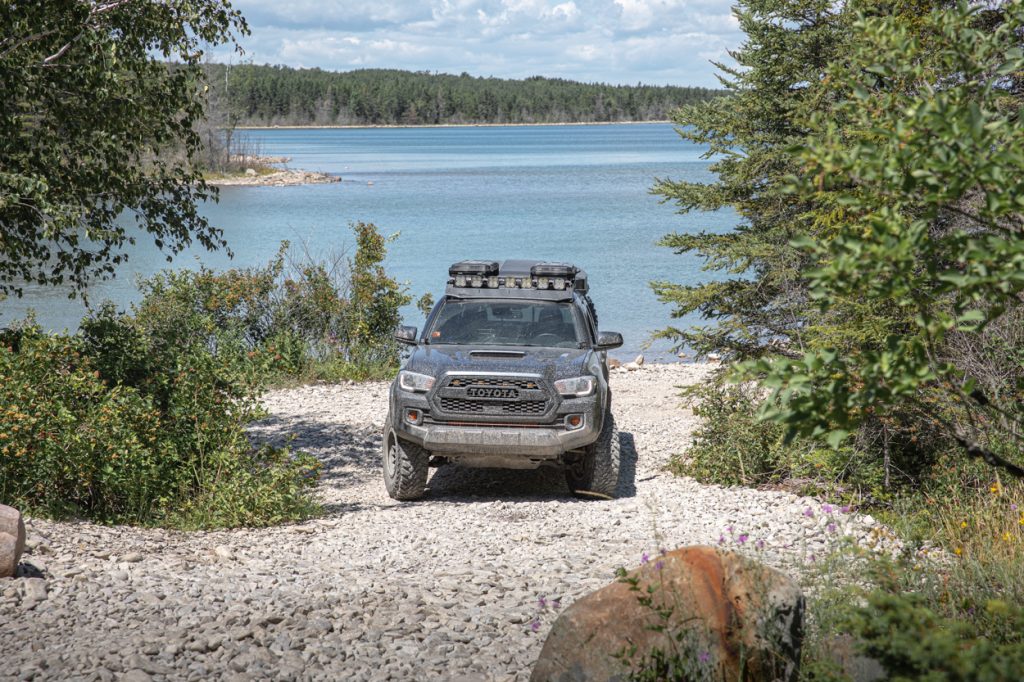 I can't stress how impressed I am with this kit. From the engineering that went into it to the thoughtfulness of the design, the team over at Ironman did an awesome job. This is really a premium solution for your Tacoma's suspension and a serious contender to some of the larger brands like King or Icon. Ironman provides a complete, robust solution for your Tacoma's suspension with the peace of mind that they won't fade when you're tearing it up on the trail.
Final Thoughts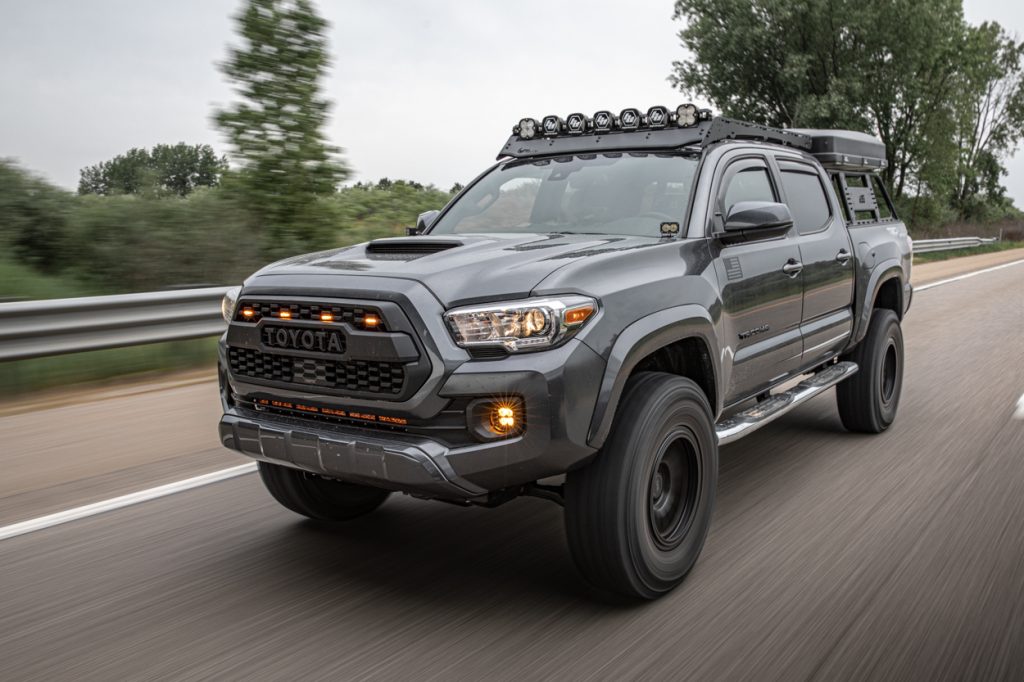 I can't stress how impressed I am with this kit. From the engineering that went into it to the thoughtfulness of the design, the team over at Ironman did an awesome job. This is really a premium solution for your Tacoma's suspension and a serious contender to some of the larger brands like King or Icon. Ironman provides a complete, robust solution for your Tacoma's suspension with the peace of mind that they won't fade when you're tearing it up on the trail.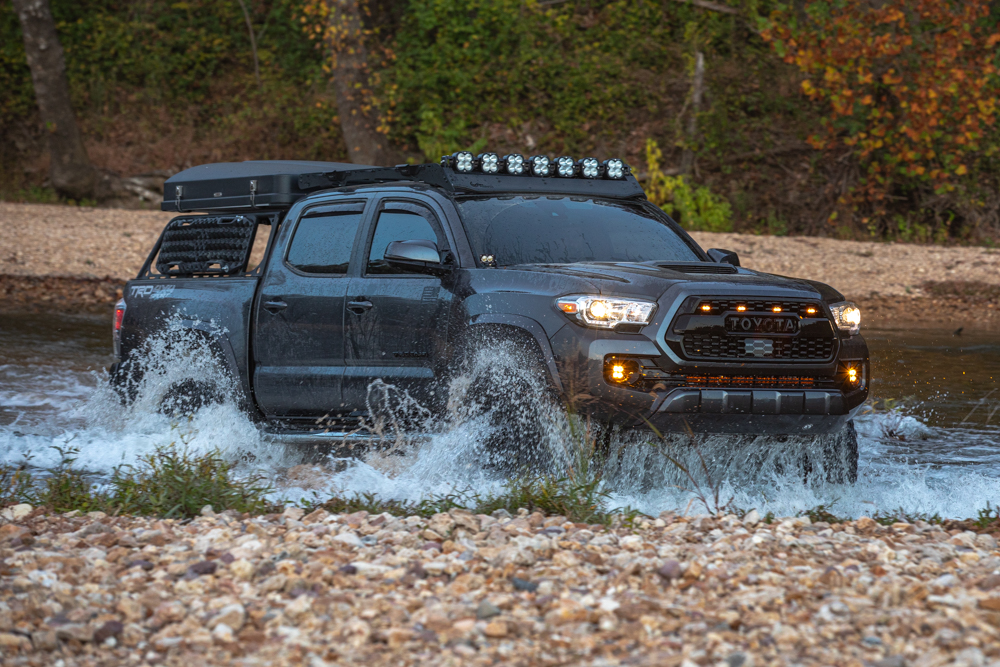 The installation was pretty standard it took a friend and I about 6-hours in the driveway (including several trips to Home Depot and Autozone). I will say I was a little worried about the bright green coilovers – I was planning on running a black and orange theme on my rig, but have to admit the green has grown on me and am happy to rep it. After several weeks of daily driving and taking this on a couple of trails I couldn't be happier with how it's performed. I can't wait to see what products they come out with next.