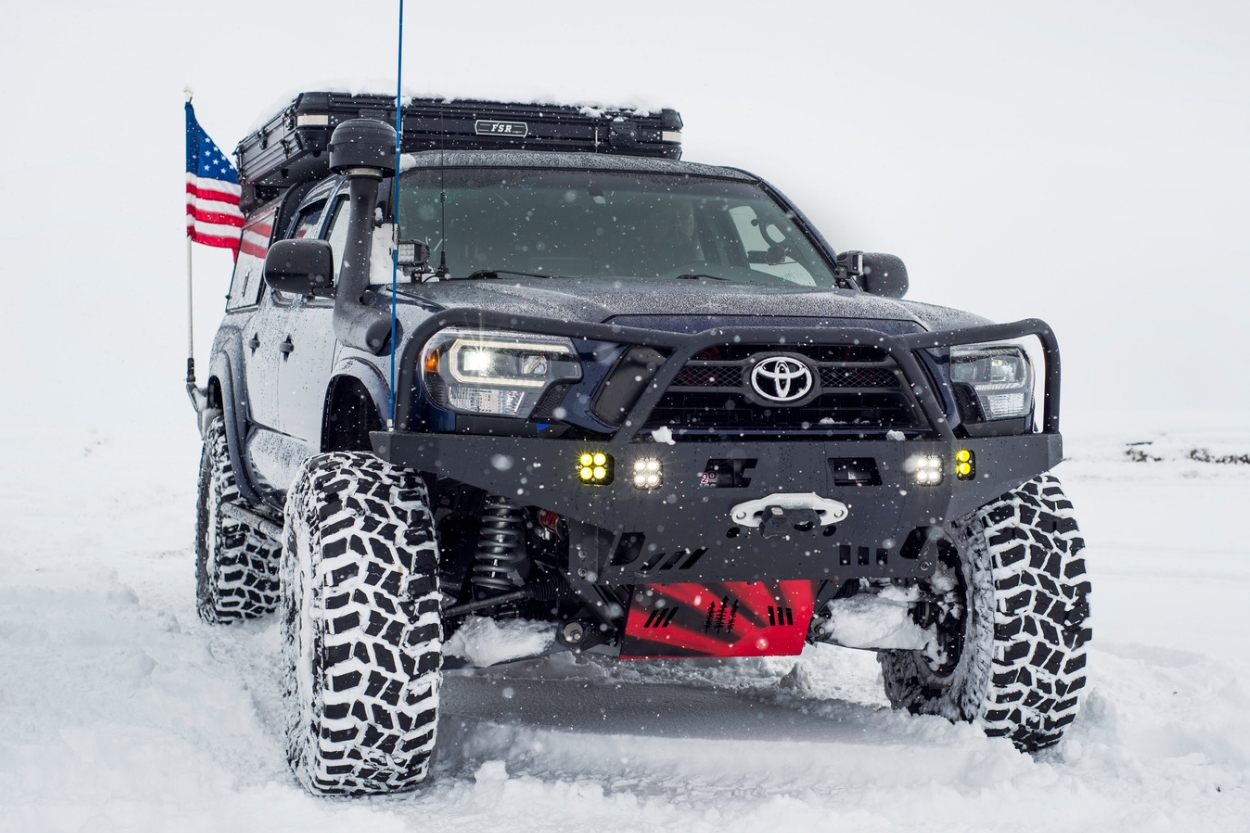 Six 2nd Gen (2005-2015) Toyota Tacoma Front Bumpers For Off-Road & Overland Truck Build Inspiration In 2023
This Week's Topic: Front Bumpers For 2nd Gen Tacoma
Welcome back to another Taco Tuesday! If you missed the previous TT, we looked at several Cavalry Blue Tacoma builds.
This week, we are focusing on the 2nd Gen Tacoma. Specifically, a look at some awesome trucks with aftermarket front bumpers.
As the 2nd Gen Tacoma gets a little bit more affordable, and I mean a little, we will start to see many new builds as enthusiasts start to scoop them up. If you own or are looking to pick up a 2nd Gen Tacoma, the setups below feature some killer aftermarket front bumpers.
If you find yourself needing even more bumper info, then head on over to our Tacoma front bumper buyer's guide to help find the right bumper for your rig.
Let's get into these Taco Tuesday featured rigs!
How To Get Featured
Do you want to be featured in a future Taco Tuesday post? We want readers to get inspired by a variety of rigs/products.
Submit your build for Taco Tuesday here to get featured!
We have specific topics for each Taco Tuesday post and we would love to feature your rig!
2nd Gen Tacoma Front Bumpers
Why Add An Aftermarket Front Bumper?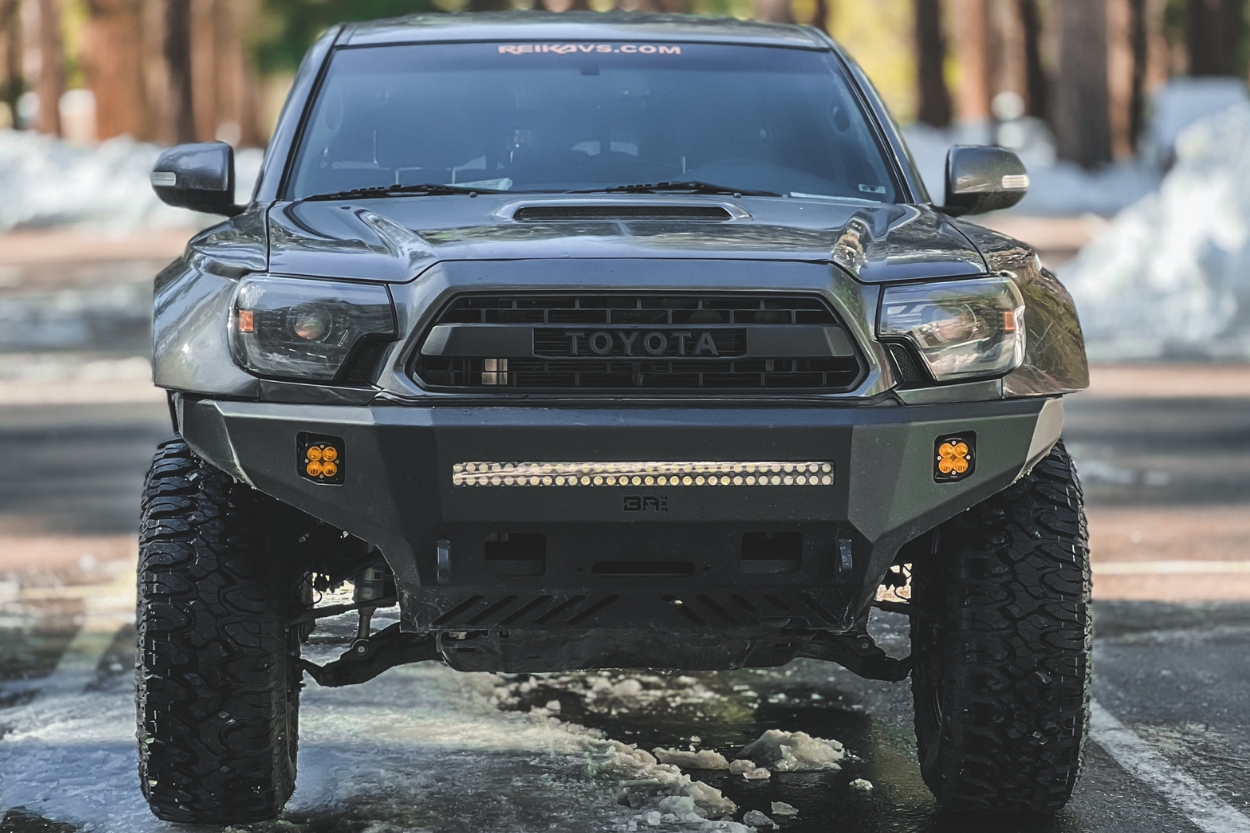 Changing out the plastic stock front bumper of your Toyota Tacoma grants you several benefits aside from looks.
The first and most obvious benefit is protection for the front end of your truck. For those who really demand the most out of their Tacoma while out on the beaten path, having a bit more protection up front is a piece of mind. I'd say that half of Tacoma owners with an aftermarket front bumper are a result of ripping off their OEM bumper or badly cracking the plastic. The stock plastic bumper just doesn't cut it!
You will also gain a bit of ground clearance too depending on the bumper design, which helps with avoiding obstacles.
The second benefit of an aftermarket front bumper is tire clearance. This won't apply to lo-pro style bumpers, mainly with full front bumpers. These bumpers give you loads of room for running bigger tires on your Tacoma.
The last benefit is the ability to easily add accessories to the front end of your truck. Adding a front bumper allows you to mount a winch, lights, and recovery points where the OEM bumper may have limited you.
Below you will find six Tacomas and a variety of bumpers with regard to brand, price, and function. In addition, we asked each owner what they liked about their setup. Be sure to check out their Instagram pages as well if you have more questions about their builds.
1. Andrew Cabral (@tacodreww) – Knowlton Fabrication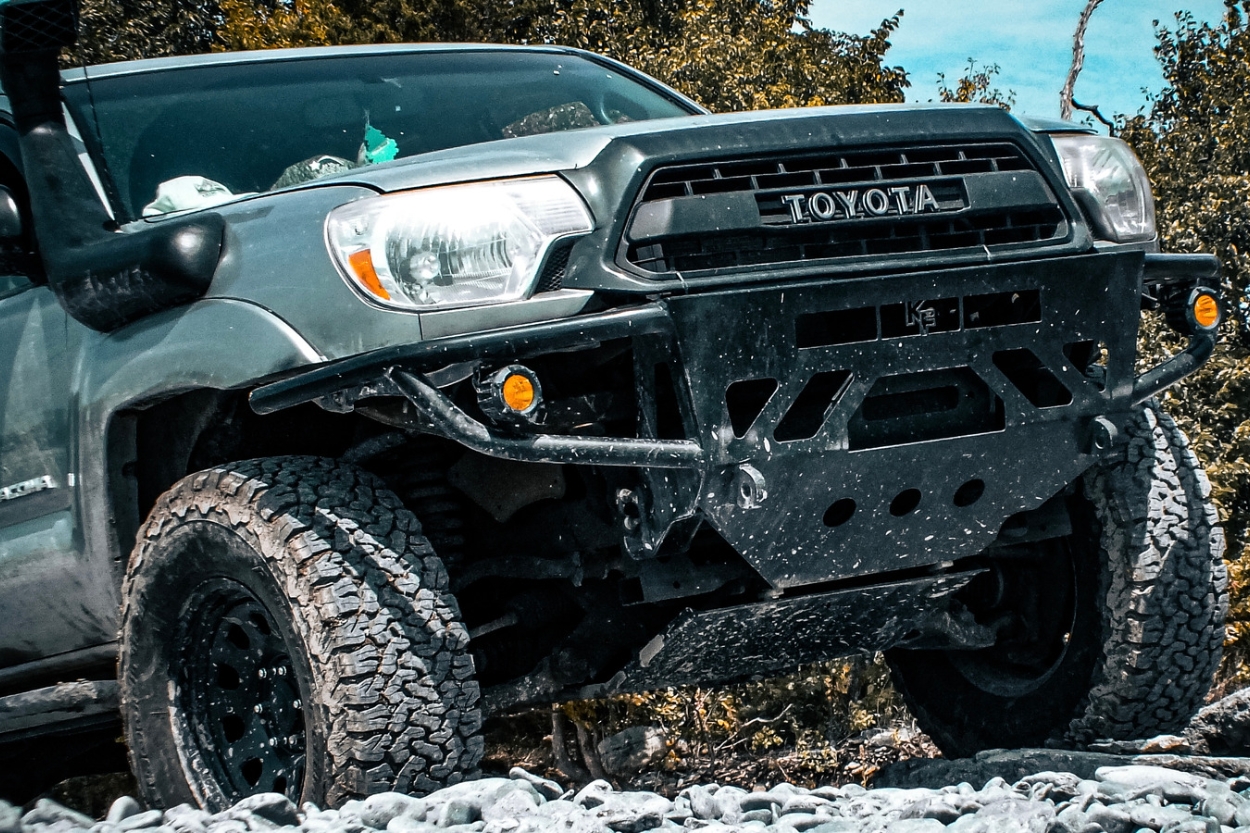 Bumper Details
Model: Hybrid Bumper
Price: $1300 CAD
Why Did You Add An Aftermarket Front Bumper To Your Tacoma?
With my build, I've been getting things as I needed them. Last year, I went on a trail run with lots of thick blocks of ice and mud. I went through some water and a block of ice completely smashed my stock bumper and sent my grill flying. After that, I was luckily able to zip-tie most of it back together and ordered a bumper from Knowlton Fabrication. This bumper will definitely stand up to anything now that the trail throws at it.
2. Zack Beall (@camofzj80) – Coastal Off-Road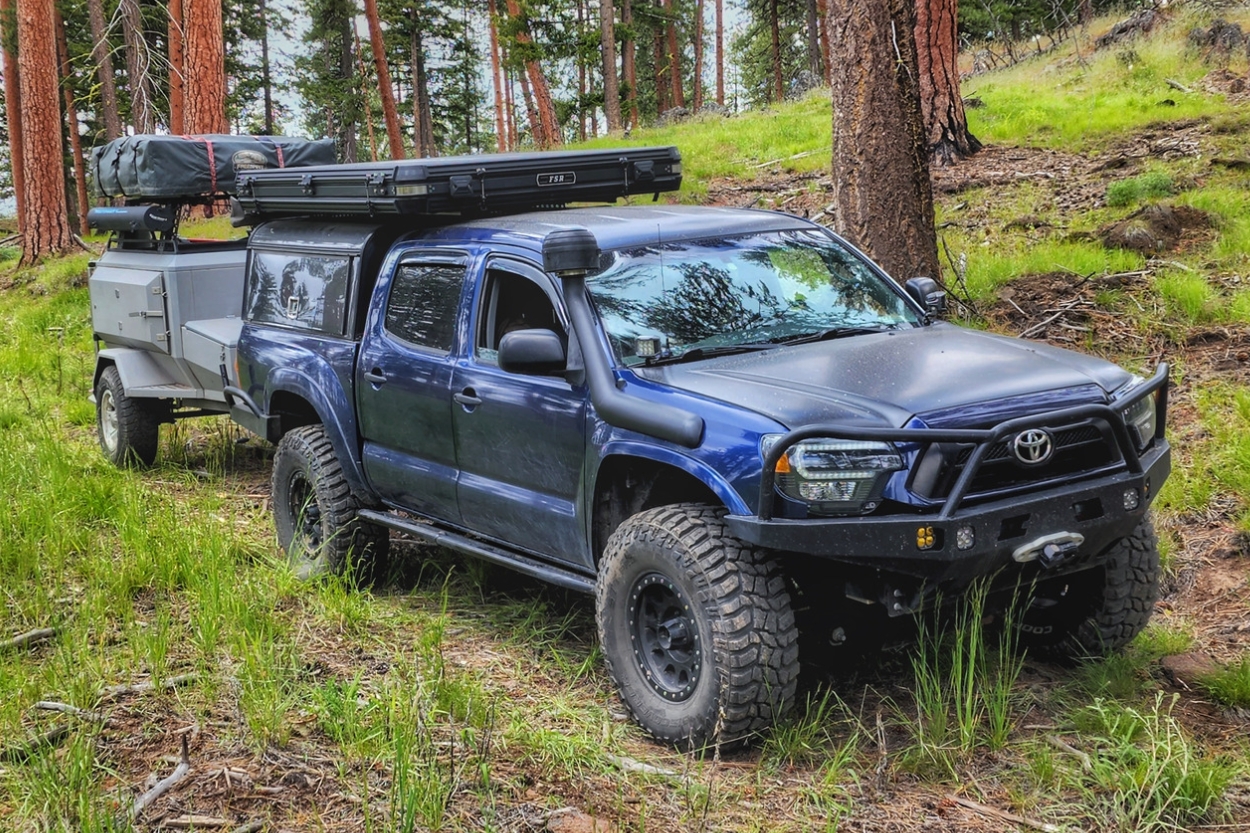 Bumper Details
Model: Extreme Clearance Steel Plate Bumper w/ Full Hoops
Price: $1580
Why Did You Add An Aftermarket Front Bumper To Your Tacoma?
I am building this truck for family adventures as many of us do. This truck has been built to tackle all types of terrain from dirt roads, to deep snow, and even tough rock obstacles.
When I started looking for armor, I wanted something that could take the hits on the harder trails and have the clearance to get through the larger obstacles. I ended up coming across Coastal Off-Road's bumpers and was very excited when I saw how their bumpers were built. They provide a relocated front cross member that in turn, provides some of the best approach angles and increased strength for recovery and winching.
I purchased the DIY weld-together kit as I weld and fabricate myself but didn't have time to tackle designing bumpers. Frankly, I wouldn't have been able to come up with anything nearly as good as this kit.
I tested the bumper right away on trails in Moab; the approach angle and strength of these bumpers allowed me to run some of the harder trails, such as Poison Spyder, Golden Spike, and Gold Bar Rim without damage. Following that, I also put the stronger mounting points to the test by recovering a heavy crawler out of one of the hot tubs on Hell's Revenge.
I am not sure I would have been able to do that recovery with most other bumpers. Coastal Off-Road really did a killer job with the design of these bumpers.
3. Heather & Alex Darley (@darley_offroad) – Dezert Toy Fabrication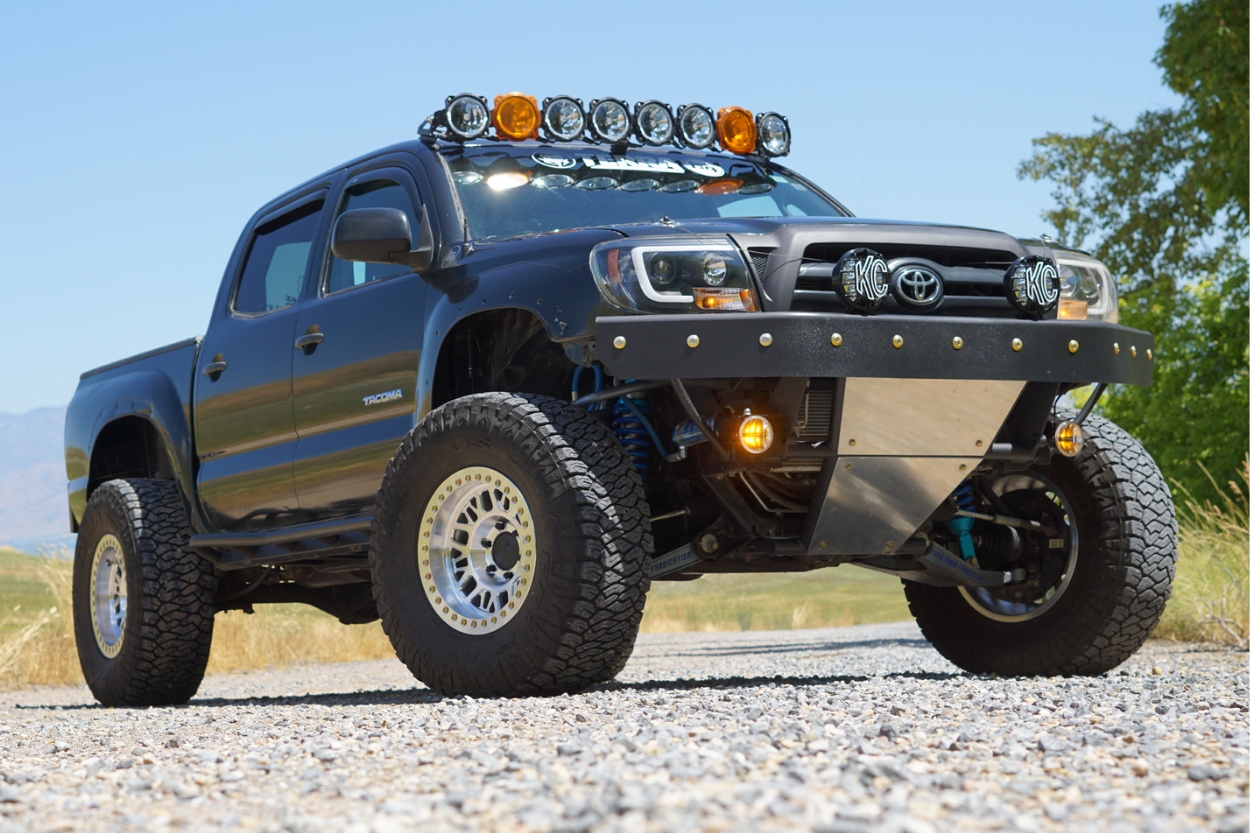 Bumper Details
Model: Type V Bumper (Stock Width)
Price: $2250
Why Did You Add An Aftermarket Front Bumper To Your Tacoma?
We previously had a CBI front bumper but wanted more clearance for our tires and suspension setup. Our current bumper required cutting out a portion of the front subframe, which drastically increased our approach angle. We've already seen the benefit of this when jumping the truck and compressing all the way down to our belly with no issues.
We also like supporting smaller but highly skilled & passionate fabricators like DTF. Plus, it just looks so damn good!
4. Caz Warycha (@montacoma) – U.S. Off-Road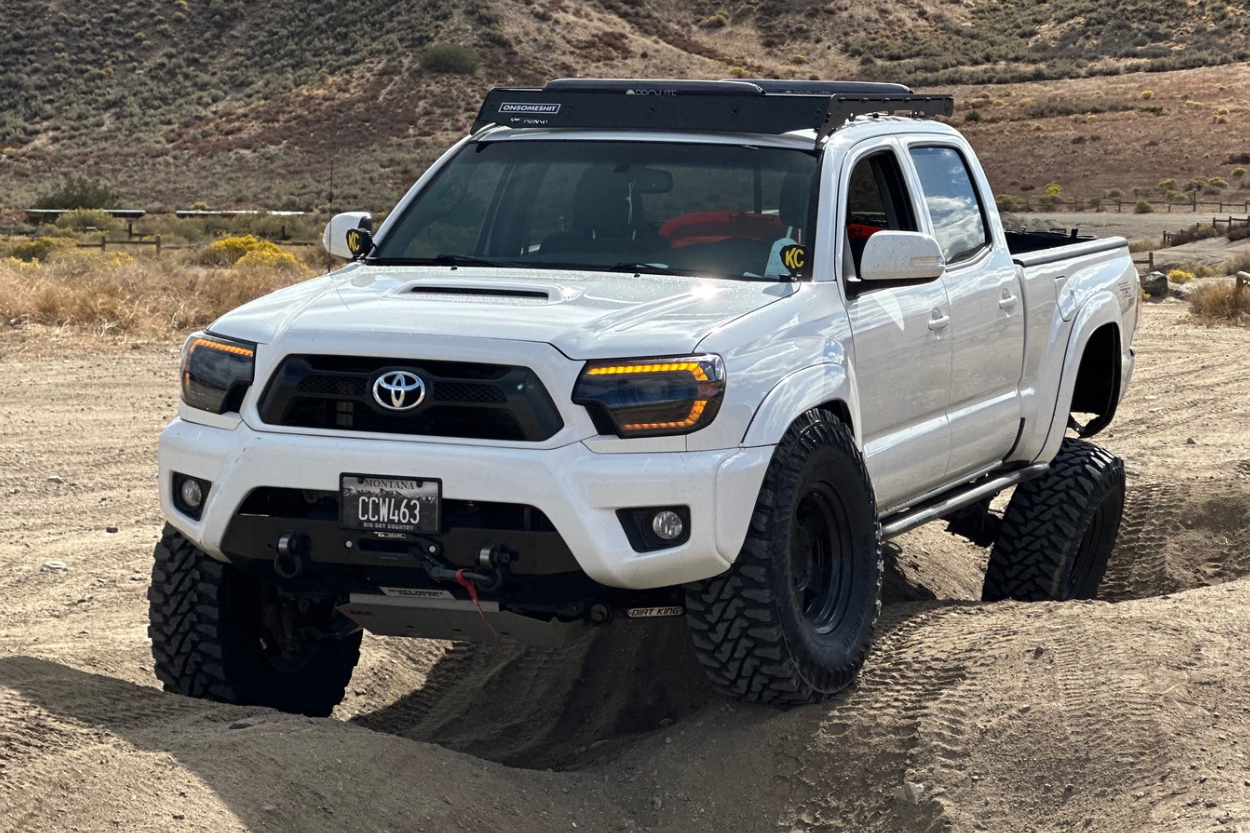 Bumper Details
Model: '12-'15 Toyota Tacoma Winch Bumper
Price: $550+
Why Did You Add An Aftermarket Front Bumper To Your Tacoma?
I added this front bumper because I wanted a self-recovery point without sacrificing the OEM look. The bumper weighs 62 lbs. without a winch, so it's pretty light. This bumper was also a great price point at only $550 without paint and shackles.
It was a relatively easy install with a clean and simple OEM+ look without adding unnecessary weight.
5. Greg Hensley (@advtr.tcma) – Body Armor 4×4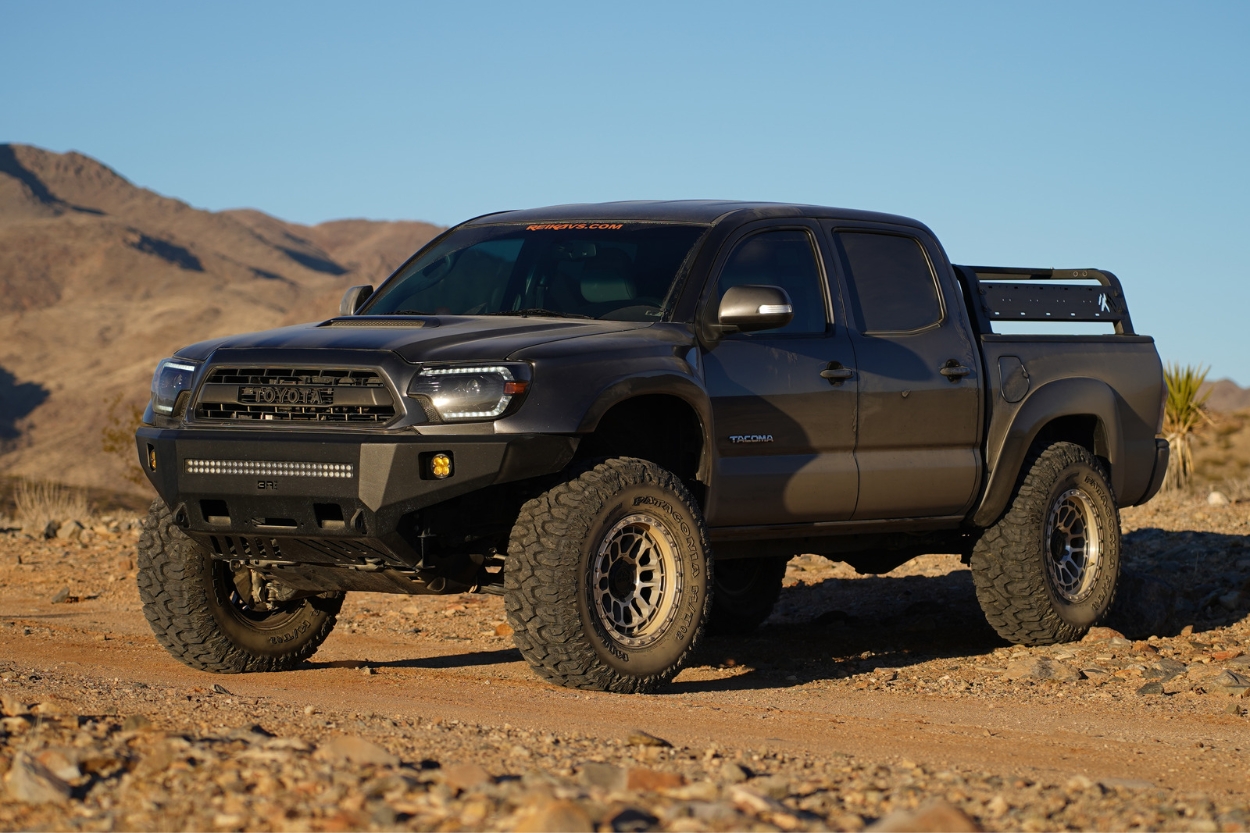 Bumper Details
Model: '05-'15 Toyota Tacoma Pro Series
Price: $1100
Why Did You Add An Aftermarket Front Bumper To Your Tacoma?
I decided to add an aftermarket bumper to my 2013 Toyota Tacoma as one of my first few modifications to the truck. This followed after upgrading my suspension, wheels, and tires. Other than upgrading the overall appearance, I wanted something that would accommodate larger tires and also serve as more protection for the front end.
I was looking for a bumper with high clearance that didn't require too much trimming and bolt-on installation. After talking to the guys over at Body Armor 4×4, I landed on the 2005-2015 Toyota Tacoma Pro Series Front Winch Bumper.
The installation process was quick and easy and didn't require much, other than a helping hand to get it into position before bolting it up. The bumper accommodates my 30-inch light bar and Baja Designs Squadron Fog Lights. It also has easy access mounting points and a winch cut out with a 10,000lb winch capacity.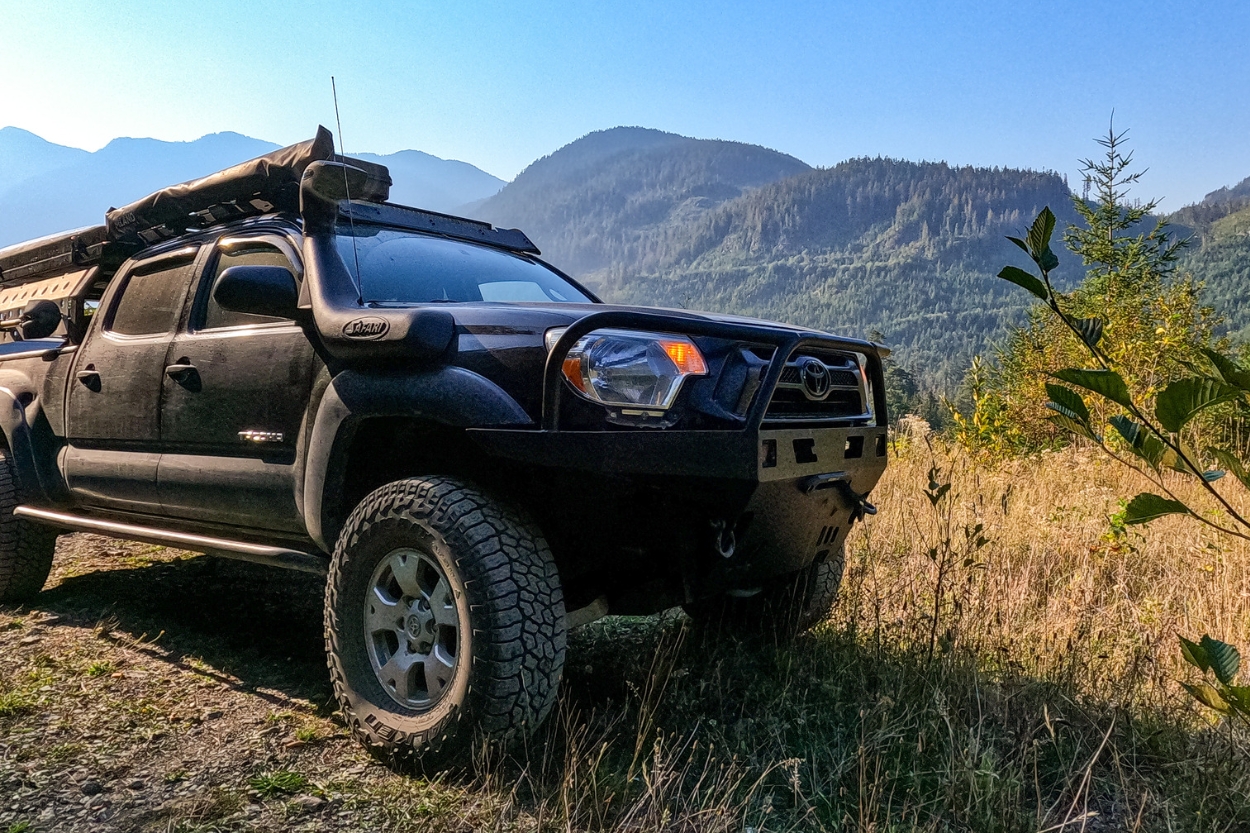 Bumper Details
Model: High Clearance DIY Weld Together Winch Bumper
Price: $785 CAD
Why Did You Add An Aftermarket Front Bumper To Your Tacoma?
When thinking of future modifications for the Tacoma, knowing I would want to install a winch and have front-end protection made purchasing this weld-together kit a no-brainer. I also wanted a bumper that was affordable, local, and knew that I would eventually like to run oversized offroad tires.
Fitment when installing with a winch was tight. However, every winch is slightly different so it may not be as tight with one as it is with the other.
When choosing between steel or aluminum, steel will always be the better option when it comes to strength with weight being the main drawback. Luckily, the steel option is only 104 lbs., which makes the bumper fairly light for the material.
Adding an aftermarket bumper is really a no-brainer if you are going to engage in any off-roading that may involve needing recovery points. The Coastal Off-Road high clearance bumper provides two heavy-duty 9/16th recovery points that are placed in line with the frame. In addition, you get peace of mind with solid front protection when it comes to tackling those tight trails.
These bumpers can support 8,000-12,000lb winches and have cutouts for light pods in the front.
Aside from functionality, this bumper gives a very aggressive look in my opinion with the high clearance design. I'd give it two thumbs up for the solid design. I opted for the full grille tubing to protect my headlights and in my personal opinion, the bumper looks better with it.
Final Thoughts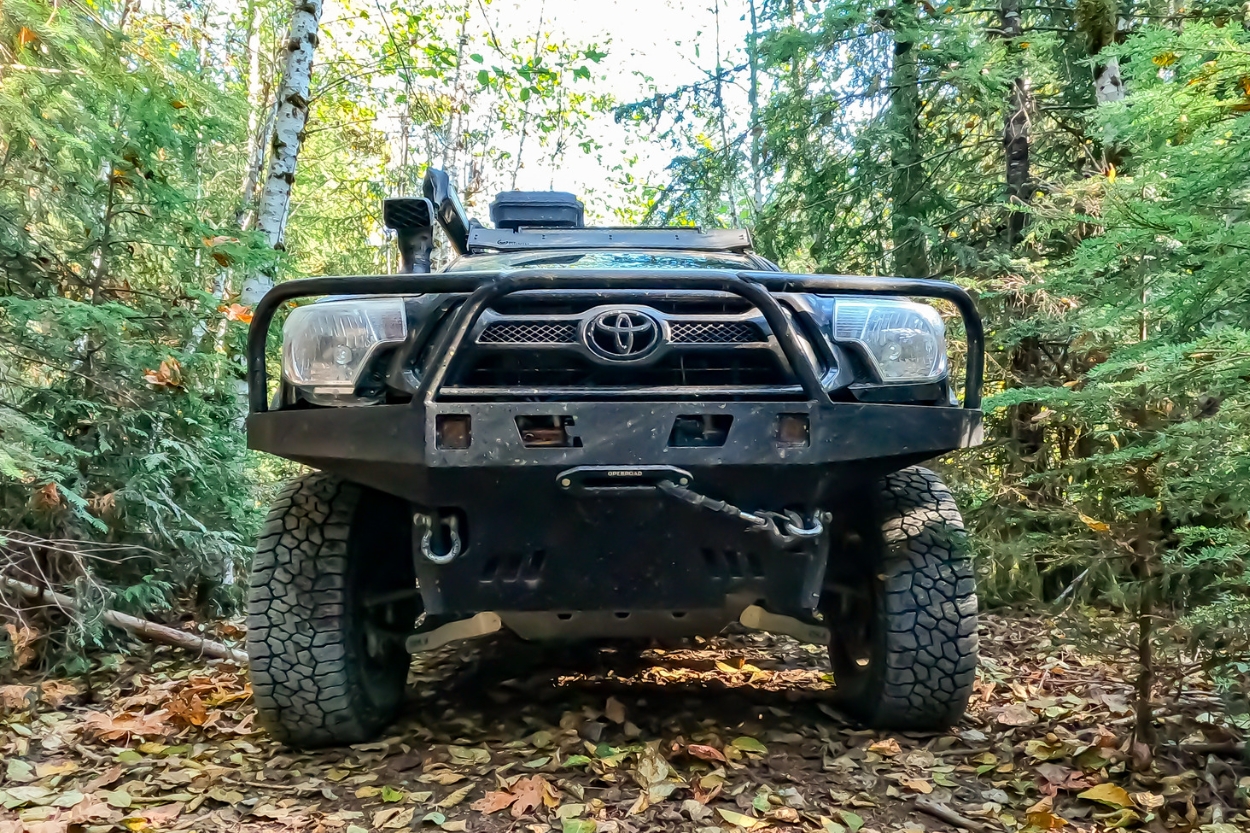 What a great group of rigs for this week's Taco Tuesday!
Do you have an aftermarket front bumper on your Tacoma? If so, which one? Let us know in the comments below. I'll catch you all at our next Taco Tuesday!