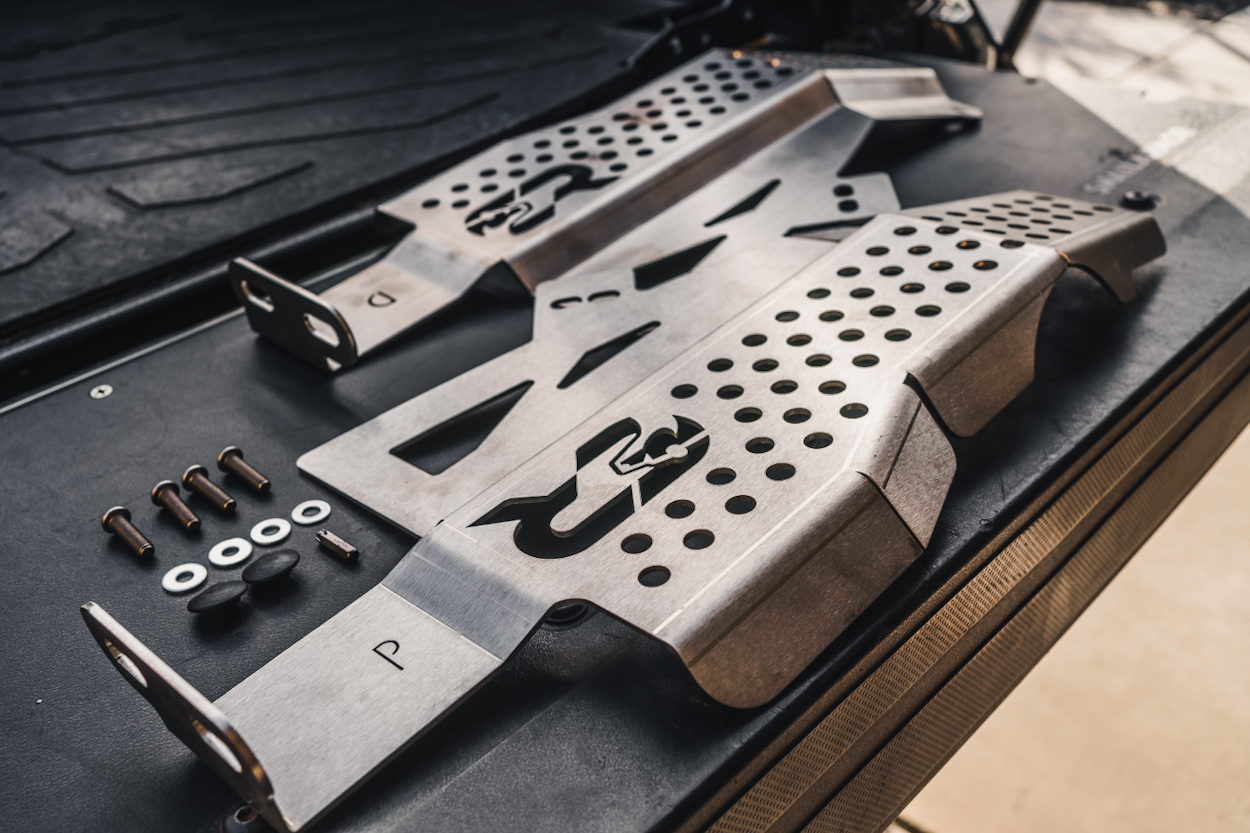 Protect Your Tacoma's Catalytic Converters From Theft & Expensive Repairs With The Stainless Steel Guard From Cali Raised – Install, Review & Overview
When the pandemic hit, catalytic converter theft numbers skyrocketed. In my little area of California, it seemed like every other 4Runner, Tacoma, or Prius was hit on the daily – costing these owners thousands of dollars (upwards of $2,500-3,000) in repairs. Yikes. Talk about a bad day.
With these thefts on the rise, what are you doing to prevent or deter a thief from stealing your cat converter? Some opt for a fully welded-on frame cage. While this works to deter theft, they're a very permanent solution. If a thief really wanted to, they could still cut through these, leaving you with no cats and a bunch of leftover material. Cali Raised LED has a quality, non-permanent solution in its full bolt-on shield.
Find It Online
Catalytic Converter Shield For 3rd Gen (2016-2023) Toyota Tacoma: Check Price
Tacoma Catalytic Converter Shield
Cat Guard Overview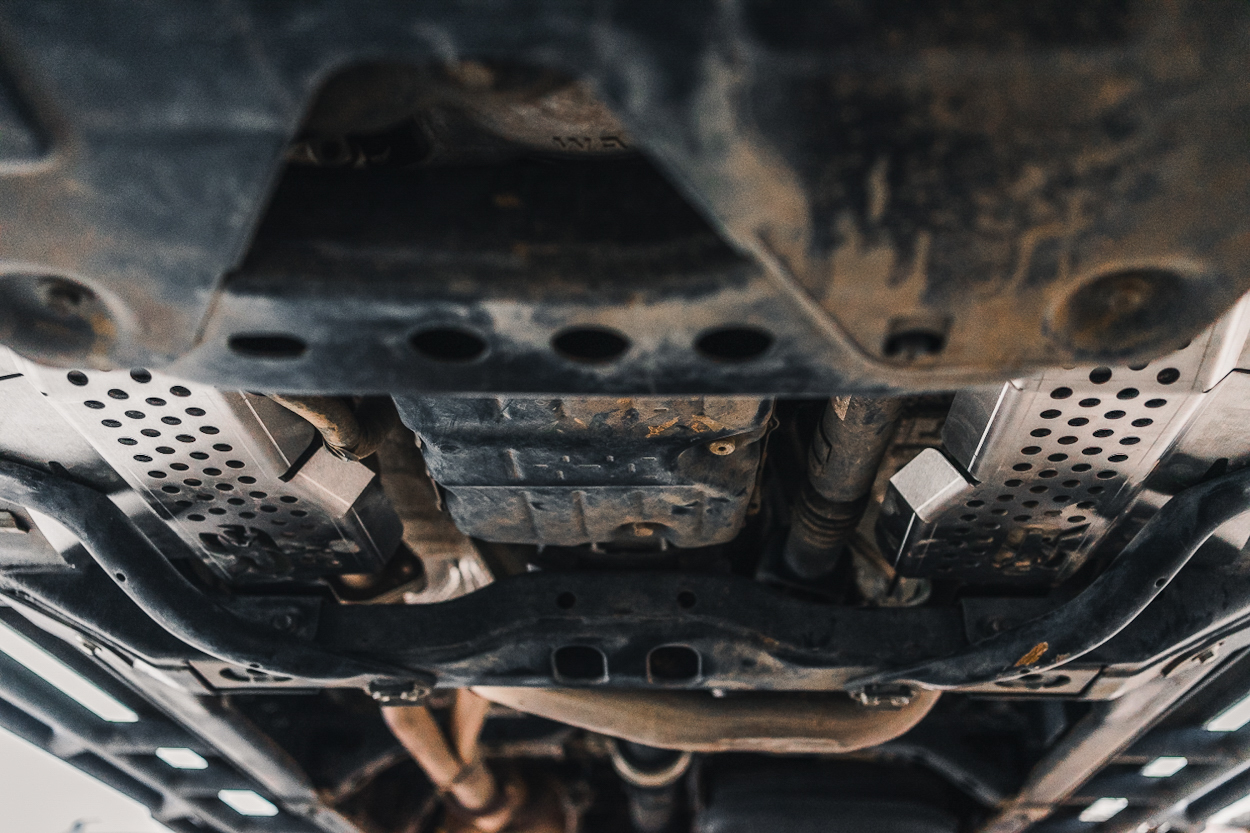 Cali Raised LED has created a sleek, low profile, bolt-on shield made of 12 gauge, 304 brush stainless steel. It's thick, and hard to cut through.
In most cases, thieves look for an easy target to slide under and quickly cut off a catalytic converter. Once they see this shield, they'll likely move on to an easier target. Otherwise, they would be stuck there sawing away for a much longer time and the potential for getting caught increases quite a bit.
These shields pair really well with Cali Raised LED's underbody armor and add to the overall protection of your rig's belly. But not to worry. So far, fitment with all aftermarket skid plates has been confirmed. And of course, the factory skid plates will work with these as well.
Installation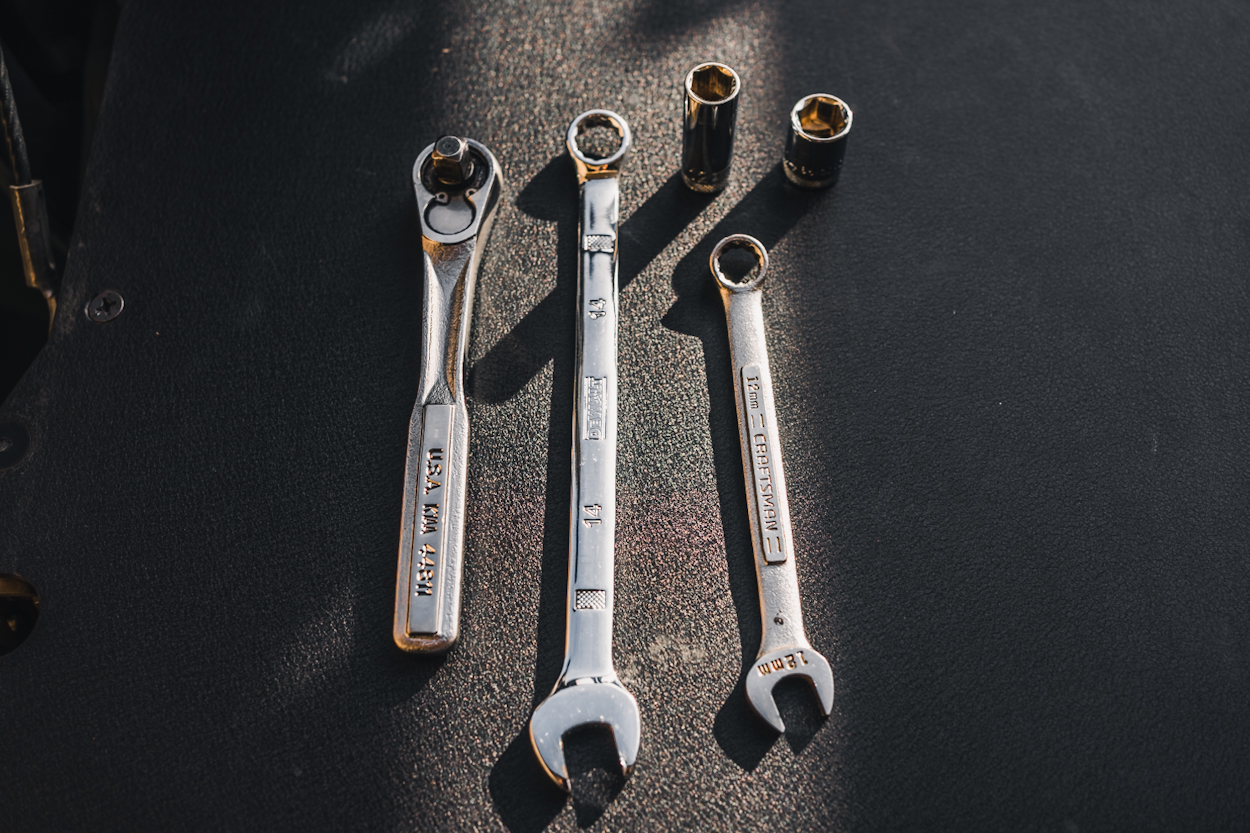 Tools Needed
Standard toolbox
14mm wrench
12mm wrench
Ratcheting socket wrench
14mm socket
12mm socket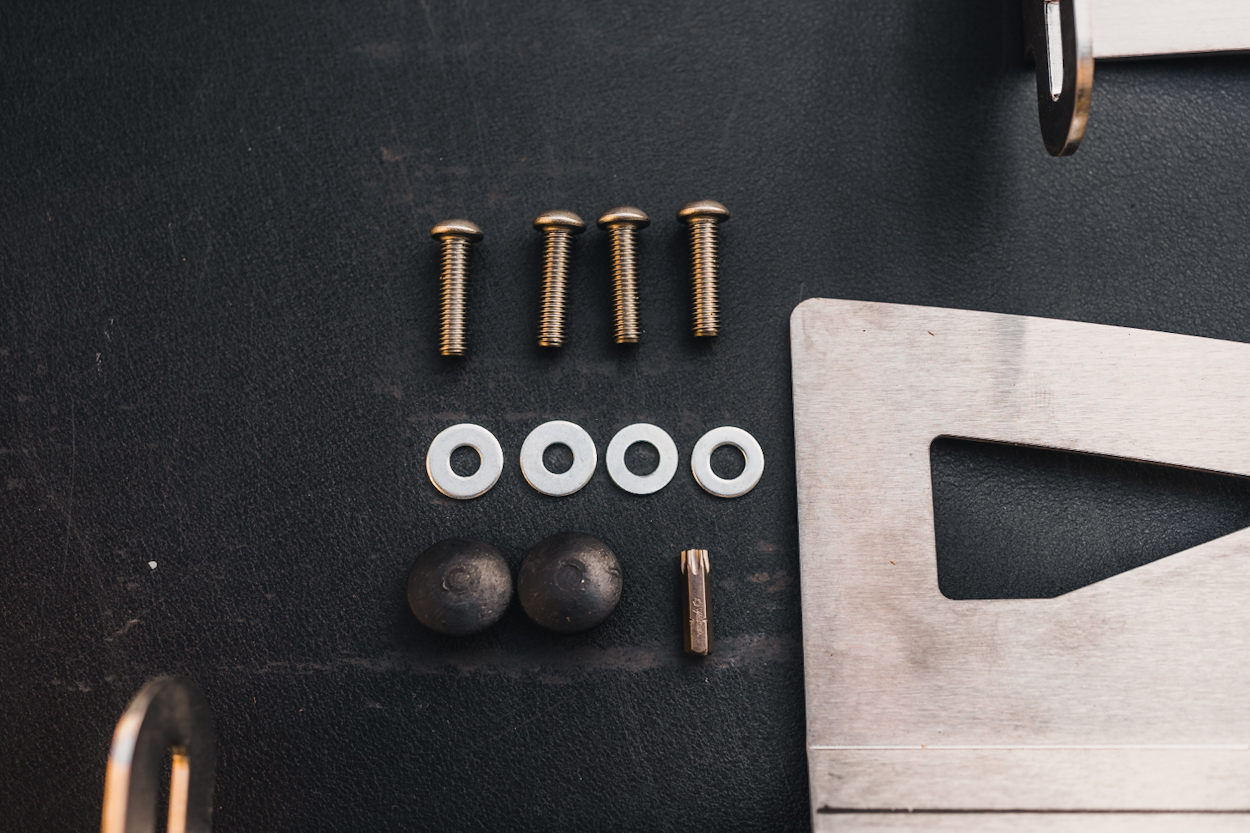 What's Included
2x Rubber bump stops
4x Security bolts
4x Washers
1x Security key
2x Catalytic converter shields (P for passenger and D for driver)
Step 1. Mount Rubber Bump Stop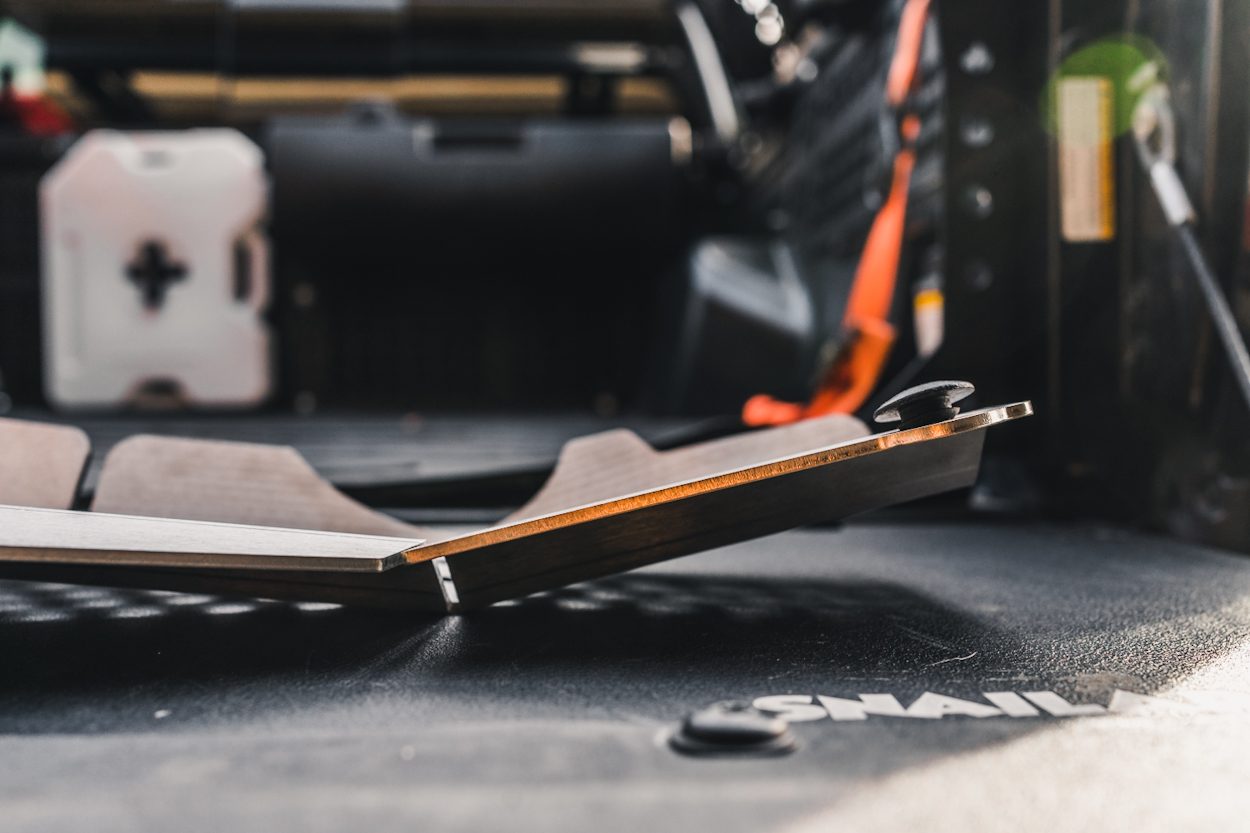 Push in a rubber stop with the bigger end sitting on the top of the upward kinked portion of the shield. This part will later come in contact with the underside of the truck. These stoppers eliminate any vibration noises.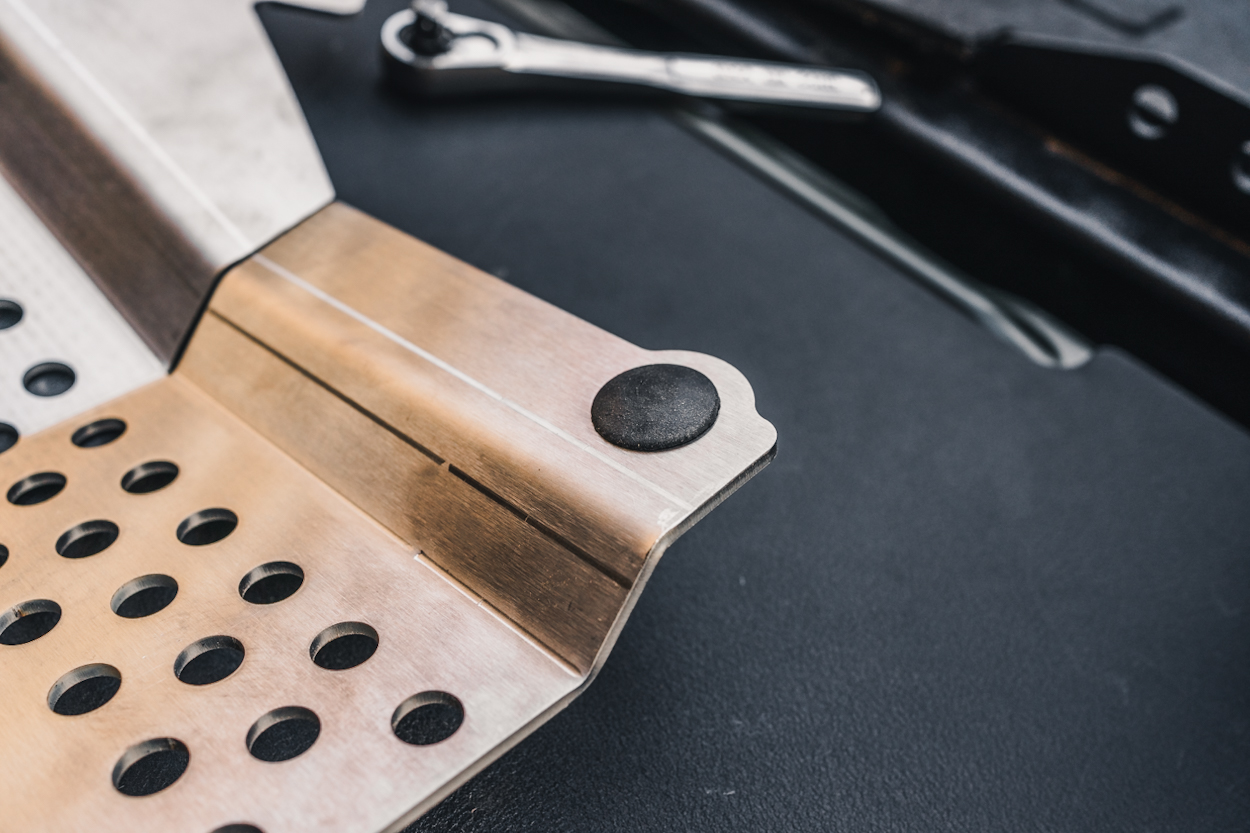 I used the bottom end of a ratchet to help push in the rubber stopper. You will want to make sure the stopper is completely flat. Do this for both shields.
Step 2. Remove Cross Braces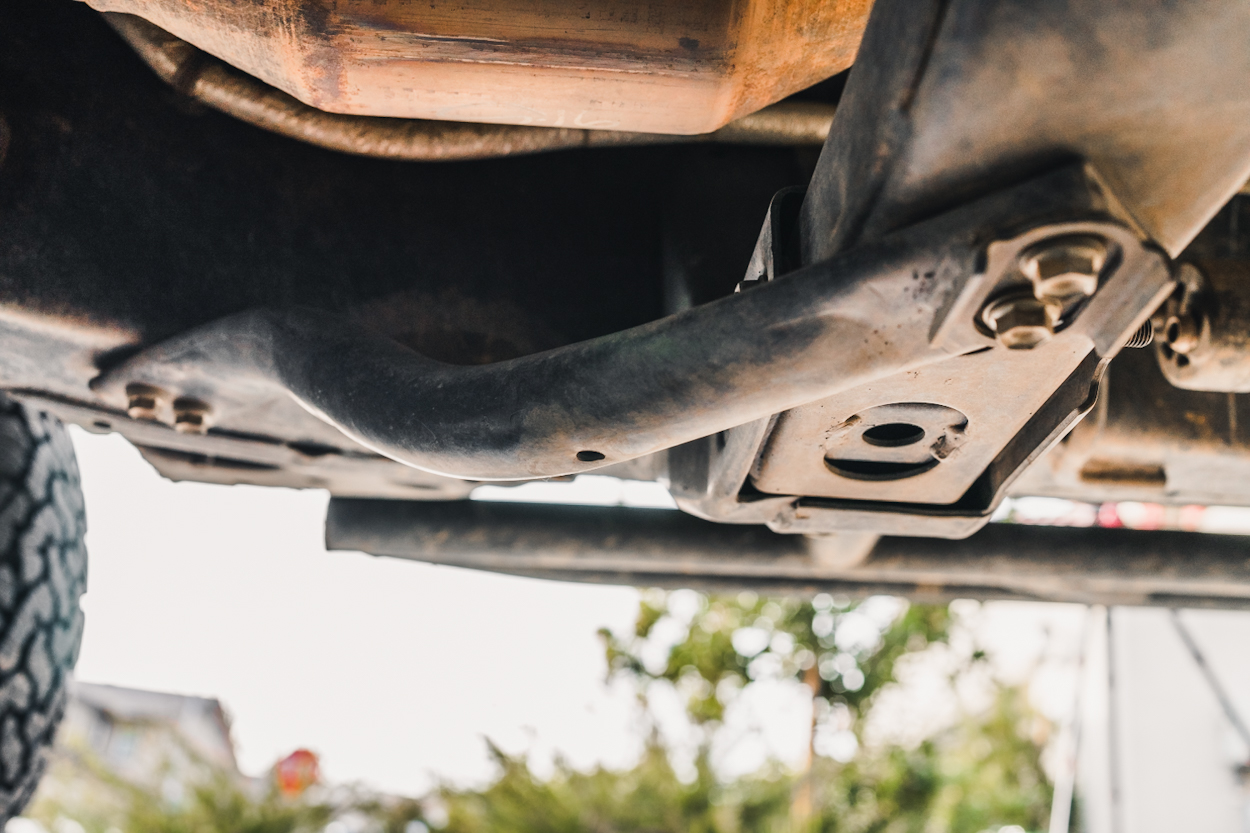 Each cross member has four bolts – two in the front and two in the rear. If your truck is older, or has a good amount of rust, remove these carefully.
There is potential to break these bolt heads if they are seized into the nuts inside the frame. Use an appropriate amount of force and soak with penetrant if need be.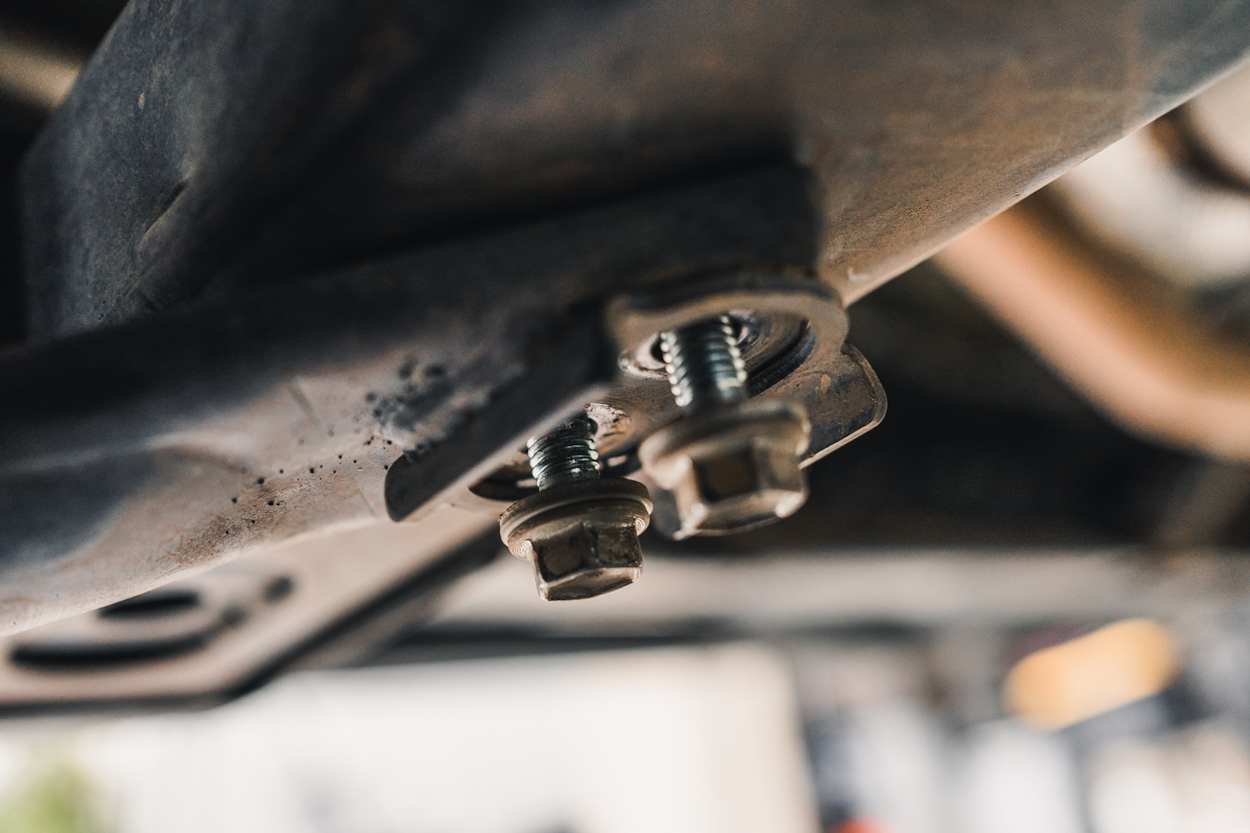 Remove the two rear bolts and save the hardware, we will reuse these later.
Next, remove the front two bolts. These you can put to the side and will be replaced with the security bolts that are provided with the hardware kit.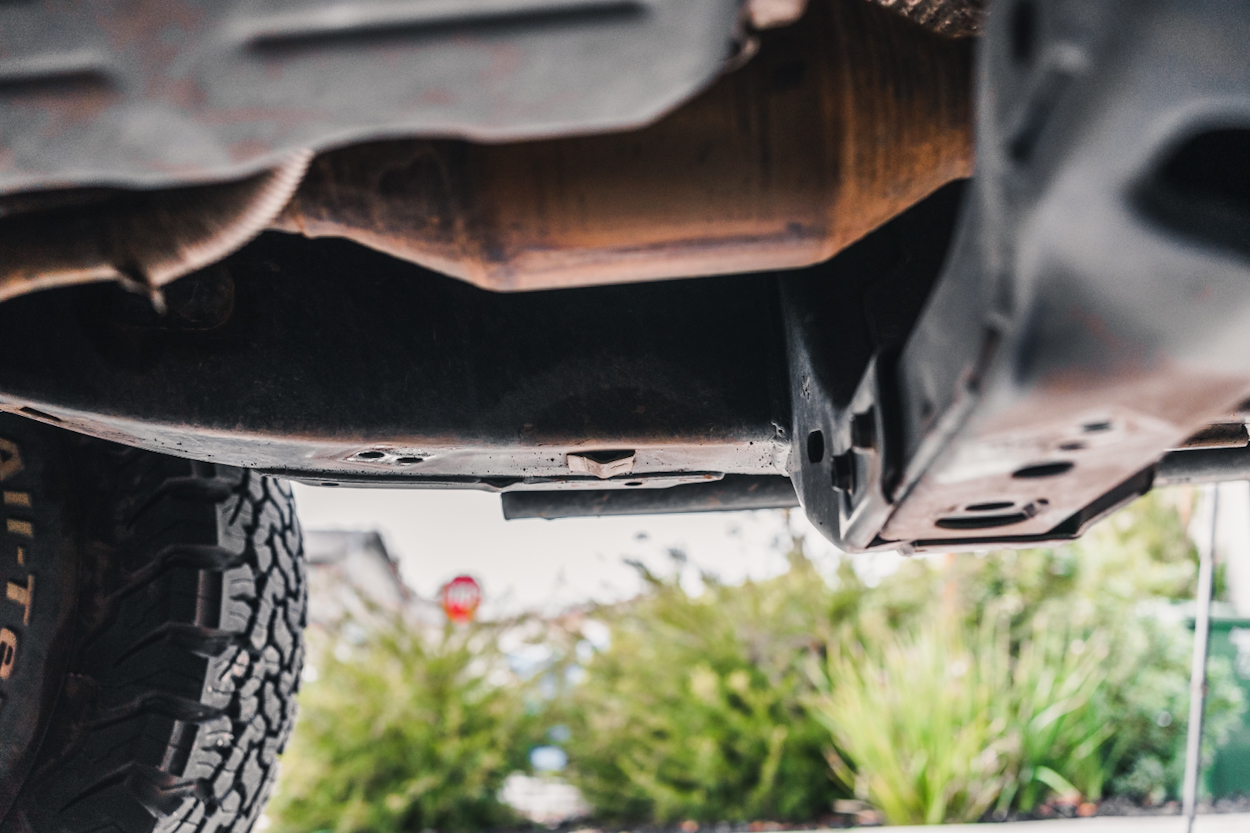 You can now completely remove the cross member and put it to the side. Rinse and repeat for the cross member on the opposite side.
Step 3. Remove Transmission Crossmember Nuts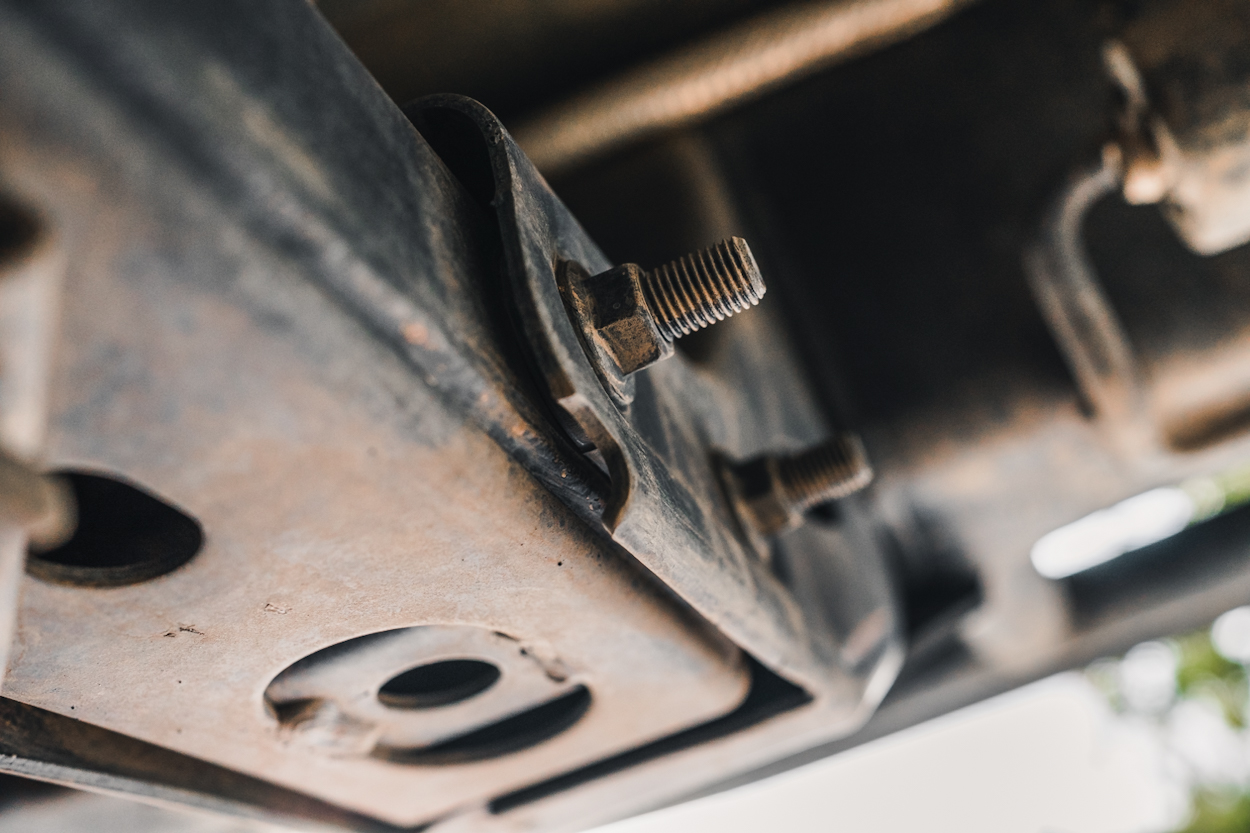 Behind the transmission cross member, there are two nuts on the passenger and driver sides you will need to remove.
DO NOT remove the bolts, just the nuts. Your transmission partially rests on this cross member, so removing the bolts could result in a very bad day!
Step 4. Install Catalytic Converter Shields
From here, you're just going to maneuver the shield up and over the transmission cross member bolts as shown above.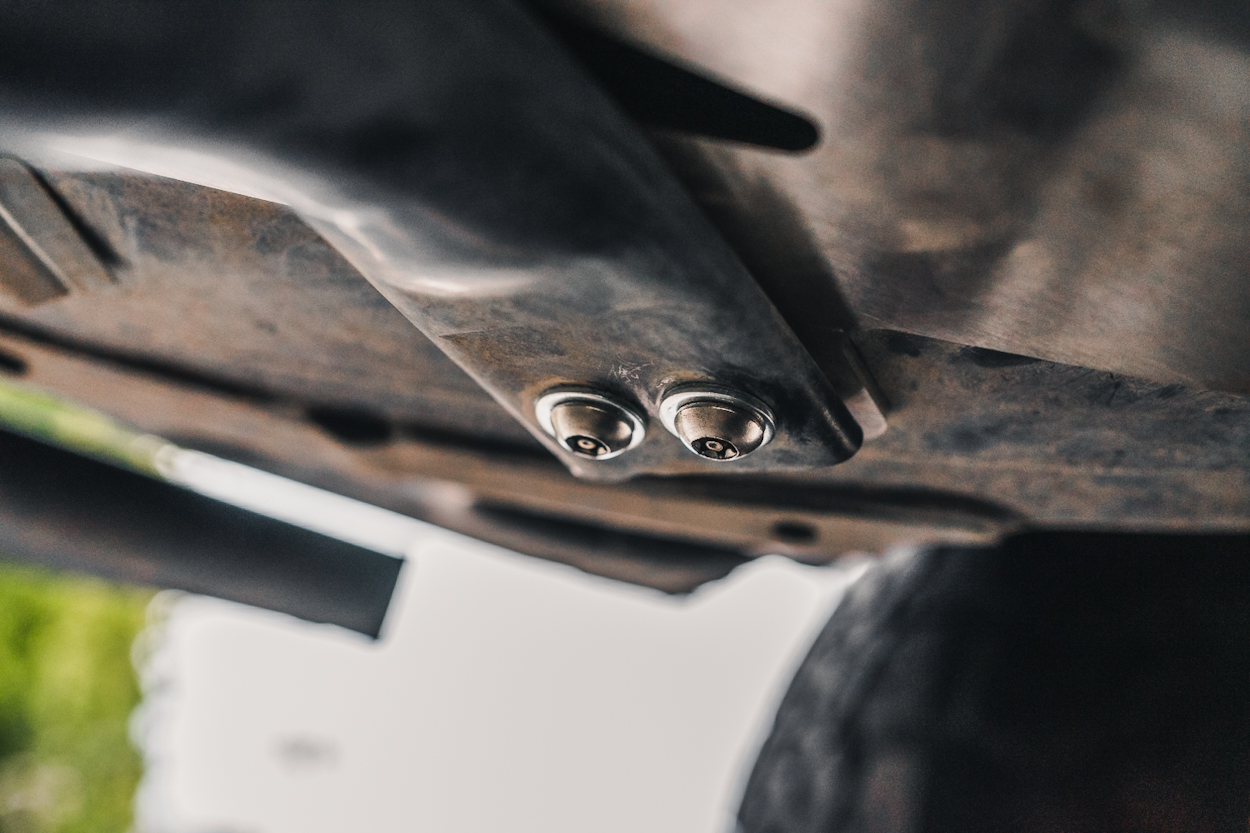 Now, reinstall the cross members we removed earlier.
Replace the forward bolts with the security bolts and key. Tighten but leave these loose enough for final adjustments.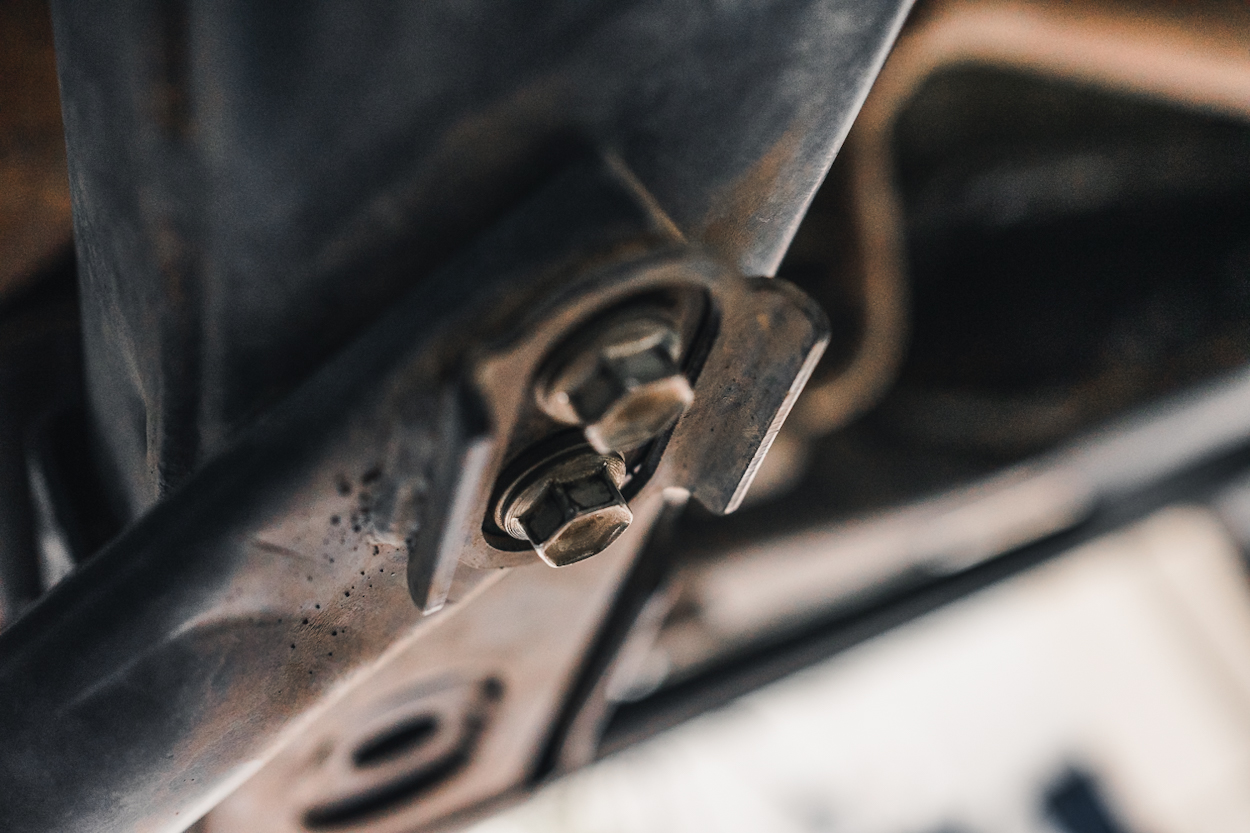 The rear bolts will utilize the OEM hardware. Tighten but leave these loose enough for final adjustment.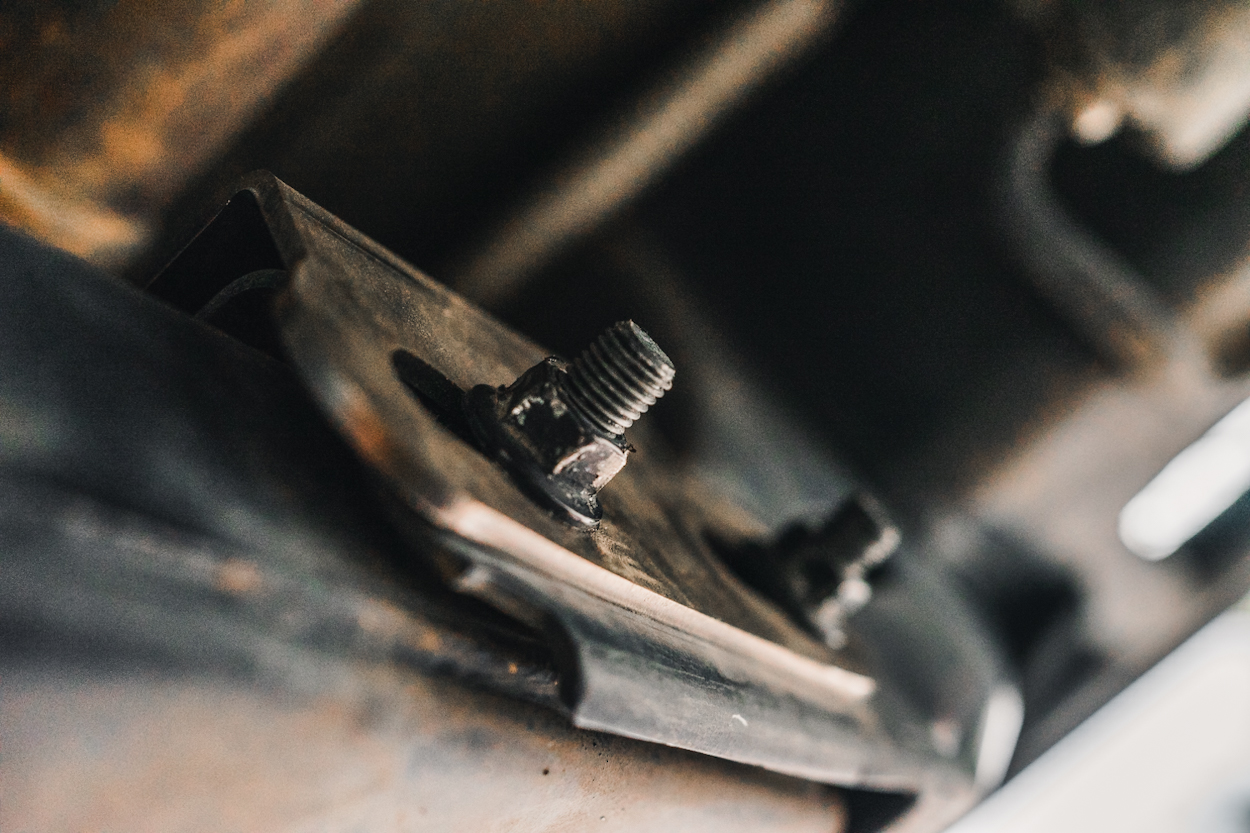 The two nuts on the back of the transmission cross member can now be reinstalled. At this point, you can tighten down all the bolts.
Follow the same steps for the other shield.
Final Thoughts
I consider these shields to be cheap insurance to help stop or at the very least, deter a thief. I would hate to wake up with no cats, thinking that if maybe I had tried to deter thieves, they would still be there!
The installation itself took under 30 minutes, super quick and easy. I didn't have to jack up the truck, it was easy enough to slide under the rig and bolt these in. If it was that easy for me to get under there, just think of how easy it would be for a person to reach an arm under with a saw and slice off your cats.
It also doesn't hurt that they double up as additional underbody armor. They will help keep those pesky branches and rocks from finding their way under your truck and causing more damage.
If you're interested in these shields, make sure to check them out at the Cali Raised LED website linked at the beginning of this post. Check out my YT video below too!
YouTube Video