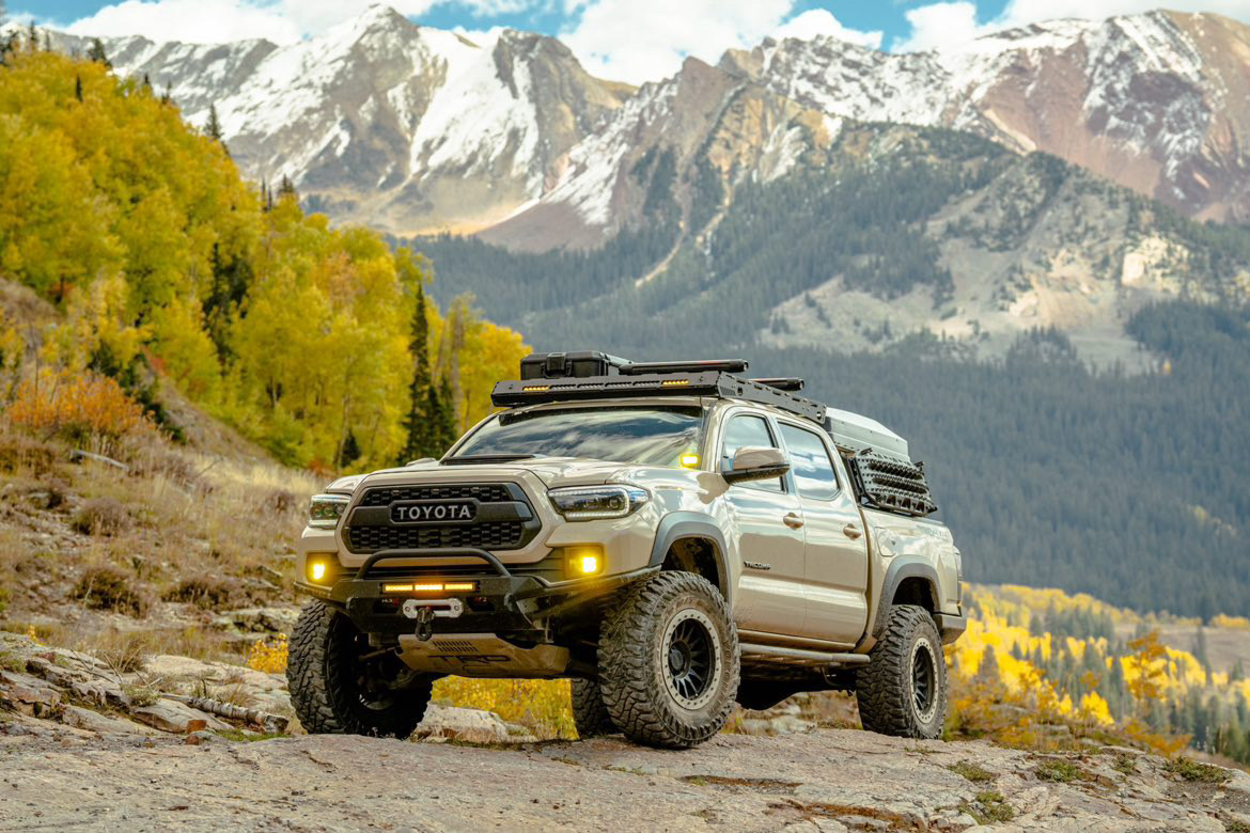 4 Unique Quicksand 3rd Gen Tacoma Builds & Their Owner's Top 5 Mods – Truck Build Inspiration For 2023
This Week's Topic: Quicksand Tacoma Overland Builds
Welcome back to another Taco Tuesday! If you missed the previous Taco Tuesday, Jon featured 2nd Gen Tacoma front bumpers.
This week we're taking a look at a few of the raddest Quicksand 3rd Gen Tacoma builds around.
If you haven't had the opportunity to see a Quicksand Tacoma in person, you are very much missing out. This is one of my favorite colors that Toyota has offered on their trucks. It was released as the TRD Pro exclusive color in 2016 on Tundras, 4Runners, FJs, and of course, Tacomas. After its original release, Toyota brought back Quicksand for the Tacomas from 2017-2020.
How could you not love this color? Not only does it stand out with the standard black accents of the Tacoma, but it never looks dirty because everything blends in!
Alright, enough about how much I love this color; let's get into these Taco Tuesday featured rigs!
Note: The builds listed below are in no particular order
How To Get Featured

Do you want to be featured in a future Taco Tuesday post? We want readers to get inspired by a variety of rigs/products.

Submit your build for Taco Tuesday here to get featured!

We have specific topics for each Taco Tuesday post and we would love to feature your rig!
1. Paul Nguyen (@gordi17_) – 2017 TRD Off-Road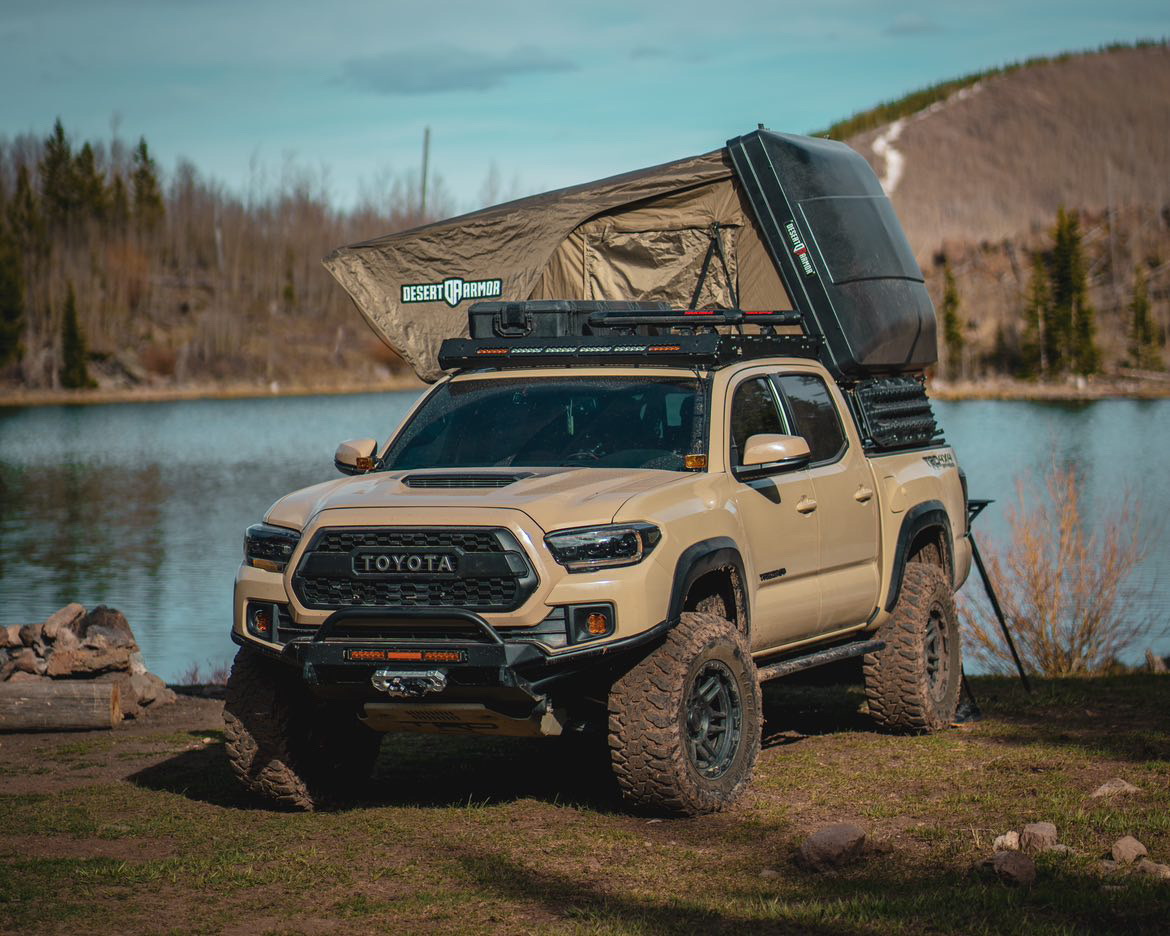 Top 5 Mods
Fox 2.5 w/DSCs
Nitro 5.29 Gears
RRW Rock Sliders
Diode Dynamics Lights
upTOP Overland Bravo & Truss Racks
Why Do You Like Most About Your Setup?
The Quicksand color is obviously my favorite feature on the truck because it stands out from other builds yet it blends in with dust, sand, and mud out west. Since Quicksand was discontinued in 2020, it's almost like I'm building out a limited-edition Taco with proper parts.
Another favorite feature of mine is the heated seats. If anyone has done winter wheeling, they know the benefit of heated seats.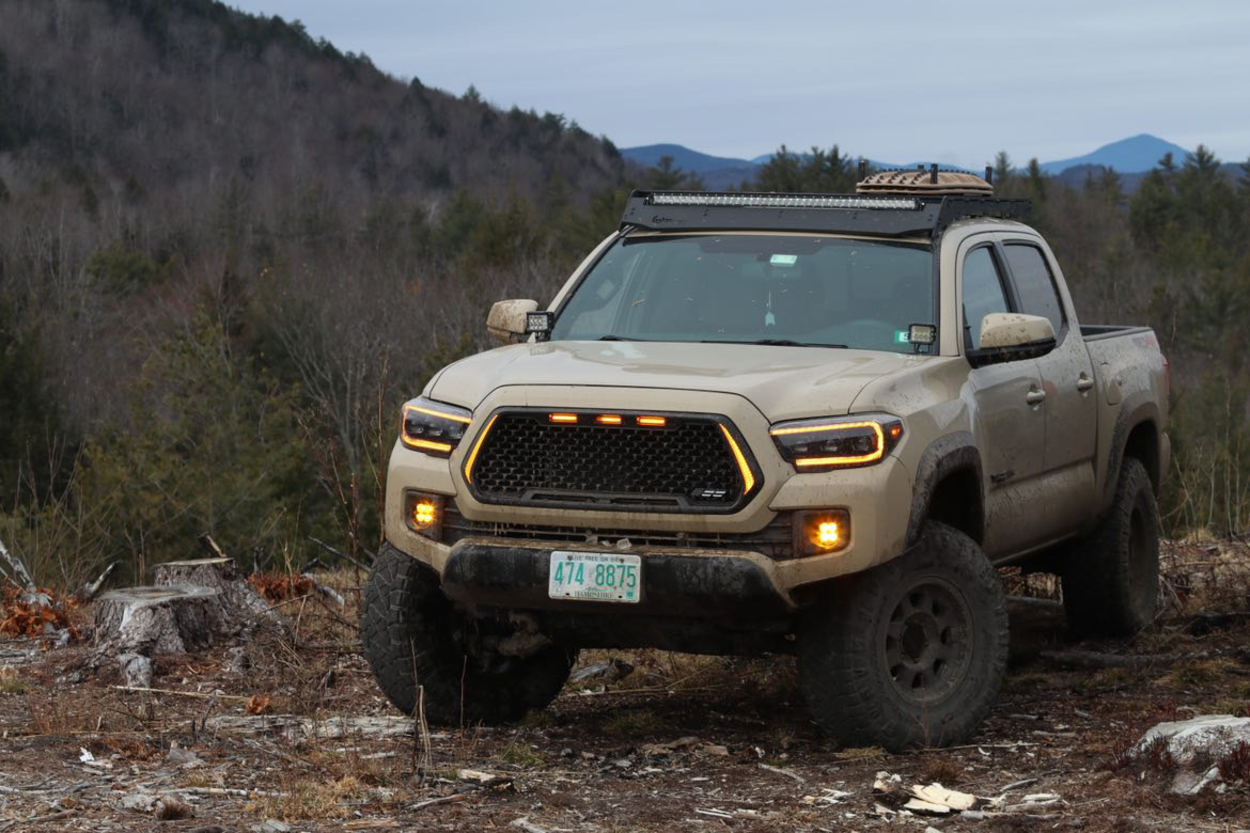 Top 5 Mods
Rough Country 3" Suspension Lift
JBA Upper Control Arms
Morimoto Headlights
Toxicstorm Front Grille
Method 701 Race Wheels | 16×8
Why Do You Like Most About Your Setup?
What I like about my build is the unique lighting in the front along with the quality parts I have throughout my build. I was skeptical about my Rough Country lift, but for the price, I couldn't pass it up. I can't believe how well it has performed. For what I use it for, it is plenty. I love the aggressive look of the front end; it's truly one of a kind.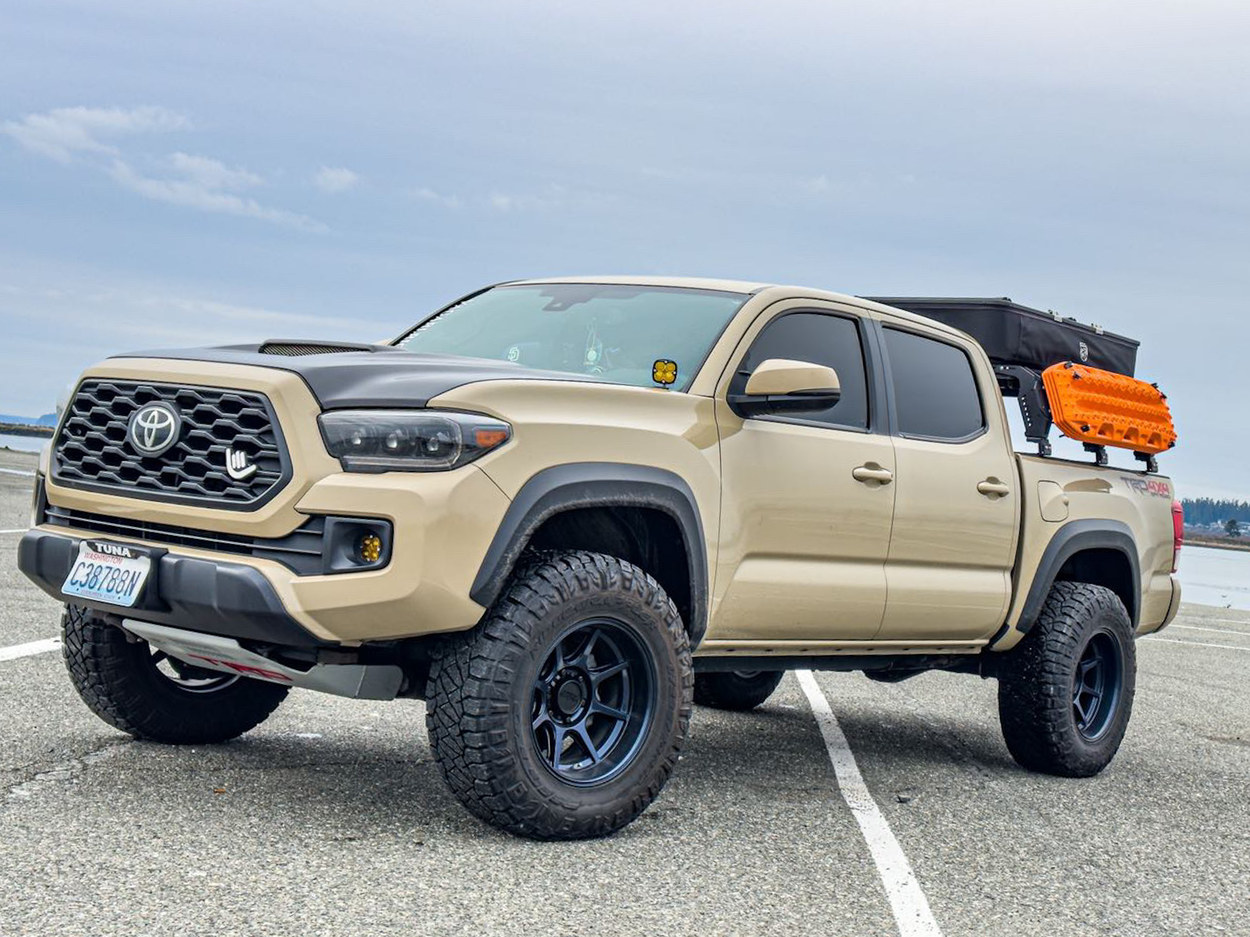 Top 5 Mods
Custom Powder-Coated Falcon Offroad T8 Wheels
Seibon Carbon Fiber Hood
iKamper X-Cover 2.0 RTT
DECKED Drawer System
Accutune Stage 3A Fox Suspension Kit
Why Do You Like Most About Your Setup?
I like that I have made it my own, especially since it's hard to stand out in this community. The vision I had in my head for this build before even buying the truck is what you see. Well, minus a few modifications that will hopefully be coming sooner than later. Over everything though, my favorite thing about this truck is the Quicksand color.
4. Tiffany M. (@tdmtrd) – 2018 TRD Off-Road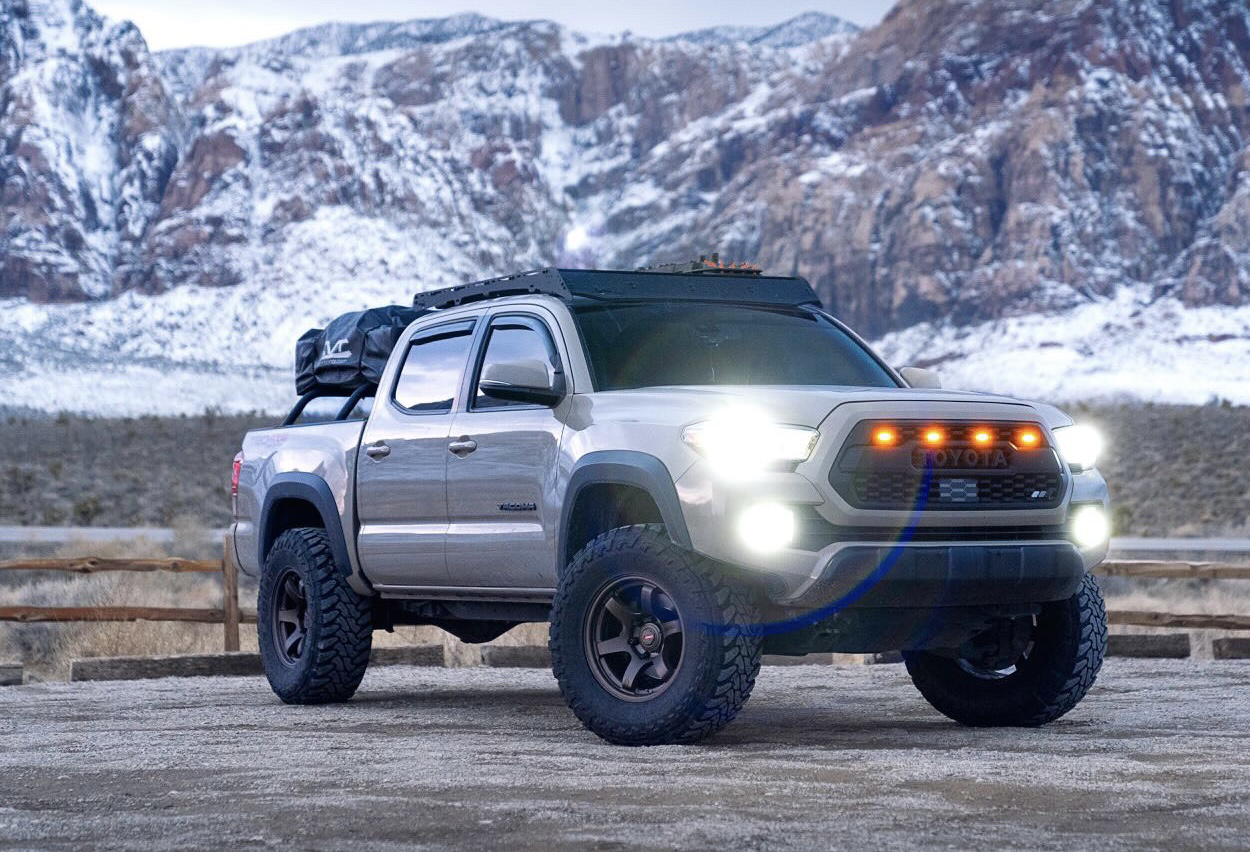 Top 5 Mods
Prinsu Roof Rack

CVT Mt. Bachelor Tent w/ Custom Tent Rack

KDMax Pro Tune

Rays Gramlights 57-DRX 17×8.5 ET | -10 Offset

AFE Momentum GT Cold Air Intake
Why Do You Like Most About Your Setup?
It took a very long search, but while spontaneously window shopping at a Toyota Dealership, an abundance of new inventory was arriving. The 2018 Tacoma Off-Road in Quicksand was everything I wanted in a truck. Fate led us to cross paths because it had just arrived at the dealership as I did.
What I like most about this rig is that it was 100% stock when I got it. I was able to design and modify it as a reflection of my personality. As an added bonus, you can never tell when she's dirty!
Final Thoughts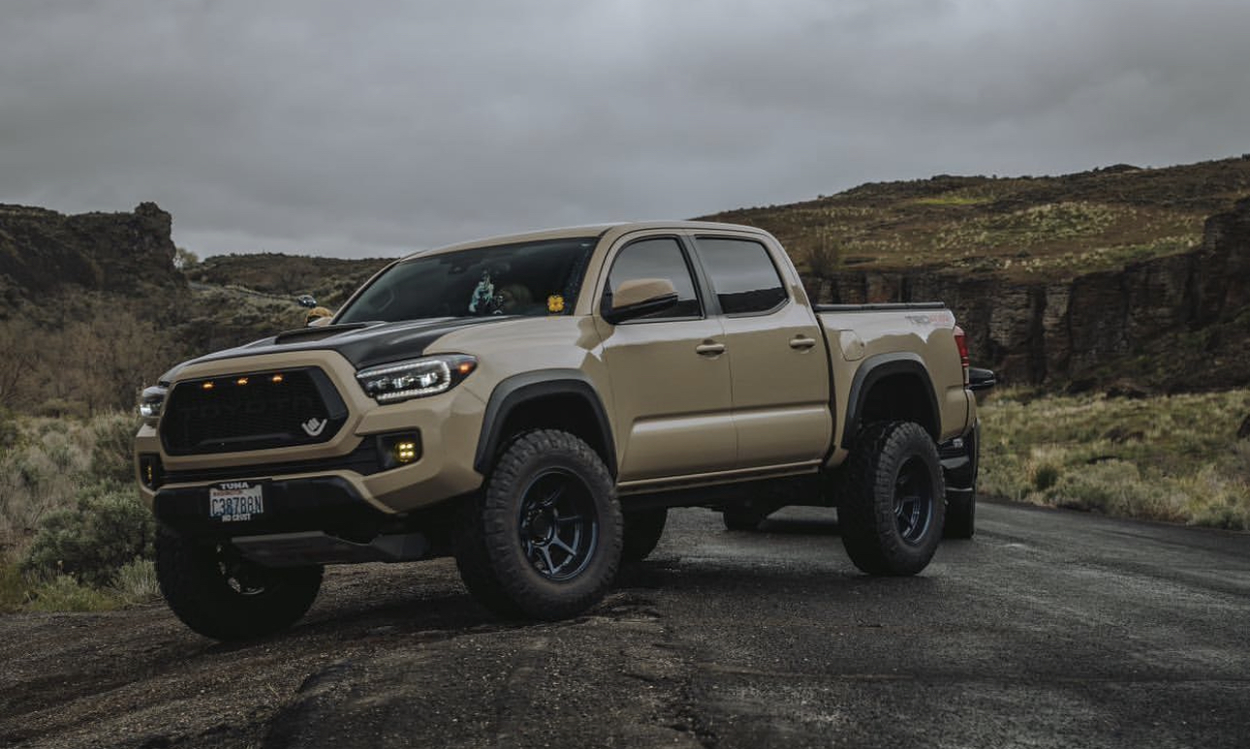 That's a wrap on another Tacoma Tuesday!
Toyota's Quicksand color is, and will always be my favorite color ever offered. Looking at these Quicksand Tacoma builds makes me want one even more.
Feel free to share your favorite Quicksand builds below in the comments, and I'll see you all next week when we feature snorkels!