9 Popular Auxiliary Electronic Switch Panel Options To Simplify Your Aftermarket Accessory Wiring – Buyer's Guide & What You Need To Know
Switch panels have grown in popularity within the off-roading and overlanding community in recent years. With the introduction of new budget-friendly options, these systems are no longer reserved for those with bigger budgets.
Switch panels offer easier wiring for beginners while also cleaning up the interior of your truck and engine bay. They are a great first mod if you are planning on adding multiple electrical components to your build.
This post will go over some of the most popular switch panel offerings at various price points. They all require only one wire (or even no wires) to be passed through the firewall rather than several individual ones. From there, you have a central panel where all the switches are neatly organized.
If an option seems to be missing, it may be a rebranded unit and I will do my best to identify those.
The biggest difference between budget-friendly and more expensive switches will be in their ability to simply switch accessories on/off or have multifunction.
An on/off switch will act like a light switch and be able to power your accessories. With multifunction switches, you gain the strobe, pulse, and dimming features of your accessories such as lights. Typically, switch panels around or under $300 will only have on/off functionality.
These are in no particular order.
1. Garmin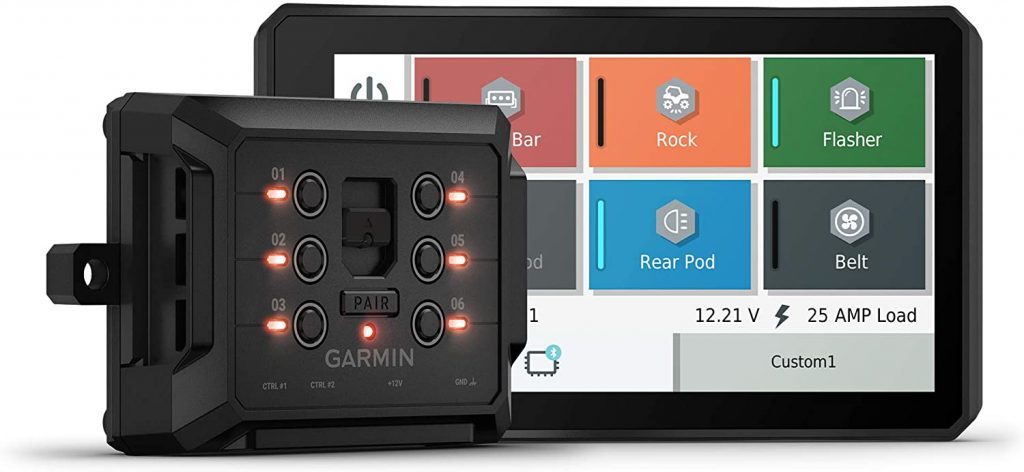 PowerSwitch
Find It Online
PROS
No wires through the firewall
Expandable using the same controller
IPX7 rated
CONS
Expensive considering there is no physical panel
Limited to six switches built-in
Need to run your own wires, only the battery harness is included
Garmin starts the list off with a different approach; no wires through the firewall at all! Their Power Switch uses a Bluetooth connection to send signals to the switch panel inside your engine bay to power your accessories, making installation super easy. You can control it via either their mobile device app or a Garmin Tread navigation unit.
With the Garmin, you can purchase more switch panels as your accessory needs grow without needing to buy more controllers. This can come in handy as each panel only supports six switches. The switch panel also has an IPX7 rating meaning it can be fully submerged for those doing very deep-water crossings. Each switch has a max of 30 amps and a total output of 100 amps (three switches at 30 amps and a single 10 amp at the same time, for example).
The caveat; they're expensive. Expect to pay about $500 US for the switch panel while Garmin navigation devices run approximately between $500 – $3000. You can, however, use the free Garmin PowerSwitch app.
2. Trigger Controller

4 Plus & 6 Shooter
Find It Online
PROS
No wires through the firewall
Water-resistant
Cost-effective
Can use phone app and/or physical switches
Under hood bracket available for Tacoma
Comes with wiring harnesses
CONS
Limited to six switches with a 4-switch model available
The phone app can be glitchy
The Trigger Controller 6 Shooter works very similarly to the Garmin in that it uses a Bluetooth connection to let the panel and your phone communicate (via mobile app), and a radio signal for the physical controller. The unit also comes with its own harnesses that plug into heart of the system, making this about as plug-and-play as you can get.
The installation is as easy as it gets; mount the panel, connect harnesses, and enjoy. If you already have electrical running everywhere in your truck, you can easily cut the wires and splice them into the provided connectors. This is the best option for those that suffer from rat's nest syndrome in their engine bay.
For roughly $250-400, considering it comes with the panel, a physical controller, and wiring harnesses, this is a bargain for sure.
3. sPOD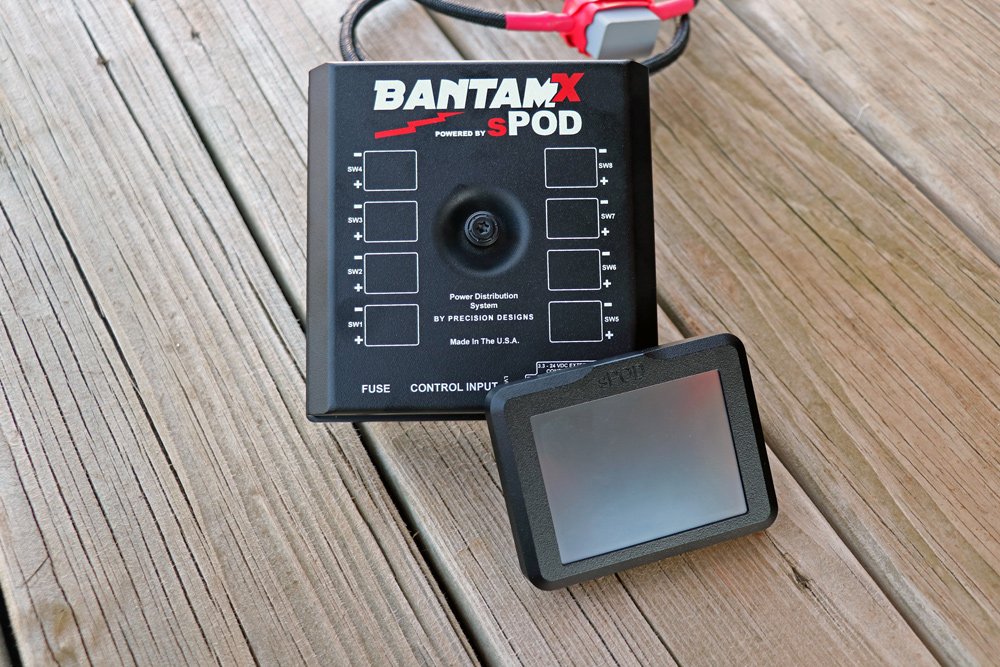 BantamX
Find It Online
PROS
Expandable to 32 circuits using the same controller
Eight switches
No fuses
Self-healing circuits with a whole host of self-protection features
The best build quality of the bunch
CONS
Expensive
No IP water-resistance rating listed
The most expensive offering in this list is also the most feature-packed. At around $900 US, the BantamX is no slouch. It is an all-in, nothing left on the table option for the serious off-road enthusiast. It has eight circuits that are all fully programmable via a touchscreen panel for dimming, strobing, on-road vs off-road operation, and more. You can also daisy chain additional controllers for up to 32 circuits on the same panel.
The system does not use fuses, opting for a self-healing fault protection system. This means you will not need to carry a bunch of extra fuses with you just in case. It has an amperage meter for each switch so you know how much each circuit is drawing as well as protection against overheating, short circuits, and more.
To top it all off, the Bantam X also has app connectivity like some of the other offerings. It seems the only thing this panel lacks is an IP water-resistance rating.
4. Switch Pros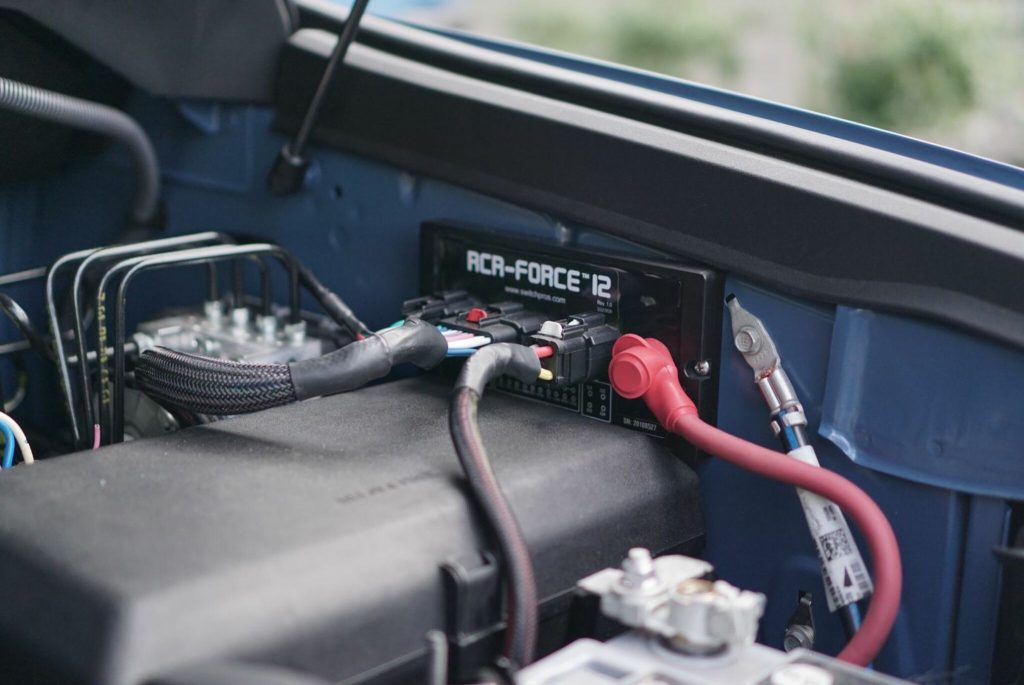 SP9100 & RCR-Force 12
Find It Online
PROS
Eight switches
No fuses (solid state)
Claimed waterproof, though no IP water-resistance rating
Quality components
Option to accommodate 12 accessories
CONS
Still pricey, but not the most expensive
App is simple, can be glitchy
The SP9100 is probably the most common switch system you see online for Tacomas, and for good reason. It is comparable to the Bantam X above, but it comes in at $300 less (~$600 US).
The SP9100 has eight user-programmable switches (four 35A and four 20A), all with the same programming available as the Bantam X including flash, strobe, and a memory function. The SP9100 also does not use fuses and you can daisy chain three controllers to one panel.
The controller has a max 125A rating and is claimed to be waterproof although they do not state an IP rating. The SP9100 also can be controlled via app or physical switches. All in all, it seems to get you everything that the Bantam X does for less money.
For those looking to get even more – there's the RCR-Force 12. For those of us with a plethora of aftermarket accessories.
5. ARB Linx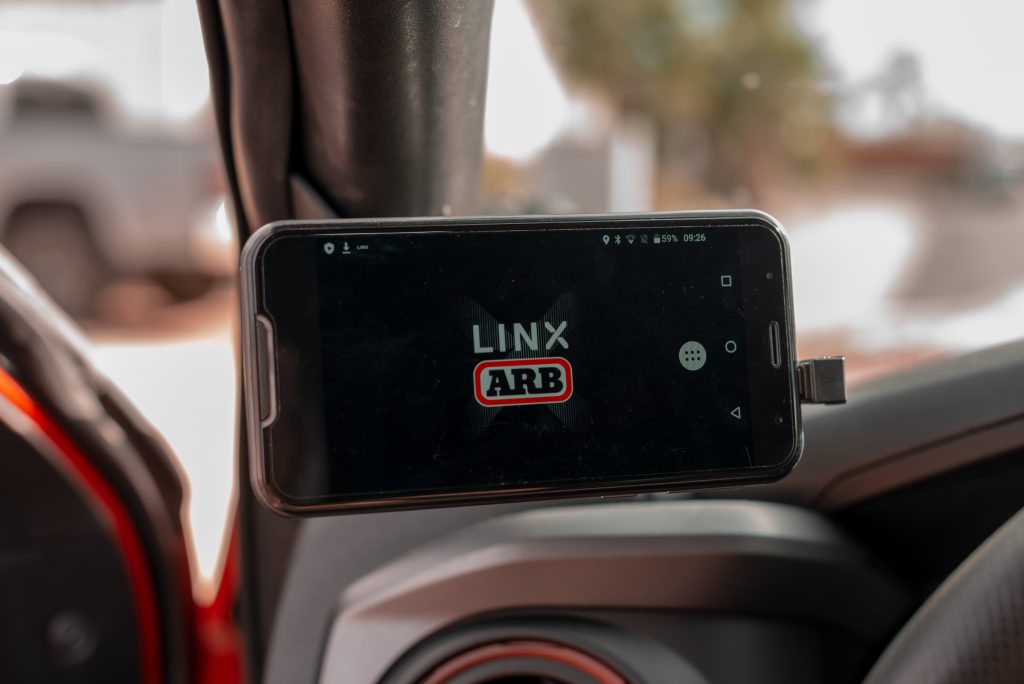 High Tech Accessory Control System
Find It Online
PROS
High tech integration of systems
Options for control unlike other switch systems (TPMS, air compressor, etc.)
Loaded with features
Backed by great ARB warranty/support
CONS
Expensive (additional add-ons drive up price too)
More involved installation
This system is surely one of the more eye catching options. With the sheer amount of expansion to control accessories, even beyond your lights, etc., this is an impressive option. In terms of other alternatives, we've never seen a kit that could go as far as integrating TPMS sensors and on-board air to this extent. And there are other modules that can control your air bags too. Pretty wild.
That said, this system can get pricey – and fast. If you're looking for something more affordable, there are much better options. For what it's worth, the value is potentially here. Just depends on what you really need from a switch controller. ARB has a good reputation, so you can bet you won't have issues with warranty or support.
6. Auxbeam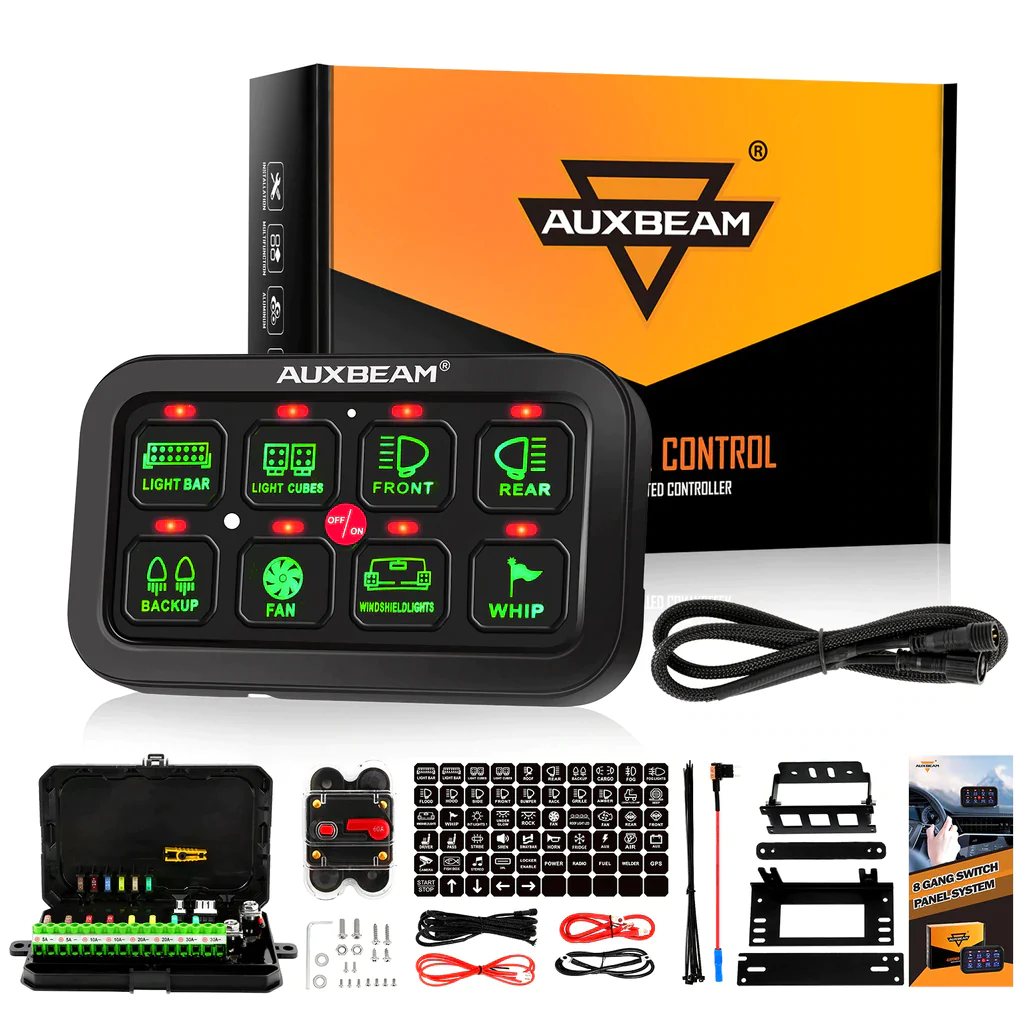 Multiple Models To Choose From
Find It Online
PROS
Cost-effective
Can use phone app and/or physical switches
Includes brackets and hardware
IP65 rated
CONS
For the price, there doesn't seem to be any
When Auxbeam released its switch panel, it shook up the industry a bit and opened the budget switch panel market. It is the OG budget-friendly switch panel and if you search "budget switch panel", it is sure to be one of the first to pop up. Their kit also comes with mounting brackets for the panel and controller and all necessary hardware.
It costs between $140 – $300 depending on how many switches you want, has RGB backlighting, and has decent build construction.
7. RLB Switch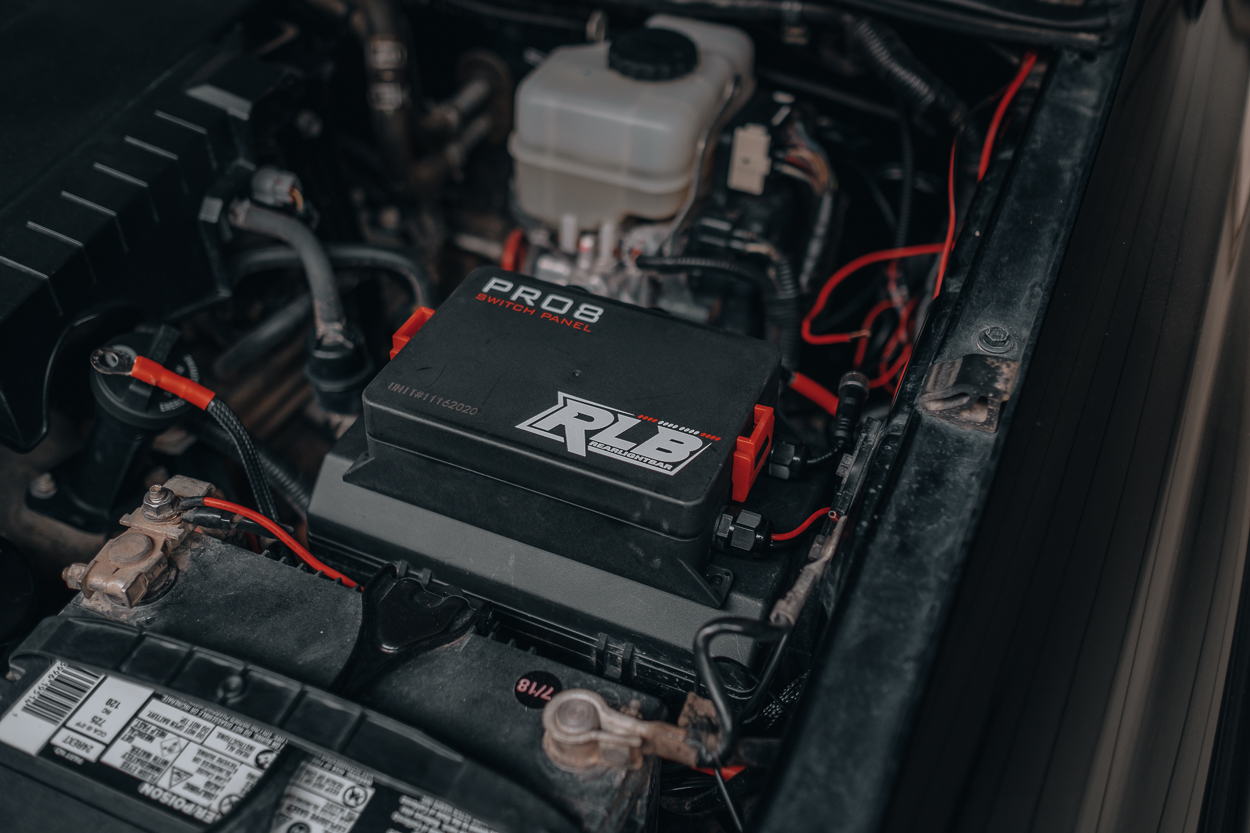 8 Gang Switch Panel – Water & Dust Resistant
Find It Online
PROS
Waterproof power module
Dust resistant
Multifunction
Multiple bracket options
Comes with RAM mounts
CONS
Plastic latches on the fuse box
If you own a boat, UTV, ATV, or drive desert roads where your truck gets filled with dust and debris, then the Rear Light Bar Switch may be the option for you. The RLB switch is a fully waterproof and dustproof option that is designed for ATVs and only costs $400 US. The system has no exposed wire ends, opting for a waterproof connector and cable glands.
The control system has eight fully programmable switches allowing you to use on/of, flash, strobe, or even a combination of the two. It uses universal relays as well as replaceable fuses. This makes it the only multifunction system to use fuses on this list. For this price, it is pretty unbeatable considering its feature set and being fully waterproof.
8. Angu-Offroad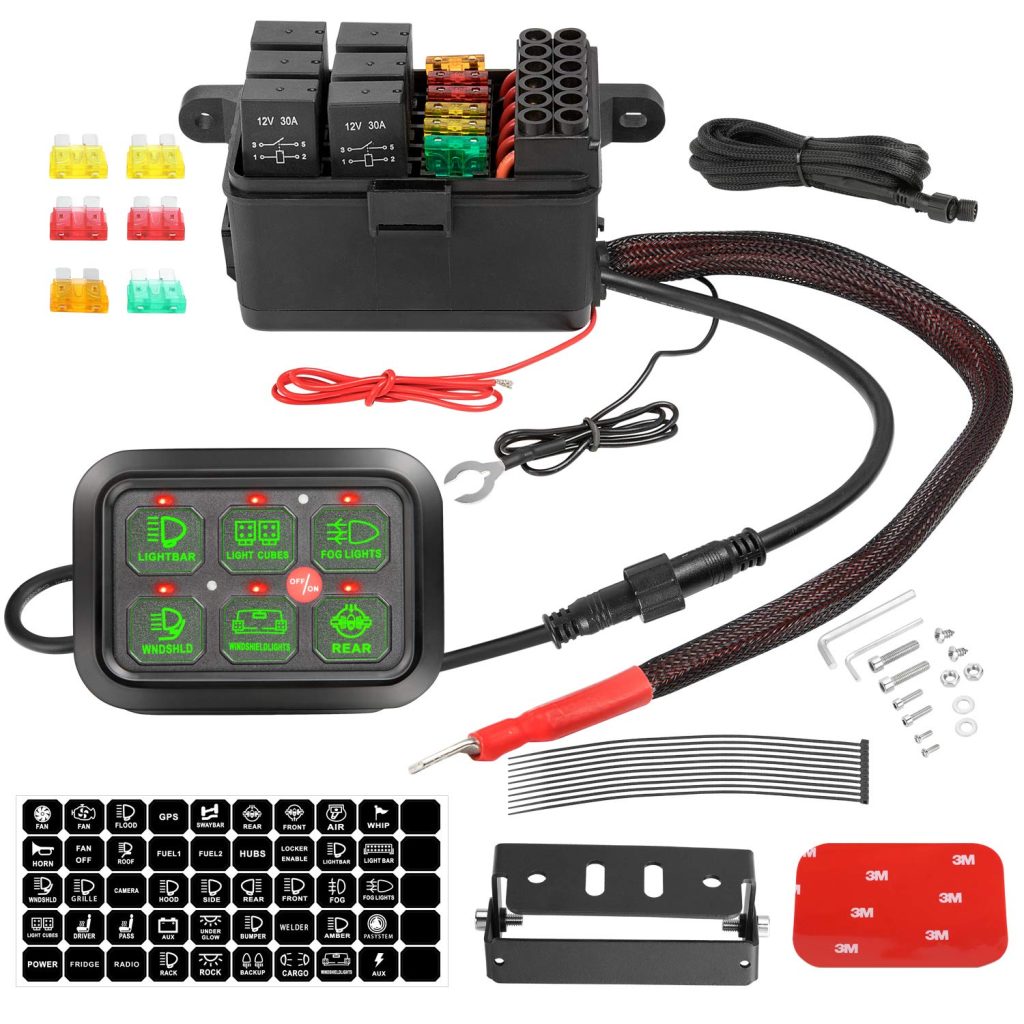 6 Gang & 8 Gang Gang Switch Panel
Find It Online
PROS
Cheap
Uses common ATO fuses
Includes brackets
CONS
Cheap
Limited to 6 six switches
Lower total amp rating
The cheapest offering of all comes courtesy of you guessed it, Amazon. For $99 or even less sometimes, you get what you pay for; all plastic construction and large ATO fuses to keep the cost of this panel down. There is no mention of water or dust proofing besides what looks like a potential seal on the bottom half of the fuse box.
If you only have a couple of circuits to run or want to test out your circuitry before spending the big bucks on one of the above offerings, I could recommend trying this out.
9. Thrashed Offroad
8-Switch Control Panel System
Find It Online
PROS
Inexpensive
Eight switches
Uses common mini fuses
Claimed watertight, no IP water-resistance rating
Includes all mounting hardware and brackets
CONS
Plastic build on 6 gang, machined aluminum on 8
Lower total amp rating
Sometimes you come across an option that is just classic and hard to beat. For the price, the Thrashed Offroad switch is just that. This is a barebones switch panel system that gives you what you need and not much more. They have six and eight switch options to power your accessories.
It is currently unavailable on their website but typically sells for $150. In traditional fashion, you run wires into the switch's fuse box which uses very easy-to-find mini fuses. However, the total amp capacity is only 60A.
It includes the switch panel with a braided cable to pass through the firewall. It also includes the brackets need to mount the panel and controller to your vehicle. The fuse box is watertight but does not have an IP water-resistance rating.
Final Thoughts
As you can see, switch panels vary greatly in their quality, price, and features. For most weekend warriors or mall crawlers (myself included), any of the less expensive units will work just fine. Plus, you'll save some coin for other upgrades like a higher-quality light bar. For more serious off-roaders, the peace of mind with more expensive switches can easily be worth the extra money.
Regardless of the switch panel, they all offer simplified wiring for all of your accessories. Budget options have come a long way in recent years and have greatly lowered the barrier to entry for these types of systems. If all you want to do is switch some lights on and off, you can do so for just about $150.
Happy trails!