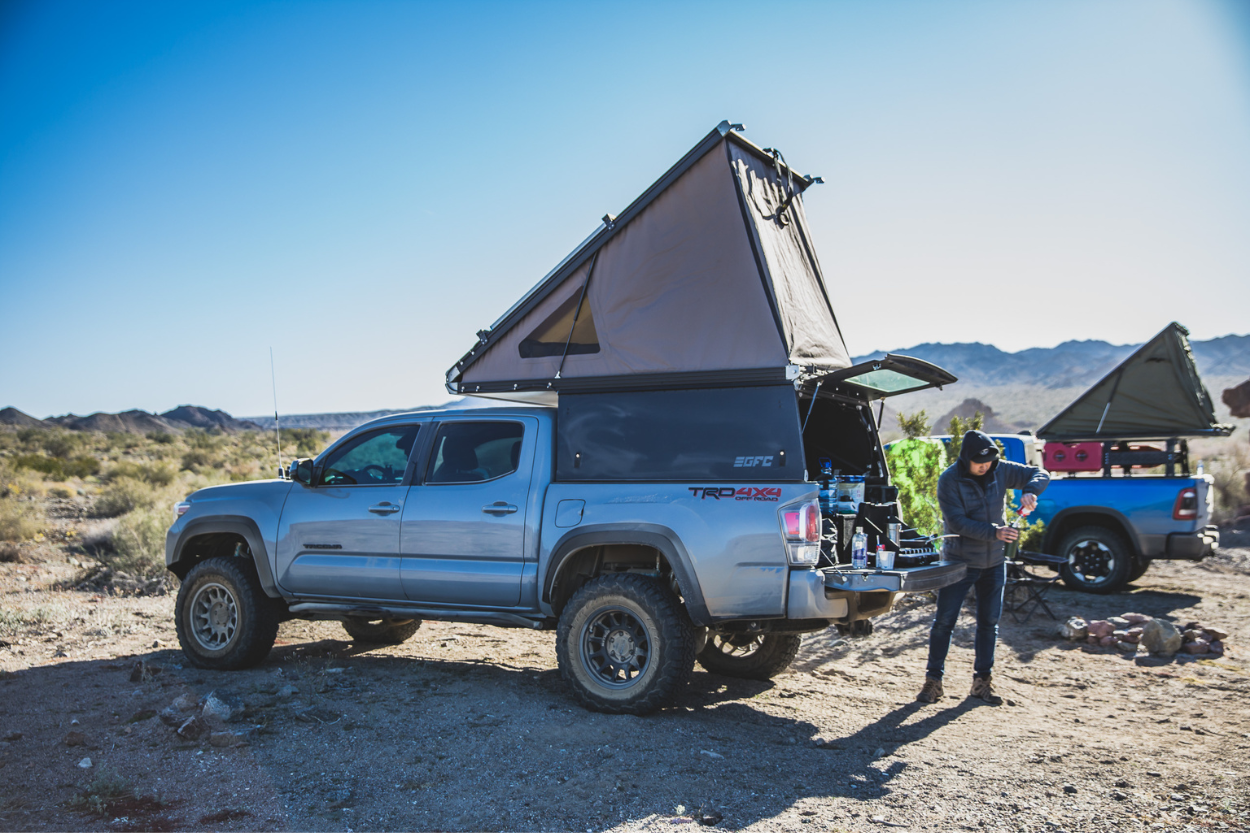 5 Unique Storage & Drawer Systems For The 2nd & 3rd Gen (2005-2023) Tacoma – Maximize Your Truck Bed Setup & Get Organized
This Week's Topic: Storage & Drawer Systems 
Welcome back to an all-new Taco Tuesday! Last week, we looked at different recovery gear setups. This week, we're featuring different storage and drawer systems available to maximize your Tacoma's bed space.
Excess storage is not something many truck owners have the luxury of. This is why many Tacoma owners opt for aftermarket bed storage. The two popular solutions to increasing the Tacoma's storage are bed-mounted storage and drawer systems.
How To Get Featured

Do you want to be featured in a future Taco Tuesday post? We want readers to get inspired by a variety of rigs/products.

Submit your build for Taco Tuesday here to get featured!

We have specific topics for each Taco Tuesday post and we would love to feature your rig!
Note: The builds listed below are in no particular order
Tacoma Storage & Drawer Systems
Bed Mounted Storage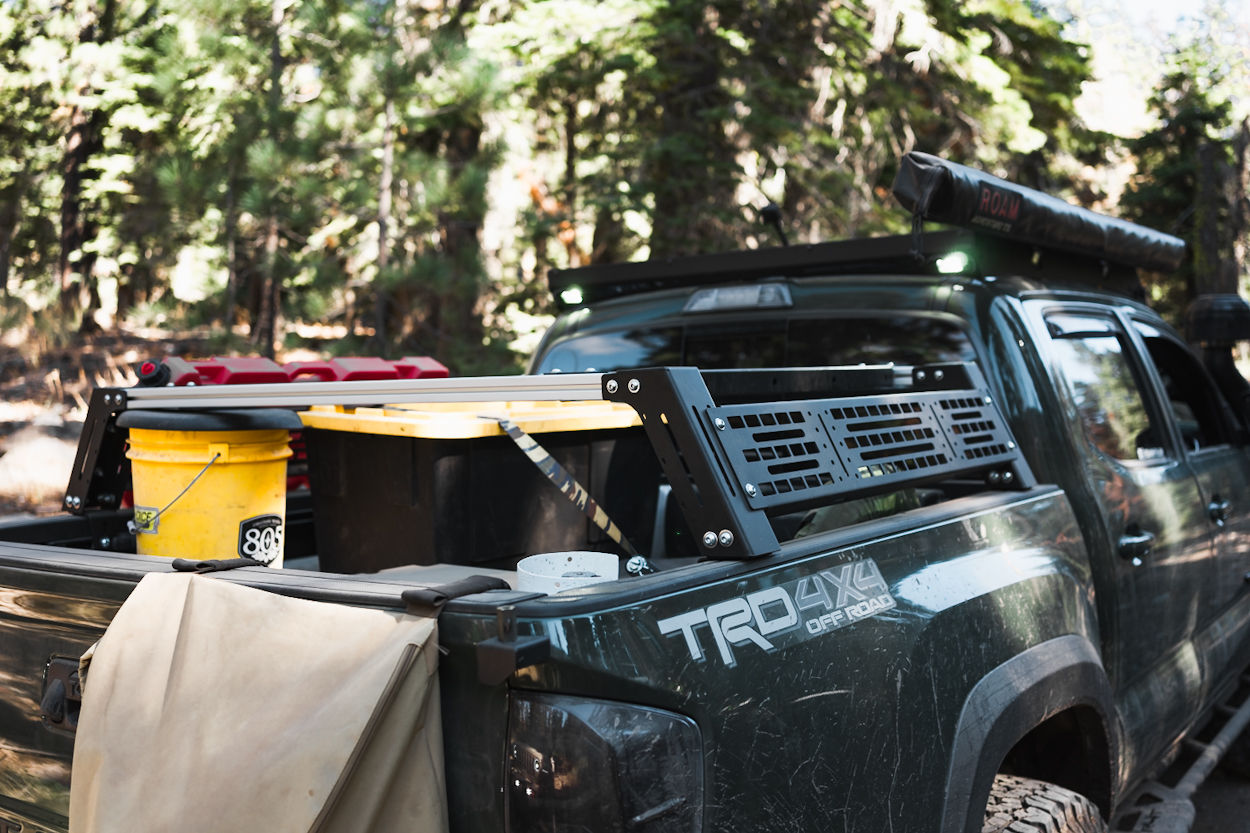 Bed storage is an affordable and efficient way to maximize storage capacity on your Tacoma. Available options include lockable boxes, MOLLE panels, and bed racks, which offer versatile storage solutions for tools, kitchen gear, recovery gear, and more.
Lockable boxes are typically made of durable materials such as steel or aluminum and come in varying sizes. They can be secured with locking mechanisms, ensuring your gear stays safe and secure in transit.
MOLLE panels are also popular, and typically made from either steel or aluminum. However, they require additional mounts or bags to hook up your gear. It's worth noting that while they offer great visibility and accessibility, your gear is also more exposed – unless you have a topper covering it. This may increase the risk of theft when driving around town.
Bed racks for the Tacoma are another great option that may fit your needs if you are looking to carry bigger items. These are on the pricier side, but can greatly increase the amount of storage you have. Some bed racks are designed to be adjustable, allowing you to customize the rack to fit your needs.
With numerous bed-mounted storage options and products available to fit every need, this is a great option for those looking to make the most of their Tacoma's cargo space, whether on a budget or looking to utilize every square inch of the bed and tailgate.
Although we are mainly focusing on drawer systems in this post, this section is still applicable to consider your options.
Drawer Systems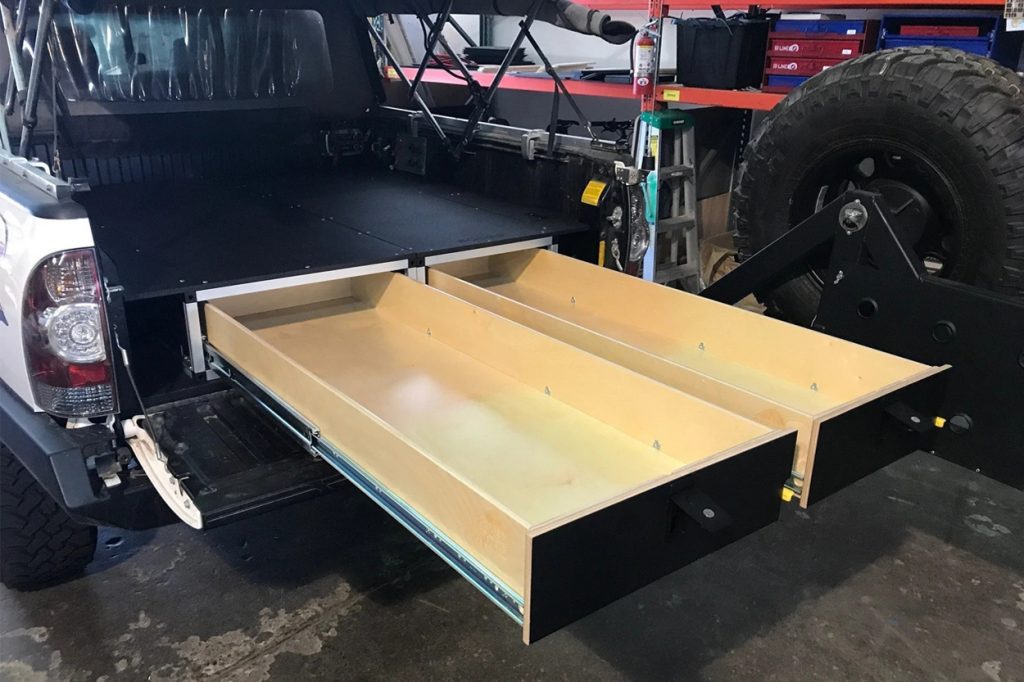 Drawer systems are a premium storage solution for Tacoma owners who prioritize organization and easy accessibility while on the road. These systems typically feature a series of drawers mounted to the bed, constructed from high-quality materials like steel, aluminum, or wood, and may be customized with additional finishing touches like Line-X or carpet.
The drawers vary in size and configuration to accommodate specific storage needs. Larger drawers are ideal for tools, camping gear, and recovery equipment, while smaller drawers are perfect for everyday items. However, you can feel free to organize what works for you. Drawer systems offer quick access to gear and are often equipped with locking mechanisms to keep items safe.
However, installing a drawer system requires a more extensive installation process compared to other storage solutions, with some products requiring drilling directly into the bed truck. While more expensive than other storage options, drawer systems offer unmatched customization and durability for Tacoma owners.
Let's see how these 5 Tacoma owners are customizing their bed space with storage solutions!
1. Grant (@grizzy.gram) – Custom Decked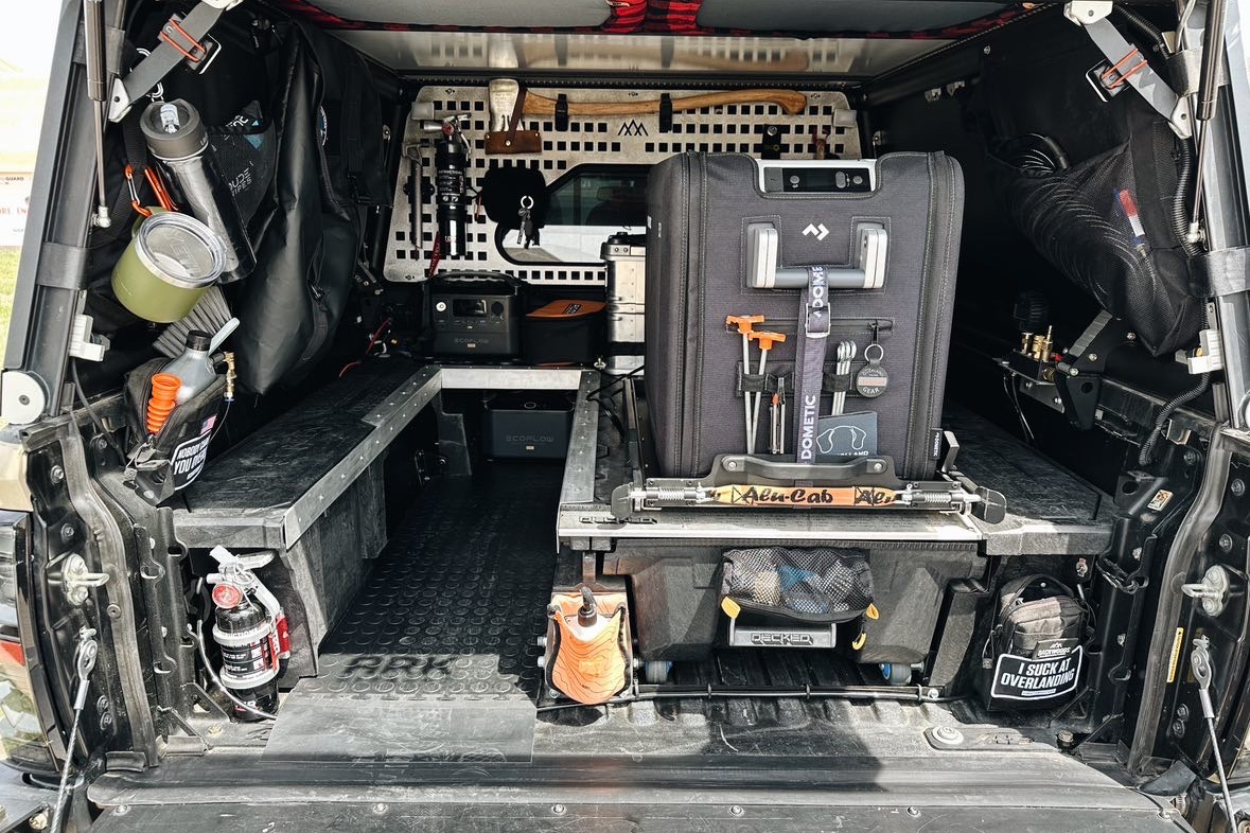 Drawer & Storage Setup 
Custom Decked Drawer System (custom cut + added floor)
Zarges Cases
Custom GFC Space Frame Bags
Amazon MOLLE Bags
Backwoods Adventure Mods MOLLE Panels
Tell Us About Your Setup
I started with the Decked drawer system as my base for my camper build because it was relatively cheap, durable, weatherproof, and not permanent. I like that it provided better accessibility of gear, not necessarily the ability to carry more of it. Drawers make the truck bed space very usable.
Before I got my GFC, I knew I wanted to modify my Decked system for easier entry and exit of the camper, so I cut out the driver's side drawer completely and finished it with some angled aluminum and a wooden floor wrapped with rubber coin flooring. This gave me huge benefits like an added shelf, added storage in places that were previously not utilized, an added seat, and of course, allowed me to fully stand up in the camper to change clothes and move around more comfortably. I can also carry larger and taller options if need be with the additional space.
My Decked drawer contains paper towels, cooking gear, cups, utensils, camp chair, fire-starting materials, etc. I also have a Viair 400p automatic air compressor hardwired in the "ammo can", and that runs to a FasterFlate manifold kit bolted directly to the bed rail. I have a bottle jack, some ratchet straps, and other gear in the other ammo can.
In the bags on the sides of the camper, I have quick access to things like air hoses, shower hoses, gloves, etc. My Zarges box doubles as food/stove storage as well as a step to get on the tailgate easier. I added a Goose Gear top plate to the box for added durability and grip in the rain/mud.
Lastly, I use some L-Track as attachment points for my Zarges case and EcoFlow batteries that are secured directly to the top of the Decked. I love this system because it's a great out-of-the-box option that you can dial in and make your own.
2. Jay Zhang (@jay.goes.offroad) – OverLander WoodWorks Inc.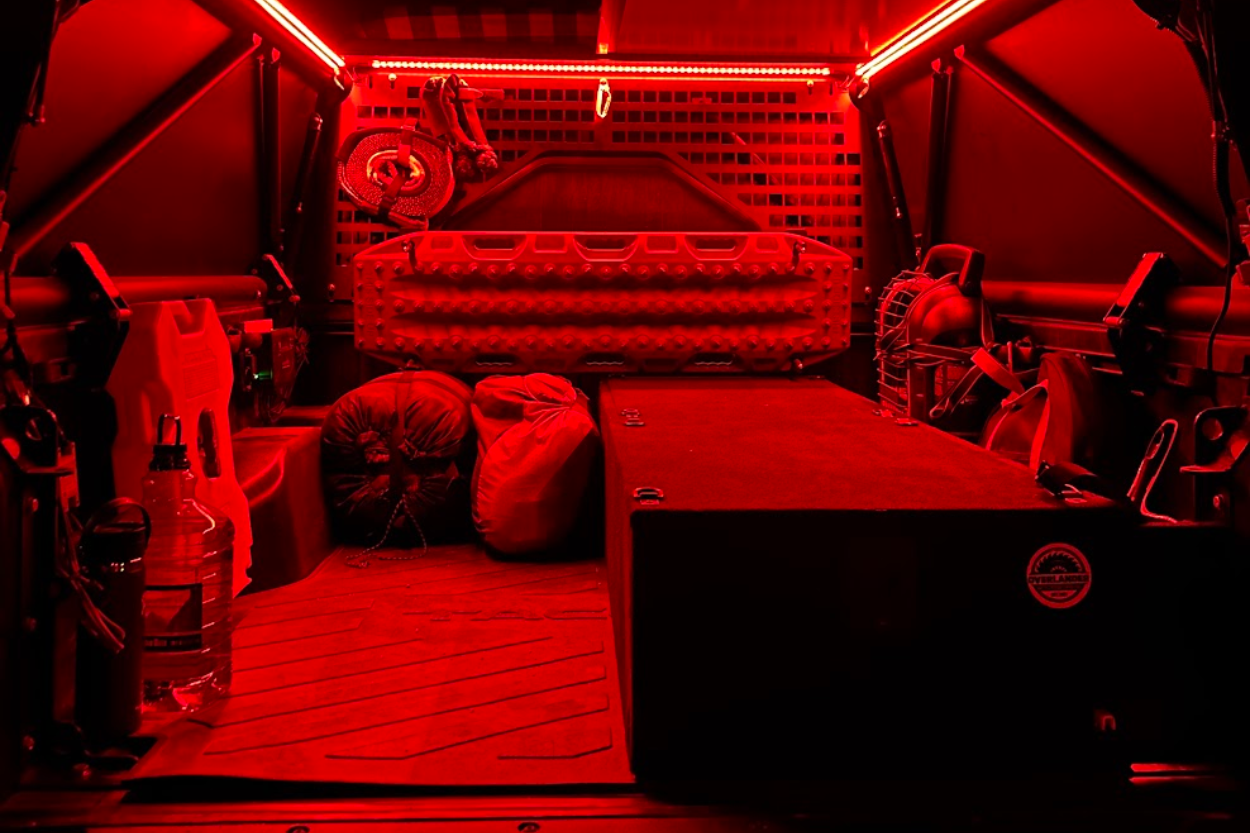 Drawer & Storage Setup 
Tell Us About Your Setup
I picked this setup because I couldn't find the right fit for my truck bed. When designing my custom truck bed drawer system, I considered several factors, such as the size and weight of the items I need to store, the accessibility, and the security and durability I desire. I also took into account the budget. I wanted my build to be as budget-friendly as possible compared to name brands. Another important factor was that I wanted the overall aesthetics to complement my Go Fast Camper.
As for what I like about a custom truck bed drawer system, it has to be the added organization and convenience. I mainly use the single slide drawer system to store all my camp kitchen and recovery gear for quick and easy access. It comes with custom dividers to keep my gear organized. With this well-designed single slide-out drawer system, I can maximize space in my truck bed while keeping my camping gear and tools easily accessible. Additionally, a secure latch locking mechanism can help protect my gear from theft or damage.
One of my favorite parts of this custom drawer system is the cutout opening and cubbies, allowing me to access all my camping gear while inside the truck bed.
Overall, this well-designed custom truck bed drawer system is invaluable to my overlanding setup. By carefully considering my needs and preferences, I designed a system that helps me stay organized and prepared for whatever adventures lie ahead.
3. Andrew Cutler (@scaia_offroad) – FAHRT Systems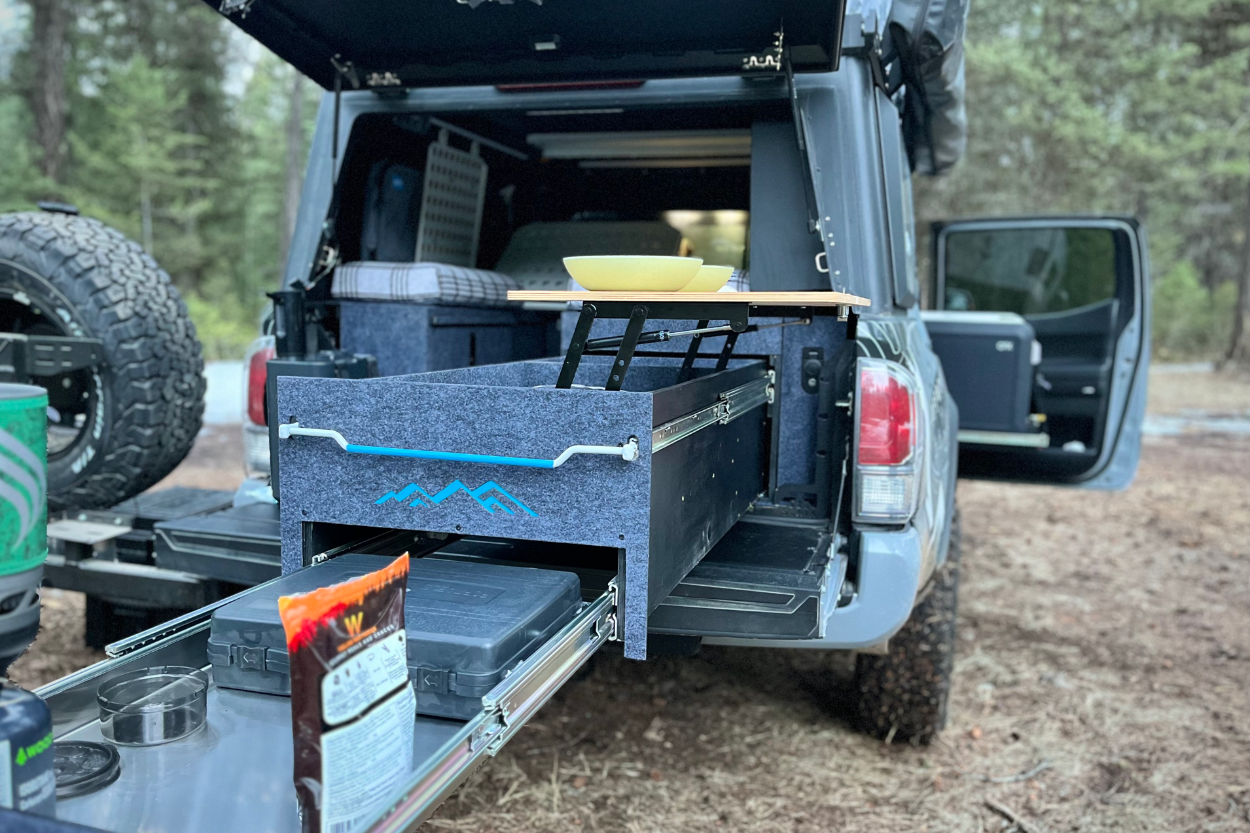 Drawer & Storage Setup 
FAHRT Systems Drawer w/ Kitchen Slide-Out
Super Pacific MOLLE Panels
Tell Us About Your Setup
After adding the Super Pacific Switchback X1 to our build, we postponed adding any further customizations to the box of the truck so we could use the space and plan our storage needs. After using the space for a season, it became clear we didn't want to haul bins around any longer and wanted a permanent but flexible storage system that allowed for a fast setup.
The addition of MOLLE panels along the side of the truck allows for quick gear access while still leaving space for a pass-through area when reaching from the outside into the inside of the truck for gear. Having the fridge slide in the rear seat allows for more flexible space within the box of the truck.
The custom FAHRT Systems build utilizes every inch of space, allowing for a sleeping platform, a removable Dometic toilet component, customizable storage for propane canisters, recovery gear, etc. The steel kitchen slide-out has an abundance of room and the gear that we like to have the easiest access to. The durable fabric coating on the FAHRT System storage system is easy to clean and comfortable when using the space to hang out when it's a bad weather day.
All in all, these additions have been a complete game changer in how we use our space. There's now a considerable amount of time saved when arriving at camp, and we spend much less time on pre and post-trip organization.
4. Bryan N (@rallyata) – OverLander WoodWorks Inc.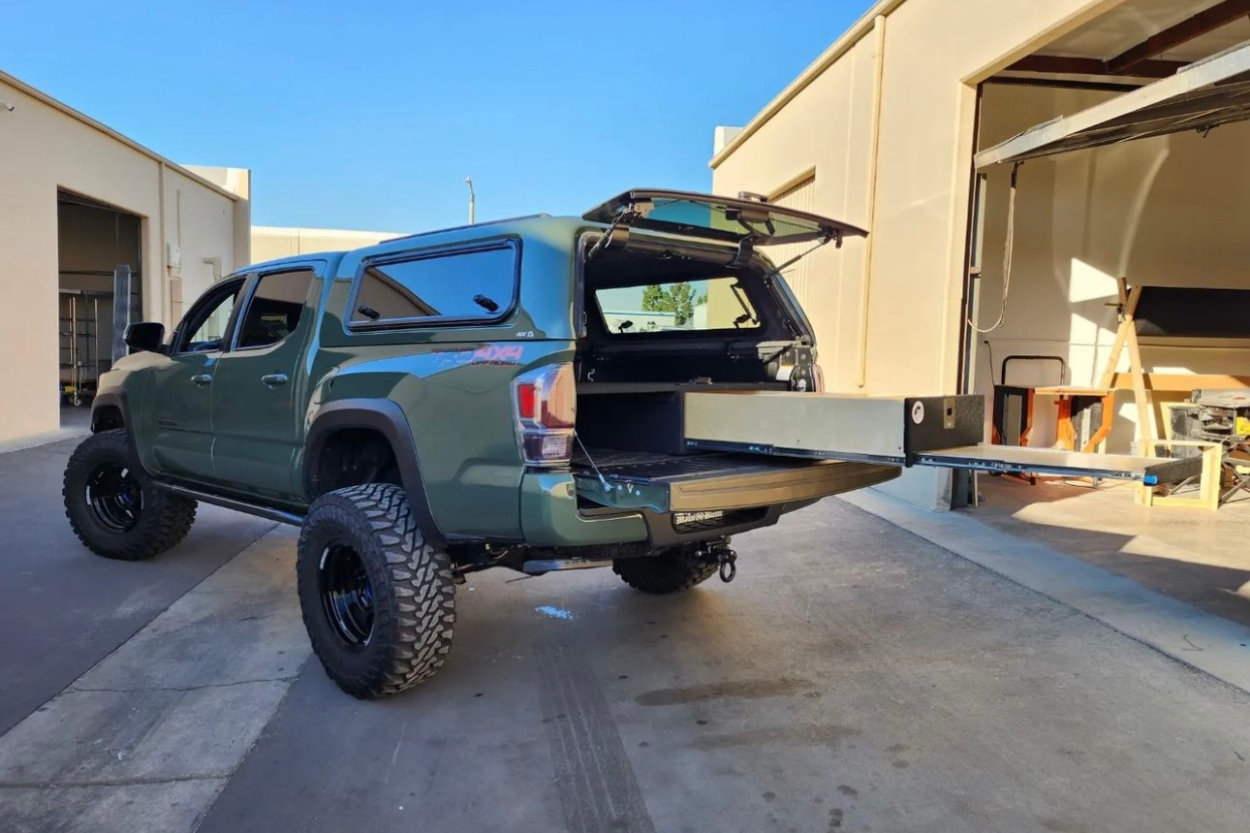 Drawer & Storage Setup 
Drawer Slide w/ Sleeping Platform
Tell Us About Your Setup
I chose the OverLander WoodWorks Inc. custom drawer setup because they are a reliable company and could provide me with exactly what I needed. In general, this company makes some pretty cool products.
My setup is a custom build, so each and every system he builds is unique. If you can dream it, he can literally make it.
5. Allen Jay Udaundo (@808_taco_trooper) – Decked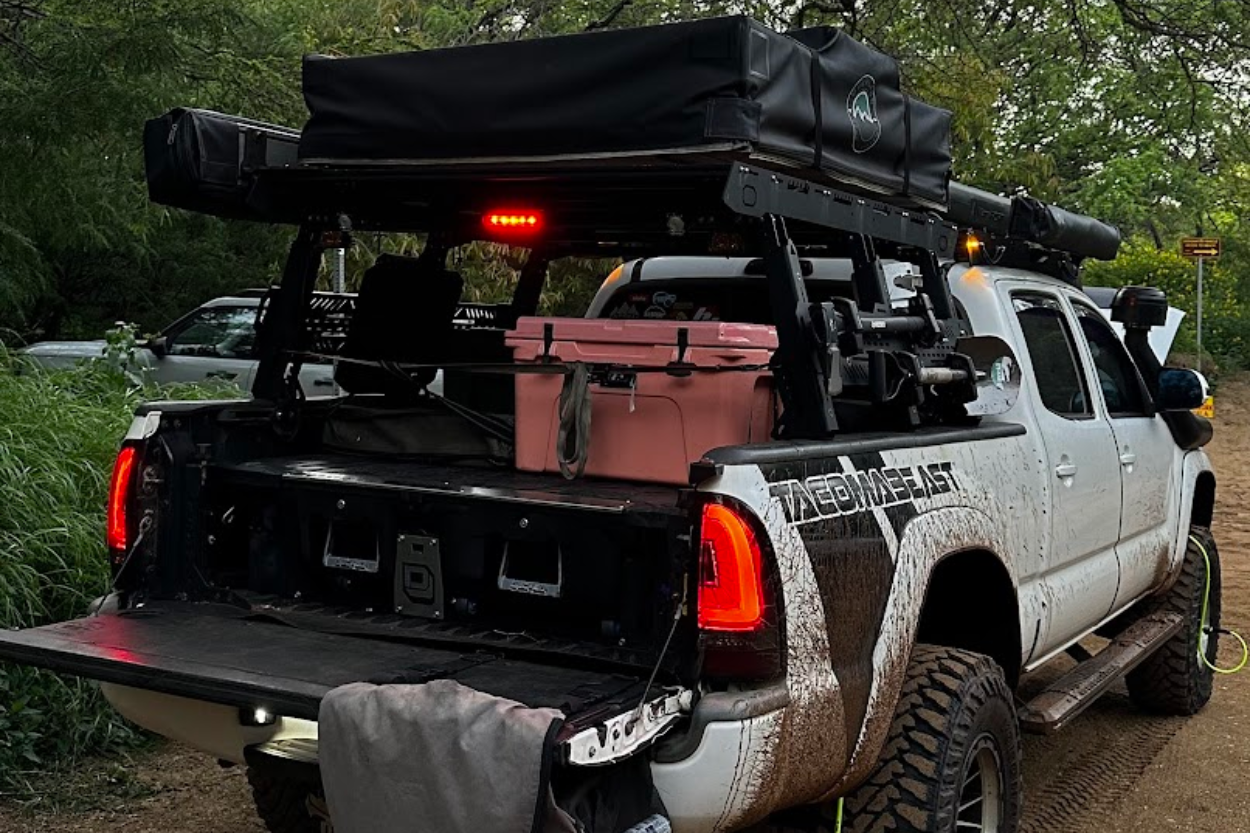 Drawer & Storage Setup 
Decked Drawer System
Plano Case 42"
upTOP Overland Truss Bed Rack
Tell Us About Your Setup
I chose the Decked drawer system because it's easily accessible. The bigger drawer holds my two frontrunner chairs, utensils kit, fire pit, air mattress, and food seasonings. The smaller drawer holds my sponsoredbywifey air/down hose, waterport hoses, small straps, lights, and misc stuff.
I also have the Plano case on my roof rack, which holds my recovery tools.
Final Thoughts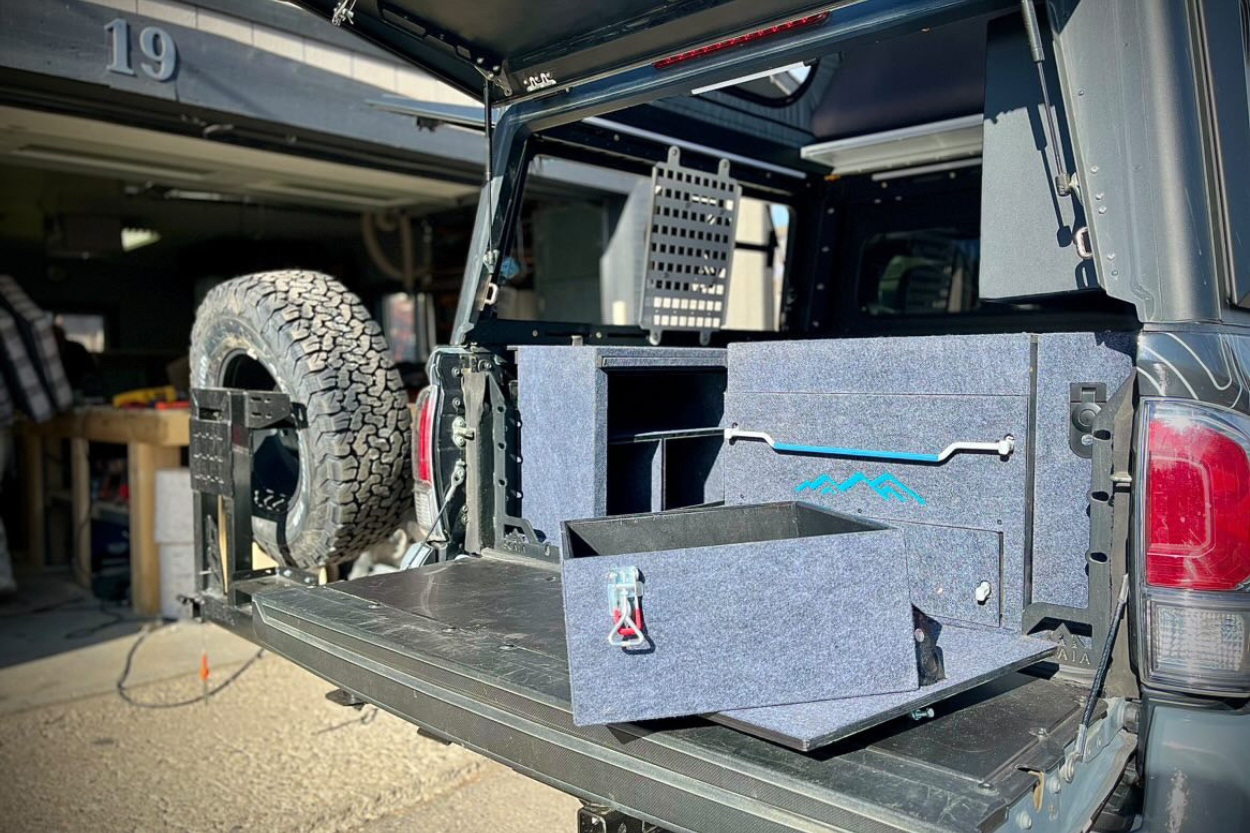 That wraps up another Taco Tuesday!
While increasing storage may not be one of the first mods you plan on, depending on what you're planning with your truck, you may inevitably need to. What are some other ways you are adding storage to your Tacoma?
Tune in for next week, where we will be featuring lightbars on Tacomas!