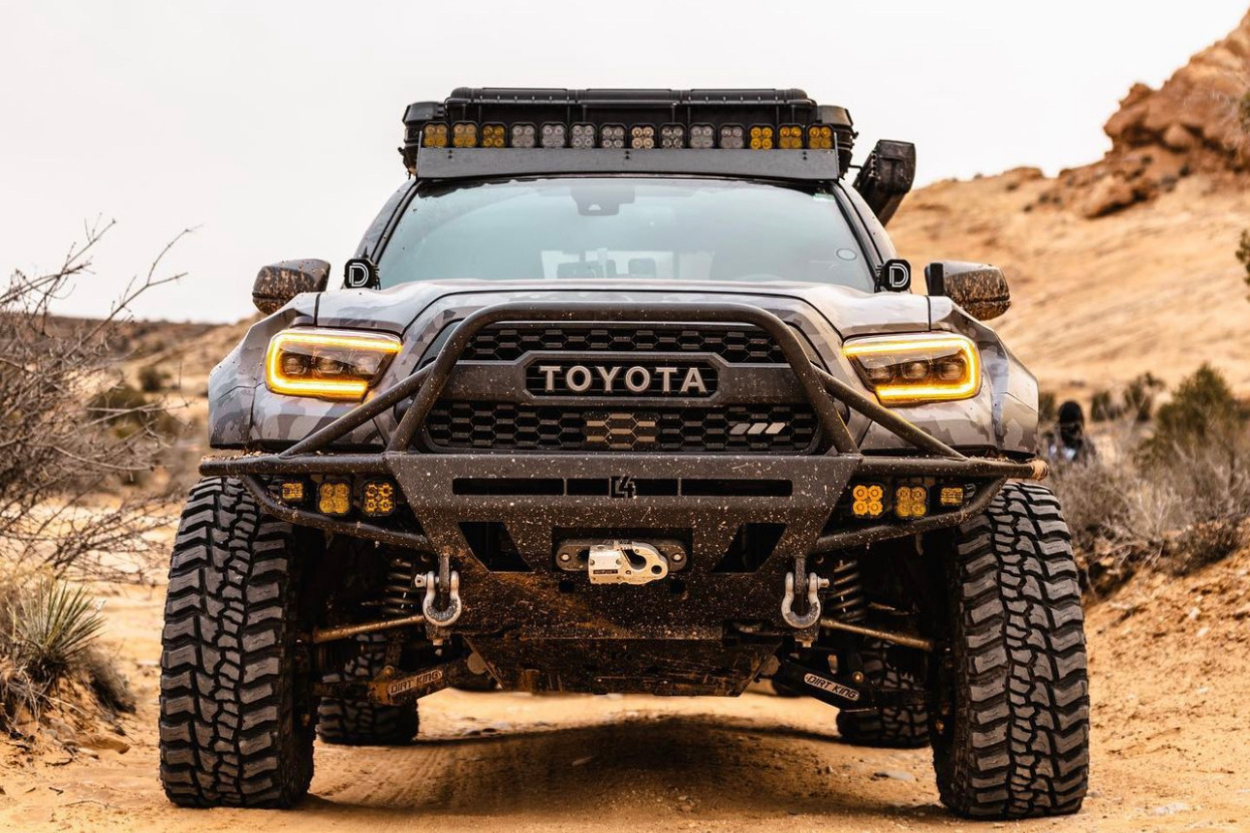 From Multiple LED Pods To Dual Function Single Row LED Light Bars – 7 Tacoma Owners Told Us About Their Off-Road Lighting Setups
Welcome back to an all-new Taco Tuesday! Last week, we took a look at storage and drawer systems. This week, we're taking a look at a few light bar options available for the 2nd and 3rd gen Tacomas.
Off-roading can be a thrilling adventure, but it can also be dangerous when driving in dark or poorly lit areas. That's where light bars come in handy!
Light bars come in the form of light pods daisy-chained together or as a row of LEDs. They are commonly mounted on the roof, bumper, or grille.
Light bars offer enhanced visibility and illumination beyond what your headlights can provide, making seeing obstacles and hazards on the trail easier. They also provide an aesthetic upgrade to your truck.
Let's look at a few options available for the Tacoma!
How To Get Featured

Do you want to be featured in a future Taco Tuesday post? We want readers to get inspired by a variety of rigs/products.

Submit your build for Taco Tuesday here to get featured!

We have specific topics for each Taco Tuesday post and we would love to feature your rig!
Note: The builds listed below are in no particular order
1. John Ure (@trd_timmy) – Alibaba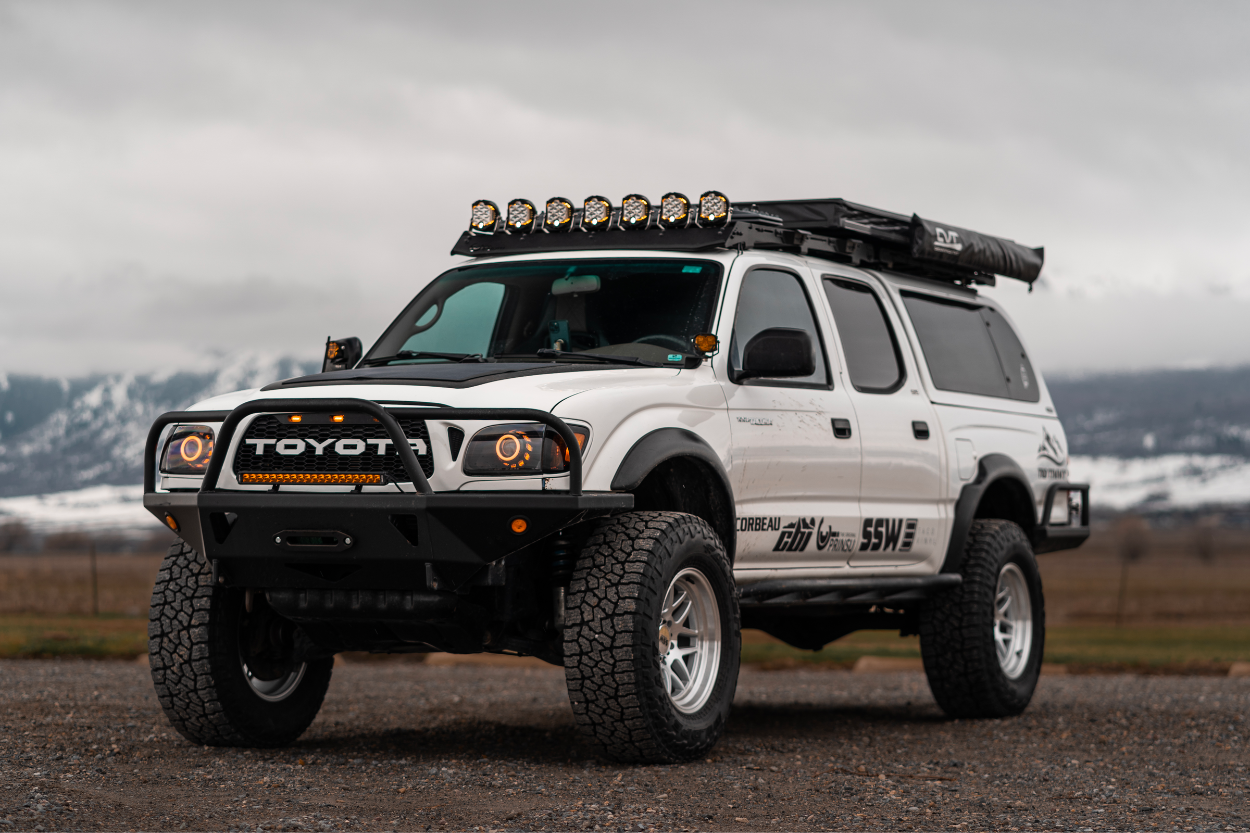 Light Bar
5″ Alibaba Pods | White/Clear

Lasfit 22″ LED Bar
Tell Us About Your Setup 
I first picked these lights because I loved the look of the pod lights, and they were very affordable. They even have the amber DRL function like the high-end lights. The light output is decent for the price but won't throw as far as most other lights. I have them mounted to my Prinsu roof rack and have the two on the ends angled outward for more light spread. I also have a 22″ Lasfit LED bar on my bumper.
For the price, they do well and look great!
2. Josh Oats (@the_dark_yota) – Diode Dynamics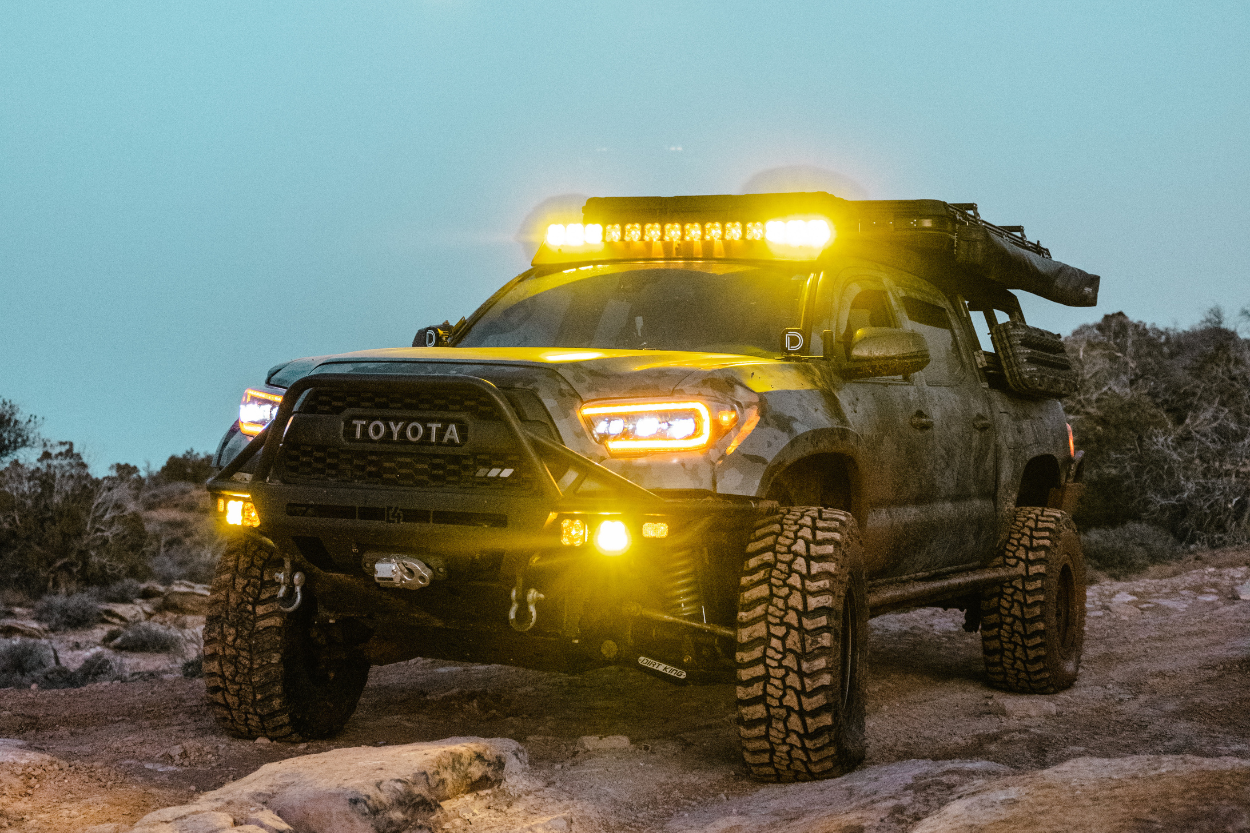 Light Bar
Diode Dynamic SS3 Pros (x14) | Yellow/White
Tell Us About Your Setup
I wanted to have a different setup than most and to have full control of the lighting on the roof rack. Blaze Off-road wired the lights allowing me to run the outer six ambers alone, the center 8 white lights alone, or all 14 together.
The lights are individually mounted to the Sherpa crossbar using drop-in nuts and hex bolts.
3. Jeremy Cadua (@jer619) – Baja Designs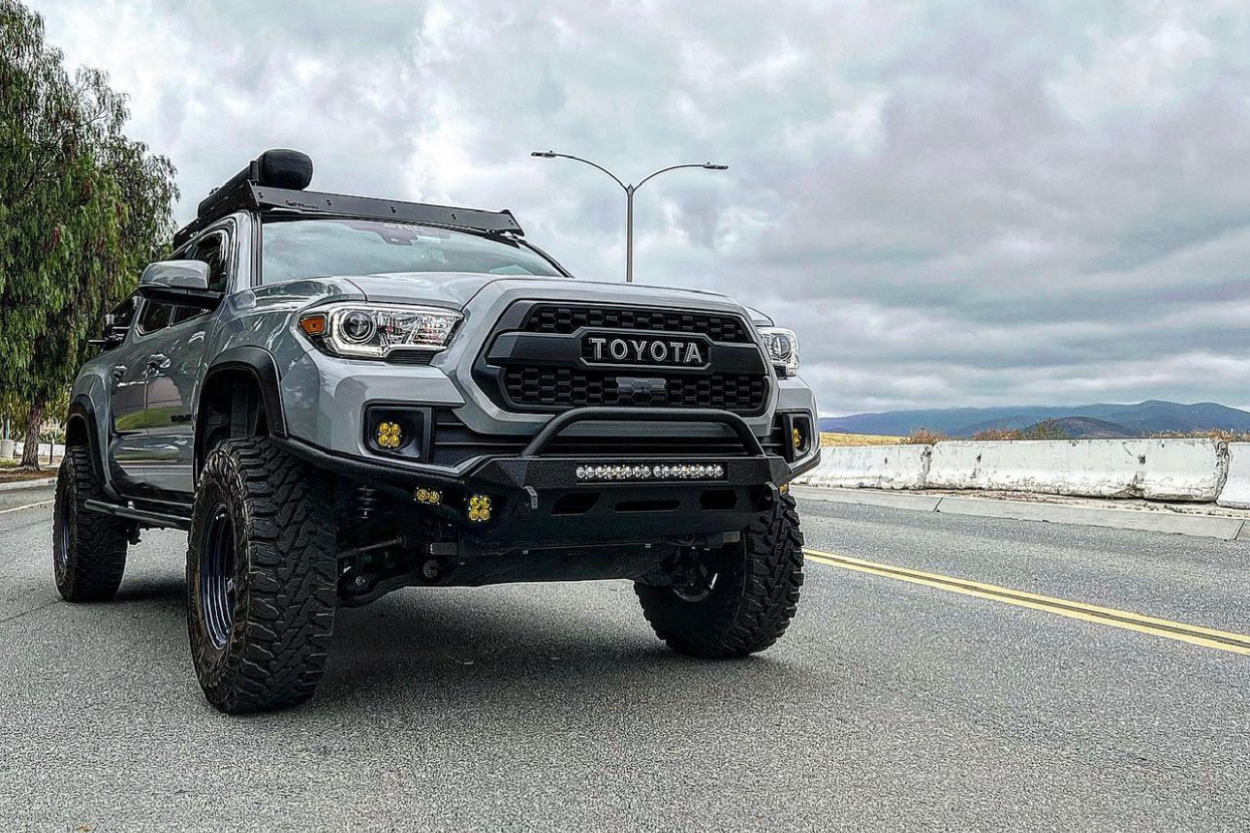 Light Bar
Baja Designs S8 20″ | White
Tell Us About Your Setup 
I needed more light for night runs, especially since on my first trail run, I got stuck in the dark with no auxiliary lights. I was ready with my Baja Designs light setup on the next trip, though.
My 20″ S8 is mounted inside my Southern Style Offroad bumper. It fits my needs and lights up the trail for anything I've encountered.
4. Nathan Pease (@tacostorm22) – Cali Raised LED & Baja Designs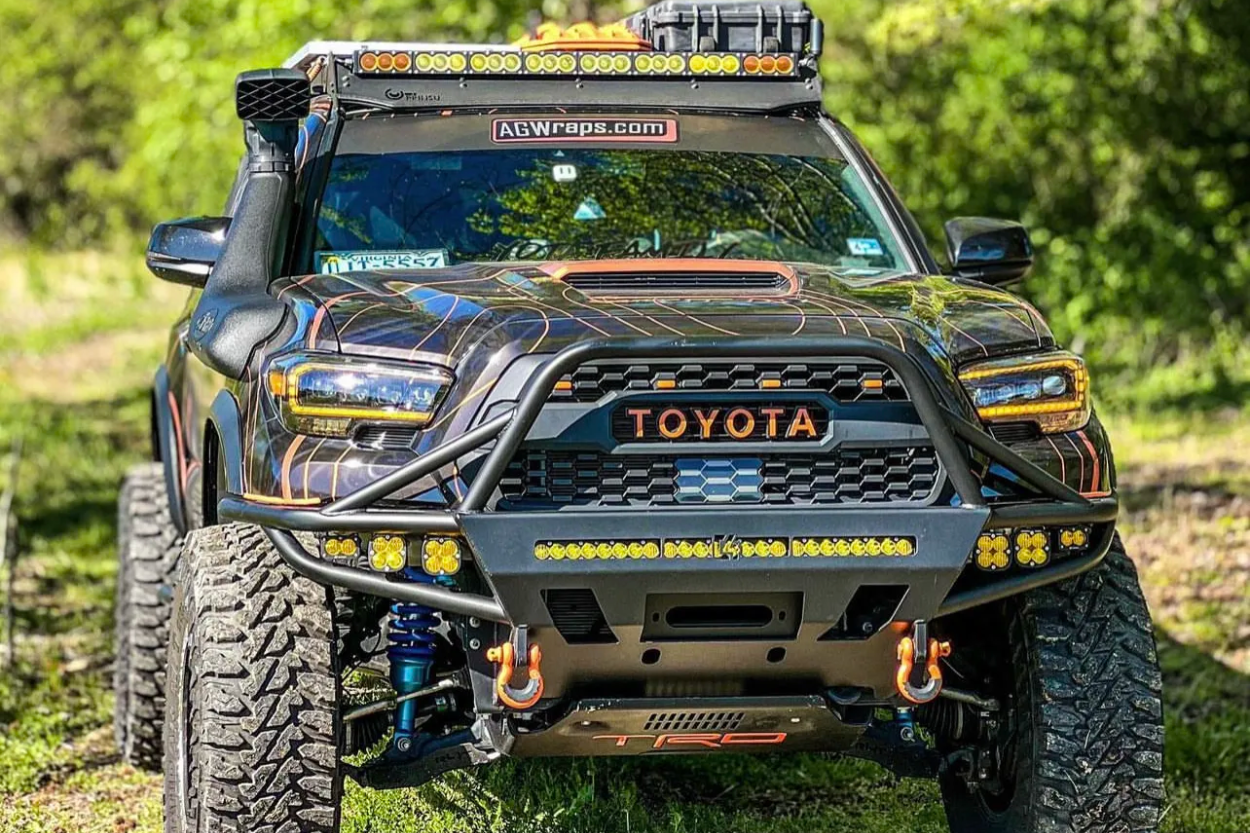 Light Bar
Cali Raised LED 43″ Dual Function | Amber/White
Baja Designs S8 30″ | Driving/Combo Pattern | Amber
Tell Us About Your Setup
My 43″ Cali Raised LED light bar is mounted to my Prinsu roof rack, while my 30″ Baja Designs light bar is mounted to my C4 Fabrication hybrid front bumper.
I chose the Cali Raised LED light bar for my roof rack because it's affordable yet provides fantastic light output. The 30″ Baja Designs light bar gives the bumper a totally different but awesome look as well. The light output is great and comes with a backlight feature.
I love both light bars because of their looks, light output, and how perfectly they fit the truck. Plus, it's pretty cool how they both match my truck's theme.
5. Stephen Moore (@weeman1199
) – X-Terrain
Light Bar
X-Terrain LED 20″ | White
Tell Us About Your Setup 
I picked this light because of its hidden and protected design inside the bull bar on my ADI Off-Road Front Bull Bar Bumper. I like this light for a few reasons; it's compact, bright, protected by my bumper bull bar, and serves a great purpose in lighting the trail.
Another pro of having my light bar on my bumper is that it provides adequate lighting while winching.
6. Bryan N. (@rallyata
) – KC HiLites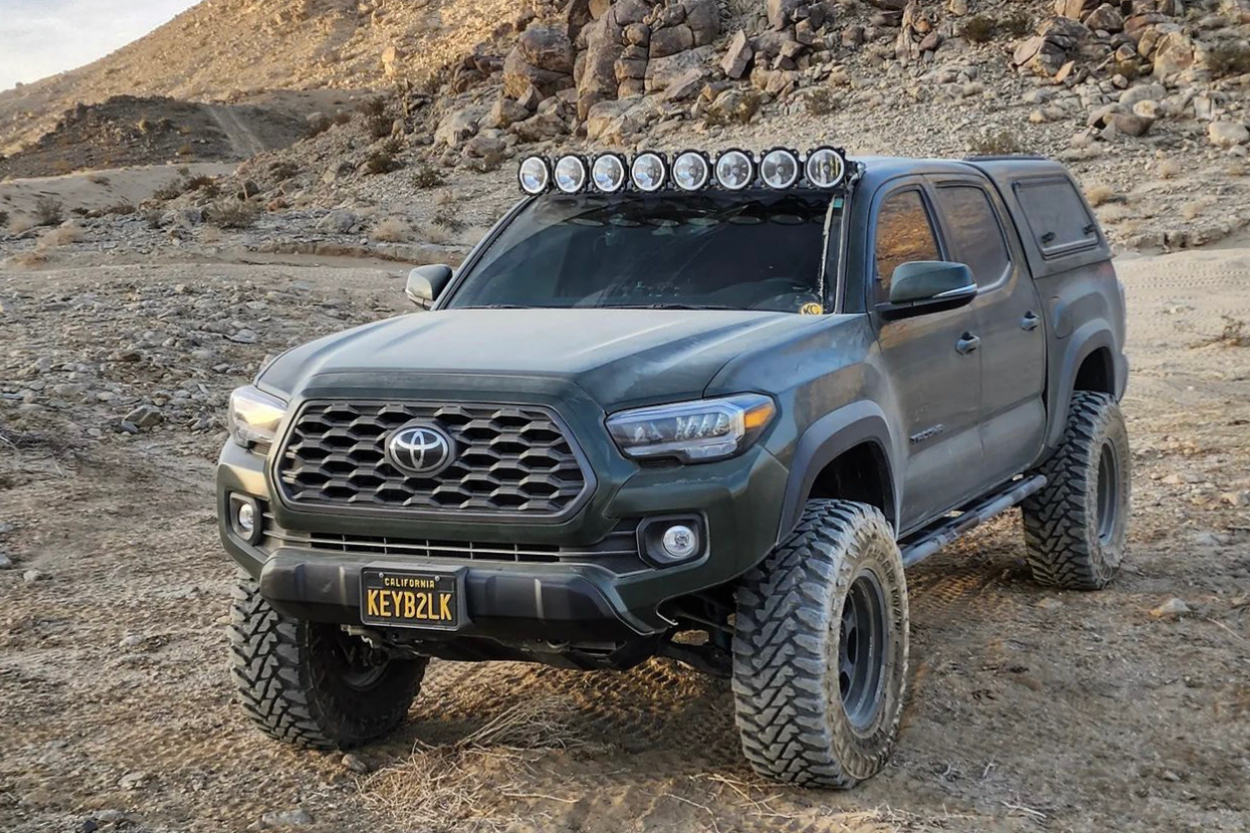 Light Bar
KC HiLites Pro6 Gravity | Amber
Tell Us About Your Setup 
I went with the KC HiLites Pro 6 light bar because there's nothing quite like it on the market. The output is insane, and it gives my truck that Baja trophy truck look I was looking for.
The bar is mounted to the top is a Prinsu roof rack.
7. Konrad Chojnowski (@trail_tacoma) – Lightforce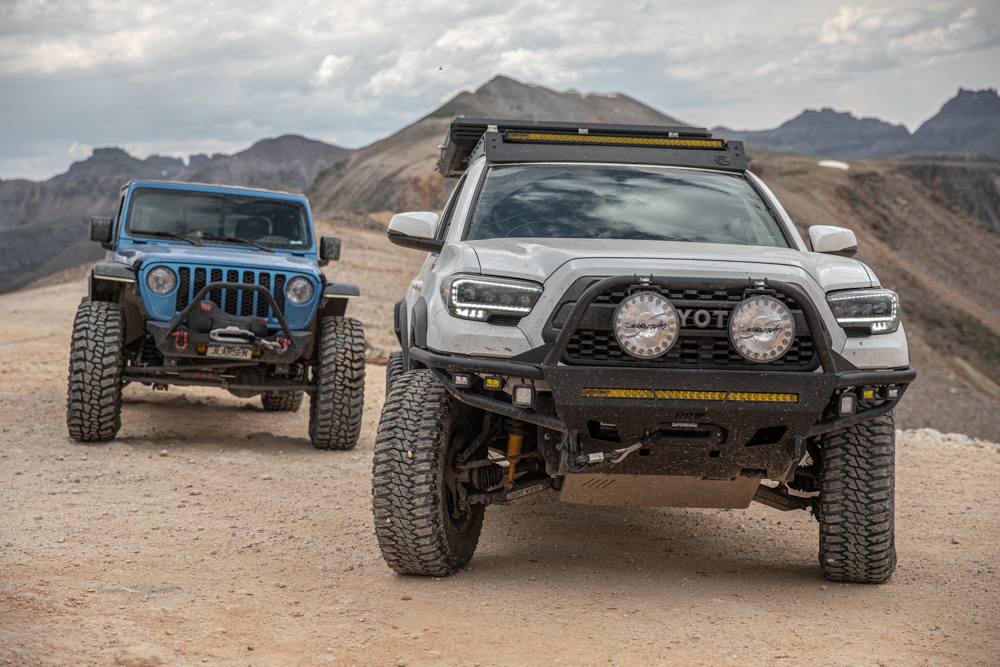 Light Bar
Lightforce Nightfall Series

30″ Mounted In Bumper
40″ Mounted On Roof Rack
Tell Us About Your Setup
The shot above is before I made some major changes, but the light setup is still the same. As you can see, I'm absolutely loaded with an absurd amount of lights, lol.
Lightforce is a solid brand. They have quality lighting products and I have been super happy with them on all counts. I added yellow Lamin-X to the bars, it's actually surprising how well it works. The light color is a amber/yellow shade and the film has held up great. Anyone looking for quality and a more budget friendly price should consider Lightforce.
Final Thoughts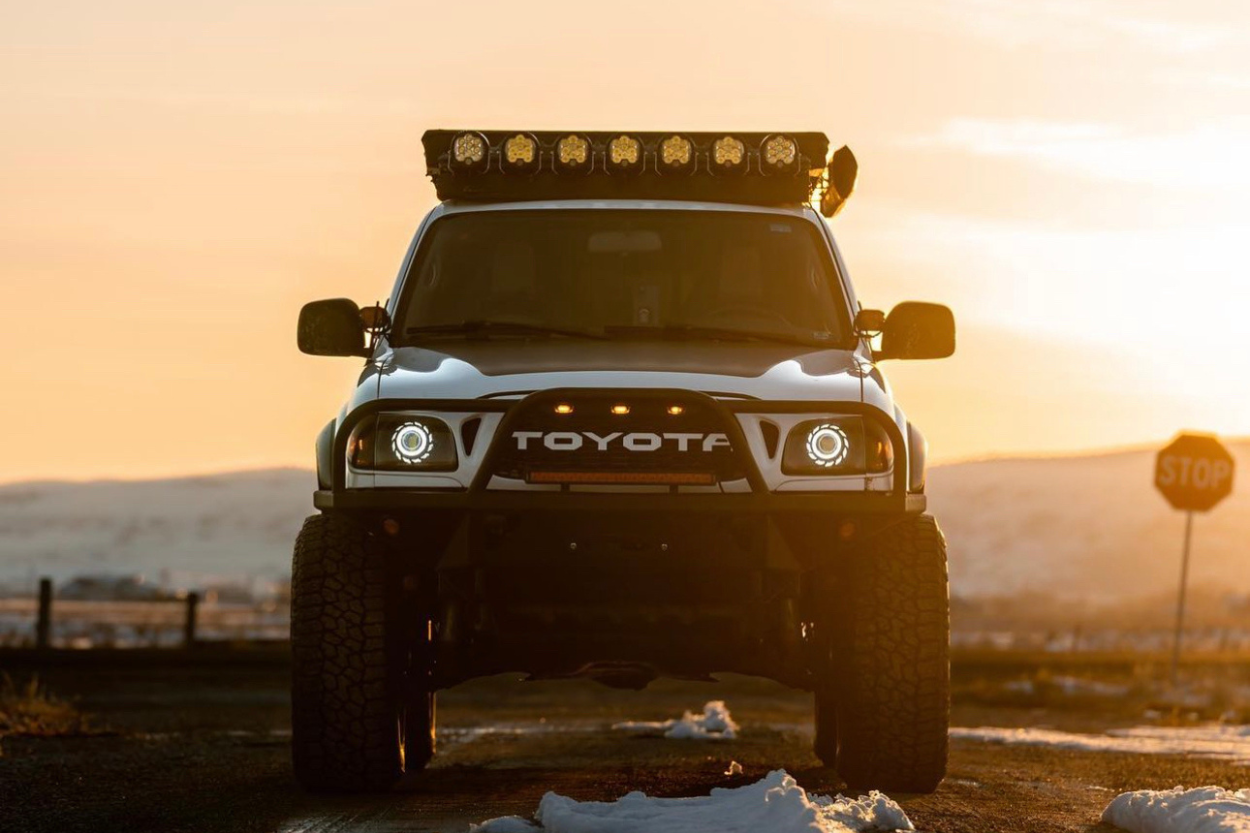 That wraps up another Taco Tuesday!
We hope that we were able to shed some light (pun intended) on the light bar options currently available for the Toyota Tacoma. Not only do they enhance the aesthetic appeal of your truck, but they also provide much-needed illumination for those nighttime adventures. Light bars are an easy way to add a ton of lumens to your build with a single wire.
Next week, we'll be featuring MOLLE panels on your Tacoma! If you have any MOLLE panels on your truck, make sure to submit them and be featured!
Happy trails!