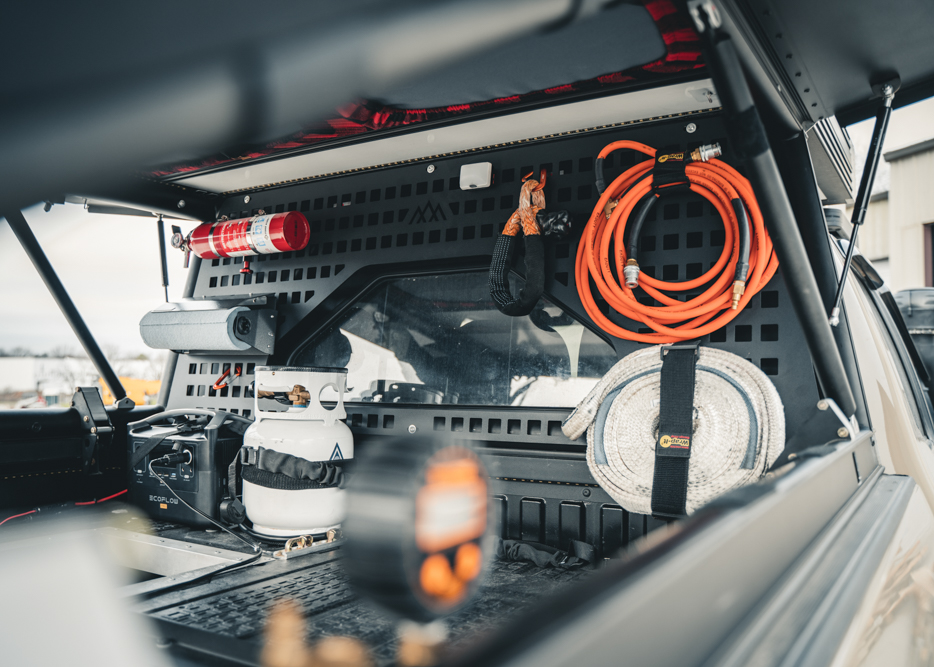 Maximize Your Storage Options & Truck Organization: 6 Different Owners Discuss Their Truck's MOLLE Panel Setups – Truck Build Inspiration!
This Week's Topic: MOLLE Panels
Welcome back to an all-new Taco Tuesday! Last week we looked at led light bars for the Toyota Tacoma. This week, we are looking at how you can better store and organize your gear using MOLLE Panels.
MOLLE panels have become a popular addition to off-roading vehicles due to their versatility and convenience. These panels provide a modular system for attaching various accessories and gear and improving your truck's overall storage and organization. Whether it's mounting extra fuel canisters, recovery gear, or tools, MOLLE panels offer a secure and efficient solution for maximizing the storage capacity of your Tacoma.
Let's look at 4 different setups to maximize space.
How To Get Featured

Do you want to be featured in a future Taco Tuesday post? We want readers to get inspired by a variety of rigs/products.

Submit your build for Taco Tuesday here to get featured!

We have specific topics for each Taco Tuesday post and we would love to feature your rig!
Note: The builds listed below are in no particular order
What Are MOLLE Panels?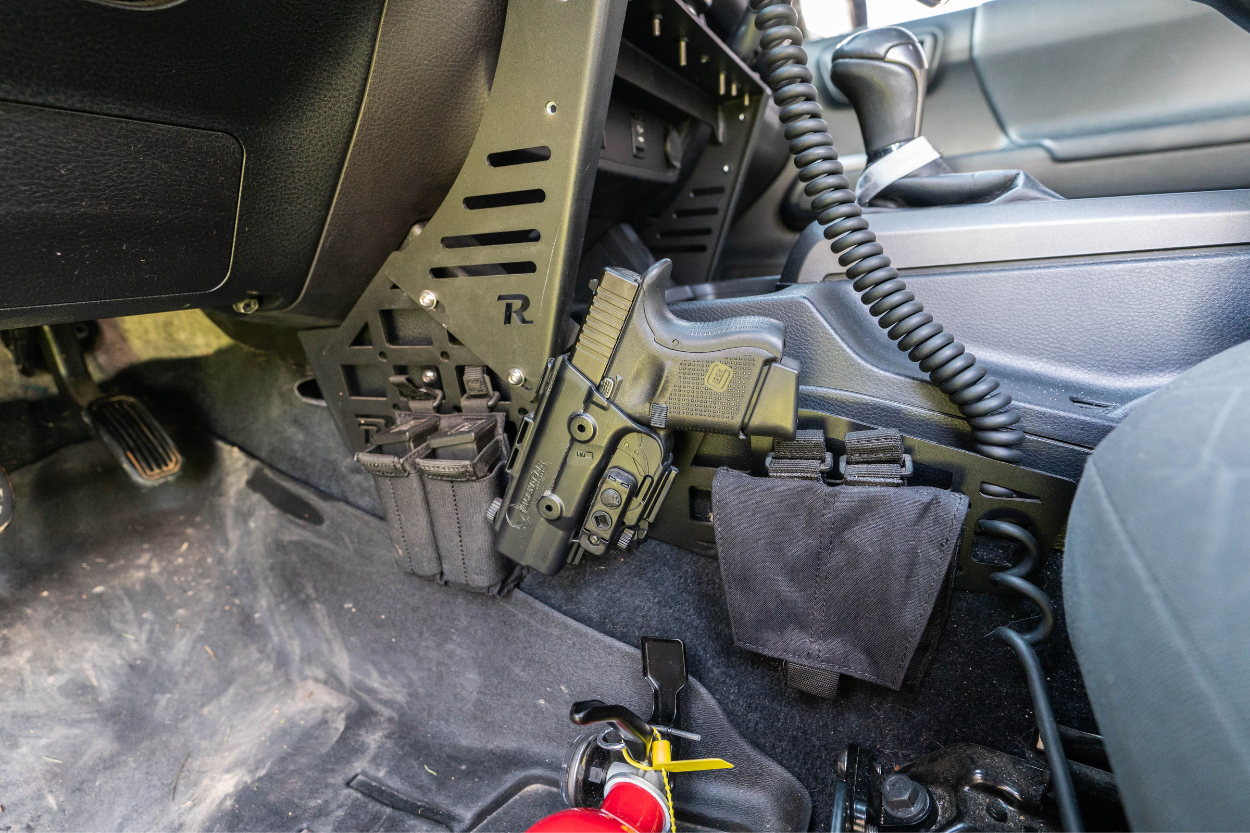 Modular Lightweight Load-carrying Equipment (MOLLE) panels were originally developed for military use. Specifically to enhance the modularity and versatility of gear and equipment carried by soldiers. They comprised a grid of webbing or straps sewn onto a panel, typically made of durable nylon. The webbing allows for the attachment of various accessories using the MOLLE system's unique interlocking mechanism.
MOLLE panels have since found applications beyond the military and are now used with off-roading vehicles. They provide a practical and customizable solution for securely mounting equipment and optimizing storage space. They are compatible with a wide range of MOLLE-compatible accessories, making it easy for anyone to customize their setup.
1. Jonathan Rivera (@_roamwithjon) – Cali Raised LED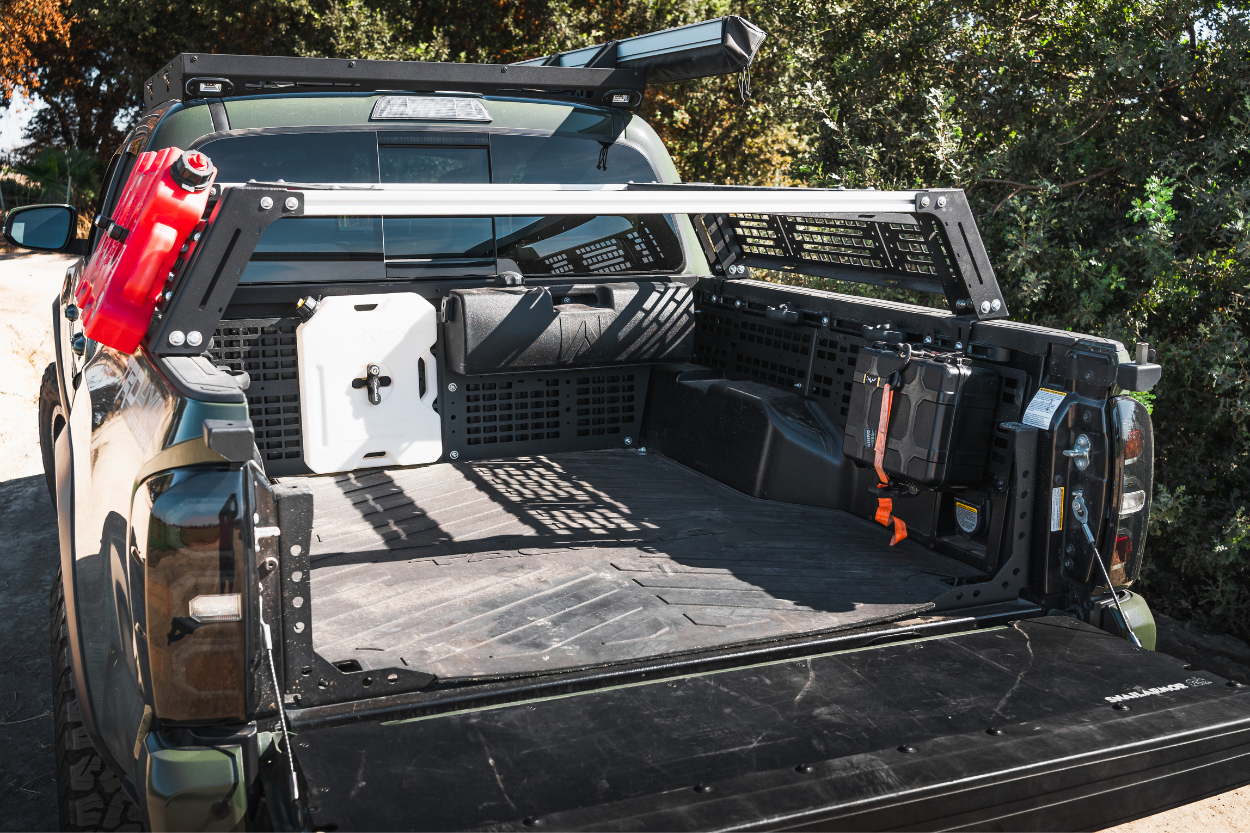 MOLLE Panel 
Cali Raised LED Front + Side Bed MOLLE System
Cali Raised LED Center Console MOLLE Panels
Tell Us About Your Setup
Cali Raised LED made it extremely easy for me to add MOLLE panels to the interior and bed of my rig. I use the interior center console MOLLE panels to mount my first aid kit, some tools, and my walkie. The interior panels keep all of that gear in a quick-to-access position.
The bed MOLLE panels made it easy to mount my Rotopax as well as my WaterPort in positions that make them easily accessible. Additionally, the bed panels are strong enough to be used as tie-down points for all of my gear when we're out exploring!
2. Konrad Chojnowski (@trail_tacoma) – Backwoods Adventure Mods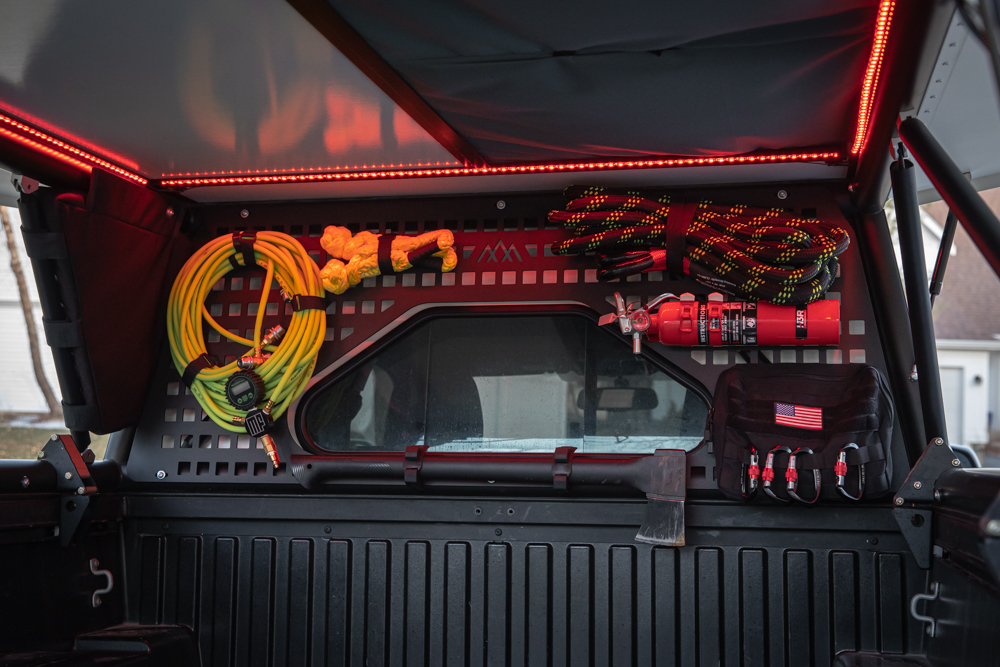 MOLLE Panel 
Backwoods Adventure Mods GFC V2 MOLLE Panel (limited release, not in production)
Tell Us About Your Setup
We had the opportunity to bring a neat product to the market in a limited release with Backwoods Adventure Mods. They manufacture various Toyota armor and accessories. The original idea was put on Grant's truck (ARK Offroad) and we thought it would be a great product to launch together. While it was only available for a limited run on a group buy, it's a rad setup I love to share.
Still working on the exact setup and how all my gear and accessories are mounted, but I'm pretty happy with the current setup as seen above. A smaller mod that really helps to bring the utility of the GFC to the next level.
3. Trevor Gwynn (@the_gray_ape) – OG Fabrications
MOLLE Panel 
OG Fabrications Tacoma Rear Passenger Seat MOLLE Panel
Tell Us About Your Setup
My MOLLE panels are mounted to the back of the rear seats in my 3rd Gen Tacoma.
They are accessible when the seat backs are laid down flat. I use them to strap down bags or gear that I'm hauling around while out off-roading. As part of the MOLLE system, there is also a panel to lock a Milwaukee Pack Out system in place. This holds small tools and items I might need during recovery.
4. Monica Nunez (@bsty_tco) – Cali Raised LED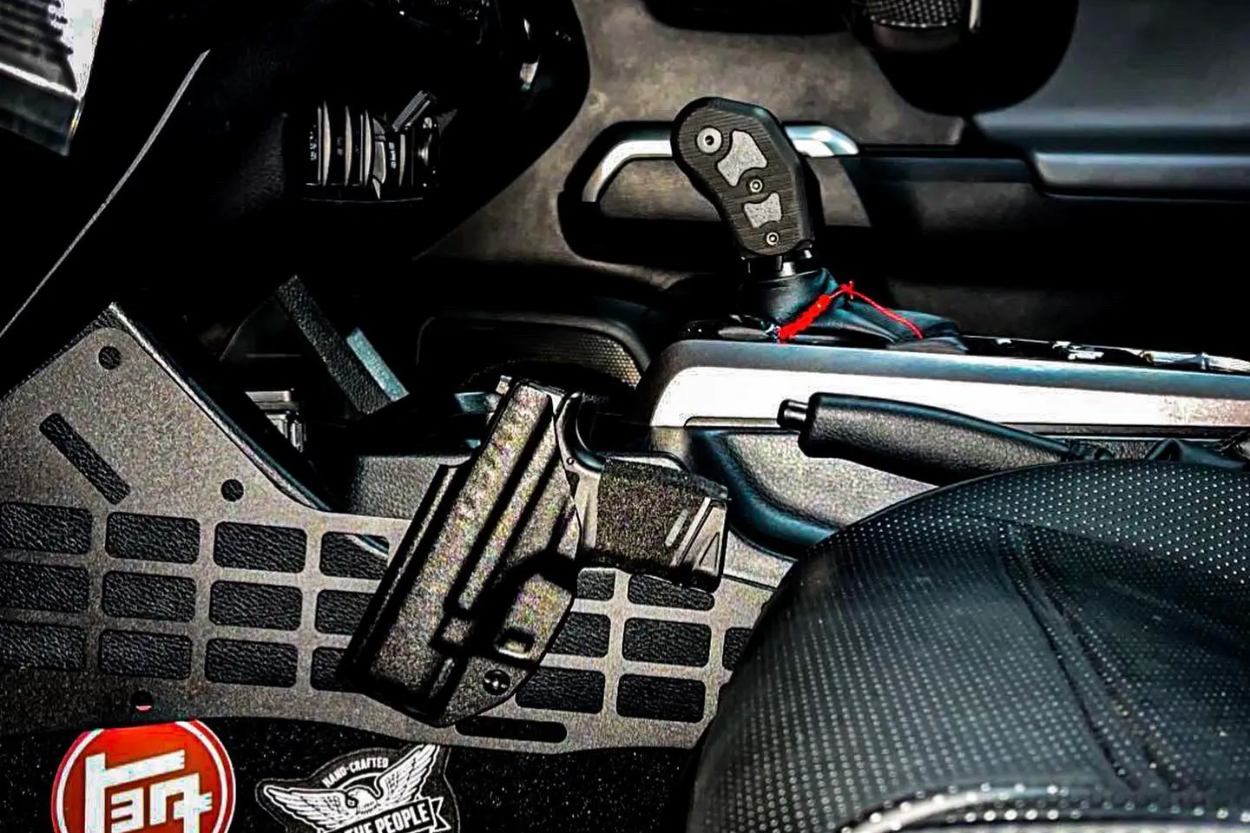 MOLLE Panel 
Cali Raised LED Center Console MOLLE Panels
Tell Us About Your Setup
My MOLLE panel is mounted on my center console, and I use it to store my safety gear. On it, I have my concealed carry along with a pocket knife and an emergency window breaker/seatbelt cutter.
I love how tactical this MOLLE panel looks paired with my concealed weapon; it also gives me quick access to it, just in case.
I decided to go with Cali Raised LED because it was a more affordable option than many others that I looked at. They are also a very reputable brand with quality products.
5. Collin Riley (@bugout_overland) – Smart Cap + Rago Fab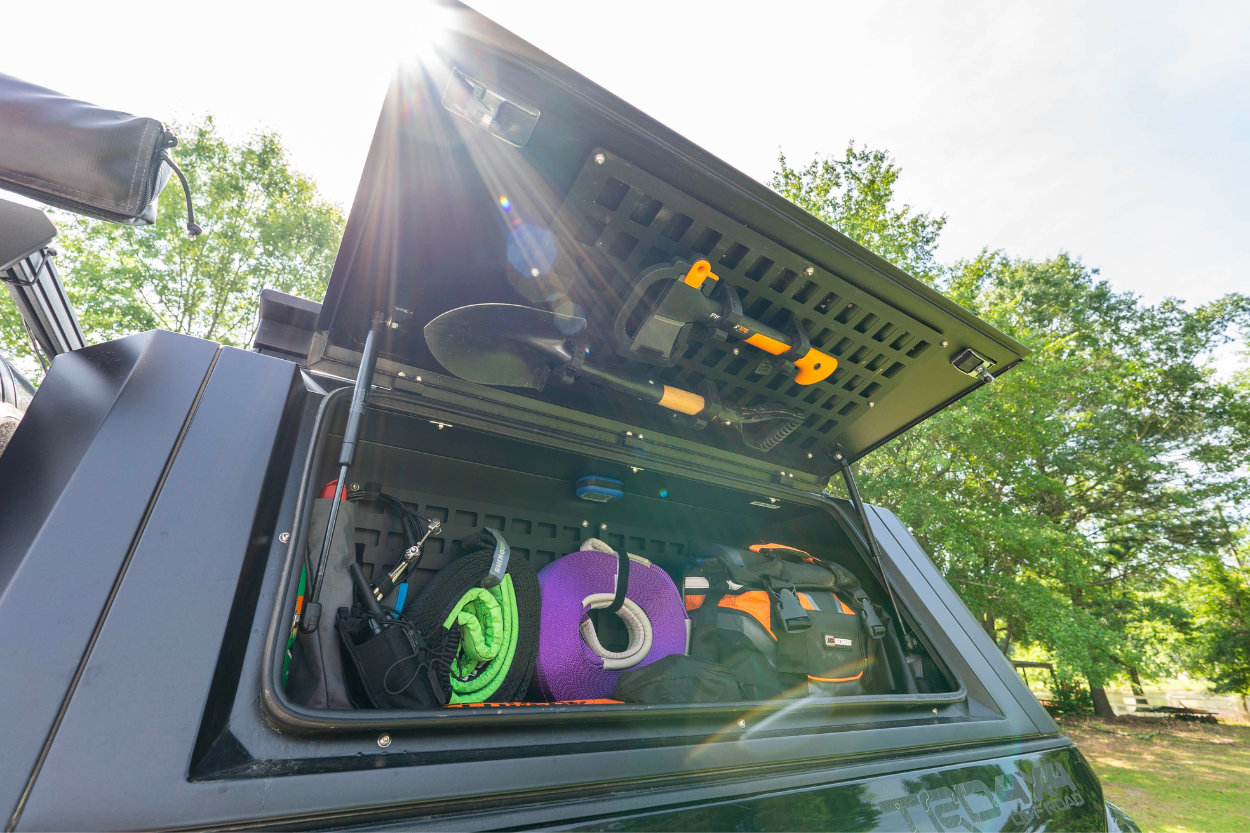 MOLLE Panel 
SmartCap EVOa Adventure Truck Cap Panels
RagoFab Center Console MOLLE Panel
Tell Us About Your Setup
In the bed, I have all of my recovery gear attached to my SmartCap MOLLE panel and bin. It allows for easy access and organization when I find myself in a recovery situation. I chose the SmartCap because it was my dream cap and fits the theme of my truck very well.
I also have the RagoFab center console MOLLE panel with a bridge inside the truck. This is easily one of my favorite mods as it provides easy access to my firearm (which I legally store there) while I'm taking long drives or hitting the trail. It is one of my most asked-about mods, and the design and quality are unmatched.
6. Alex & Jae (@canadian_tacoma) – AOD Fabrication
MOLLE Panel 
AOD Fabrication Bed Mounted MOLLE Panels
Tell Us About Your Setup
The AOD Fabrication MOLLE panels are mounted on both sides of the truck bed. Attached to our panels are an axe and shovel on the left side and we use the right side as a tie-down point for gas/water jerry cans.
We picked AOD Fabrication because they are Canadian, and Jae and I believe in supporting Canadian companies. We like that the panels feature an easy no-drill installation and fit the Tacoma exactly. Overall, they are a great product created by an even better company!
Final Thoughts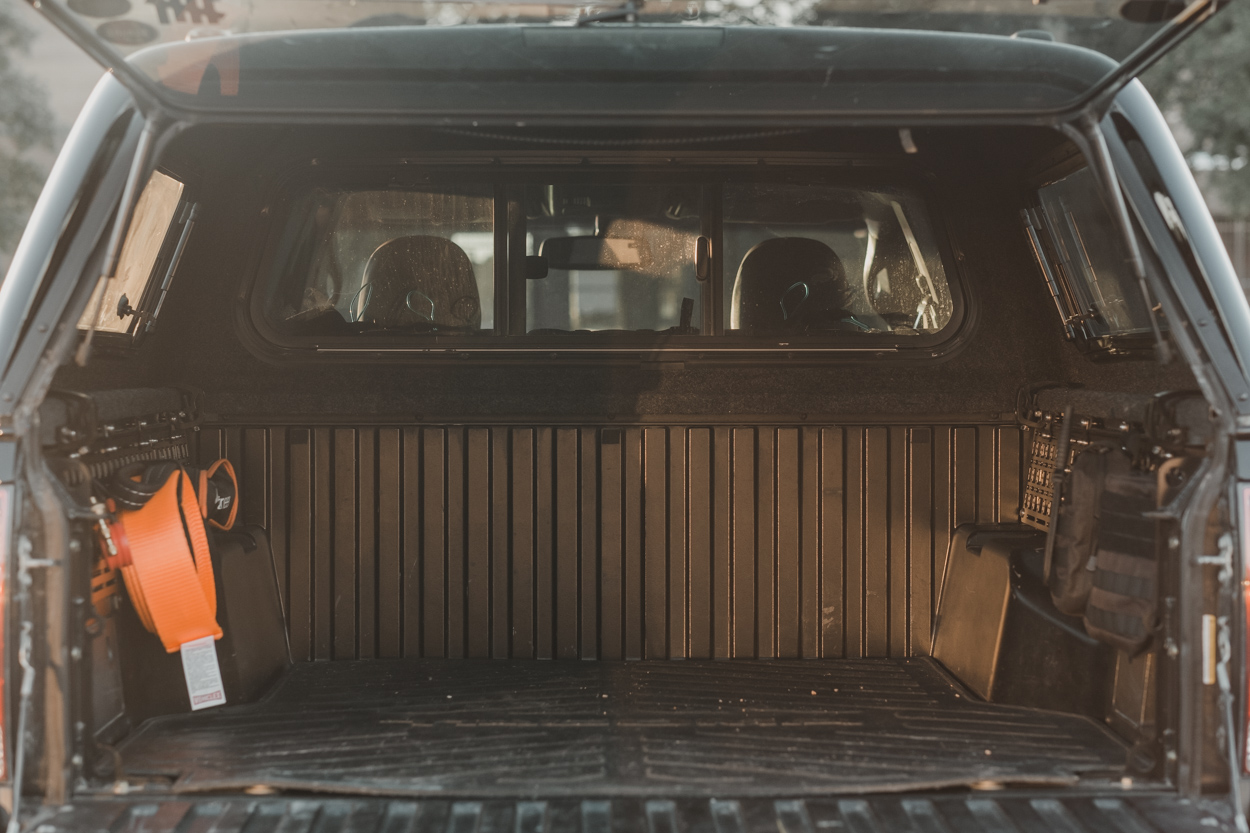 That wraps up another Taco Tuesday!
MOLLE panel setups can be a great addition to your build. Whether you want to organize your gear in one place or add extra storage, these are a great solution.
Next week, we'll be reviewing aftermarket spare tire carriers for the Toyota Tacoma.