Go Fast Campers (GFC) SuperLite V1 + Quick Release Mounts: The Original Ultra Lightweight Rooftop Tent (RTT) – Detailed Review & Overview
Finding the perfect rooftop tent for your specific build and needs can be a tedious process. There are so many options out there on the market from so many different companies. It is hard to compare any one brand with the next considering each design is so unique in its way. Softshell, hardshell, folding, clamshell, pop-ups, etc. On top of that, the prices can get outrageous as well.
I feel a big concern for most people is the overall added weight and general bulkiness when mounting a rooftop tent, coupled with the ease of setup. When building out a rig, the weight easily starts to add up. From all the armor and gear, to the supplies carried. Some of the hardshell tents can add a tremendous amount of weight requiring upgraded components to support that added weight. On the same token, how easy is your tent to set up and break down?
In this article, I am going to cover GFC's SuperLite Roof Top Tent and their Quick Release Mounts. Before I do though let's dive into GFC as a company.
Note: This is the V1 RTT. It is technically no longer available. I was able to grab one of the last ones. The V2 is anticipated to launch in the future!
Find Them Online
Who Is Go Fast Campers?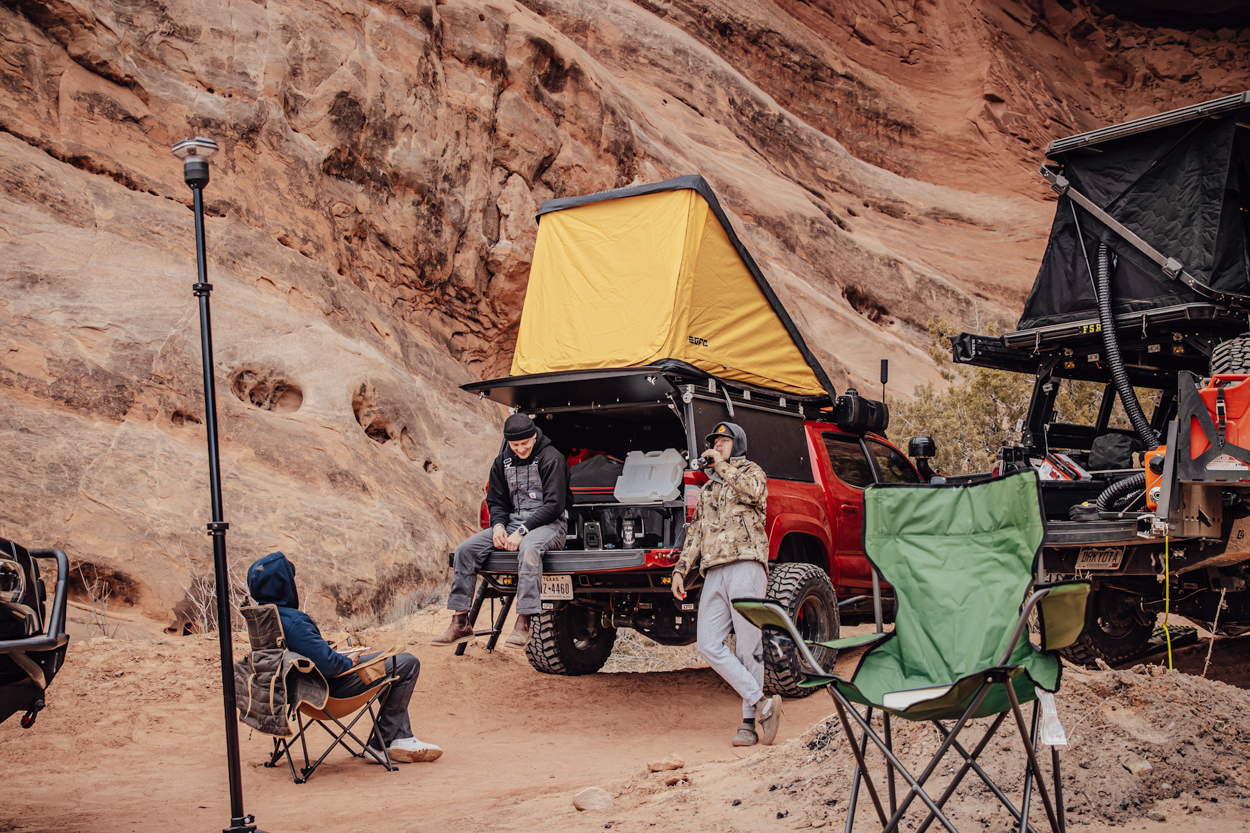 Go Fast Campers, or GFC for short, is a Montana-based company that manufactures and distributes recreational overland/off-road products. They specialize in campers, tents, and accessories alike. One noteworthy factor that sets GFC apart from other major players in the game is that they pride themselves in manufacturing everything in-house at their home base in Belgrade, Montana.
GFC was founded in 2017 and is predicated on building and designing quality products to help more people connect with the outdoors. Everything looks great through a computer screen or handheld device, but if you have seen GFC's products up close and in person, little explanation is required. It is easy to see how they have built their reputation. The attention to detail and sheer quality of their products speaks for itself. I mean, GFC said it best, "we set out to make the most kickass camper ever."
Enter The SuperLite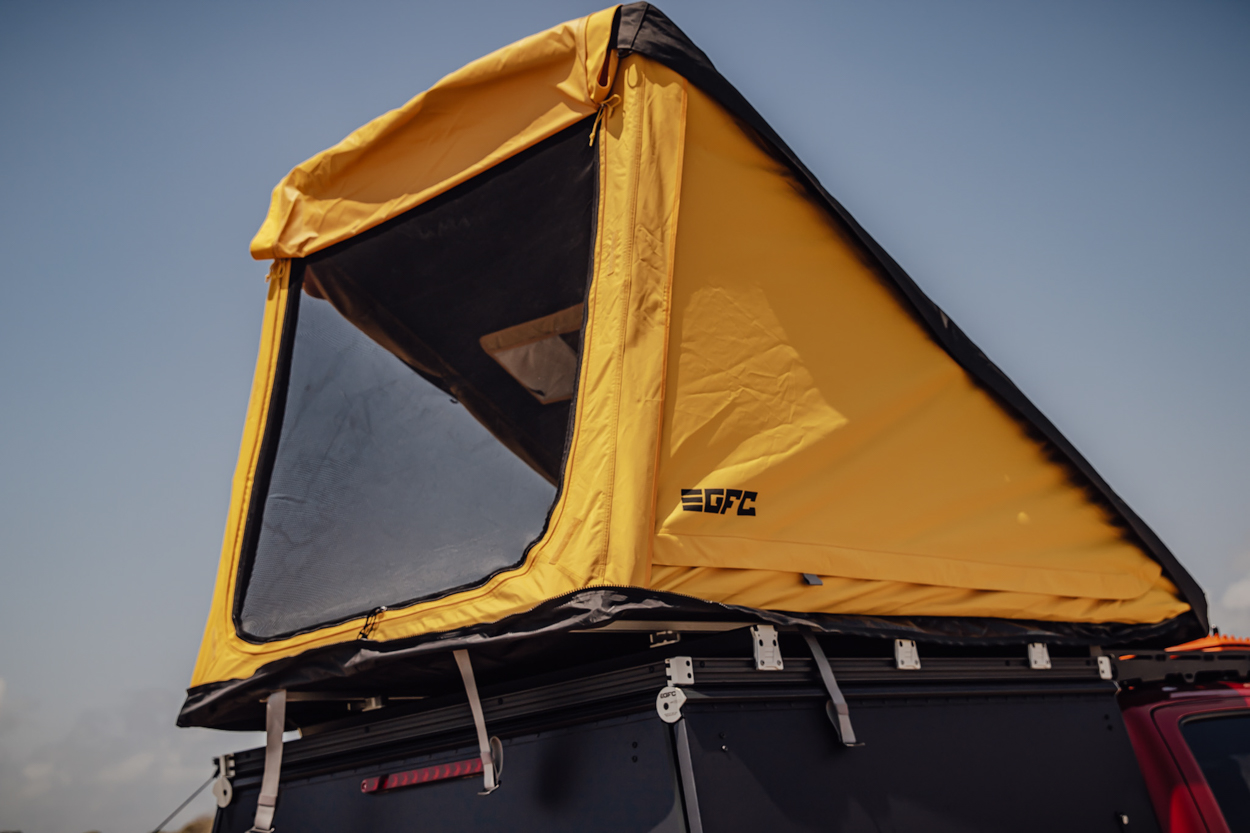 When first designing the SuperLite, GFC was focused on putting out a product that was affordable to everyone, and not just attainable to a select few. They were set on designing the lightest hard-shell tent on the market that wouldn't break the bank. Oh, and did I mention that the SuperLite is the only tent ever to win the NORRA 1000? If this RTT can handle one of the most prestigious Baja races on earth, then it's more than capable of handling your weekend getaways!
A unique feature that stands out of course is the yellow fabric of the tent that's become somewhat of a calling sign for GFC. You would think when designing the lightest and most affordable RTT on the market that corners would need to be cut, but that couldn't be further from the truth. When I first broke the SuperLite out of the box I was thoroughly impressed at its sleek design. After opening it up and examining everything on it I could not find a single stitch out of place. This thing was designed to take abuse!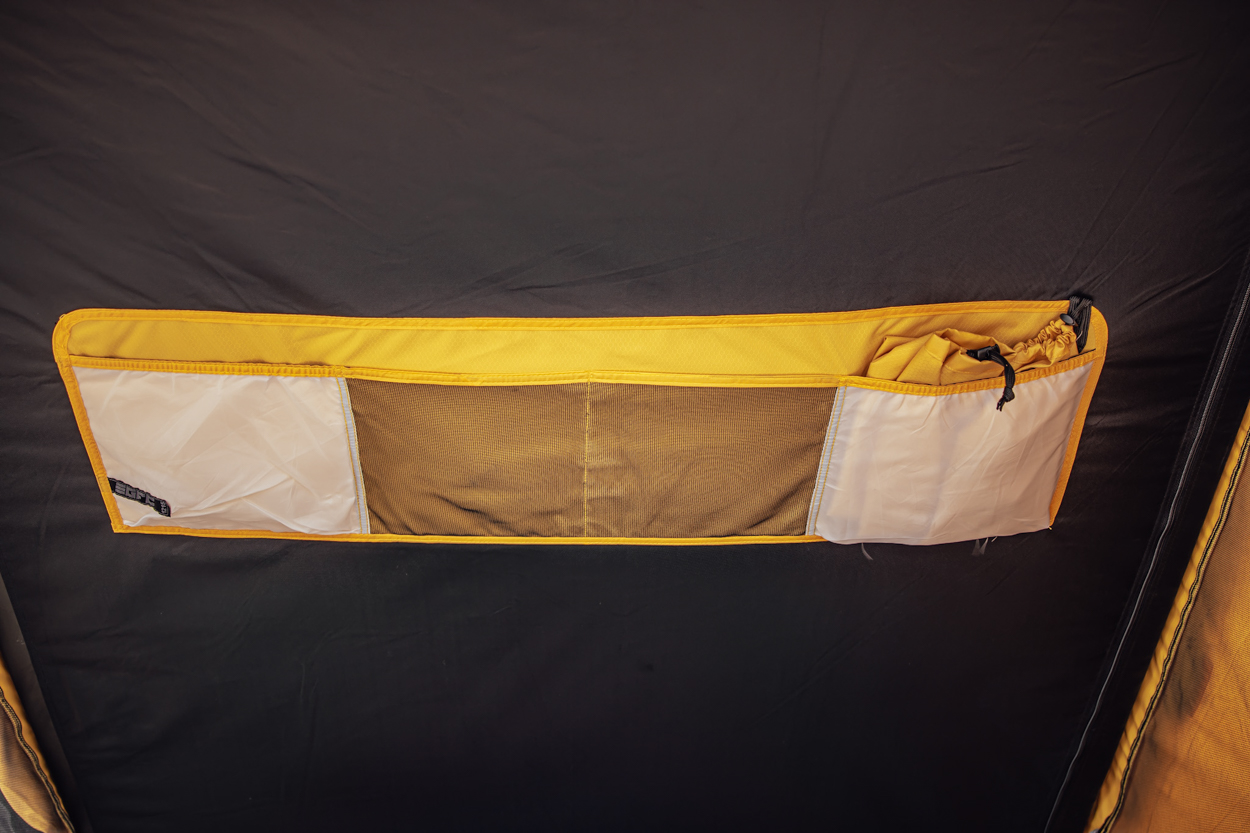 Remember further up when I mentioned that GFC prides itself in manufacturing its products here in the United States? Well, SuperLite was no exception! The honeycomb composite panels are manufactured in the Midwest, while the aluminum extrusion originates from the Rocky Mountains. GFC also machines all the billet aluminum components themselves in Montana.
It is important to note that the entire tent was not made in the USA. This was part of the reason why it had a limited release. While still a solid product, aspects were made outside the USA. Ultimately, one of the reasons for discontinuing the tent was to go back to the manufacturing board and figure out how to make this tent completely in the states.
Specifications & Features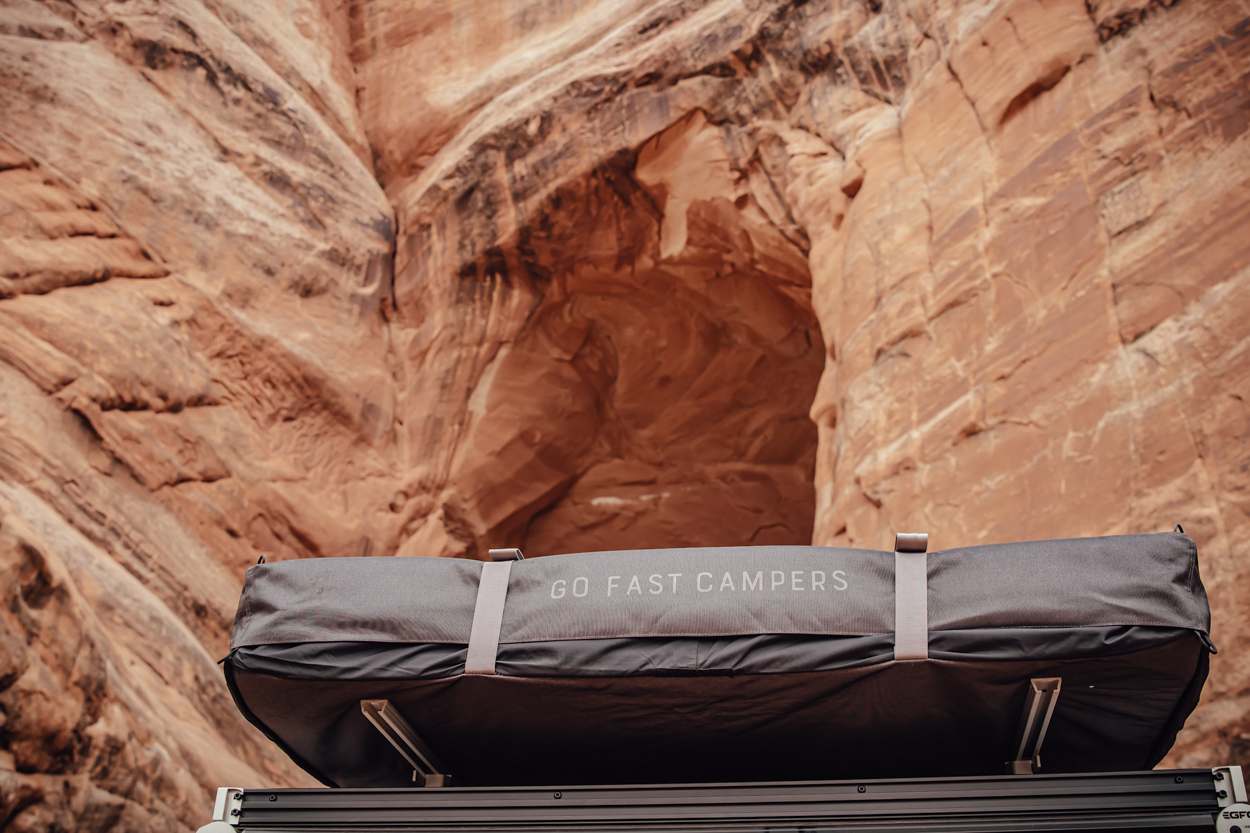 The SuperLite is approximately 50 inches wide by 90 inches long with a total weight of about 80 pounds. To say that this RTT is only 80 pounds is phenomenal, considering most hard shells on the market are 125-150 lbs. and up!
The SuperLite is a clamshell-style opening and closing RTT. A 600-denier, UV-stable fabric sheath is what retains the two pieces of honeycomb composite that make up the roof and the floor of the SuperLite. The sheath is closed and secured by a zipper combined with 10 straps. This allows you to cinch the panels to a total thickness of 4.5 inches.
What sets the SuperLite apart from other traditional hard shell RTTs is the additional space they will provide you. You can tighten the straps down fully, or you can leave your bedding inside, loosen up the straps a bit, and end up with an overall height of 6 inches when closed. By loosening up the straps I was able to leave my Puff Pad Mattress along with four blankets stuffed inside.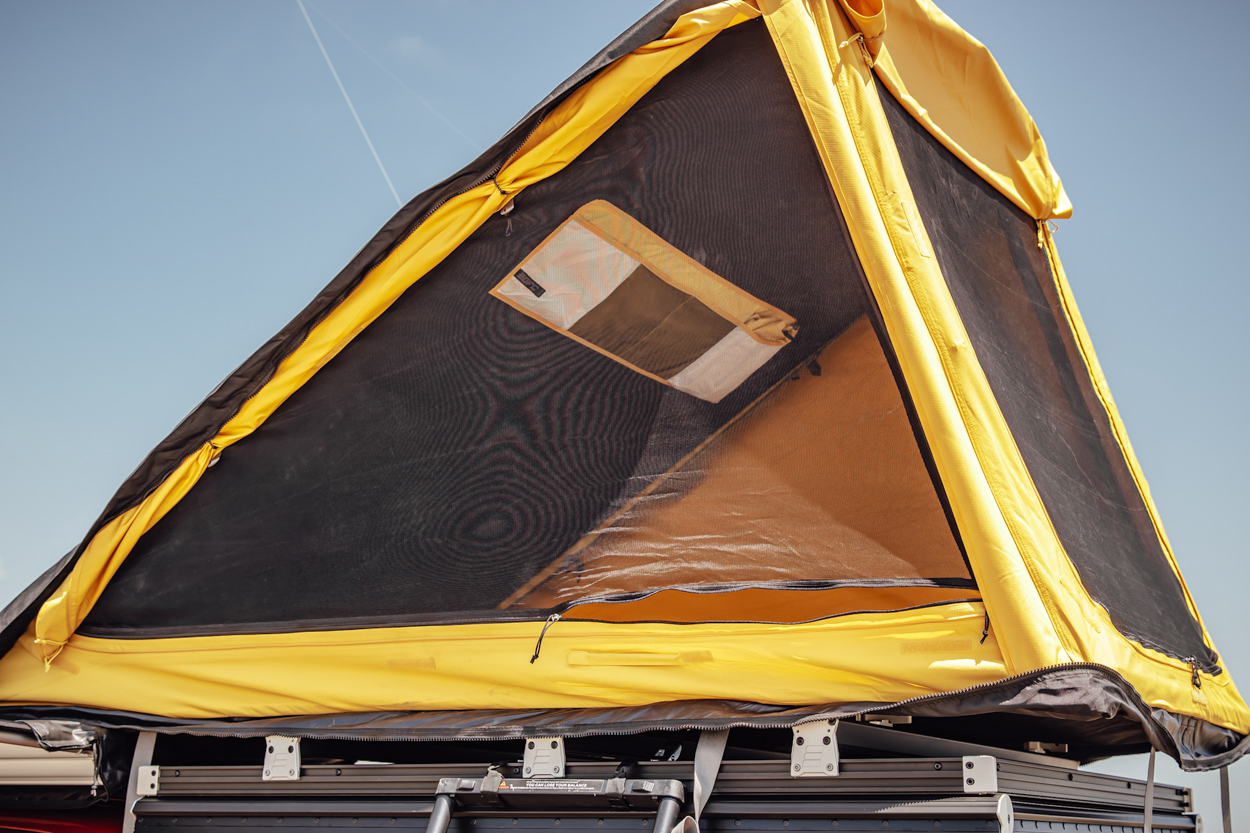 A 300-denier ripstop fabric and bug mesh form the sides and rear of the tent allowing for a panoramic field of view on 3 sides. The SuperLite is equipped with two telescoping aluminum poles that serve as trekking poles without the handles, spikes, or baskets. These poles are what support the roof and keep the tent propped open. The poles are fitted with cam locks that allow for lots of adjustment of tension to set the poles to your desired height. The inner roof of the SuperLite is stitched with 4 mesh pockets to store your belongings while you sleep.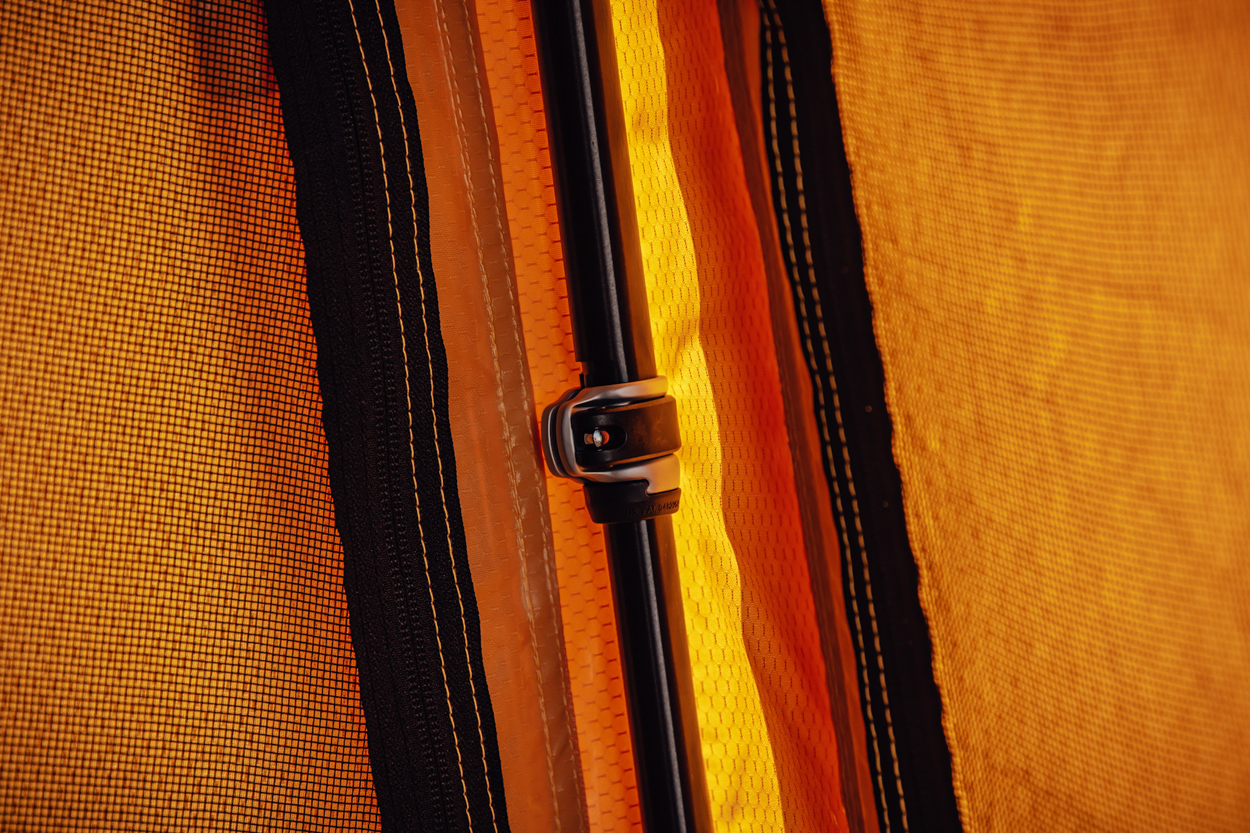 The Puff Pad is a three-inch thick self-inflating mattress filled with open-cell foam that will comfortably sleep two adults. My first trip with the SuperLite was three weeks long trekking through three different states. I started in Colorado and traveled west through Utah until ending in Arizona.
I spent a week in each state, and not once did I have a restless night! I was no stranger to lower back pains while camping. Sleeping on uncomfortable mattresses or air pads would regularly wreck my lower back. I am a living testament to GFCs Puff Pad! This thing is comfortable. Not once did I wake up with lower back pain for the duration of my trip! The pad is optional though, and if you already have a sleeping pad the SuperLite was designed to accommodate almost any style pad or mattress you already own as long as it fits the SuperLite footprint.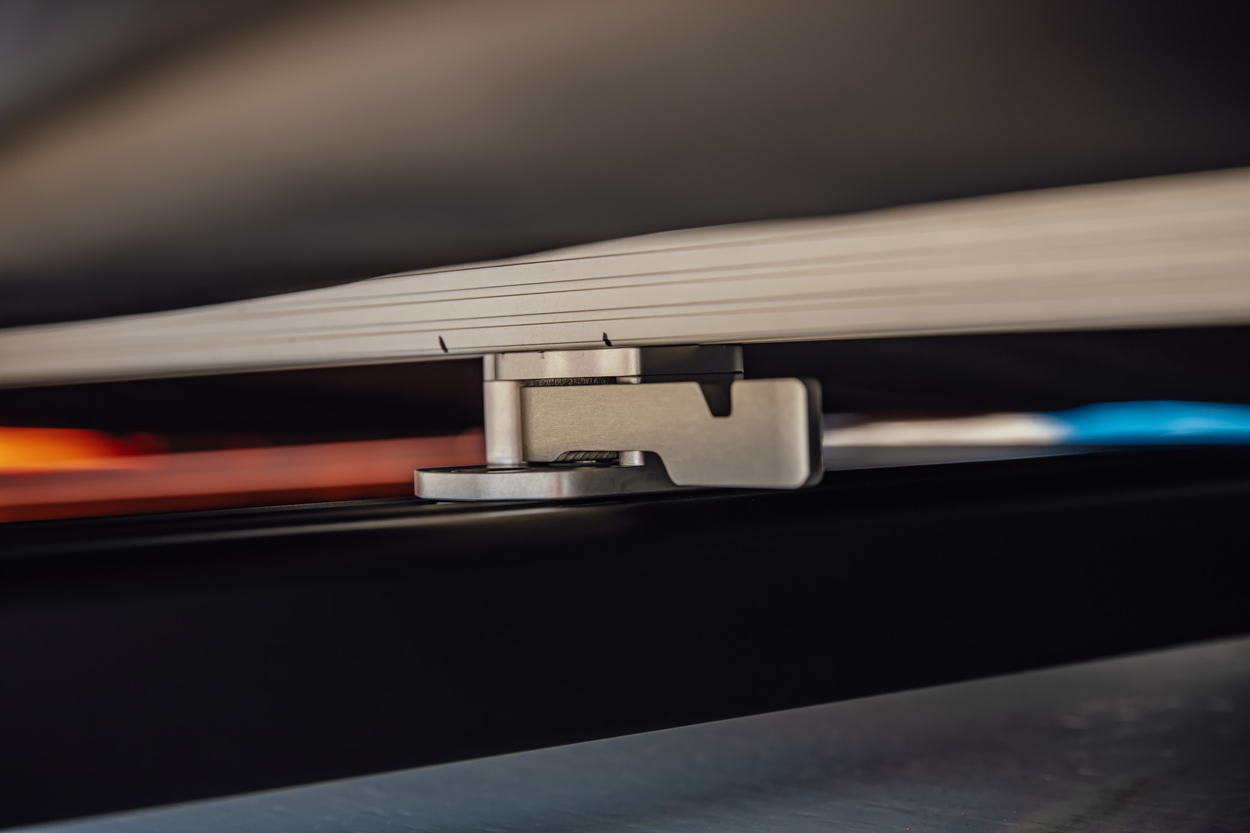 On the underside, GFC has aluminum extrusions and billet mounts that can connect to any crossbars designed to support the weight of the tent. If you're not young and nimble, and jumping up and down from the SuperLite doesn't sound appealing to you, GFC offers their SuperLite ladder. A huge component for keeping the SuperLite so lightweight was having the 8' collapsible ladder completely detached from the RTT.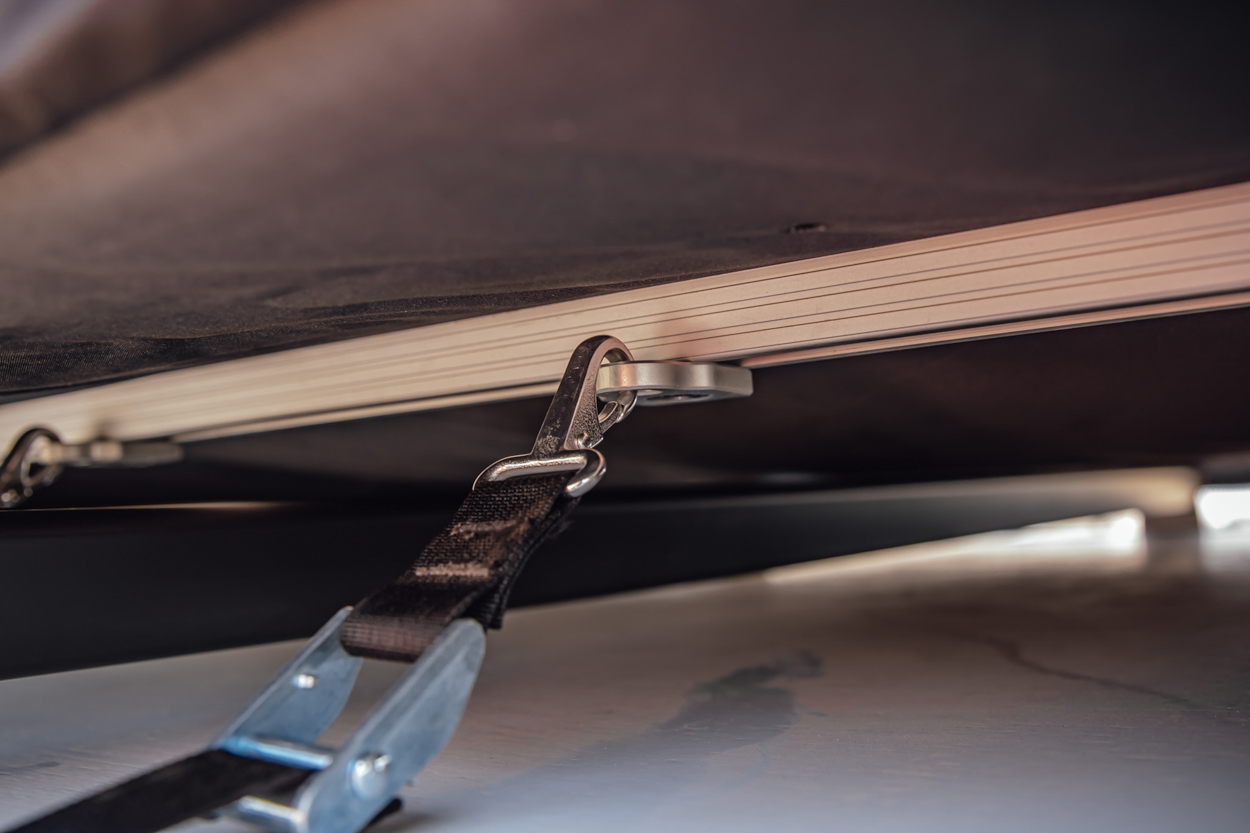 Proprietary-designed hardware, which comes included with the ladder, allows you to strap down the ladder to the SuperLite for easy use. When collapsed the ladder is easily stowable. I stored mine in the bed of my Tacoma in between my Decked Drawer System and the tailgate.
Quick Release Mounts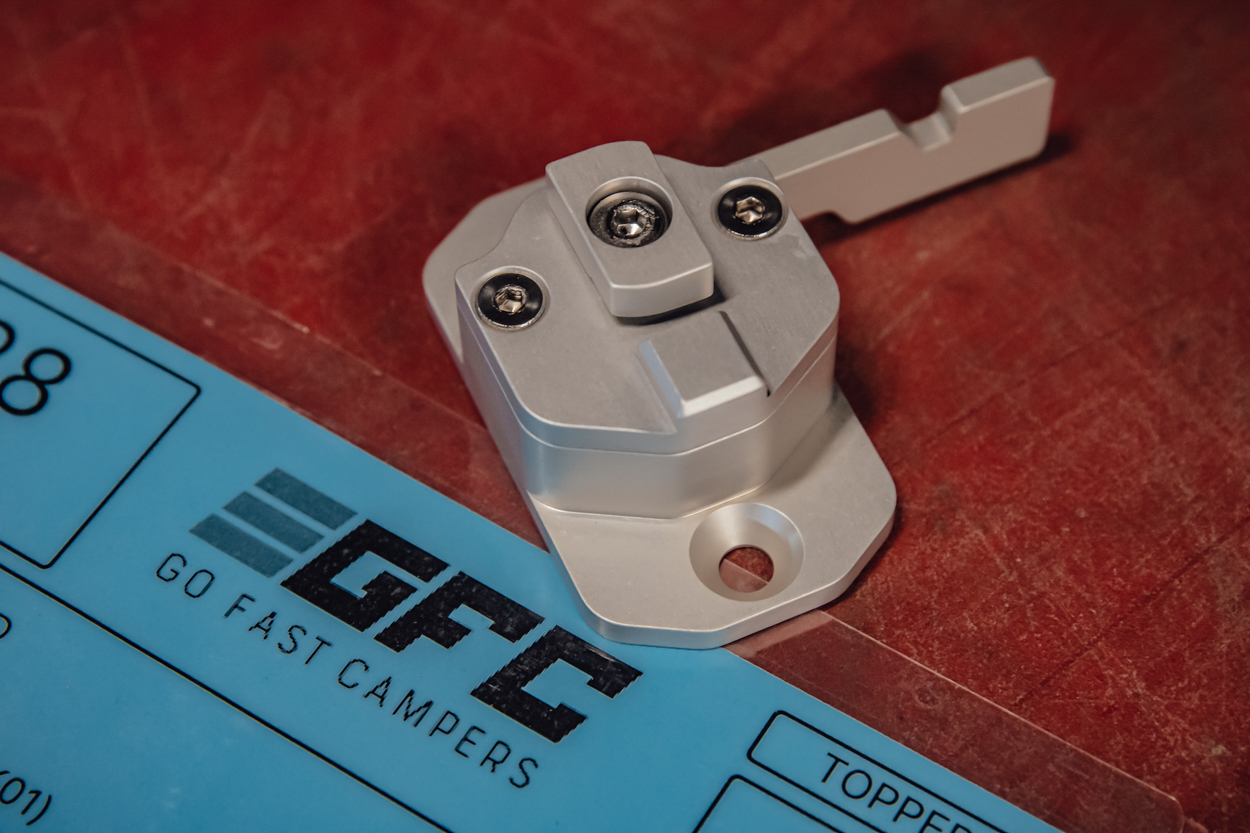 The SuperLite Quick Release Mounts are the future of mounting all RTTs! These mounts allow you to install or remove your SuperLite with ease. It's as simple as flipping the latch to secure the tent in place or release it. The mounts are made from 6000 series aluminum making them highly durable and corrosion-resistant. They are designed to bolt directly to GFC's Beef Bars but are compatible with all t-slot style racks and crossbars. For those of you like me that don't plan on leaving your tent mounted to your rig year-round, these mounts are a must-have.
Another dope feature about the Quick Release Mounts is security! My first thought when seeing how easy they were to use and remove the tent was the possibility of theft. No worries though, cause GFC thought about that too! On the latch, there is a small notch cut out. This notch allows you to attach GFC's SuperLite Quick Release Lock Kit which keeps thieves from simply walking up and unlatching and stealing your tent.
Final Thoughts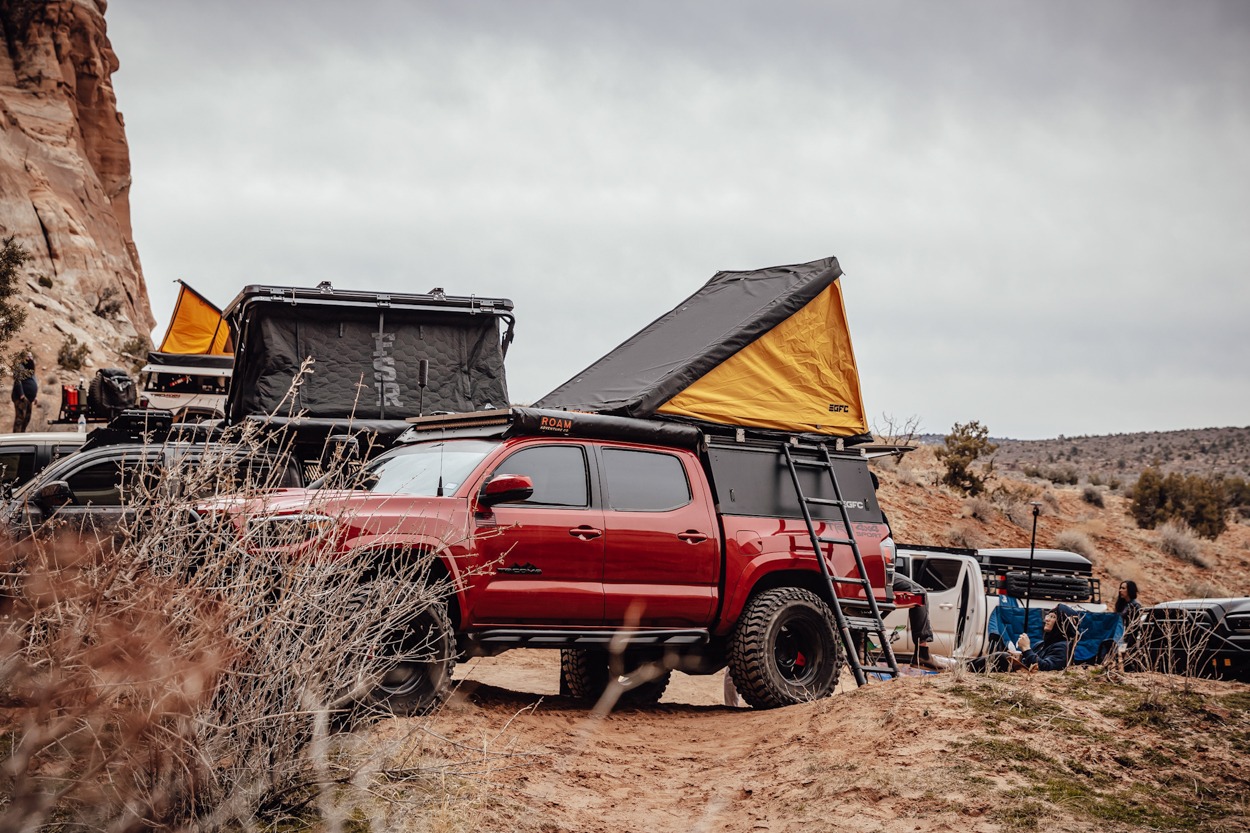 When talking about GFC it is hard not to put them in a class of their own. Just the sheer quality of their products is tough to beat! The SuperLite in my opinion is unmatched in the RTT world in quality, weight, and price. There isn't a single RTT on the market that offers a complete package at the price that GFC offered the SuperLite. This tent is built for all weather and all-purpose! I camped as low as 16⁰F while snowing, and with the right equipment inside the tent, I slept comfortably and warm all night.
Another huge factor for me was its weight while wheeling. Other RTTs mounted up above the cab will cause your rig to feel tippy as soon as you get off camber on trails. After three weeks of hard wheeling, not once did I get that feeling with the SuperLite. My open highway driving wasn't affected either due to its slim low-profile design. If you are in the market for a well-rounded solid RTT, and you've made it this far in your research to stumble across this article, stop searching and make your purchase. You won't get a better bang for your buck than GFC's SuperLite!
If you really want one of these tents, at this time, you will have to find a used one for sale locally. Hopefully, GFC anticipates to release a V2 SuperLite. Timeline is still TBD, but hopefully we are less than a year from a new version.