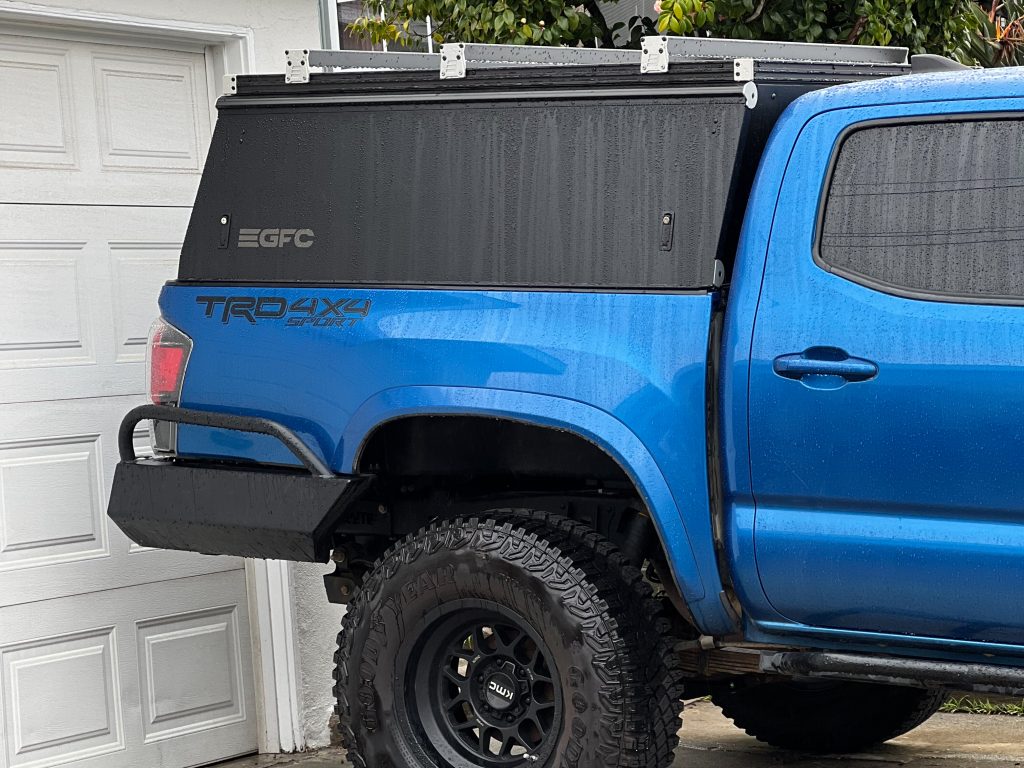 Aluminum Vs. Fiberglass Truck Bed Toppers (Caps + Camper Shells) For Tacoma: How To Choose What's Best For Your Build – Detailed Comparison & Overview
Whether you have a brand-new stock Tacoma or a Tacoma that's fully outfitted for adventures, a camper shell or truck bed topper makes for a secure and weatherproof way to store anything safely, from camping essentials to weekly groceries.
I have had several iterations of bed setups on my personal Tacoma over the past seven years – including an empty bed, fabric tonneau cover, adjustable bed rack bars, a mid-height bed rack with a rooftop tent, a fiberglass camper shell, a GFC V1 platform camper, and a GFC aluminum topper.
The options where I had my bed fully covered with a camper shell or topper were by far the most useful to me. I find having a secure place to store my gear to be extremely useful, increasing the practicality and utility of my truck in both day-to-day life and when I head out for fun on the weekends. Even with the five-foot short bed, I'm able to keep all of our toys safe such as mountain bikes, snowboards, camping gear, and anything else that we'd want protected from rain and unwanted attention.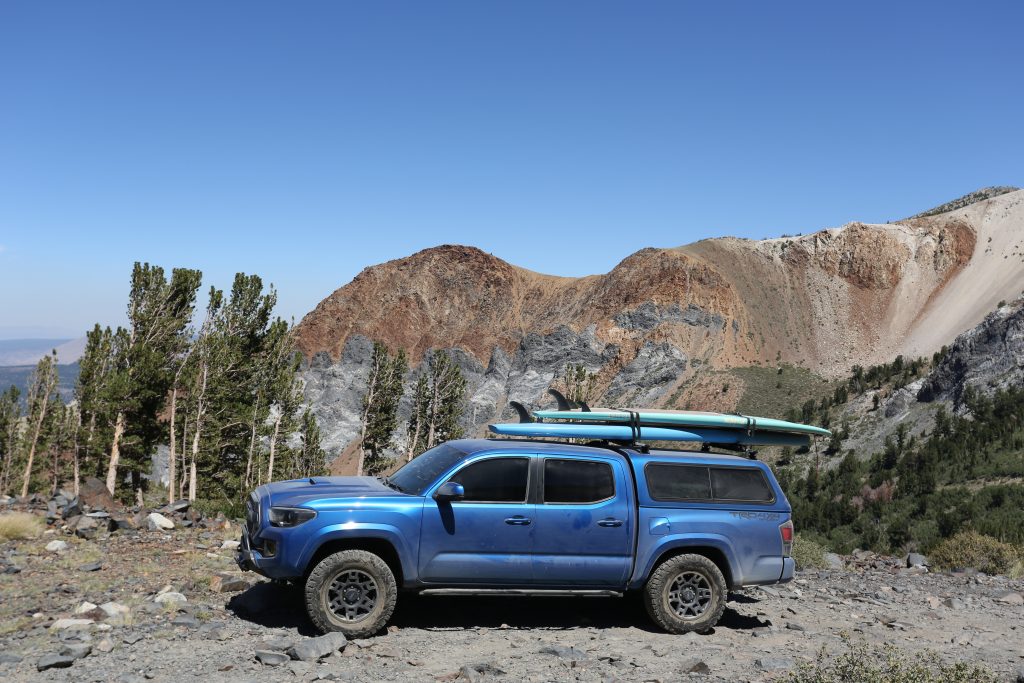 Fiberglass camper shells may be what first comes to mind when you think of truck bed accessories as they have been around for several decades. One of the first accessories I purchased for my 2017 Toyota Tacoma was an ARE V-Series camper shell. Several iterations of truck modifications later, I now have a GFC platform topper which is one of the newer aluminum topper options on the market now. Both options keep my gear safe and dry – but that's where the similarities end. The GFC also tends to have a slightly more rugged and utilitarian look as opposed to the smooth, softer lines of the fiberglass shells.
Torn between the two? Let's dive into the key differences and benefits of each to help you decide which is the better option for your truck and lifestyle.
Find It Online
Fiberglass Vs. Aluminum Camper Shells
Appearance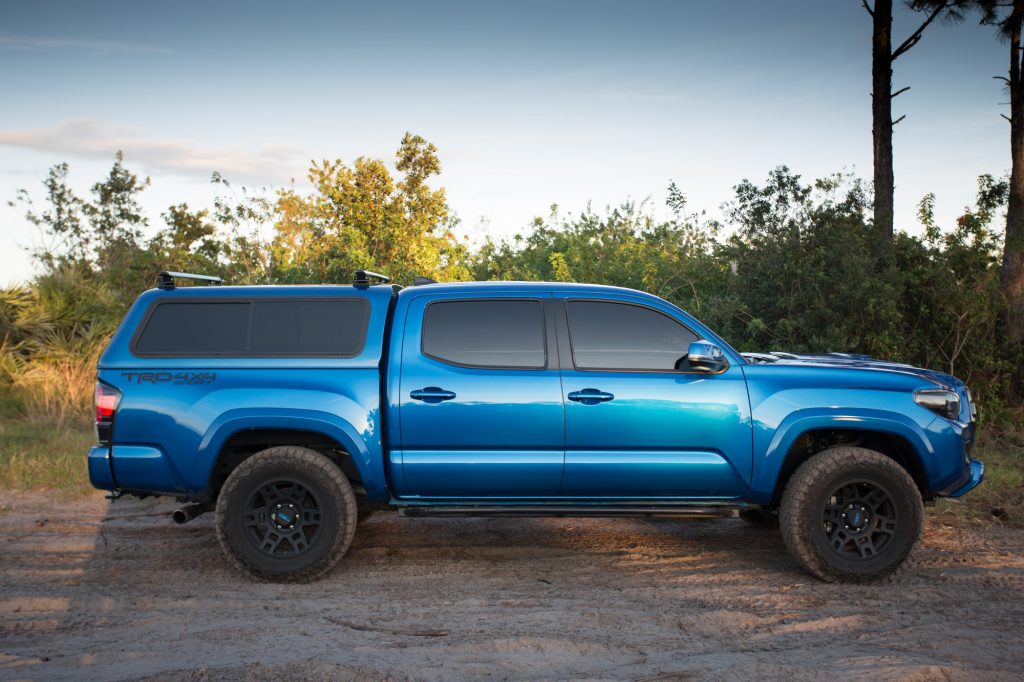 A key feature and benefit of the fiberglass camper shells on the market is the factory OEM style color matching. Whether your Tacoma is Barcelona Red, Spruce Mica Green, Electric Lime, or another original Toyota color, there is likely a fiberglass shell that perfectly matches your truck's factory color. Especially on stock trucks, these shells are great options that often look like they belong on the dealership show floor. The more rounded, smooth edges and sleek lines follow the form and fit of your truck's body lines allowing for a more subtle addition to your vehicle.
That being said, the aesthetics of truck customization don't have to end with color-matched camper shells. While the color options may not be as expansive, GFC currently has nine options for powder coat that work great on any color Tacoma. From subtle and universal options like metallic grey, dark grey, silver, green, blue, black, and white to bolder colors like bronze or the wild "Dare Ya Red".
Another consideration is the materials used in the final finish of the exterior of the topper. While the fiberglass options may provide a factory finish look, painted surfaces are much less durable than the powder-coated side panels of the GFC platform topper. This is less critical if you primarily use your truck in town, but once you hit the trails (or if you use your truck for work), you'll be thankful for the dense, textured finish of the powder coat. Powder coat is much less likely to get scratched from trees on trails or even ladders being loaded up top.
The GFC platform topper uses a white honeycomb composite roof which reflects solar radiation and heat much better than a color-matched roof, especially if your truck and shell are a dark color. Over the years, the GFC toppers will show their age in wear and tear much less compared to their fiberglass counterparts. If you've seen a decade-old car with faded clearcoat and chipped paint on its roof from the sun, you have a good example of what could happen down the road with a fiberglass shell.
Overall Construction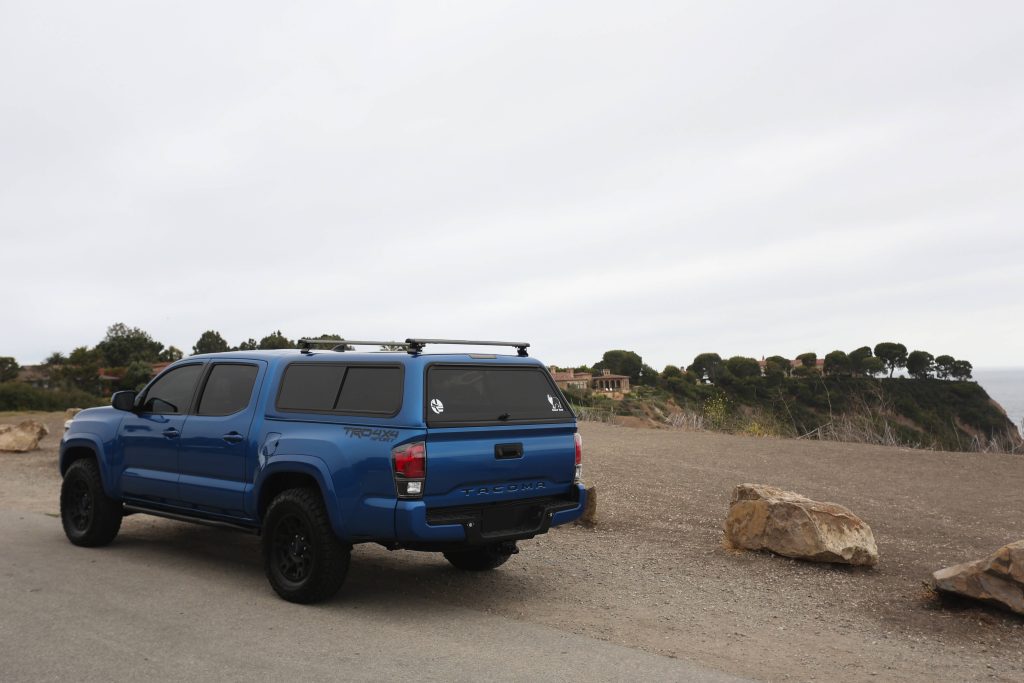 One of the starkest differences between fiberglass and aluminum toppers is the construction quality and how they are manufactured.
Many models are a one-piece reinforced fiberglass composite build. Manufacturers start with a mold, apply a gel coat on the inside of the mold which is the smooth exterior, and then they spray fiberglass strands saturated with resin over the surface. After the camper shell is complete, they cover it with automotive paint and a clear coat on the exterior. Since they are made in one piece, they have clean and smooth lines and few edges — but this does have some downsides when it comes to strength. The sprayed fiberglass is subject to human error and can develop cracks over time to vibration due to the more haphazard method of spraying the fiberglass.
Alternatively, GFC platform toppers are made in a very different way using GFC's proprietary aluminum extrusion with billet aluminum joints. All connections are bolted together rather than being welded, eliminating the possibility of stress fractures and leading to a much stronger and more capable structure. The outer panels are powder-coated aluminum for increased durability.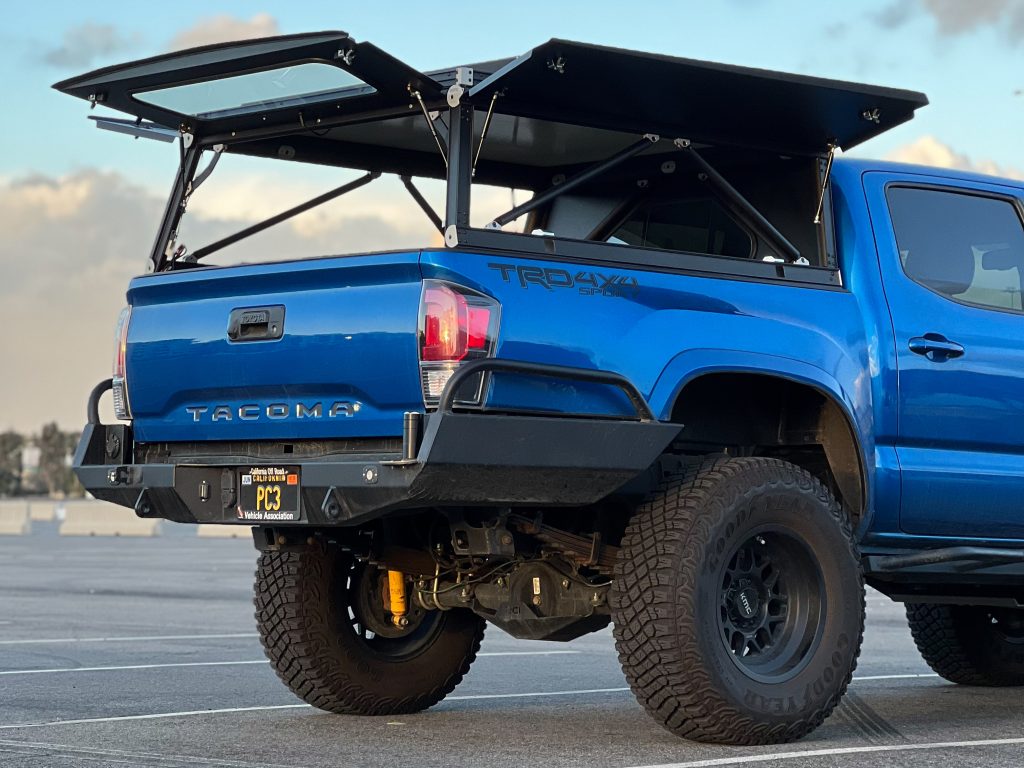 GFC's topper frame is made of rounded aluminum tubes bolted together into a triangular frame. This distributes the load perfectly around your truck bed utilizing their billet mounting feet that attach to the truck bed rails. This is much stronger than the design of the fiberglass caps traditionally used in the industry as the loading can be more poorly distributed through the sprayed fiberglass.
When it comes to serious off-roading, I personally would not trust the fiberglass construction or its clamping system. GFC's products, on the other end, were designed and built for abuse from the beginning and have been adequately tested by enthusiasts partaking in off-road activities like jumping their trucks – something fiberglass toppers are not built to withstand. Since the GFC topper is comprised of several parts bolted together, its fully serviceable, and spare parts are available. If the one-piece construction of the fiberglass shell fails, it would be very difficult to repair.
Load Ratings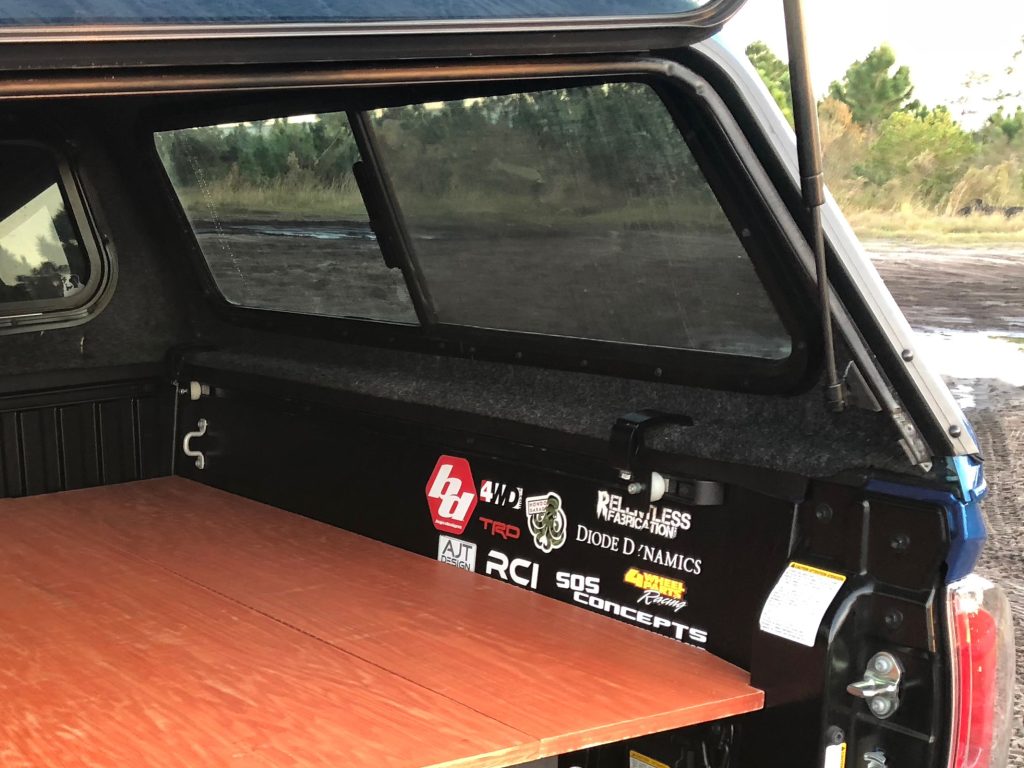 GFCs topper can support up to 800 lbs. of dynamic load and practically thousands of static load with their beef bar roof rack system. GFC states that its topper can support more weight than the truck bed itself. The fiberglass options, on the other hand, typically don't provide a load rating for their standard non-reinforced models.
Some manufacturers, such as ARE, have an HD series at a higher price that adds a metal internal skeleton frame to provide additional support for the roof. The reinforced fiberglass shells have a max capacity of around 550 lbs. evenly distributed on the roof rack which is still lower than what the GFC topper can support.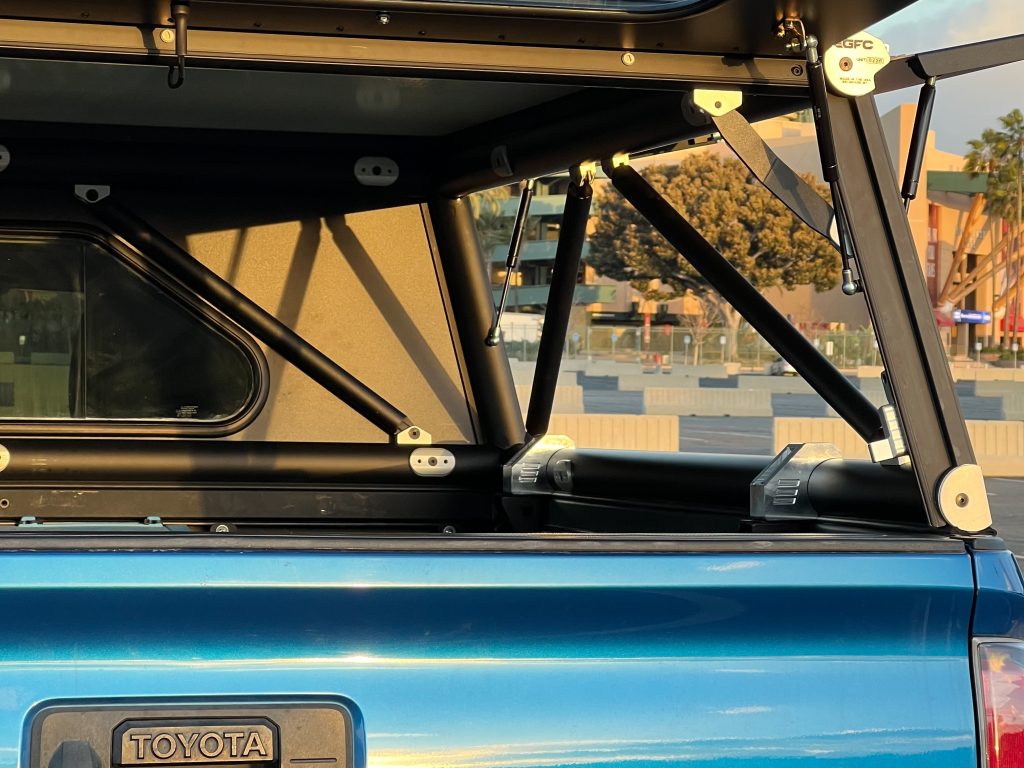 To demonstrate how much weight their topper can support, GFC shared a great video comparing their topper with a fiberglass shell pointing out the differences between the two. They even put an entire 1983 Ford F-250 on TOP of their Tacoma to demonstrate their respective load-bearing capabilities.
Spoiler alert – The fiberglass shell failed catastrophically. Don't try this at home. See video below.
Even with this increased durability and strength, the GFC topper comes in much lighter at only 135 lbs. versus around 175 lbs. for the fiberglass counterparts. When you're adding weight to your truck for things like heavy bumpers, skid plates, a winch, and more, every pound counts as it's preferred to keep your extra weight to a minimum.
Functionality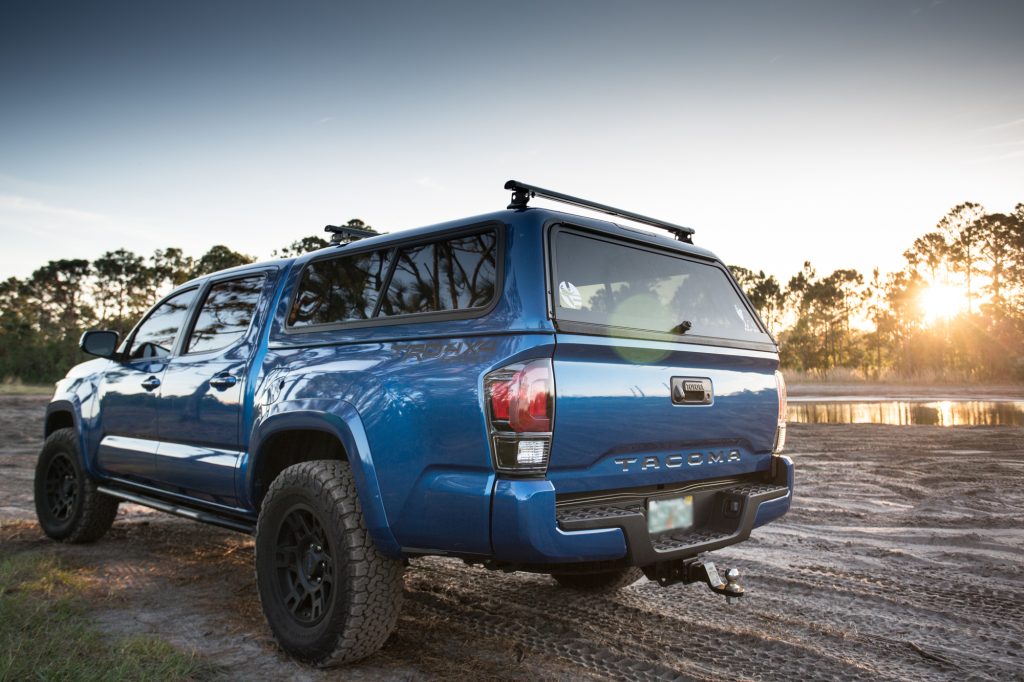 As mentioned above, both options are great for covering your bed from the elements and strangers, but that's where the capability starts to differ. Fiberglass shells are a great option to simply cover your truck bed, but for anything more than a ladder or surfboard up top, the aluminum models would be much better suited to support the weight for heavier things like rooftop tents. In this situation, the GFC platform topper is actually stronger than the truck bed, so it's not reducing your truck's capability.
Fiberglass shells have various window options from sliding windows to "windoors" that can open up to give access into the truck bed. The GFC topper has lockable panels on the sides and rear that raise on gas struts, allowing easy access to all corners of your truck bed. This "Cabana Mode" feature provides convenient, instantly accessible shade and is great for lounging in the truck bed. If you prefer light getting in on all sides, the windows/windoors of the fiberglass option may be a better fit for you as the GFC panels are solid but I personally like the cabana mode feature along with the semi-translucent roof the GFC topper, which lets in natural light. Both choices have optional front and rear windows which allow you to see out the back while driving.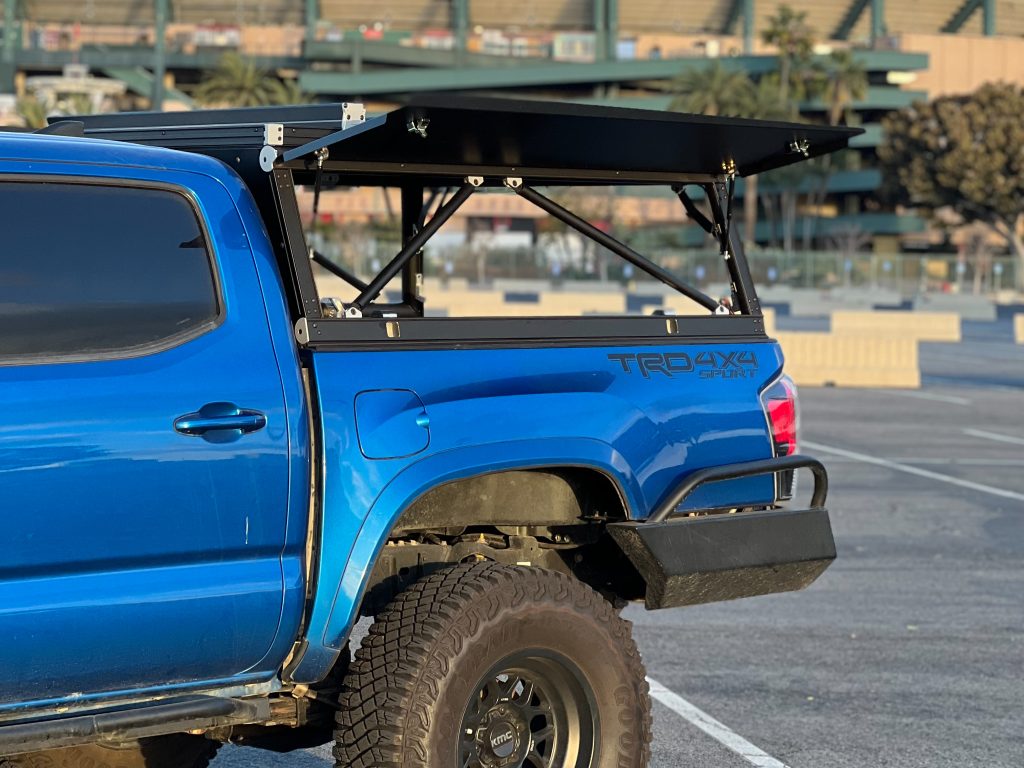 The fiberglass shells have some creature comfort additions that you can add, such as carpet and insulation, which can provide some nice benefits while camping, especially during the winter. The GFC topper is a little more utilitarian in that you can use it while camping but also for work purposes such as filling it with bags of concrete or cut lumber. A huge benefit of this dual use is that you can fully hose out the GFC topper just like you would do to your truck bed if it were empty.
Customization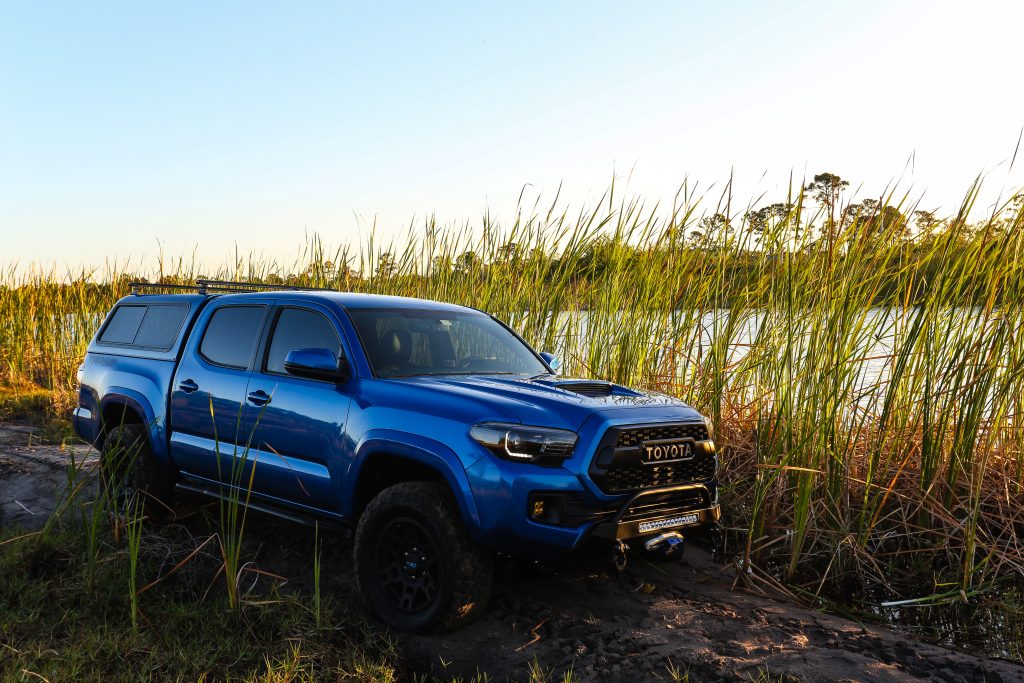 You have a lot of great options for customizing your shell or topper to perfectly fit your needs in either setup.
For the fiberglass shells, typical options include interior lighting, carpeting, insulation, tracks for roof rack cross bars, tilt-down or sliding front windows allowing you to clean your rear windshield, rear windows, and sliding windows or larger windoors.
For the GFC topper, you have more flexibility in your accessories and exactly how you'd like to set up your truck bed. GFC uses an extrusion track allowing you to bolt all kinds of accessories on the side or rear of your topper using their various mounts such as lights, awnings, tools, and more. Their optional beef rack cross bars support 200 pounds each and have accessory tracks on the top and bottom to mount any gear carriers or even solar panels using their solar tray mount. There are also multiple attachment points on the internal frame which you can use to attach accessories to as well.
Prices & Lead Time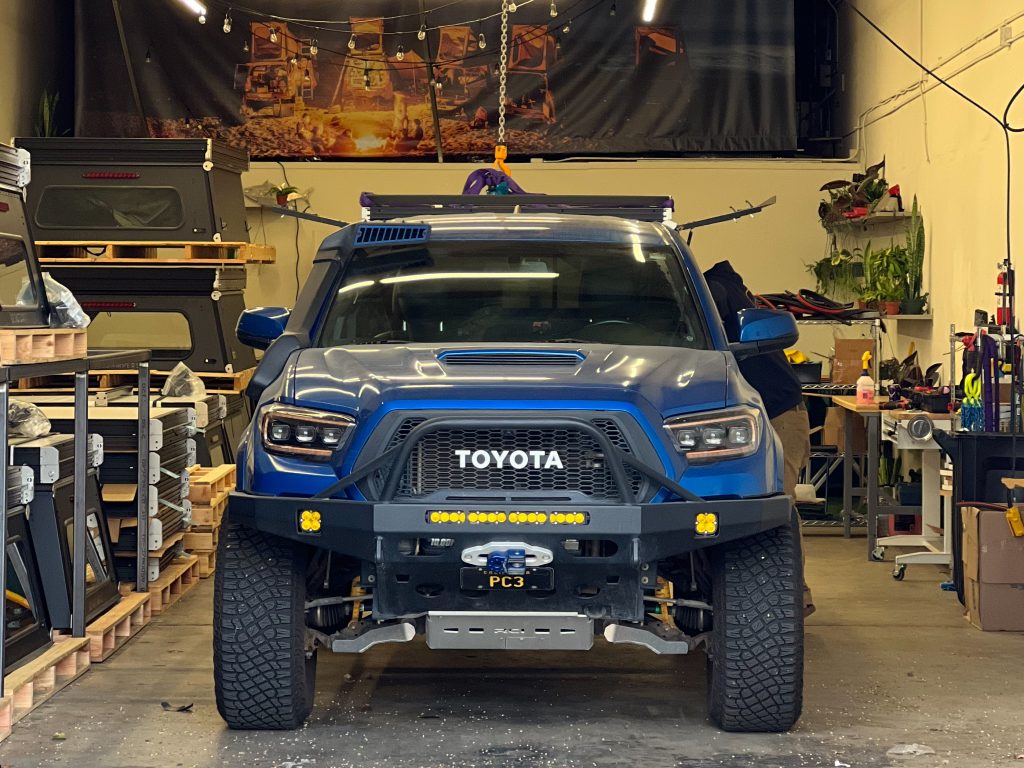 Most fiberglass shell options start around $2,500-$3,500 and the price can vary on what accessories you modify it with. Lead times can vary greatly depending on what color and options you are looking for. Although I've seen quotes from 4-8 weeks, once you start adding customizations, the lead time can stretch to several months. The good news is, there typically are distributors for most major shell brands in every major city.
GFC toppers start at $3,995 with several window upgrades available and you can get it installed at their headquarters in Montana or one of their seven fulfillment locations around the USA. GFC offers some of the lowest lead times in the industry – as little as 8 weeks!
Final Thoughts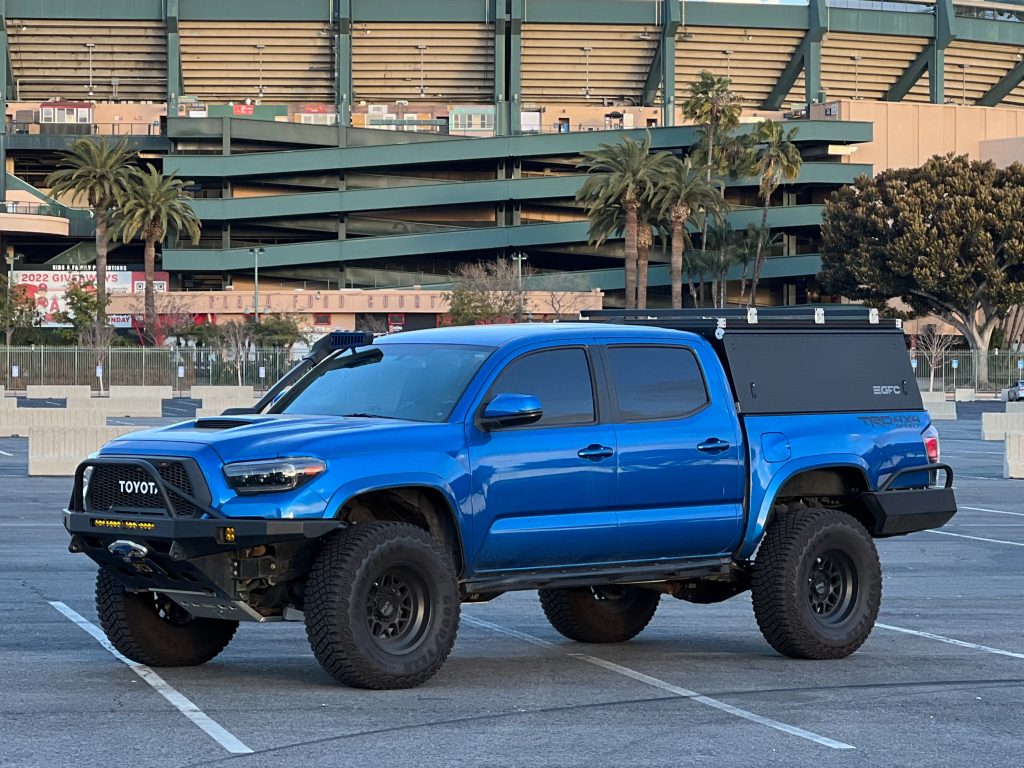 I hope this article was helpful to demonstrate some of the major differences between fiberglass camper shells and aluminum toppers such as the GFC topper. I have loved every iteration of my truck and each modification served a great purpose.
If you want the clean factory finish, prioritize style, primarily want dry storage, and stick to the pavement, a fiberglass shell may be perfect for you. If you really use your truck as a truck, want a more rugged look, and plan to dabble in more intense off-roading, the GFC topper may better fit your needs. At the end of the day, what works best for me may not be the same for you. Since I use my truck every day driving to work but also take it out on the weekends to hit the trails or go snowboarding or mountain biking, the GFC platform topper checks every box.