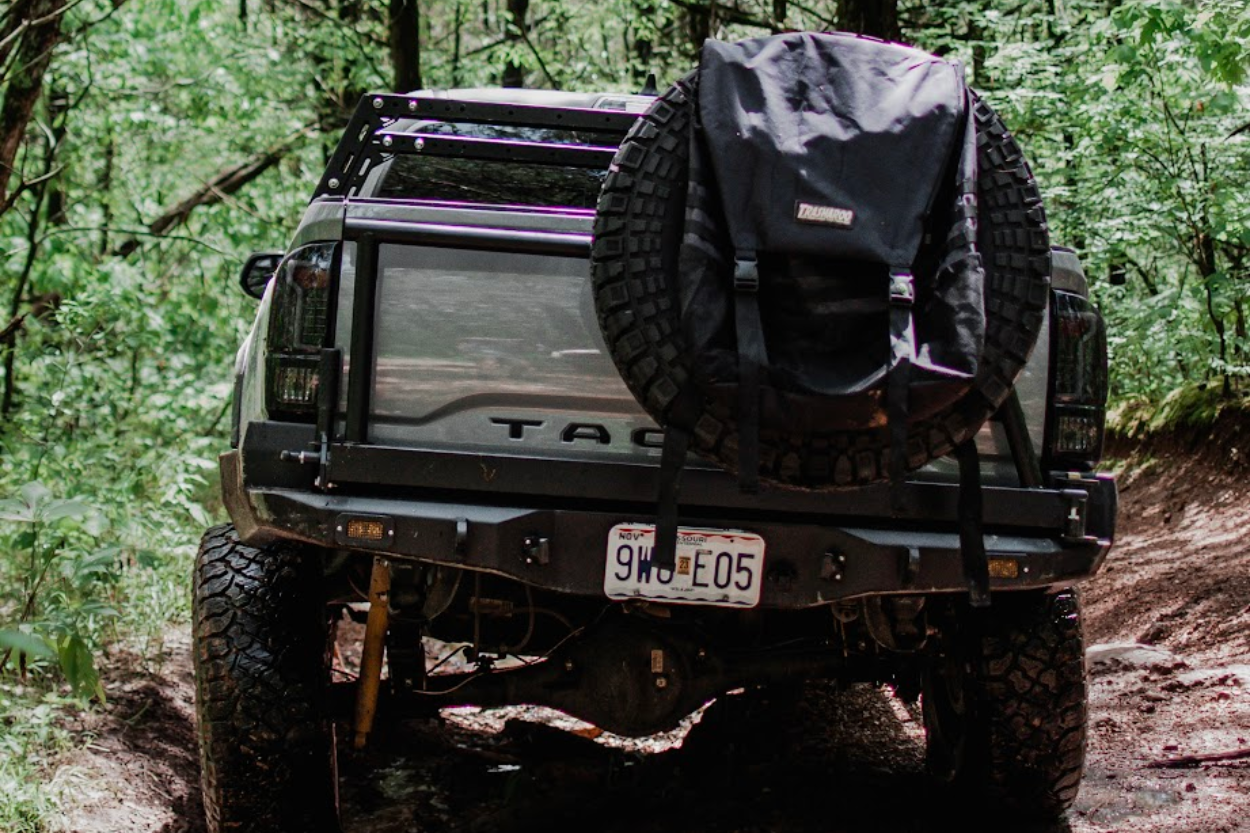 Spare Tire Carriers Setups For 3rd Gen Tacoma – From Dedicated Tire Mounts To High Clearance Swing Out Rear Bumpers & More! Truck Build Inspiration For 2023
This Week's Topic: Spare Tire Carrier Setups
Welcome back to an all-new Taco Tuesday! Last week, we saw how MOLLE storage panels that can be used throughout your truck. This week, we take a look at how Tacoma owners added ground clearance and storage utility by relocating their spare tires.
Whether you're looking to relocate your spare tire for aesthetic purposes or functionality, there are several popular options available. Let's take a look below at why you should consider relocating your spare as well as what the options are!
Spare Tire Carrier Setups
Why Add A Spare Tire Carrier?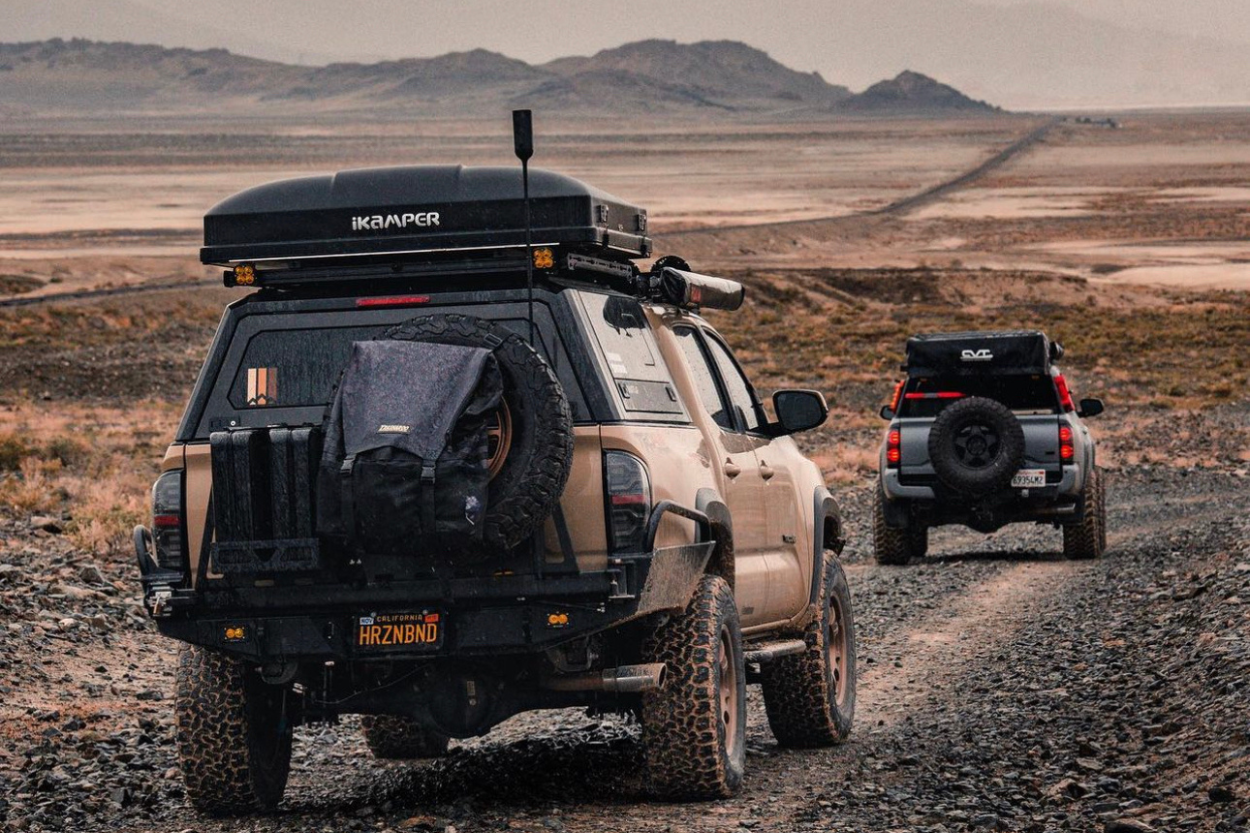 Relocating your spare tire from the factory undercarriage location and can provide numerous benefits.
One of, if not the most beneficial reasons is it enhances accessibility to your spare tire in case of emergencies or unexpected punctures. By relocating the spare tire, you eliminate the hassle of crawling underneath or maneuvering heavy equipment, saving you time and effort when changing a tire.
Moreover, relocating the spare tire increases ground clearance. This reduces the risk of potential damage when traversing rough terrain or navigating obstacles. Ground clearance is extremely important when doing any sort of technical off-roading, and you don't want to risk damaging your safety net.
Another reason for relocating your spare tire is after you jump up in tire size. Anything much larger than a factory tire size won't fit in the factory location.
Ultimately, a spare tire carrier or relocation option provides convenience, versatility, and an improved off-road experience.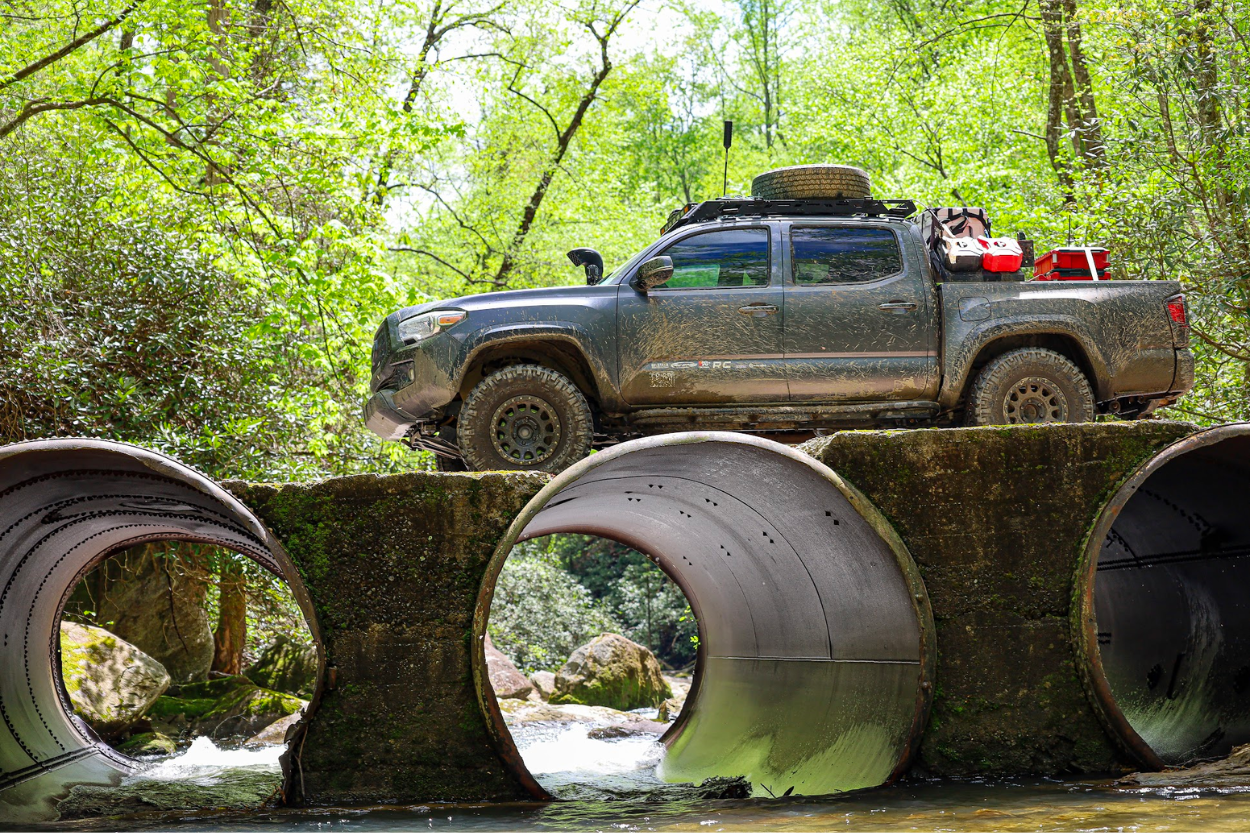 Spare Tire Carrier Details
Melipron Universal Spare Tire Carrier
Tell Us About Your Setup
I wanted to relocate my spare tire because there is a high likelihood it will get punctured, bent, or sustain other damage when bottoming out on things like rocks and logs.
Your spare tire is vital while overlanding because the odds of you getting back with a flat without a spare are next to none. Relocating your spare tire protects it from damage and allows you to fit a full-size spare, which is important to me since I'm running 33s.
At this point in my build, I was not ready for a swing-out tire rear bumper due to the much more involved installation and cost, and since I haul stuff in my bed so often. One of the companies who has sponsored my build is Melipron, and they make a great universal spare tire carrier. It fits any tire and wheels and mounts to most roof racks, bed racks, MOLLE panels, etc.
2. Austin Bender (@sr5life) – Speed Strap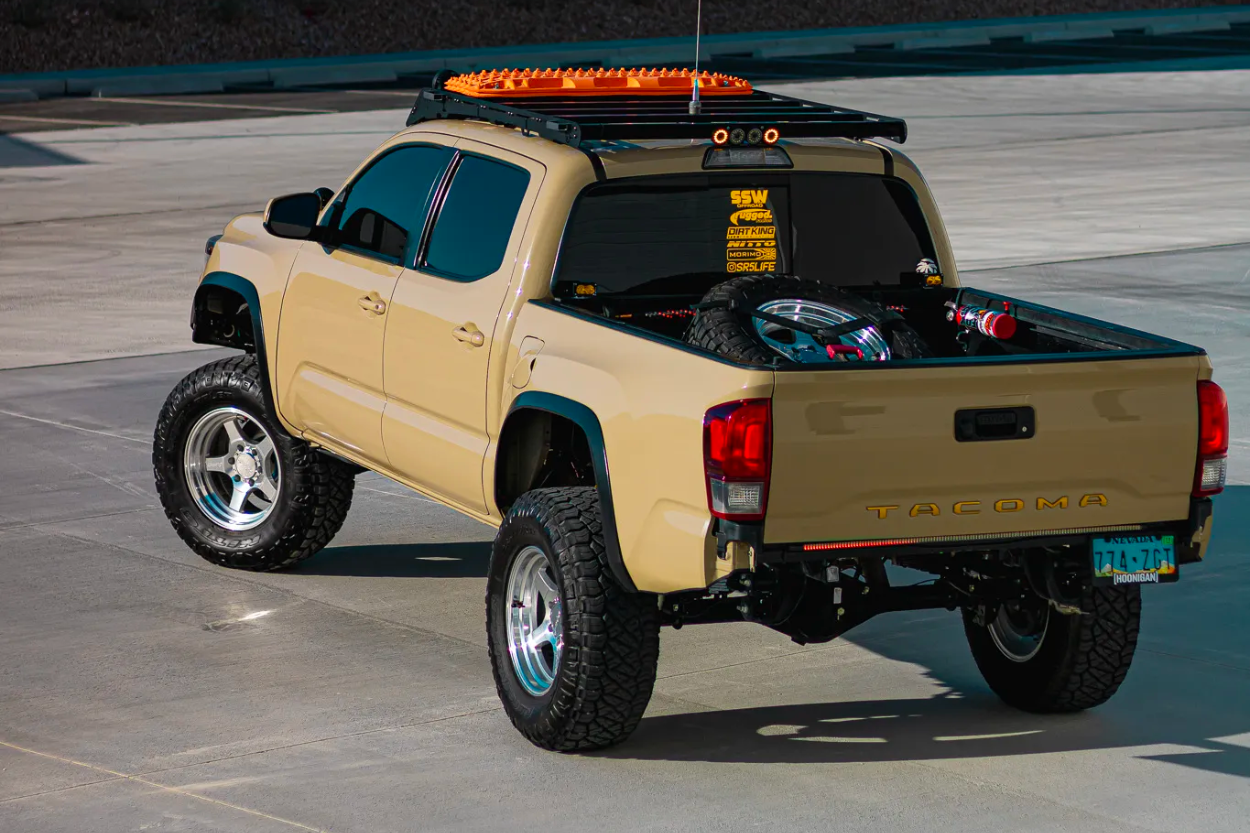 Spare Tire Carrier Details
Speed Strap 3-Way Tie Down (up to 37" tires)
Tell Us About Your Setup
The main reason for wanting to relocate the spare tire was for clearance, aesthetic purposes, and because of the nostalgic look of spares in the bed of a Prerunner!
The strap was a no-brainer, especially since every Prerunner knows you run a speed strap. I use a three-way tie-down that works with up to 37" tires. I have holes drilled in the bed, so I could technically mount it in two different positions. Pictured above, the spare tire is mounted closer to the front of the bed. This allows me to utilize more of the bed on a day-to-day basis. However, I can also put it toward the back near the tailgate behind the rear axle.
In the picture, you'll notice the wheel at an angle. Underneath is my Plano case that stores all my air-down and air-up tools. The straps hold both the tire and case perfectly snugly.
I mainly did this for departure angle clearance but it also makes accessing my spare super easy if need be. Lastly, I bought a strong, thick bike lock-style cable kit from local HF to secure it for peace of mind while parked!
3. Nicholas Gonzalez (@nickg_trd) – C4 Fabrication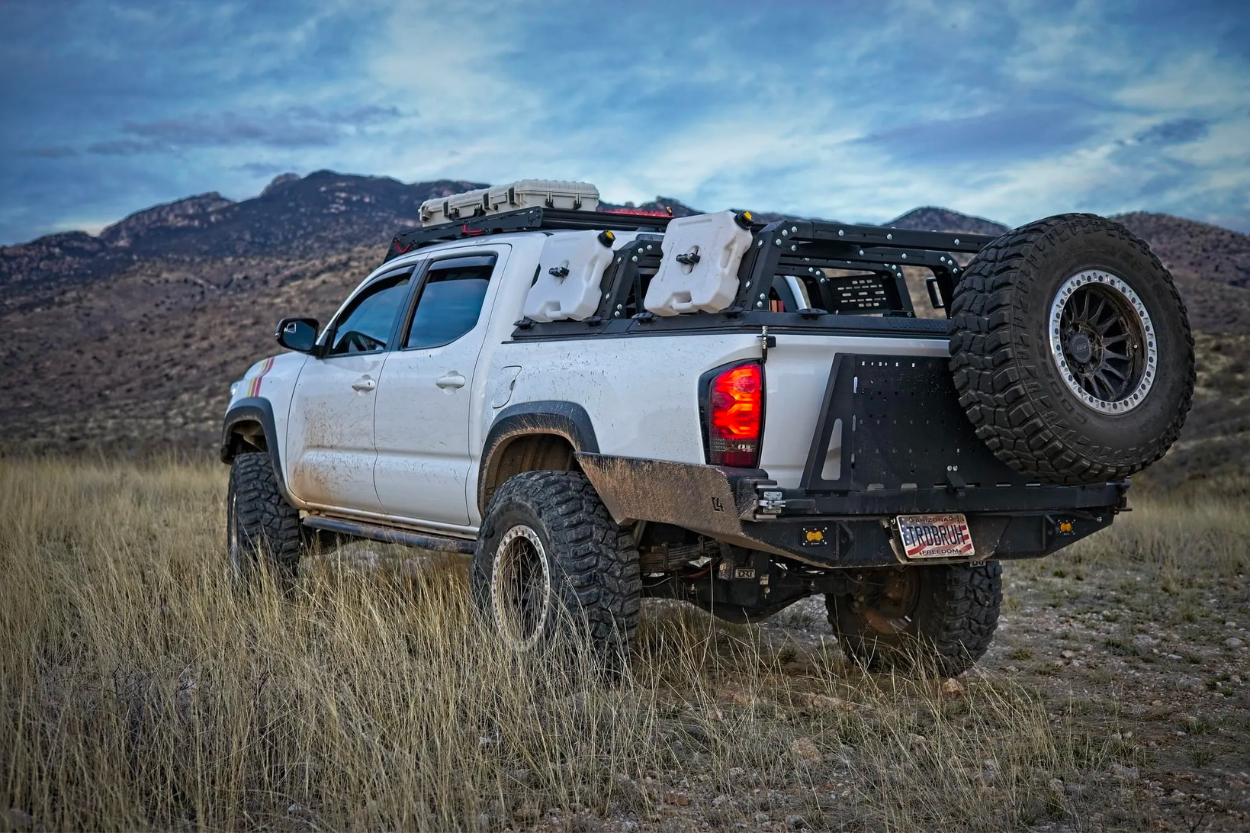 Spare Tire Carrier Details
C4 Fabrication Overland Series High Clearance Rear Bumper
Tell Us About Your Setup
After running without an aftermarket rear bumper or having a secure way to mount an oversized spare for a while, I knew it was time to consider investing in a product to support these needs.
Having led numerous off-roading group rides for my group, I have witnessed many flats and factory body damage. Most of these events involve the rear bumper on departures and in rocky scenarios! Upon lots of research, I felt the C4 Fabrication bumper was the most solid option.
If you have seen their products in person, you'll note the perfection in their welds and the overall ("overbuilt") engineering compared to competitors' products. That's not to say there are no other phenomenal options, but C4 Fab is great.
I wanted this upgrade to protect the rear and bedsides while allowing far greater departure angles. It has also allowed me to complete a wide variety of recovery scenarios with confidence! Furthermore, their optional swing arm is SOLID, allowing me to mount my oversized 35" wheel/spare tire and various gear.
At this time, I do not have anything mounted next to the spare permanently as the seasons dictate what makes sense to bring with me. This could be extra propane for camping season, extra Rotopax containers, etc. I also love the fold-down table they include!
It is quite large (fits my grill easily) yet still has room next to it for mounting other things (currently my expedition essentials paper towel holder). When opened, it is like a full kitchen space between the tailgate and the fold-down table. I can easily cook up a delicious meal at camp or for lunch when off-roading. Mount a trash bag solution to the spare, and you're set!
Another thing I love about the bumper is the hidden hitch mount behind that tag – this was a must-have option for me. The swingarm is stout, very modular, and has been designed to mount not only gear but your choice of antennas on either side (or chase lights even). It has well-thought-out ways to run hidden wire with zip tie tabs and more. I could not recommend the setup more, it has served my needs very well!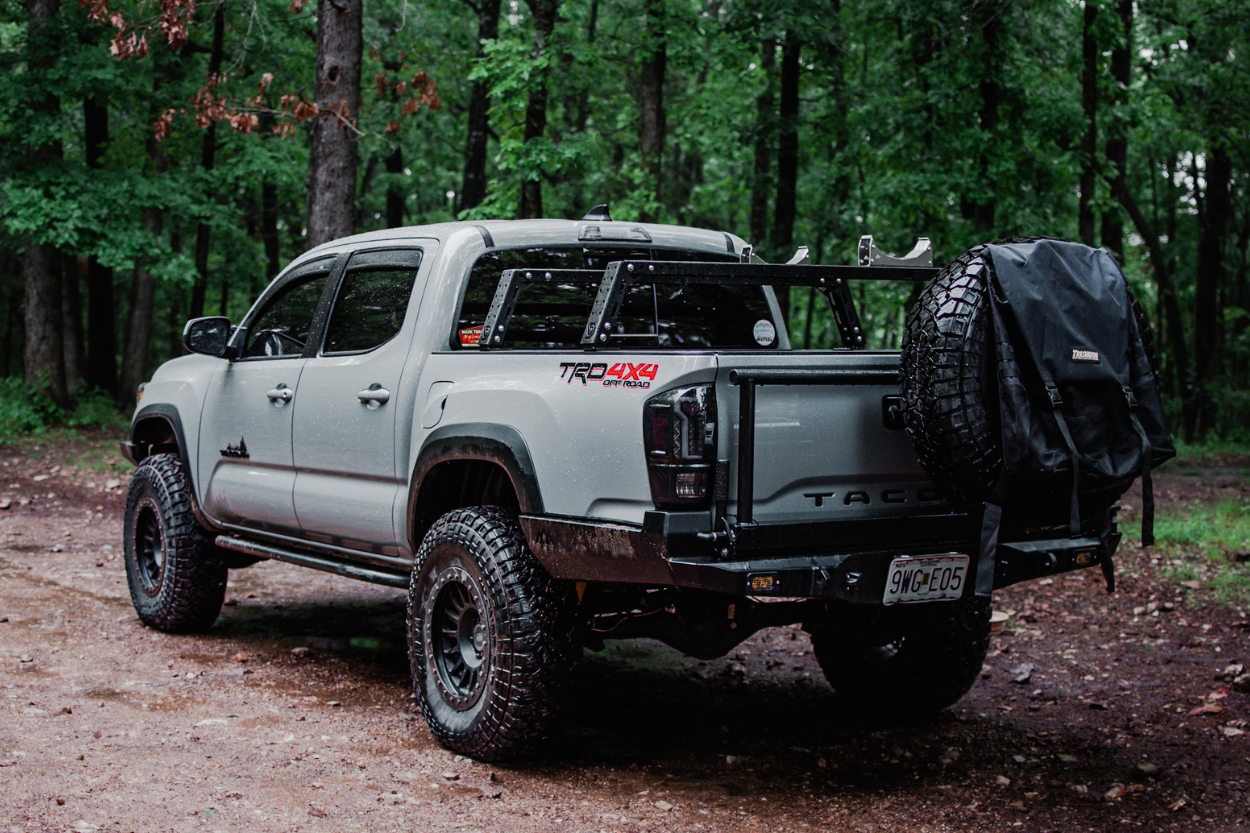 Spare Tire Carrier Details
Backwoods Adventure Mods Rear Bumper
DIY Spare Tire Carrier (parts from 4XInnovations, Barnes 4WD, & Custom Bent Tubing)
Tell Us About Your Setup
There are two main reasons why I decided to upgrade to a swingout bumper: accessibility and space. With the 35″ tires, I couldn't fit the spare in its original location. The only option left was to store the tire in the bed near the cab, which made it difficult to access and occupied an excessive amount of space.
I haven't mounted any accessories on the swingout bumper apart from the tire carrier. However, my future plans include adding a drop-down table and a dual Jerry can holder.
This setup has proven incredibly helpful during camping and overlanding adventures. It allows me to maximize the available space in the truck bed with ease. When I eventually construct my own camper using the Ripcord DIY, the swingout bumper will undoubtedly become an invaluable addition to my setup.
Beyond its practicality, I love the way this setup enhances the truck's appearance. The swingout bumper truly fills out the vehicle, adding a touch of ruggedness and style that never fails to draw an abundance of compliments.
5. Scott Naurath (@behorizonbound) – C4 Fabrication 
Spare Tire Carrier Details
C4 Fabrication Overland Bumper with Tire Swingout
Tell Us About Your Setup
I had been looking to upgrade to an aftermarket rear bumper with higher clearance and wanted the ability to add a tire carrier and any other accessories I might want to add down the line. I ended up going with the C4 Fabrication Overland bumper with tire swingout because C4 is a great company with quality products and craftsmanship.
Now, I'm able to mount a 33″ spare tire to the swingout and have space for two spare gas cans as well. I plan on adding a Hi-Lift jack mount to the carrier as well.
I'm super impressed with the whole bumper/tire carrier setup. I was constantly scraping the stock bumper, so having a bumper with more clearance is awesome and I'm no longer scraping my spare on rocks and debris on the trails.
6. David Suh (@davsuh) – CBI Offroad Fab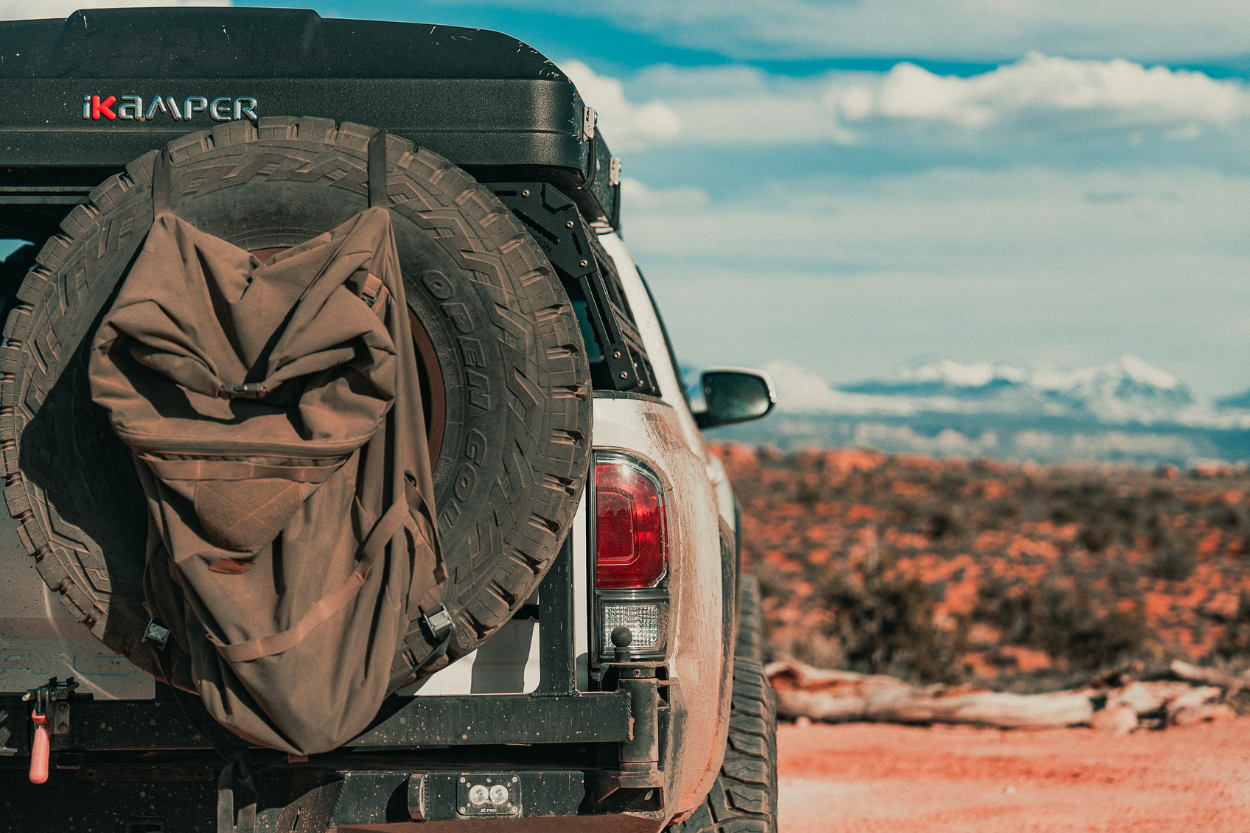 Spare Tire Carrier Details
CBI Offroad Fab High Clearance Rear Bumper w/ Dual Swing-Out
Tell Us About Your Setup
I wanted easy access to a full spare after upgrading from the stock tire size to 35s. Having the spare on a dual swing-out allows me to get to it when I need it for emergencies and doesn't take up too much space when I have to swing open the gates.
I also use the spare as a mounting point for my Ghostwild Truck Ruck, which I use to pack out trash.
7. Victoria Paige (@victorias_yota) – RIGd Supply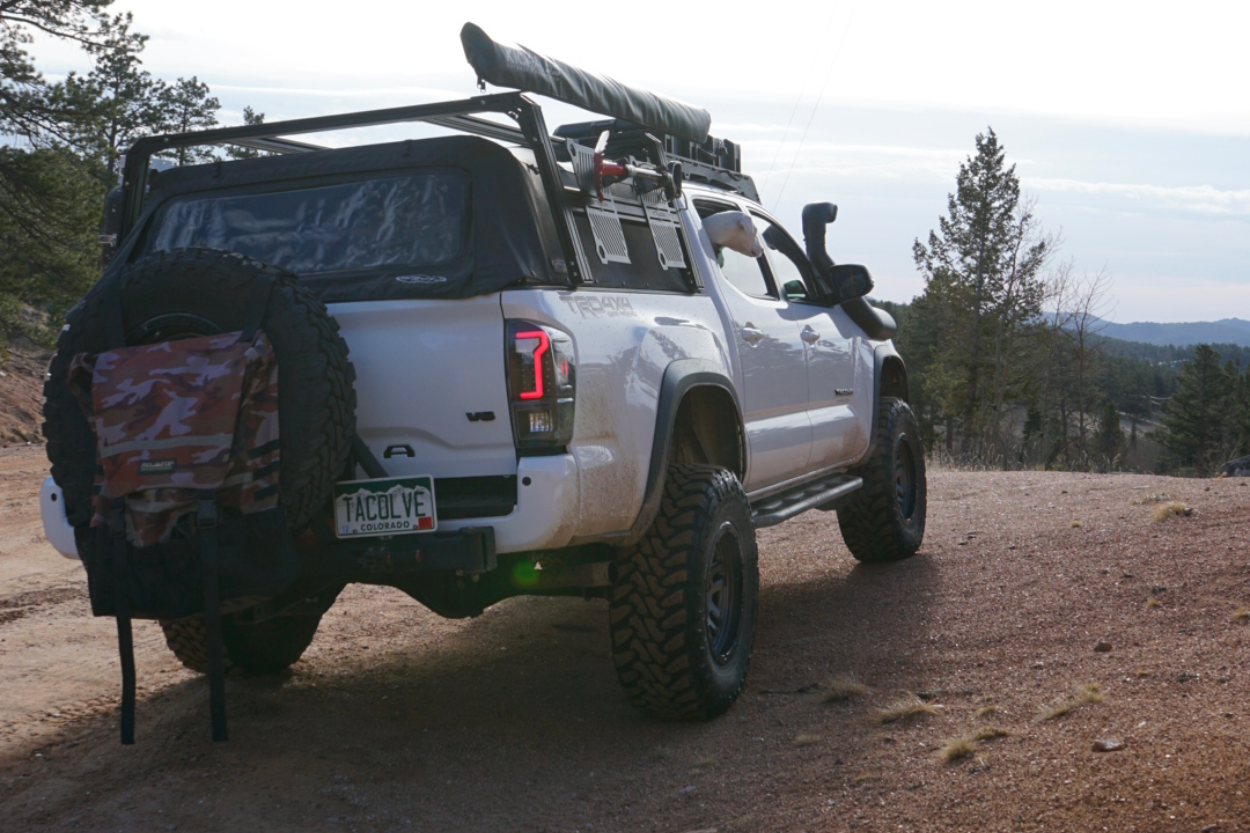 Spare Tire Carrier Details
RIGd Supply Ultra Swing w/ Cutting Board
Tell Us About Your Setup
When I was first building my rig, I knew I wanted a way to carry my spare tire that didn't take up room in the bed of my truck. Then, I found the RIG'd Ultraswing!
It offered the extra space I was looking for without forcing me to compromise on the space I needed in the bed. This is one of my favorite modifications that I now can't live without.
Final Thoughts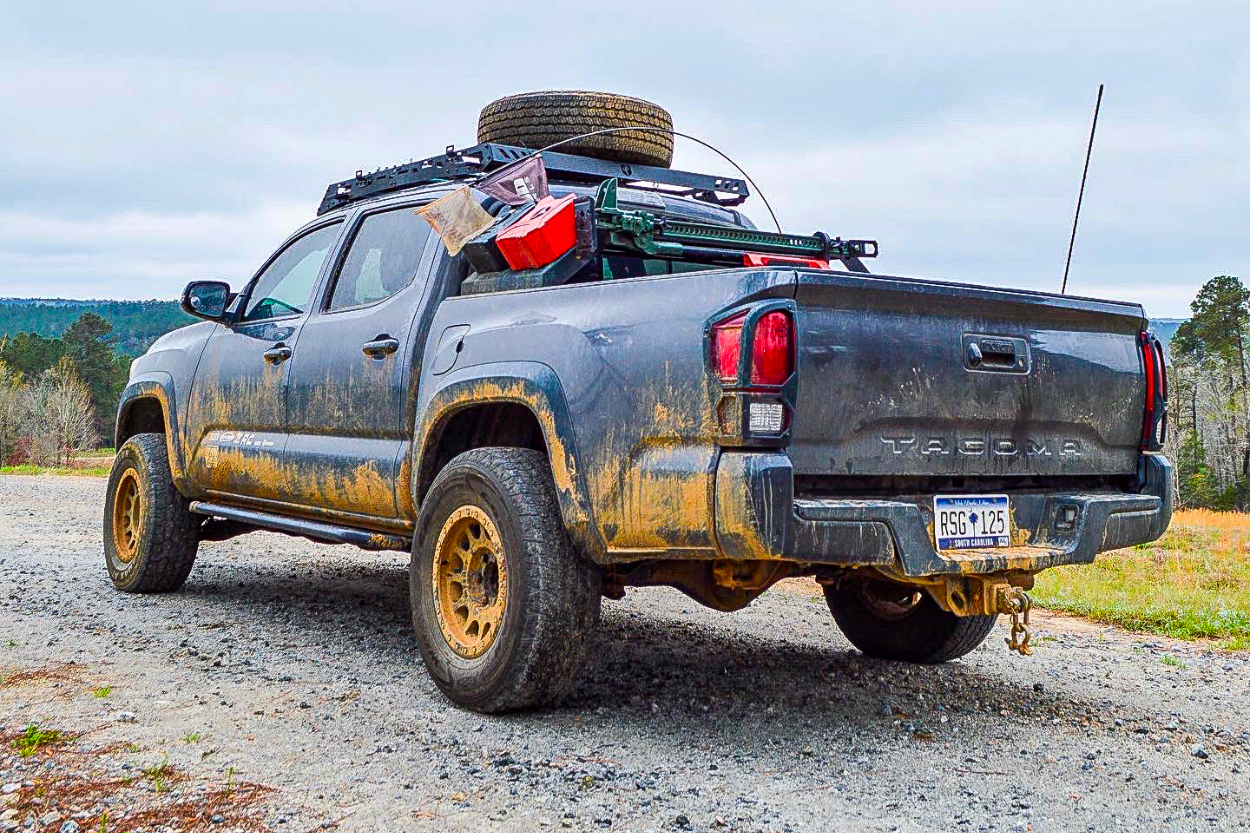 That wraps up another Taco Tuesday!
Now that we have looked at several options to relocate your spare tire, it's time to get your tires upgraded to conquer any terrain you may come across. Join us next week where we take a look at Tacomas on 285s; aka oversized tires!