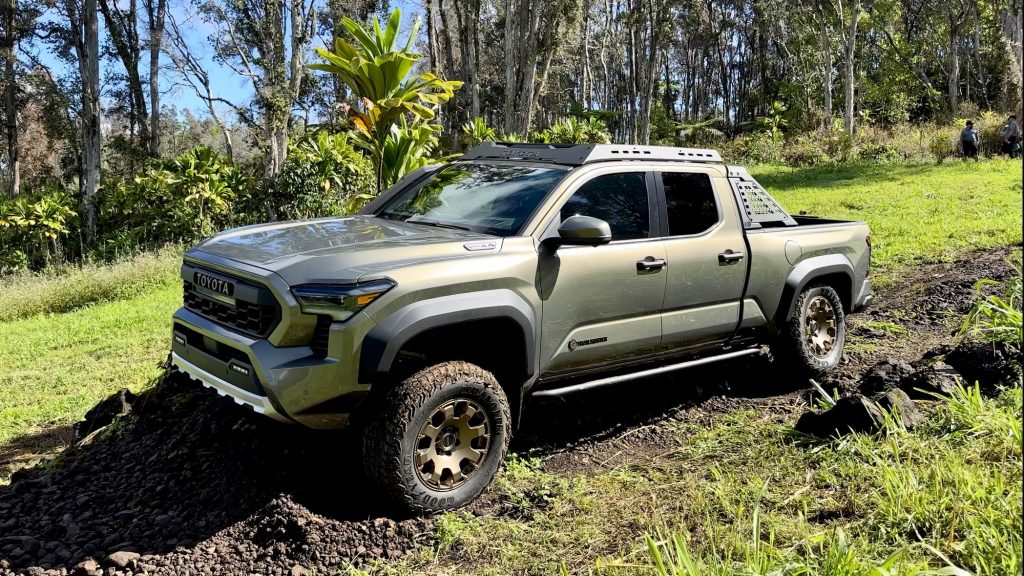 Toyota Reveals The Brand New 2024 (4th Gen) Tacoma Trailhunter Trim Package – An Overland-Inspired, Adventure-Ready Rig Straight From The Factory
The 4th Gen Toyota Tacoma is finally here and with it, the all-new Tacoma Trailhunter! I was lucky enough to see this all-new trim level at both its release in Hawaii and also at Overland Expo West in Flagstaff, Arizona. Toyota, along with consumers, are really excited about this brand-new Tacoma trim level, and for good reason!
Toyota's official press release reads:
"Toyota has long been a top choice for overlanders due to its legendary quality, durability, and reliability, and now enthusiasts can get a factory-developed overlander straight from Toyota."
In this article, I'll go over everything that we know so far about the all-new 2024 Toyota Tacoma Trailhunter. Also, be sure to check out my detailed walk-around. Embedded in the bottom of this post.
2024 Toyota Tacoma Trailhunter – Full Overview
What Is The Trailhunter?
The overland movement has absolutely exploded over the last few years! If you look at the vehicles that consumers are purchasing to build their rigs, a good percentage of them are Toyotas. With that in mind, Toyota, like any profitable company, wanted to get a bigger piece of the overland action. Instead of just supplying the consumer with a base vehicle, they've decided to give you an overland-ready rig straight from the factory. The Tacoma Trailhunter has been developed from the ground up to be an off-road-ready vehicle.
This model is available with a slew of OEM accessories and modifications to tackle any adventure. To achieve this, Toyota partnered with Australian powerhouse ARB to co-develop the Trailhunter and its accessories. With this partnership, Toyota and ARB developed their vision of the ultimate Tacoma.
So, who is this Tacoma for? In my opinion, it's for the customer that wants a vehicle that is ready to take on any trail right away without the need for any major modifications. The problem with major modifications is the potential loss of warranty and added costs to an already expensive truck. All of the concerns of sourcing parts, installers, and voiding your warranty are alleviated with the Trailhunter. Not only is everything included with one price, but it's also all fully warrantied.
I was also told there will be even more options for this truck come production time. If you demand even more out of the Trailhunter, additional accessories are available through the recently announced Associated Accessory Products program (AAP). This program will allow you to customize your build exactly the way you want, straight from Toyota's participating dealerships.
From a financial standpoint, this means that everything can be conveniently rolled into customers' monthly payments; both the truck and its accessories. This program won't be exclusive to Trailhunter either, making accessorizing your Tacoma easier than ever.
Off-Road Performance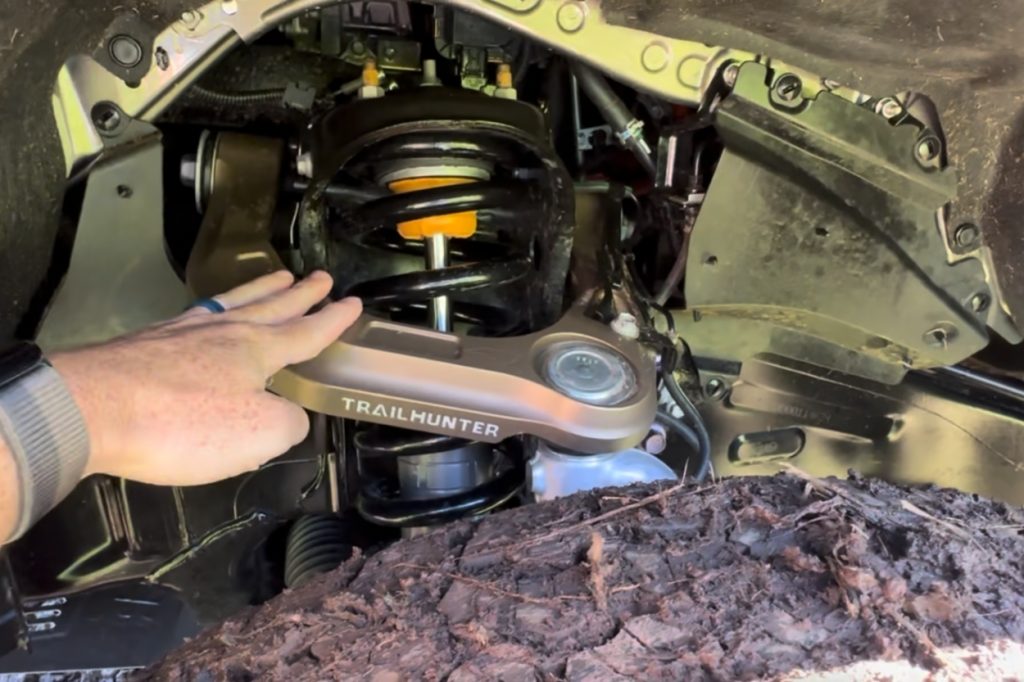 Suspension
The Tacoma engineers wanted to make sure that the suspension on the Trailhunter would perform well not only on the trail but also when loaded down with overlanding gear.Toyota asked ARB to co-develop Old Man Emu (OME) position-sensitive 2.5″ forged monotube shocks with rear external piggyback-style remote reservoirs.
Trailhunter also gets unique billet aluminum UCAs to help compensate for its additional 3″ of track width. This suspension setup just isn't an off-the-shelf OME kit. Rather, it has been tuned specifically for the Trailhunter to tackle whatever you throw at it. If you aren't familiar with OME, I'll sum it up for you; they're freaking awesome. I had their BP-51 kit on my 3rd Gen Tacoma and to this day, is still one of the best suspensions I've had on a truck.
Tires
The 33″ Goodyear Territory R/T tires give the Trailhunter an additional 2″ of lift in the front and 1.5″ of lift in the rear over other trim levels. Yes, you read that right, Toyota is adding 33″ tires to this truck straight from the factory!
The R/T compound and tread are perfect for great performance both on and off-road. It isn't as aggressive as an M/T tire but a bit more than an A/T tire. To me, it's the best of both worlds, especially for better road comfort while driving to distant destinations.
Powertrain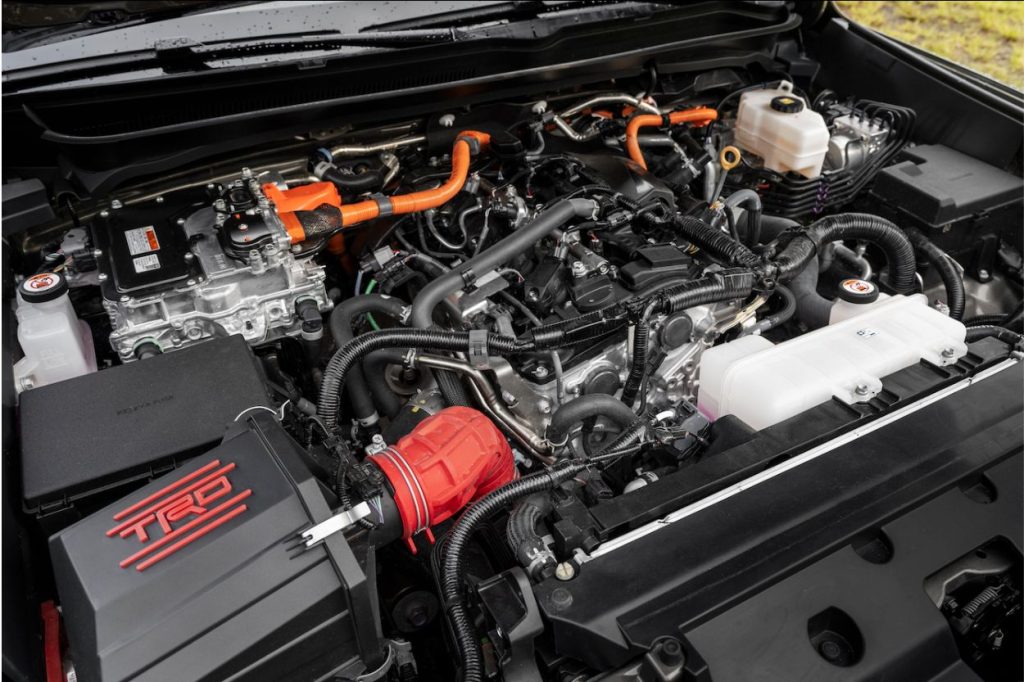 This model will come standard with only one powertrain option, the all-new i-FORCE MAX hybrid. This powertrain pairs the 2.4-liter turbo-charged 4-cylinder engine with a 48 hp electric motor. It's mated to a new eight-speed transmission, with sadly no manual transmission option available.
This electronic motor feeds off a 1.87-kWh NiMH battery pack (unfortunately placed under the rear seat) that creates a total system output of 326 hp and a whopping 465 lb.-ft. of torque. That's nearly double the torque output of the outgoing 3rd Gen with the V6 engine!
A high-clearance exhaust tip and low-profile high-mount Trailhunter-branded air intake are also standard.
I can't wait to see how good this new powertrain is when I am able to drive this truck, hopefully later this year.
Exterior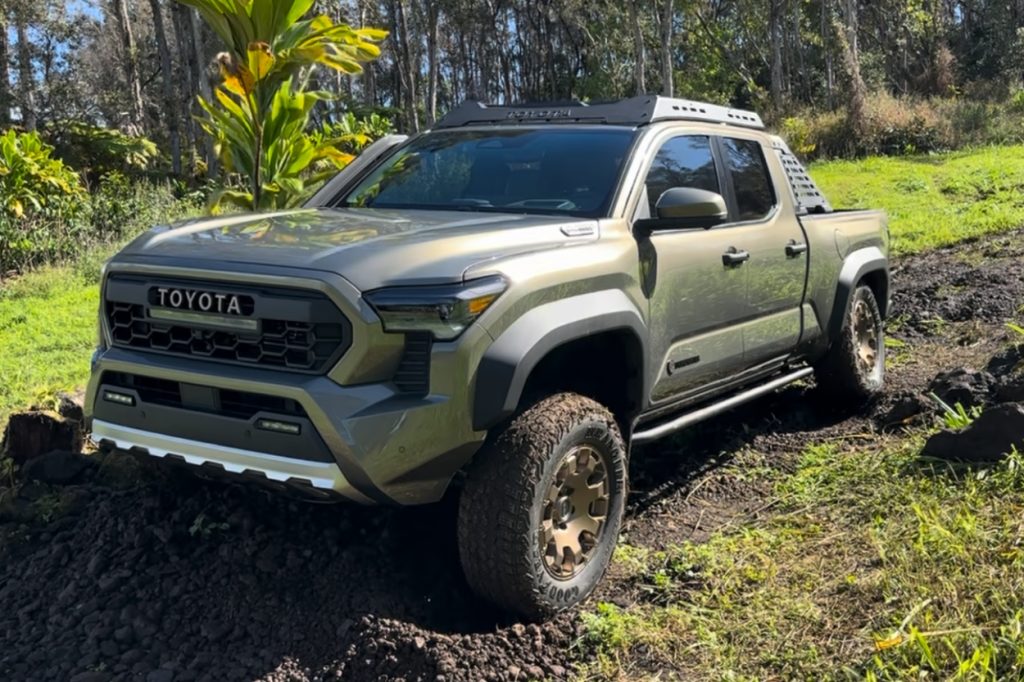 The Trailhunter will be available with either a 5′ or 6′ bed, and will only be available in Double Cab. 18″ bronze wheels are also standard.
This model has a "TRD Pro" style grille, but it is unique thanks to a bronze-colored "TOYOTA" heritage lettering. This grille also has an integrated 20″ LED light bar pushing close to 10,000 lumens. This light bar is complemented by white/amber switch-back RIGID LED fog lights that are surprisingly really bright. The model also has integrated bedside scene lights to help illuminate the area surrounding the bed for setting up camp at night.
Upfront, you'll notice that the Trailhunter has an OEM-style "viper cut" for better ground clearance as well.
Toyota's official press release reads:
"Serious overlanders can take their Trailhunters to the next level with available light- or heavy-duty versions of a full ARB bed rack to support additional gear like rooftop tents, canopies, or a camp shower."
Around the back, the build gets an ARB steel high clearance rear bumper with huge red rear recovery points and a bed utility bar with removable MOLLE panels. Inside the bed, you'll find a 2400W power inverter along with an air compressor built into the bedside; pretty impressive.
Lastly, the Tacoma Trailhunter comes with proper rock rails and several hot-stamped, high-strength steel skid plates.
What do you think of the looks on this one? Let me know in the comments.
Interior
Man, this is where the money is. Of all the new 2024 Toyota Tacoma models, the Trailhunter wins my vote for best interior.
14″ Infotainment Screen
12.3″ Digital Gauge Cluster
Heated Ventilated Seats
Rear Locker & Front Sway Bar Disconnect
Fast Charging USB-C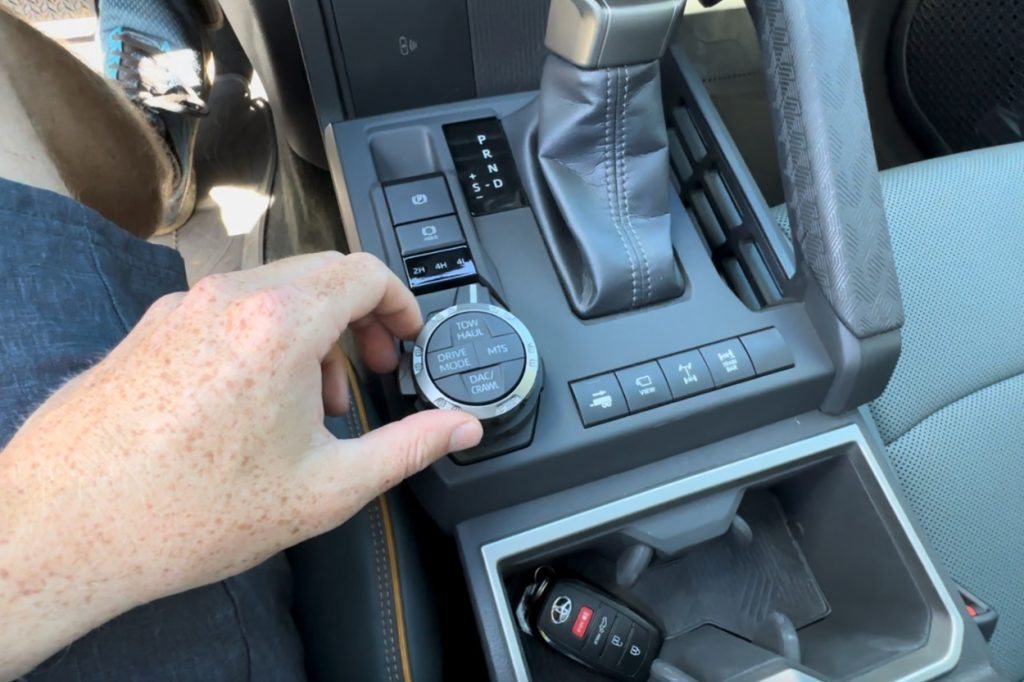 The mix of stone accents, rugged materials, yellow stitching, and more, just makes the inside of the Trailhunter very enjoyable.
You get so many features inside of this new 4th Gen Tacoma, it is insane compared to the outgoing 3rd Gen.
Final Thoughts
The all-new Tacoma Trailhunter is a much-welcomed addition to the 4th Gen Tacoma lineup. While I am not their target market (I prefer to build my trucks myself), I can definitely see the appeal. This Tacoma takes care of a lot of headache-inducing mods like bigger tires, suspension, armor, and lighting accessories, while still leaving some room for customization with the additional interior mods and minor exterior mods.
The 2024 Toyota Tacoma Trailhunter will be available for purchase in early 2024. There is no price at this time. I will keep you all filled in on that information as it becomes available. I am very interested to see what owners will do with their Trailhunters in the near future when they start rolling out to dealers!
YouTube Video