AL Offroad USA Go Fast Campers (GFC) Compatible "Wumbo" Roof Rack For 2nd & 3rd Gen (2005-2023) Tacoma – Review & Overview
If you've followed along with my truck at all, you may already know I was previously running an AL Offroad HD Roof Rack. I loved the rack. It was beyond sturdy, and after I added some black Agency 6 grab handles, it was dialed.
Earlier last year, I switched my setup and drove to GFC to pick up my new camper. When you run a camper like the GFC, it's not recommended to leave a full length roof rack on in many applications. If you never spend time off pavement, maybe it would work. But the flex in the truck causes quite a bit of movement, especially as your truck get older. This isn't necessarily an inherently bad thing, it's built into the design. Also, while very strong metal is still flexible. In any case, I was bummed since I lost a rad roof rack setup.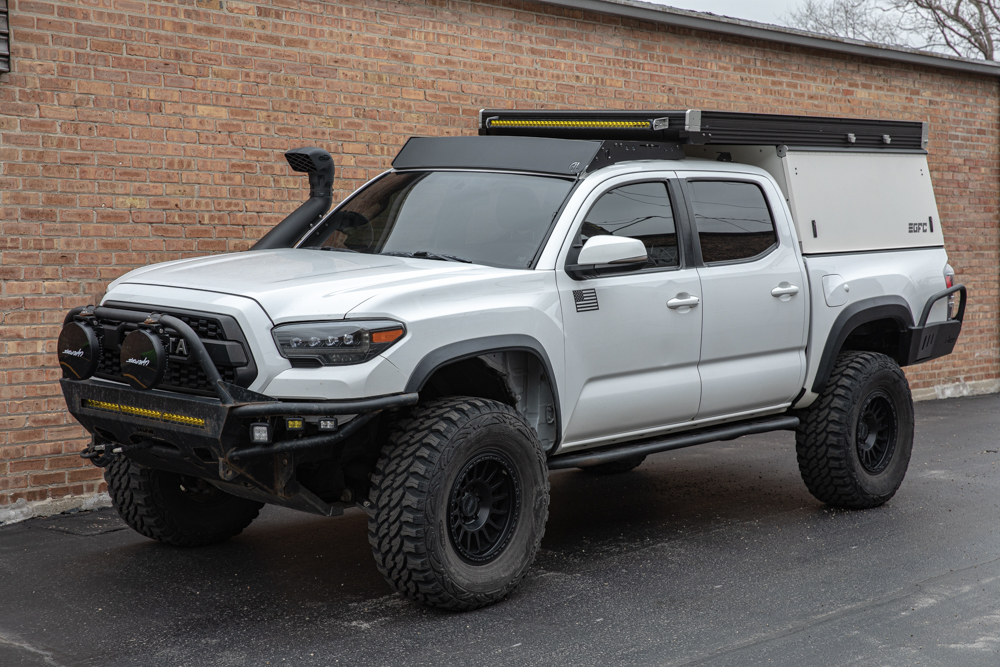 But earlier this year, AL Offroad told me that they were going to released a camper compatible roof rack. There are some options on the market, but I wanted something incredibly sturdy, with very large crossbars, and just the right amount of clearance. Scott at AL listened to all my feedback and he dialed in a sweet product that is exactly what I envisioned this product could be.
I'll review some features and talk a bit more about the rack in details throughout this post.
Find It Online
AL Offroad GFC Camper Rack
Features & Specifications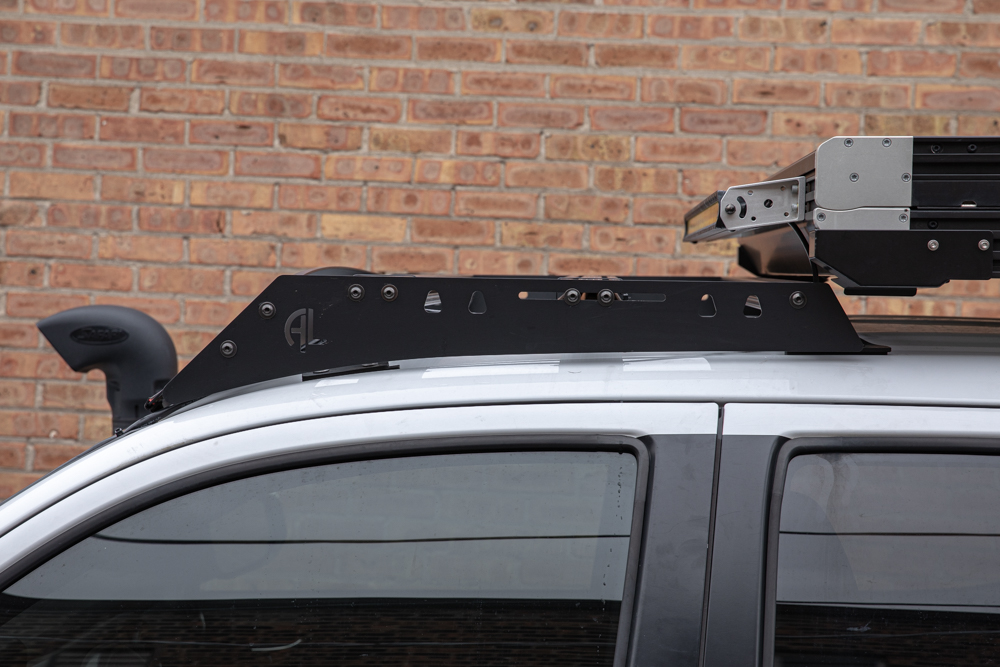 Let's quickly run through the relevant details.
little to no extra noise created
made of aluminum (corrosion resistant)

crossbars, brackets, wind fairing (w/ stainless bolts)

larger crossbars compared to industry standards (increased strength and load capacity)

1.5″ x 3″ x 48″ dimensions

slotted and notched cross bars for accessories (tie downs, etc.)
comes powder coated black (custom colors available)
fits the 2005-2023 Tacoma
37″ x 48″ dimensions
400 lb. dynamic load
650 lb. static load
rack weighs only 20 lbs.
current lead time ~6-8 weeks
limited lifetime warranty
Pretty impressive. And only 20 lbs. Not bad at all!
Camper Clearance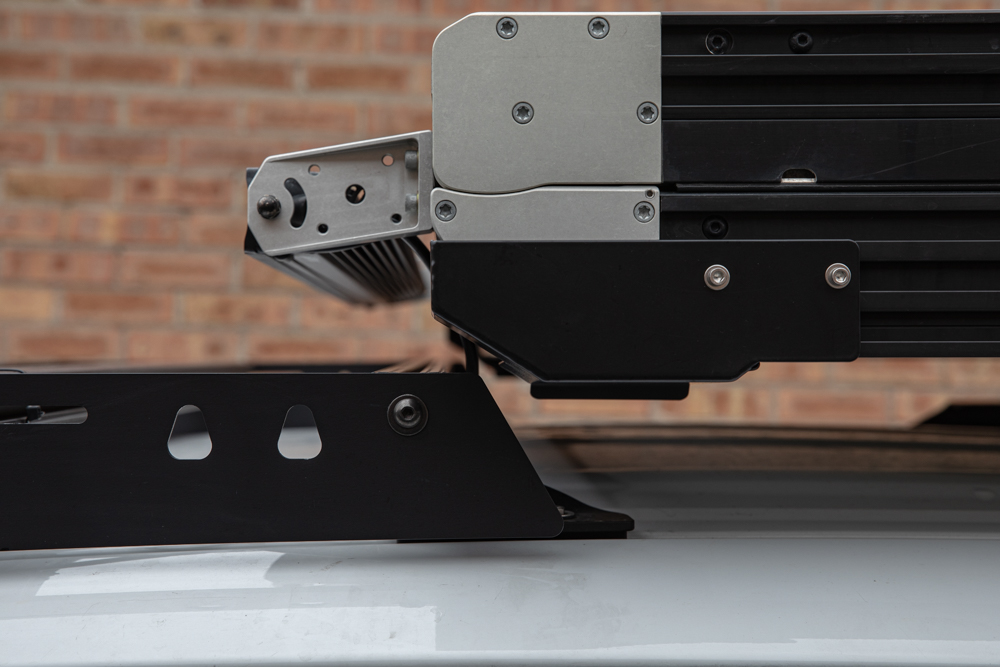 Obviously, the big question is – how is the clearance?
Well, as you can see above, there is more than enough. I even have the JE Design & Fab Drip Rails installed. It might be tough to measure using only your eyes here, but with the Drip Rails, there is still almost an inch of vertical clearance. The camper might move with harder use, but not that much.
Like I said, I use my truck appropriately when off-road. That means we put the truck to work on rougher roads. Even with my more extreme scenario (I know most people don't use their trucks that hard), this rack and it's clearance is perfect. And the angled end complements the lines on the GFC – a nice touch.
Review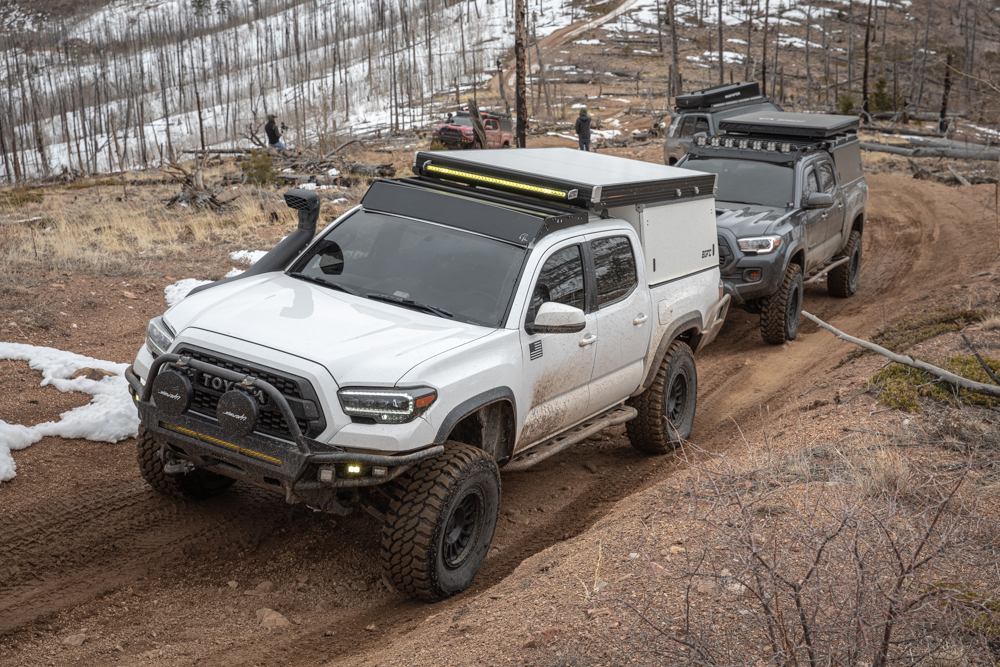 If you read my original review (linked in the beginning of this post), you already know my thoughts. To keep it simple, this rack is very strong. From the way it mounts together and to the roof of my Tacoma, to the large crossbars – it checks all of the boxes for overall strength. Two people could easily stand on this rack and it wouldn't show much deflection, if any at all.
The way it fits with the GFC camper is awesome. Like I said, the way it integrates together makes it look like it's meant to be. We've hit a few trail systems since I installed this rack, and so far – zero issues. I'm still trying to fit the perfect accessories to mount up there. Maybe some low profile storage boxes to house some of my lighter gear… I'll figure that out soon. I think I'll add some Agency 6 handles to this one as well. Time will tell.
But the answer is yes. Yes, this is the best GFC compatible roof rack I've seen so far. That's of course partially my opinion – but this is a rad product regardless.
Final Thoughts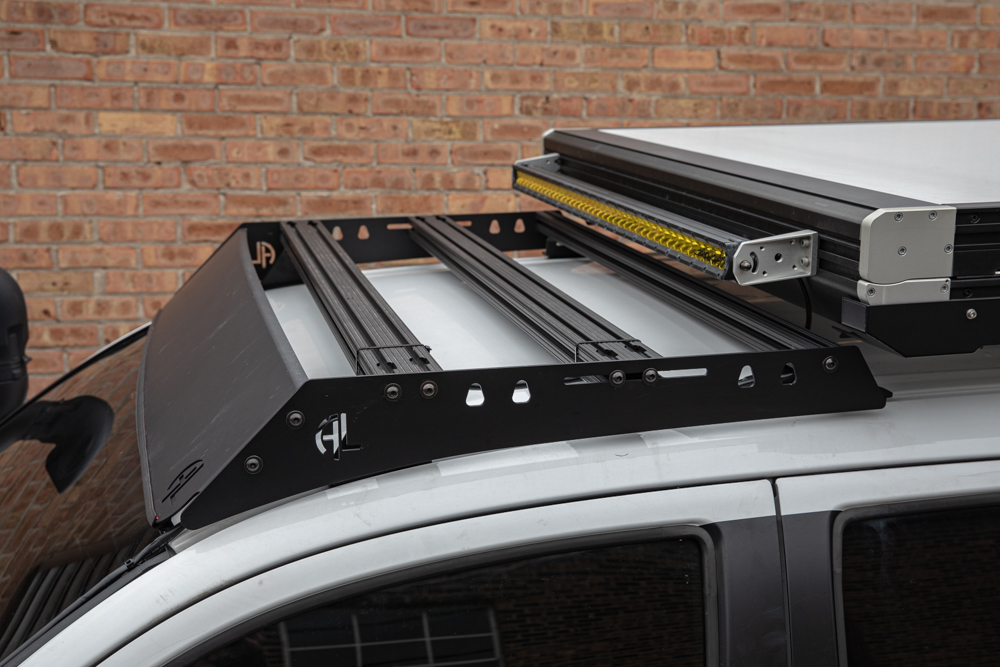 What more can I say? I've had good experiences with AL Offroad (I also run their Trailgate). My brother-in-law also has the full length HD roof rack and loves it. I'm also happy to support small business in America.
Their products are quality, and I'm stoked to have been a part of the process and growing alongside AL.