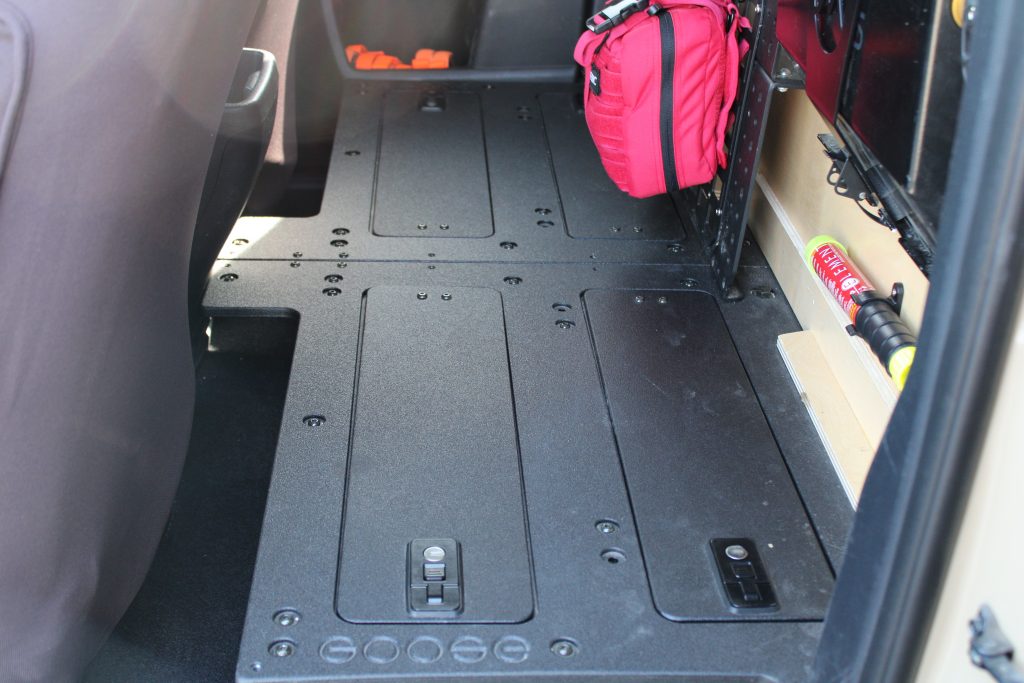 Real World Long-Term Review &Overview For The Goose Gear Access Cab Seat Delete Kit For 3rd Gen (2016-2013) Tacoma
For those who own an access cab Toyota Tacoma, chances are the rear jump seats aren't favored by anyone that has to ride in the back. This also calls into question how often (or rarely) those seats are used, consuming real estate that can be used more effectively than gathering dust in their stowed position.
Fortunately, there is a solution to this problem thanks to the work fielded by Goose Gear. Their Access Cab Seat Delete kit creates the ability to have a level surface and ample storage space for any and every item you would want to keep close at hand. Thus, incorporating a near-seamless design for the back seat of the cab.
Owning this kit for 2 years, I've been able to form an informed opinion for this kit. I've fine-tuned and exhausted every option that my mind and budget have allowed and run it through its paces from day trips to weekend excursions. Most areas are great, and as always, some can be better.
Find It Online
Goose Gear Access Cab Seat Delete Kit
Goose Gear Access Cab Seat Delete Kit
Design & Concept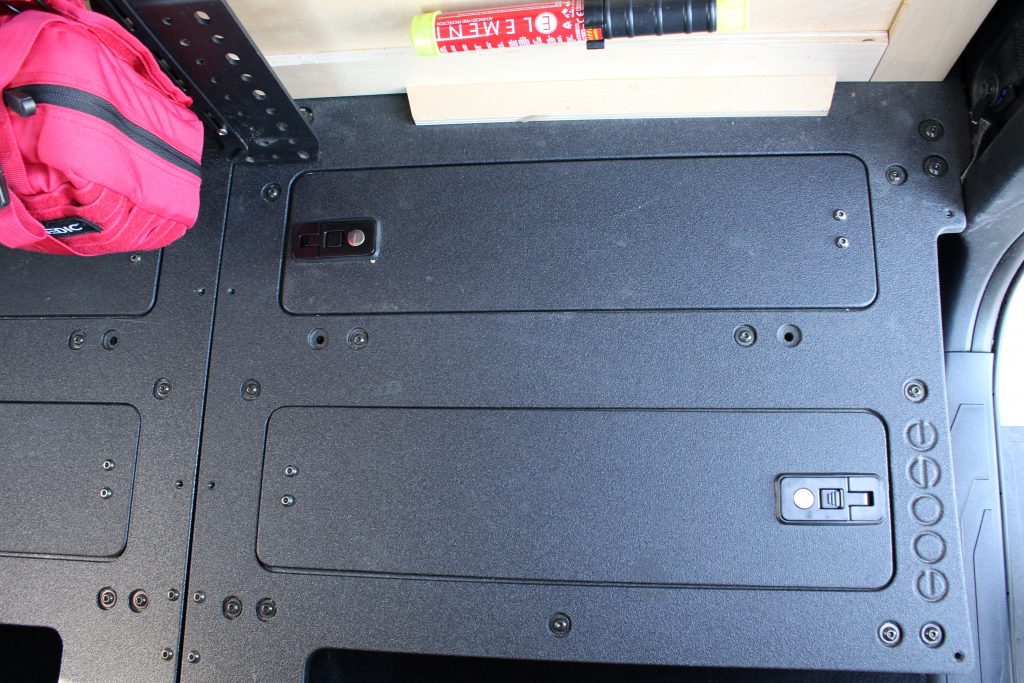 The overall design of Goose Gear's Seat Delete Kit is to provide a storage system that's level and can be built off of. It allows for the effective use of space normally reserved for the factory jump seats while keeping a clean look.
Each kit is designed specifically for one side and sold individually, allowing the ability to have a partial kit. If both panels are bought, an included connecting plate allows both sides to be flush with each other. The panel incorporates the factory drawer, plus an additional space that will be created once installed. The doors are lockable with an included key and not hinged, allowing for user preference on outward or inward openings.
Each panel is made of Baltic birch and coated in-house for moisture resistance to prevent moisture damage. Side panels are included to stop any items from departing the forward bin. Installation is straightforward with the use of factory holes preventing the need for drilling. The flat surface makes it easy to store bulky items and pre-drilled holes in the panel allow for customization with additional accessories.
With a basic design, Goose Gear's Seat Delete kit is completely function-oriented without unnecessary flair.
Storage Capacity & Uses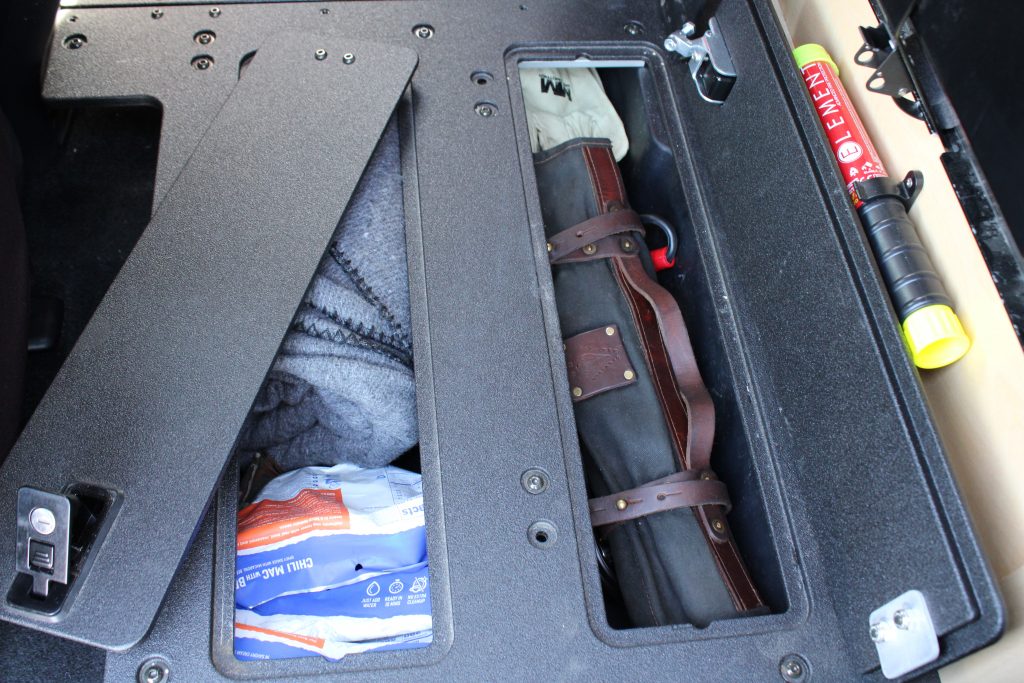 With a complete set installed, you have four isolated storage bins and two flat areas for bulky items.
The overall dimensions are about 18″x8″x6″ and can fit six Mountain Home meals, a Jetboil, and a tightly packed, tactically acquired wool blanket. Both factory bins add a couple of inches of headroom, making tool storage easier with the standard equipment. The overall space inside makes it ideal for running a second battery and electrical.
Due to the nature of a seat delete kit, the back seat is no longer legal for passengers. However, field testing has proven it is sustainable to support an 85lb border collie cross-bred with a horse. Further data from closed courses show it can also support the human weight without flexing.
Keeping those statistics in mind, it will handle a refrigerator or additional boxes fully loaded. Combined with the clearance of both doors open, the flat surface is perfect as a staging area for hobbyists.
Room For Improvement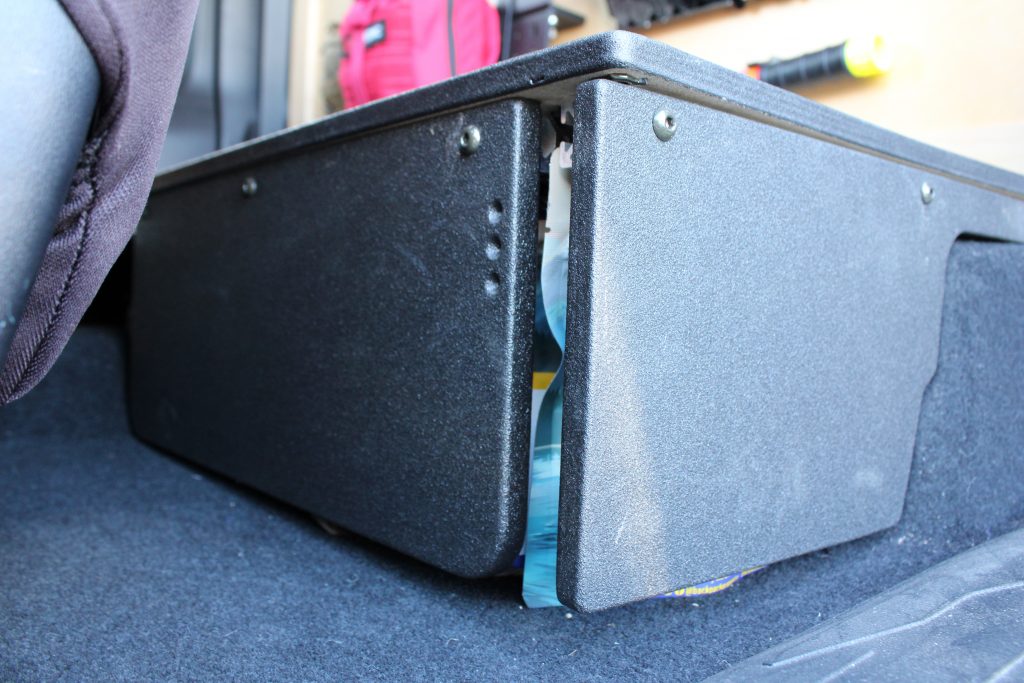 With a couple of years of use under its belt, I've taken notice of a couple of things.
First and foremost, these kits do not come with a back wall. Their other kits come with a wall where required but this one is exempt from the rule. Creating one is not a complicated task, but those not creatively inclined like me are stuck with the factory wall. Keeping it original isn't much of an issue, just note the headrests attachment point is located behind the plastic panel and a pain to take off. Leaving them on, they become their usual nuisance of either taking up space or blocking most of the rear window.
The second issue is the alignment of the sidewalls as they won't cover the entire width of the panel. This results in a noticeable gap between edges. The gap can be partially masked by adjusting the panel but still leaves the inner contents exposed. Perfectionists who become frustrated with the spacing can remedy this with an inside filler panel if they want total privacy.
A simpler solution would be to forego the side panel completely and have easier access to the bin. Just be aware that this will lead to items having more movement than before.
The final problem is that instructions aren't included in the kit. Goose Gear does have a YouTube video for installing the double cab delete kit which gives a general idea for installing, but there are differences. The kit is straightforward nonetheless, and trial and error will still occur. Test fitting each item before the final installation will be paramount to minimizing frustration while installing.
Final Thoughts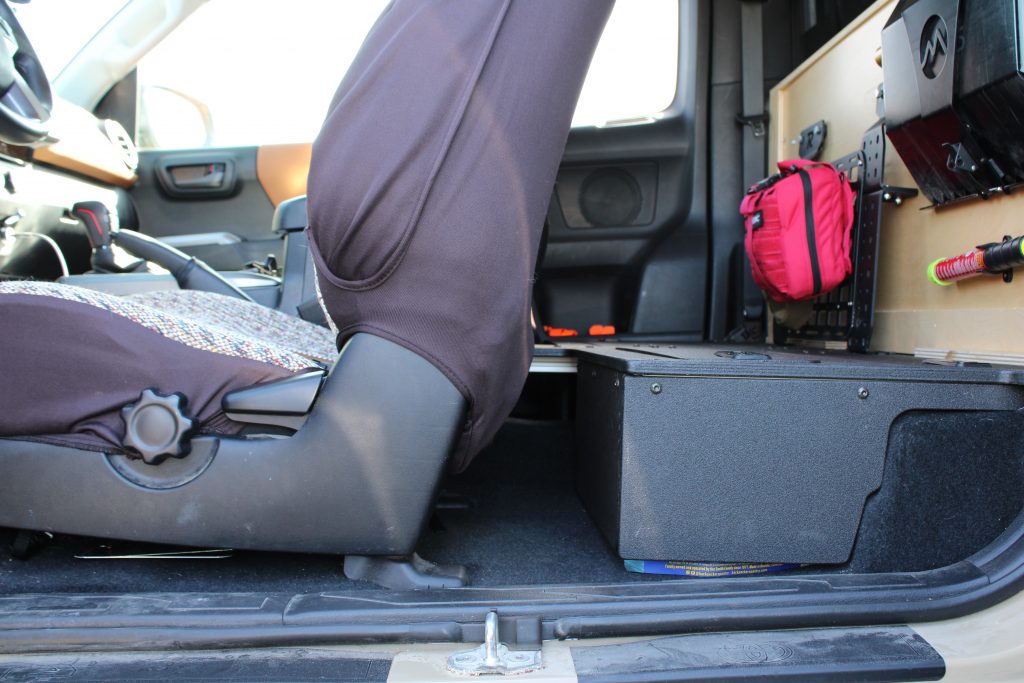 For an effective storage solution, the access cab seat delete kit meets the mark. Organizing and keeping items close at hand is now a simpler task and the seat delete kit provides another option for stowing gear and minimizing cleaning.
It is adaptable for various roles and doesn't leave you with a fixed platform that requires a hack job to make anything work. As each side is a standalone system, it makes travel with a couple of friends still possible. Though not 100% perfect, it's beneficial for solo adventurers who want more from their rig.