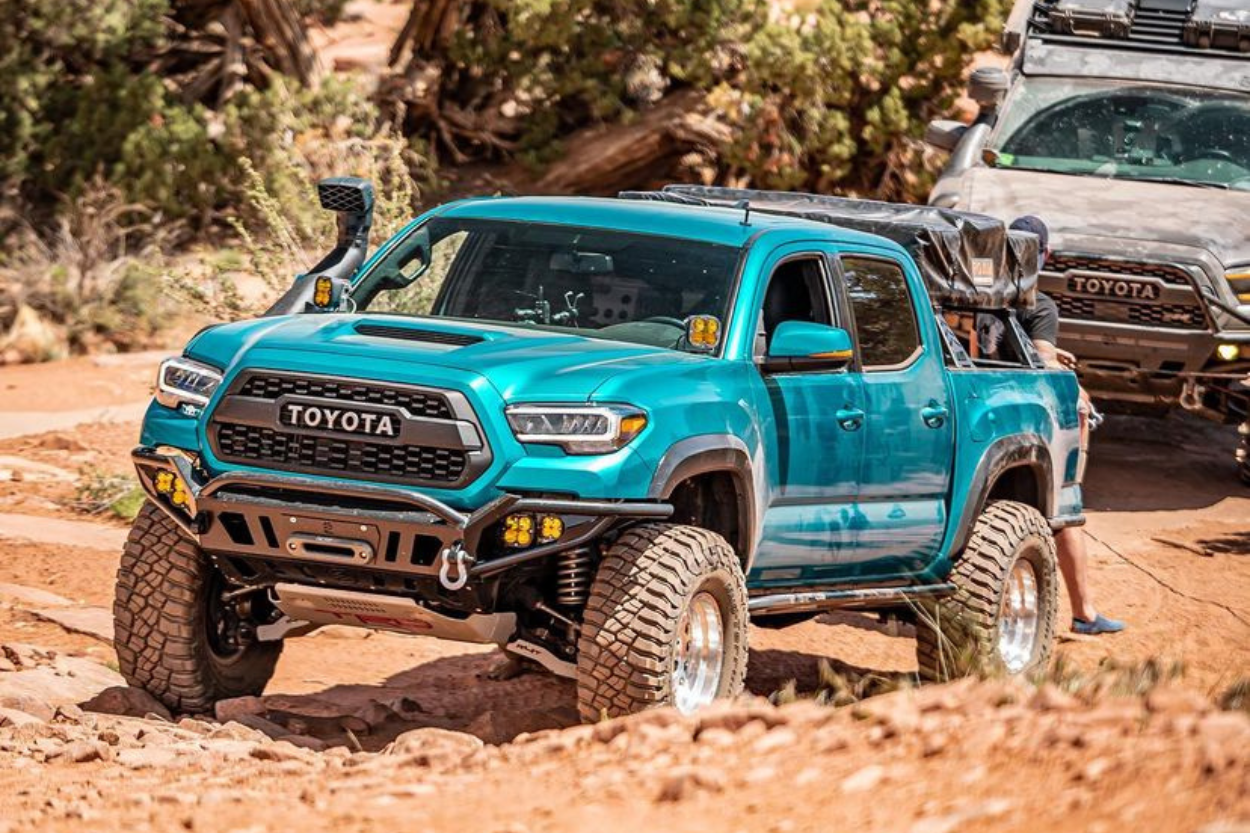 Give Your Tacoma A Unique Look With A Custom Vinyl Wrap: 5 Different Trucks To Inspire Your Build's Exterior Mods
Welcome back to an all-new Taco Tuesday! Last week, we covered skid plate setups for the 3rd Gen Tacoma. This week, we're back and looking at custom wraps.
Picture this: as you stroll down the street, your attention is instantly drawn to a custom-wrapped car or truck. Its unique color and/or design is the kind of spectacle that effortlessly turns heads and sparks conversations.
Wrapping a vehicle is a thrilling way to express personal style and creativity. It transforms an ordinary ride into a captivating work of art that leaves an unforgettable impression. Whether you're doing it to express your personal style, add an extra layer of protection, or both, wrapping your Tacoma can be a fantastic upgrade that elevates your vehicle's aesthetics.
How To Get Featured

Do you want to be featured in a future Taco Tuesday post? We want readers to get inspired by a variety of rigs/products.

Submit your build for Taco Tuesday here to get featured!

We have specific topics for each Taco Tuesday post and we would love to feature your rig!
Note: The builds listed below are in no particular order
Why Add A Wrap?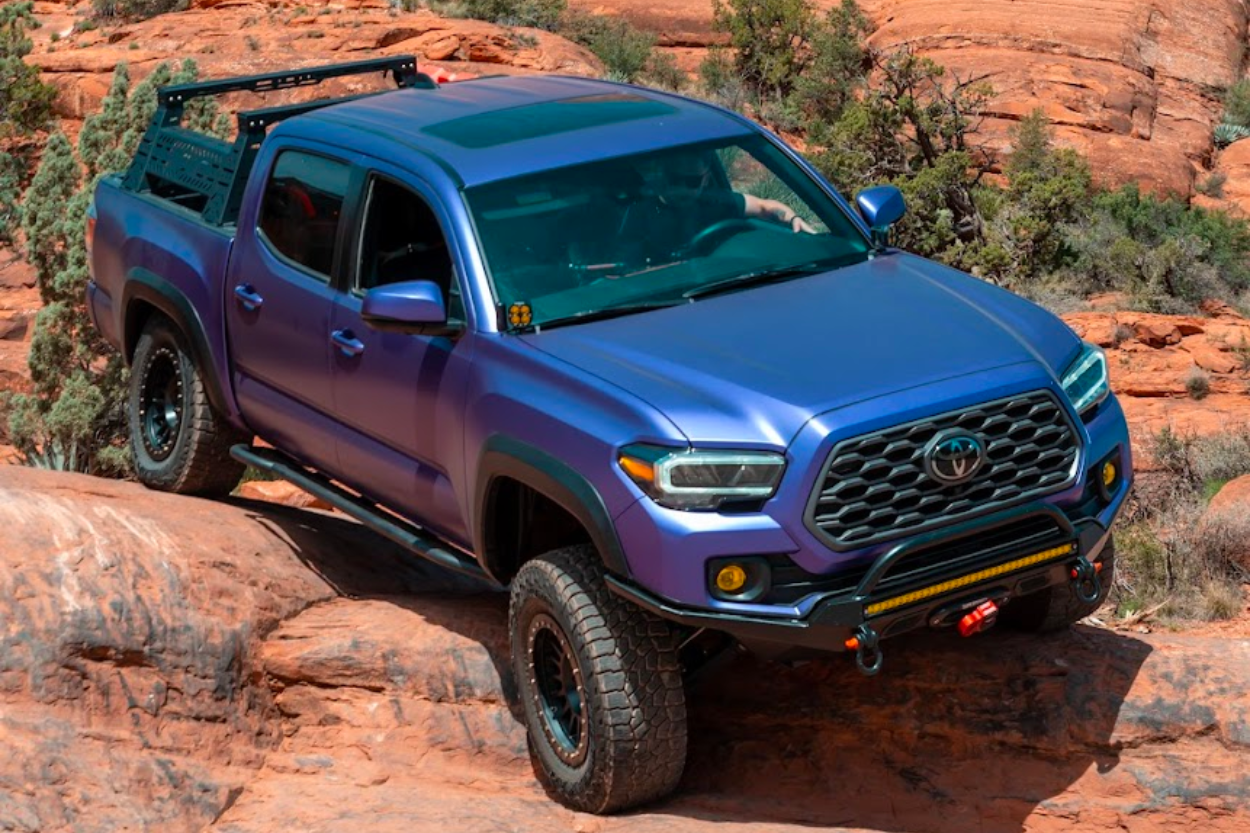 While wrapping your vehicle may not be your first choice in terms of modifications, it offers more benefits than just enhancing the vehicle's appearance. In fact, there are several advantages worth considering.
One of the primary reasons for wrapping is to provide an extra layer of protection to the original paintwork. The wrap acts as a shield against small scratches, rock chips, and other forms of minor damage. It can also be easily removed, leaving the underlying paint pristine and preserving the vehicle's value.
Custom wraps also allow you to personalize your vehicle in more ways than paint alone can. With a wide range of colors, finishes, and textures available, you can transform the look of your truck and truly make it one of a kind. Wraps also provide the flexibility to change the look of your vehicle over time!
Vehicle wraps serve as a powerful marketing tool for businesses of all sizes. If you own a vehicle for commercial purposes or use it for your company, wrapping it with your business logo, contact information, and branding elements turns it into a mobile advertisement!
For all of the reasons listed above, a custom wrap remains a very popular modification.
Available Wrap Options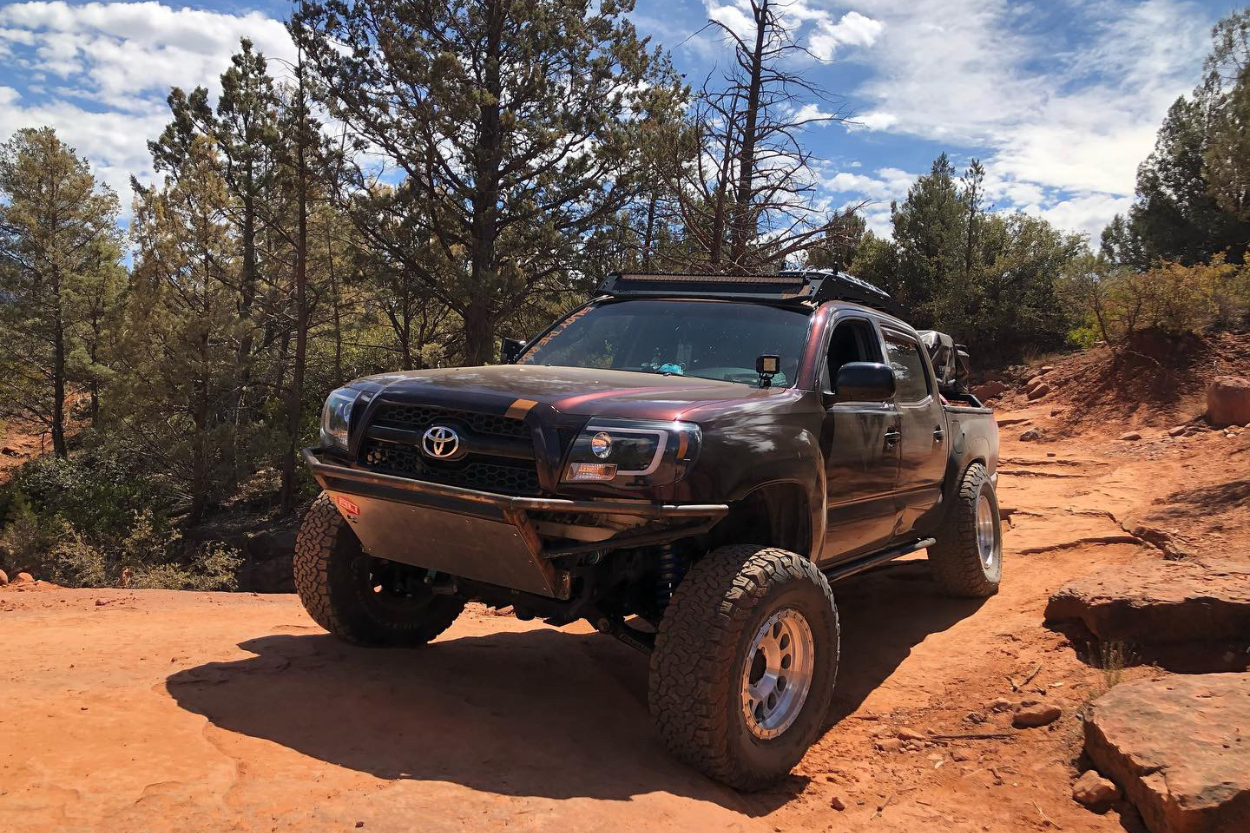 When it comes to wrapping your vehicle, there is a wide variety of materials, finishes, and styles available to choose from. Here are some of the common types of wraps you can consider:
Vinyl Wraps
Vinyl is the most popular material for wrapping due to its durability, flexibility, and ease of installation. There are two types of vinyl; cast vinyl, and calendared vinyl.
Cast vinyl is more conformable and tends to have a longer lifespan, making it suitable for complex curves and contours, such as on vehicles.
On the other hand, calendared vinyl is more cost-effective but may not last as long or conform to extreme curves as it's much thicker.
Textured Wraps
Textured wraps can add a unique touch to the appearance of your vehicle. They are available in many types, such as carbon fiber, brushed metal, leather, and camo patterns, just to name a few.
Custom Graphics & Branding
Vehicle wraps are an excellent platform for showcasing your creativity or promoting your business. Custom graphics wraps allow you to incorporate designs, logos, and artwork. Whether you want a bold, eye-catching design or a subtle branding solution, professional graphic designers can help bring your vision to life on your wrap.
Partial Wraps
If you're looking for a more subtle approach, partial wraps may be what you want. These will only cover a portion of your vehicle to accent specific areas or can be used strategically to highlight certain design elements. This is the most cost-effective option.
Protective Wraps
Wraps can also serve a practical purpose by offering paint protection. Clear paint protection film (aka PPF) is a transparent material that shields your vehicle's vulnerable areas from chips, scratches, and abrasions caused by road debris.
Depending on the type of wrap you decide to pick, you may have many different options for finishes. Let's take a look at these finishes:
Matte: A non-reflective, smooth surface with a subtle sheen, offering a muted appearance.
Gloss: A high-shine, reflective surface that delivers a vibrant and polished appearance and enhances the color's depth and richness.
Satin: Considered the middle ground between matte and gloss finishes. They offer a smooth surface with a moderate level of sheen and are often described as having a velvety texture.
Metallic: Incorporates metallic flakes or pigments into the vinyl material, creating a sparkling or shimmering effect when exposed to light. This finish adds depth and dimension and can be available in matte and gloss variants.
Chrome: A reflective, mirror-like surface that mimics the appearance of real chrome plating.
Now, let's take a look at a few different custom-wrapped Tacomas!
1. Justin Gatlin – (@eww_d1rt)
Wrap Information
Color: Satin Metallic Purple
Film Type: Avery Dennison
Installation Done By: Colorbomb Wraps
Tell Us About Your Wrap 
I chose this color and finish because I have not seen another purple-wrapped Tacoma. Also, I like the color and wanted to stand out wherever I go.
My decision to get the truck wrapped started with talking to some friends. I mentioned how the truck would look amazing if it were purple, and one of them digitally rendered it for me. We posted on social media stating that if it got 250 likes, I'll get it wrapped. Suffice it to say, it hit 250 fairly quickly. I was locked in, and my momma didn't raise a liar.
So far, the wrap has held up well! There are some small scratches, but you can't see them unless I point it out. The only downside to having a Satin wrap is that it picks up dirt quickly. However, it's also really easy to wash off!
I went to a few different shops for quotes and turnaround times and decided on Colorbomb. They came out and evaluated the truck, walking me through their steps and what they will remove to ensure they hide the original color. All I had to do was remove my bumper and bed rack to make it easier for them.
I dropped off my truck on a Monday morning and picked it up the Friday afternoon. A week later, I bought it back for them to inspect for any imperfections. Overall, it was a super simple process!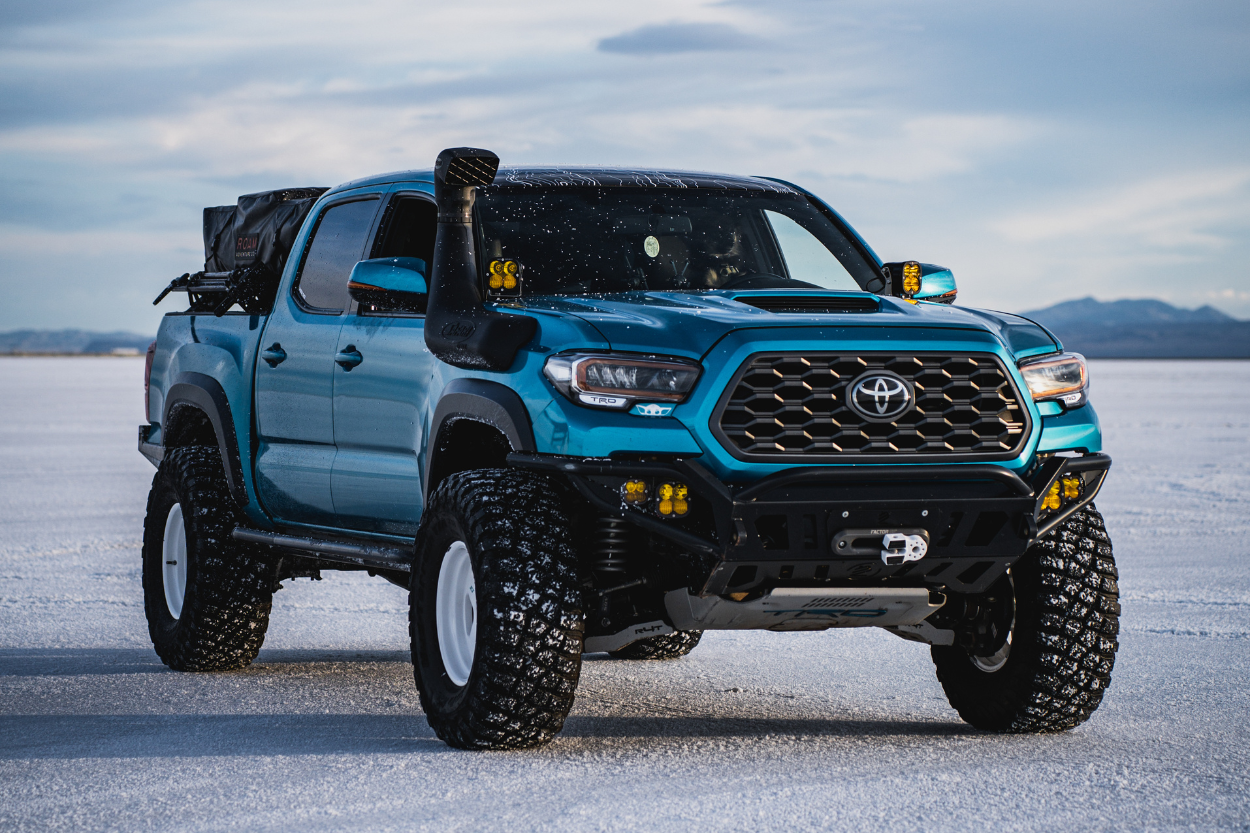 Wrap Information
Color: 1080 Atomic Teal (Gloss) & Mentos Gloss Topo
Film Type: 3M
Installation By: DIY
Tell Us About Your Wrap 
I chose a gloss wrap over matte because it's more realistic on a vehicle. Most paints are gloss, so it seemed like the obvious choice. I chose teal because I liked the '90s aesthetic and knew it would pair well with my white SCS F5 wheels.
I also have a gloss topo wrap on the roof, which will stay if I ever decide to switch wrap colors on the rest of the truck. When that time comes, I'll likely switch to Envious Green or Pigeon Blue.
After 15 months, the wrap is holding up fairly well to trail damage. I painted-corrected the truck before wrapping, so I'm hoping the wrap protects what's underneath.
Wrapping my truck was harder than anticipated. I'd wrapped my roof and mirror caps before, but the entire truck was a horse of a different color altogether. The most challenging part for me was the length between the A and C pillars as both sides have seams.
The DIY method of wrapping kept costs down, gave me the look I was going for, and gives me another reason to look back after parking. If you're considering a wrap, just do it. Order samples and take your time choosing, practice on smaller objects, and then take the big bite. You won't regret it!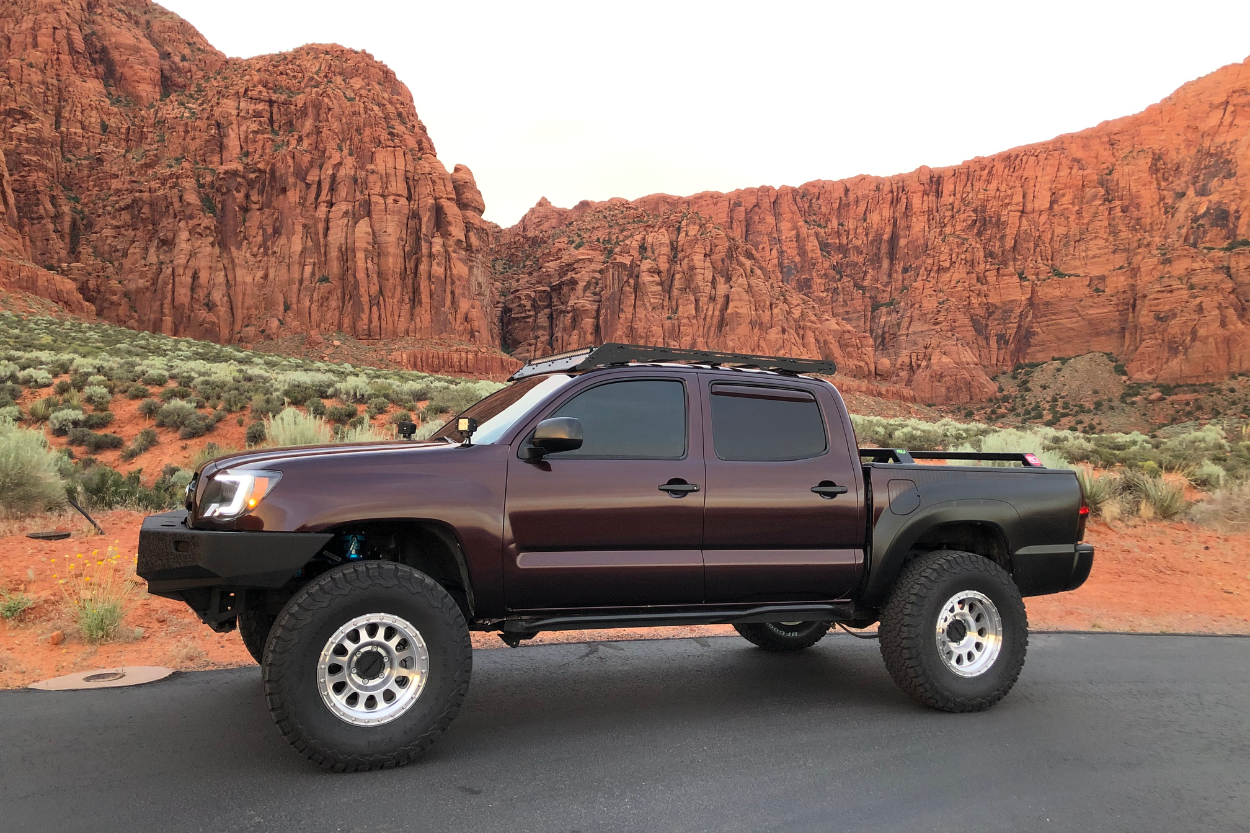 Wrap Information
Color: Black Rose, Satin Black, & Matte Liquid Copper
Film Type: 3M
Installation By: DIY
Tell Us About Your Wrap 
I chose to wrap my truck because I wanted to save the paint as long as I could. Also, I like to change it up and be unique.
I have been in the wrap game and have had my truck wrapped for the last 8 years. I've taken it down countless trails and been pretty rough on the vinyl, so I have confidence in what types of vinyl work well and last. Good brands will hold up amazingly against almost anything. They will scratch like paint, but keep your actual paint safe.
For a DIY, I would recommend reaching out to a reputable shop and asking what vinyl to use because that can save you a lot of headaches and better longevity down the road.
Wrap Information
Color: Multiple Films from SW900 Line (Matte & Gloss)
Film Type: Avery Dennison
Installation By: Empire Graphics
Tell Us About Your Wrap 
I was given the opportunity to become a brand ambassador for RBP through their Design/Build Challenge. As a result, my Tacoma was one of several other builds on display at their booth at Sema 2019. I hired a build manager for this, and through him, I secured Avery Dennison.
My factory paint color was silver, so I needed to do something to make my Tacoma stand out in a crowd. I believe we went through two or three renderings and at least another three redesigns to get to the current design.
We used two types of vinyl; matte for the mountain ridge and tree line print and gloss for the green areas where the topographical map lines are.
An earthy color palette made the most sense for the theme. So, tan and grays are the primary colors with forest greens as secondary. We used black as the base color for the powder coat, and bronze (plus a little anodized gold) as an accent color on the powder coat and interior trim accenting. The reason for the gloss green was A) because it provided more contrast against the matte tans, grays, and black, and B) because reflected light was necessary to draw more attention to the subtlety of the topo map lines.
Empire Graphics designed, printed, plotted, and installed my wrap. They are one of the best vinyl wrap companies in the country, believe me. Their skill, experience, professionalism, and artistic ability outshone much larger companies we were considering for the wrap design and installation.
They plotted out and lined up six under-layers to develop the contours of the map lines. Then, they laid the gloss green over top of it to make the map lines' textured. As if that wasn't impressive enough, they also printed out the elaborate mountain ridge and treeline scene they designed onto numerous sheets. Each sheet was applied individually and everything still lined up perfectly from panel to panel. To top that off, everything was done in 2.5 days.
The wrap has been on my truck for the better part of three years and is still holding up well, despite minimal maintenance and upkeep. That's a testament to the quality of Avery Dennison's product.
From a practical standpoint (and because I'm a detailer by trade), vinyl wrap is not the best option for an overland rig and definitely isn't for off-road and OHV. The second or third time I went off-grid, I took a berm a little faster than I should have. My rear tire made contact with the fender and melted a good 2-3″ section of the wrap into a heaping wad of vinyl.
Wraps can't be patched, only replaced, and it's not cheap. That's especially true if you have an intricate pattern or complex design. They also cannot be sanded and compounded, so the inevitable scratches from going off-road cannot be removed. A wrap can be polished to a certain extent, but damage cannot be repaired.
In short, wraps are easier to damage, needs to be cleaned more frequently and more carefully to avoid being damaged, and even light damage is irreversible. Unless you're solely looking to make your rig stand out, I advise considering other options like bed-liner, powder coat, or regular automotive paint before considering wrap, or at least a full wrap. If you still decide to go with wrap, Avery Dennison vinyl is where it's at!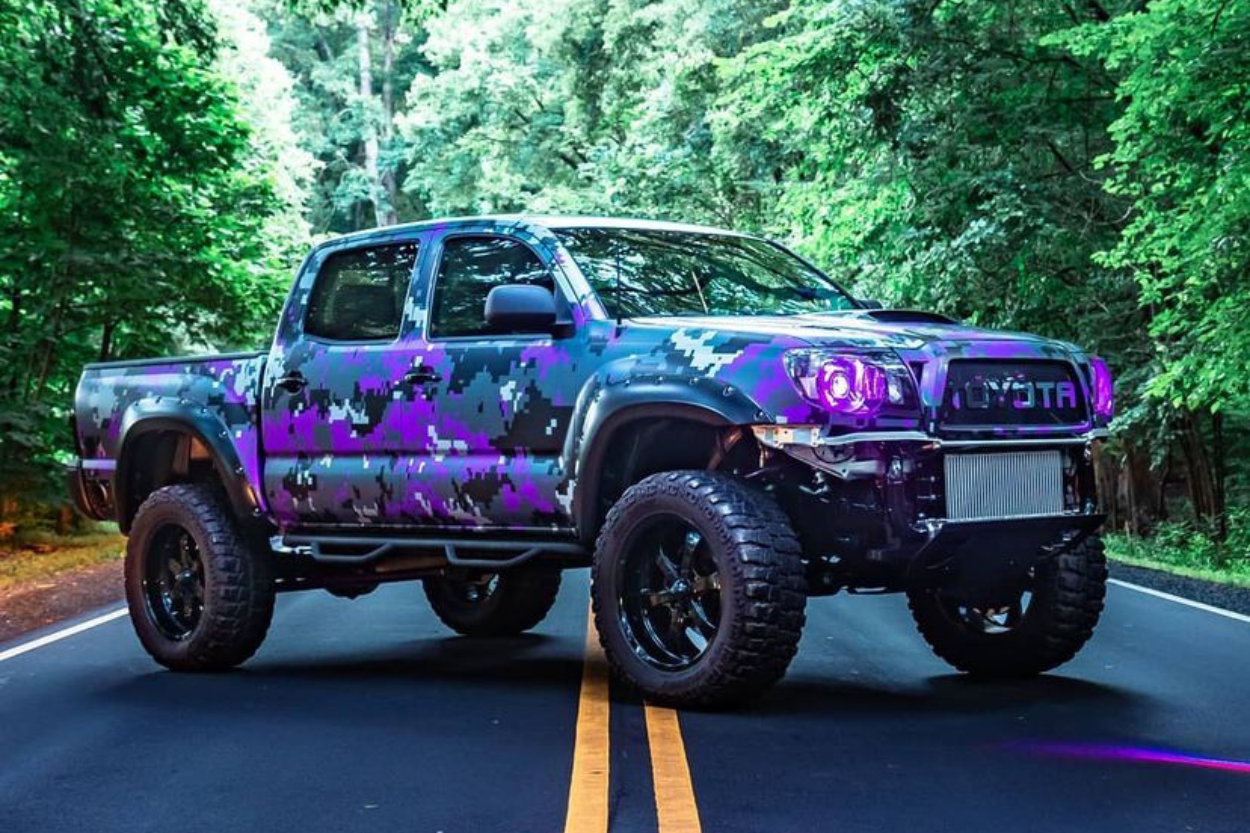 Wrap Information
Color: Custom Digital Camo Print w/ Satin Overlay
Film Type: 3M
Installation Done By: DIY
Tell Us About Your Wrap 
I wanted to have a one-of-a-kind look on my Tacoma, so I decided to wrap the truck with a unique color scheme to stand out. Since the truck is a pavement princess, I wanted to go all out with the wrap since I knew she wouldn't get damaged from any off-roading.
I did all the work myself to save on cost. To get that painted look I was going for, I disassembled the entire truck to make sure it looked as seamless as possible. Doing it this way also ensures that the wrap won't peel from the edges.
Final Thoughts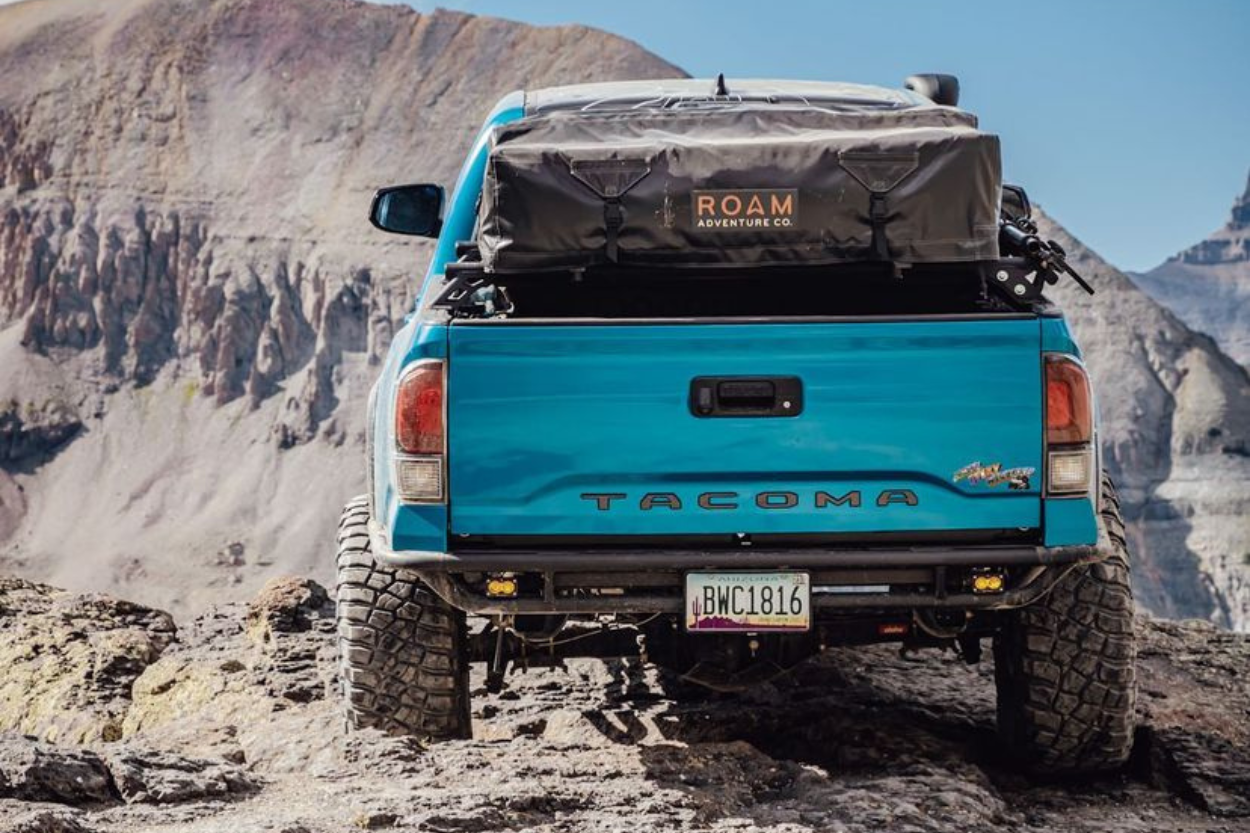 That wraps up another Taco Tuesday!
We all know that having a professional wrap done on your Tacoma is going to cost a pretty penny but it's totally worth it for the right owner. It allows you to express your unique style and make a statement on the road. More importantly, it provides a protective barrier for your vehicle's original paint. By safeguarding against scratches, chips, and fading, the wrap will help maintain your Tacoma's value in the long run.
Join us next week for another Taco Tuesday, where we will be featuring different dash mount setups for the Tacoma!