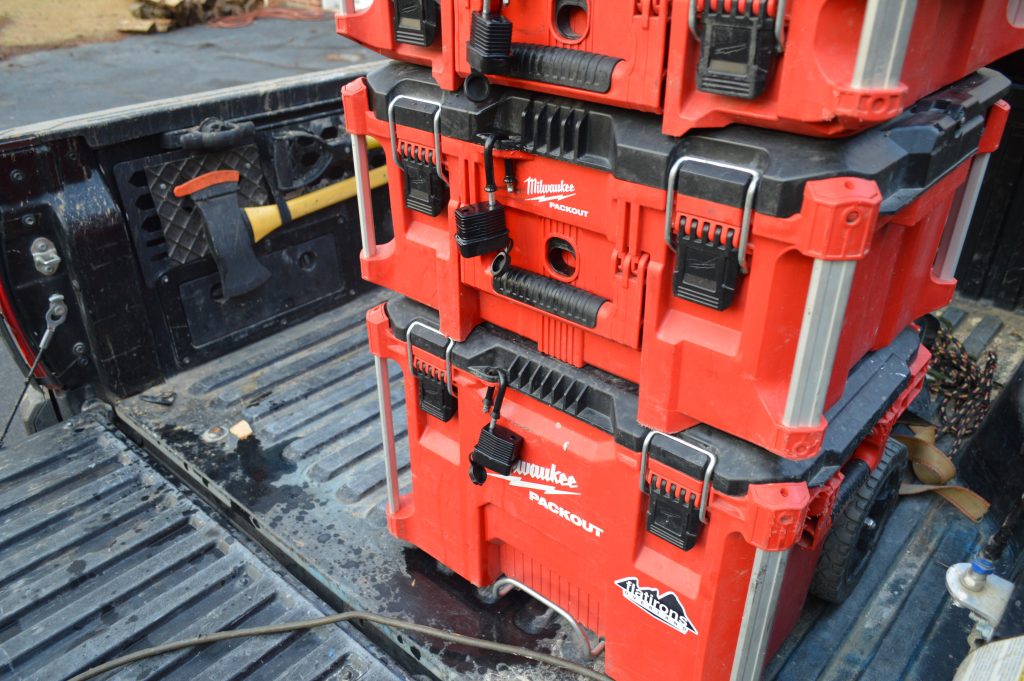 Milwaukee PACKOUT Modular

Storage System: A Great Tool & Gear Storage Solution For Overlanding & Off-Roading – Review & Overview
Overlanders know the importance and balance of being both prepared and only carrying only the necessities. We are generally limited to what we can pack in our vehicles. That can get especially difficult for Tacoma owners.
Since trail breakdowns and accidents are inevitable, it's important to carry the right tools. I've seen overlanders store their tools in a variety of ways that fail to meet their needs when it comes to accessibility, portability, and durability.
My solution was the Milwaukee PACKOUT Modular Tool Storage System. It checked every box of what I was looking for in a tool storage solution, both on the trail and in my daily life.
For these reasons and the features listed below, I maintain that the Milwaukee PACKOUT is the best tool storage solution for overlanding and trail riding.
Find It Online
Why The PACKOUT Was Best For Me
In addition to being an avid overlander and outdoorsman, I work in the construction industry. In the field, I have to carry many tools with me day to day. So, tool organization was something that I struggled with as well. At first, I considered the classic "run-of-the-mill" truck toolbox. However, I wasn't satisfied with the options out there.
I have the short bed Tacoma and have to haul loads in my bed often. I did not like the fact that most truck toolboxes would have taken up 1-2 feet of my already limited bed space. A truck toolbox also wouldn't fit everything I needed. Additionally, there was no good way to organize my tools in a truck toolbox. That would result in a pile of tools to dig through just to find the one I need.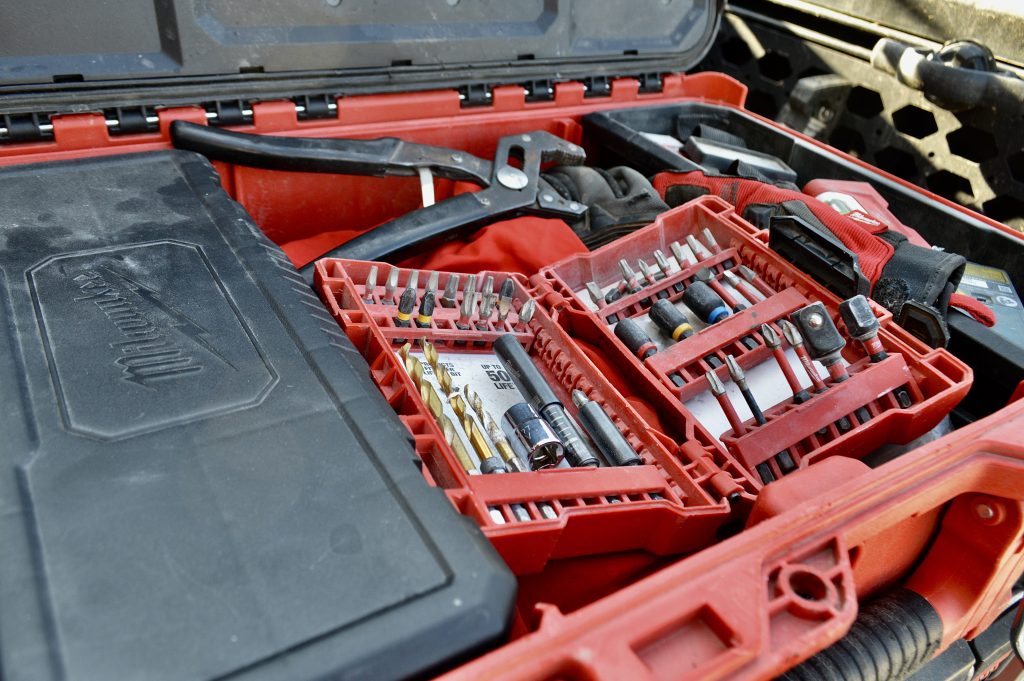 While you may not need as many tools as I carry daily, other tool storage solutions marketed to overlanders are not the best options either. Pelican cases, for example, while durable can be quite expensive. Plus, the soft foam does not handle larger tools well. Once you take the foam out, it's hard to keep anything organized.
Under-seat and behind-seat storage systems can be difficult to reach with gear loaded in your back seat, and other toolboxes and bags can take up a ton of room.
My PACKOUT cases have ample room for all of my trail tools, and the modularity makes them both stackable and secure. The modularity allows my tools to stay organized in separate boxes, which makes everything very portable. With a virtually unlimited number of kit configurations, the PACKOUT line of products makes transporting your entire tool collection, or even just the ones you need, quick and hassle-free.
Construction
There are many features that make the Milwaukee PACKOUT a perfect tool storage solution for overlanders. The features discussed below are based on the PACKOUT rolling toolbox. Other than different dimensions and payloads, all PACKOUT products feature the same construction materials and modularity.
The rolling toolbox has a payload of up to 250 lbs. It measures 22.1" inches wide, 18.6" inches long, and 16" inches deep. This gives ample room for tools while taking up minimal bed or trunk space overall.
I can easily fit a standard 4-piece power tool set in this box alone. This set comprises a sawzall, circular saw, impact, and drill along with their batteries and charger. To help carry all this weight are 9" all-terrain wheels, molded side handles, and an industrial-grade collapsible grab handle on top.
Those with tonneau covers may not be able to fit the handle underneath the cover. However, the handle is easily removable via a pair of set screws found at the bottom. Once you remove the handle, the toolbox should fit perfectly. If you have a tonneau cover, consider replacing the set screws with a set of small carabiners or other quick-release clips for easy removal.
Features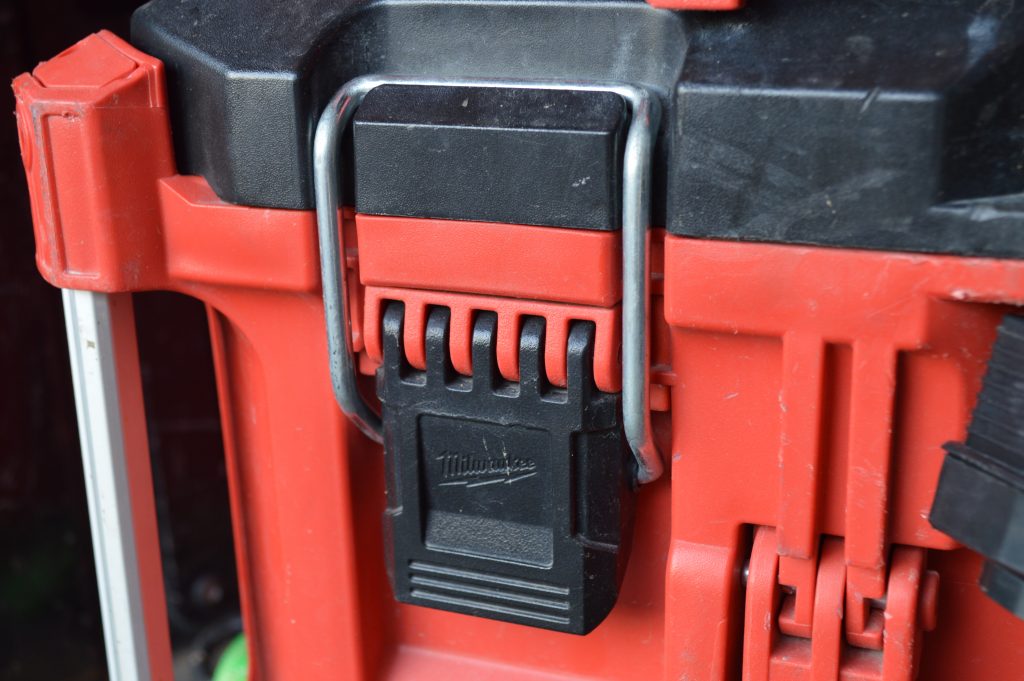 Modularity allows you to stack any PACKOUT product together with sturdy cleats in the lid and feet that snap in place. To release, simply push the slide bottom up and pull it towards you. Since each case is locked in with this system, you can be confident that your tools will stay secure.
Depending on the products you get, some feature removable interior trays that hold smaller hand tools and more. This compatibility makes the PACKOUT line perfectly customizable to fit your needs, and nothing else. Other products feature a stiff, durable foam to be cut out to fit hand tools. I find this foam to be a great option on the trail, as it organizes your smaller tools while keeping them from jumping around and making noise.
Aside from modularity, perhaps my favorite feature has to be the construction. First of all, each latching PACKOUT box features an IP65-rated weather seal. You can be confident leaving your tools in your truck bed knowing they are protected from any elements that nature can throw at you. Each of these crates also features metal-reinforced locking points for padlocks and security.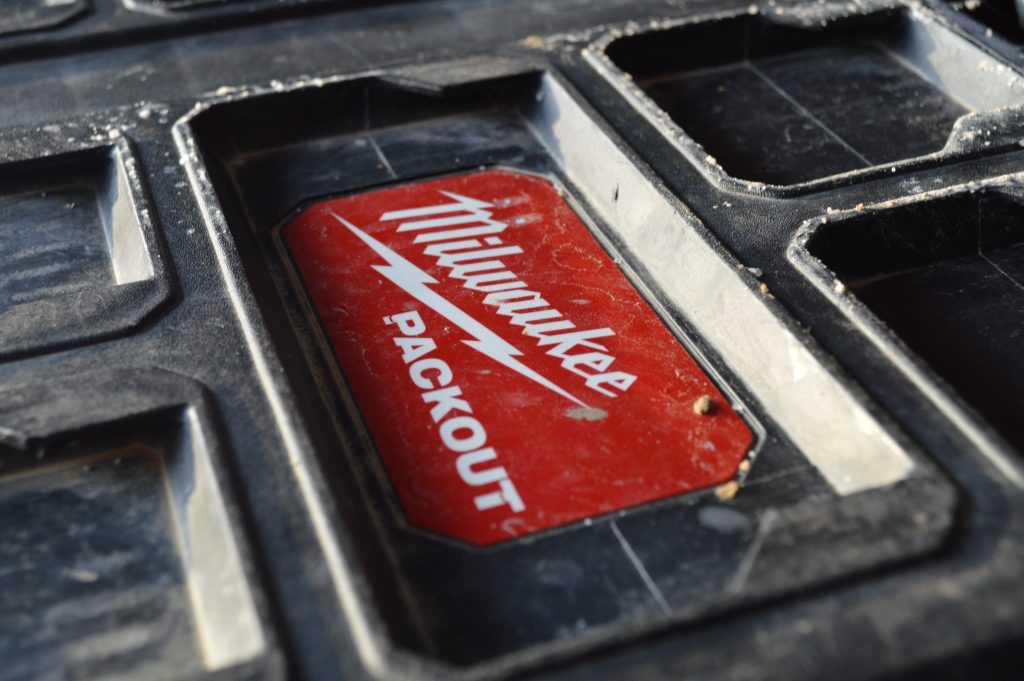 Each PACKOUT product is constructed with impact-resistant polymers and metal-reinforced corners, making them practically invincible. Even soft-storage PACKOUT products like totes and backpacks are made from tear-resistant 1680D ballistic nylon with heavy-duty bases constructed from the same impact-resistant polymers and all-metal hardware.
To put things in perspective, I was driving home from work one night and had something fall in the gap between my tailgate and bed, preventing me from closing the tailgate all the way and it fell open while I was driving.
Even though I had it cable locked to the bed of my truck, the lock shackle failed due to the weight of the tools in my PACKOUT, sending them flying down the road at 55mph. Fearing that my entire set of tools would be strewn across the roadway and my PACKOUT destroyed, I got out to find it perfectly intact with only a few minor scratches.
Not only did the reinforced latches prevent my tools from flying out and scattering, but the metal corners protected them from tumbling down the roadway. Even the cleats held! Thankfully, there wasn't a car in sight so no cars got hit and no one was injured. I soon upgraded my locks, but the PACKOUT saved me from having to replace every tool I had. 
If somehow you do end up breaking or damaging any PACKOUT product, everything is covered by a limited lifetime warranty. A call to customer service with the model number and maybe a picture or two, and a replacement will be sent out free of charge.
Trail Review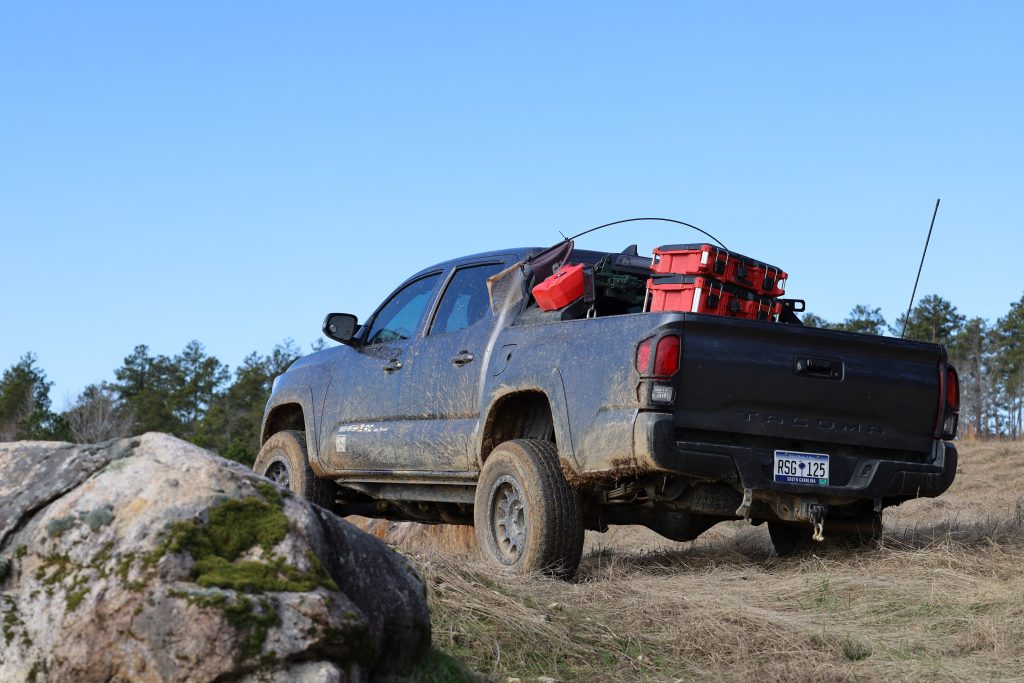 The PACKOUT makes packing for overlanding trips a breeze. I have a separate rolling toolbox, large and medium boxes, and organizers ready with only the tools I need for the trail. I simply exchange the boxes with the tools I don't need and I'm ready to go.

Typically, I carry separate crates for recovery gear, sockets, and other essential tools and parts. This keeps all of my tools organized so when I do need to make a repair in the field, I know exactly what boxes to reach for.
Several of the low-profile PACKOUT products are perfect to mount on roof racks, bed racks, and the like. Milwaukee makes PACKOUT plates with pre-drilled holes comparable to the locking clear system. This allows for easy attachment to your roof rack without using straps or drilling. 
Accessories For Overlanders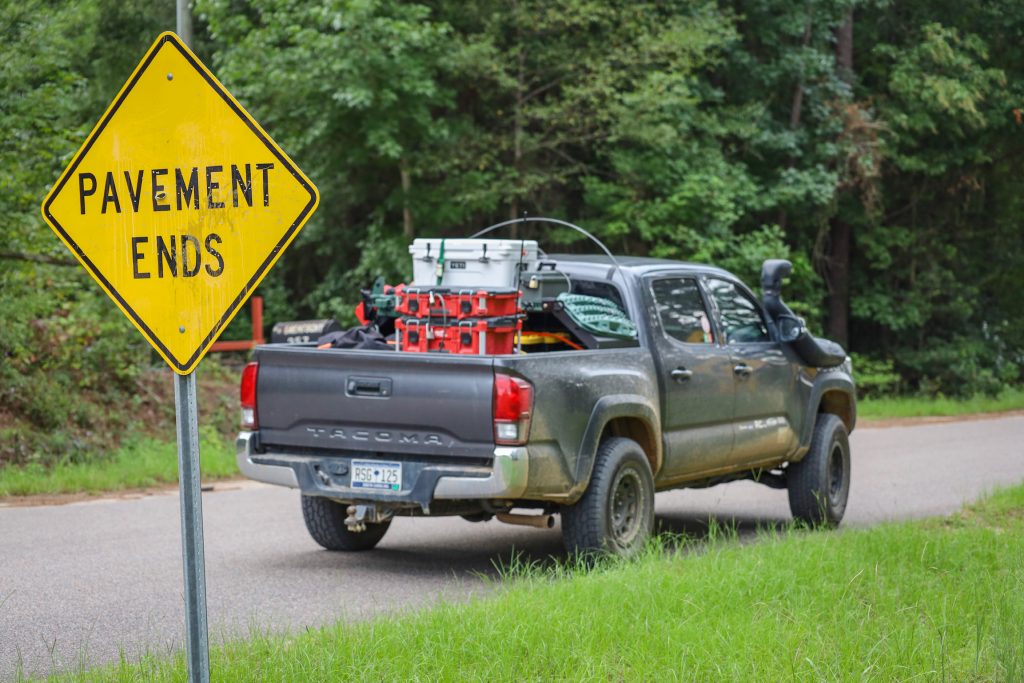 Milwaukee has products for anybody and any situation. There are a few key accessories especially valuable to overlanders, however. As mentioned before, the PACKOUT mounting plates make it easy to mount a variety of PACKOUT products to most surfaces. It uses the universal clear system to ensure your tools stay in place.

If you don't already have multiple first-aid kits on board, Milwaukee makes an all-inclusive first-aid kit in both A and B Type III classifications. The smaller class-A kit used a modified PACKOUT compact organizer while the class-B uses a deep pocket organizer. Both come fully stocked and labeled for easy identification in an emergency.
Additionally, Milwaukee makes both metric and SAE sockets sets in their slimline compact organizers. This keeps sockets well organized, protected, and easily accessible.
While I'm perfectly content with my Yeti 45 and 35 coolers, Milwaukee makes a variety of PACKOUT-compatible coolers that easily integrate with the entire system. I know several people who own both compact and full-size PACKOUT coolers. They're great for keeping your lunch or drinks cold throughout the entire day.

Given the heavy-duty construction of other PACKOUT products, they are easily as durable as a Yeti or the like. I actually prefer the metal latches to Yeti's rubber T-handles. Even their tumblers lock into the top of your PACKOUT to prevent accidental spills!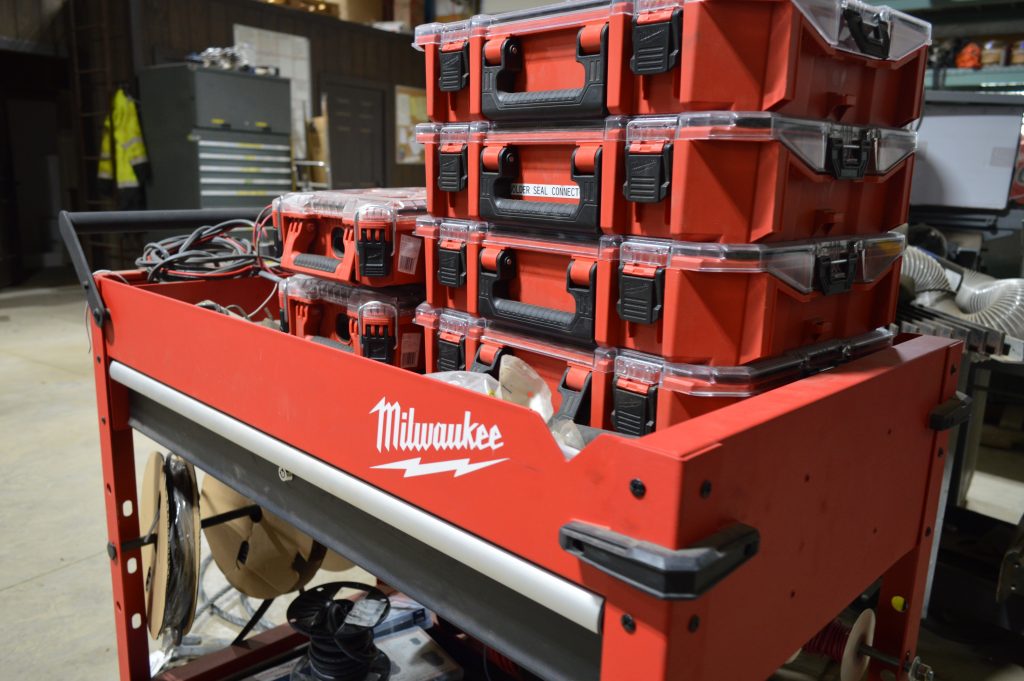 Milwaukee also makes several PACKOUT-compatible power tools using their M18 batteries. I've found that the M18 PACKOUT floodlight and charger kit works great for lighting up your campsite. The floodlight puts out 1,500 lumens and the charger has USB and an integrated M18 charger. This station is perfectly suited for overlanding applications, as it can be run by either M18 batteries or with an A/C extension cord.

Other PACKOUT-compatible power tools perfect for overlanding are the M18 radio for quick campsite tunes and the 2.5-gallon M18 wet/dry vacuum for cleaning out your rooftop tent. Several PACKOUT toolboxes would make great boxes for DIY diesel heaters, too!
Worried about your expensive gear being stolen? While the PACKOUT line of products features metal-reinforced padlock points, the security of your tools is limited by your padlock. Not only are most padlocks easily picked, but a vast majority of padlock shackles can be taken out with a grinder. Even my Abus titanium shackle lock fell victim to a grinder leading to the theft of my CAT generator.
Luckily, most PACKOUT products feature a hidden mounting location for the Milwaukee ONE-KEY™ Bluetooth tracking tag. Similar to an Apple AirTag, this tracking system has an app to help track down lost or stolen items.
While carrying every PACKOUT product on the trail will certainly weigh you down and take up room, the point is that the entire system can be customized to fit your needs. Carry what you need and leave the rest.
Final Thoughts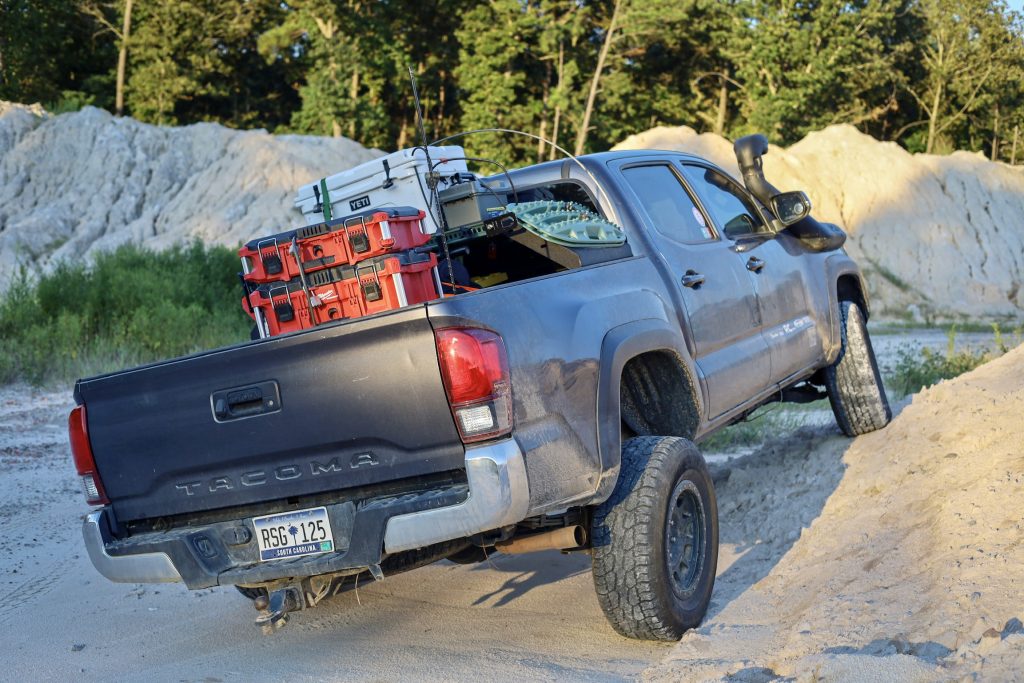 It's important to have the tools necessary to perform trail repairs when overlanding. If you take them and don't use them, great. If you break down and don't have them, you're pretty much out of options. Even if they could find you, AAA can't make it on the trails. Off-road recovery companies can also be costly.
The Milwaukee PACKOUT is the perfect tool storage system for demanding environments. I have yet to find another comparable product that's as compact, durable, customizable, and portable.
Between the waterproof seal, metal-reinforced corners, interlocking cleats, metal latches, and impact-resistant polymers, the PACKOUT will take whatever abuse you can throw at it.
There is a variety of different mounting and rolling storage solutions for infinite product combinations. You can choose only what you need and leave the rest at home. The modularity of the system also allows you to pack vertically, taking up minimal room in your truck bed or cabin. With that, you should have no issue packing everything you need for your next expedition.