Popular Aftermarket Grille Insert Options For 2nd Gen & 3rd Gen (2005-2023) Tacoma – What To Know & Complete Buyer's Guide
Installing an aftermarket grille insert is one of the best ways to improve the look of your Tacoma and set yourself apart from the sea of stock trucks. These grilles come in a wide variety of styles, materials, and customization options and will surely make your truck look much more rugged.
It is a relatively budget-friendly way of improving the aesthetic of your Tacoma and is a great first modification.
We will take a deep dive into all you need to know for 2nd and 3rd Gen Tacoma models and the best, top-grade options available on the market.
What Is A Grille?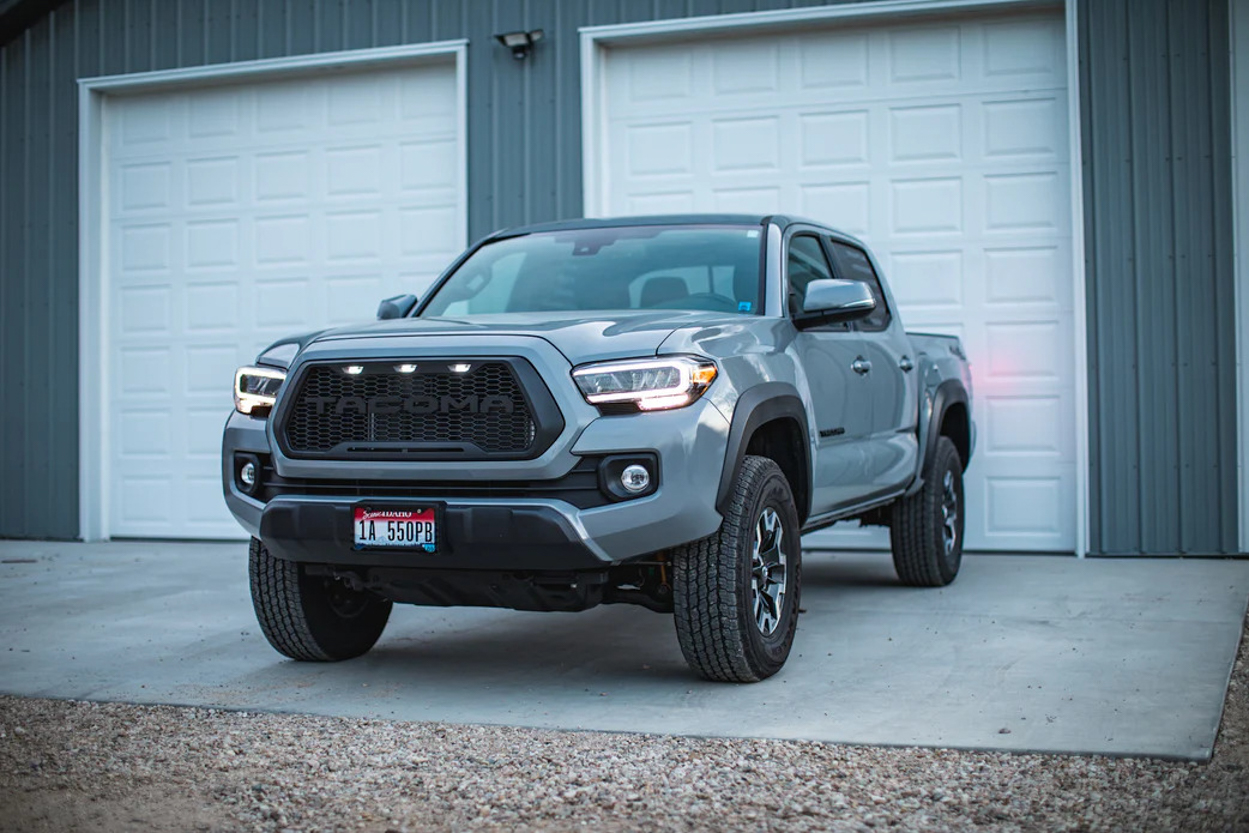 On the Tacoma, the grille is the plastic insert on the front end of your truck between the headlights. Upgrading this part is completely for the benefit of enhancing the aesthetic and character of your truck, and it is a great way of customizing the front of your truck to match your unique design tastes.
The OEM grilles on non-TRD Pro trucks are usually chrome or have weird-looking designs, an aftermarket insert can remedy this potential eyesore. Thankfully, they come in a wide variety of materials and designs, so find one that gets you stoked when you look at your truck's front end.
Technically speaking, the correct spelling is grille but you may also see it spelled as grill. This is not a huge issue, but a common error some people make. In this case we are talking about a part on your vehicle. A grill is used for cooking food. Just wanted to clear that up – haha.
TRD Pro Grille – Replica Vs. OEM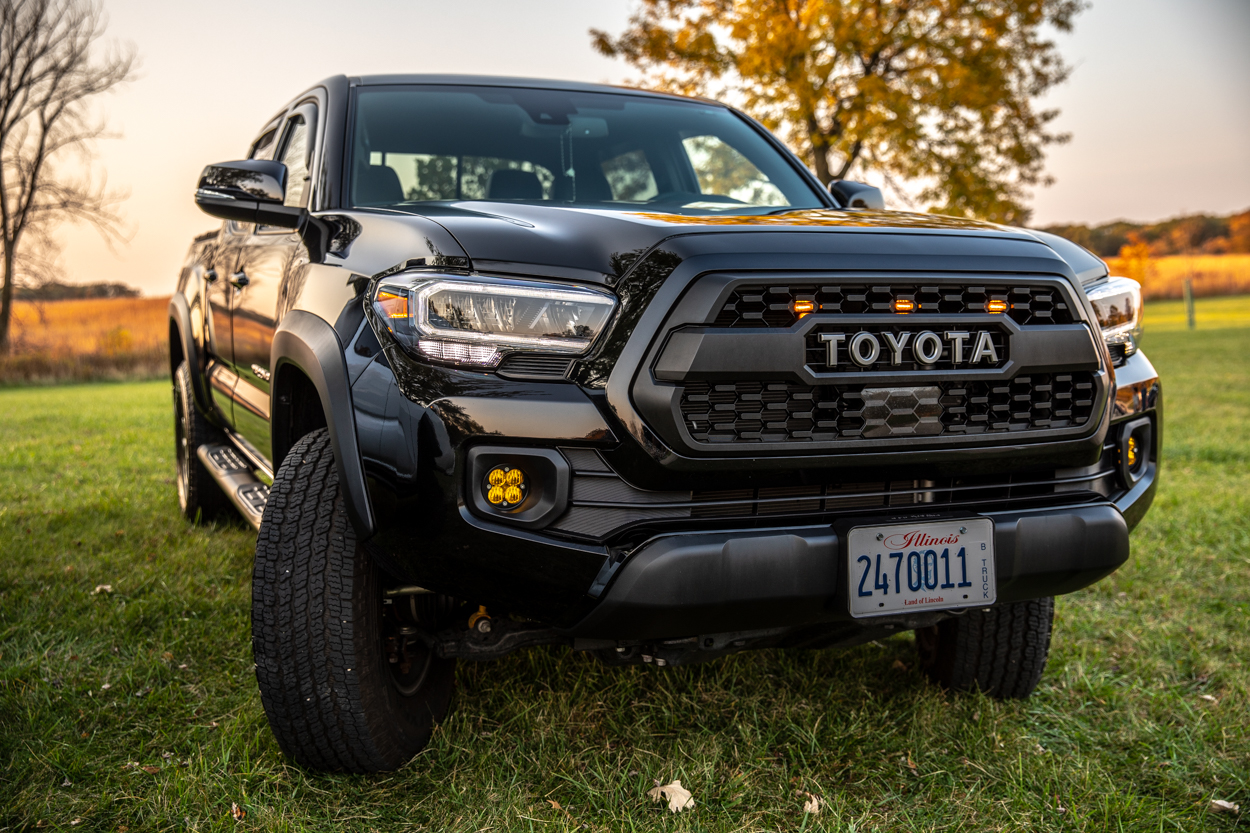 The most common option for replacements is the TRD Pro grille. From the Genuine Toyota Parts factory, they can be hundreds of dollars, while other manufacturers on the market offer a "faux" or "replica" TRD Pro style. In my experience, there have never been any major issues with these, and they save you a few hundred bucks that can be better spent elsewhere.
If you are the kind of person who only ever buys official Toyota accessories, then, by all means, go for the OEM TRD grille. However, as I mentioned, it won't have an advantage over other "faux" options since it is really just a large piece of plastic. Additionally, if you end up chipping or damaging yours, replacing a cheap faux one won't hurt as much as replacing an OEM one.
TSS Sensor Compatibility
Some of the newer 3rd Gen Tacomas come with Toyota's TSS (Toyota Safety Sense). This feature allows your truck to use adaptive cruise control and forward-facing sensors for emergency braking. These are important features that you will want to keep if you upgrade your grille.
Some grilles come with a TSS garnish which will sit in front of the sensor to protect it from the elements, similar to the OEM garnish. The sensor should still function without it, but you do not want to break it because replacing the sensor is expensive.
Regardless, make sure your new grille is suited for a TSS sensor if your Tacoma has it.
Metal Vs. Plastic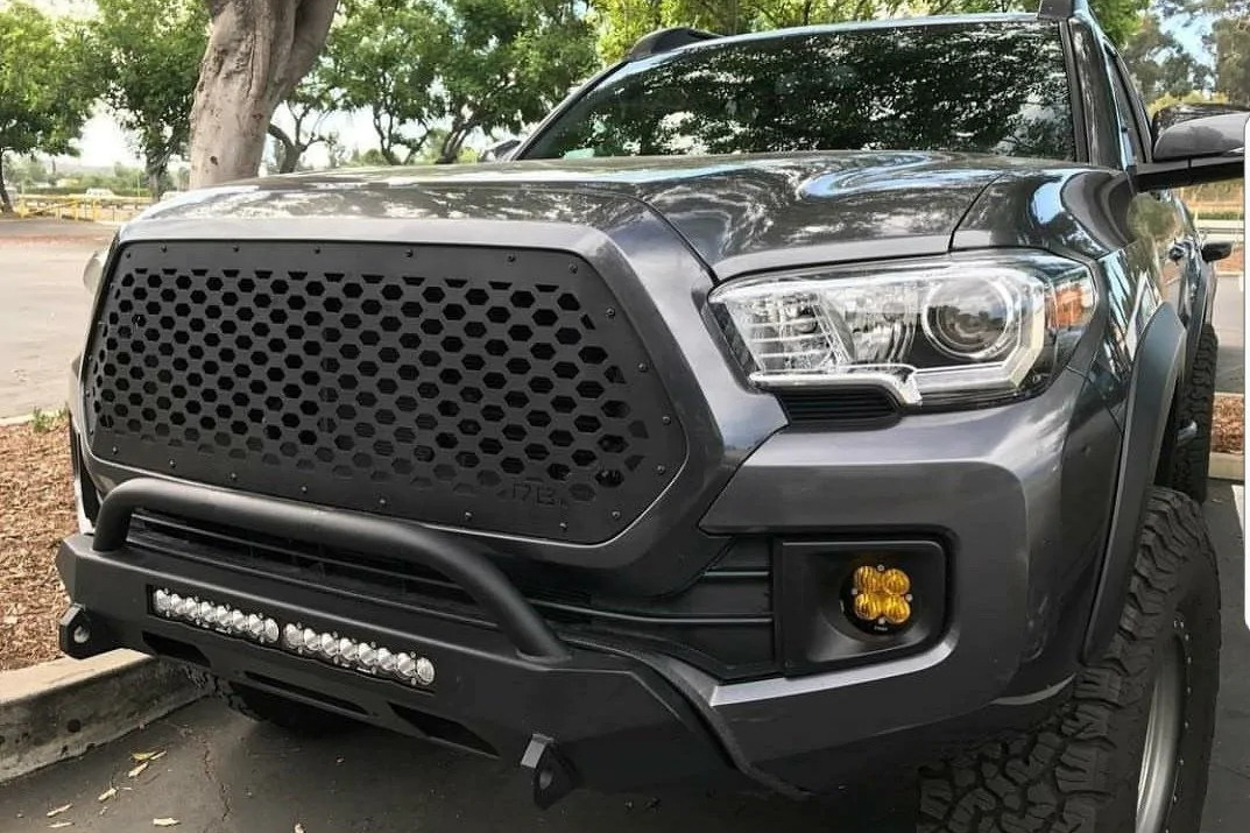 These mainly come in two materials – metal and plastic.
Metal
Obviously, metal will be much more durable over time – if you drive through a branch or end up in a fender bender, the grille will be much less likely to crack or get damaged. Of course, this comes at a cost since metal is more expensive, and it will also be heavier than plastic options.
The metal grilles on the market often have a more aggressive and rugged look however they are pricier and sometimes have issues with rust or corrosion.
Plastic
The majority of aftermarket grilles out there are made out of hard plastic. These are cheap and lightweight, though less durable than the metal ones. Unless a high-impact object collides with the grille, the plastic won't typically break. But if you frequently explore demanding trails where you hit your grille on tree branches, you might want to consider metal.
Ultimately the decision will come down to your driving conditions and aesthetic preferences. If you prefer plastic but are worried about durability, remember that plastic options are typically lower cost.
New Upgrade Vs. Plasti Dip
One common way Tacoma owners switch up the look of their truck without buying a whole new grille is they Plasti Dip the OEM one. Plasti Dip comes in a spray paint style can. When sprayed on the surface, you get a rubbery texture similar to that of a bed liner.
Plasti dipping will be much cheaper than replacing it since one spray costs only about $10. The results vary depending on how well you prep and spray. You can go this route if you are trying to save your pocket change. However, it won't change the look or style, just the color.
Grille Accessories
You should also consider what kind of accessories you may want to add. One very popular addition is adding lighting. Adding lighting behind the grille is easy with the Cali Raised Upper Grille Brackets.
Another common accessory are raptor lights. These are small amber or white LED lights that the Ford F-150 Raptor popularized. If you want raptor lights, many companies offer them as a package. Some are incompatible with common raptor lighting kits, so if that's a feature you want, consider that when you are choosing a grille.
The Anytime Camera is another very popular addition to the Tacomas, specifically for the 2022 models and earlier. Prior to 2023, Toyota did not offer the Panoramic View Monitor option for the Tacoma. With the Anytime camera, you can have front and rearview cameras anytime. This will give anyone peace of mind, especially when hitting the trails.
Installation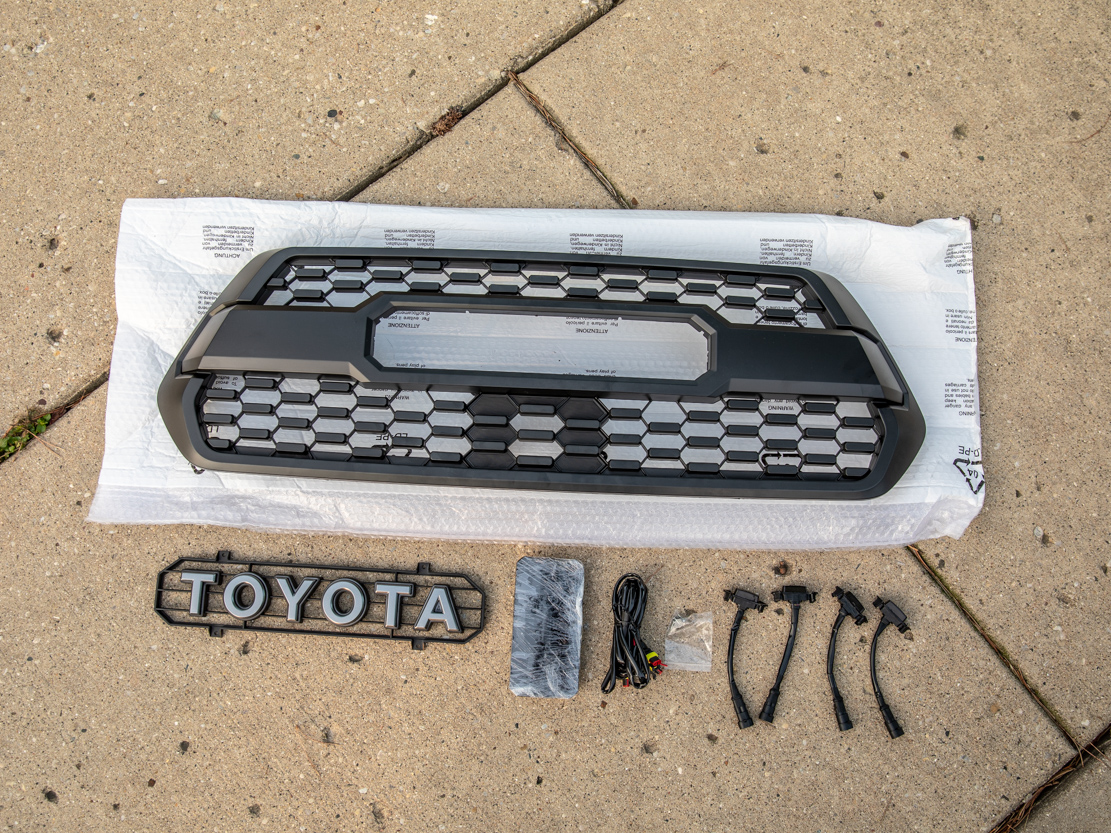 The installation process is generally the same and very straightforward. Check out this write up – TRD Pro grille install guide. Essentially, you remove the bolts and clips that hold the OEM assembly in place, then remove the insert. Replace it with your new, aftermarket insert, and then reverse the steps to install it back on your truck.
If you purchase a grille that has raptor lights or an integrated lightbar you will also need to wire that up, but most come with wiring harnesses that make it super easy to do.
Grille Inserts for Tacoma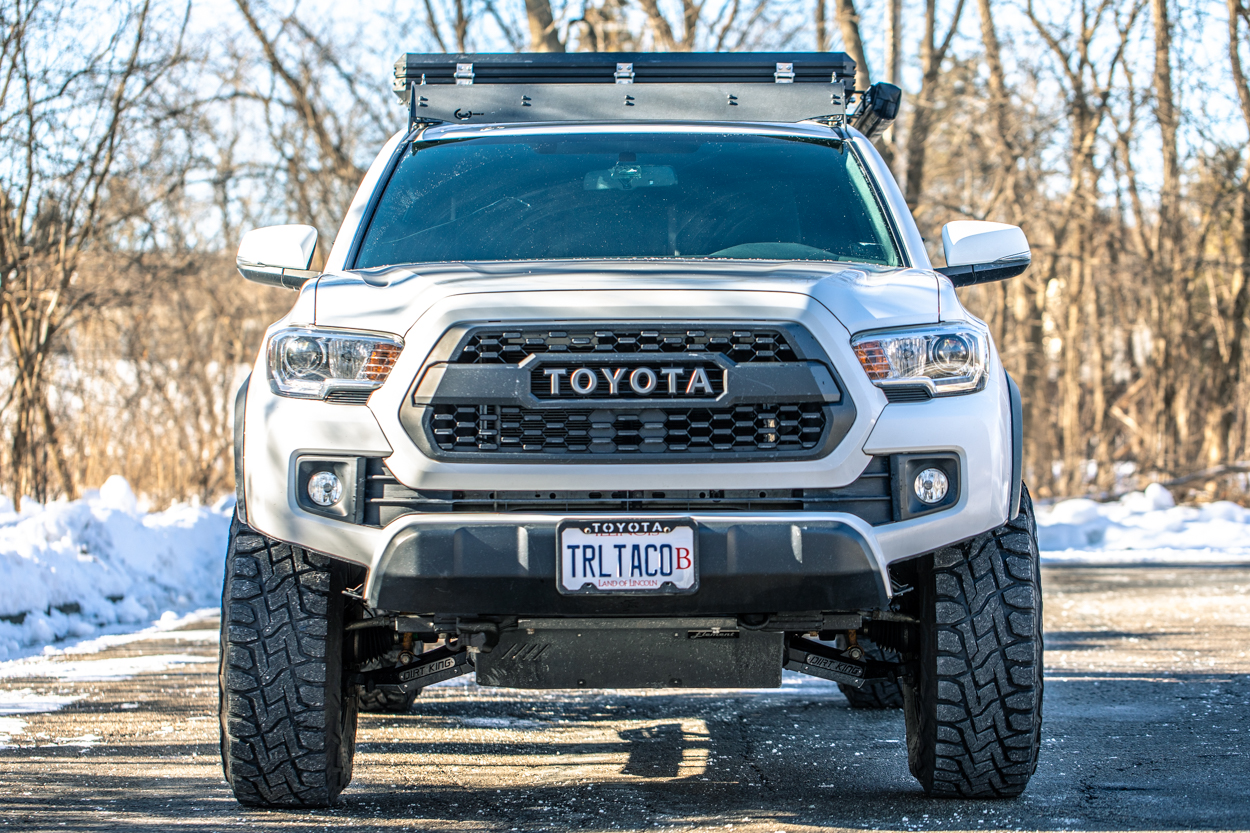 Now that we have the relevant questions out of the way, let's get into the top options on the market.
Each grille has different accessories, features, and styling. So take a look and hopefully, you can find something that will make you do a double-take every time you walk away from your truck.
1. Replica TRD Pro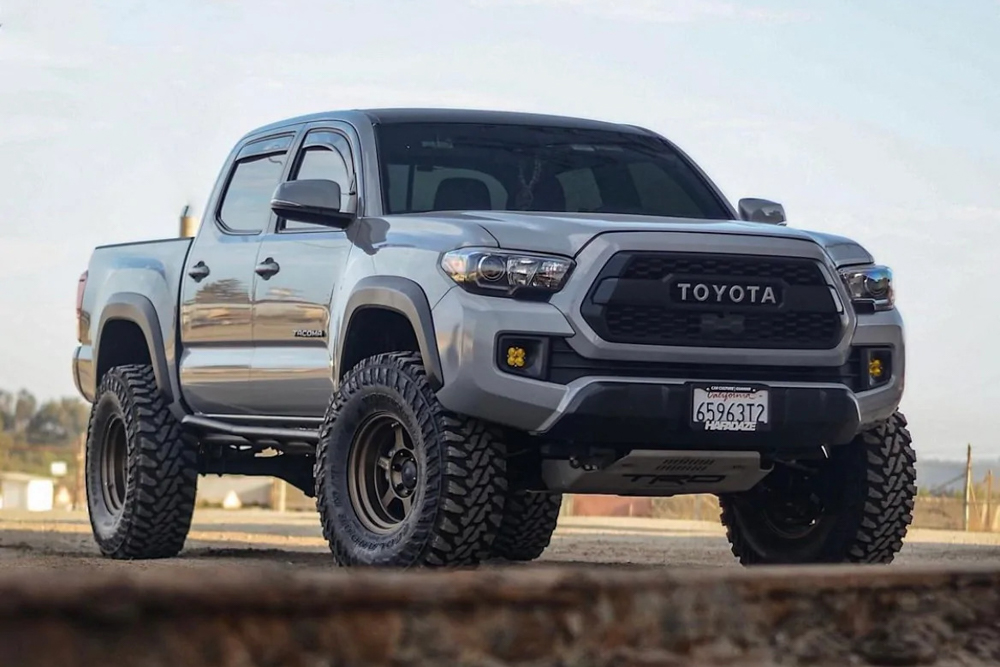 Find It Online
As mentioned earlier, this is the most popular upgrade by far. There's a reason for that too – the OEM styling is awesome and really cleans up the front end of your truck.
This design was debuted with the late model 2nd Gen & 3rd Gen Pro models, but is also available for the early model 2nd Gens. All grilles are constructed from durable, high-quality ABS material, with a black satin finish.
You usually have various color options to select for your lettering too. The 3rd Gen version is compatible with TSS and a forward-facing camera. However, some modifications will be needed if you are mounting a front camera.
2. V2 Replica TRD Pro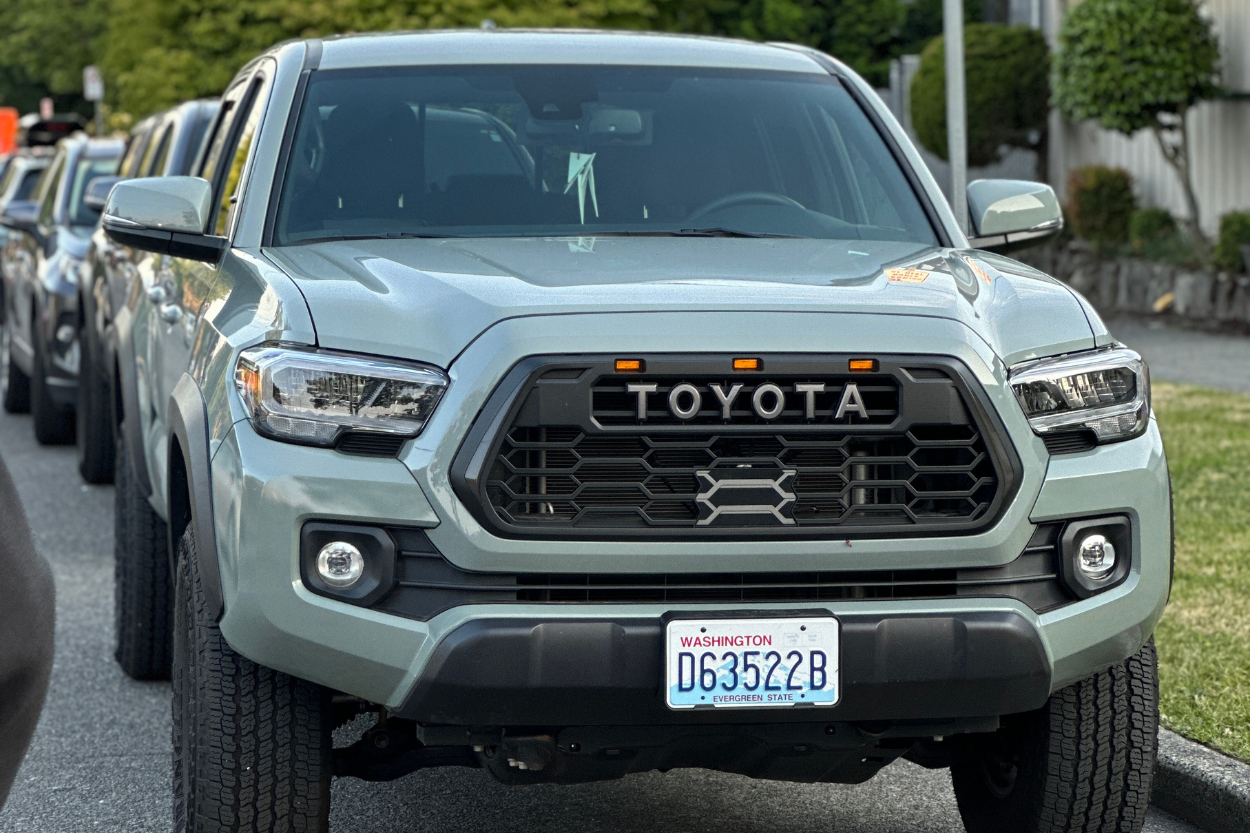 Find It Online
If you're looking for something to turn heads, the 3rd Gen V2 TRD Pro grille is right for you! It was designed to mimic the newer 2022+ Tundra Pro version.
The wider mesh pattern and the injection molded ABS material on the grille helps improve airflow, not to mention your Tacoma's aggressive and upgraded look. This is one of the only options on the market with built-in raptor lights pre-wired for an incredibly easy installation. The coolest part about it are the built-in daytime running lights that transform from white DRLs to amber turn signals.
Depending on your preference, you can get a black or silver lettering and add the built-in daytime running lights or omit them entirely.
3. Raptor Style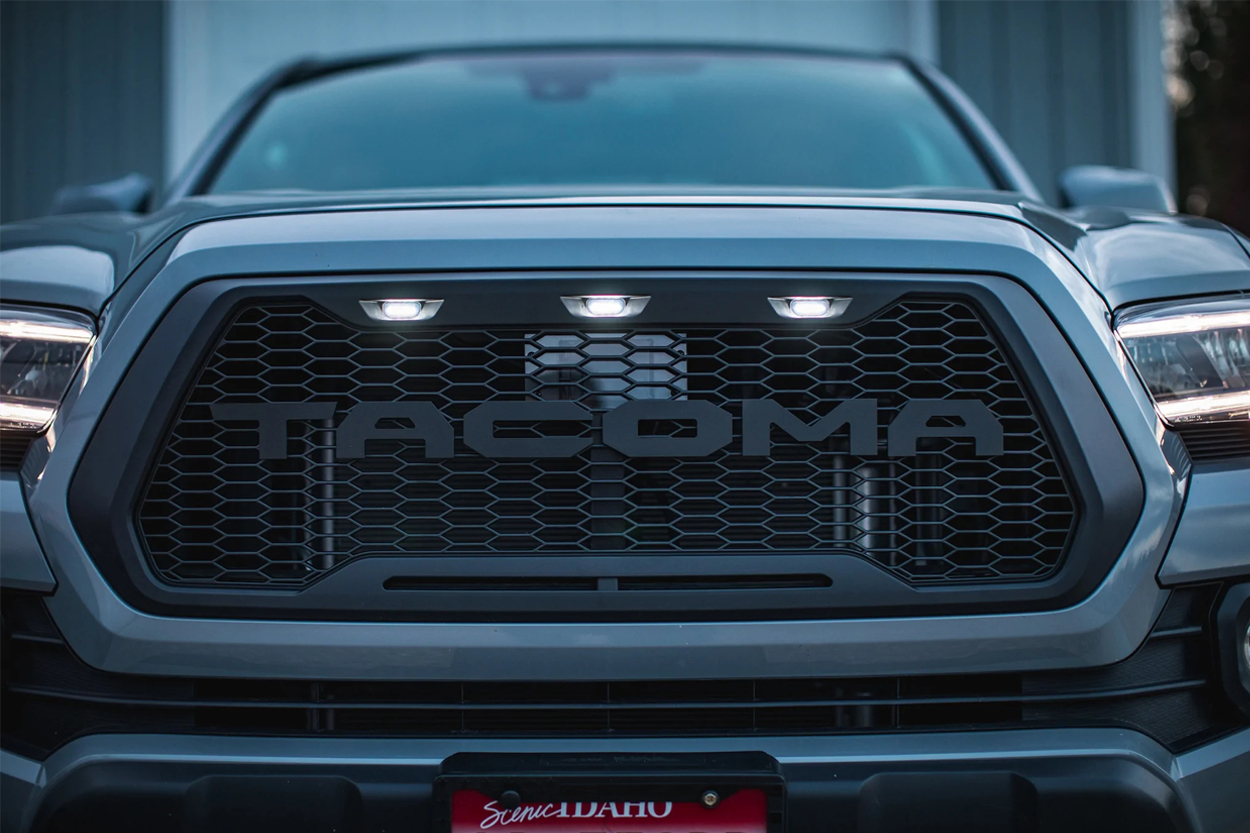 Find It Online
These feature a honeycomb design with bold, custom lettering and three in-built LED lights, positioned on top. You can also customize the color of the lettering, choosing from the extensive range of color options available.
It is compatible with the stock front-facing camera and TSS cruise sensors. However, Taco Vinyl disclaims that you are responsible for calibrating the sensor when installing on your truck if needed.
Installation is relatively easy if you follow the instruction provided. Check out the full installation video on their website.
4. DB Customz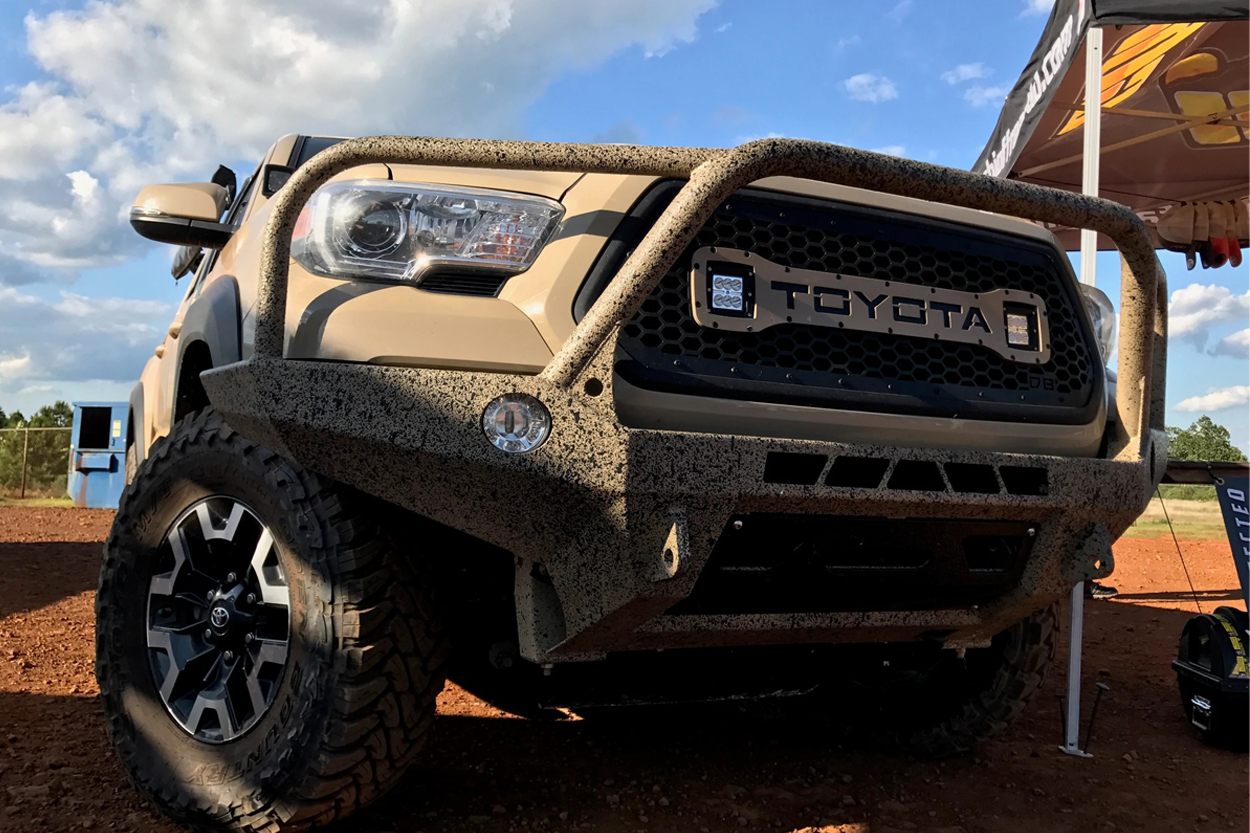 Find It Online
DB Customz is a veteran-owned manufacturing company specializing in custom, laser-cut grilles for a range of vehicles, including both 2nd & 3rd Gen Tacoma models.
The DB Customz TRD Grille for the 2nd Gen Tacoma is made from 100% stainless steel with a high-precision water-jet cut design. For added durability, it is powder-coated black. You have the option of customizing the text, but keep in mind that this will cost an extra $85. You can also choose from a variety of colors.
The DB Customz Honeycomb Grille for the 3rd Gen Tacoma models is made from thick marine grade aluminum, a more lightweight option than the stainless steel used in the 2nd Gen grille. Aluminum is not just lightweight, it is corrosion-resistant and does not rust.
It incorporates multiple hexagonal shapes in its sleek design, with "buttons" (rivets) adorning the outer perimeter of the grille to give your Tacoma a cool, edgy look. You can choose the color of the rivets to match your tastes, which will cost you extra. Installation is completely bolt-on.
5. 300 Industries
Find It Online
Headquartered in Las Vegas, 300 Industries specializes in various industrial products, including stainless steel automotive accessories. All their products are 100% designed and manufactured in the U.S.A.
The 3rd Gen option is made from 16GA powder-coated steel, a high-grade construction that guarantees a long service life. The 'Tacoma' logo is laser cut across the grille in bold letters, giving your truck an imposing, rugged look. However, you can customize the lettering to say whatever you desire. Contact the manufacturer for customization options, as all grilles are made to order.
Its design features precision-cut horizontal lines and stainless steel bolts strategically placed on the outer edges of the grille to enhance its aesthetic.
6. Bay Area Metal Fab (BAMF)
Find It Online
The BAMF 3rd Gen ECO Grille is made from 304 stainless steel. Alternatively, if you want a lighter-weight grille, you can go with the 5053 marine-grade aluminum option, which will cost you an extra $55. A black polymer thermoplastic powder coating boosts the look and durability of the grille.
It features a minimalist design, with text precision cut into the middle of your grille. You can also customize the back plate of the grille with a variety of available color options.
BAMF's grilles are more or less on par with comparable grilles on the market. This is a solid, durable grille for your rig that will last you a long time and improve the look and character of your truck.
7. Taco Clout
Find It Online
Taco Clout specializes in automotive accessories for Toyota trucks.
Their "OG" Laser Cut Mesh Grille Insert for the 3rd Gen Tacoma is 100% made in the USA. It has a rugged but clean look, sure to take your truck to the next level of aesthetics and functionality. The great thing about this grille is that you have four different mesh design options you can choose from, to match your preferences.
Let's talk about its construction. Made to order from precision CNC laser cut 5052 marine grade aluminum, you don't have to worry about rust issues. Its finish is a dual-stage, scratch-resistant matte black powder coat. Installation is completely bolt-on with no drilling or cutting required.
They also have options for customization and lighting.
8. T-Rex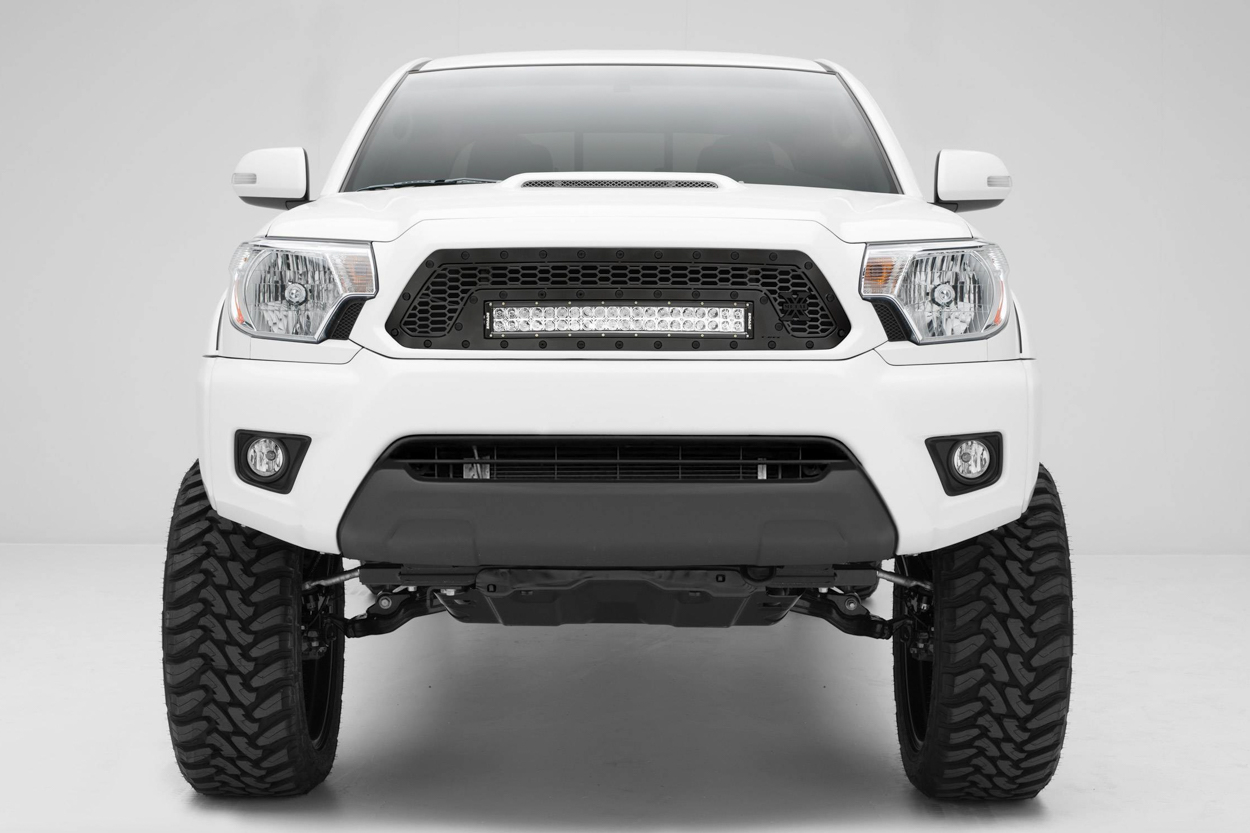 Find It Online
All T-REX grilles are designed and manufactured in their facility in Southern California. A true testament to made in the USA!
These guys have some of the most options for a single manufacturer. Whether you drive a 2nd or 3rd Gen Tacoma, there is a plethora of choices and different designs.
From simple to complex versions with choices that include integrated light bars, these guys offer a rad lineup to suit various tastes. With a great warranty and features like multi-stage powder coating – you can't go wrong.
9. Bullet Proof Fabricating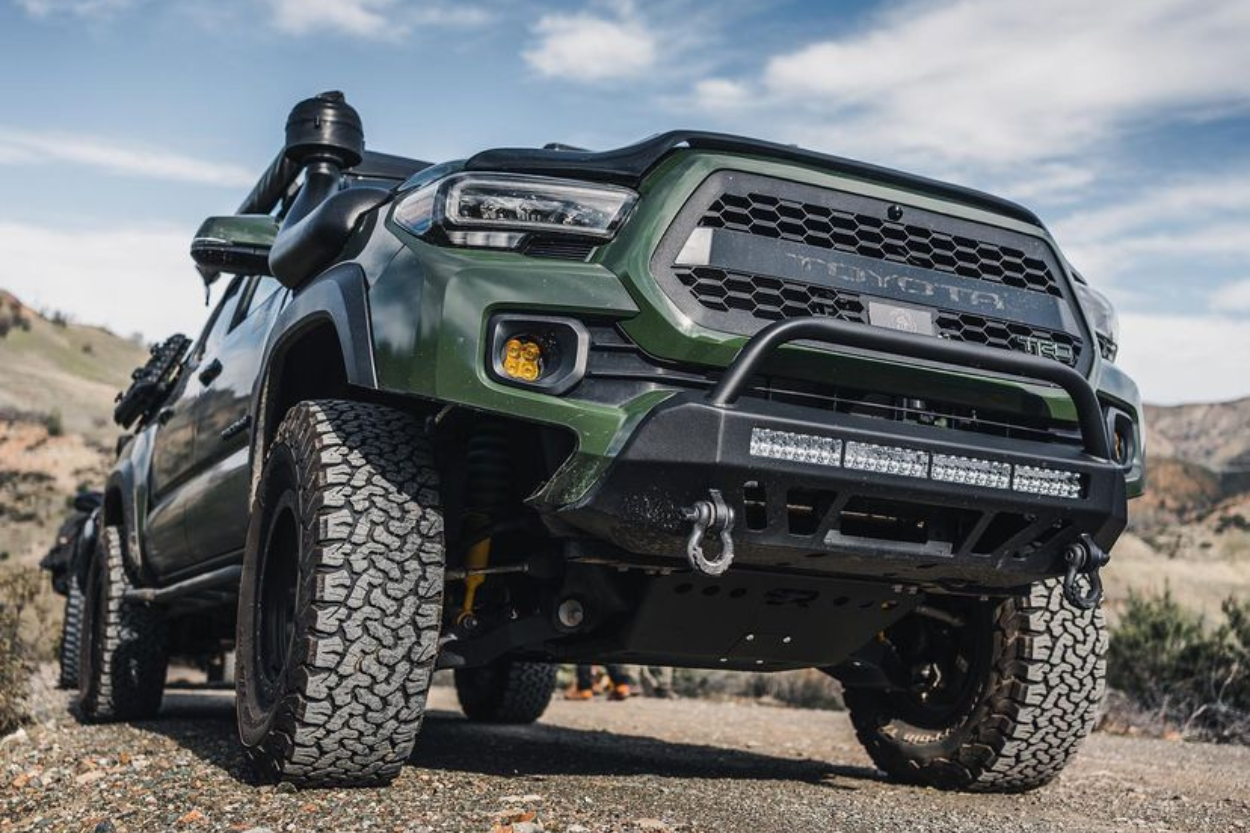 Find it Online 
Bullet Proof Fabricating is a fabrication company located in the Pacific Northwest that specializes in the fabrication of aesthetically pleasing and high-quality parts for Toyota trucks. They offer various options to fit anyone's needs.
All their are made from durable and lightweight aluminum. This is important to note because many steel options are too heavy for the plastic covers and could cause damage over time. BPF also offers mesh options.
Final Thoughts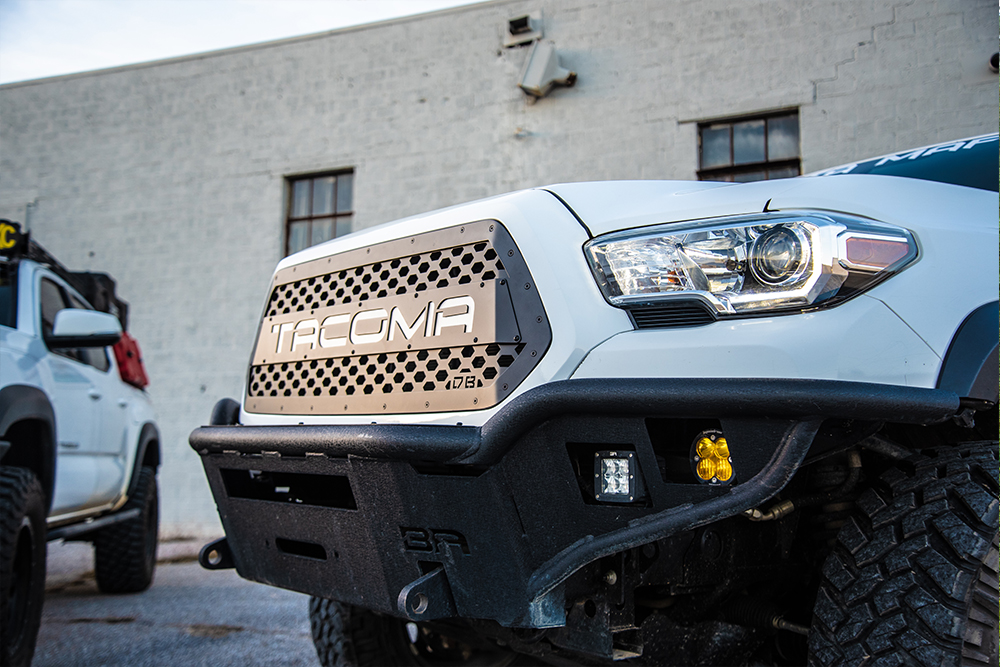 Hopefully, this post has opened your mind to all the ways you can improve the look of your truck by installing a high-quality aftermarket grille. Whether you want to look more aggressive, have accessory lighting, or both, grilles are a great way to change up the look of your Tacoma without breaking the bank.
Ultimately, your decision will come down to your aesthetic preferences and your budget. For some of the more expensive metal options, the cost can be a hard pill to swallow. But if you really like the look of one, it may be worth it to you.