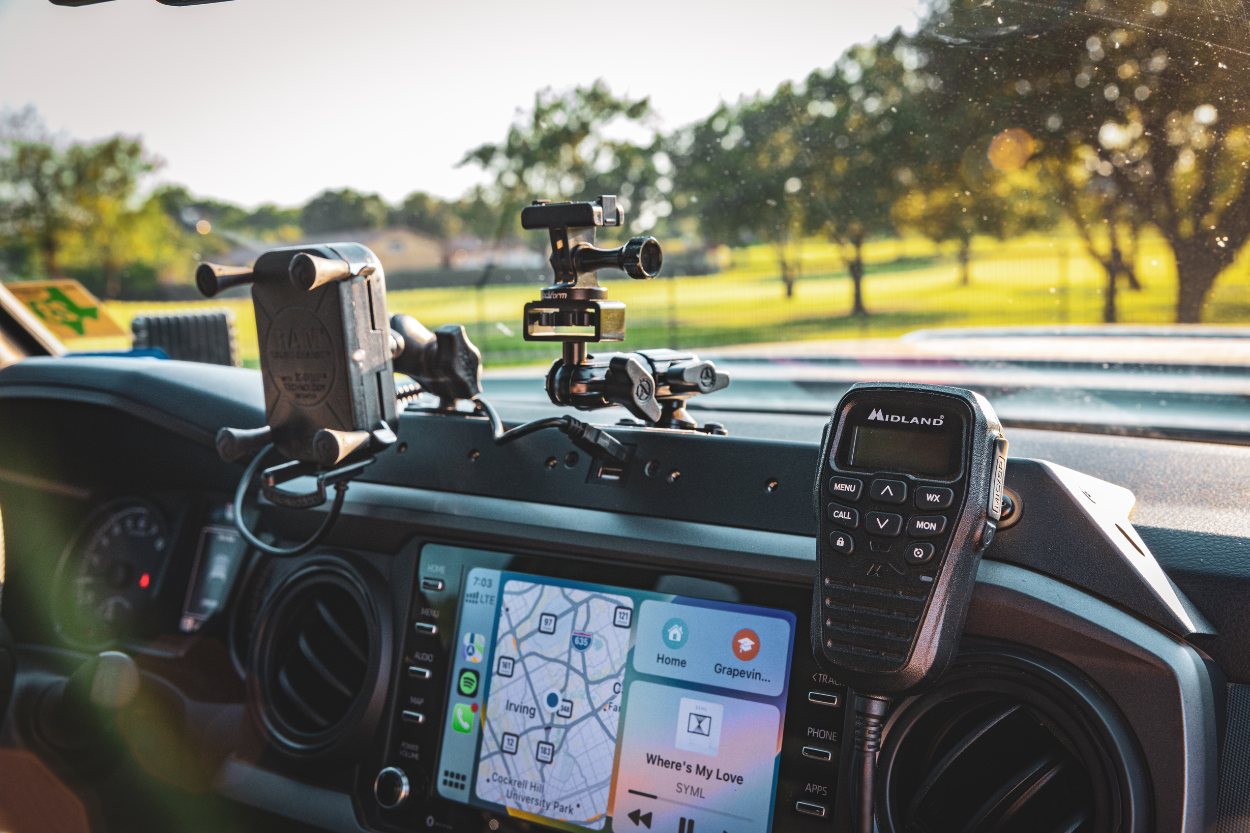 7 Example Dash Mount Setups For 2nd & 3rd Gen (05-23) Tacoma – Mount Your Gear & Accessories For Easy Access & Cabin Organization
This Week's Topic: Dash Mount Setups
Welcome back to an all-new Taco Tuesday! Last week, we took a look at vinyl wrapped Tacomas. This week, we're back to feature dash mount setups!
Dash mounts should be on your list for future upgrades! Here's why.
If you are unfamiliar with what dash mounts are, they are platforms that secure electronic devices in vehicles. This can include phones, tablets, cameras, radios, etc. We'll be covering mounts that can withstand vibrations and jolts you may encounter while driving off-road and keep your devices stable and accessible.
Dash mounts are the easiest way to maintain easy access to your important devices with minimal distraction while driving. Depending on the dash mount you decide to go with, you may need to drill into your dash. However, there are options that don't require any drilling.
We'll be featuring mounts that are made with durable materials such as heavy-duty plastics or metals with reinforced brackets, shock absorption mechanisms, and even adjustable arms to better secure your devices.
Now, let's take a look at these awesome setups!
How To Get Featured

Do you want to be featured in a future Taco Tuesday post? We want readers to get inspired by a variety of rigs/products.

Submit your build for Taco Tuesday here to get featured!

We have specific topics for each Taco Tuesday post and we would love to feature your rig!
Note: The builds listed below are in no particular order
Dash Mount Setup 
Expedition Essentials USB Powered Accessory Mount
Ram X-Grip Large Phone Mount
RAM Mounts EZ-Roll'r Cradle For iPad Mini 6
RAM Mounts Track Ball Universal Action Camera Mount
Tell Us About Your Setup
I picked the Expedition Essentials dash mount because I liked how low profile it was and how it maintained an OEM look. Also, having two additional USB ports to charge your accessories is a big plus.
Typically, I mount my phone, an iPad with my maps, and my GoPro for recording the trails. I also have a second phone mount for my passenger.
I have been running this setup for 2 years with no issues at all. Everything is solid on the trails. I decided to add this upgrade because I was tired of having my phones and iPad in the middle console area. I wanted them up out of the way but easy to access and use.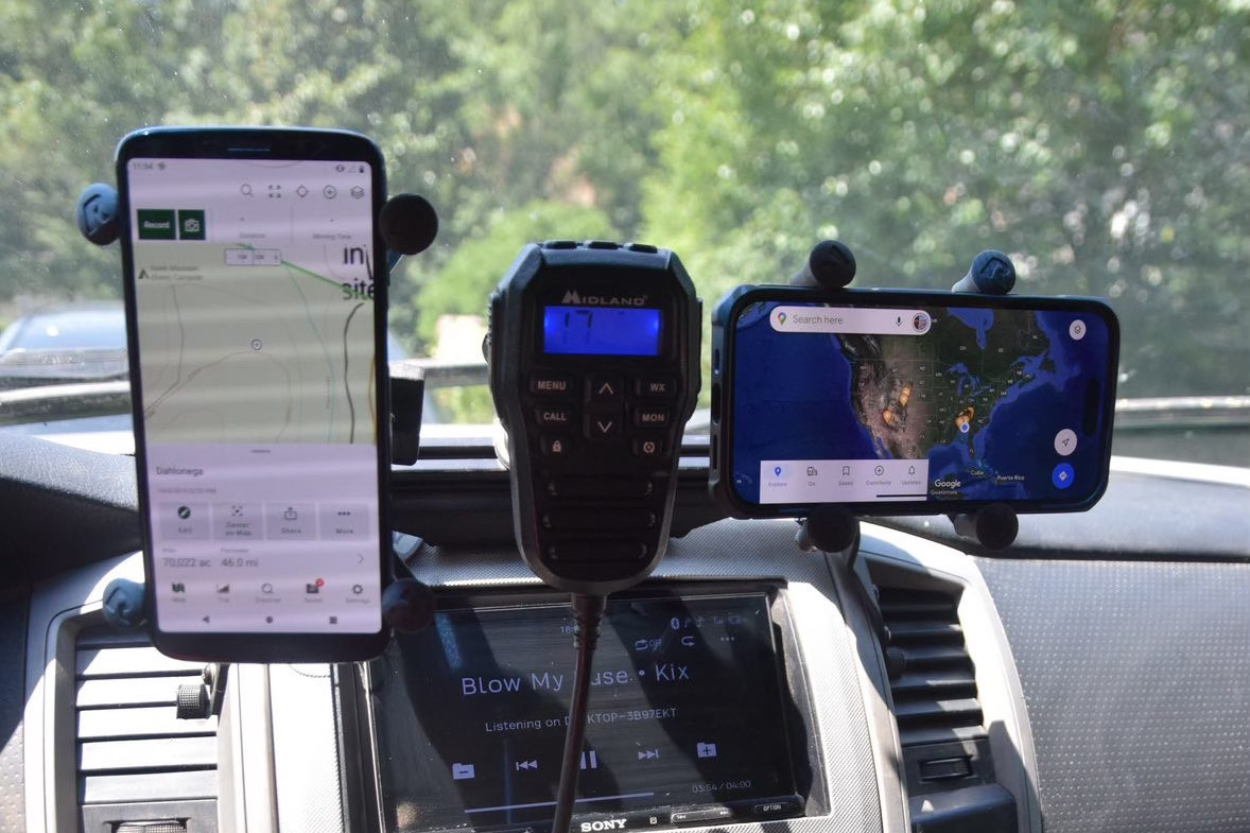 Dash Mount Setup 
Expedition Essentials USB Powered Accessory Mount
RAM Mounts X-Grip Large Phone Mount
RAM Mounts B Size 1″ Ball Mount
Tell Us About Your Setup
Expedition Essentials has a long-built reputation for quality and precise-fitting dash mounts. The dash mount on my 2011 Tacoma has allowed me to organize my multiple RAM mounts for my Phone, GMRS Radio mount, and my tablet.
The quality holds up with zero movements on the roughest trails and continues to be one of the best upgrades for my truck.
3. Joey Mercado – (@joe.y88)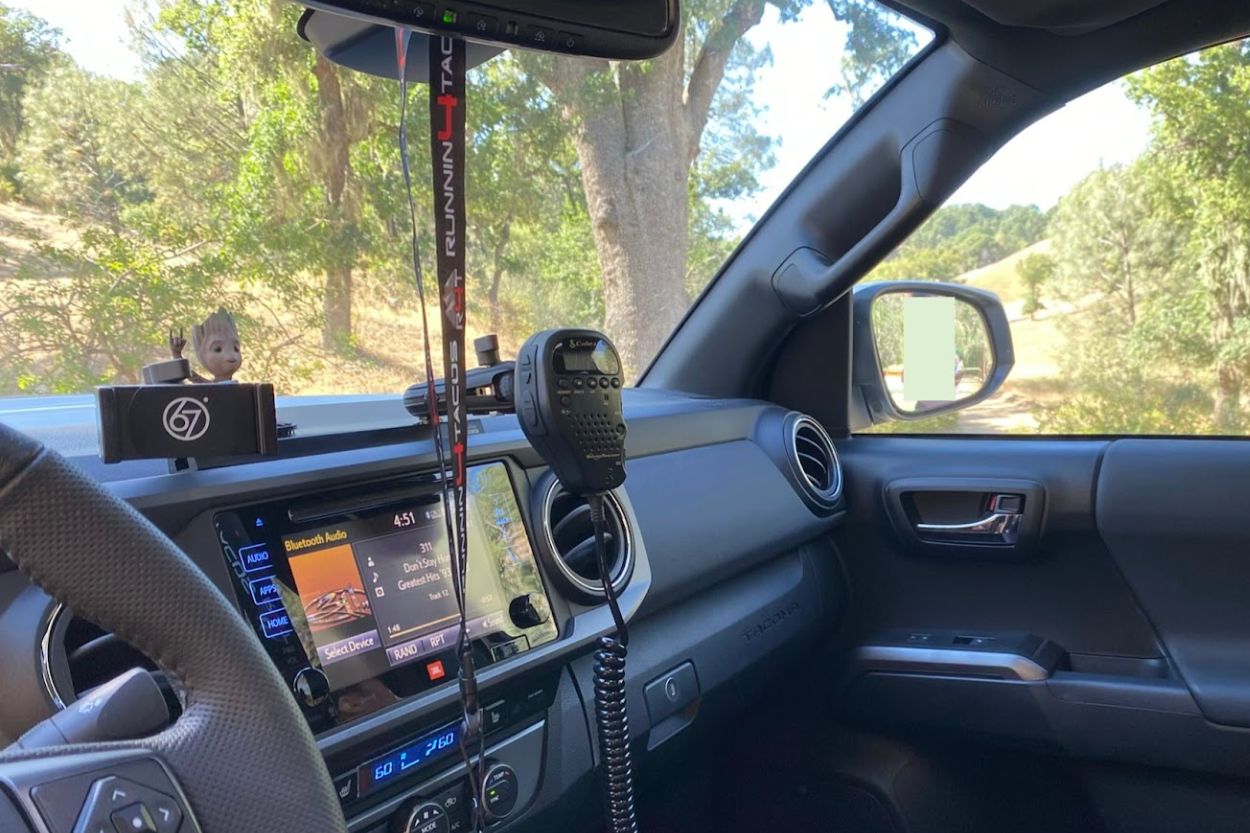 Dash Mount Setup 
67 Designs TacoRail
67 Designs Phone Mount
20mm Trackball & Short Arm
Tell Us About Your Setup
I chose the 67 Designs TacoRail because of its sleek design and high quality. Its low profile is great and also supports multiple devices firmly, even while off-road.
I currently mount my cell phone and GMRS radio. On rougher trails, the vibration is minimal and nothing rattles. I chose to mount my devices here because it keeps them within reach without blocking the radio and other controls. I highly recommend 67 Designs products!
4. Jonathan Schoemaker – (@offroadplace
)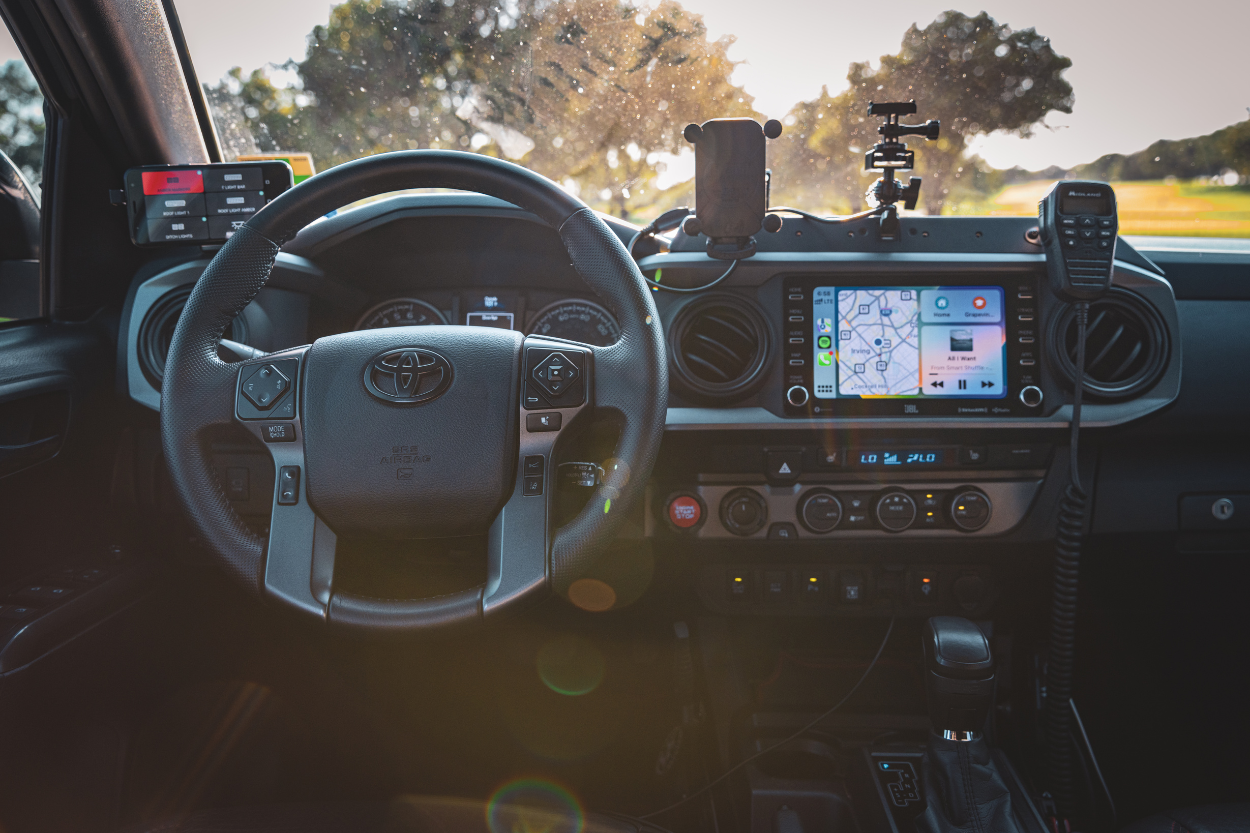 Dash Mount Setup 
Expedition Essentials USB Powered Dash Mount
Expedition Essentials Mounts For Phone, Action Cam, & Walkie Handset
ARB LINX Dashmount w/ Controller
Tell Us About Your Setup
As far as dash mounts go, I am extremely happy with the Expedition Essentials Tacoma dash mount. It has great aesthetics by integrating into the Tacoma dash, adds functionality with two USB ports, and can mount more things than you could possibly need.
I initially had a Tackform dash mount but found it limited and harder to find the right mounts. So, I switched to Expedition Essentials and couldn't be happier. I'm also running the ARB LINX, which is technically mounted to my dash. The LINX controls my lights, lockers, and tire pressure, and most importantly, it functions as my true GPS-based speedometer.
My setup is pretty simple but performs flawlessly on the trails. Expedition Essentials has a lot of different accessory mounts, which makes it a great choice.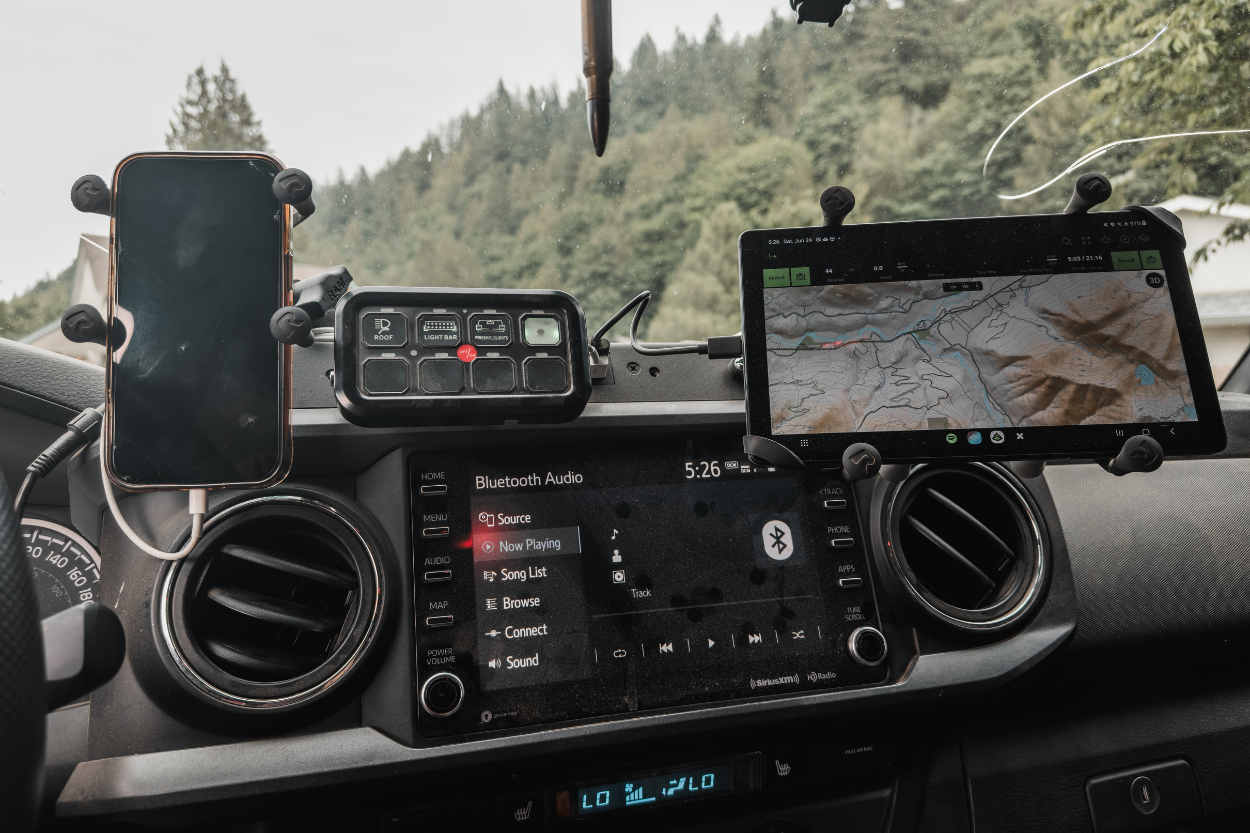 Dash Mount Setup 
Expedition Essentials Powered Dash Mount (3TPAM)

RAM Mounts X-Grip Phone Mount 

RAM Mounts X-Grip Tablet Mount 
Tell Us About Your Setup
Choosing the Expedition Essentials dash mount wasn't hard for us, being a powered mount. This mount is also a very secure solid setup perfect for lots of accessories! Charging our accessories while navigating trails without cables all over the place is very handy. We also chose RAM accessory mounts to securely hold our phones and tablet and an 8-port switch panel.
This setup has been an awesome asset to our backcountry trips and trail runs. It has held up very well over the past couple of years and counting!

Dash Mount Setup 
Taco Garage Dash Top Single, Driver Side Dash, Slim-Grip Phone, Beofang Clip, & Mach 125 Short Arm Mounts
Tell Us About Your Setup
I choose Taco Garage for its low-key and simple design. It preserves the stock dash look while adding full 1" ball mount functionality. I already had the Rago console mount and found I could attach a second Taco Garage ball mount to the console MOLLE system. I mount my phone to the upper dash, and my wife mounts her phone to the center console area. It's nice for the passenger to be able to mount their phone out of the way on long road trips.
I later discovered the driver-side mount from Taco Garage and opted to mount up an Ultra Gauge and my Beofang radio mic mount. With the mounts, I keep those devices out of the way and right where I need them.
The mounting system holds up amazingly on trails. It never falls or shifts positions and has been great, even on the roughest trails.
I use Gaia GPS and download .gpx maps to my phone before I hit the trails. My phone has been a great navigation tool, so I needed a great mount.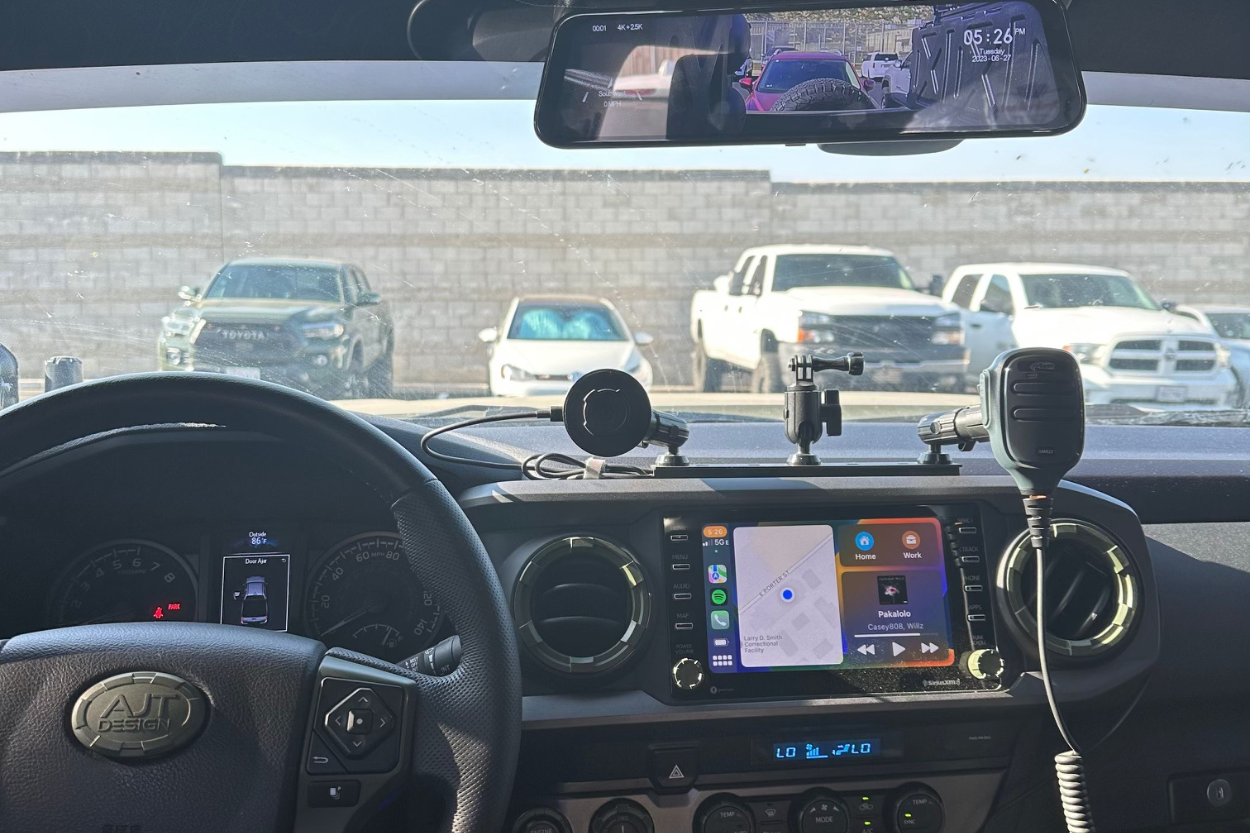 Dash Mount Setup 
Bulletpoint Mounting Solutions Tacobar
Quad Lock Wireless Charger Mount
Rugged Radio Mount
Tell Us About Your Setup
I picked this setup because it looked well-built for the price range. I keep my phone on the Quad Lock mount and my hand mic on the Rugged Radio mount for easy access.
As for trails, it holds up very well. Nothing has fallen off and doesn't have a crazy shake. I upgraded to this because it was the best option for easy access to my radio and phone without having to put them in a cup holder and have them bouncing around.
Final Thoughts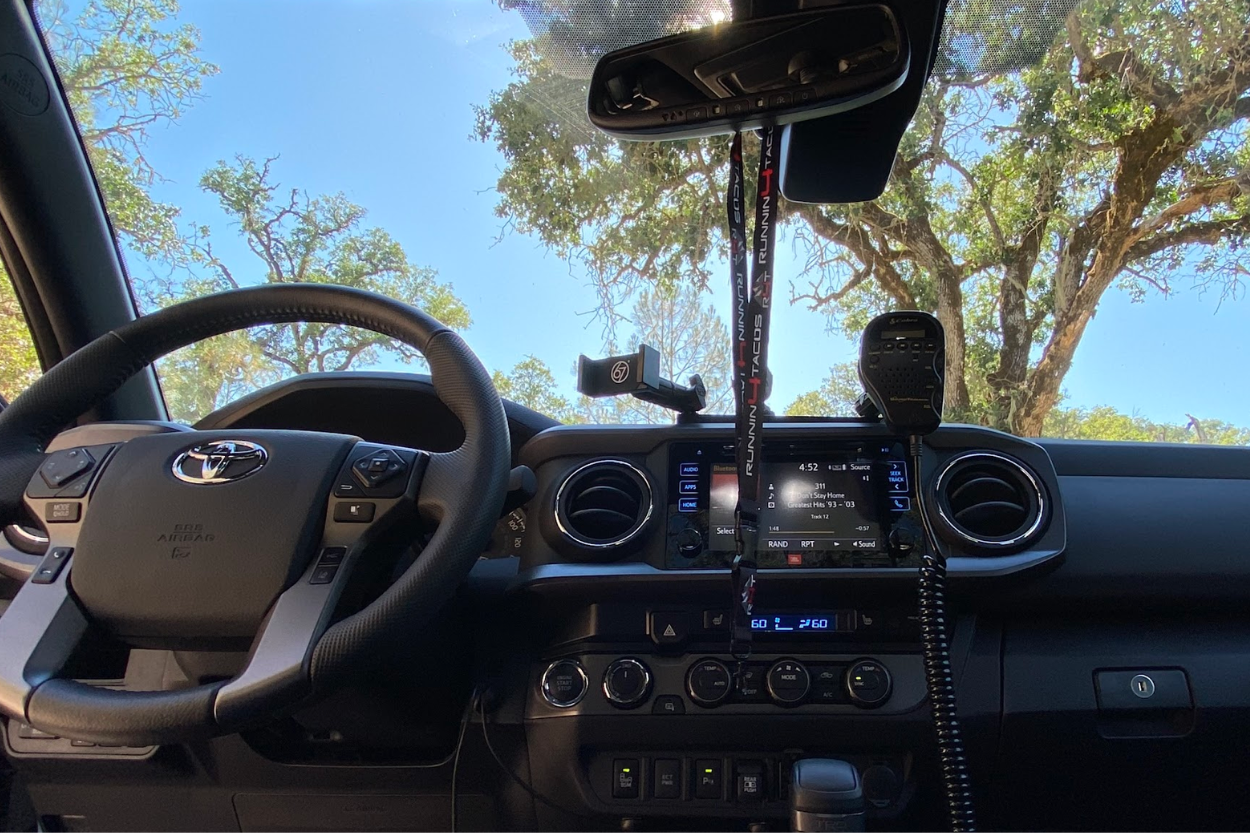 That wraps up another Taco Tuesday!
Whether you're looking to add more functionality to your Tacoma's interior or to organize all of today's technology, a dash mount setup could be your solution.
Next week, we'll be covering upper control arms! If you have aftermarket UCAs on your Tacoma, make sure to submit them for a chance to be featured!