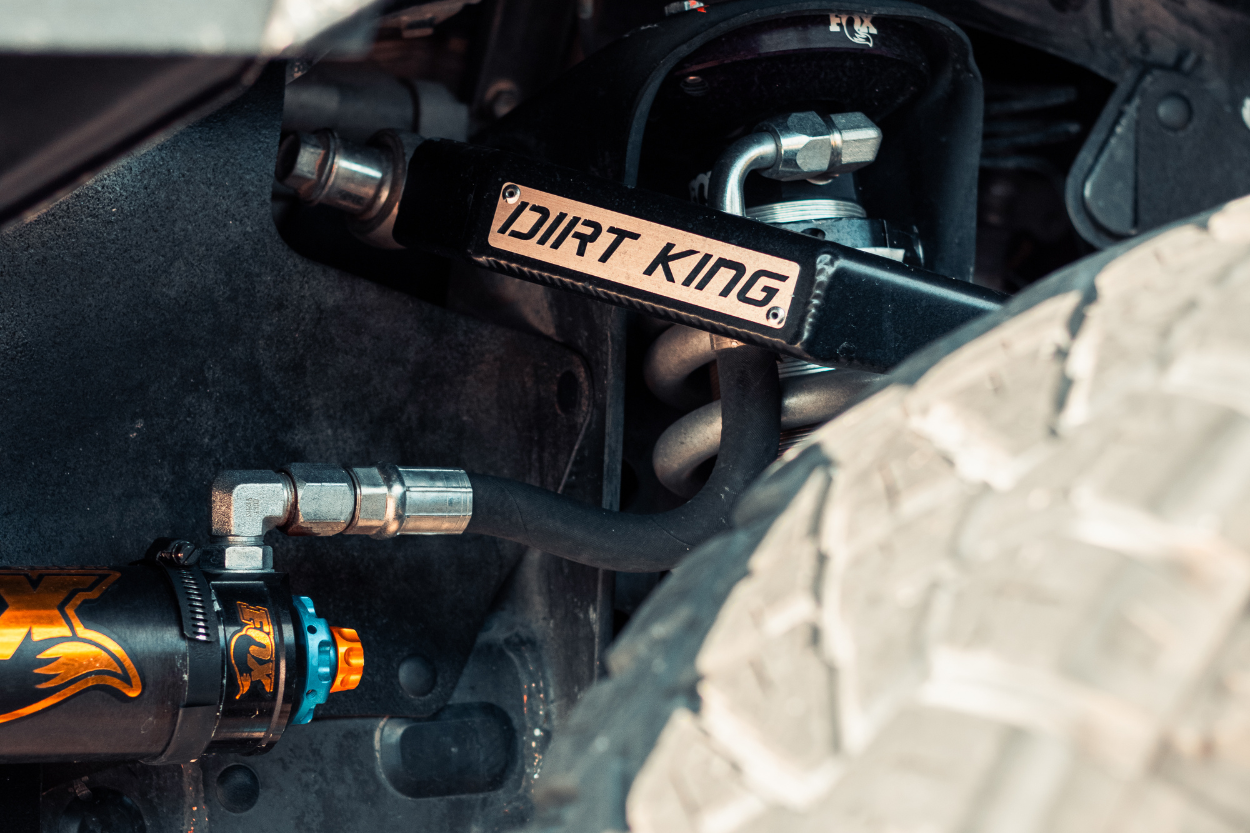 6 Different Aftermarket Upper Control Arms (UCAs) For The Tacoma – A Must Have Mod When Lifting Your Truck To Improve Drivability & Alignment
This Week's Topic: Upper Control Arms
Welcome back to an all-new Taco Tuesday! Last week, we featured dash mount setups for the Tacoma. This week, we are back to look at aftermarket upper control arms.
Upper control arms (UCAs) are a crucial suspension component that is often overlooked. However, they can significantly improve your truck's overall performance both on and off-road, especially with a lift and larger tires.
Upgrading UCAs unlocks many benefits, including improved suspension travel and increased strength. They offer a wider range of motion, facilitating better wheel articulation and traction over rough terrain. They also help reduce the risk of bottoming out and enhance stability and control.
How To Get Featured

Do you want to be featured in a future Taco Tuesday post? We want readers to get inspired by a variety of rigs/products.

Submit your build for Taco Tuesday here to get featured!

We have specific topics for each Taco Tuesday post and we would love to feature your rig!
Note: The builds listed below are in no particular order
Why Add Aftermarket UCAs?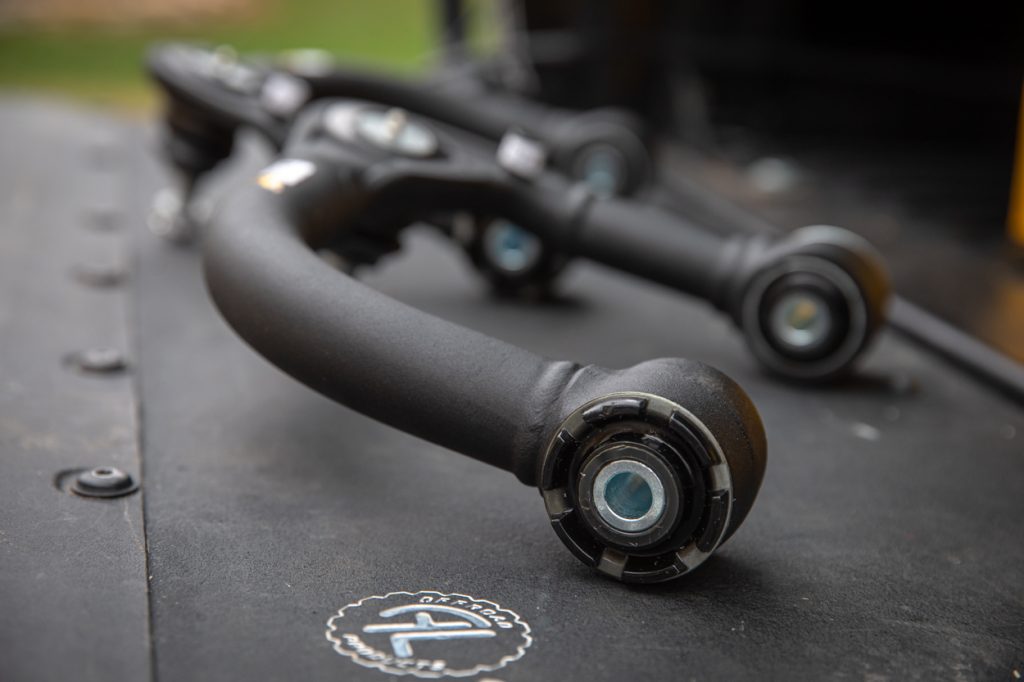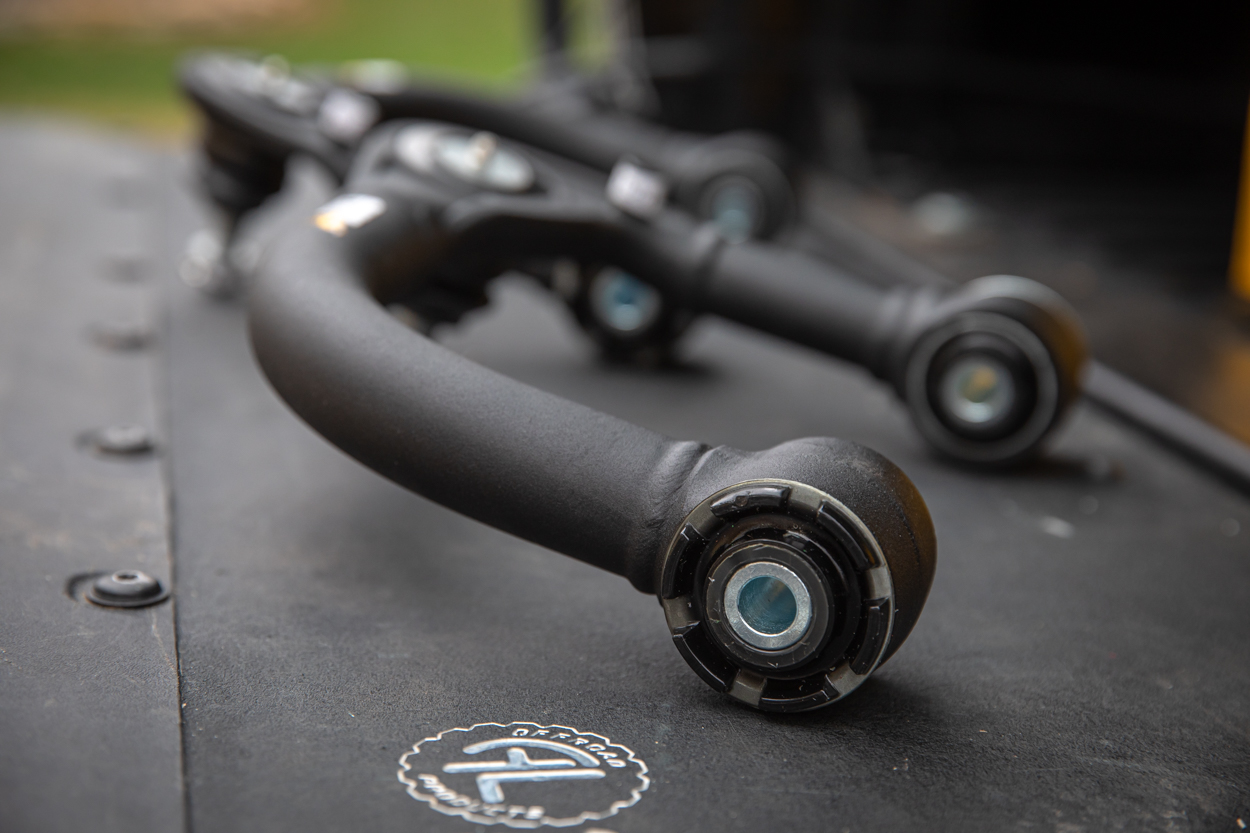 Stock UCAs, designed with simplicity and cost-efficiency, lack the durability and adjustability required for demanding off-road conditions. Typically, manufacturers (like Toyota) make their UCAs with stamped steel, allowing them to keep costs low for mass production.
Upgraded UCAs, on the other hand, are constructed from high-quality materials such as DOM tubing or forged steel/aluminum. This greatly improves overall strength and durability. Aftermarket UCAs are built to withstand the stresses and strains of aggressive off-roading, providing peace of mind when tackling challenging trails.
The main pivot point (where the UCA meets with the spindle) is much stronger on aftermarket UCAs. It's usually in the form of a ball joint or uniball. Depending on your needs, one or the other will be more suitable for your build.
Ball Joints
Ball joints come equipped with grease fittings, allowing for regular greasing and maintenance. This helps to ensure proper lubrication, reducing friction and wear, thus prolonging the lifespan of the ball joints. However, it's very important that your ball joints don't dry up, as this can impact the performance of the UCAs. Toyota uses a sealed ball joint which is great for on-road longevity, but probably won't withstand years of heavy trail abuse.
Uniballs
Uniballs, on the other hand, are found in high-performance or racing trucks. They offer increased articulation compared to traditional ball joints, resulting in smoother suspension movement and improved off-road performance.
While they have their advantages, uniballs may have limited OEM compatibility and require additional modifications for installation. Regular maintenance and cleaning are also required to prevent dirt and debris buildup and potential noise and harshness. Compared to ball joints, uniballs are definitely higher maintenance.
Now, let's take a look at a few brands that are trusted in the off-roading world!
1. Grayson (@gk_taco
) – BTF Fab
Upper Control Arms 
Tell Us About Your Setup
I chose the BTF Fabrication UCAs because few people run them, and I strive to keep my ride as unique as possible. I absolutely love them, as they deliver outstanding performance.
These UCAs have significantly improved my off-road experiences, particularly regarding safety. I feel much safer pushing my truck over whoops, jumps, and other obstacles, thanks to BTF.
Additionally, the rarity of BTF further adds to the distinctiveness of my ride, enhancing the overall enjoyment I get from it. The exceptional performance of BTF continues to impress me, allowing me to navigate challenging terrains such as whoops, jumps, and more.
2. Austin Bender (@sr5life
) – Dirt King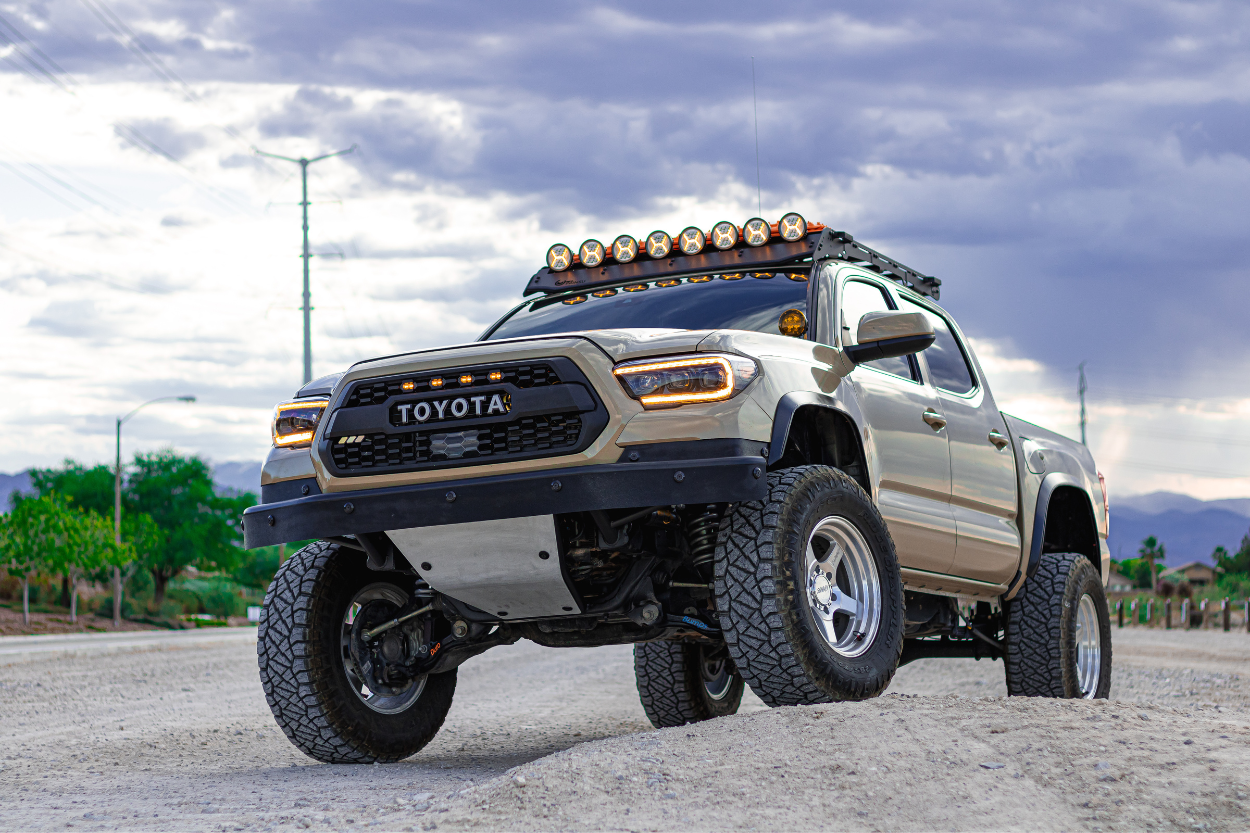 Upper Control Arms 
Dirt King Heim Boxed Upper Control Arms (1″ Uniball)
Tell Us About Your Setup
There are multiple issues with stock upper control arms when lifting your vehicle. The geometry and strength are compromised due to over-articulating the stock arms. DirtKing fab solved this problem by swapping the weak factory ball joints with 1" stainless steel uniballs.
I also chose DK because, at the time, they were among the first to have the inner pivots option of heavy-duty ¾" FK heims for additional camber and caster adjustability. Lastly, I picked these upper control arms because, living in the NV desert, poly bushings tend to squeak a lot and require more routine maintenance.
3. Charlson Carabeo (@kuyastrucks
) – SPC
Upper Control Arms 
Specialty Products Company (SPC)
Tell Us About Your Setup
When I first purchased my Tacoma, I knew I would upgrade from the stock suspension and eventually figure out how to fit 35″ tires. With that big of a tire size and such little room to work with in the wheel well, I knew a lot of other factors had to be addressed before mounting the bigger tires.
One of those factors was my factory UCA setup. If I was going to attempt to make the bigger tires fit, I knew had to upgrade my UCAs as well. Usually, for 35″ tires on a Tacoma, close to 3″ of spring preload is required to help make some room in the cramped wheel wells of the truck. With close to 3″ of lift in the front of the truck, the factory UCAs are essentially useless, so I knew an upgrade for that component was imminent. I chose the SPC UCAs.
I specifically chose SPC UCAs because they are key to fitting bigger tires on a Tacoma with an extended travel setup. There is only a sliver of space to work with on a Tacoma when fitting bigger tires, so being able to maximize and push the caster all the way forward on the SPC UCAs helps the tires clear the pinch welds and the cab mount (assuming a cab mount chop or relocation has already been done).
Not to mention, they are readily available and quite affordable for what they are/do. They are also very easy to maintain with NLGi #2 grease using the zerk fittings. I've yet to have an issue with my set after almost 10,000 miles.
Overall, I would say the performance of the truck on 35″ tires when off-roading has been great with the addition of the SPC UCAs. Plus, their ability to clear the cab mount has been crucial, especially on switchback-heavy trails. I no longer have to stop in the middle of a trail run to ensure nothing breaks off after a few tight turns in the mountains.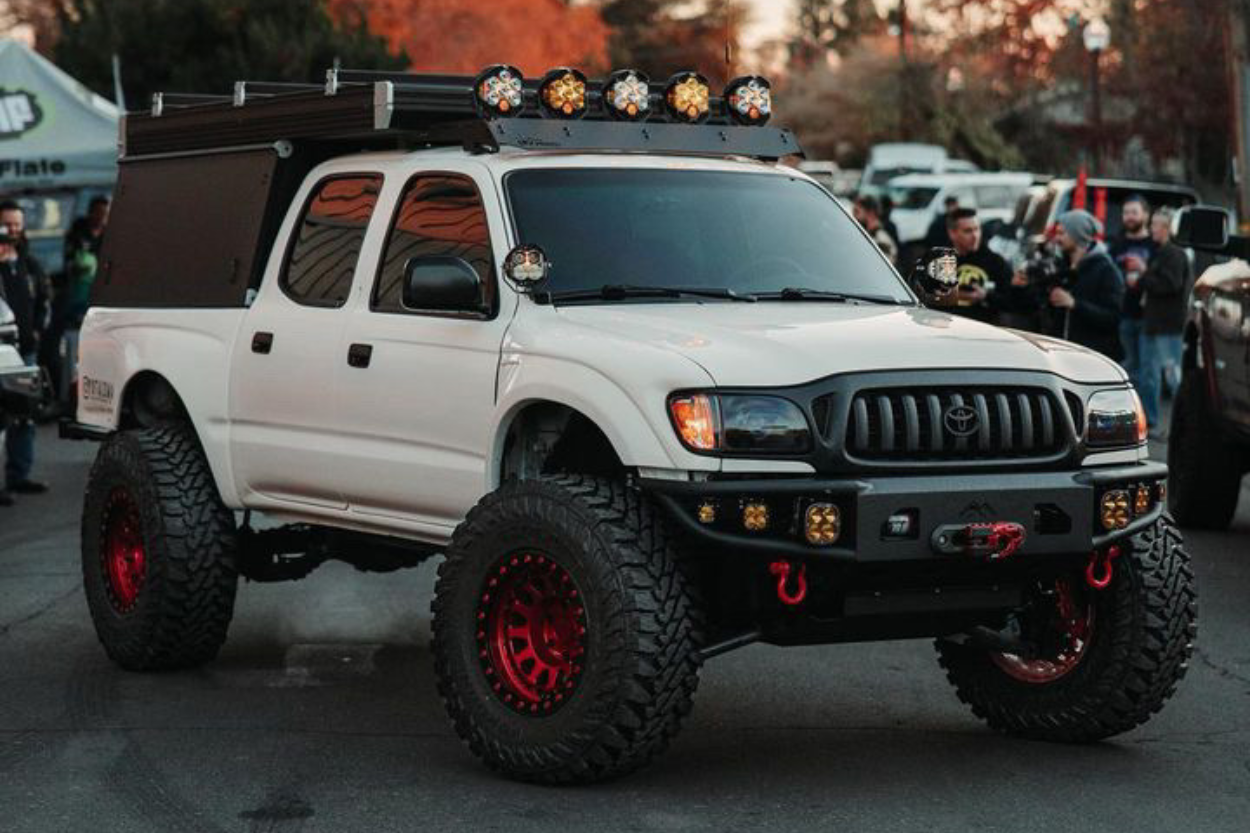 Upper Control Arms 
Tell Us About Your Setup
I always wanted a long travel (LT) setup and Total Chaos was the way to go. Also, I needed to upgrade my UCAs because in order to achieve the LT setup, it was required.
I went with Total Chaos because their quality and customer service are top-notch. My first rig also had a Total Chaos mid-travel setup, so I was familiar with their products and company. Now that I have the LT setup, it's a completely different ride from the mid-travel. The ride is much softer and much more enjoyable off-road.
5. Konrad Chojnowski (@trail_tacoma) – ARB OME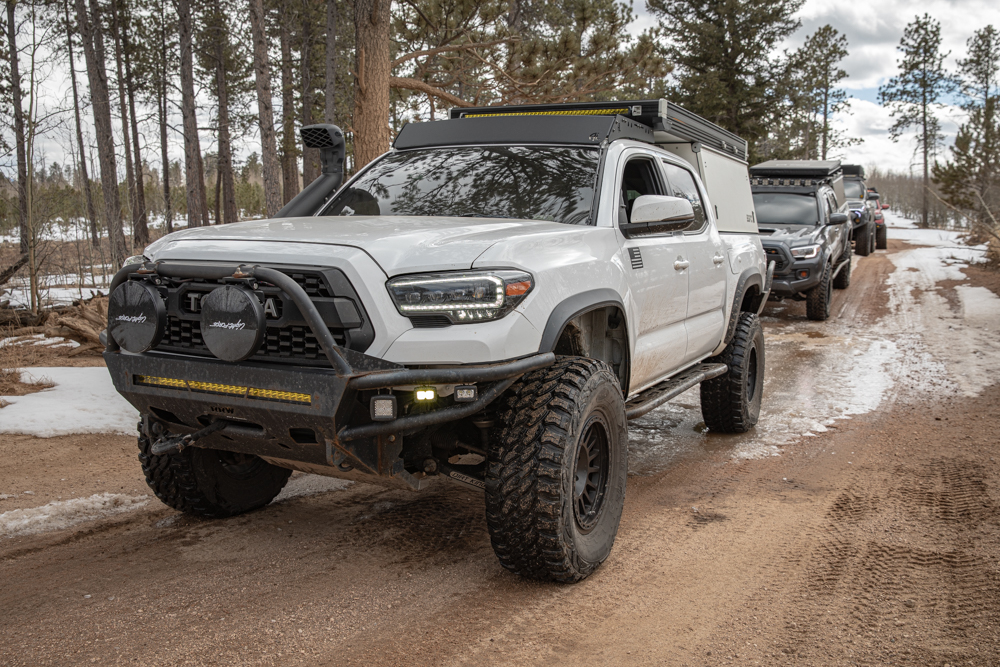 Upper Control Arms
I've run several control arms over a few builds over the years. Before I had the ARB OME version on my Tacoma, I had a set of ball joint UCAs from Dirt King. Both got the job done well. When I switched to running a BP-51 kit from my old Nitrocharger setup, I swapped out the UCAs as well. While these aren't the most adjustable UCAs on the market, for the vast majority of users, they will do great. And it is tough to beat the customer service and support from ARB.
I haven't had any issues after about 9 months. It's good to note, the ball joint is sealed and greaseable, the inner pivots have held up well, and the powder coat is still good as new. As with any set of control arms, if you want the most longevity, you need to keep up with maintenance. If you're looking for a solid set, take a closer look at this option.
6. Grant Willbanks (@grizzy.gram) – Dobinsons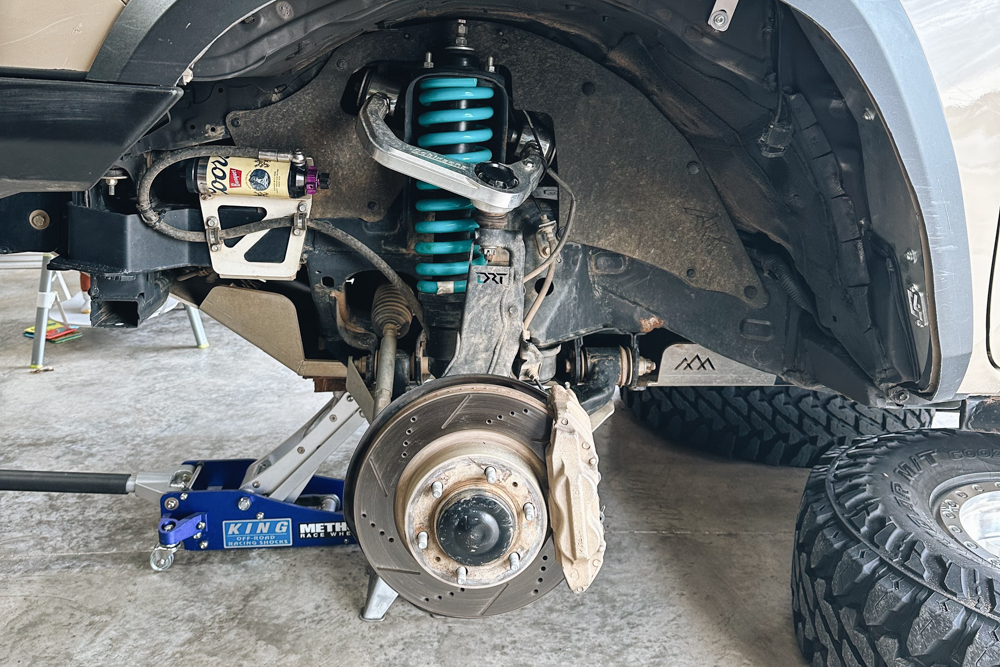 Upper Control Arms
This is my 3rd pair of UCAs, and I can honestly say they're hands down my favorite for a number of reasons. First off, the new Dobinson Billet UCAs are probably the easiest arm to adjust while still on the vehicle, making it simple for most alignment shops. A simple threaded in and out adjustment on the arm let's you dial in your camber. Plus, they use a fixed, factory style sealed ball joint and factory style bushings, giving you a total maintenance free arm. No greasing, no squeaking, no upkeep. And to top it all off, they're just beautiful. Who doesn't love a super beefy and shiny billet UCA?
Final Thoughts
That wraps up another Taco Tuesday!
If you look on any forum, you'll find a lot of debate as to what the best upper control arms are for the Tacoma. At the end of the day, reviewing your options and picking the best one for your needs is what matters most! We're curious to hear what you think. What upper control arms are you running, and why did you pick them? Comment below!
Stay tuned next week, when we'll look at the top Amazon mods that Tacoma owners love!