ARB Hydraulic Recovery Off-Road Jack: Detailed Review With Real World Use – Are Hydraulic Jacks Better Than The Proven Mechanical Jacks?
This one might get heated in the comment section… haha.
On a recent trip to California, we were put through an unusually high amount of recovery situations and off-road repairs. It's safe to say, I'm a self-proclaimed expert in the field now. But seriously, our equipment got put to use. Pretty much all of it. Big bags of complex gear load outs, winches, and most relevantly, the ARB Jack.
I've used the standard farm jack before. Hi-Lift has the most popular options you'll see most people running. Contrary to many others, I really like the mechanical version. It's proven, reliable, affordable, and has a ton of applications and uses. And for what it's worth, I don't think they are super dangerous – if used with caution and appropriate safety measures.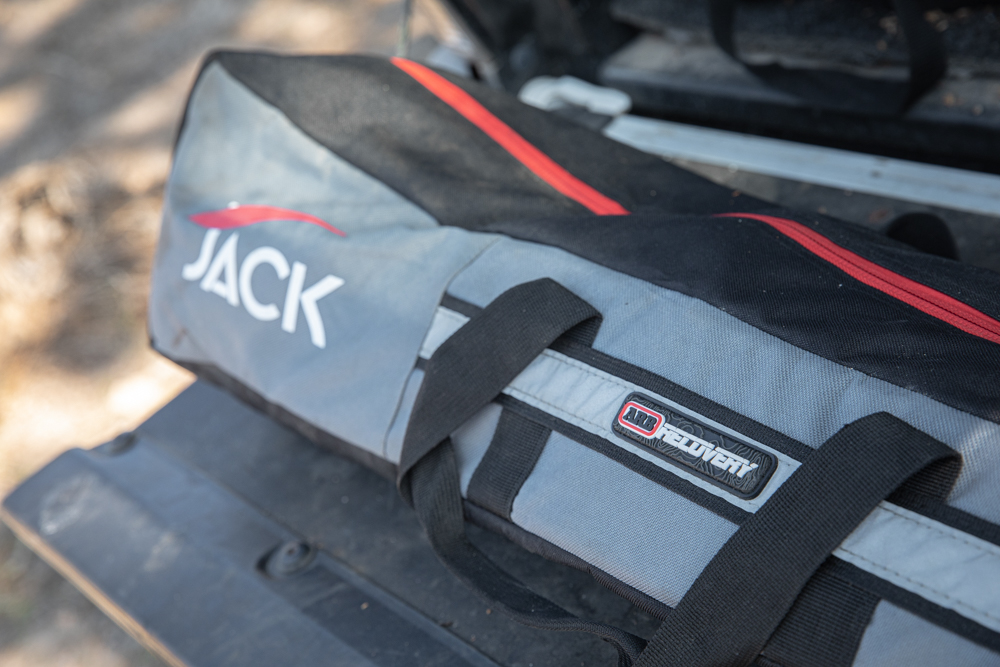 That said, I was not only curious, but kind of skeptical. This was especially true noting the high price point and some other quirks. Nonetheless, when the Tacoma I was driving lost it's brakes (compromised banjo connection), the only way to lift the huge long travel truck on 37s was the ARB Jack. We set out to test this thing, but had no idea it was going to be in a scenario like this one.
Anyway, let's take a look at some features before we get into the review aspect. Big shoutout to Mudify for sending us one of these to test!
Find It Online
ARB Hydraulic Jack Review
Features & Specifications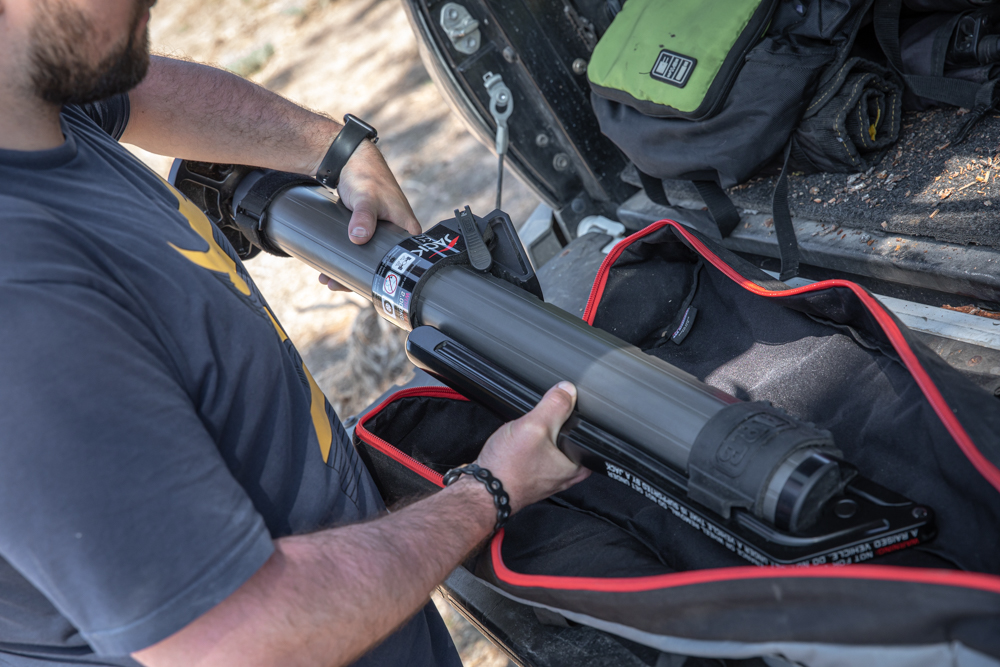 Obviously, one of the biggest differences here is the hydraulic nature of the jack. Hydraulic technology is awesome, and is utilized in your truck's suspension and braking systems. One of the biggest benefits is the non-compressible nature of the fluid used. This means the fluid is great medium for transferring energy. What does this really mean? That very light forces will help to smoothly raise the ARB Jack.
The jack has one main lever for raising your vehicle, and another smaller red lever for lowering it. With dual speed settings, the jack can be lowered slowly, or more quickly. As much as possible, ARB tried to keep the design low profile. While it's not small, considering it's application, it's not huge. It fits well into the storage bag that it comes with. Which also helps to shield it while transporting.
The body of the jack is constructed of aircraft grade 6061 T6 aluminum to maintain high levels of strength. With 9 total ways to position the hook, you have a wide range of heights to not only approach your vehicle, but then also to lift it to. The weight capacity is impressive – topping out at 4,400 lbs.
In terms of safety, ARB says that while under load, there is an internal blow off valve to provide the user protection from excessive loading and your vehicle falling due to exceeding the load rating. I tried to read the user manual to understand this more, but I am not exactly sure how this jack would prevent a catastrophic failure in the case of a loss of hydraulic fluid/pressure. More on this later.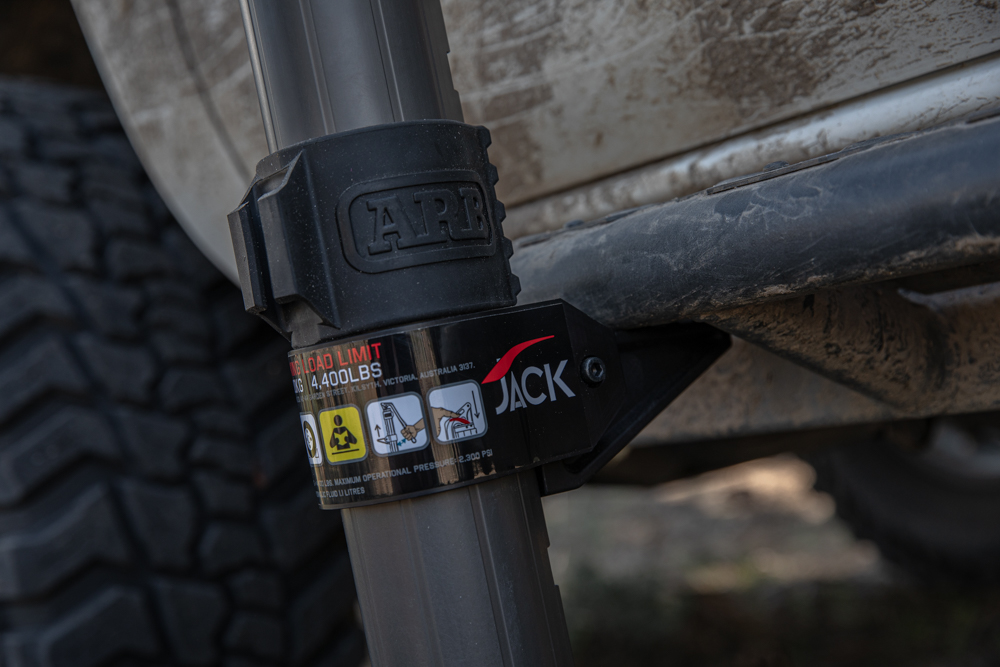 In terms of the base, it pivots but also rotates in a complete circle. This should provide a lot of stability, especially on uneven terrain. There is an available base, which while we did not test, we highly recommend. More on that later.
All in all, on paper, it seems to be a neat product. Loaded with premium materials, quality design, and backed by ARB customer service (known to be great) – this product should shine. The only real negative at first seems to be the higher price point. These usually run from the high $700s and technically at full retail for $900. Quite the investment. But we can touch on that more later.
Trail Tested
So… back to the brake failure I experienced. To keep it short and sweet, I slowly started to lose brake pressure with increasing frequency after a few days on the road. After all the aggressive terrain and putting the long travel Tacoma through some testing, both caliper banjo connections started to leak.
The driver's side failed first, while doing some donuts in an empty area with loose dirt for some action photos. I completely lost brakes after the third time around. Checked the lines and found the passenger's side leaking badly. We were able to do some quick fixes and retightened the fitting as we went along, but eventually, there was zero pressure.
Thankfully this all happen off the main roads, and I was able to stop the vehicle by using lower gearing, the e-brake, and driving into uneven terrain. It was a difficult and annoying experience, but could have been way worse. We finally found an opening, set up camp, and drove to grab new parts the following morning.
This jack definitely works. There's no question there. We were able to get a truck with 37s with a ton of extra travel off the ground without much issue. But coming back to the base, in the looser dirt where the truck was parked, it would have been very useful to have the base. The jack sank a couple of inches, but stabilized. Not ideal, I know. We made sure to be cautious and it did not sink further. The point is – regardless of what jack you buy, you should get a base with a larger footprint.
The operation is pretty straightforward, and there's no denying that considerably less effort is used to lift the actual truck. Relatively speaking, it's effortless. So the typical struggle we would normally experience was reduced down to almost none. It also works relatively quickly. Once we picked a spot to secure the hook, the truck was off the ground less than a minute later. All in all, I can say that from getting the jack out, to raising the truck and working on it, it was pretty simple. The jack did the job, no question.
Pros & Cons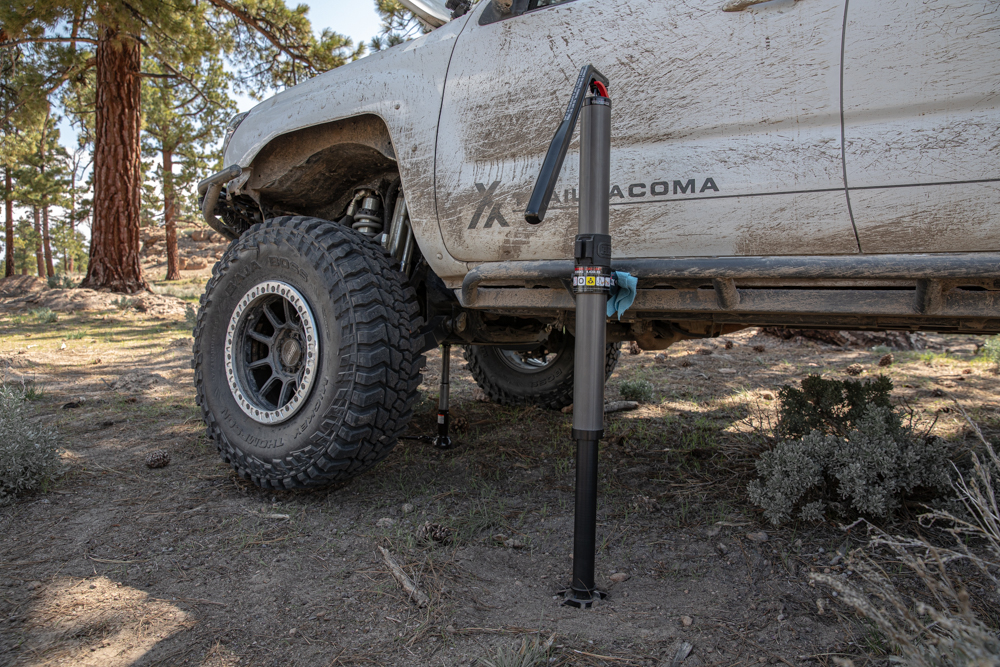 I'll try to keep this simple.
PROS
This system is safer than a Hi-Lift. This is especially true looking at the likelihood of user error and greater potential for a mechanical jack not to necessarily fail, but to experience "runaway". If you've ever had a chance to see it (easily found on YouTube), then you can see how a swinging arm could cause some serious harm. Something like that is not possible here.
The ease of use is tough to debate too. Setting it up and using it is not a problem. Literally anyone can use it.
There are some minor advantages when compared to a traditional jack. Overall greater lifting range (about 10 inches more), smaller compressed height, and its less heavy (~5lbs. less).
CONS
The biggest con is likely the price point. At a retail of $900 – this might put the product out of people's budgets. But you can definitely ask – can you put a price on safety? That is up to you.
The second major con is the storage. With a mechanical jack, there are SO many mounting solutions. With the ARB Jack, which is has an odd shape for mounting, we found that it was tougher to secure it. I didn't want it in my cab, and without a dedicated mount, we had to strap it vertically in the back of the GFC. Not ideal.
Once fully extended, collapsing the Jack is the opposite of easy. While going up is simple, going down is not. Unless you're a bigger guy (or gal), you'll be fighting with your whole body weight to get this thing to return to a smaller, storable position. This might be hard for some people, and frustrating after a trail repair. Having two people definitely helps. If you ever tried to compress a larger off-road shock yourself, you roughly know what I'm talking about.
Potential Concerns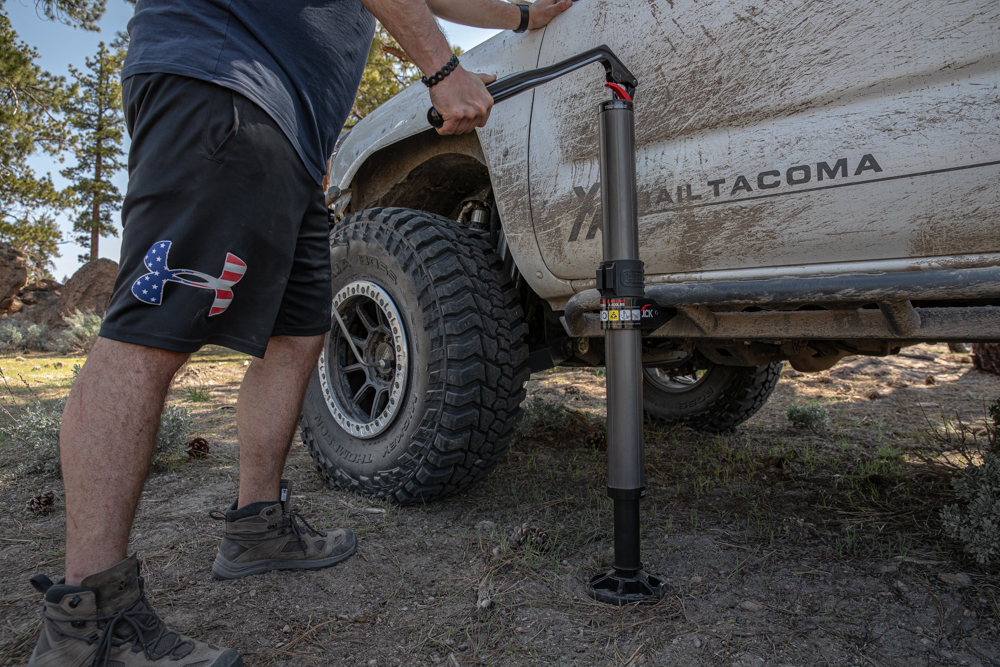 I'll start with leaking and maintenance. ARB does not recommend using this jack too far from vertical. This also has raised the question of leaks, where some users across the internet report that their jacks leaked from horizontal storing. Oddly, ARB has decided to make one mount – specific to the Bronco. A confusing decision considering the small market compared to Toyota and Jeep. Not sure of the reasoning there. But they do show it stored horizontally, so leaking can't be a major issue.
If the jack ever needs servicing, like an oil change, you have to send it to ARB. That is a hassle. Not saying this happens often. Maybe almost never. But something to think about. Does it have less maintenance than a mechanical jack? For sure. Still something to consider.
Finally, something I have not been able to understand is the safety feature for failure. While ARB states there is one, under a loss of fluid due to a leak (like a bad seal), or a different sort of pressure failure, what is stopping the Jack from rapidly collapsing and causing injury? I'm not sure myself and I tried to look. While mechanical jacks have their concerns, you can reasonably assume it will not fail and drop your vehicle. Perhaps there is something internal to prevent a catastrophic collapse. But I have not seen anything that would indicate that and I believe it's a reasonable thing to address.
Hydraulic Vs. Mechanical Jacks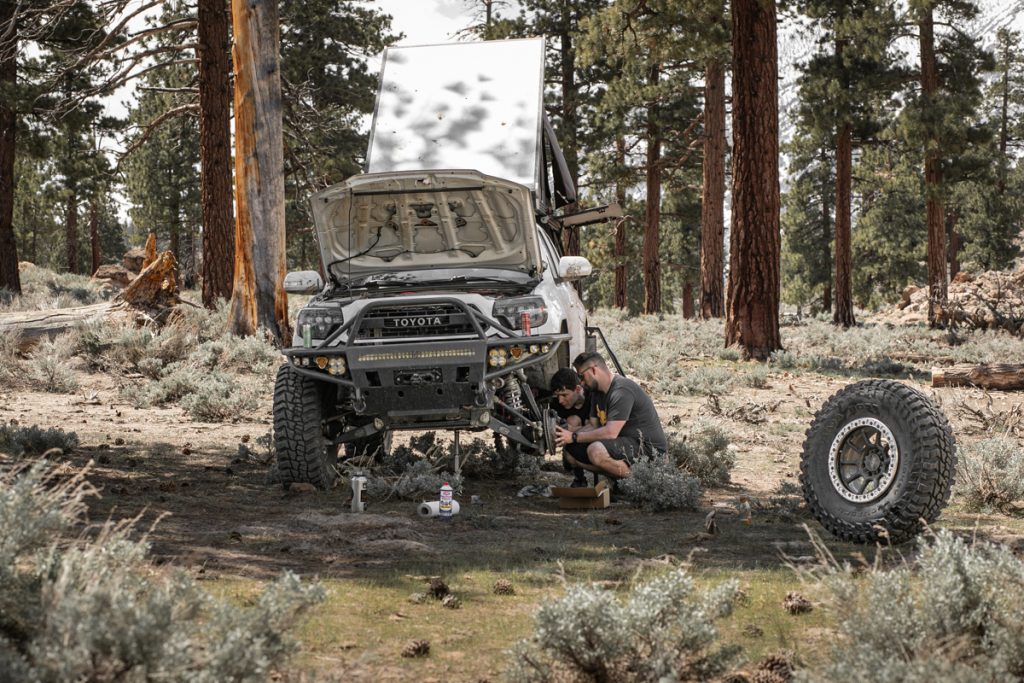 I don't want to go on for too long in this section, because I think most of the post covers the various approaches to the question of what is better.
For a seemingly safer experience, and ease of use for the average enthusiast, I think the ARB Jack will do a good job. For the more seasoned off-roader who has a very specific vision of function, a Hi-Lift would work better.
To finish this section off – the Hi-Lift has one big advantage. Outside of rigging something to work with the ARB Jack, a Hi-Lift has numerous additional functions. It is made to be used as a manual winch, and potentially for using force not just to lift a vehicle but separate two objects, such as a jammed car door. As far as real world use, you can definitely get more use out of the box with a Hi-Lift, for much less money.
Now I've used both, and never had to use my Hi-Lift in more extreme scenarios like spreading a vehicle's body to free someone trapped inside, or as an alternative to my winch (have always had one and never failed) but I like the idea that I could. And that's worth something.
Final Thoughts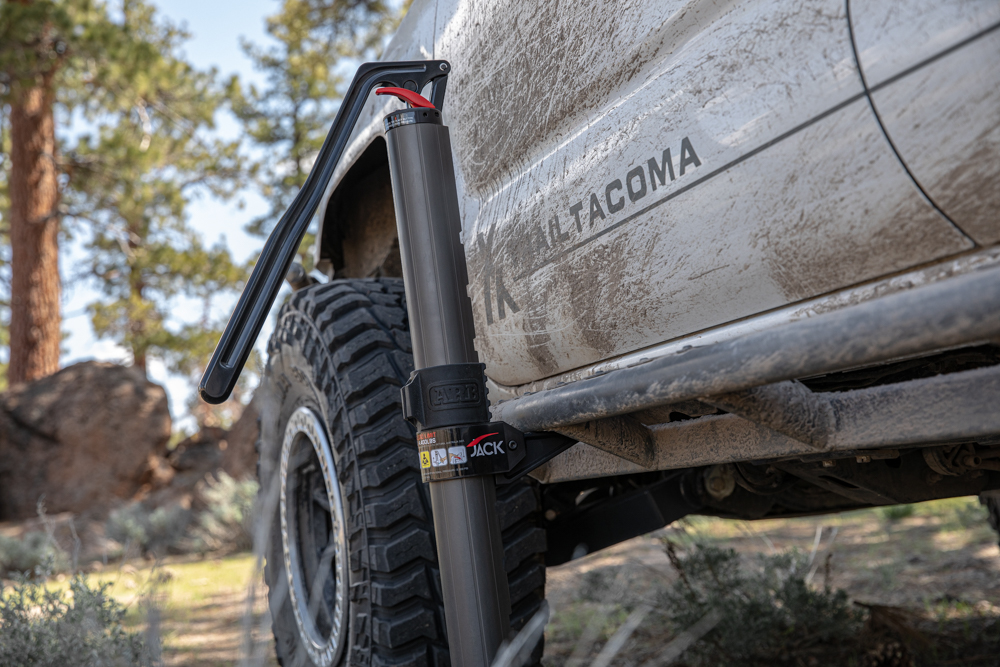 The big question. Is it worth it? I think there are a lot of great features with this system. The decision on which type of jack is best for you will be an individual decision, depends on all the things I addressed through the post.
For me? I'm not 100% convinced yet. While I agree it is safer, there are several other things that I consider. Mounting options, mechanical stops under load, reputation and looks. The Hi-Lift has been around a LONG time. It is proven and we know with careful operation it gets the job done reliably. Mounting and accessing it is super simple. And personally, I think it looks cool. I just love seeing a Hi-Lift on the back of a swing out rear bumper (or otherwise).
At the end of the day, take my experience, your preferences/situation – and figure out what will work best in your situation. But I am glad that we had the chance to use one of these. A cool product for sure. Time will tell on long term longevity.