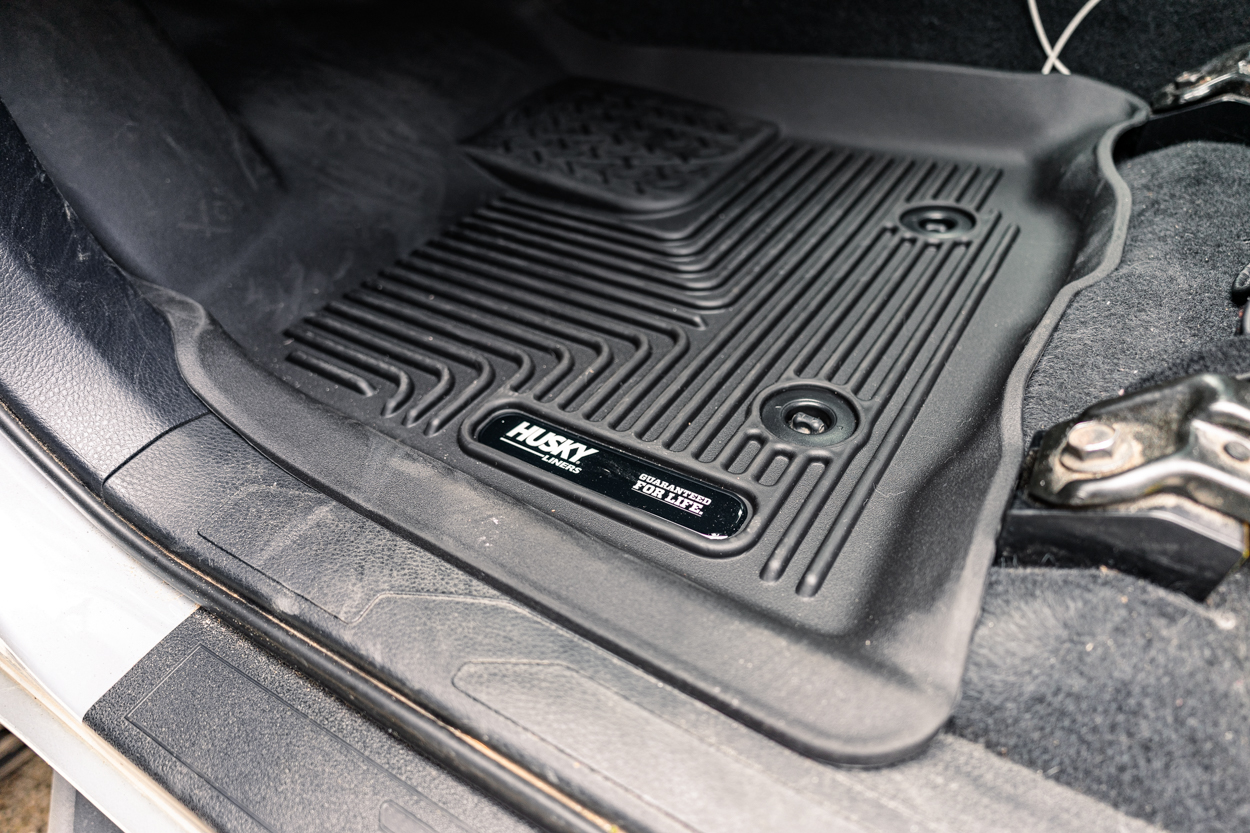 Detailed Floor Mat/Liner Comparison: OEM Vs. Husky Liners (X-Act Contour) – Installed In 3rd Gen (2016-2023) Tacoma – Factory Products Aren't Always The Best!
When it comes to our vehicles, even the smallest accessories can make a big difference. Floor mats, seemingly insignificant, actually play a crucial role in preserving our car's interior. They're not a "cool" mod and probably won't gain you more followers, but if you like to get off the pavement (and even if you don't), they're 100% necessary.
Among the top contenders in the market are the OEM 3rd Gen Tacoma floor mats and the Husky Liners floor mats. In this article, we'll compare them both, helping you decide which best suits your needs.
Find It Online
Floor Mats: OEM Vs. Husky Liners
Materials & Durability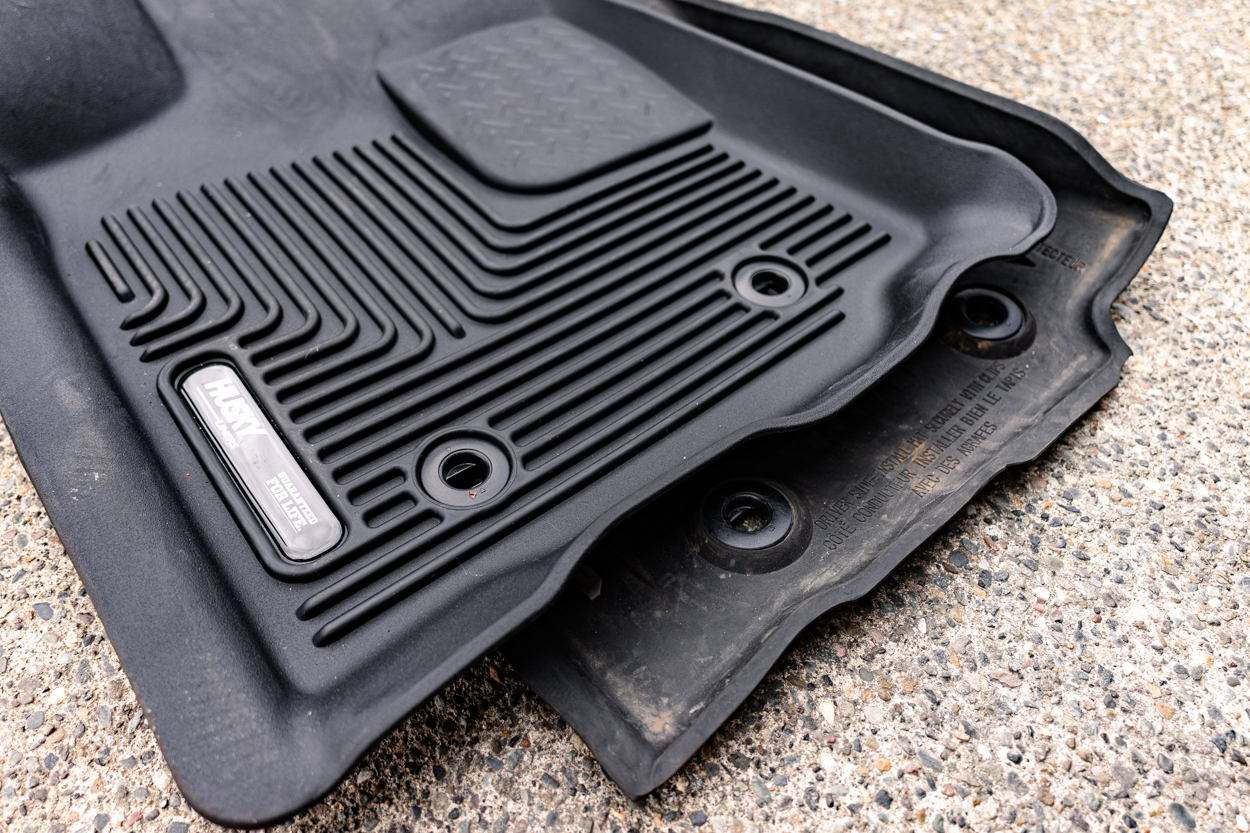 The OEM 3rd Gen Tacoma floor mats are designed and made by Toyota. Crafted from quality materials, they're meant to seamlessly match your Tacoma's interior and fit perfectly, ensuring complete coverage. While they boast good quality, they might not offer the advanced protection features found in aftermarket options.
Husky Liners floor mats, however, are known for their durability and top-notch protection. Constructed from Husky's rubberized DuraGrip material, these mats are built to endure the harshest conditions. They're designed with raised edges and channels that trap spills and debris, preventing them from damaging your factory carpet. Husky Liners are also made in the USA and come with a lifetime warranty.
Fit & Coverage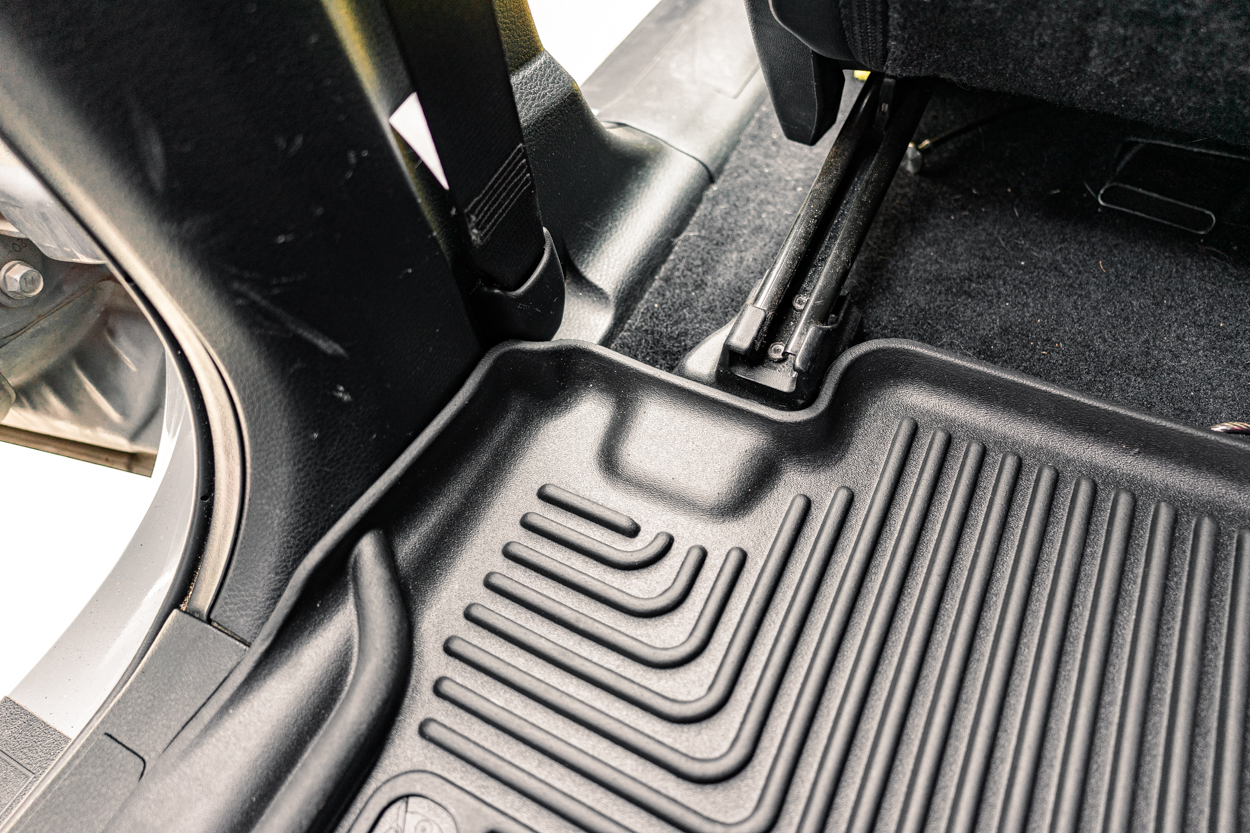 The X-Act Contour liners for the 3rd Gen Tacoma are tailor-made to fit your vehicle's interior perfectly. They feature a precise fit to minimize gaps and provide full coverage.
What I like most about the Husky's X-Act Contour versus the standard WeatherBeater line of mats is the gripper rubber material. The latter feels more like hard plastic. While that's probably more durable in the long run, I sometimes find myself slipping on them when stepping into my truck in rain or snow.
When compared directly to the OEM mats, the coverage with the Husky Liners is MUCH better. As seen throughout, the edges extend further, especially into essential areas like the transition between the plastic kick panel and the carpet. An area notorious for collecting debris.
Aesthetics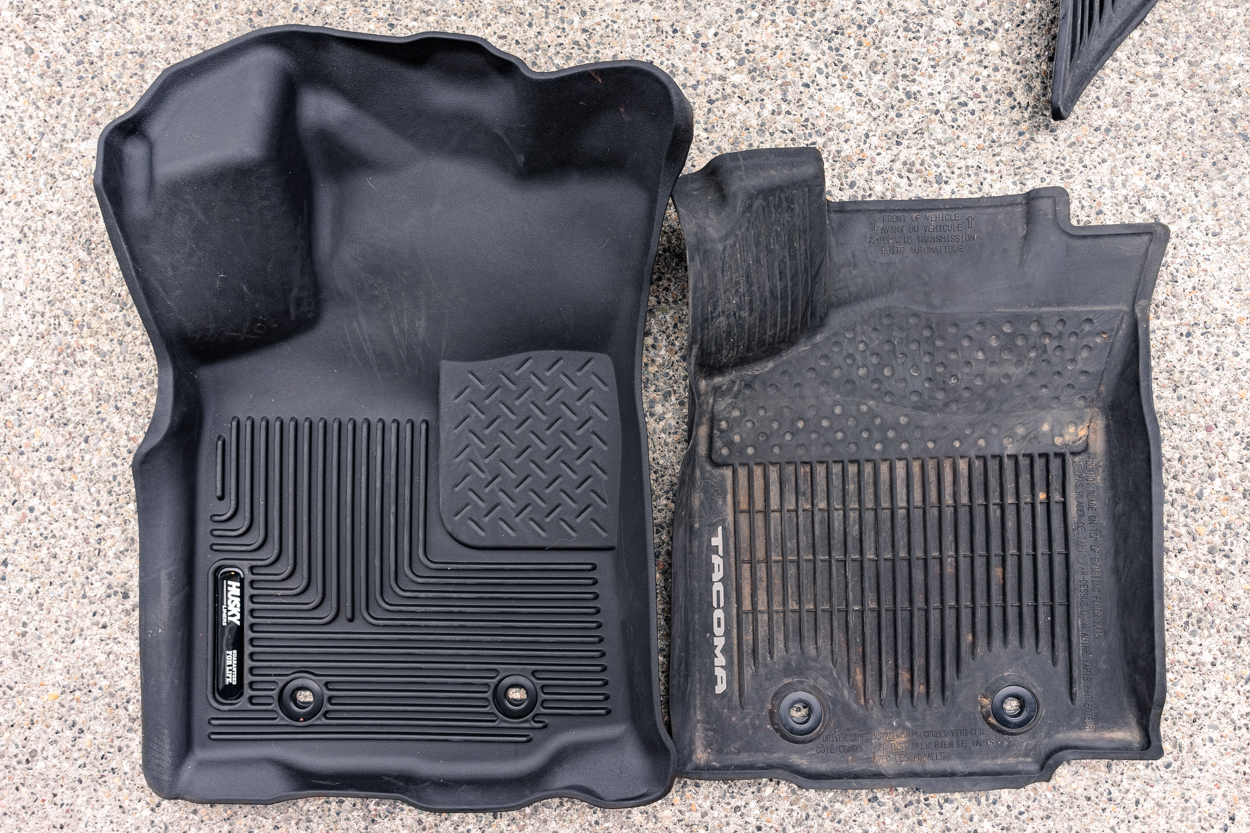 I personally like the much wider coverage and utilitarian look of Husky Liners. They're not quite as minimalist (cheap may be the better word) as the OEM option, and help keep the interior of my truck clean from doing truck things. They're also a bit easier to clean than OEM.
There are also identical grommets in the front liners to secure them to the factory retention studs, just like the OEM mats. On the underside, there are small anti-slip nubs to further aid in keeping them in place.
They're only offered in a black colorway, but I don't have any complaints about that.
Price & Value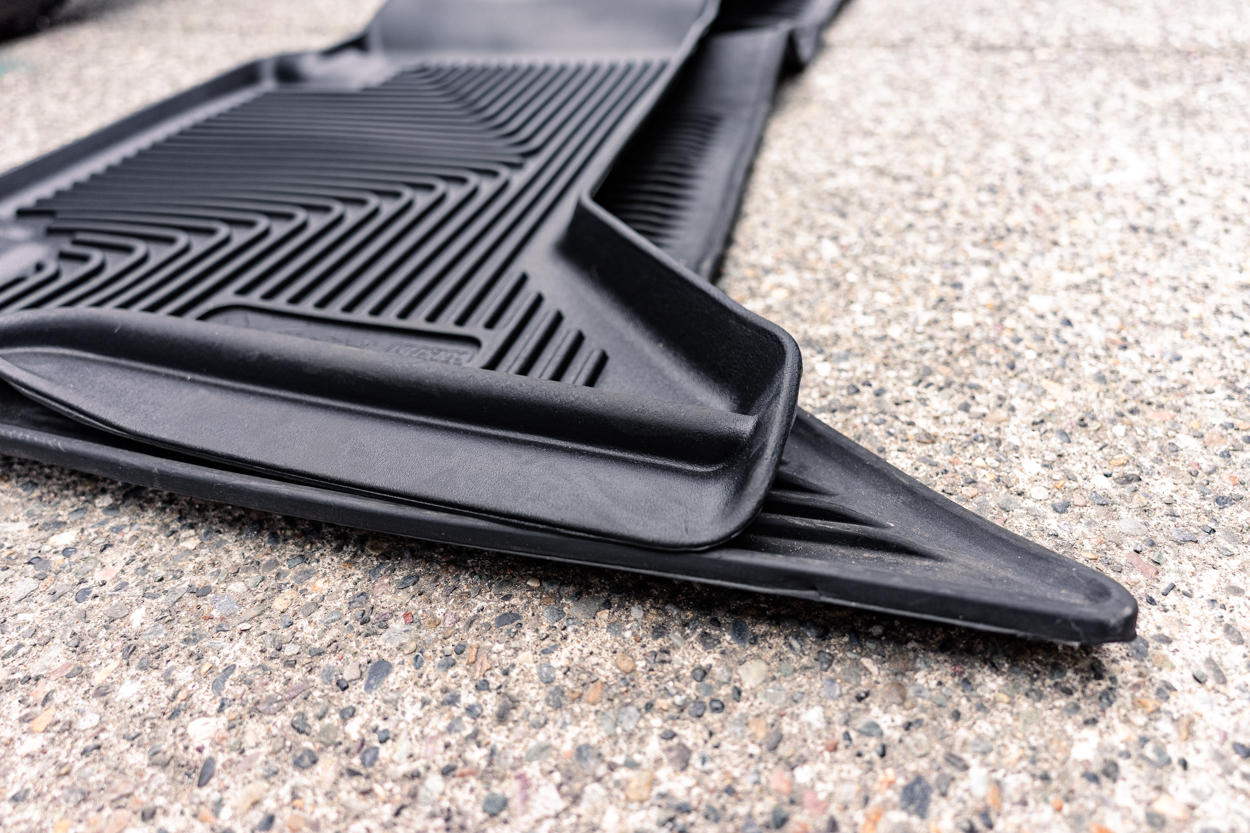 The OEMs from Toyota aren't cheap. Unfortunately, they're usually installed at the port and baked into the sale price of your vehicle. For the money though, Husky Liners are a much better value.
They don't even compare in terms of coverage area, despite being similar in price. The most notable difference is the larger raised edges to keep water and dirt contained. With the OEM mats, going up or down a slight include sends pooled water directly into your carpeting. Especially when it's raining, or even worse, snowing.
Final Thoughts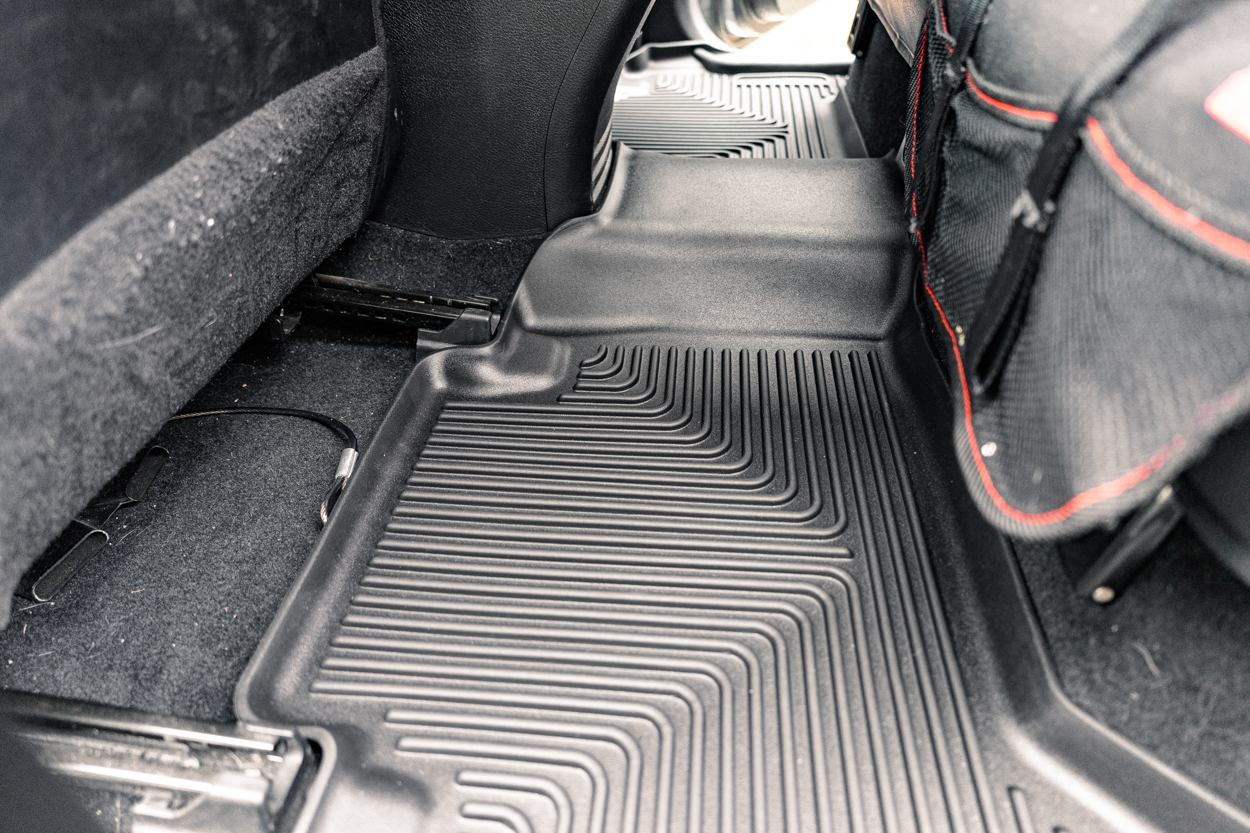 After using the Husky Liners X-Act Contour mats for a bit, I'm a big fan. The better coverage area, non-slip surface, and easy clean-up make them a winner.
I never understood why anyone wouldn't get some sort of all-weather floor protection for their vehicle. They help preserve its resale value and at a bare minimum, make spills and cleanups a breeze. I definitely prefer the X-Act Contour line over other lines but to each their own. I've used others, and they're honestly kind of a pain to take in and out due to their rigidity. Regardless of which you might choose, though, they're both a marked improvement over the OEM all-weather mats.