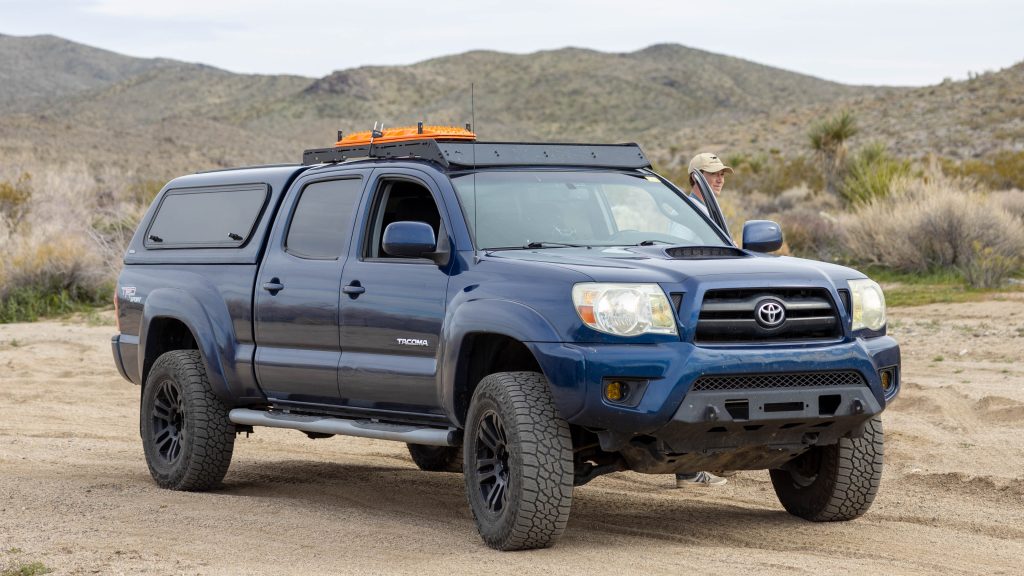 Detailed 30,000 Mile Long Term Review: Budget Friendly Dobinsons Quick Ride Lift Kit (1.75″ – 3.0″) For The 2nd & 3rd Gen (2005-2023) Tacoma
Lift kits are often one of the most impactful modifications to add extra off-road capability to your vehicle but… where do you start?
After extensive research into different options for Tacoma lift kits, I settled on new coilovers in the front and lifting blocks in the rear. This helped me stay within budget, upgrade my suspension, and add ground clearance.
After researching different brands and suspension kits, I found the Australian company Dobinsons and their rave reviews. I purchased a 1.75″ – 3.0″ lift kit and have been very happy with my decision ever since.
Find It Online
Dobinsons Quick Ride Lift Kit (2nd & 3rd Gen Tacoma): Check Price
Dobinsons Quick Ride Lift Kit
Kit Overview

There are several options and configurations for the Dobinsons Quick Ride lift kit.
Coil Colors
Shock Colors
Front Springs
C59-302 – 1.6" lift with stock front end
C59-314 – 2.0" lift with a medium load on the front end
C59-352 – 2.0" lift with heavy load (110-240lbs) front end (2.4" lift with stock front end)
C59-354 – 2.4" lift with heavy load (110-240lbs) front end (2.75" lift with stock front end)
Front Shocks
GS59-221 – twin-tube nitro charged
GS59-220 – twin-tube nitro charged (adds additional 1" lift)
Rear U-Bolts & Lift Blocks
QR59-551K – 2″ quick-ride lift kit
QR59-552K – 1.25″ quick-ride lift kit
Rear Shocks
GS59-940 – twin-tube nitro charged (suitable for 2" – 3" of lift)
Front Optional Parts
SC59-001 x2 – strut top mounts (required for preassembly option)
UCA59-003K – upper control arm kit with ball joint
UCA59-203K – adjustable billet aluminum upper control arm kit with ball joint
DD59-527K – diff drop kit (recommended for a 2.5+" lift)
BS59-560 – adjustable bump stops
PS59-4030 – 1/4″ strut spacer (used for correcting vehicle lean, adds 1/2″ wheel height)
SE59-524K – sway bar relocation bracket (lowers and moves sway bar forward)
Front Assembly Options
Front shock assembly (SC59-001 x2, purchase required)
Rear Optional Parts
WA59-553K – Carrier Bearing Drop Kit (realigns driveline angle to reduce vibration with large lifts)
Installation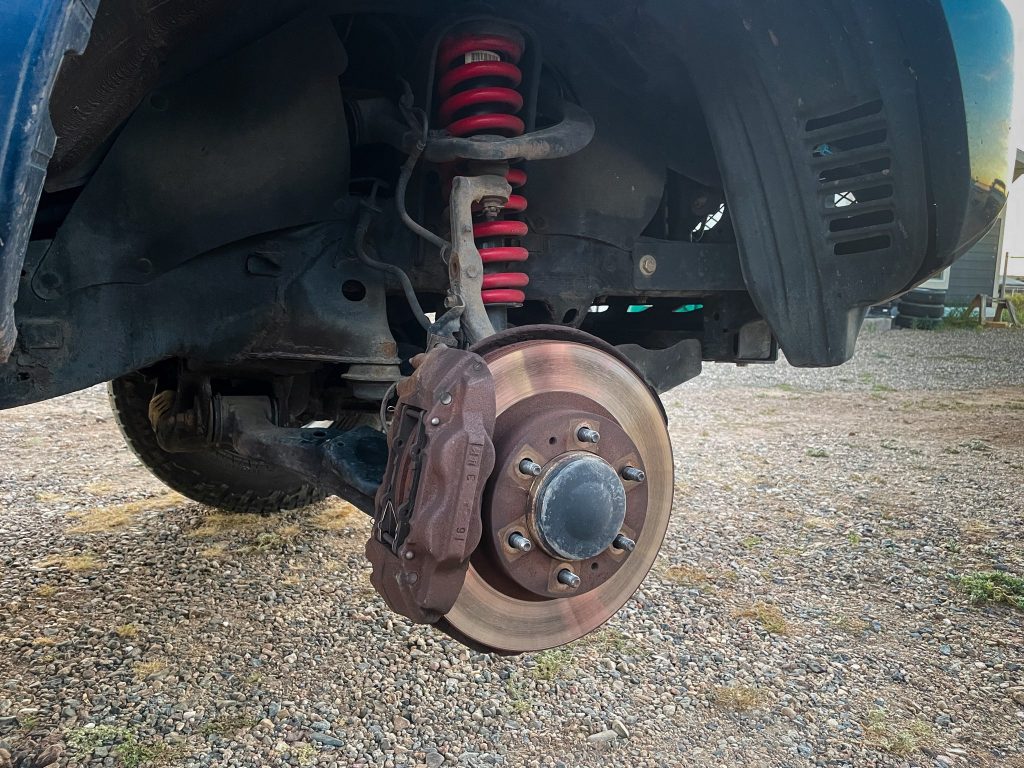 To preface this, at the time of installation, I was 17 and my experience with working on cars was minimal. However, I had lots of experience working with hand tools and DIY-type things. I suggest reading manufacturer instructions as well as watching many instructional videos ahead of time to familiarize yourself with the installation.
Once the kit arrived, I was very eager to install it. I jumped right on the installation the next morning by myself and made good progress with the front coilovers. The only complication I ran into, was snapping a bolt that held a brake line out of the way.
Note: I highly recommend having your coilovers pre-assembled if you can afford it to eliminate the risk involved with using manual spring compressors.
For the rear suspension, I hadn't done enough research with instructional videos ahead of time and had more trouble than I should have. I was confused once removing the U-bolts as to why the axle didn't separate and thought there was a bolt that went through the leaf springs into the axle which I had to remove. I did not have to do that, it was actually a centering pin.
The next mistake I made was disconnecting both sides at once while alone. The axle was very off balance and took nearly an hour to realign one side after installing the rear lift blocks.
After I tediously attached the axle with leaf springs with the lift blocks, I had to install the rear shocks. Shocks often can be used for multiple vehicles so they come with a metal sleeve that inserts into the top and bottom bearings to have a snug hole for the mounting bolts.
One shock went in perfectly but the other had a sleeve that was fabricated to the wrong outer diameter. Instead of sanding the sleeve to the correct diameter or contacting support, I seized the sleeve in the shock bearing. Fortunately, Dobinsons sent me a replacement bearing and sleeve free of charge which I had pressed in by my high school auto shop professor.
My Setup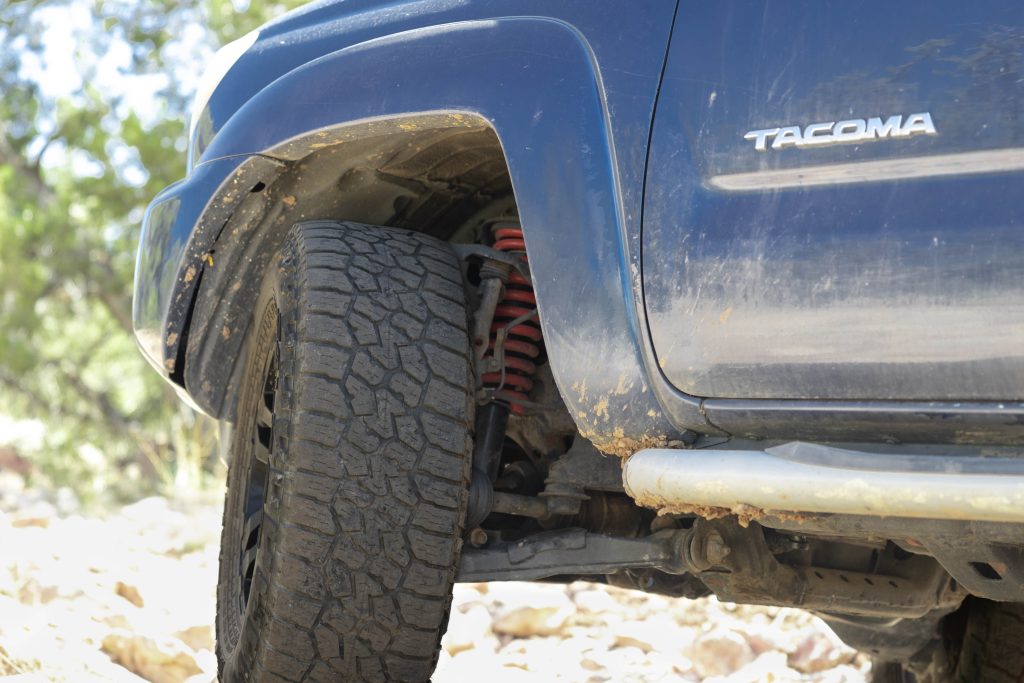 Coils: Red C59-314
Front Shocks: Black GS59-221
Rear Lift Kit: QR59-551K (later changed to Old Man Emu leaf springs)
Rear Shocks: GS59-940
Tires: 265/70R17 Falken Wildpeak A/T3W tires (32″ tires)
Front Bumper: Relentless Fabrication Low-Pro Stingray Bumper
Roof Rack: Martin Offroad Rack
Leaf Springs: EL095R Old Man Emu leaf pack (Replaced OEM leaf pack and removed block lifts 16,000 miles after installation of lift kit)
Removed Sway Bar: I removed it 5,000 miles after the kit installation
Above are some of the modifications I have made that impact and are impacted by the lift of my truck. The added weight of the Stingray bumper, roof rack, and tools I keep in my truck weigh down the truck to a raised height from OEM of roughly 1.75″. At this height, 32″ tires fit perfectly in the wheel wells without a need for any fender liner trimming.
My reasoning for the suspension components I installed was to keep the truck at or under a 2″ lift as it minimizes the need for additional modifications such as strut spacers (to eliminate an uneven lean to one side) or differential spacers.
The removal of the sway bar allows me to use my front suspension to its full extent offroad. I replaced my lift blocks and OEM leaf springs with Old Man Emu leaf springs because my previous ones were worn out. In my experience, the Old Man Emu leaf springs work wonderfully but, they start to squeak loudly after they get dusty or dry. When this happens, I simply wash them down and spray some Fluid Film on them.
Road Driving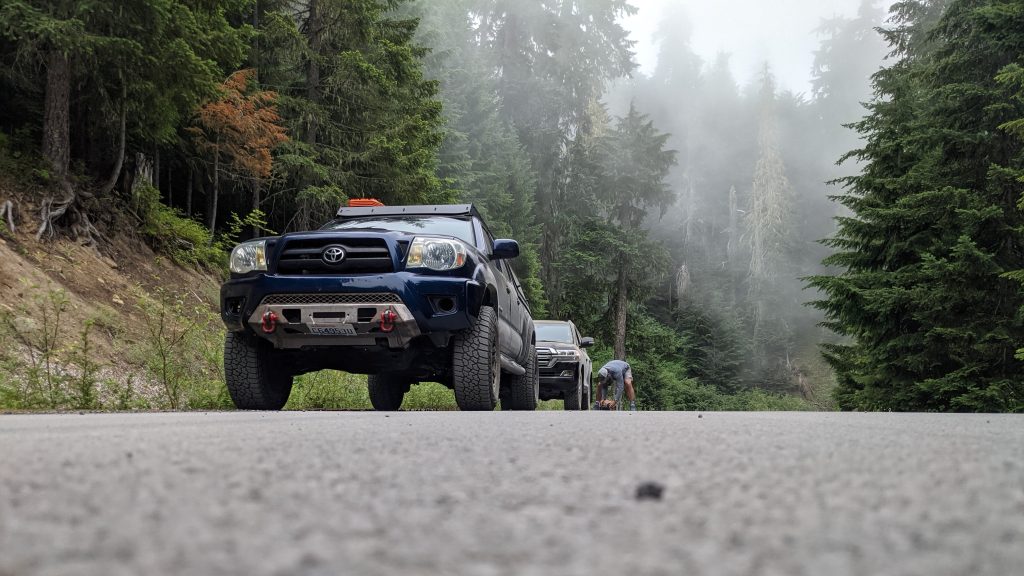 My on-road experience with the Dobinsons Quick Ride lift kit has been excellent. Removing the sway bar increased body roll but the stronger springs have made it only noticeable when swerving over 35 mph.
There hasn't been any squeaking from the Dobinsons Kit or anything unusual. It feels super stable at highway speeds along with the rest of the time. There isn't too much to note about the difference during driving on pavement since it feels very similar to stock.
Off-Road Driving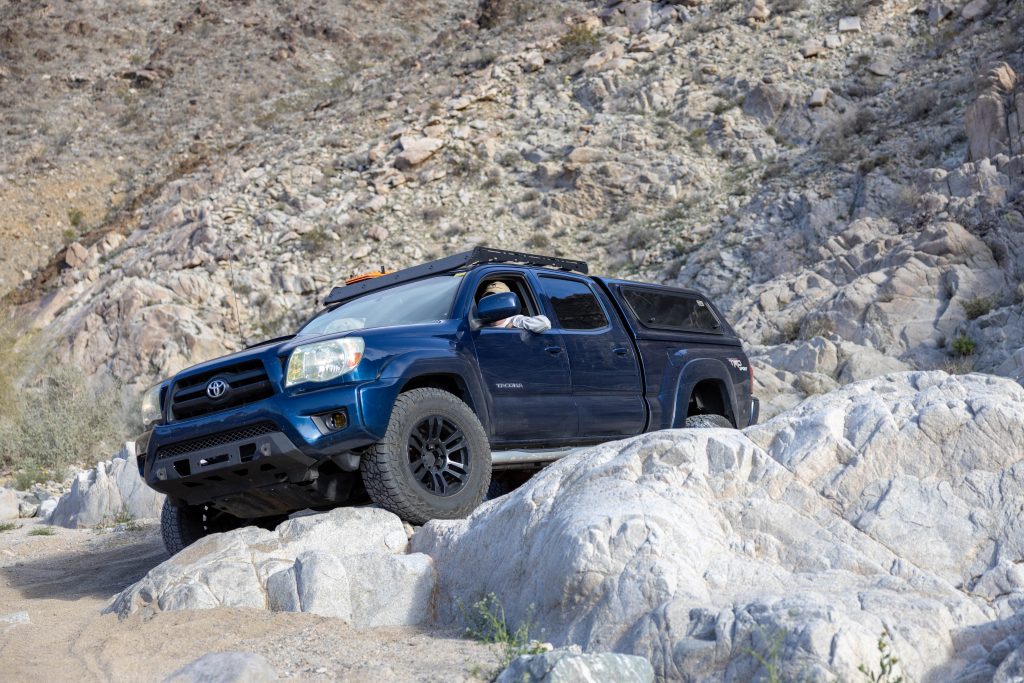 Once your tires hit the dirt, there's a world of difference. The Tacoma rides through ruts, potholes, rocks, roots, etc. with ease while feeling smooth. Larger bumps feel amazing with the Dobinsons shocks and can be taken with considerable speed without worry (taking bumps at higher speeds presents more wear on all suspension, though).
The suspension also gives plenty of clearance for slow crawling and keeps wheels from grabbing onto wheel liners even in the toughest routes.
After 30,000+ miles on the Dobinsons suspension, my favorite part about them is their stability. I have taken a lot of tough drops and hits with my truck during the time and the suspension hasn't flinched. Another notable point is that the shocks are twin-tube. This type of shock absorber design protects the interior piston from damage if the outside of the shock is dented which is perfect for off-roading. Dobinsons produces some very capable suspensions without ludicrous prices.
If I had to find a fault with the suspension, I can only think of one thing. Because these are not top-of-the-line shocks they do not have an external reservoir. In my experience, after an hour straight of driving on washboard roads at 30 mph, the shocks heat up and become more firm.
This effect known as "shock fade" happens with all shocks and is mitigated by having an external reservoir or a larger shock body that holds more oil to take longer to heat up the shocks. These types of shocks are considerably more expensive though, so I cannot fault this kit for using the ones they decided.
Final Thoughts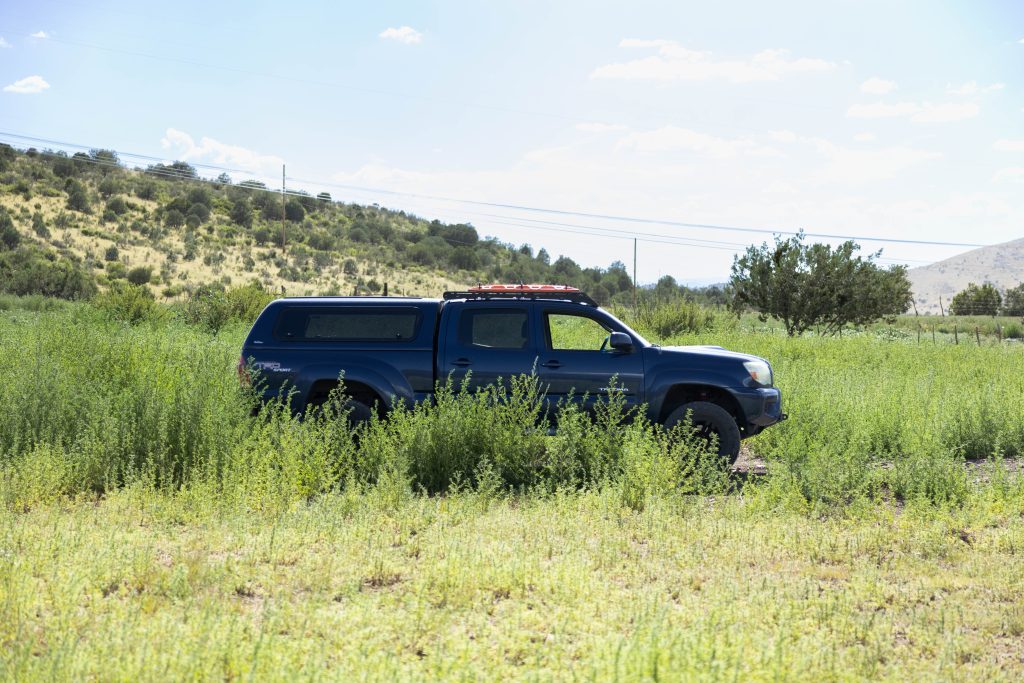 After 30,000+ miles of adventure, I cannot recommend the Dobinsons Quick Lift suspension enough. The components have been incredibly tough and I've had zero issues with them. This kit is perfect for someone who wants to raise their truck and increase offroad capabilities, without spending too much money. There are of course both cheaper and more expensive kits, but this one is an impressive bang for the buck.
Picking the right suspension kit is entirely dependent on what you want out of your truck. If the Dobinsons Quick Ride lift kit fits your needs, then I can say confidently that it won't disappoint.