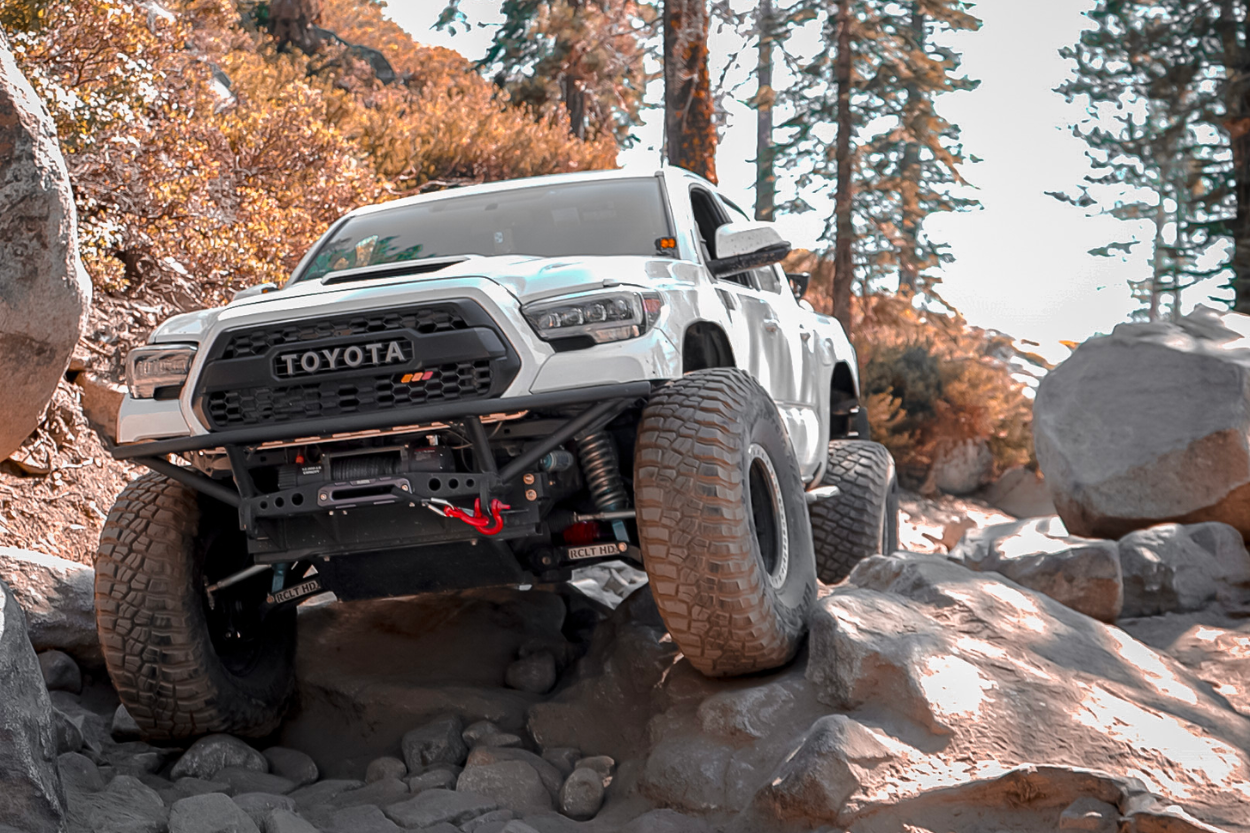 Five 2nd & 3rd Gen (2005-2023) Tacoma Long Travel Builds – 5 Owners Discuss Their Suspension Setups
This Week's Topic: Long Travel Builds
Welcome back to an all-new Taco Tuesday! Last time we covered roof rack gear and accessory setups. This week, we are back with a new topic – long travel!
Long travel suspension setups are a high end upgrade that significantly improves your truck's off-road performance. They provide a wider track width, increased wheel travel, and increasing traction – especially at faster speeds. This all enables the truck to handle tough and uneven terrains with ease. Think of these setups as somewhere between a standard mid-travel suspension and Baja trophy truck territory. Kits vary in complexity and modification.
Want to learn more about long travel? Read Brenan's post below!
Now, let's take a look at a few different setups!
Tacoma Long Travel Builds
1. Mar Pasalo – (@4lo_mar)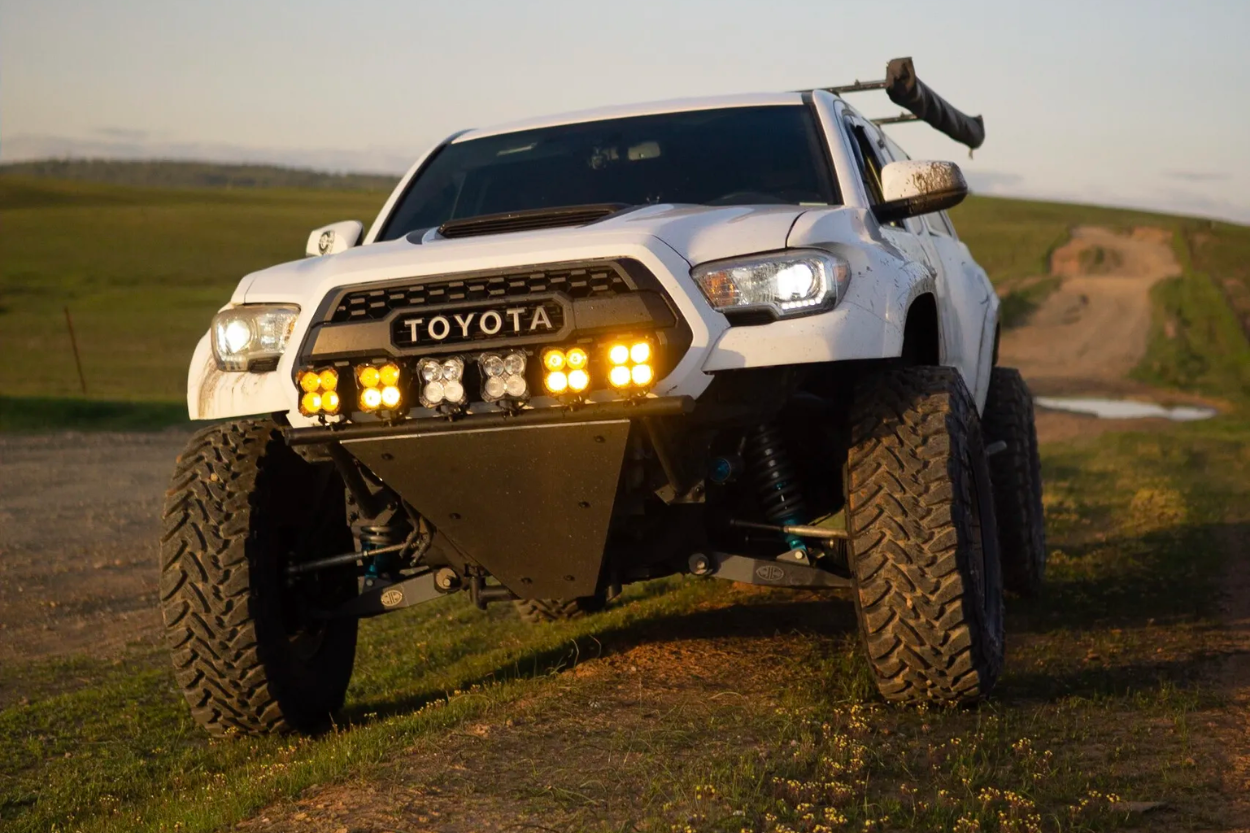 Long Travel Setup 
JD Fabrication

+4 Long Travel Kit
934 CV Axles
Spindle Gussets
UCA Double Shear Kit
Double Shear Steering Kit

Kings

Coilovers JD Fabrication LT Spec
2.0 x 2.0 Bump Stops
12" Smooth Shocks

BAMF

Rear Shock Relocation
HD Rear Hangers & Shackle
Tell Us About Your Setup
I upgraded to long travel to maximize my truck's off-road capabilities and to run larger tires.
I chose JDFabrication for the front because they have tons of experience and focused on Toyota parts specifically. They advertised their kit on Tacoma World Forums and detailed the development and build process for this kit. Reading about the research and development of the entire kit instilled huge confidence in the fitment and performance for me.
I installed everything on my own and the entire process was simple. The fitment of the kit was great and the JDFabrication team was easy to get ahold of if I had questions and their customer service was the best.
My Tacoma with long travel handles great on-road and performs effortlessly off-road. Long travel allows my truck to ride smoothly over rough terrain and helps me crawl over larger obstacles.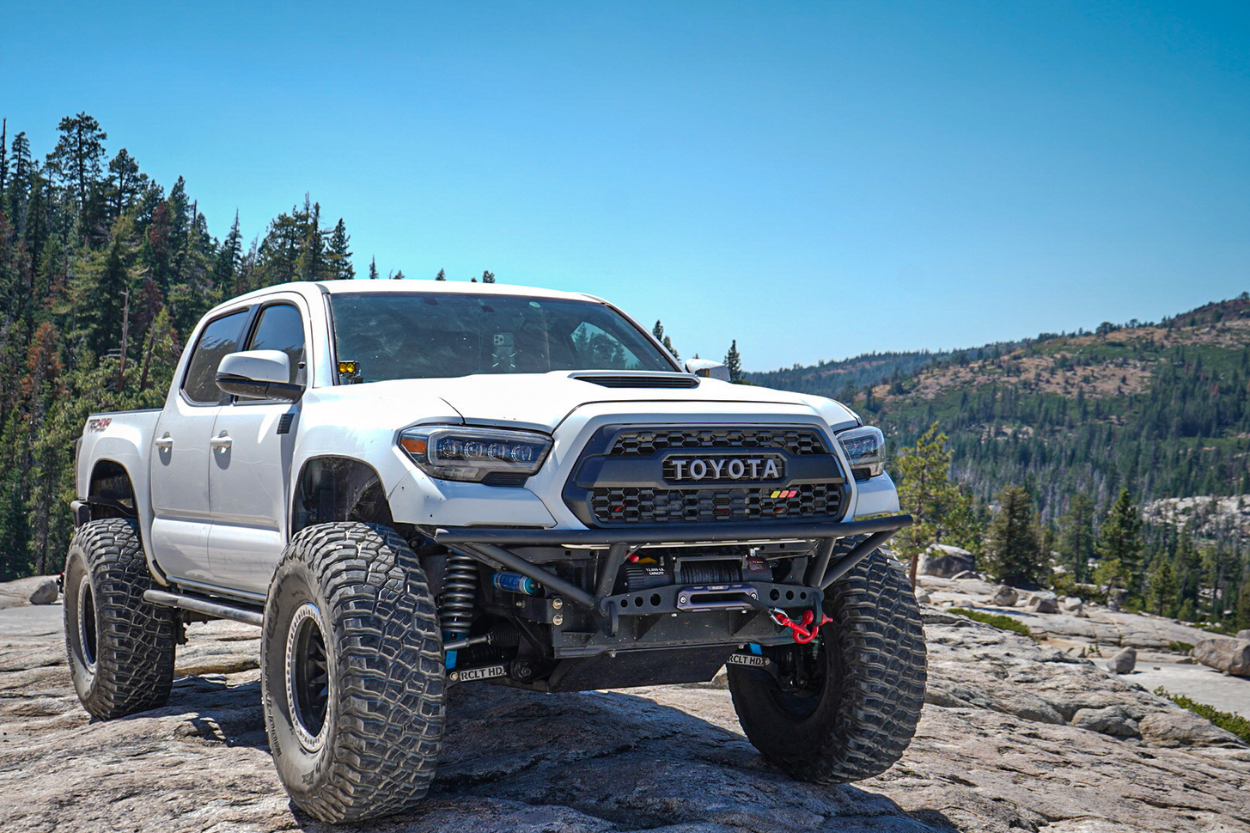 Long Travel Setup 
RCLT HD 2.75 | RCV Axles 2.75
King Suspension Long Travel | 3.0x16x600 lb Spring Coil Over
Chevy 63 Swap Rear Ruffstuff Specialties Kit w/ Chevy 63 3 Leaf Spring Kit
Archive Garage Shock Relocation | 2.5×14 Kings Smooth Bodie Shocks
Duro Bump Stops
Crown Performance 28-inch Steel Braided Extended Brake Lines
Tell Us About Your Setup
I mainly like to do rock crawling but also still want a smooth ride off-road and the RCLT was the perfect kit for that. The specs speak for themselves, with every piece being extremely heavy-duty.
The RCLT brings the entire wheel forward 2″ in order to clear 40″ tires (paired with a little tubbing). It also introduces a bigger, stronger steering rack (Land Cruiser 200 series) that is double-sheared and heimed. The clearance on the RCLT is superior to any long travel kit on a Tacoma due to the way the lower arm is made.
Money was definitely a factor as I've always wanted to go past 37s. This meant needing to upgrade to beefier components like the steering rack. Considering how the only other option is a modified Tundra rack and Heims can cost $2500-3000, it didn't make sense. As I tried to find alternatives to the RCLT kit, I kept ending up at a similar price point. Plus, the RCLT is streamlined being an all-inclusive kit.
My rear setup is very simple; how can I build it to where it's still comfortable, extremely capable, and cheap? The Chevy 63 swap was the answer considering how dirt cheap it is for the insane amount of performance you get. The 63 swap was able to get used to the entire 14 smooth-body shocks in the rear.
Going to a 3-link would be the better choice, but the amount of money needed for that far exceeded the benefits. You get a better bang for the buck with the 63 swap. Since I mainly rock crawl than desert dune, it just made more sense.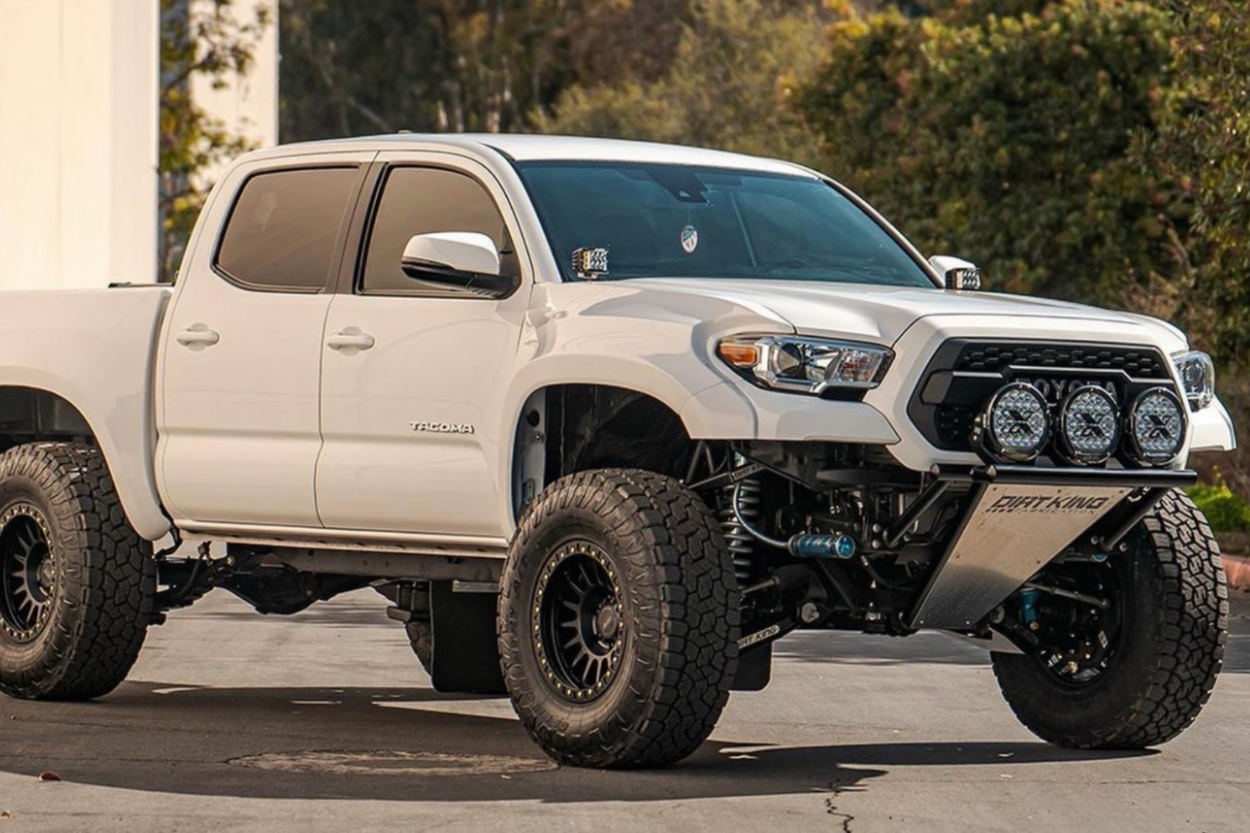 Long Travel Setup 
Dirt King Long Travel Kit
King Shocks

Front Coil Overs
Rear Triple Bypass
2.0×2.0 Bump Stops

Deaver Leaf Springs
Tell Us About Your Setup
Starting off in the front, I have a custom Dirt King long travel kit with King Suspension spec coil overs. I also have the bypass hoop installed, just not the bypasses yet.
In the rear, I have the complete Dirt King long travel and bed cage paired with the King Suspension triple bypass. The frame is boxed in from the cab back for more strength and C-notched for an extra 2″ of bump travel. There are also King bump stops mounted at the top of the notch.
All in all, this has made for a great setup both on-road and off-road.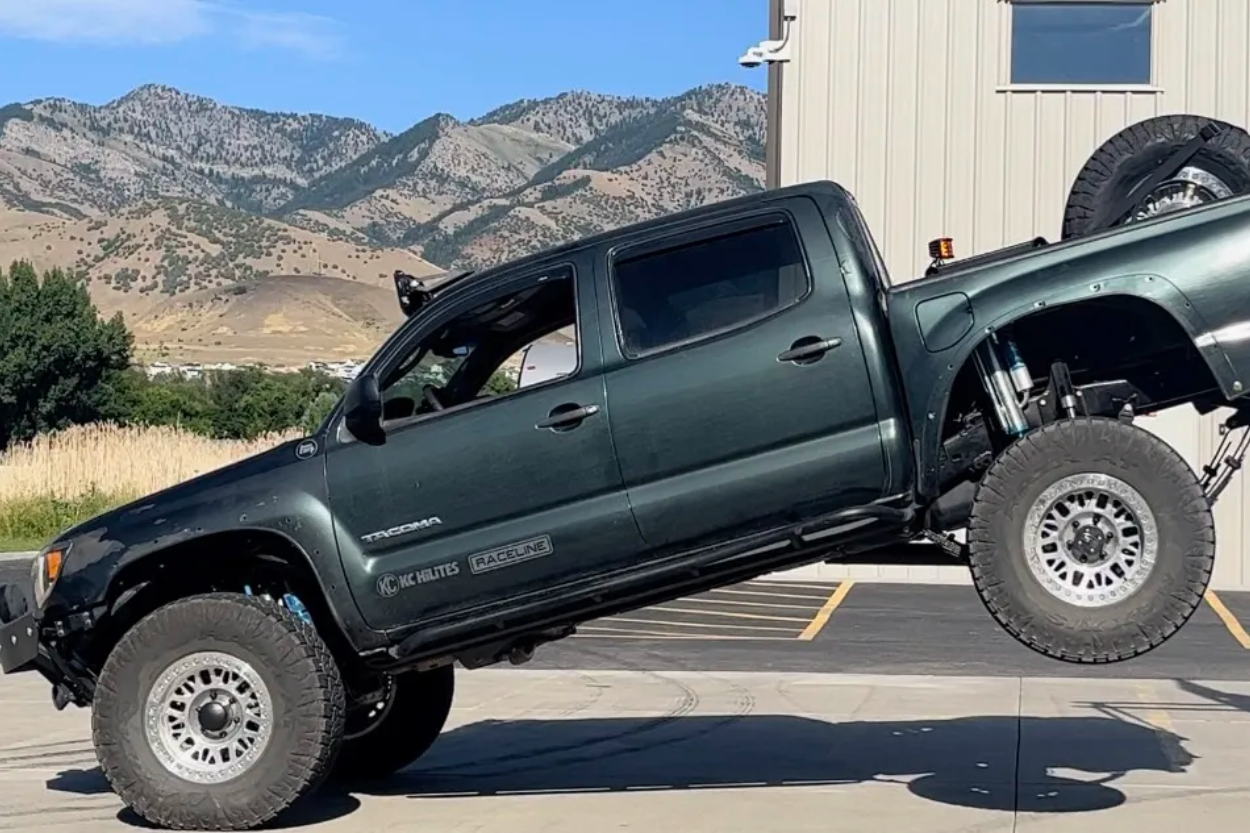 Long Travel Setup 
Total Chaos +3.5 Race Kit w/ 2.5 8″ Coilover and 2.5 8″ Bypass

RCFabrication

Gusseted Spindles

Heim Steering

Dirt King Spring-Under Kit w/ Currie Fabricated Ford 9″
Tell Us About Your Setup
We found that we really enjoyed going fast more than anything else off-road. Then, we realized that a large number of components on a basically stock Tacoma really can't handle that kind of a beating. For example, we destroyed our engine mounts and completely murdered our core support. We ended up replacing it with a custom tube structure in the hopes that it would help hold the truck together.
Unfortunately, we still had issues and needed to move our battery to the bed to keep it from crashing all the way through our inner fender. It was at that point we knew we needed to do something to stop chasing problems and instead get ahead of them. Long travel was that something.
We did as much research as we could with the little knowledge that we had at the time. After being told we couldn't go wrong with any of the big three brands, we settled on Total Chaos because of their solid reputation and passion for Toyotas. We also figured that the best way to learn something was to jump headfirst into it. It was advised that we upgrade the rear end at the same time, but you know how money can be.
We were really enjoying our front upgrades. Once we were able to get the bypasses installed, we immediately started jumping the truck and pushing it further and further each time. Well, that advice about getting rear long-travel came back to bite us when we discovered our rear axle housing was bent and the internals were completely destroyed.
We went back and forth quite a bit on whether to 3-link the truck now that we needed to replace our entire axle assembly or go with our original plan to go spring-under.
In the end, it came down to cost and the desire to be able to get the upgrades we needed while still having funds available for the "unexpected".
We'd always liked the Dirt King kit with its frame notch that allows for more up travel. We've seen how well their truck can boogie, so we went with that. Again, head first all the way. We literally just got our truck back after installation, so we're still feeling out of capability. Plus, with the new axle assembly, we have to properly break in the new gears.
So far, we are loving the feel of the truck and are excited to see what it can really do.
5. Josh Oats – (@
the_dark_yota)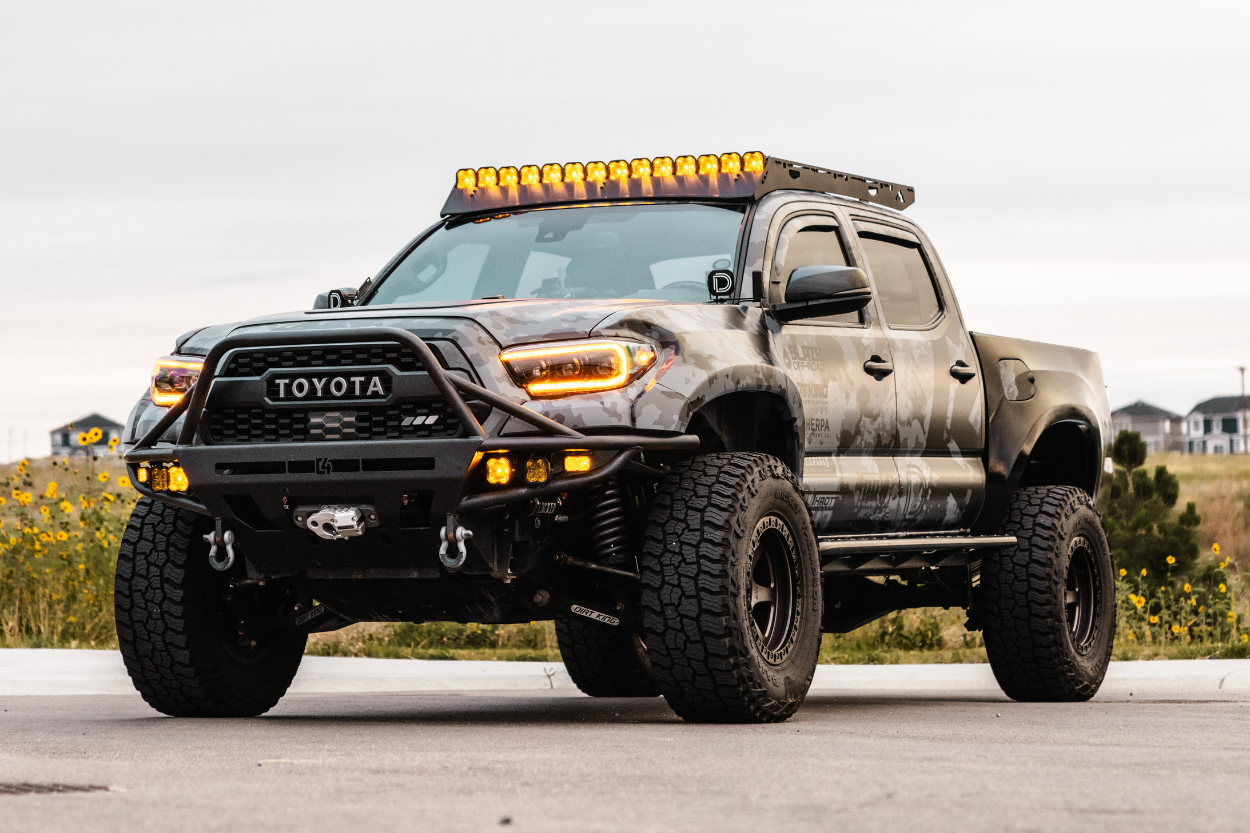 Long Travel Setup 
Dirt King

+3.5 Long Travel Kit
Upper Control Arms
Lower Control Arms
300m Axles
CVJ Boots
Bypass Hoops

Locked Off-Road

8" Coilovers with 600lb Springs
Triple Bypasses
Hydro Bump Stops
14" Rear Triple Bypasses
2" Stroke Hydro Bump Stops

Solo Motorsports Tundra Steering Rack with Clevis Upgrade and Double Sheers
Tell Us About Your Setup
I chose Dirt King because they're one of the top brands you can really choose from. When you see their kits in person you see the attention to detail these guys put into these kits.
I chose Locked for shocks because I've had them for years and they've never let me down. Their shocks are fully serviceable and rebuildable and they use quality materials and parts. The owner, Riley, truly cares about all of his customers and does everything he can to make sure everyone is taken care of and loves their shocks and bump stops. I love the products so much that I became a dealer for them and I'm fortunate to now call Riley a very good friend of mine. Hit me up for the best deal on your Locked set up.
I opted for the Tundra steering rack from Solo Motorsports because it looked like it was the most well-put-together conversion for the Tacoma and I have to say that their kit is really nice. I did as many supporting mods as possible for the LT but also for the 37s.
Final Thoughts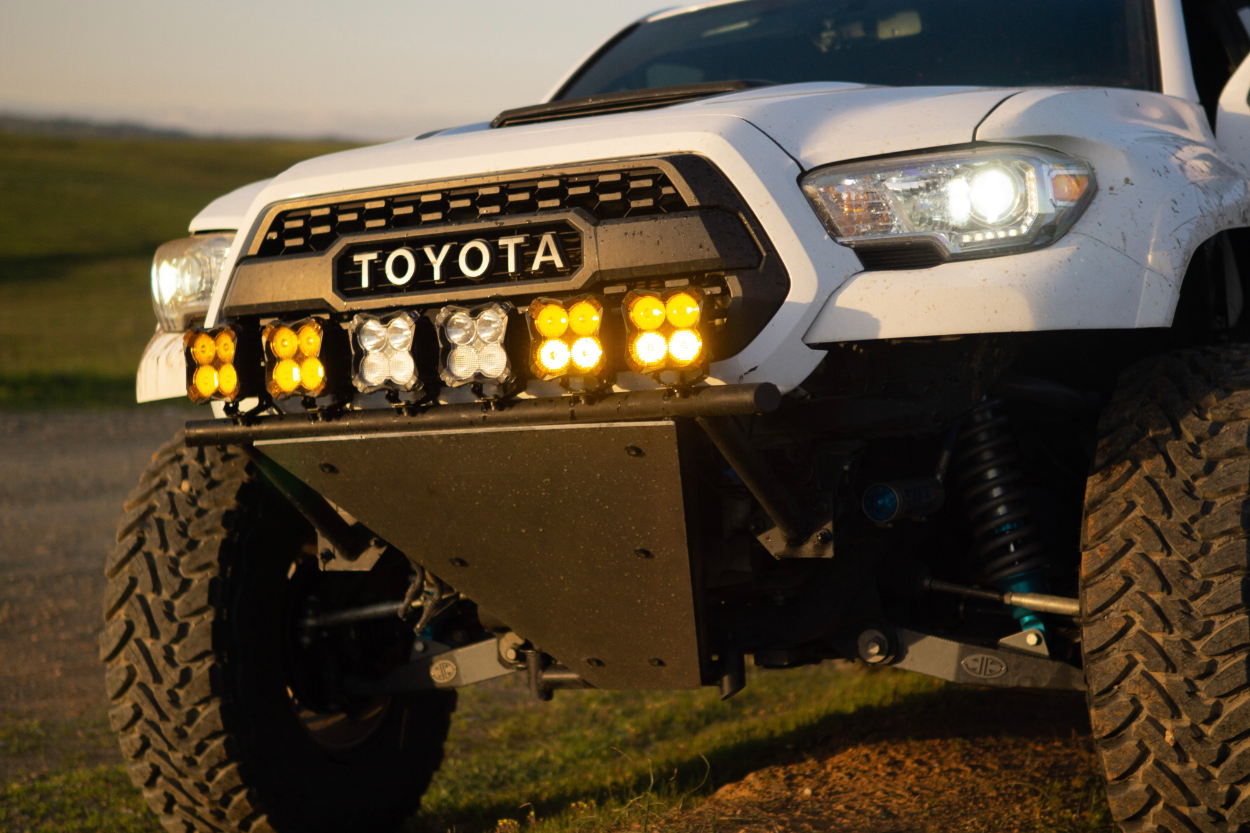 And that wraps up this week's Taco Tuesday on LT!
While long travel suspension might not be for everyone, it has its place in the off-road community. Due to its cost, most of us can only dream, but the way it elevates the ride comfort and turns rock climbing into a breeze is truly remarkable. If you're into moving and crawling fast, this upgrade can seriously up your game.
Trucks with long travel kits look so good – the truck's mid-size form paired with huge tires and crazy suspensions are something straight out of our childhood imaginations, and we love it.