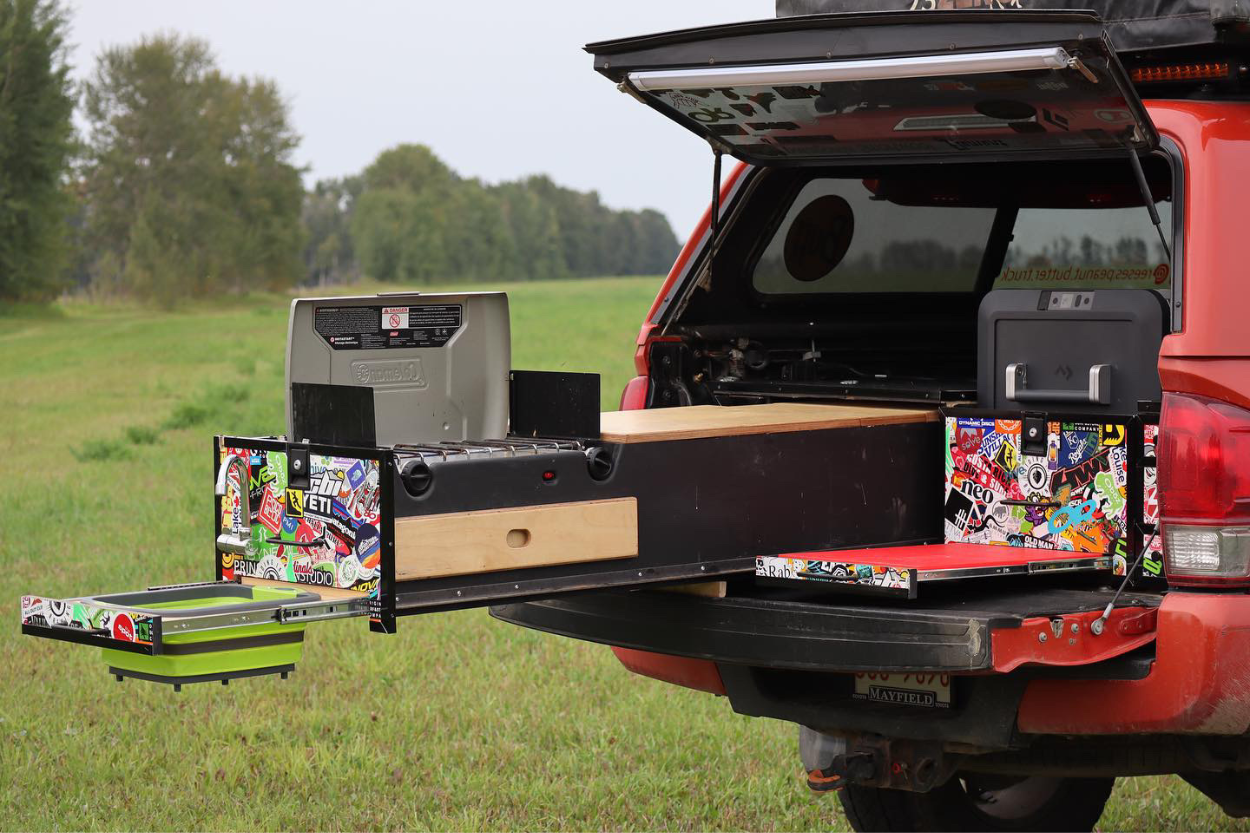 We Asked 3 Tacoma Owners What They Were Running In Their Camp Kitchen Setup & Their Top Cooking Gear & Accessory Essentials
This Week's Topic: Camp Kitchen Setup
Welcome back to an all-new Taco Tuesday! Last time we covered long travel Tacoma builds. Today, we'll check out a few must-haves that everyone should carry in their camp kitchen.
Building your camp kitchen might sound like a breeze at first – something to cook on, a way to store your food, and a set of essential cooking utensils. However, things can get a bit tricky when you realize that there is an abundance of products on the market to accomplish the same task.
For example, cooking methods can range from griddles and stovetops to skottles. Then, there's the ongoing debate between traditional ice coolers and fridge/freezers. With such a wide array of options on the market, building your ideal camp kitchen can quickly turn into a challenging task.
In today's blog, we'll be covering camp kitchen essentials that our Tacoma readers recommend based on their experience. Let's take a look at what they have!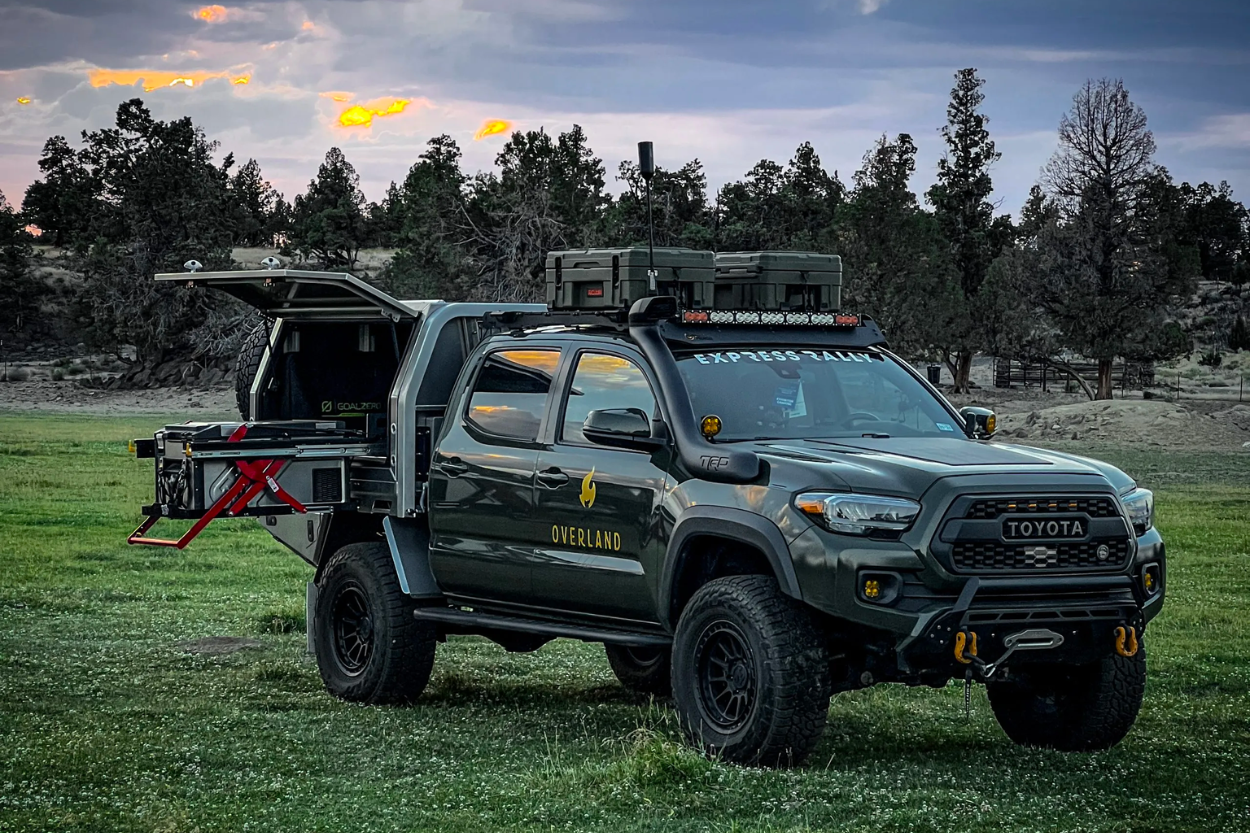 3 Camp Kitchen Essentials
Kong Boards Camper Cutting Board

Camp Chef Mountaineer 2 Burner Camp Stove

SeaSucker Waste Band Trash Bag Holder
Tell Us About Your Setup
As someone who has literally everything when it comes to camp kitchen gear and supplies, it was really difficult to narrow this list down. But when I thought about what I absolutely couldn't live without, here's what it came down to.
First, I can't go anywhere without my Kong Board. It serves as the foundation of my cook station. Foundations should always be strong, and this sustainable black walnut masterpiece of a cutting board is thick and sturdy. With proper care, it will last forever. The Camper size packs easily into any kit. But with all the cooking I do, I went with the big boy.
Next up, the workhorse in my kitchen is my Camp Chef Mountaineer. With 20,000 BTUs PER burner, this thing will flash fry a Buffalo in 45 seconds. Yep, that's a whopping 40k BTUs in a lightweight aluminum case that's easy to pack down and store. It will boil water crazy fast. Camp Chef leads the pack when it comes to propane cooking, hands down.
A relative newcomer to my camp kitchen is the SeaSucker Waste Band trash bag holder. With powerful vacuum suction cups, once it's in place, it isn't going anywhere. Strong clips keep your trash bag in place, even if it's overloaded. I've looked low and high for a place to hang a garbage bag in my kitchen that was functional, and the second I saw this at an Overland Expo, I had to snag it. Just be careful when you remove the clips from the waste band because if they fall into your garbage bag, you're going fishing.
Other important gear that always comes along with me on my trips:
Messermiester knives – Get the Adventure Chef collection and you'll have an array of knives and tools at your disposal, complete with a small cutting board – all wrapped up in a compact carry case.
Stargazer cast iron – hardcore, super smooth, and lightweight. Nothing sticks to its polished surface, with minimal care it never rusts. It's perfect.
H3R Performance fire extinguishers. It's recovery gear for your kitchen. You hope you never have to use it, but you never want to be without it. I specialize in live fire cooking, but this is good for propane as well.
3 Camp Kitchen Essentials
Coleman Stove
DIY Storage Drawers
Cutting Boards
Tell Us About Your Setup
These aren't super crazy things, but they go a long way. I use a classic Coleman stove for all my cooking, which is built right into my drawer system. Having it integrated means less setup and take down and having a designated spot for it to be every time. It's a clean look, too (I think).
Easy storage is a big thing for me. The last thing I want is to be fumbling around the back of the truck trying to find what I need, so my solution was to build a whole drawer and kitchen slide out myself. That way, I could have everything right where I want it.
My last essential is a cutting board that isn't fixed in one spot, especially if there is more than one of you cooking at a time. This way, you have the freedom to move some of the prep work somewhere else so you aren't in the way of each other.
Most of my kitchen build was either leftover materials I had at home, or stuff bought off of Amazon (Sink, faucet, hinges, handles, etc.). It's nothing super expensive or crazy – even my drawer slides are homemade from angle iron and skateboard bearings. You don't have to break the bank to have a great kitchen setup!

3 Camp Kitchen Essentials
Jetboil

RTIC 70L Cooler

GSI Outdoors Kitchen Kit
Tell Us About Your Setup
The most important must-have for my camp kitchen is my Jetboil! I've had my flash cooking system for years and do the majority of cooking out of it. It's super compact, lightweight, and perfect for those quick camp breakfasts! I've been lucky enough to work with Jetboil, primarily showcasing coffee making. They're such a rad company with awesome people and I'll always have one packed for all my trips!
The second must-have is my 70L cooler from RTIC. I haven't joined the overland fridge/freezer fun just yet, but I love being able to store up to 2 weeks' worth of food in this cooler. I had to snag my RTIC when I found out that they're basically YETIs but at half the price. I'm going on 4 years with mine and it's holing up like an absolute champ!
Lastly, we have our kitchen utensil kit from GSI Outdoors! It allows you to store seasonings, a mini cutting board, tongs, a spatula, and a spoon, all in a 7″ pouch. Coming from the backpacking world, I'm all about having a minimal and easily packable setup. I will say, though, that having the luxuries of overloading is hard to beat!
If I could add anything to my setup, I'd love an Eureka camp kitchen. Pairing their stove with the Jetboil would be the perfect combination in my opinion – especially for those vibey, early morning camp breakfast photos! Down the line, we'll add an overland fridge, but for now, the setup is pretty dialed!
Final Thoughts
That wraps up this week's Taco Tuesday!
If you love going on camping adventures, you also know just how vital the right camp kitchen gear is. The last thing you want is to forget something that you need to make a meal. Believe me, it's happened to us.
We would love to hear about your camp kitchen essentials, so make sure to comment below!