Camper Shells (Toppers) & Rooftop Tents – Which Is Best For Your Overland Truck Camping Needs? Pros, Cons & What To Consider Before Buying
With the introductions of various tent and topper systems, there have been many discussions and comparisons between the various ways to sleep in your truck. One valuable discussion compares camper shells (aka toppers) and rooftop tents and their associated mounting systems. So what's it like to use each one, and how can you best understand what your options are?
Well, that's what we're here for. I myself (along with several members of the Trail editorial team), have run and tested many different camping/overland setups. In the past couple of years, I've personally ran a fiberglass shell, a bed rack with an RTT, and my truck has achieved its final bed cover form with a GFC platform topper. If you haven't seen Go Fast Campers before, they're better known for their camper system, and more recently they released this topper variant.
In any case, I'll share my experiences with you on the two to help answer questions that I anticipate other might have as they build their trucks. Many people swear by both setups. Maybe… you could even run both! More on that later in this post.
Find It Online
Toppers Vs. RTTs For Camping
Cargo Space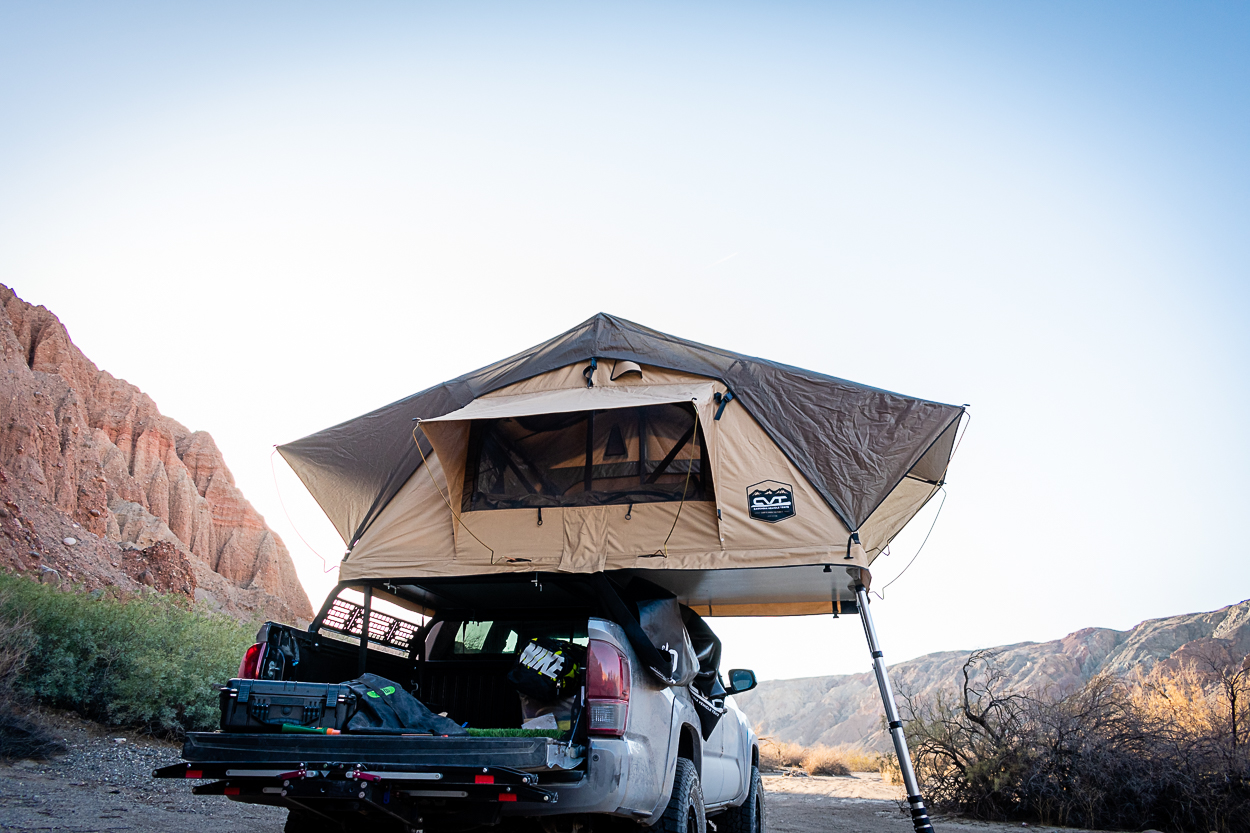 One of the first things to consider when comparing RTTs and camper shells is cargo space. If you have taken your Tacoma camping, you know that the amount of gear you find essential quickly stacks up. In most cases, having a rooftop tent setup means that you are separating your sleeping space from your storage space.
When I had my tent on a bed rack, my entire bed space was still usable as storage and I could leave everything there when I was sleeping. On the flip side, when I sleep inside my topper, I need to remove everything I have stored in the bed and put it either on the ground or in the cab. There are products such as the BamBeds Sliders and BamBeds Sleeping Platform which help keep your storage area separate from the sleeping area if you have a topper.
But if you want a dialed bed storage system with permanently mounted accessories like a fridge, battery setup, or drawers – a rooftop tent could be advantageous since you can sleep above all of that without removing it. If you value permanent storage space and do not want to remove anything to sleep, then an RTT will win this category. Otherwise, you may find value with the closed storage offered by a topper.
It's also worth considering, that without a closed bed topper of some sort, your gear will always be exposed to the elements and potential prying eyes. Camper shells like the GFC topper much more secure, with locks on all of the doors to prevent theft. On a final note here, the total internal storage capacity inside a topper will always be greater than compared to a bed rack or otherwise. One of the biggest benefits of a truck bed, is the ability to create a huge amount of sealed space with a topper.
Form & Function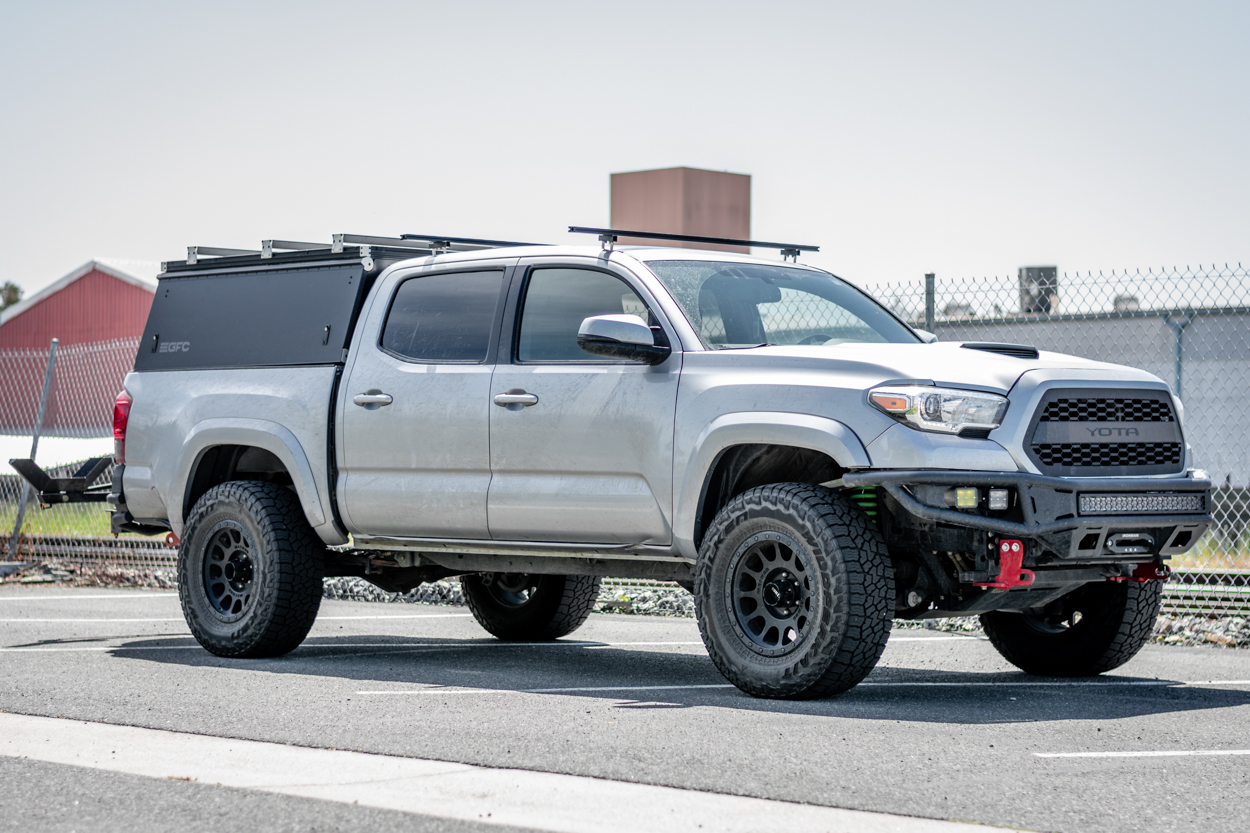 Another thing to consider is form vs. function – or in the camper shells case, a combination of both.
RTTs On Bed Racks
Rooftop tents often sit higher than the height of the cab, resulting in increased drag and wind noise. This can affect fuel efficiency (MPGs) and have a negative impact on the overall aesthetics of the vehicle build. This is particularly noticeable when using a mid or cab-height bed rack. The trade-off with RTTs and bed racks is that they provide convenient access to your gear stored in the truck bed, but they also leave these items exposed to the elements.
Camper Shells & Toppers
On the other hand, camper shells excel in both form and functionality. I can comfortably sleep inside my GFC without drawing attention. It also seamlessly fits on the back of my truck, which I prefer over my previous tent setup. It follows the truck's body lines well, creating an appealing profile. If either of these factors is essential for your needs, a camper shell is the way to go. Additionally, it helps keep your belongings protected from the elements and out of sight.
Setup & Takedown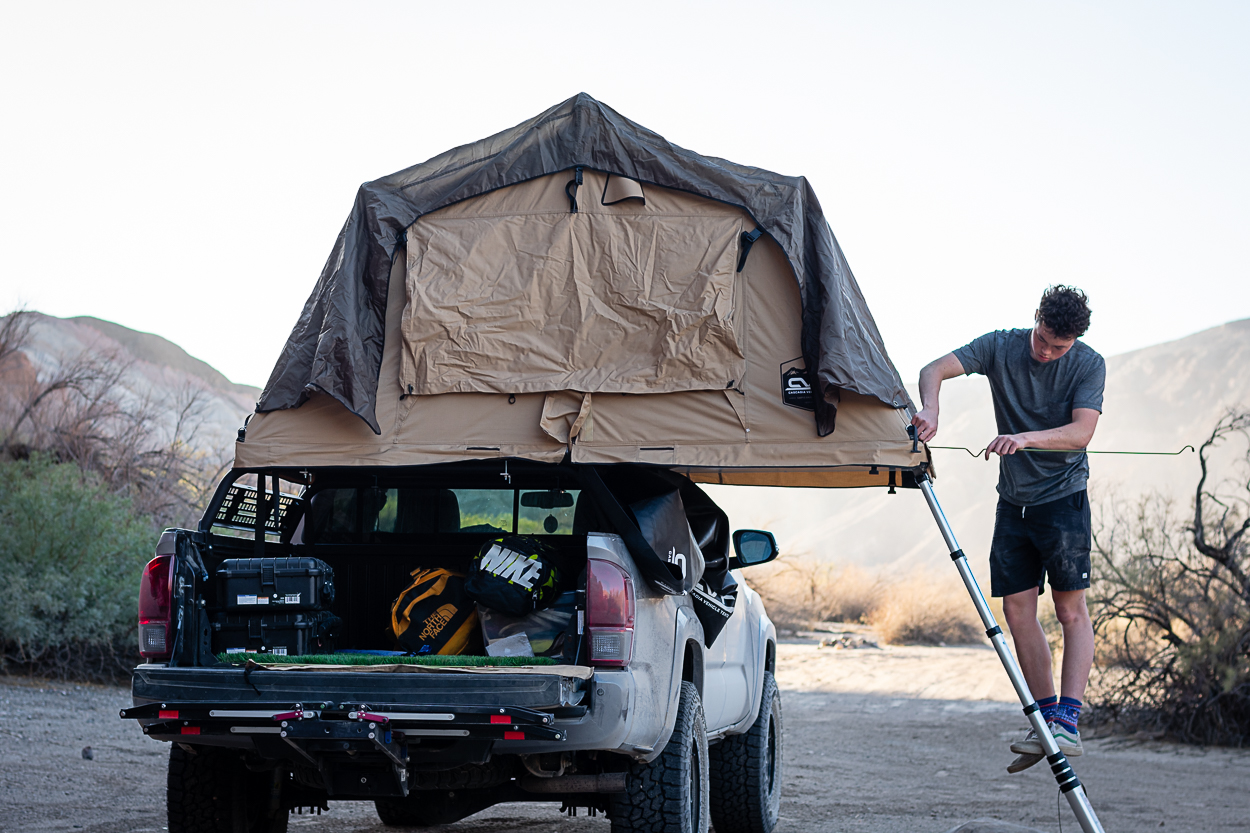 Initially, you might think the camper shell option takes the cake in the setup/takedown category. But, it's not quite that clear.
Obviously, rooftop tents have much more of a setup process than popping open a camper shell. When I had my tent mounted to a bed rack, it took me about 10-15 min from when I hopped out of my truck to when the tent was fully open. This included removing the cover, propping up the windows, and setting up my sleeping bag inside. While this was by no means a difficult process, it was tedious to some extent.
Now, for the topper, you may think it is as easy as dropping the tailgate and hopping in bed (which it can be with the right setup). But if you carry a lot of items, you will need to remove them from your bed before sleeping. I mentioned this in the cargo space section above, but it would be harder to sleep in a topper with all of your gear in it. Unless you have a very well-designed storage system that accounts for sleeping space.
Cost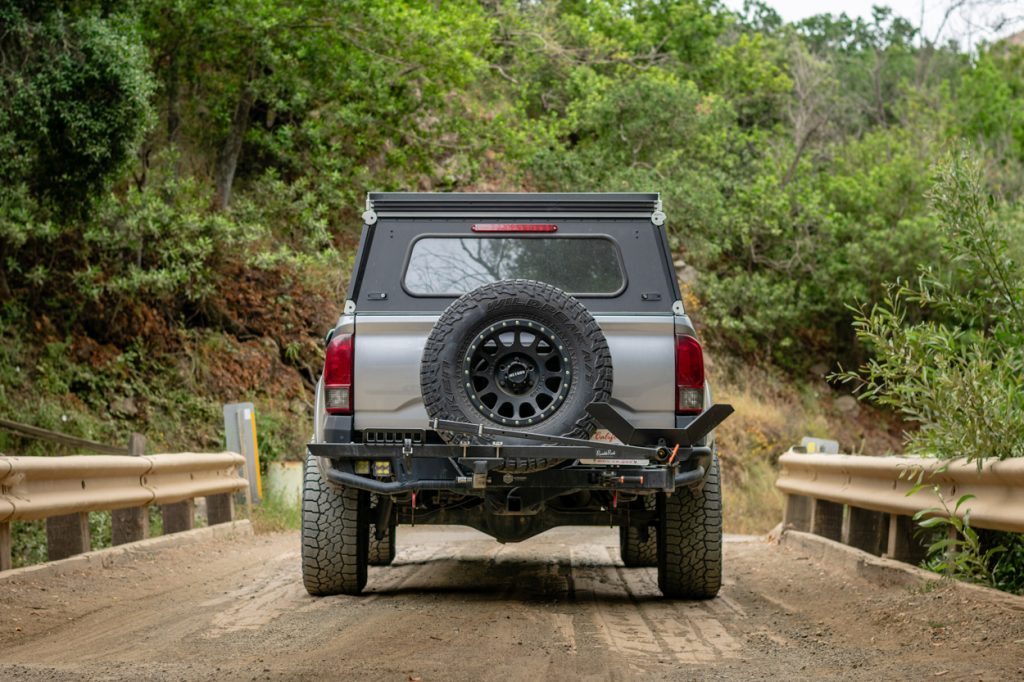 When it comes to cost, there are a lot of different variables at play. Let's start with rooftop tents.
With an RTT setup, you will need the tent itself and either a bed rack or a camper shell that allows you to mount the tent to your truck. If you are trying to save as much money as possible, you can get some cheap crossbars that mount to the bedsides.
In general, lower priced RTTs go for around $1500 and you can expect the more affordable bed bars to be $300-500. After tax, shipping, etc., you are typically looking at almost $2000. Of course, if your budget allows, you can mix and match mounting systems and tents that are higher quality with more features and it can easily run you $5000+. There are plenty of bed racks out there that run well over $1000, and higher-end RTTs that cost $3000-5000.
As for camper shells, new fiberglass shells run from $2000-6000. You also need to factor in the cost of bed platforms or interior carpeting if you are going to spend more than a couple of nights in your camper. As with RTTs, the prices can vary for features. A premium overland camper shell like the GFC topper that is specifically built for rugged use is also in the $5000-6000 price range.
As with most accessories that you can buy for your truck, I go by the "buy once cry once" motto. I went with several other alternative before the GFC. The GFC platform topper has been by far my favorite and I would have started and finished with in hindsight.
Comfort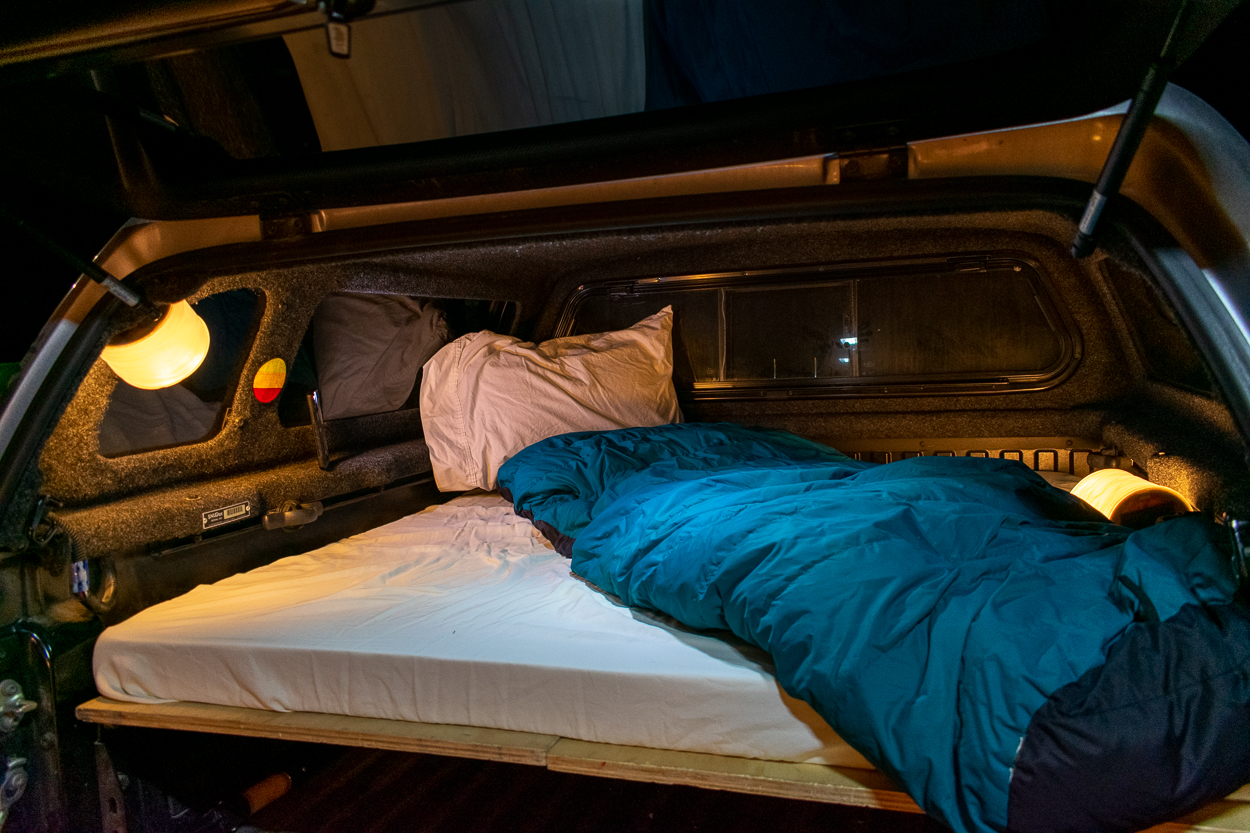 The comfort category will be a little bit more straightforward. The short answer is if you're a bigger, taller person, get a rooftop tent. Here's why.
In a camper shell, your sleeping space is limited by the length of your bed. If you have a short bed and are a taller person, you may need to sleep diagonally unless you enjoy sleeping with your knees bent. Additionally, for someone who is closer to 6ft tall, sleeping in a camper shell with the tailgate secured may feel cramped. While it's manageable, the lack of length is something to consider. Another spot to note this, the BamBeds platform offers an extended version to give you more room to sleep. It can be paired with a TopperTent (effectively a tent cover for an open tailgate/topper).
Another thing to consider with the camper setup is that on a cab-height topper, you will need to be aware of headroom. When sleeping on a bed platform in my camper, there were a few occasions when I forgot where I was and sat up in the morning only to smack my head on the ceiling. Not to say that RTTs provide much more head space, but something to consider.
The benefit to comfortability in the camper though, is that you will tend to be a lot warmer. It will trap heat better and wind won't blow away your warmth. You can also have more of a bed setup similar to how you sleep at home.
Weather Resistance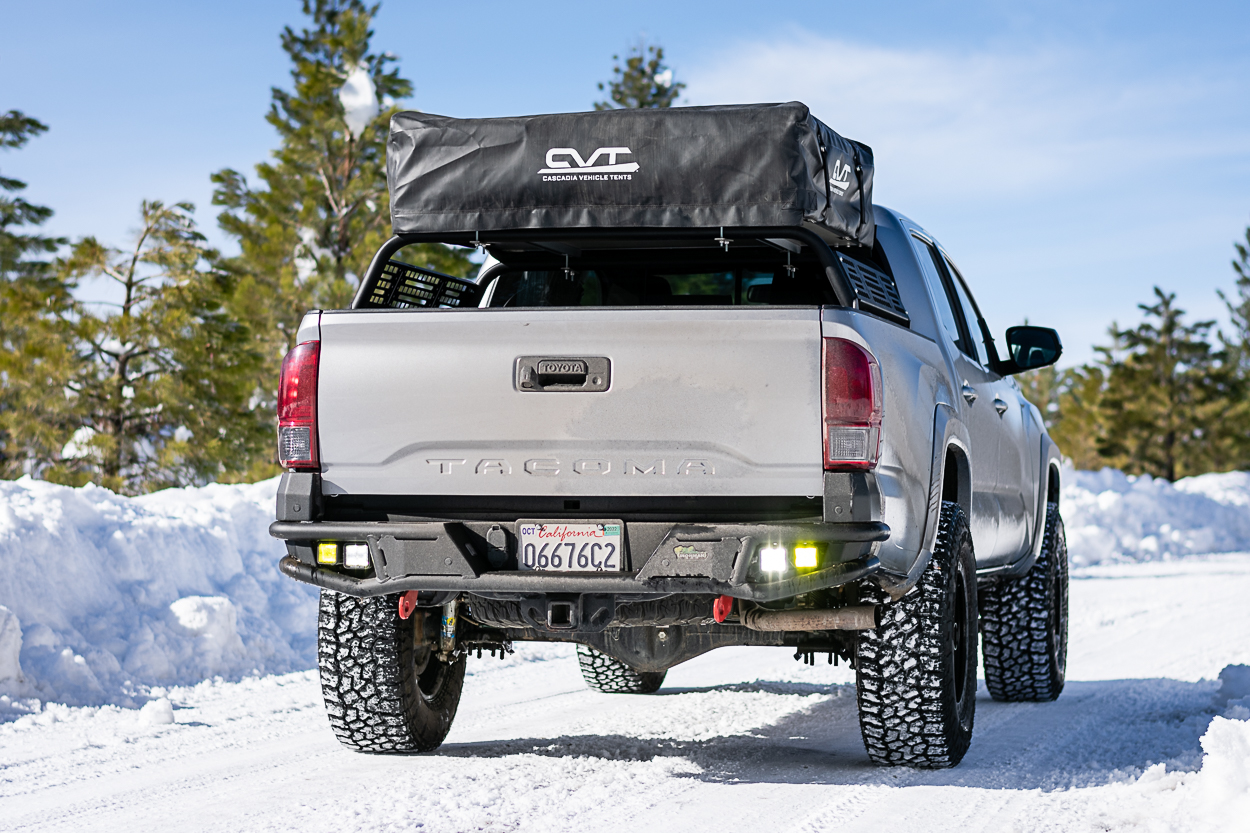 It should come as no surprise that a camper shell will have better weatherproofing than a rooftop tent. While a tent will usually keep you protected from the wind and rain, you will certainly experience more of the effects of inclement weather.
Camper shells will perform extremely well during harsh weather. Not only are the walls surrounding you solid, but weather stripping around the edges keeps any rain or snow from ever entering your bed space. From my experience, toppers will also retain your body heat much better. I have spent some freezing nights inside camper shells and actually had to remove layers because I was too warm. That has never been the case for me during cold nights inside my RTT.
Weight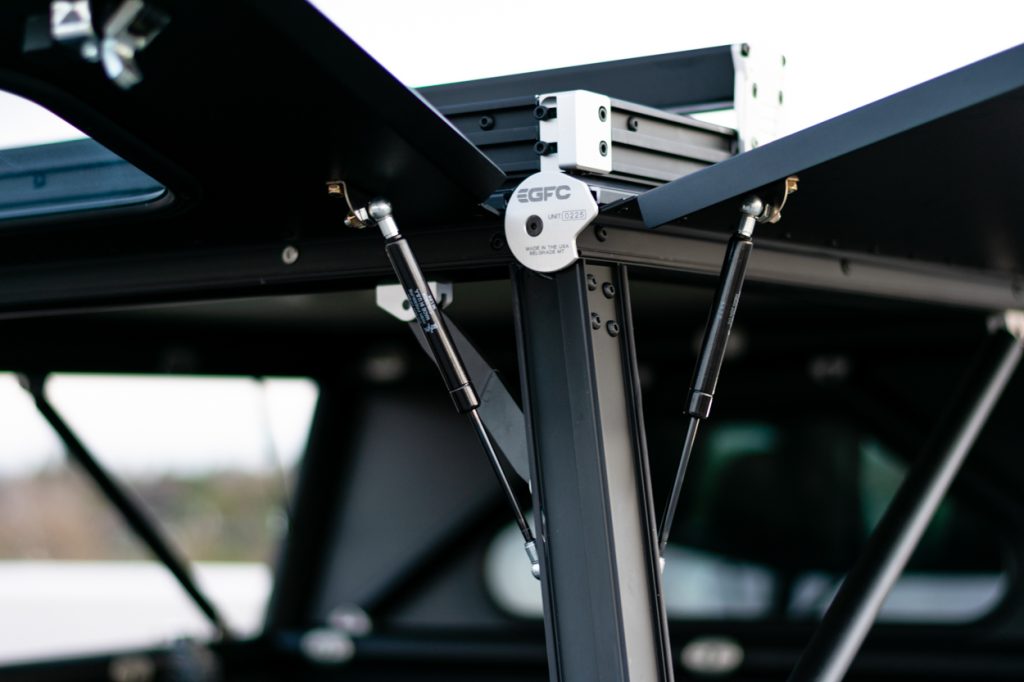 I'll keep this section brief. Weight is always an important consideration when building a truck. If you just throw parts on your rig with no consideration for how it will affect the overall performance, you can quickly find yourself with more than you might need.
It's worth noting that the average RTT weighs anywhere from 125-150 lbs., with larger and more feature packed models running up to 250 lbs. with certain brands. Add to that your mounting system, and you can see how you'll quickly get to 200-300+ lbs. – and that doesn't account for your loadout.
A huge selling point when looking at the GFC platform topper is how lightweight it is. In my configuration, we're talking ~135 lbs. This is due to the aluminum construction and proprietary extrusion design. Consider the previous statements, and that some fiberglass options weigh 200-300 lbs., and you start to understand why the GFC option is a killer choice that might not require you to work on secondary upgrades, like beefier leaf springs.
Camper/Topper + RTT Combo – Best Of Both?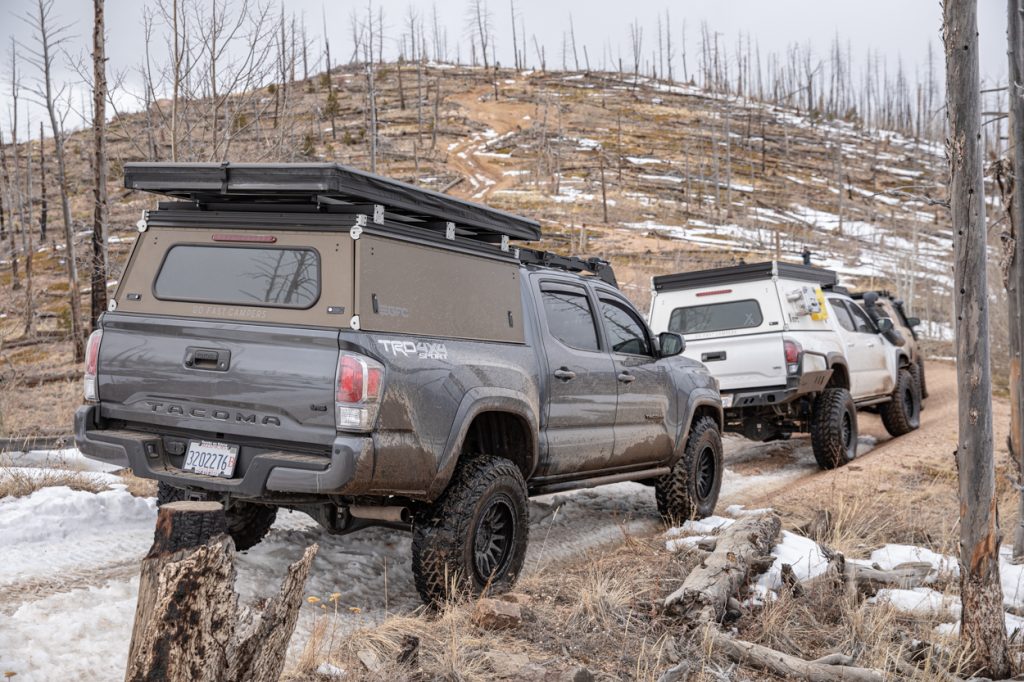 It's worth noting – you don't just have to pick one or the other. As seen above, Kenny is running a GFC topper with a lightweight RTT. This combination might be something to consider if you are still on the fence.
I already know what some people are thinking… why not just buy a camper? Well, for one, if you find an affordable RTT, it will still cost less than a camper setup (comparing the GFC topper with a tent to the full GFC camper). Having the ability to separate these two items can be beneficial. Many people do not want to run a bulky setup year round. Being able to remove your tent allows for storage away from the elements and removing excess weight when it's not needed – this ultimately allows you to use your truck more like a truck (ex. hauling materials from home improvement store).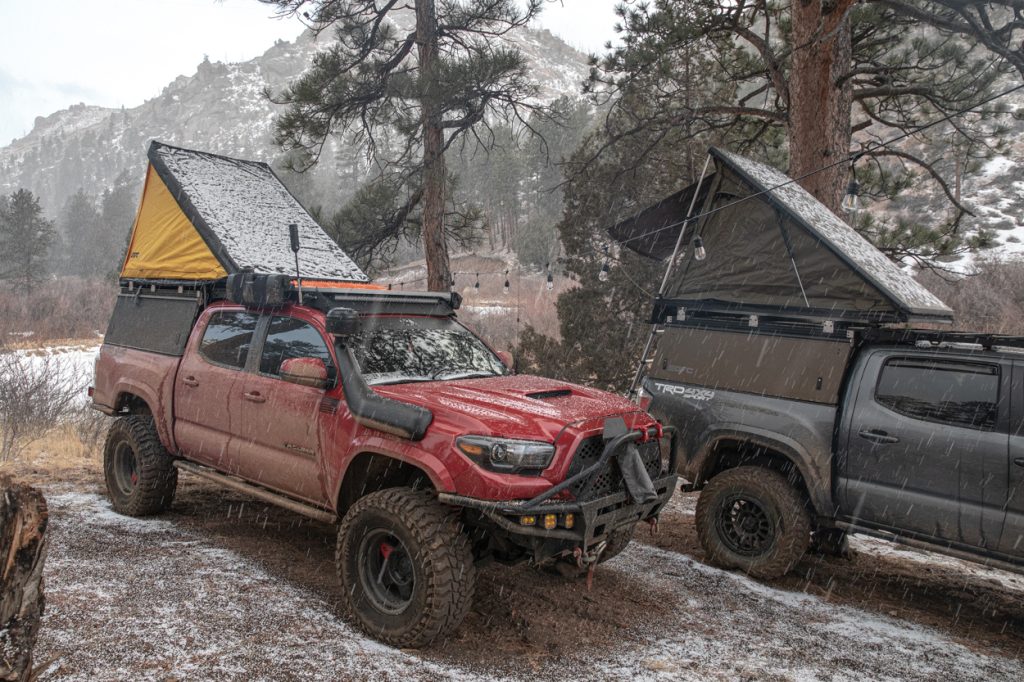 Now, the ideal situation (to keep down weight and cost) is to run a low profile tent. Sure, you can run a larger folding soft shell, but then you run into the increased drag we mentioned before. Still very doable, but something to understand. Low profile tents are typically lighter, allowing for a lower center of gravity, and a better driving experience. With Kenny's truck, the weight is distributed so well that you cannot tell the tent is mounted.
At the end of the day, running these two products on the same truck will give you the ultimate flexibility for weekend camping adventures, while allowing for maximum utility during more regular daily use. Paired with some quick tent disconnects, this might be the best all around setup for the vast majority of users. Best part? You can still sleep in the bed if you don't feel like mounting your tent last minute.
Quick Summary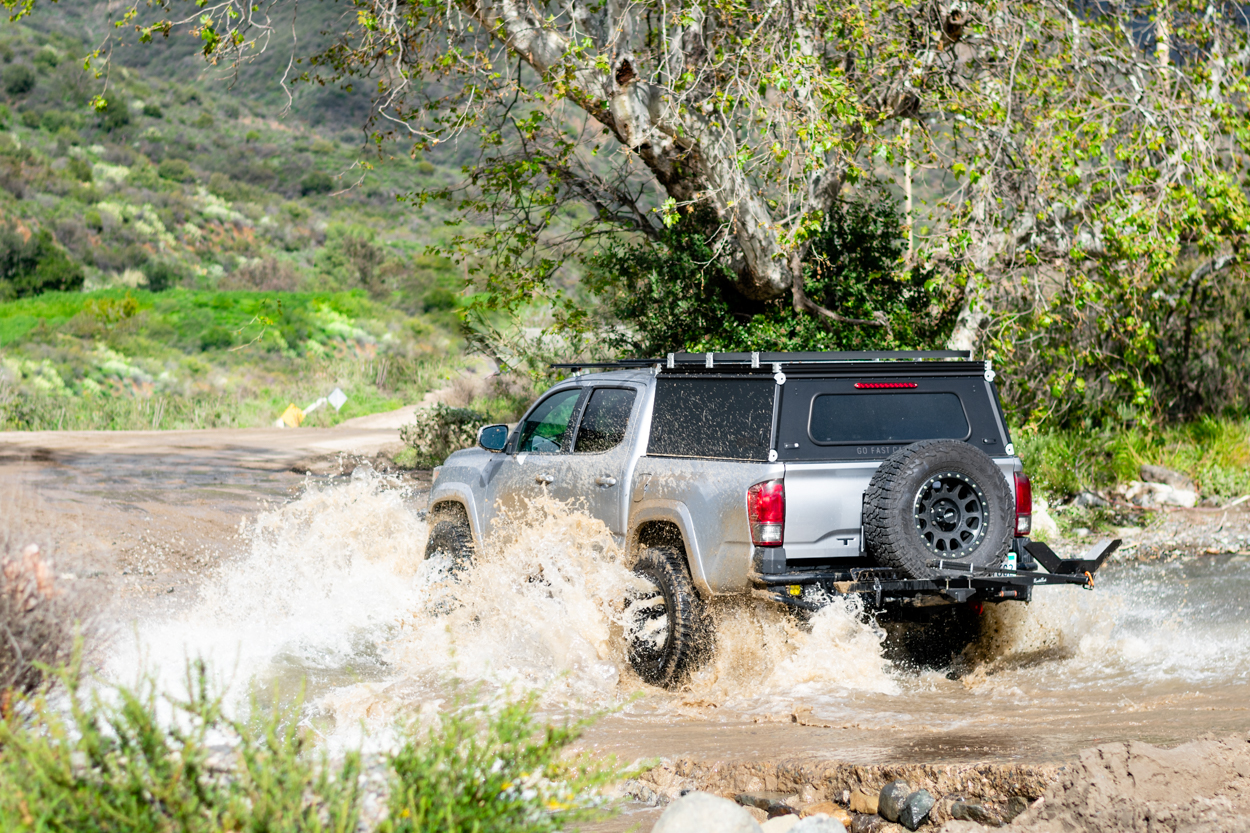 In case you came right to this section, I am going to lay out my experience with camper shells and RTTs. If you have any questions I would refer to the earlier parts of this post.
Pros – Camper Shell
Very good weather resistance
More secure (lockable hard storage)
Easier stealth camping
Pros – RTT
More sleeping space (length for short bed trucks)
Easier to remove (although some mounts can be tedious to disconnect)
Free up bed space for storage
Cons – Camper Shell
Less removable (there are products that can help)
Tighter sleeping space (mainly for short bed, although width is not an issue)
Storage capacity limited while sleeping
Cons – RTT
Bigger campsite footprint
Less protected from the elements
Not as secure
Requires additional mounting solutions
Final Thoughts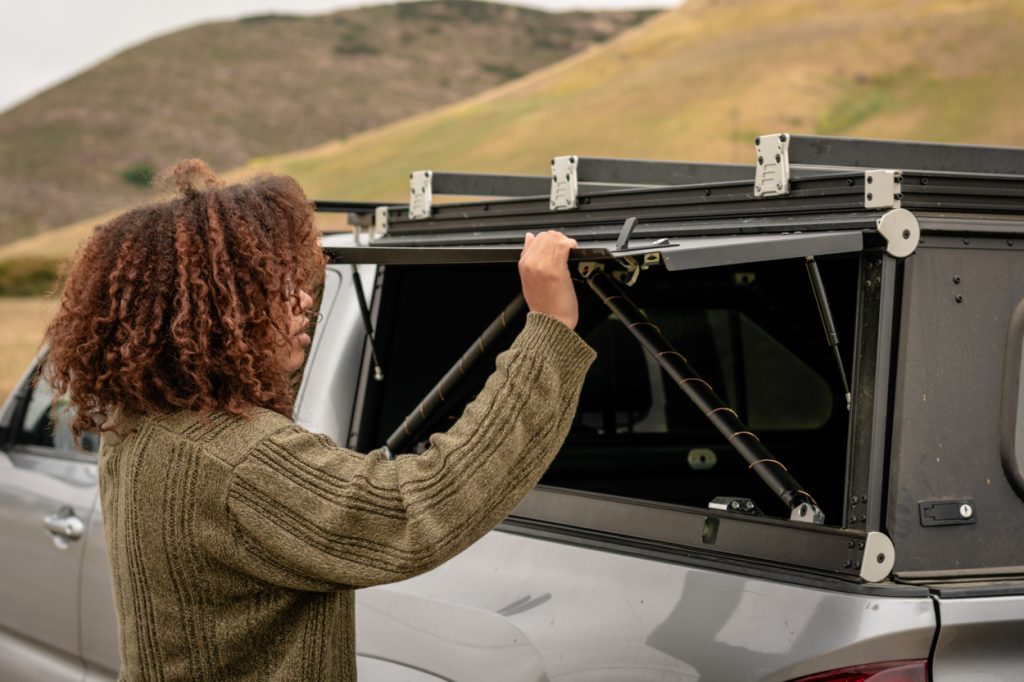 Ultimately, the decision is yours. I settled on a topper for the versatility and having a covered bed. Not to mention the overall utility and lightweight design. If it ever comes to it, I still have the option to add a rooftop tent. Alternatively, I could just move into a full-blown pop-up wedge camper (GFC also offers these).
In my experience, rooftop tents excel in maximizing storage capacity and sleeping space (mainly for length). They allow for relatively quick setup and takedown and keep you high off the ground, away from any creepy crawlers or moisture. If you are somewhat of a weekend warrior and only camp a few nights at a time, a rooftop tent could be perfect, especially since it's more removable.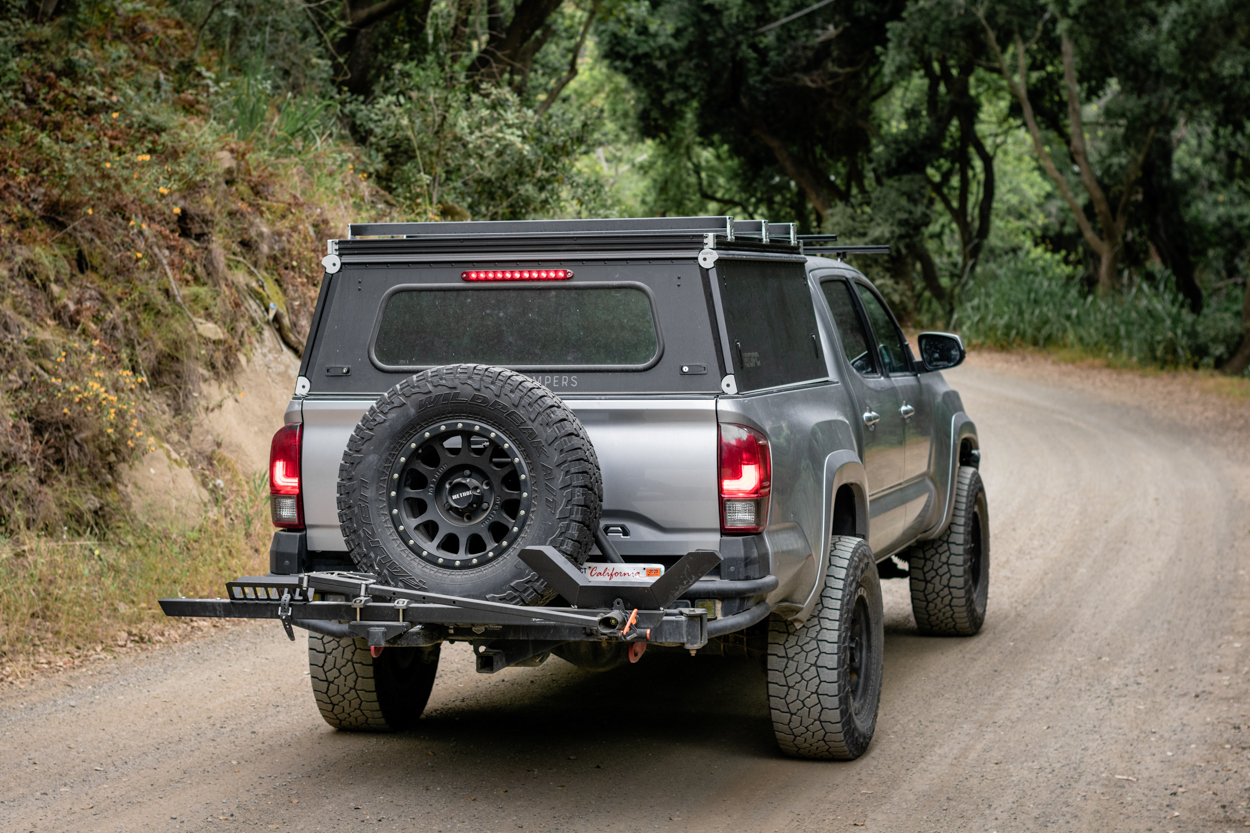 Camper shells, on the other hand, excel in security, weather resistance, and simplicity. There aren't a ton of moving parts on a canopy, it's just the shell. Your sleeping space will be more confined, but you will be less affected by harsher weather. If you are planning on spending more prolonged periods of time living out of your truck, this could be your solution.
You know your needs the best, but hopefully, this post has given you some insight into the pros and cons of each and has gotten you closer to a solution. At the end of the day, either setup will help get you out into nature which is the important part. And, if you really hate your choice, you can always sell it and swap it for the other.
If you are really unsure of what to do, I will say that I love my GFC topper, and being durable, secure, and ready for off-road is something not many other toppers offer.