GFC Platform Camper Vs. Platform Topper: Which Is The Best Option For You? An In-Depth Review & Overview After Owning Both
When it comes to exploring the great outdoors, having a reliable and versatile camping solution is essential. Go Fast Campers (GFC) has emerged as a prominent brand offering high-quality products maximizing and unlocking your truck's capabilities.
Two of GFC's popular offerings are the Platform Camper and the Platform Topper. Both of these are extremely versatile and durable platforms for your truck bed and each has its own benefits. I had a Platform Camper for three years before I switched it out for the new Platform Topper. Both were amazing additions to my vehicle and performed very well in their respective uses.
In this article, we will dive into the similarities and differences between these two products to help you decide what would work best based on your specific needs.
Find It Online
GFC Camper Versus GFC Topper
Go Fast Campers (GFC) Background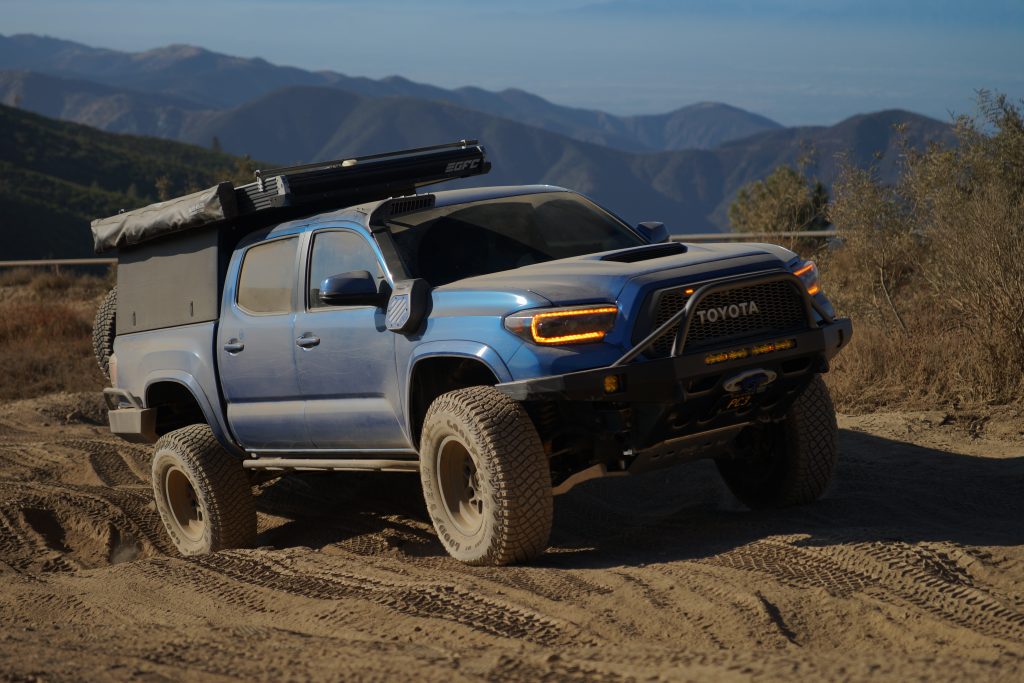 Before we delve into the specifics of the Platform Camper and Platform Topper, let's familiarize ourselves with the Go Fast product line.
Their campers, toppers, rooftop tents, and chase racks are designed to revolutionize how you use your truck. Go Fast's products are manufactured here in the United States in Bozeman, Montana. You can see their pride and quality in every detail of their campers.
They combine convenience and durability with a lightweight design. Both are compatible with a very wide range of truck models, allowing you to transform your vehicle into a Swiss army knife. With their platform, your truck can moonlight as a cozy mobile home while being equally effective as a work truck.
Construction & Materials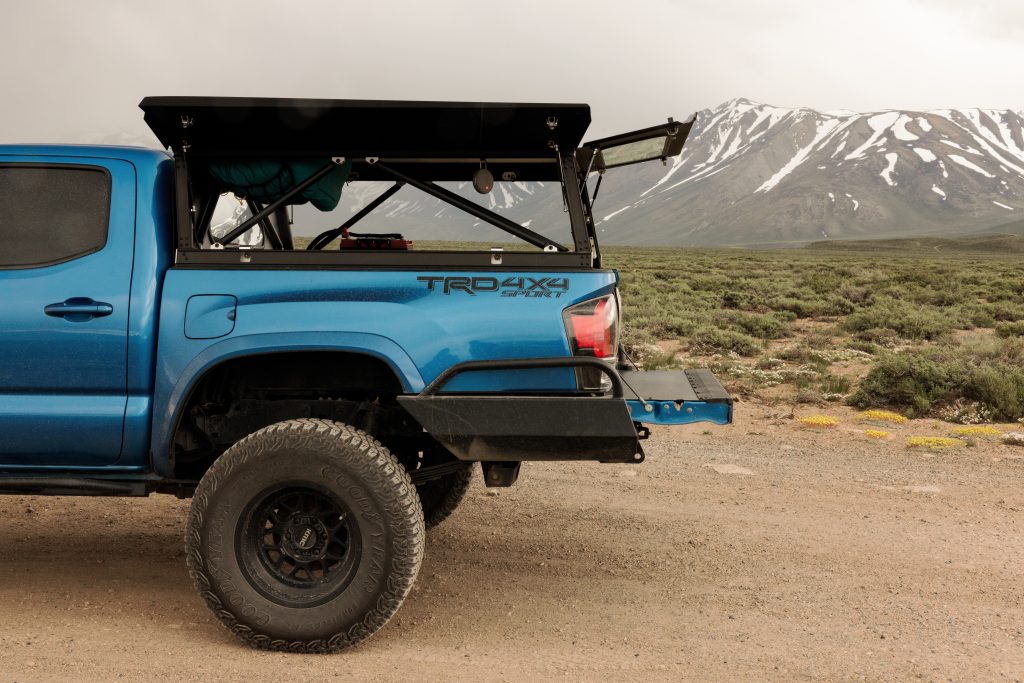 The lower portion of the GFC Platform Topper basically mirrors the design of the GFC Platform Camper with the exception of not having the tent up top and a slightly lower profile inside.
Both are made with GFC's proprietary aluminum extrusion with billet aluminum joints. The framing of the structure is made of rounded aluminum tubes bolted together into a triangular frame. This distributes the load perfectly around your truck bed. Billet mounting feet are also used to attach to your truck's bed rails.
On the sides and rear of the GFCs, there are aluminum panels that are hinged at the top. Opening them gives full access to the bed in the famous "cabana mode". Both the Camper and Topper have a translucent honeycomb composite roof which allows for soft ambient light inside. This thermoplastic roof also reflects solar radiation and acts as an insulation layer.
The major difference in design between the two setups is that the Platform Camper has a wedge-style tent built into it. This allows for increased headroom and a larger sleeping space. The tent pops open and is made of waterproof tent materials to give access to the 90" x 50" sleeping platform.
The Camper makes use of GFC's modular transform-a-floor bed panels. This allows you to enter the upper tent portion from inside the truck bed, which is great for inclement weather. I've camped in single-digit temperatures and was able to use the Camper as a mobile tree fort. My brother hung out up top while I was down below by the heater. This also allows you to fully stand inside the truck bed with the bed panels removed.
The Platform Topper, on the other hand, offers a sleek and streamlined design that fits seamlessly onto the truck bed. It sits right at the roofline of the cab.
Setup & Versatility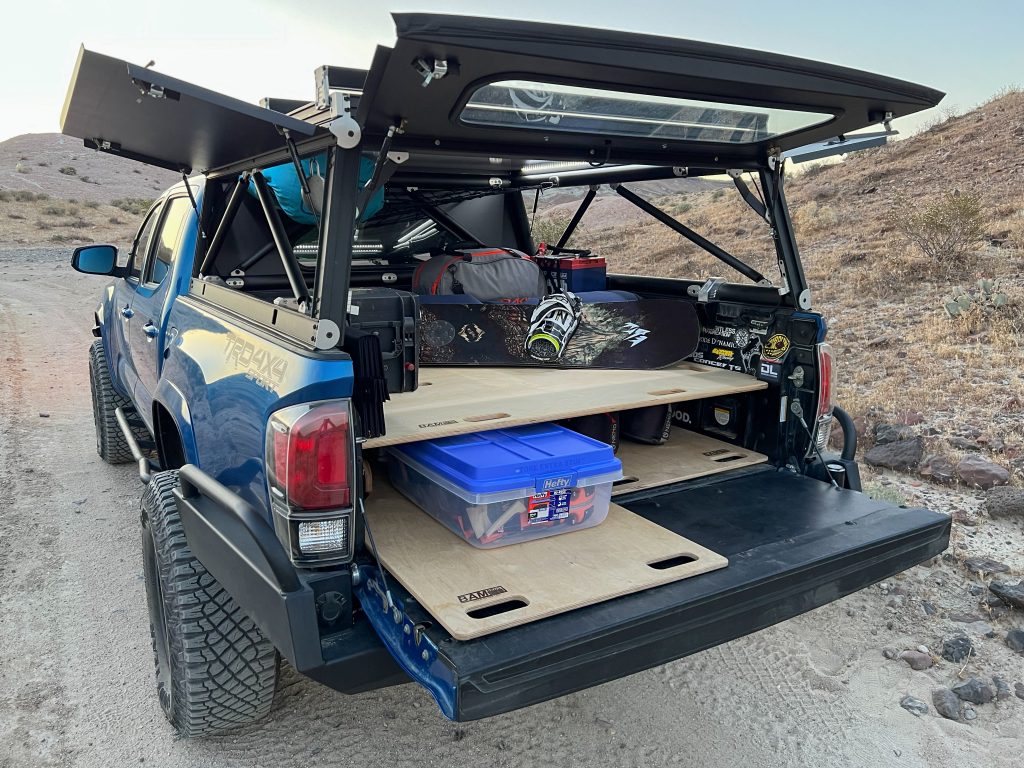 Both the Platform Camper and Platform Topper are highly versatile. You can customize either to adapt to your camping setup. The side and rear aluminum panels open and close within seconds giving access to the full truck bed.
With the Platform Camper, you can open and close the tent in less than a minute. To open the tent, you undo two latches, push the tent's roof up and the gas struts do the rest. To close it, you pull the tent roof down while tucking in the fabric as you go and close the latches.
If you are camping with friends with ground tents or softshell RTTs, you'll be relaxing with a beer in your panoramic tent before they finish fiddling with their tent poles or rainflies.
For the Platform Topper, I use the BamBeds platform. This is a three-piece, multi-purpose platform that sits above the wheel wells and fits perfectly in the truck bed. I pair this with BamBeds sliders for storage under the platforms.
We've had two adults sleep on the BamBeds with minimal deflection as each piece can support 500 pounds.
Both the Platform Camper and Platform Topper can easily double as indoor/outdoor living spaces and cargo-hauling machines. The limiting factor is how you have the bed set up and how your gear is stored. For example, whether you have a permeant drawer setup like a DECKED drawer system or something more mobile like plastic totes.
With something like a BamBeds platform and plastic totes (what I use), I can easily have an empty truck bed in minutes.
Both the GFC Camper and Topper have accessory mounting rails on all sides. With them, you can mount an awning, lights, tools, or any other accessories that you'd like. The optional beef rack cross bars support 200 pounds each and can be used to mount a RTT. There's also an available solar panel mount. Inside, you can mount accessories to the internal frame, which is great for cargo netting, speakers, and more.
Off-Road Capability
Both the Camper and Topper are built to withstand rough terrains. This makes them suitable for adventurous camping trips. All connections in the lower frame are bolted rather than welded, eliminating the potential for stress fractures.
Both platforms can take the abuse of offroading significantly better than fiberglass camper shells. We're not saying you should be jumping your truck in the desert, but if you found yourself doing that, GFC is the only brand of campers we'd trust.
One thing to note, the camper is a little taller, and more top heavy. However, due to a sleek and efficient design and the way the weight is distributed, you really don't feel a major difference.
Camping Space & Capacity
The Platform Camper offers a complete camping solution with an integrated pop-up tent, providing a more spacious and comfortable sleeping area compared to the Platform Topper. It can comfortably sleep two adults with space for kids or pets down below.
The topper requires sleeping in the truck bed, a ground tent, or having a separate RTT such as the GFC SuperLite Rooftop Tent.
With the Platform Topper, you don't have the additional length of the upstairs tent that extends above the cab. You are limited by your bed length, which is either five or six feet depending on your truck.
With a six-foot bed, it's slightly easier to fit two adults. I have a five-foot bed and can sleep diagonally with my legs stretched as I'm under six feet tall. With two people, my wife and I can fit with our legs bent slightly. This works well for us but may not be comfortable for everyone.
We use the BamBeds platforms and sliders along with a Milliard folding mattress with two small sections removed and the extremely cozy Aeronaut HoverQuilt. This all fits perfectly in the Topper with the tailgate closed.
Weight & Height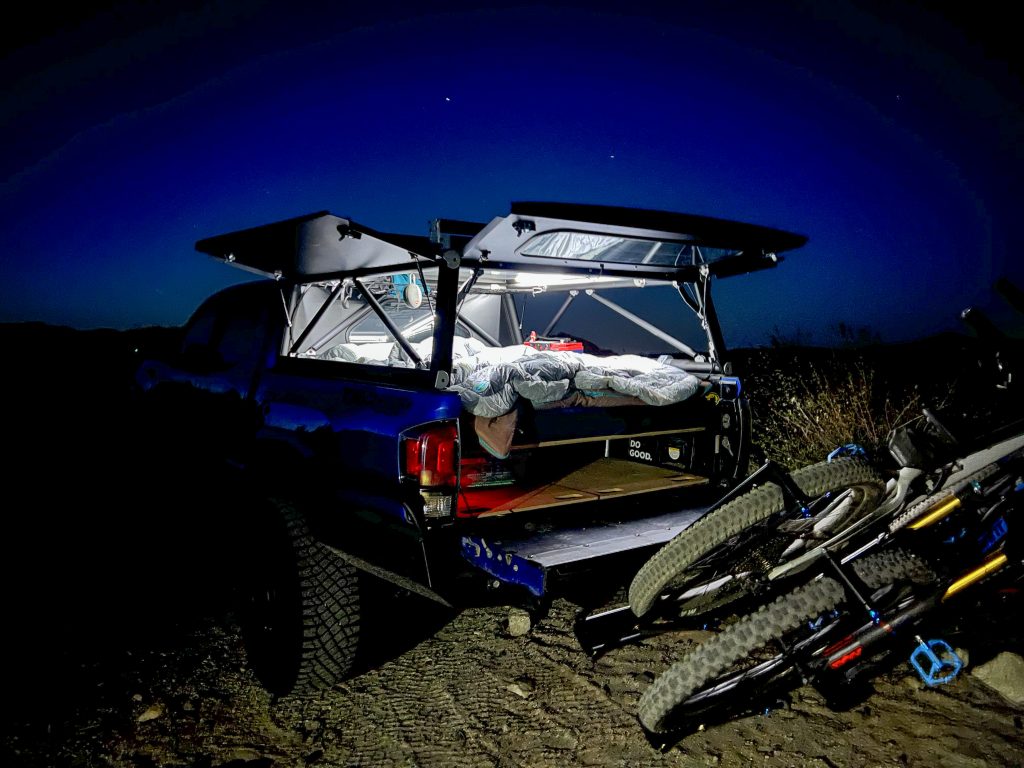 The Platform Camper is heavier and taller due to the integrated tent. This may have a slightly larger impact on fuel efficiency compared to the Topper. While the Platform Camper comes in at a very impressive 275 pounds, the Platform Topper weighs in at a class-leading 135 pounds. This dominates the strength-to-weight ratio of fiberglass camper shells.
On my lifted Toyota Tacoma, I can fit in practically all parking garages with the Platform Topper since it sits right around the cab's roofline. I wasn't able to say the same with the Platform Camper despite it only being 7.5" above the roofline.
Compatibility, Installation, & Cost
GFC has a lead time of approximately 10-12 weeks for both the Campers and Toppers.
The Platform Camper has a starting price of $7,700. From there, you have options to add front and rear windows and tent side doors.
The Platform Topper has a starting price of $3,995 with similar optional add-ons.
You can pick up your new GFC and have it installed at their Bozeman, Montana headquarters for $175. Or, you can have it installed at one of their eight convenient fulfillment locations. If you go with one of those locations, you'll tack on your local sales tax plus a $600-$1,300 delivery fee depending on the location.
On GFC's product pages, you can see live lead times for each of the fulfillment centers upcoming ship dates.
Final Thoughts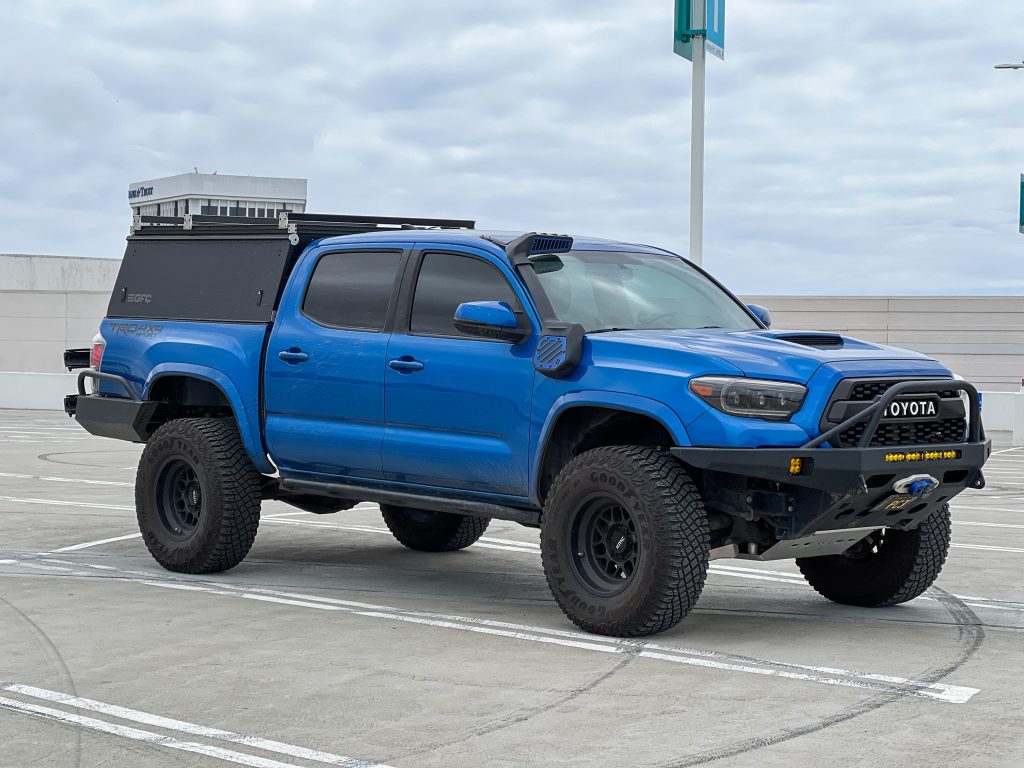 Choosing between the GFC Platform Camper and the Platform Topper ultimately depends on your camping style, requirements, and how you'd like to set up your truck.
If you prioritize a ready-to-use camping solution with a spacious interior and large bed, the Camper might be the ideal choice. However, if you prefer modularity and the ability to have a lower-profile daily driver, the Topper offers more versatility.
Consider your needs, budget, and desired camping experience. Either way, you can trust GFC's commitment to quality and innovation for an exceptional product. You'll love either choice you make just as I did.